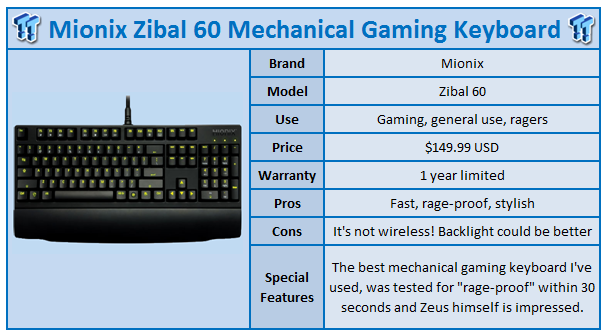 It was only a few weeks ago that I was reviewing Mionix's NAOS 5000 mouse and was very impressed to say the least. For the past 2 weeks I've had the pleasure of testing their Zibal 60 mechanical gaming keyboard.
I remember a few months ago typing up a news post about a "rage-proof" keyboard. Because I cover such a broad umbrella of news, sometimes I totally forget what I've talked about a week later. Then I received this bad boy in the mail and I instantly remember it from the feature of it being "rage-proof".
I had set the Zibal 60 up on my desk and was using it for basic tasks - typing, Facebook, e-mails, surfing the tubes and a quick few bashes at some games. I had some friends over and one of them asked about the new keyboard on my desk. I replied with "yeah, that's the one I did some news on a while ago - Mionix say it's rage-proof."
I explained that it can sustain a few "omfg, hacker/BS shot" expressions of rage through a hit to the keyboard and the next second with the power of Zeus himself, my friend smashes his Hulk-like hand into the centre of the keyboard. Just like when Neo lifts off in the Matrix, I saw a ripple through my room from the sheer force of this rage and thought "that keyboard is dead, there's no way it can be THAT rage-proof."
Well, yes my dear readers, it is. The keyboard did not flinch. It is still very well alive and kicking and has sustained quite a few games and Hulk-like smashes since.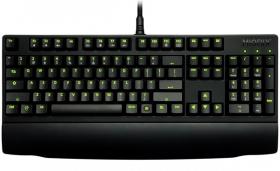 The keyboard itself is a sexy black color with backlight keys in the Mionix color fashion (green backlight, black keyboard). The tech inside is the Black Cherry MX Mechanical key switches, which for my typing speed was actually quite good. Wife acceptance factor is high in this one as I impressed her with my typing speed.
Because the keyboard is mechanical, it gives off that "click" sound with every press and my wife says to me "wow, you're typing really fast!", but I was just typing at normal speed, she could just hear every individual key press.
Hint: if you want to pick up the ladies, keep this keyboard on you at all times. If all else fails, it'll sustain some rage bashing against a wall to take out frustration.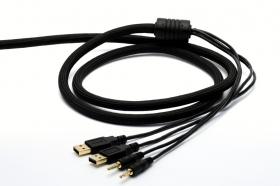 I used the Zibal 60 in various FPS-based games and it performed admirably. Better than any other mechanical gaming keyboard I've used and it was by far, the best to type on. I did not lose that much speed from my typing skills on the Zibal 60 which was a huge plus for me.
The Zibal 60 also features a braided cord (which is quite thick!) and two USB 2.0 ports as well as a headphone and mic jack too. I found it useful as I received another product to review and needed to use a USB port (it's a wireless mouse) and thought "oh, where am I going to plug it in, the front USB 2.0 ports are too far away," and right then, the USB 2.0 ports came in handy.
The lighting features are impressive too. It can be turned on, off or just the WASD keys can be illuminated, so you can feel like a true gamer. On top of that, they have three brightness levels. What I would've liked is the backlights to be much stronger (so it really stood out) and for the Mionix label to light up with a really slick green color - it would've really polished off an already impressive keyboard.
I definitely recommend this keyboard as one of the best mechanical keyboards I've ever used; no wait, it is the best mechanical keyboard I've used. But as I always say, mechanical keyboards are not for everyone - please try and test one out before you buy. But, if you want to have a little faith - I would say the Zibal 60 is worth it.
Newegg.com also has the Zibal 60 listed as US$149.99, which is on the expensive side, but most mechanical keyboards are around this price. I think it's justified and even if its not, you can always take out your frustrations on the keyboard itself.
Note, I quoted Zeus in my review, only because he was a greek God and strong. I then read after I had typed this review (but obviously before submission) this little tid bit on Mionix's website:
"Some say that the constellation Eridanus symbolizes the path of the reckless journey by Phaethon with the stolen chariot of Helio. In ancient Greek Zibal means "river" which could symbolize the river where Phaethon landed after being struck down by a Thunderbolt from Zeus. Zibal together with its surroundings are not well known by mankind, there are still secrets to be revealed."
That just makes this review even cooler! Nice work, Mionix. This keyboard can also read minds.