Panasonic TY-EW3D3MU 3rd Gen 3D Active Shutter Eyewear Review
Could it be a case of third time lucky for Panasonic?

Published Sat, Oct 22 2011 7:19 AM CDT
|
Updated Tue, Nov 3 2020 7:01 PM CST
When 3D TV launched in the middle of 2010, major consumer electronics companies scrambled to be the first on the block to grab the consumer dollars. Unfortunately, it's been fairly well established that most jumped the gun by launching a slightly premature product to market and have being playing catch-up since.
There is no one guiltier than Panasonic, who came out of the gate with undoubtedly the best 3D set - the VT20 series Viera Plasma, but graced with undoubtedly the worst 3D glasses, a piece of technology whose impracticality is matched by its performance issues.
Panasonic are now onto their third generation of 3D active shutter glasses (model number TY-EW3D3MU). Although Panasonic Australia cannot confirm a local release date, I've picked up a few pairs whilst overseas and am keen to see how they stack up against the first and second generation pairs.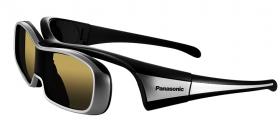 Panasonic's first generation glasses (TY-EW3D10U) were memorable for the design faux pas of massive open sections at the sides which let light shine through. Anyone that's viewed 3D content will be aware that the darker the environment, the better, so whoever decided that this would be a great design choice should have been challenged. Despite a relatively solid build quality, they were very plasticy and bent with minimal effort and were also quite weighty at 62 grams.
Sporting a disposable CR-2032 battery behind a removable plug, these glasses had a life span of approx 75 hours on paper, but I received approximately half that. Probably because my friends never turned them off after use. Still, probably better than the person who actually sat on one my pairs, destroying them. No one did ever own up to that. Hopefully on my death bed it shall be revealed. Anyways, I digress. Coupled with a glitch which caused the glasses to lose contact with the screen resulting in a momentary black flash over the glasses - overall, the first generation was an overwhelming failure.
[img]2[/img]
The second generation glasses (TY-EW3D2MU) made for a decided improvement. The design was reworked, closing off the ridiculous open plan sides and removing the disposable battery in favour of a small internal USB rechargeable battery. The new design also shaved 20 grams of weight which made viewing slightly more comfortable. The annoying refresh glitch was still present, although seemingly less frequent than before.
[img]3[/img]
Now we have the third generation glasses (TY-EW3D3MU) which further revise aspects of the original and secondary models and include some other new and very worthwhile features. Note that these are backwards compatible with all units of Panasonic Viera TV's, not just the 2011 models.
The biggest improvement is in the LCD active shutter lens themselves. By reducing the thickness of the LCD, approximately 10% more light can be reached from the Plasma set, which makes for a more pleasing, brighter and more vibrant image, and with a significant reduction in eye strain to the end user. Subsequently this also helps to make the glasses lighter - coupled with a further re-design to a more shapely form with much slimmer arms, Panasonic have managed to reduce the weight to an incredible 26 grams. Watching a movie now feels far more like the disposable polarised RealD cinema glasses.
In using the glasses with a variety of 3D sources, including Disney's The Lion King 3D Blu-ray and Sony Computer Entertainment's Motorstorm: Apocalypse PlayStation game, the glasses performed well and certainly outperformed its predecessors. I found I suffered far less eye strain than previously and were far more comfortable on the face. They still aren't quite as easy on the eyes as RealD, but certainly the best active shutter glasses from any manufacturer I've yet seen (and I've pretty much seen them all). I have also yet to see the black flash glitch, so I assume this has been rectified. Perhaps the infra red receiver has been strengthened.
The rechargeable internal battery is retained, but now has a clever 'quick recharge' function. It's probably not going to lead to a very long useable life as a subsequence, but a 3 minute charge will give around 2 and a half hours of battery life. So if you forget to charge before watching a film, make a cup of coffee and they're ready to go. Fully charging the glasses takes around 3 hours and gives 25 hours of use. Note that the manual informs the user to charge directly from the Viera's USB port, but any USB port (computer, USB hub, PlayStation 3 etc) will work fine without harming the glasses. Five volts is five volts.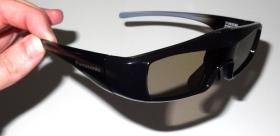 These glasses also sport a new 2D feature. Confused? I'll explain. On top of the glasses to the right of the power switch is a 2D function. Push that along and it forces the glasses to display the left eye signal to both eyes - a 2D down-convert if you will. This might be useful if someone is suffering from some eye strain or simply doesn't want to view the 3D effects. I don't think I'll ever use the function, but could be handy for some.
Unfortunately, unlike the other sets, the box does not include any cases or re-usable protective packaging, so you'll have to invest in a suitable glasses case from your local optometrist. I had to go through a few cases to find one suitable for their relatively long width, but eventually found a Mossimo branded case which worked fine. This is a pretty important point - scratch the lens of these puppies and its game over.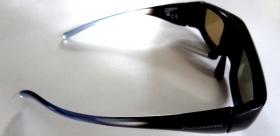 These still aren't cheap, running around $100AUD, but this model is certainly cheaper than its predecessors, and in line with its performance upgrades represents a far more justifiable purchase than before.
Panasonic have thrown down the gauntlet to competitors to improve their own 3D glasses. However, as a signatory to the 'Full HD 3D Glasses initiative' program along with other 3D heavyweights Sony, Samsung and XpanD, which will see a cross-manufacturer 3D glasses standard, this certainly won't be the last change we'll see, but probably the last backwards compatible one.

PRICING: You can find products similar to this one for sale below.

United States: Find other tech and computer products like this over at Amazon.com

United Kingdom: Find other tech and computer products like this over at Amazon.co.uk

Australia: Find other tech and computer products like this over at Amazon.com.au

Canada: Find other tech and computer products like this over at Amazon.ca

Deutschland: Finde andere Technik- und Computerprodukte wie dieses auf Amazon.de
Similar Content
We openly invite the companies who provide us with review samples / who are mentioned or discussed to express their opinion. If any company representative wishes to respond, we will publish the response here. Please contact us if you wish to respond.