Star Wars Episode IV: A New Hope (1977) Blu-ray Movie Review
"Remember - the Force will be with you... always"

Published Sat, Oct 15 2011 7:31 AM CDT
|
Updated Tue, Nov 3 2020 7:01 PM CST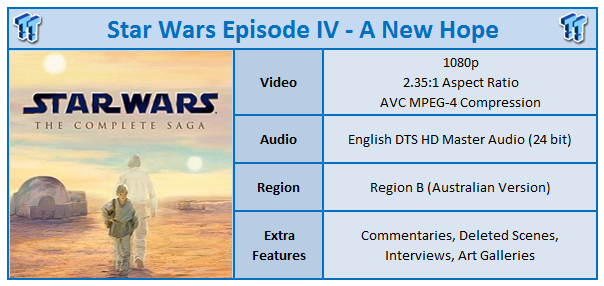 I'm really not sure how to begin a review for one of the greatest films of the 20th Century. I mean where do you start? We all know the story, besides; many more talented writers have written entire theses on the film. What more can I really contribute in a mere couple of hundred words?
The first film to be released in the six part Star Wars saga is the classic - the one that started it all and made the world fall in love with the worlds that George Lucas put on the screen. It's not the strongest film in the series (that honour goes to The Empire Strikes Back, but naturally without this film, that would not exist. Indeed, without A New Hope the entire sci-fi genre would have a significant part missing. Not that we'd know it, of course.
Young farmhand Luke Skywalker (Mark Hamill) dreams of a life away from the barren and distant planet of Tatooine, which holds little excitement or potential. However, a perfect storm of circumstances and chance collide and he is quickly drawn into the desperate battle of the Rebellion and the Empire, the ramifications of which will soon reshape the galaxy.
For a film fast approaching its 35th anniversary, it holds up extremely well, with only a few naff 70's haircuts which give the game away. Regardless of the many cosmetic changes applied to the film over the years, the core of A New Hope is essentially intact from 1977 and despite the social evolution of time past, the film continues to be as relevant, if not more so than it was back then. There can be no greater compliment to a film that continues to grow in popularity year after year, bringing the next generation of film lovers into its fold.
With the release of A New Hope the Blu-ray format has truly come of age. The handful of classic titles yet to appear on the format continues to dwindle a little more.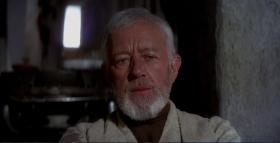 Video
A New Hope is presented in the aspect ratio of 2.35:1 (its original aspect ratio), encoded with AVC MPEG-4 compression.
A New Hope was the subject of a (at the time) state of the art, photo chemical restoration which was prepared for the theatrical special edition release in 1997. The primary motivation was to save the films elements, which had already significantly degraded from further deterioration. In 2004, this new interpositive was handed to Lowry Digital, who had developed a software based restoration algorithm to restore films in the digital realm, far more cheaply and efficiently, with superior results than previous.
Lowry prepared new SD transfers for the DVD release and 1080p transfers for broadcast. This Blu-ray is based off that1080p master, which has its positives and negatives. As previously discussed in my first look article here, this transfer is now some years old and could have been further enhanced with a new, higher resolution scan. It's a missed opportunity and an awkward situation where one of the biggest films of all time exists as a master on deteriorated film, and the digital master at a woefully inadequate 1080p resolution, which keeps having computer generated alterations made to it.
Despite this, the Blu-ray features a very good transfer, which whilst does feature some problems and annoyances, is certainly the best the film has ever looked.
The image is sharp and detailed, with a fine layer of film grain. The increase in resolution has unveiled a swathe of detail on fine textures, whilst also revealing some flaws in the production process. Colour saturation is quite good, if at times a little oversaturated.
Unfortunately, LucasFilm has still not corrected some of the Lightsabre flaws - during Luke's training on the Millenium Falcon his sabre changes from the correct blue, to an aqua blue, to almost white and then back again. It would have taken all of a few days for the ILM wizards to correctly re-composite the footage - in fact some fans have already done it in fan edits with mere desktop computing power.
Overall, the HD transfer for A New Hope is very good, and again the best we have thus far received, but there's little doubt that a newer transfer at higher resolution would preserve more detail (even when down converted to 1080p for Blu-ray).
[img]2[/img]
Audio
The main audio track is encoded with DTS HD Master Audio 6.1 at 24 bits.
Now this is a revelation. LucasFilm sound mixer Matthew Wood has completely recreated the films soundtrack from the original elements, creating a new track which is completely faithful to the original mix, produced by today's digital technology. By stripping back to the original elements, LucasFilm can present the audio without the built in wow and flutter flaws, pulling back a veil to present the audio almost completely free of distortion and only held back by the limited fidelity of some of the original analog recordings, A New Hope now sounds truly amazing.
I saw no evidence of lip sync issues, nor of any overtly damaged sections. Surround presence is significantly improved, especially during the films climactic battle. Bass performance is better than ever, with more detail in the LFE than the indistinct rumble which was a hallmark of previous mixes.
John Williams score is still utterly amazing and the Blu-ray restoration really allows it to shine like never before. Completely absent was some of the distortion and frequency strangling that I noticed on the previous DVD release. This is perhaps the single biggest improvement in the mix.
Overall, an extremely pleasing upgrade.
[img]3[/img]
Extras
Again, LucasFilm have included some worthwhile extra features designed to co-exist with the previous DVD supplements. That is, they aren't replicated here, so you'll have to hang onto your old DVDs to retain everything.
The main disc features two audio commentaries. The first is carried over intact from the DVD release, featuring George Lucas and many members of the crew, including Sound Editor Ben Burtt and ILM staff including the legendary Dennis Muren. The second, newly produced track is comprised of interview comments and edited together in a fairly relevant and cohesive manner.
The remaining bonus features are contained on the first extras disc, along with the bonus features for The Empire Strikes Back and Revenge of the Sith. For this review, I will talk about the bonus features relevant to A New Hope. The bonus features are divided by the three 'worlds' relevant to the plot: Tatooine, Aboard the Death Star and Yavin.
Next up are eight Deleted Scenes and I'm happy to say "these are the scenes you've been looking for!". In total there is around 16 minutes of new footage, including scenes of Luke and his friends on Tatooine, the original Cantina sequence with ropey prosphetics and a brief extension to the scene Biggs before the battle of Yavin. These are an absolute joy - Star Wars fans will cherish these scenes they've been waiting years to see. Of note is that these have been transferred in high definition, although they are riddled with film artafacts and have not been cleaned up - no doubt in a bid to thwart future fan edits.
The Overview segments for each of the menu worlds return. Despite their brief length of just 3-4 minutes each, there is a lot of information imparted and they are edited very well together. I particularly enjoyed the creation of the Jawa's language. Hoootiinnneeee!
Next are a few brief Interviews segments; with the principal actors Mark Hammill, Anthony Daniels and Carrie Fisher. These are a number of years old and unfortunately too short to be of real value.
The Collection returns again and shows a few of the stunning models, costumes and creatures created for the film, with impressive 360 degree turns which show the detail the artisans went to. Some of the props have degraded pretty significantly, but are still very good to see and the ability to savour the detail in iconic models such as the X-Wing and TIE fighters is very cool.
Finally, the concept art gallery brings a handful of high resolution concept art sketches and artwork to screens. Star Wars fans will recognize a lot of this art from the 'Art of Star Wars' series of books. These Ralph McQuarrie pieces are very famous, but I much prefer them in book form.
For purchasers of the Complete Saga boxset (as opposed to the three disc 'original trilogy' boxset) there are some extra bonus features relevant to A New Hope on the additional 9th disc.
The original 1977 Making of Star Wars documentary, hosted by C-3PO and R2-D2 is a charming and semi-revealing feature at just under an hour, which also shows how the film was starting to effect 1970's pop culture.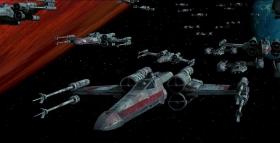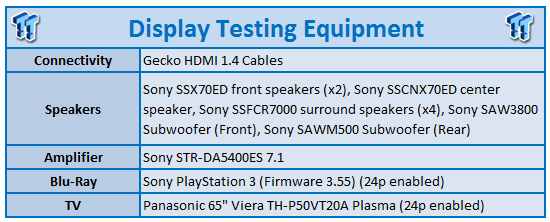 PRICING: You can find products similar to this one for sale below.

United States: Find other tech and computer products like this over at Amazon.com

United Kingdom: Find other tech and computer products like this over at Amazon.co.uk

Australia: Find other tech and computer products like this over at Amazon.com.au

Canada: Find other tech and computer products like this over at Amazon.ca

Deutschland: Finde andere Technik- und Computerprodukte wie dieses auf Amazon.de
We openly invite the companies who provide us with review samples / who are mentioned or discussed to express their opinion. If any company representative wishes to respond, we will publish the response here. Please contact us if you wish to respond.
Related Tags