TweakTown's Rating: 72%
The Bottom Line
The Super Mario Bros. Movie is a fun experience that lacks depth. Fans will enjoy if they can get past Chris Pratt's uninspiring voice work.
Pros
+

Video Quality

+

Audio Quality
Cons
Should you buy it?
Avoid
Consider
Shortlist
Buy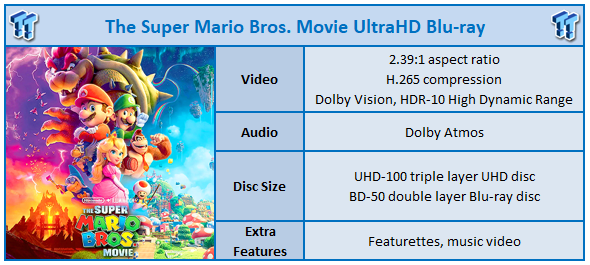 Hitting home a few months on from its wildly successful theatrical release, the animated Super Mario Bros. Movie surpassed all expectations with a haul of over $1.3B - making it the highest-grossing film of the year, the second highest animated film of all time and the highest grossing non-Disney animated film of all time. Not bad for a film made for around $100m and considerably lower than a typical Disney or Pixar film.
In a year where multiple high-profile feature films have underperformed or outright bombed, including Dungeons & Dragons: Honor Among Thieves, Shazam! Fury of the Gods, Indiana Jones and the Dial of Destiny and Mission: Impossible - Dead Reckoning Part One, that's quite the testament to the ongoing cultural relevance of Nintendo's hero. While the film hits all the right notes and delivers an entertaining, fan-pleasing, and breezy adventure, it's just a shame that it lacked much ambition.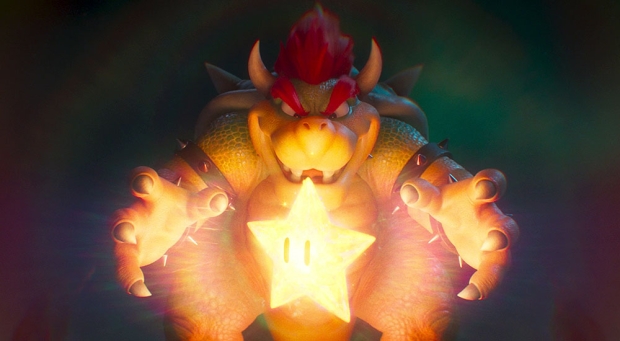 While attending to a plumbing job, the plucky Brooklyn-based duo Mario (Chris Pratt) and Luigi (Charlie Day) discover a mysterious green pipe that transports them to two other-worldly worlds, with Mario off to the friendly Mushroom Kingdom ruled by Princess Peach (Anya Taylor-Joy), and Luigi to King Bowser's (Jack Black) sinister dark lands. But the timing couldn't have been worse when the plumbers (and some other familiar friends along the way) are quickly co-opted on a mission to prevent Bowser's takeover of Peach's Kingdom.
Now that the dust has settled on one of the more controversial elements of the production, the voice cast of Hollywood heavies such as Chris Pratt, Jack Black, and Seth Rogen, for the most part, they've been accepted in the respective roles (and in the case of Jack Black, rather well) and they've acknowledged the changes in some clever dialogue.
I can't say I love hearing Chris Pratt's voice coming out of Mario's mouth, but equally, Charles Martinet's faux-Italian accent wouldn't have worked for a 90-minute duration. Still, it's hard to imagine that the studios couldn't have settled on someone a little more appropriate. But the filmmakers definitely got the world-building right, even if it's just been lifted wholesale from the games.
Much like the warm, nostalgic familiarity of the video games critical to the ongoing success of the gaming series after all these years, it's entirely unsurprising that the video game adaptation would lean into the formula and build on the lore rather than rewrite it. Indeed, The Super Mario Bros. Movie unapologetically bends over backward to please fans, littering every frame with references to over 35 years of history and even a top of the hat to the early 1990s Saturday morning cartoon series.
Unlike the subversive 1993 live-action film, the 2023 film actively avoids stepping outside anything close to the bounds of expectation, delivering a kid and adult-friendly film that breezily entertains during its short runtime.
For a long-time fan like me, The Super Mario Bros. Movie ticks all the boxes and does everything it is meant to do. However, the product of this is a rather pedestrian film that offers few surprises, no real vision, and kind of just makes me want to play the games. Perhaps that was Nintendo's aim, after all.
Video transfer
The Super Mario Bros. Movie is presented in its original aspect ratio of 2.39:1, encoded with H.265 compression, and finished with a Dolby Vision pass and a base HDR-10 layer.
Coming direct from Illumination's original 2K rendered files, Universal's 4K upscale is about as perfect as a reproduction can be, encoded on a triple-layered UHD disc to keep the bitrate high throughout its runtime. Renowned for efficient animation compared to the more sumptuous stylings of Disney or Pixar, Illumination has excelled with a very high quality of animation that references the established animation styles of Nintendo's studios and the manga art of Charlie Nozawa.
It's more about diffused stylings than crisp bit-perfect animation, but it looks great and scrubs up well on the format. Colors are gloriously rendered, and the HDR highlights (including Dolby Vision, if you're suitably equipped) take things to the next level.
It's true that a native 4K transfer might have increased clarity ever so slightly, but there's precious little to complain about here. Top marks all around.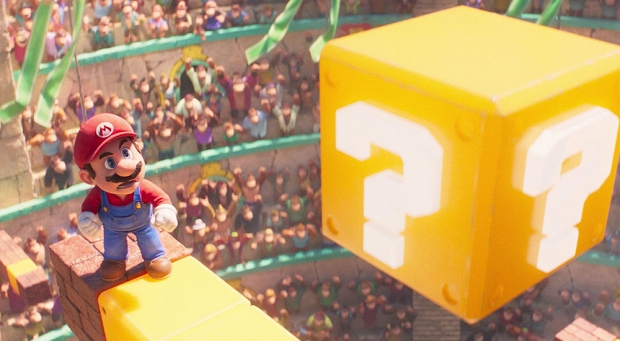 Audio transfer
The Super Mario Bros. Movie is presented in Dolby Atmos.
Mirroring the theatrical mix newly downmixed for the home environment, The Super Mario Bros. Movie is a solid experience that won't scare the target audience but features enough immersion to be occasionally impressive. Matched to its technically stellar video transfer, the audio is suitably pitch-perfect and features plenty of front and split surround effects.
Bryan Tyler's score folds in and references dozens of themes from the series' history, including Koji Kondo's iconic chip tunes to great effect, helping make the film comfortable and familiar. His end title cue, which serves as a megamix of theme across the franchise, is a personal highlight.
Overall, the soundtrack mirrors the fun of the film, even though it's not quite as aggressive as I would have preferred.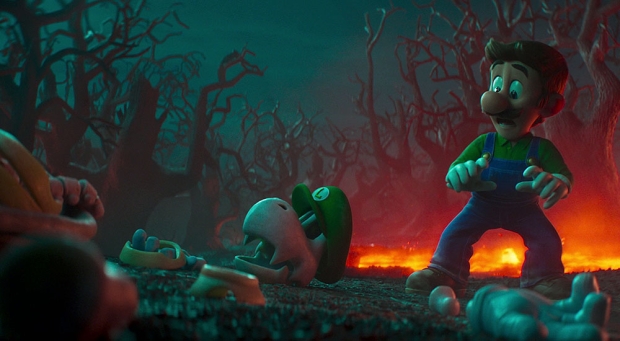 Bonus materials
For such a high-profile release, The Super Mario Bros features a somewhat sparse collection of bonus features which unfortunately mirrors a trend that seems to be getting worse. Unfortunately, what is included is overwhelmingly promotional in nature, including frequent nuggets from the voice cast talking about how great the film is wedged between actual nuggets from members of the technical crew, including Super Mario Bros. creator Shigeru Miyamoto.
With that caveat, the highlight of the set is the 27-minute long Leveling Up: Making the Super Mario Bros. Movie, which is made up of five smaller featurettes that discuss several aspects of the production and offers enough useful information to warrant at least one viewing for fans. Also available are several briefer featurettes, including Getting to Know the Cast, which was grating enough that I couldn't watch to its conclusion, The Super Mario Bros. Movie Field Guide, Leadership Lessons from Anya Taylor-Joy and Jack Black's Peaches Music Video.