TweakTown's Rating: 67%
The Bottom Line
Star Trek: Nemesis never found an appreciative audience, but the superlative 4K release of the film is a good opportunity to give this another chance
Pros
+

Superb 4K remaster from the original camera negative

+

Additional visible resolution and striking HDR toning

+

Solid audio mix
Cons
Should you buy it?
Avoid
Consider
Shortlist
Buy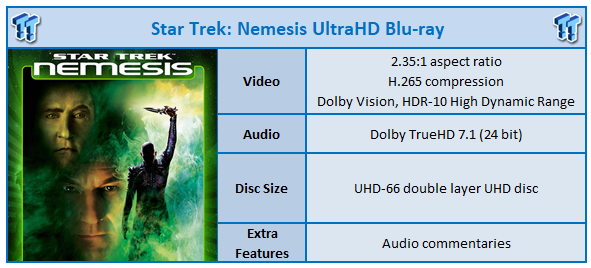 Star Trek: Nemesis 4K Blu-ray Review
With the Star Trek franchise in an apparently unavoidable tailspin courtesy of consistently declining box office returns and dwindling TV ratings (and with only one currently airing series; Enterprise, Paramount decided to gamble it all on one final mission for the Next Generation crew. Sparing no expense, the studio significantly boosted the budget, re-assembled the entire core cast, hired in-demand writer John Logan to develop an action-heavy crowd-pleaser, and tapped veteran Hollywood Producer-turned-Director Stuart Baird to take the reins.
Unfortunately, the audience failed to turn up, and Nemesis subsequently tanked at the box office - barely recouping its production budget and incurring a loss once promotional costs were factored in. Now over twenty years later, the film can be re-appraised by modern audiences and, despite its flaws, reveals a wholly entertaining sci-fi action film that is not nearly as bad as its reputation suggests.
When Shinzon (Tom Hardy) rises to power as the new ruler of the evil Romulan Empire, threatening the security of the Federation in the process, Captain Jean-Luc Picard (Patrick Stewart) and the crew of the Enterprise must engage in a high-stakes battle to not only prevent the death of millions but deal to an unexpected personal link which binds the two together.
Pilloried by critics and shunned by audiences on its initial release, Nemesis slammed the door firmly shut on the Next Generation era (at least, until it was re-opened in 2020 for the Paramount Plus series Picard), but this technically proficient 4K release provides Trekkers and sci-fi fans alike with ample reason to give the series' theatrical swan song another chance. While it does have a number of significant flaws which have not necessarily diminished, I do think overall that time has been kind to this one.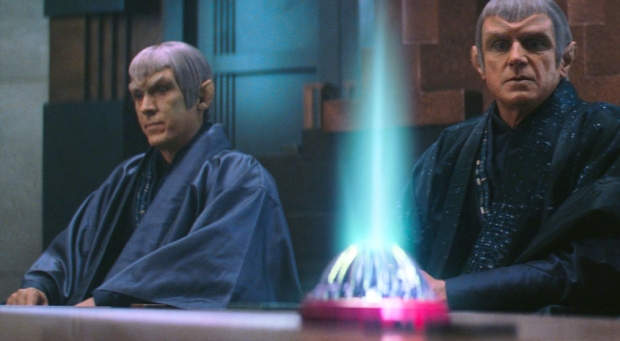 Video transfer
Star Trek: Nemesis is presented in its original aspect ratio of 2.35:1, encoded with H.265 compression, and finished with a Dolby Vision pass, in addition to a base HDR-10 layer.
With Nemesis, the entire run of Star Trek films (including the three Kelvin timeline reboots) have now been fully upgraded to native 4K via rejuvenation of the original camera negatives, which replace the previous inadequate and ancient HD masters in a wholly comprehensive manner.
While Nemesis was the youngest of the original Trek films and thus fared best in the Blu-ray era, this 4K re-do is nonetheless a substantial upgrade that offers enhanced resolution, excellent color balance, and rich and saturated tones. Shot more theatrically than its predecessors, Nemesis offers a significant boost in HDR tones, which improves several sequences, such as the dune buggy chase on Kolarus III, which were not able to be resolved properly in SDR.
Overall, this is an impressive remaster, and Star Trek fans should be pleased to add these films to their physical media collections, in likely the best quality they will ever be offered in the home.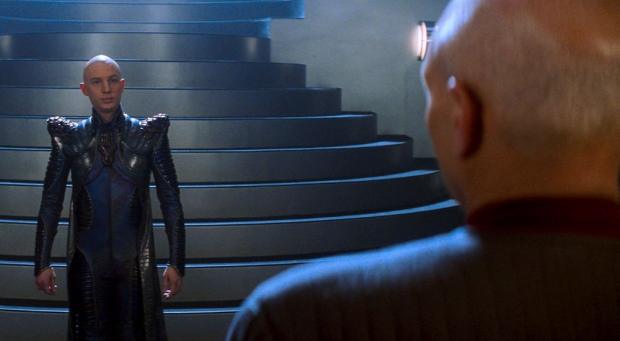 Audio transfer
Star Trek: Nemesis is presented in a Dolby TrueHD 7.1 remix at 24 bits.
Similar to three of the four Next Generation 4K releases, Paramount appears to have upgraded Nemesis with a new 7.1 mix, however an analysis of the audio spectrums reveals that the rear surrounds are identical and duplicated. So, essentially what we have is a 5.1 mix, inside a 7.1 wrapper, as opposed to a discreet (i.e., true) 7.1 mix.
Despite this, Nemesis has always enjoyed a rousing and aggressive audio mix that was standouts on previous DVD and Blu-ray releases which provides a good base for the offering on 4K. Nemesis features strong split-surround use, and the bass is tight and responsive when requested. I noticed no particularly strong issues with audio sync or dialogue intelligibility.
Following his superb contributions for First Contact and Insurrection, composer Jerry Goldsmith was welcomed back to the franchise for a fourth and final Star Trek score, which undoubtedly elevates the on-screen action. Nemesis was to be one of the maestro's final film scores before sadly succumbing to cancer in 2004.
I'm duty-bound to once again ponder what a Dolby Atmos mix could have sounded like, but overall, this is an impressive and impactful experience.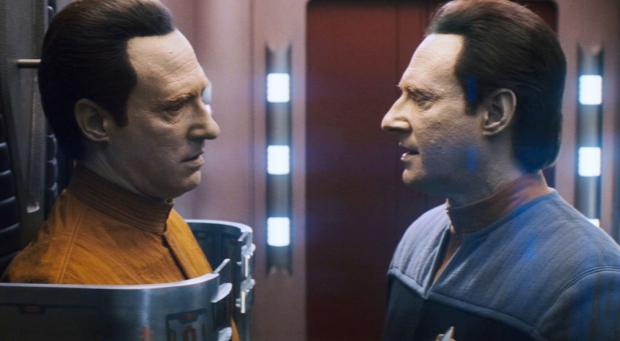 Bonus materials
Unfortunately, unlike other international releases, Paramount has again not included a copy of the standard Blu-ray in the Australian release, which means all the video-based features are absent from this edition. Trekkers would be advised to hang on to the previous Blu-ray release or import the U.S. or U.K. editions to retain everything.
However, the 4K disc does include the three previously released Audio Commentary tracks, one provided by Director Stuart Baird, one from Producer Rick Berman, and the final from Star Trek experts Michael and Denise Okuda.
Finally, we also have a Text Commentary track written by Star Trek experts Michael and Denise Okuda. We don't see these on the format very often these days, but they're always fun. This one was first released on the 2-disc collector's edition DVD back in 2005, but excise from the Blu-ray, making its return welcomed.