The Toshiba NB550D comes with a 10.1-inch glossy display, but instead of running an Intel Atom CPU, like a typical netbook, the NB550D is based on the AMD C-50 CPU (1GHz) with ATI Radeon HD 6250 graphics. It also comes with a 250GB HDD & 1GB of RAM (it supports up to 4GB, but you'll have up upgrade to a 64-bit OS).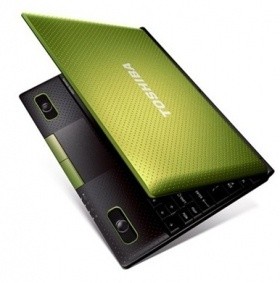 Style
The Toshiba NB550D featuring Harman Kardon speakers makes a good first impression with its soft rubberized finish and sound quality unlike any other netbook. This 2.6-pound device sports an EasyGrip finish on the lid that's available in lime, metallic brown, turquoise and blue.
[img]2[/img]
The dimpled pattern continues on the black palm rest where you'll find the Harman Kardon speakers. We have to admit their placement is a little strange, as it's exactly where you'd be resting your palms while typing. There aren't many devices whose finish won't fade from excessive use, and even though the build quality appears excellent, only time will tell if we won't end up pushing the speaker through the netbook. Nevertheless, we like the unified look of this stylish device.
Keyboard & Touchpad
One of the sacrifices you make on the NB550D versus the NB305 is that you don't get a chiclet-style metal keyboard. The plastic keys that are closer together and some keys (such as the right Shift and Enter) are shrunken. Still, we found the typing experience comfortable. The terraced keys offered strong tactile feedback.
[img]3[/img]
Measuring 3.1 x 1.5 inches, the mini NB550D's Synaptics touchpad provides plenty of room for navigating the desktop. The touchpad itself offers a slightly rough surface which we still enjoy after a month of use. The two black mouse buttons are among the best I've used; they're large and easy to press without being mushy.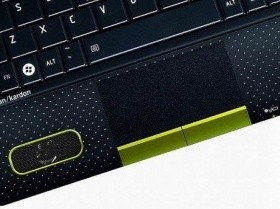 Display & Audio
As far as netbook displays go, the NB550D's 10.1-inch LED-backlit screen is fairly bright. The glossy panel didn't kick back distracting reflections, and horizontal viewing angles were nice and wide. We didn't have to tilt the display back much either to get the best picture. Still, like all netbooks, the 1024 x 600-pixel resolution doesn't fit a lot of information on screen at once. So you'll be doing a fair amount of scrolling on web pages.
The speakers are the highlight of this netbook; they give it a distinctive look, and love it or hate it, it's a statement. This netbook initially was only going to be available in the Asia Pacific region, but is now becoming available in Europe. There are, as far as we know, no plans to bring the netbook state side.
The Harman Kardon speakers are the best I've seen on a netbook, Ever. The sound quality is exceptional for a machine of this size. There's plenty of volume, excellent clarity and detail, and far more bass than you'd expect. You'll enjoy listening to music or the soundtrack of a movie far more than on the average netbook. The sound is even better when you plug in headphones; rich, detailed, with strong bass and more treble than many portable MP3 players.
If you want to hear for yourself, do demo the audio in my video review of the NB550D above.

The final audio feature that reminds you that this is in fact a premium netbook, is you can use the speakers even when the computer is turned off. Just plug in an audio source such as an MP3 player or other portable device, and you can use the netbook like a kind of bulky, expensive set of portable speakers.
Ports & Webcam
On the left side from back to front, you'll find the power jack, Ethernet port, VGA, USB, and microphone and headphone jacks. The front of the netbook houses the SD Card slot, while two more USB ports line the right side of the machine.
A nice added bonus with the USB port on the left hand side is it features Sleep-and-Charge USB to keep your gadgets juiced when the system is powered down.


The Webcam was relatively clear and was only slightly grainy when light started getting low in the room. Skip Toshiba's webcam utility; I'm not going to bother listing the many reasons it horrified me. Use Skype, even my mom is in on that bandwagon!
Performance
Toshiba's NB550D is sporting the Ontario C-50 which runs at only 1GHz and has an AMD Radeon HD 6250 running at 280 MHz while supporting DirectX 11. This netbook is the first to market sporting the AMD Fusion C-50 CPU; it's meant to blow the Intel Atom series out of the water. And it does, but only in terms of graphic performance.
The CPU itself in terms of processing power is slightly less than the dual core N550. Since this is a new CPU, let's go over a few of the basics:
The TDP of the 1GHz C-50 chip is 8W, which means it actually uses slightly
less
power than the 8.5W Intel Atom N550.
The NB550D computer clocked in at 1889 in 3DMark06.
In the CrystalMark benchmark, the NB550D scored a little higher than an Acer netbook with an Intel Atom N550 chip, but not much higher.
3D video games (including Crysis) played smoothly.
So where does this put things in the grand scheme of netbooks that are capable of light gaming? Well, that's pretty much the NVIDIA ION series. The 1015PN which is the only netbook to offer NVIDIA ION graphics scores 1501 on this test. So we are seeing better performance graphics and gaming wise on the AMD C-50 Fusion CPU.
If you're not so keen on numbers and just want to know how the unit performs while gaming; Live for Speed, Crysis and GTO, all of which we played at 1024×600, ran without a hitch! - The games were responsive and no frames were dropped at any point during game play.
Video Playback
The Toshiba NB550D played 720p locally using .mov almost flawlessly. There was one frame drop that I noticed during a time when there was a pan across the starry sky of the Hubble 3D trailer. When I tried 720p in mkv format it was a disaster and was a choppy abstract painting!
Surprisingly, 1080p in .mov and .mp4 format played much better than the 720p mkv, but having said that, it was still not watchable. YouTube 1080p played flawlessly when I tried out the Planet Earth trailer.
Battery Life
Laptop Magazine has a great battery consumption test that involves the opening and closing of websites with various levels of graphics. The NB550D was only able to get to 4 Hours, where the average netbook with an Intel Atom N550 would get about 7 on a comparable battery.
The Verdict
The Toshiba NB550D feels sturdy, looks good, it's light and it has good speed for a netbook. The HDMI port should make it appeal to users who want something small that they can plug into their TVs to watch streaming video or downloads. The NB550D feels far more sprightly than the average Atom netbook. And as more software comes along that takes use of GPU acceleration, the C-50 is going to have an increasing advantage over Atom netbooks.
The biggest disadvantage to this netbook is the battery life; 4 hours is not long enough for my tastes, but it's a question that only you can answer. Is the trade off for graphic performance worth the cut in battery life?
The question is, are the premium features enough for you to open up your wallet that little bit extra since this netbook rings up at $450? - If you don't need the graphics but like to listen to your netbook when you're on the go, this is a solid option. But if that's the only reason, then I might point out some $30 travel speakers and an average netbook that would typically run you $100 less.
If you are looking for something that is going to excel at video playback and can handle some light gaming, and you need it to be portable, then you shouldn't be looking any further.