Quick Review: dexim: iPhone Charging in Style
The iPhone 4 doesn't give you enough battery life? dexim might have just what you're after with these accessories we're looking at today.
Published Nov 22, 2010 12:09 PM CST
|
Updated Tue, Nov 3 2020 7:02 PM CST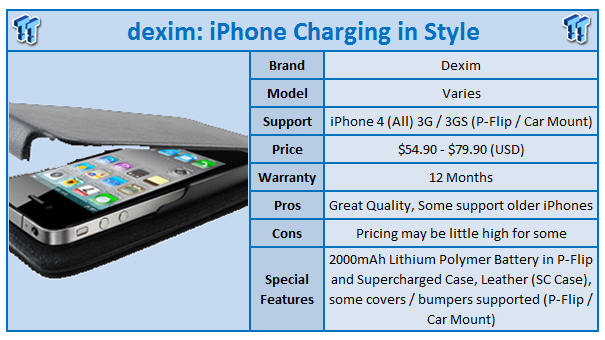 Love or hate Apple, no one can deny just how hot iAnything items are these days. The big problem is that with so many companies offering accessories for your iDevices, it can take a bit of time to make your way through the rubbish before you get to something that stands out and deserves to be attached to your device.
dexim state on their website that their aim is to focus on unique and user friendly iPhone and iPod devices, which really for the most part explains what the company is about, except that they also do iPad accessories. They just haven't seemed to have updated the "About Us" page yet.
I'm one of those people who doesn't really like Apple, hates iTunes, but loves his iPad and iPhone. We've got three dexim products with us today and the focus is ultimately one thing; keeping your phone last as long as possible without the need to plug it into a computer or wall power connector.
The Audio Car Mount Charging Holder at $54.90 is fairly self-explanatory; it's a charger that's designed for your car. The charger isn't just a cable, though; instead we've got a full cradle here that carries with it an AUX out port.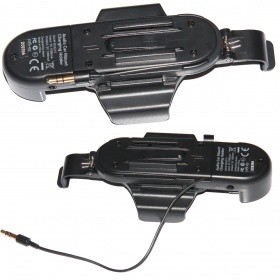 Inside the package we've got a few items along with the cradle itself. Apart from just the standard iPhone 4 mount, we've also got another mount that can be interchanged with the installed one to support the iPhone 3G / 3GS. Along with that we've got a couple of cables; the first is your standard cigarette lighter plug that helps keep power to your iPhone via the mount, while the other is a 1.3m AUX cable that goes out of the cradle and into your cars AUX In; assuming it's got one.
The quality of the device is great and we've got a little bit of wiggle room for a case to be used in conjunction with it. On the package dexim state that the iPhone 4 will fit in without any issues using the original Apple bumper and this is something worth noting, because there's nothing worse than getting an accessory that requires you to uninstall your cover every time you use it.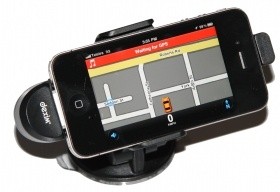 If you're looking for a holder to use in the car for when you use your phone as a GPS and your car doesn't have AUX In, I wouldn't be worried. The design of the dexim Audio Car Mount Charging Holder doesn't intrude the built in speaker and turn by turn navigation continues to be heard clearly.
Moving up in price, but aimed to be used in a different area is the P-Flip Foldable Power Dock, and at $69.90 it's not a cheap accessory. With a built in 2000mAh Lithium Polymer Battery, the idea behind the device is to keep your iPhone 4, 3G or 3GS running for longer than just the standard battery with as much as 40 hours of extra time for music listening, 10 hours for games and video or 6 hours of talk time.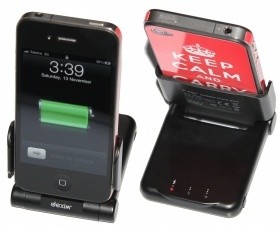 Apart from the P-Flip itself, you've also got a USB cable that is used to charge the built in battery along with an iPhone 4 cover and Anti-Glare screen protector. dexim also provide a free download of PFlip Clock via the App Store which is a clock application that can be used in conjunction with the P-Flip.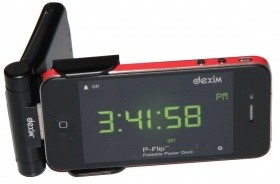 You can then have your phone in the P-Flip with the App open and use it as a clock. You also don't have to worry about the battery going dead flat while asleep due to the P-Flip offering charge via that 2000mAh battery.
If you're worried about the device itself also taking up another USB port on your computer, you don't need to be as you can replace your current iPhone's white cable with this one and when the cable's connected to the P-Flip and your phone is inserted in it, the phone will sync with iTunes like it normally would if you were using the standard white cable. You've got the added bonus that the foot print is smaller than having your phone lay down, which is nice if desk space is a little cramped. In the event you don't want the P-Flip to charge your phone you can switch off by a small button at the back and just use it as a dock for your desk.
The last accessory we're looking at is the Supercharged Leather Power Case and at $79.90 it's the most expensive accessory out of the pile we're looking at today. While you've got one charger for the car and one for your home and office, the Supercharged Leather Power Case is for when you're on the move.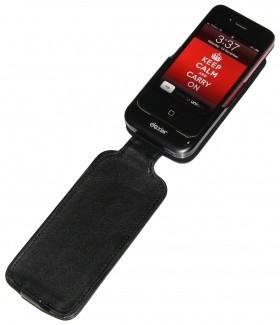 With the same 2000mAh battery seen in the P-Flip, you've got the same possible extension on hours ranging from 6 to 40 hours depending on what you're doing. What you've got here is ultimately an iPhone 4 case that is going to give your phone a serious amount of extra power. The quality of the case is beautiful and you've got that great leather smell and look.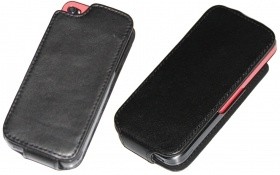 The biggest issue with the case is the fact that it's quite bulky, which is of course the cost of having all that extra battery power on hand. And while it might take your hand a little to get used to, the extra bulkiness that your iPhone 4 now has is not at all uncomfortable, nor any harder to use.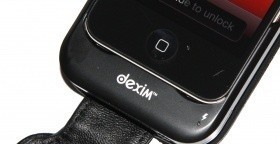 Looking inside, it does seem like the speaker and microphone at the bottom of your iPhone 4 is covered, but fortunately dexim has used their head and offered some space between these two, so speaking and hearing in speaker mode isn't impaired.
Apart from the case there's little in the package with the only other stand out really being a USB cable that is used to charge the case's battery. Like the P-Flip, if your phone's in the case and you connect the USB cable up, your phone will sync with iTunes like it would with the normal white cable.
Something that has to be noted, though, is that the USB cables for the P-Flip and Supercharged Case are slightly different, so charging each device requires its included cable, as a slightly different header on each cable can't be used on both devices.
The three dexim accessories we're looking at all carry two things in common; they're not cheap, but they're all fantastic quality. If you're looking for something a lot better than that $9.99 mount you picked up from eBay, these are the kinds of accessories you should be looking at. Covering work to the car and everything in between, the chance is that one of these chargers we're looking at today will suit your situation!
PRICING: You can find products similar to this one for sale below.

United States: Find other tech and computer products like this over at Amazon.com

United Kingdom: Find other tech and computer products like this over at Amazon.co.uk

Australia: Find other tech and computer products like this over at Amazon.com.au

Canada: Find other tech and computer products like this over at Amazon.ca

Deutschland: Finde andere Technik- und Computerprodukte wie dieses auf Amazon.de