Quick Review: SLEEPTRACKER Elite Sleep Phase Clock
The product looked so interesting that we just had to look at it. The question we ask now is; did we waste our time saying yes to it?
Published Sat, Nov 20 2010 12:47 AM CST
|
Updated Tue, Nov 3 2020 7:02 PM CST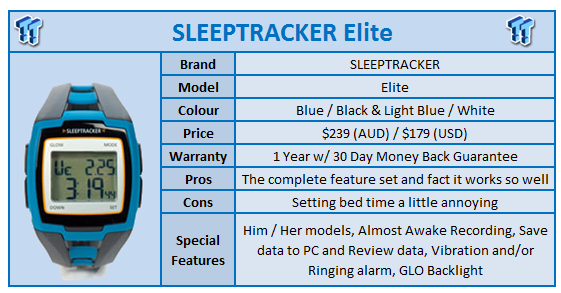 SLEEPTRACKER Elite is fantastic! See what I've done there? It's like walking into a movie and at the start of the movie you see the ending; you then spend the next 90 minutes finding out how we got to that point. Well, I'm starting with the simple sentence that 'SLEEPTRACKER Elite is fantastic!' - Now we'll find out how I got to that conclusion; it won't take 90 minutes, though, unless you read REALLY slowly.
I'm going to be honest here and say when I was asked if I was interested in looking at the SLEEPTRACKER Elite, I only skimmed the website before saying "yes." Once the product arrived I was really interested to look at it and find out what it was all really about.
Instead of talking about its features now, we'll cover that stuff when we look at the SLEEPTRACKER Elite in just a moment. Firstly, let's just see what comes in the package. Inside a really nicely designed box which is simple and elegant you're going to find only a few items.
We've got the SLEEPTRACKER Elite, a manual, another piece of paper that lets you know where the software can be downloaded along with a USB cable. The problem is, I went to the
http://www.SLEEPTRACKER.com/support
and got a page not found error. It should actually be
http://www.SLEEPTRACKER.com/support.aspx
. Fortunately it's not hard to find the support page as it's a "404" error with in the SLEEPTRACKER site, so you can see the "Support" menu item across the top.
If you don't want to download the software; and I'm not sure why you wouldn't at only 2.2MB, you can opt to get a CD sent to you via the email address listed on the sheet of paper.
As mentioned, we've also got a USB connector, but we'll talk about how that comes into the picture in just a minute. Instead, let's get into the SLEEPTRACKER Elite. What you're essentially dealing with here is a watch that carries with it a few fancy features.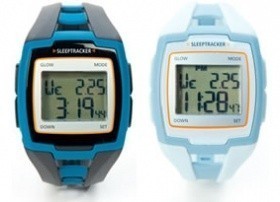 The SLEEPTRACKER Elite is offered in both "Him" and "Her" flavours and we've fortunately got the "Him" one here today. The look of the watch itself isn't bad, although I do feel that the digital watch went out in the '90s when I was in high school. The nature of the SLEEPTRACKER Elite means it needs to be digital, though. You've got all those normal watch features; the date, time, alarm, backlighting and 10m water resistance. The overall quality is pretty good and the strap is large and allows for all sizes of wrist.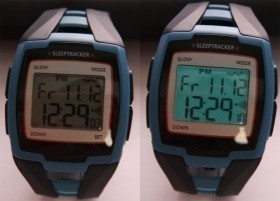 It's the other features that make the SLEEPTRACKER Elite stand out, though. When you go to bed you have the SLEEPTRACKER Elite on your wrist. The first things you want to do is set the "Alarm" and then turn it on. Once that's done you then want to set the "Window" time. We'll explain this more in a moment.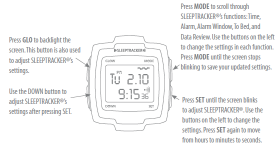 Once that's done, navigate to the "To Bed" screen using the "Mode" button and proceed to set the time you're going to bed. If you think it'll take about 15 minutes to go to bed, set it for 15 minutes ahead of what the time is when you lay down.
Now you're ready to go to bed. Over the next 8 hours or maybe less depending when you go to bed / wake up, the SLEEPTRACKER Elite will monitor the times you're "Almost Awake" with the help of an accelerometer, because during the night you go through sleep cycles in which you're almost awake.
Using this data, the watch then wakes you up at a point where you're "Almost Awake." This is what the "Window" is used for; if you've set the time for 10:00am, you could be woken up as early as 9:40am if that's closer to your almost awake moment. The "Window" time can be set as high as 90 minutes. I had it set for 20 minutes and SLEEPTRACKER stated in the manual 20 minutes is typically adequate.
The good thing about the alarm is you can set it to vibrate mode only, which means you're not woken up with some violent alarm or anything like that; it's just something else that helps you ease into waking up. It's a lot like many alarms these days that start your alarm off softly instead of just jamming loud noises through your ears.

Once you've done all that and you've slept and woken up at an almost awake moment, you're then able to use the USB cable to download the data from your watch to the software and keep track of your sleep. You're then also able to keep track of your sleeping pattern and add tags which may've affected your sleep in a positive or negative way like drinking, napping, smoking and exercise to name just a few.
The thing is, it all sounds a bit "mumbo jumbo" when you read about it, but the device really is fantastic. Before I get into that, though, I just want to talk about a few things that bug me. The first is the software. It's not bad, but I would like to just see a "Fetch Data" button that just pulls the data off the watch. At the moment you go to "Add Sleep Event" it pulls it down and then saves the data. The other thing I would like to see is the data help explain your sleep pattern. If you woke up and slept well, what was it in the data you're seeing that is better than another night's sleep?
On the watch front there are two things that bug me; the first is setting your "To Bed" time. The first few nights I forgot to set it right and it made the data useless for the most part, especially if the "To Bed" time is way out. What I would love to see is a button that you can press and pretty much set your sleep time 30 minutes from when you pressed it. You'd need it to be a little harder to press just so you didn't accidently press it; maybe press it twice within 15 seconds or something like that.
The only other thing is that it would also be great if the watch battery could be charged via USB. Some may have a more formal watch they wear or just use their phone to tell the time during the day, so what you could do is leave it plugged into your USB port and the battery would charge.
I'm only being picky for one reason and that's because it's a fantastic product. Since I work from home, I have the luxury of just going back to sleep if I wake up feeling groggy. I hate it, because I know I don't need more than 7 - 8 hours' sleep, but can sometimes sleep more simply because I can due to the fact I've woken up poorly.
What the SLEEPTRACKER Elite has done is just given me this fantastic routine. If I go to bed late and have to wake up within 6 hours because I'm going somewhere, the watch will make sure I wake up at the optimum time, even if it means waking up a little earlier.
SLEEPTRACKER isn't some magical device that's going to mean you can run on 5 hours sleep a night. It's aimed at people who want to try and wake up better with SLEEPTRACKER saying "SLEEPTRACKER is ideal for anyone who wants a wake up alert and ready to start the day, such as frequent travellers across time zones, business people looking for that extra edge, students with fluctuating schedules, or busy moms who need to wake up easily. When you set the ALARM WINDOW, SLEEPTRACKER wakes you when you feel like you're already awake - at one of those frequent times during a night's sleep when you're almost awake but usually drift back to sleep."
I would also say it's fantastic for people who have the ability to drift back to sleep if they wake up feeling groggy. I actually hate sleeping for more than I need to, as it's really unproductive. Sometimes even after waking up after 8 hours and going back to sleep for another 2 I can feel no better like others can attest to. Instead, now I'm waking up sometimes with just less than 8 hours sleep and feeling great.
$179 may seem a little expensive, but I've personally found that I'm more productive which means it can really pay for itself. SLEEPTRACKER Elite is fantastic! And while it might not be for everyone, there's a huge amount of people who could make good use of the device. A fantastic present for a family member this Christmas who is impossible to buy for, or just a good buy for you because you want to wake up feeling the best you can. Before I finish, I would recommend that if you want to know a little more about the SLEEPTRACKER Elite, it's worth checking out the
manual
.
PRICING: You can find products similar to this one for sale below.

United States: Find other tech and computer products like this over at Amazon.com

United Kingdom: Find other tech and computer products like this over at Amazon.co.uk

Australia: Find other tech and computer products like this over at Amazon.com.au

Canada: Find other tech and computer products like this over at Amazon.ca

Deutschland: Finde andere Technik- und Computerprodukte wie dieses auf Amazon.de