Introduction, Specifications, Pricing and Availability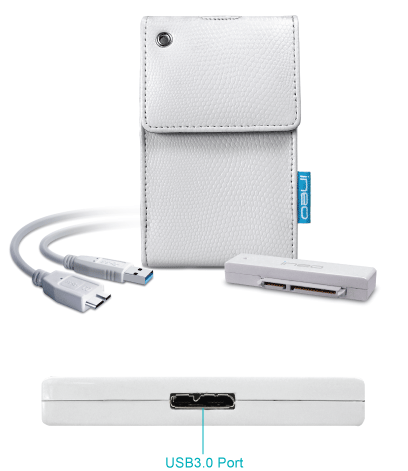 Introduction
When I saw the External Module, I was a little perplexed, too. Is this some new mystery category of product never seen before, I thought? - In reality, ineo, a California based company, took two popular ideas, put them together and made everything as simple as possible.
Most enthusiasts and power users have cracked open an external drive carrier to use on a drive temporally, then put it back together with the drive that was in it before. ineo Tech has taken that idea and refined it.
Today we are going to look at a fairly unique product that matches portable storage with what I can only refer to as a purse for your 2.5" HDD. Don't let the description fool you, the iPile series I-NA214U is very useful and may even turn into a 'must have' tool for easy desktop access to storage drives.
Specifications, Pricing and Availability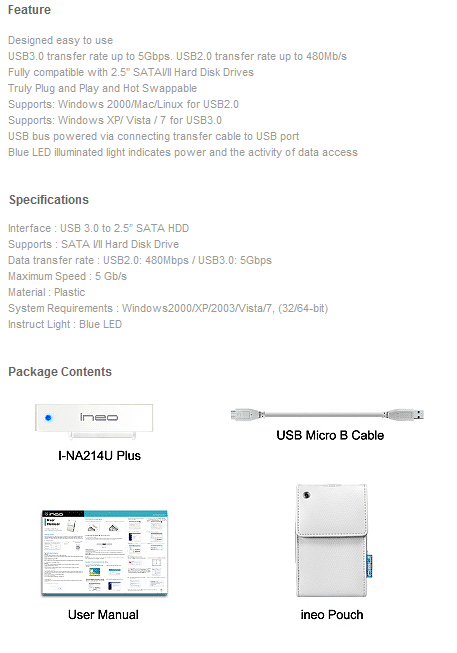 The ineo Tech iPile Series USB 3.0 HDD Module consists of three main parts; a pouch that holds the drive and module, the USB 3.0 to SATA II module and of course the USB 3.0 cable. The interesting part of the package is the module that is less than an inch thick, converts SATA II to USB 3.0 and can be used without the purse like pouch.
It is always nice to have a quick way to get to the contents of your drive without having to crack your PCs case open. I should also point out that the module does not use a wall mount power source, so the iPile module will only work with 5 volt "notebook" class drives.
We've said before that USB 3.0 is the future and pricing will soon start to decline. Well, that day is here; the ineo Technology I-NA214U Plus External HDD Module is available at Newegg for
only 24.99 USD
.
Let's take a look and see what all is included in the package.
The Packaging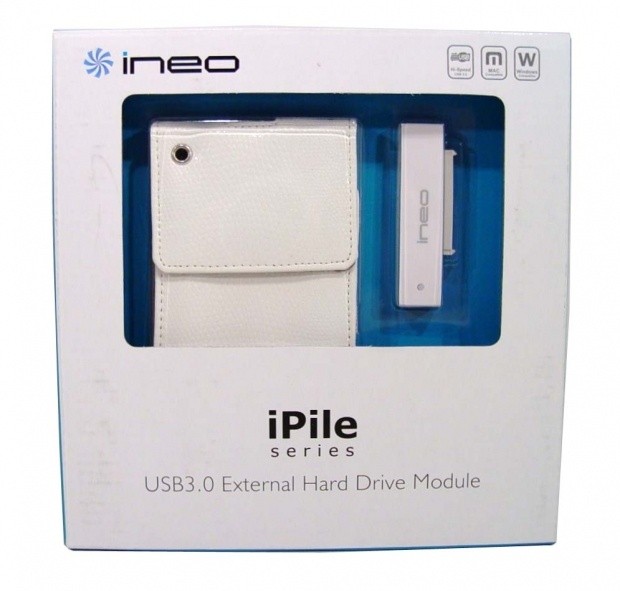 The ineo USB 3.0 External HDD Module comes in an attractive package, but not a lot of information is given on the front of the box. You can see some of the package contents, though.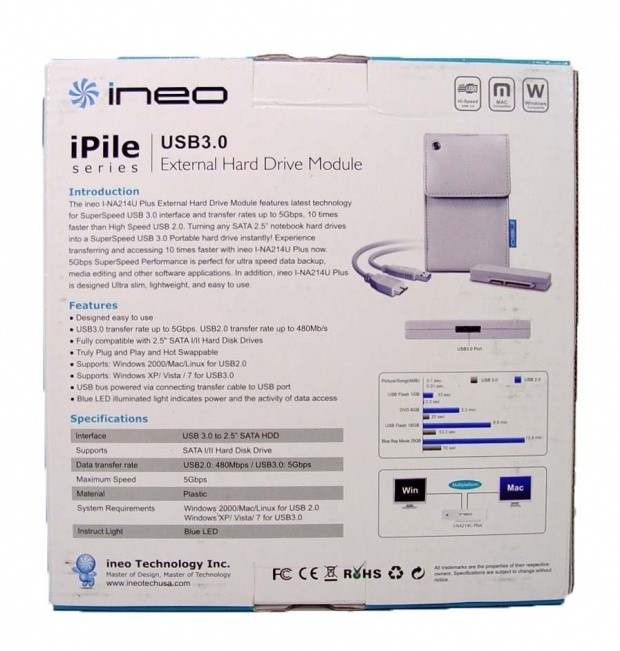 The back of the package lists everything. Here we see specifications, features, performance information and even a description of the module.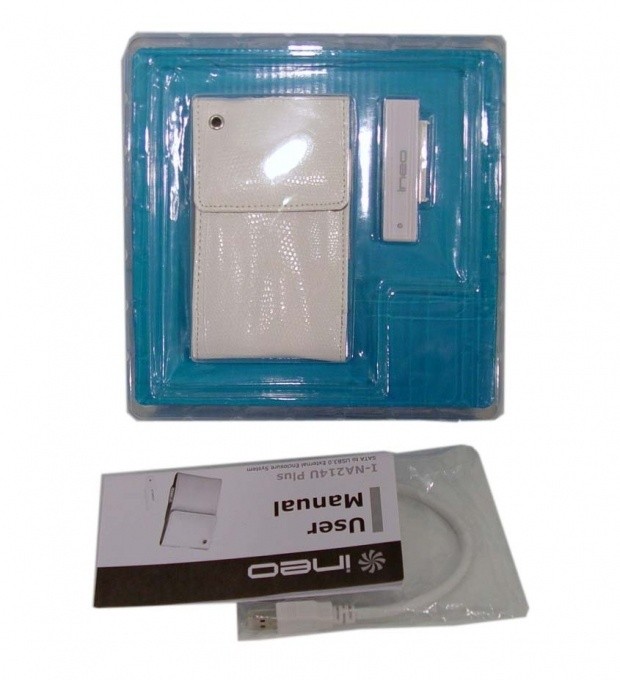 The inner package is designed to keep all of the components separate. The manual and short USB 3.0 cable was located behind the other main components.
The ineo Technology USB 3.0 External HDD Module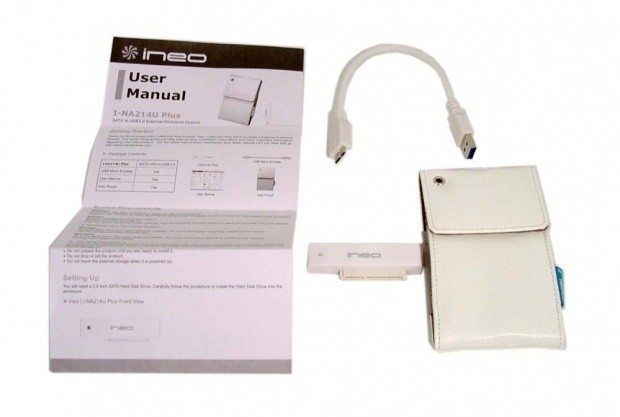 Here we see the entire package laid out. As mentioned previously, there is a small adapter module, USB 3.0 cable and a pouch that holds the drive and module.

To keep the module small a mini USB 3.0 plug was used. You connect this side to your PC.

Your SATA 2.5" hard drive connects to this side. Since USB 3.0 has more power than USB 2.0, you will be fine using this product with any USB 3.0 port. Things start to get sketchy when dealing with USB 2.0 and some 2.5" platter drives may have issues when using this product with USB 2.0 ports.
This last week I observed a situation similar and the drive would not work correctly when connected to a Dell desktop system.

Here we see one of our Crucial RealSSD C300 256GB drives attached to the ineo module.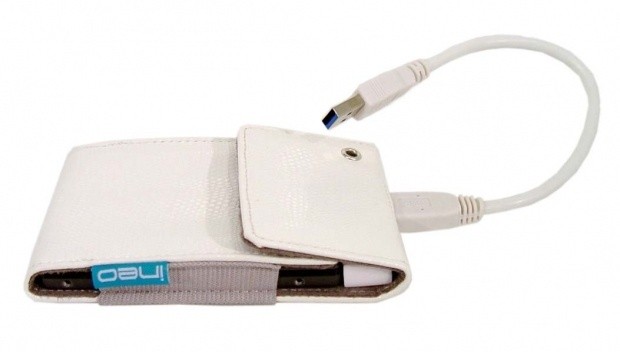 Above we see the entire system put together with the drive and module inside the pouch. You get around 10 inches of cable. Until we see more front mounted USB 3.0 connectors, this length will mean users have to reach around their case to plug the drive in to get USB 3.0 connectivity.
Test System Setup and ATTO Baseline Performance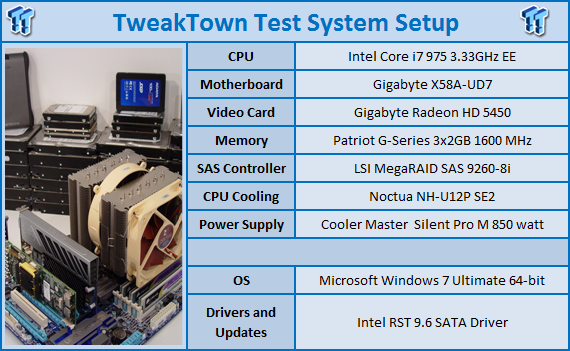 We would like to thank the following companies for supplying and supporting us with our test system hardware and equipment:
AVADirect
,
GIGABYTE
,
Cooler Master
,
LSI
and
Noctua
.
You can read more about TweakTown's Storage Product Testing Workstation and the procedures followed to test products
in this article
.
Currently USB 3.0 is a touchy subject. Most onboard USB 3.0 solutions only allow read speeds to around 200MB/s and write speeds of 180MB/s. A few PCIe aftermarket cards are delivering faster results, but not much faster at this time.
For testing we will use the Crucial RealSSD C300, the world's fastest 256GB SSD. Crucial has graced us with several of these drives for use in all of our storage product reviews. You can learn more about the Crucial RealSSD C300 256GB SSD
here
.
ATTO Baseline Performance
Version and / or Patch Used:
2.34
ATTO is used by many disk manufacturers to determine the read and write speeds that will be presented to customers.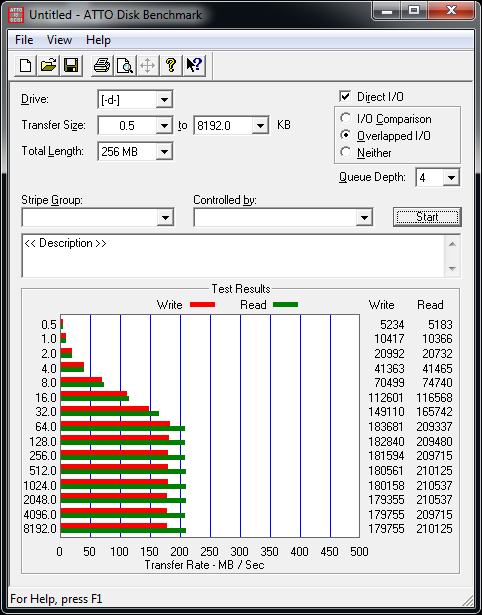 Here we see typical USB 3.0 performance from our GIGABYTE X58A-UD7 motherboards USB 3.0 port. The ineo Tech USB 3.0 External HDD Module I-NA214U is capable of delivering enough performance to match what we have been able to achieve with the motherboard.
Benchmarks - HD Tach
HD TachVersion and / or Patch Used:
3.0
Developer Homepage:
http://www.simplisoftware.com
Product Homepage:
http://www.simplisoftware.com/Public/index.php?request=HdTach
Buy It Here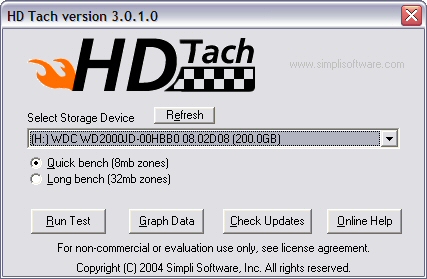 HD Tach has been around for a long time and is excellent when it comes to testing hard drive performance. It is also a very handy program when it comes to testing the controller used on particular motherboards. Tests such as Read, CPU Utilization and Burst are available at a click of the button and give you a good idea of how the hard drive can perform from system to system.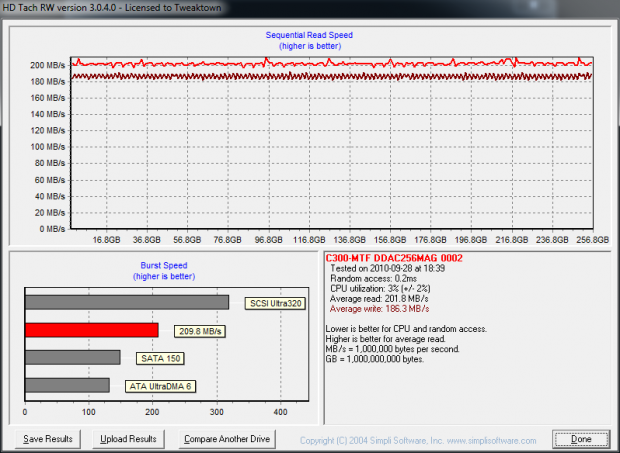 In HD Tach we see the read and write speeds across the drive. The ineo Technology USB 3.0 Module allows the drive to read just over 200MB/s and almost 190MB/s write. The performance is fairly smooth across the drive and we didn't observe any dead or declining spots.
Benchmarks - Everest Random Access Time
Everest Random Access TimeVersion and / or Patch Used:
4.60
Developer Homepage:
http://www.lavalys.com
Product Homepage:
http://www.lavalys.com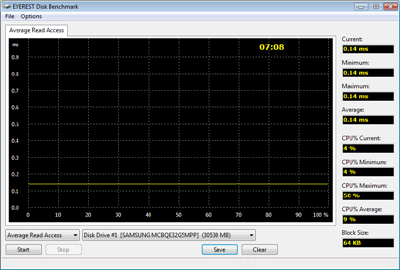 Everest Ultimate and Corporate Edition offer several different benchmarks for testing and optimizing your system or network. The Random Access test is one of very few if not only that will measure hard drives random access times in hundredths of milliseconds as oppose to tens of milliseconds.
Drives with only one or two tests displayed in write the write test mean that they have failed the test and their Maximum and possibly their Average Scores were very high after the cached fills. This usually happens only with controllers manufactured by JMicron.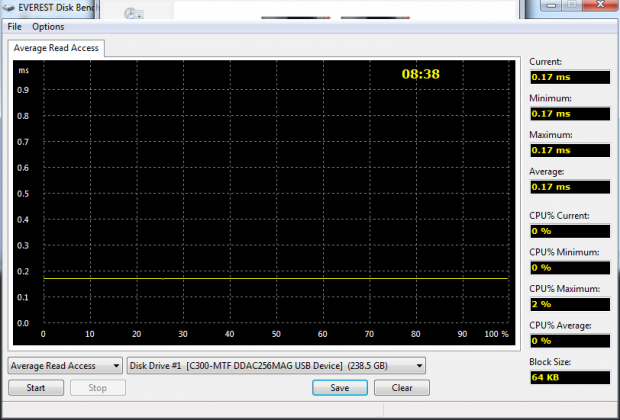 The read access was not interrupted by the ineo Technology USB 3.0 Module. In this test we observed read access times that were on par with those found when testing the Crucial RealSSD C300 inside the PC on a SATA III connection.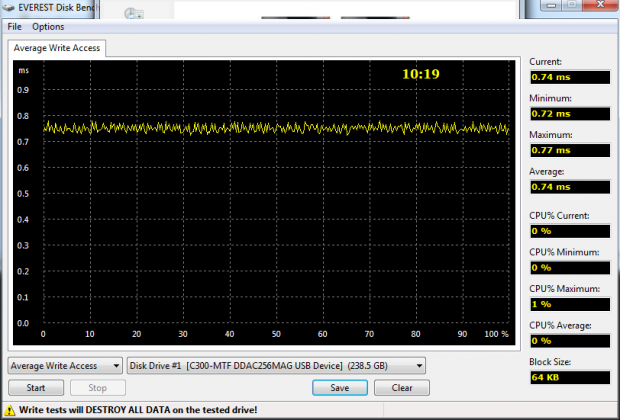 Our Crucial RealSSD C300 was still handling some TRIM operations when this test was performed, so the graph was a little bumpy, but the results were very close to how the drive performs when connected to a SATA III port.
Benchmarks - AS SSD
AS SSD BenchmarkVersion and / or Patch Used:
1.2.3577.40358
Developer Homepage:
Alex Intelligent Software
Product Homepage:
Alex Intelligent Software
Download here:
http://www.alex-is.de/PHP/fusion/downloads.php?cat_id=4&download_id=9
AS determines the performance of Solid State Drives (SSD). The tool contains four synthetic as well as three practice tests. The synthetic tests are to determine the sequential and random read and write performance of the SSD. These tests are carried out without the use of the operating system caches.
In all synthetic tests the test file size is 1GB. AS can also determine the access time of the SSD, the access of which the drive is determined to read through the entire capacity of the SSD (Full Stroke). The write access test is only to be met with a 1 GB big test file. At the end of the tests three values for the read and write as well as the overall performance will be issued. In addition to the calculated values which are shown in MB/s, they are also represented in IO per seconds (IOPS).
Note:
AS SSD is a great benchmark for many tests, but since Crystal Disk Mark covers a broader range of 4K tests and HD Tune Pro covering sequential speeds, we will only use the Copy Benchmark from AS SSD.
- Copy Benchmark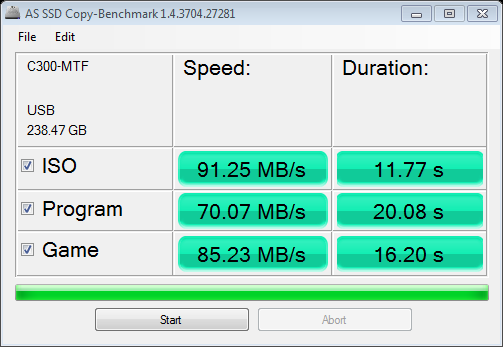 Most users will use the External Module for transferring data to and from the drive and this is the test that best shows how the system will perform at that task. USB 3.0 does not allow the passing of native command queuing commands and as a result there will be some degree of performance loss when compared to a drive connected to a SATA connector.
Final Thoughts
We've looked at two products now from ineo Technology and so far their designs have captured me with their ability to think outside the box. It isn't just their design and vision, though; their ability to hit extremely low price points has also intrigued me.
On the surface there isn't much involved with the ineo Technology USB 3.0 External HDD other than the fact it is USB 3.0. It is that very fact that makes this product so interesting. We've seen USB 3.0 components before, but never at this price point.
There are some issues that I did observe that are cause for concern, or at least a mention. Most users will be recycling older notebook drives; most of these are platter drives and the leather pouch doesn't offer a lot of shock protection, so users will want to set their drive down and not handle it when in use. The next issue has to do with the length of the cable. ineo includes a roughly 8 inch cable with the system and most PCs don't have front USB 3.0 ports at this time. That means you will need to reach around you system to plug the drive in.
Taking all of this a step further, you now have your drive connected to a USB 3.0 port, on the back of your computer, sitting on the ground. If you are in an office environment your PC might not be backed up against the wall, so now you have a 2.5" HDD on the ground, attached to the back of your PC...is it in the walk way? - I really hope not, or your data is just one misstep away from being destroyed.
When it comes to pricing, the ineo Technology USB 3.0 External HDD Module is currently available at Newegg
for 24.99 USD
. ineo also has their products available online at Walmart.com and we would love to see them eventually make it to the retail stores.