A-DATA Nobility NH03 1TB USB 3.0 External HDD
It's the pricing game! How much would you expect to pay for a 1TB USB 3.0 HDD? 199? 149? How about 109 USD and it comes with bells and whistles, too?
Published Tue, Aug 24 2010 5:24 AM CDT
|
Updated Tue, Nov 3 2020 7:02 PM CST
Rating:

93%
Manufacturer: A-DATA
Introduction, Specifications, Pricing and Availability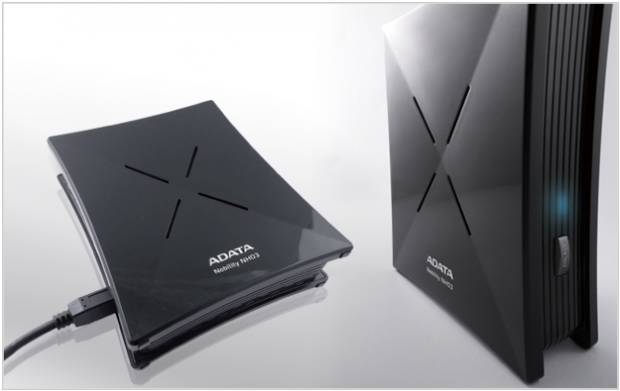 Introduction
I remember the very first USB 3.0 enclosure I tested. The Buffalo unit was more than just the first USB 3.0 external drive I tested; it was the very first review ever written on a USB 3.0 external enclosure where benchmarks were also provided. As you can imagine, I was very excited to review the first USB 3.0 product online, but that excitement quickly went away when I realized I would need to talk about pricing. Last November that 2TB Buffalo DriveStation 2TB cost a whopping 399.99. There just isn't enough whisky in Lynchburg to dull that pain.
Luckily for us, time heals all pains and A-DATA is now in the USB 3.0 external storage market. The new Nobility NH03 is an external HDD that connects to your computer's USB 2.0 or 3.0 port and provides high speed storage for your archival needs. As if that weren't enough on its own, A-DATA has included enterprise class 256bit AES encryption to keep your data safe from prying eyes and included a software bundle that includes PCCloneEx as well as TurboHDD software that works as a driver upgrade, enabling read performance increases.
I think the best feature of the NH03 is the one we have come to expect from A-DATA with all of their products, the price. Our 1TB sample is currently on its way to Newegg and is available for preorder today for just over 100 USD.
Specifications, Pricing and Availability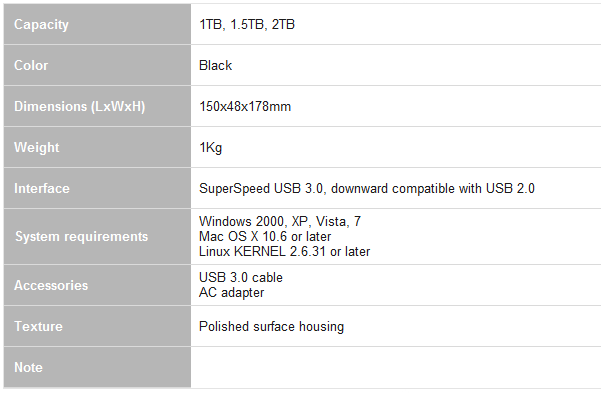 A-DATA's website shows three Nobility NH03 models and they differ in capacity sizes. A-DATA will offer 1TB, 1.5TB and 2TB drives, but as of now Newegg only lists
the 1TB available for 109.99 USD
. At that price the A-DATA NH03 is the lowest cost USB 3.0 1TB drive listed at Newegg and its closest competition only includes a 500GB HDD. The other two capacity sizes should be available in a couple of weeks and the humming bird told us 152.30 for the 1.5TB and 183.85 for the massive 2TB model. These prices are also very competitive with what the market has to offer.
When it comes to portability, most users look at the weight of an external drive and the cable system. The Nobility NH03 weighs 1Kg or for those in the US, around 2.2 pounds. This isn't a book bag friendly weight, but if you really need to take the NH03 with you it isn't all that bad. The cabling requires external power that is fed through a power brick and that can complicate things a bit if you are short on power plug.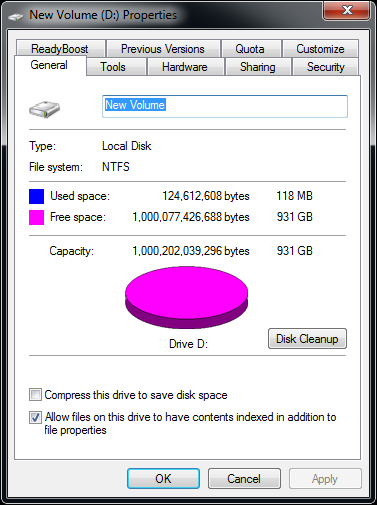 After formatting and overhead, we ended up with 931GB of user available space from the Nobility NH03.
The Packaging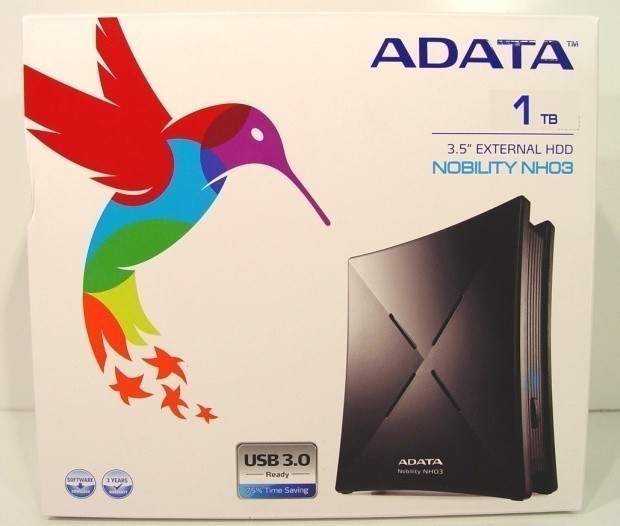 There isn't a lot of information on the front of the package, but you do get to see what the enclosure looks like and the USB 3.0 Ready logo is at the bottom so you have an idea of what you are getting into.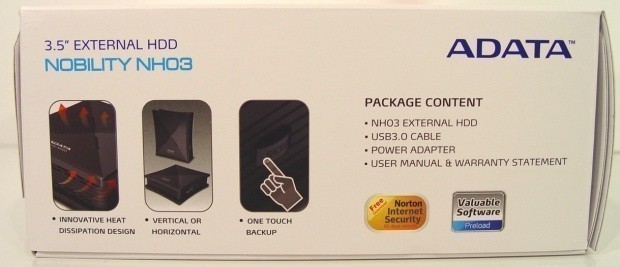 The side of the package lists the contents and also illustrates some of the features.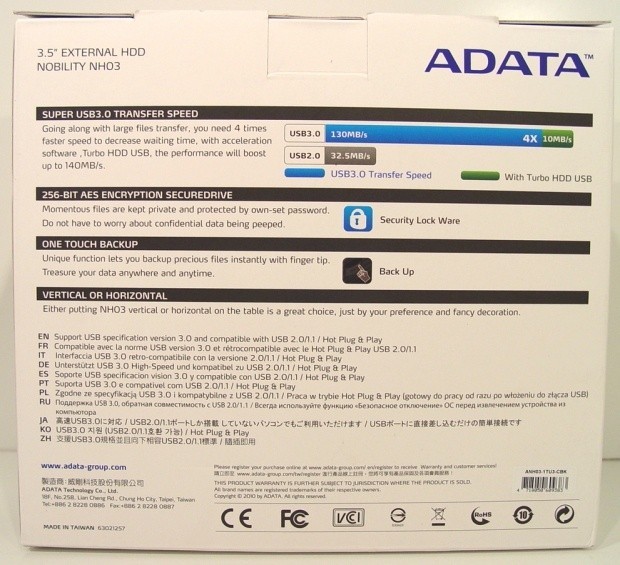 The back of the package shows more of the features and gives us some performance claims.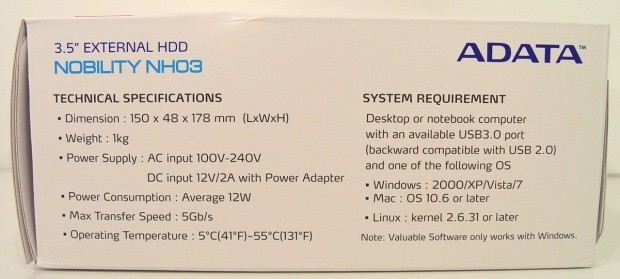 The full list of technical specs and system requirements are listed on the other side of the box.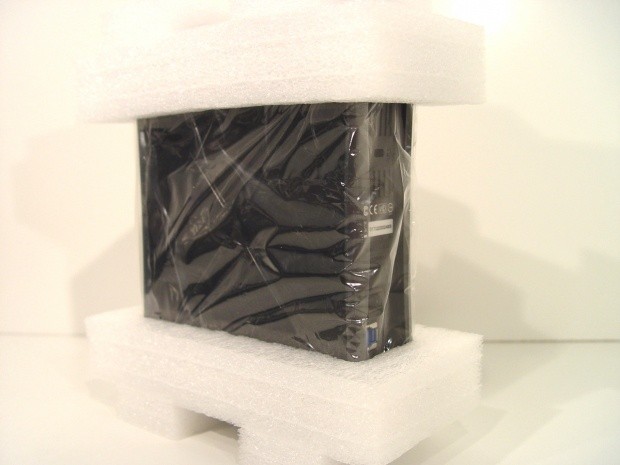 The inner packaging keeps the enclosure separate from the external power adapter and additional cables.
The A-DATA Nobility NH03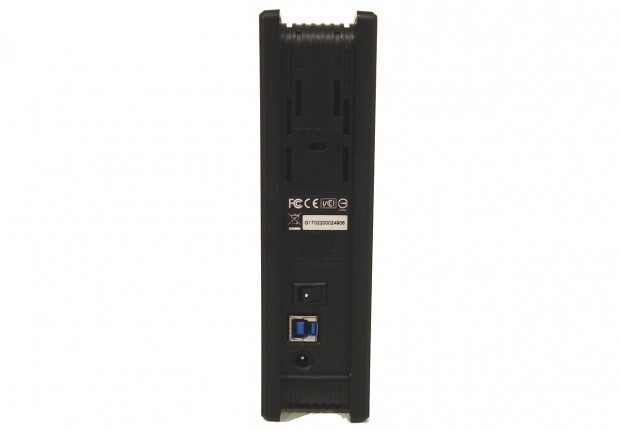 The front of the Nobility NH03 has a blue LED that lights up when the enclosure is connected and powered. There is also a back up button for easy, one touch back up of your files.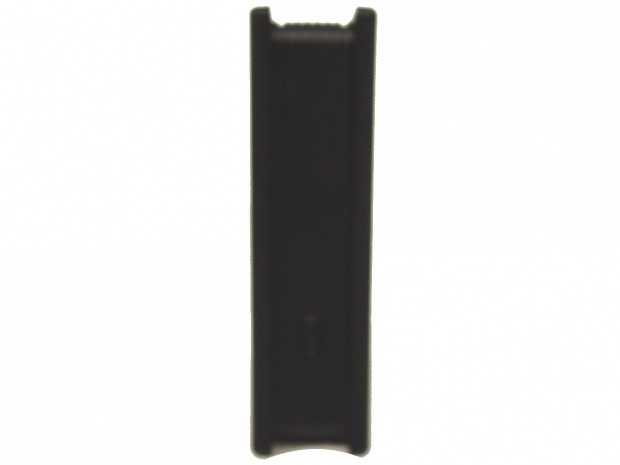 The back of the Nobility has the USB and power plugs as well as a rocker switch that will allow you to turn the enclosure on or off.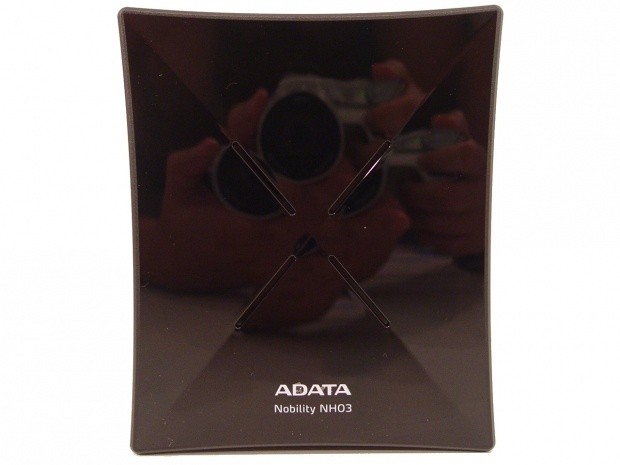 The sides of the NH03 are quite interesting. The enclosure is able to be used either standing up as shown or placed on either side.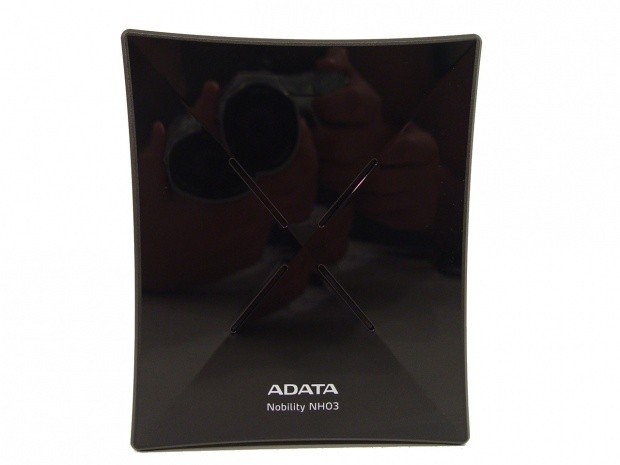 A-DATA has placed cooling vents on both sides of the enclosure and this aids in cooling the internal platter drive inside.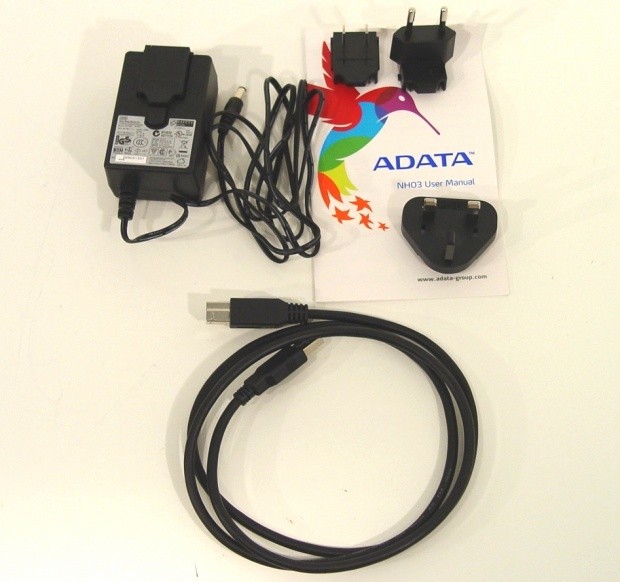 There aren't too many accessories included with the Nobility NH03, but you get more than most companies give. Here we see the USB 3.0 cable that can also be used in a USB 2.0 port and the power adapter. What makes this adapter special is that it includes three different plugs for different regions of the world.
Test System Setup and ATTO Baseline Performance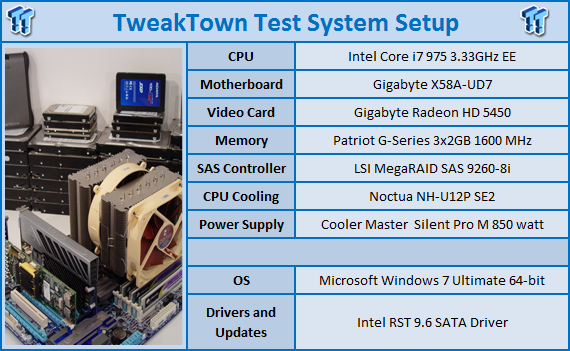 We would like to thank the following companies for supplying and supporting us with our test system hardware and equipment:
AVADirect
,
GIGABYTE
,
Cooler Master
,
LSI
and
Noctua
.
You can read more about TweakTown's Storage Product Testing Workstation and the procedures followed to test products
in this article
.
Today we are testing A-DATA's Nobility NH03 USB 3.0 1TB external HDD. The performance shown today represents the 1TB model; other capacity sizes will perform a little differently.
ATTO Baseline Performance
Version and / or Patch Used:
2.34
ATTO is used by many disk manufacturers to determine the read and write speeds that will be presented to customers.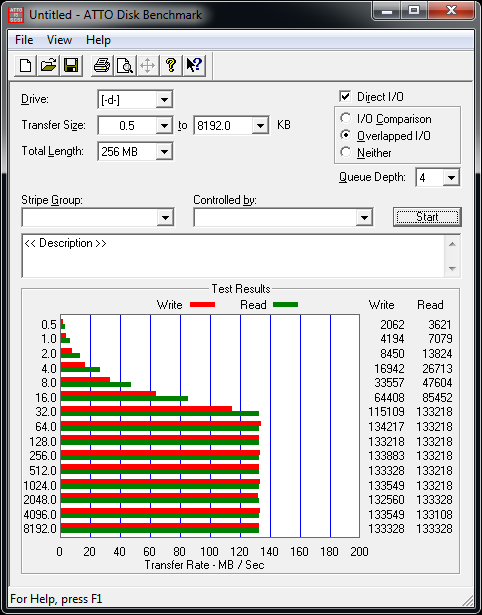 The highest speed we have been able to achieve from our GIGABYTE X58A-UD7's onboard NEC USB 3.0 chip has been just over 200MB/s. This was on an A-DATA USB 3.0 SSD based on the Indilinx Barefoot controller.
The A-DATA Nobility NH03 managed to deliver read and write speeds up to 133 MB/s. Many of the USB 3.0 portable enclosures we have tested have only been able to achieve right around 100MB/s, so the Nobility is very fast and leading this category for external USB 3.0 platter based storage.
Benchmarks - HD Tach
HD Tach USB 2.0 and 3.0 ComparisonVersion and / or Patch Used:
3.0
Developer Homepage:
http://www.simplisoftware.com
Product Homepage:
http://www.simplisoftware.com/Public/index.php?request=HdTach
Buy It Here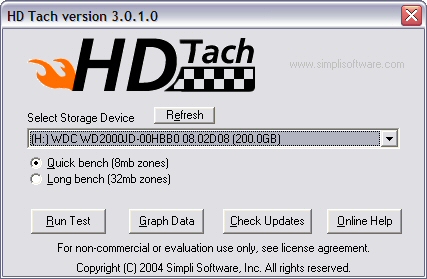 HD Tach has been around for a long time and is excellent when it comes to testing hard drive performance. It is also a very handy program when it comes to testing the controller used on particular motherboards. Tests such as Read, CPU Utilization and Burst are available at a click of the button and give you a good idea of how the hard drive can perform from system to system.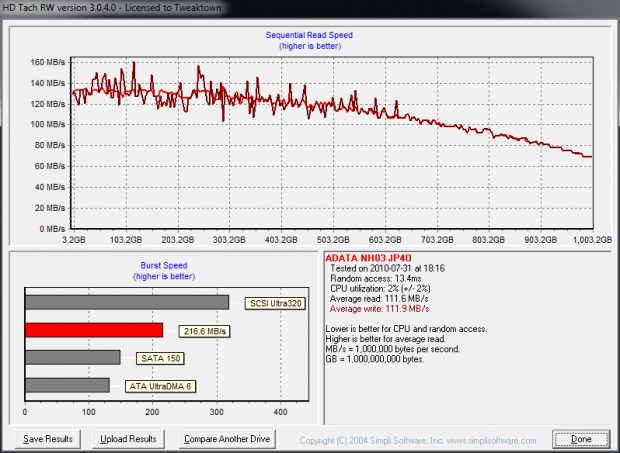 In HD Tune we get to see the read and write performance across the platters. For the first half of the drive space performance stays above 120MB/s, but starts to slow down considerably after the first half. At the tail end of the test we see that both read and write performance drop down to around 70MB/s.
Benchmarks - Crystal Disk Mark
CrystalDiskMarkVersion and / or Patch Used:
3.0 Technical Preview
Developer Homepage:
http://crystalmark.info
Product Homepage:
http://crystalmark.info/software/CrystalDiskMark/index-e.html
Download here:
http://crystaldew.info/category/software/crystaldiskmark
CrystalDiskMark is a disk benchmark software.
Key Features:-
* Sequential reads/writes
* Random 4KB/512KB reads/writes
* Text copy
* Change dialog design
* internationalization (i18n)
Note:
Crystal Disk Mark 3.0 is not available to the public yet, but the Technical Preview does allow us to test 4K performance at queue depths of 4 and 32 in addition to 1. The current release Crystal Disk Mark only shows us QD 1.
Crystal Disk Mark Tests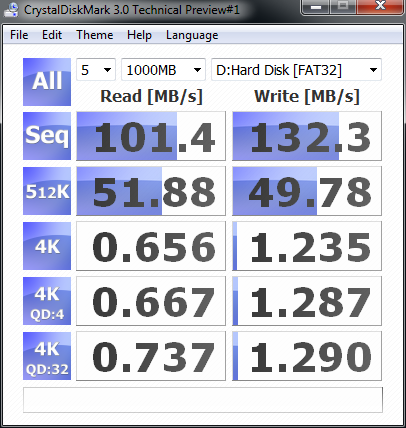 In a recent announcement the makers of CDM stated that they were making the 1000MB test the default benchmark so we have changed over from the 100MB test and started using the 1000MB test in our reviews.
4K files take a very long time to read and write on platter drives. Here we see the 4K read performance of the Nobility NH03 is just over half a megabyte a second. The 4K write speed is twice as fast.
Benchmarks - AS SSD and Final Thoughts
AS SSD BenchmarkVersion and / or Patch Used:
1.2.3577.40358
Developer Homepage:
Alex Intelligent Software
Product Homepage:
Alex Intelligent Software
Download here:
http://www.alex-is.de/PHP/fusion/downloads.php?cat_id=4&download_id=9
AS determines the performance of Solid State Drives (SSD). The tool contains four synthetic as well as three practice tests. The synthetic tests are to determine the sequential and random read and write performance of the SSD. These tests are carried out without the use of the operating system caches.
In all synthetic tests the test file size is 1GB. AS can also determine the access time of the SSD, the access of which the drive is determined to read through the entire capacity of the SSD (Full Stroke). The write access test is only to be met with a 1 GB big test file. At the end of the tests three values for the read and write as well as the overall performance will be issued. In addition to the calculated values which are shown in MB/s, they are also represented in IO per seconds (IOPS).
Note:
AS SSD is a great benchmark for many tests, but since Crystal Disk Mark covers a broader range of 4K tests and HD Tune Pro covering sequential speeds, we will only use the Copy Benchmark from AS SSD.
- Copy Benchmark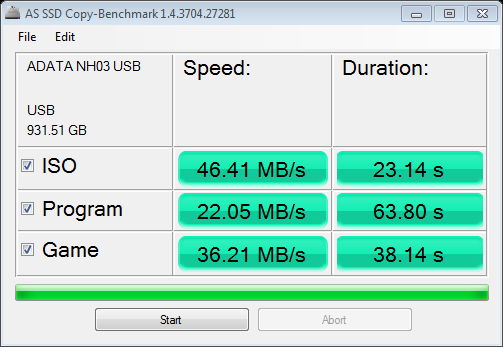 The most commonly used task for external storage products is transferring data to and from the drive. In AS SSD we are able to simulate a controlled transfer of three common file formats. The Nobility NH03 is capable of transferring an ISO file at 46.41MB/s, Program Files at 22.5MB/s and Game Files 36.21MB/s. USB 2.0 is only able to perform these same tests at 14MB/s, so we see significant improvements from the USB 3.0 NH03.
Final Thoughts
I have to say that I am not surprised to see A-DATA taking the top spot at Newegg for USB 3.0 external drives. What is a bit surprising, though, is that they are able to do it even before the drives arrive at Newegg's warehouse. We were told that the drives will be arriving by the time you read this, so the availability should be strong at that point.
At 109.99 USD
the 1TB A-DATA Nobility NH03 is a good choice for those looking to add additional high speed storage to their desktop system. The NH03 isn't exactly small, though, and many users will prefer to look for high speed portable storage in a 2.5" based drive enclosure since they are much easier to transport and in many cases do not require an additional power supply.
When it comes to performance, the NH03 offers better than average transfer rates for external devices. The file transfer tests show that the enclosure is able to run nearly identical to internal platter based drives using 5400 RPM platters.
PRICING: You can find products similar to this one for sale below.

United States: Find other tech and computer products like this over at Amazon.com

United Kingdom: Find other tech and computer products like this over at Amazon.co.uk

Australia: Find other tech and computer products like this over at Amazon.com.au

Canada: Find other tech and computer products like this over at Amazon.ca

Deutschland: Finde andere Technik- und Computerprodukte wie dieses auf Amazon.de
We openly invite the companies who provide us with review samples / who are mentioned or discussed to express their opinion. If any company representative wishes to respond, we will publish the response here. Please contact us if you wish to respond.