Twilight: New Moon Blu-ray Movie Review
"It would be nice to not want to kill you all the time."

Published Sat, Jul 24 2010 4:08 AM CDT
|
Updated Tue, Nov 3 2020 7:02 PM CST
Ah, the
Twilight Saga
, how I love thee. Regular readers may remember my venomous review of the first
Twilight
film, a movie so bad that it forever tarnished my views of the human race.
So, a year later, we progress to film two of five, entitled
New Moon
. With the complications of a romance between Bella's (Krysten Stewart) humanity, versus the blood lust of the vampire next door Edward (Robert Pattinson), he deems it better to leave town rather than pose a threat to the woman he loves. In his absence, Bella forms a much closer bond with her childhood friend Jacob (Taylor Lautner), which threatens her relationship with Edward.
So the dying question is; did I find
New Moon
to be as diabolically bad as its predecessor? No, not by a long shot. Is it a good film? No, also by a long shot. First to the positive; as a film it's vastly superior to the first - but only because the benchmarks were so low to begin with. Almost every aspect has been improved; the direction under Chris Weitz is infinitely better. It feels like an actual movie, rather than a cheap direct to DVD special. Visual effects are almost believable. Acting has improved. The whole film has an air of confidence about it that was completely missing from the first. Flush from the winnings from the first movie, production company Summit has pumped up the budget and it shows on the screen.
Now to the bad. With the technical details having improved somewhat, my attention is now drawn to the story itself and I must say it's as bad as the first. It's akin to building a mansion on quicksand; it's fraught with danger from the start. It's just so lacking in common sense. Why do the Werewolves keep busting out of their shirts? Why does a 109 year old vampire want to go to school? Why does the vampire Cullen family, sworn off human blood but not impervious to their desire, mix so freely with humans? That's akin to bringing a smorgasbord of booze into an alcoholic's anonymous meeting. As I mentioned in my previous review, whilst I do appreciate the love that these films have (and I'm all for getting the kids to appreciate books), I just can't see the appeal. Despite this,
New Moon
is still mildly entertaining and if shirtless guys are your thing, you'll be in heaven. I'm afraid it fails to do much for me.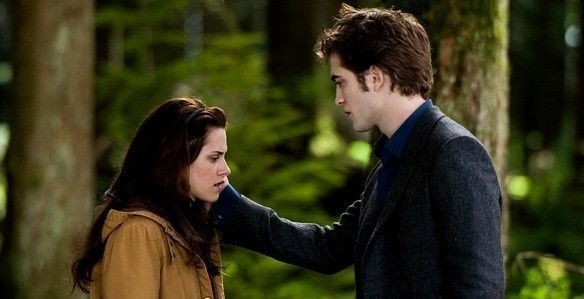 VideoTwilight: New Moon
is presented in a widescreen aspect ratio of 2.35:1, encoded with AVC MPEG4 compression.
The transfer given to the sequel is far better than the awful transfer given to the first. Allowed to breathe over a dual layer disc, it's free of the terrible macroblocking that hampered the predecessor. The source material is much nicer than the first, too. Gone is the distracting blue cast over the image which made it look like a bad direct to DVD movie. There's a very fine amount of film grain, but entirely deliberate and combined with the higher bitrate, doesn't cause any problems. As mentioned, the higher budget of this film shows on screen, and contributes immensely to a more pleasing image.
Overall, a very nice transfer and decidedly better to the low benchmark of the first.
[img]2[/img]
Audio
The main audio track is encoded in DTS HD Master Audio 5.1, at 24 bits.
Again, this lossless audio track is infinitely better than the lossy Dolby Digital track afforded to the first. Being a slightly more action oriented film, it's also given more opportunities to shine. Some of the quieter dialogue was a little hard to hear, but I'm not sure I missed anything major. The rear channels are always alive with ambience and to support some pleasing directional effects. Music is mixed well and always transferred to the wider soundstage.
Bass is always fairly aggressive and omni-present.
[img]3[/img]
ExtrasNew Moon
has a fair amount of flesh and blood (see what I did there?) in the extra features department.
Audio Commentary
is provided by Director Chris Weitz, along with the editor Peter Lambert. I found Weitz to be pretty serious about the source material and enjoyed his ham-fisted justification for some of the more outlandish parts of the film. The pair give a fair amount of detail from production but given in such syllabic monotones, it's hard to hang on unless you are an uber fan. But I doubt the uber fans have the attention span to hang on, at any rate.
The majority of the extras are to be found in the hour long
The Journey Continues documentary
. It's a very substantial affair, touching on many production sections and a discussion on the films social relevance. Whilst it's known I'm not the biggest
Twilight
fan, I found this a pretty decent documentary. Fans will obviously love it.
The collection of
Music Videos
reflect the mellower soundtrack, but I can't say I'm a massive fan of any of them. Even the contribution from Muse; 'I belong to you' is one of the lesser tracks in their discography.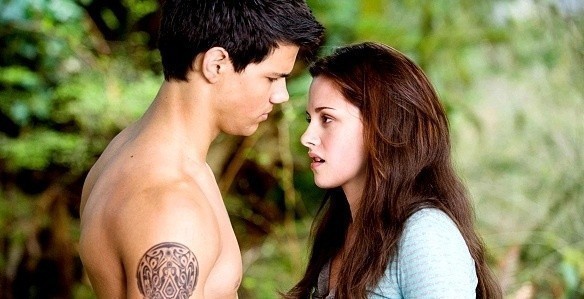 Overall
Review Equipment Used:
Display
: Sony KDL52X3100 LCD (1080p resolution/ 24p playback)
Player
: Sony BDP-S550 Blu-ray, PlayStation 3 (24p playback)
Sound
: Sony STR-DA5400ES Receiver (7.1 configuration), Sony SSX70ED front speakers (x2), Sony SSCNX70ED center speaker, Sony SSFCR7000 surround speakers (x4), Sony SAW3800 Subwoofer (Front), Sony SAWM500 Subwoofer (Rear)
PRICING: You can find products similar to this one for sale below.

United States: Find other tech and computer products like this over at Amazon.com

United Kingdom: Find other tech and computer products like this over at Amazon.co.uk

Australia: Find other tech and computer products like this over at Amazon.com.au

Canada: Find other tech and computer products like this over at Amazon.ca

Deutschland: Finde andere Technik- und Computerprodukte wie dieses auf Amazon.de
We openly invite the companies who provide us with review samples / who are mentioned or discussed to express their opinion. If any company representative wishes to respond, we will publish the response here. Please contact us if you wish to respond.