Twilight HD Movie Review
"Like that'll work. I'd smell her from across the field."

Published
4 minute read time
In all my 23 years I've seen a few crazes come and go. However, I have never seen anything so precisely bullseye the cultural zeitgeist quite like the
Twilight
franchise. Spawned from the book series written by Stephanie Meyer,
Twilight
has gone on to become a commercial force to be reckoned with, encompassing further sequels, toys, posters, jewellery and has made the stars household names, with teenage girls swooning at their very utterance.
Twilight
is, at its core, a forbidden romance tale, similar to
Romeo and Juliet
but mixed with the carnal pleasure of attractive vampires and with a little new millennium twist for good measure. When Bella Swan (Kirsten Stewart) moves to the small town of Forks, she quickly garners the attention of local Edward Cullen (Robert Pattinson), the 108 year old vampire whom doesn't age. While they fall in love, the complications of their relationship become evident, notwithstanding his inbuilt predilection for human blood and the not so nice vampires whom also roam.
Whilst the book series has a massive fanbase, which I admit I have not read, this is a review of the film, and straight up;
Twilight
is a
terrible
film. I would go so far as to call it horrendous. It's saddled with the worst special effects (curiously supplied by ILM), the most lackluster acting, the clunkiest editing and mediocre directing that I can recall seeing in a feature film since... well...ever. This is no hyperbole. The disgust that I feel for this movie remains unmatched. I just don't understand how a film with such poor production values could achieve so greatly; it's testament to the stupidity of the world that it has made back five times its budget in the United States alone. Its story, or the handling of the original story in such condensed form here, is painfully generic and predictable.
I realize that I am not the target audience for the film, but at the same time, didn't think that a film could offend my sensibilities as much as it so successfully has. In almost every film, no matter how bad, I can generally think of something nice to say. Not so with
Twilight
.
VideoTwilight
is presented in the widescreen aspect ratio of 2.35:1, encoded with VC-1 compression.
I'm pretty torn with the video transfer. At a glance it looks pretty good, with sharp detail and a deliberately dire colour balance which accurately mirrors the tone of the theatrical presentation. However, upon more careful consideration, the Blu-ray is a bit of a disaster. First off, the compression is far more aggressive than it should be. Because the filmmakers have whacked the transfer with the grain stick (for artistic purposes), the low bitrate struggles to encode it effectively, resulting in compression artifacts in almost every scene. Secondly, there seems to be some weird encoding error which appears as if frames are being dropped, resulting in a judder effect throughout the entire length of the film. I tried this disc on multiple players to be sure it wasn't an error with my reference BDP-S550 player, but it was replicated every time.
The biggest fault is it seems as though for the local release Sony chose to re-encode the film to fit a single layer Blu-ray disc. This has resulted in a subpar presentation for the local release, which according to other reviews is not replicated in either the US release (region coded for A only) or the European release (which is encoded for our region, B). Fans of the film which
must
have the Blu-ray (please don't), should import the European release. What a debacle.
Audio
The main audio track is encoded in Dolby Digital 5.1 at 640 kbp/s.
At this point, why over achieve? Unlike every other release of this film worldwide, for some reason Australia has been deemed only worthy to receive the audio mix in lossy Dolby Digital 5.1 and not in any form of lossless audio.
For the most part the audio is fine and serviceable. There's some nice ambience and the occasions of music are mixed nicely; of particular mention is the usage of 'Supermassive Black Hole' by Muse. The subwoofer is used extensively, but the lossy origins make the sound rather indistinct and muddied.
No matter what I feel about the film itself, there is no excuse in this time to let out new release films on Blu-ray without a lossless audio option.
Extras
The
Audio commentary
is provided by Catherine Hardwick and actors Robert Pattinson and Kirsten Stewart. Fans will enjoy hearing them wax lyrical about the final product and will no doubt agree with their mutual backslapping.
The following
Featurettes
are separated, but are designed to be watched as a whole, under the heading
The Adventure Begins: The Journey from Page to Screen
, which takes a look at various elements from production and works well as a nearly hour length documentary (presuming one would care enough about the film to see this through). Of note is the overseas Blu-ray presents this in HD 1080i, instead of SD 576i here.
Comic-Con Presentation
is a brief look at the
Twilight
panel from the 2008 Comic convention. I have never heard so many screaming girls in my life, which reaches fever pitch when Robert Pattinson walks out.
The
Music Video
section houses a few performances, 'Supermassive Black Hole' by Muse, Linkin Parks particularly emo sounding 'Leave out all the rest' and Paramores 'Decode'. Video quality is particularly questionable and SD to boot.
The section of
Deleted and Extended Scenes
will more than likely be enjoyed by fans. Basically it amounts to a little more romantic entanglement with our young lovers. I do believe the point was made more than sufficiently in the film, so these are well and truly superfluous.
Whilst the import Blu-ray features two discs, our version has been squashed onto one, which is why the video is heavily compressed. There are also some missing extras.
One final thing; it really irks me when I insert a disc to have to sit through around 2 minutes of forced studio logos, especially after the load times for the disc itself. What annoys me even more is when one of these is an advert for Australian anti-piracy measures. This here is the single biggest reason why Blu-ray fans are choosing to either a) import discs from other countries, or b) pirate the actual film. When you pay up to $49.95 AUD for a Blu-ray, you shouldn't have to put up with this garbage; the final insult for a disgracefully produced Blu-ray, of a terrible movie.
Overall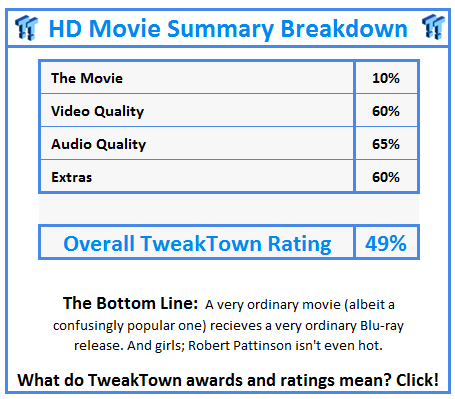 Review Equipment Used:
Display
: Sony KDL52X3100 LCD (1080p resolution/ 24p playback)
Player
: Sony BDP-S550 Blu-ray, PlayStation 3 (24p playback)
Sound
: Sony STR-DA5400ES Receiver (7.1 configuration), Sony SSX70ED front speakers (x2), Sony SSCNX70ED center speaker, Sony SSFCR7000 surround speakers (x4), Sony SAW3800 Subwoofer (Front), Sony SAWM500 Subwoofer (Rear)
PRICING: You can find products similar to this one for sale below.

United States: Find other tech and computer products like this over at Amazon.com

United Kingdom: Find other tech and computer products like this over at Amazon.co.uk

Australia: Find other tech and computer products like this over at Amazon.com.au

Canada: Find other tech and computer products like this over at Amazon.ca

Deutschland: Finde andere Technik- und Computerprodukte wie dieses auf Amazon.de
We openly invite the companies who provide us with review samples / who are mentioned or discussed to express their opinion. If any company representative wishes to respond, we will publish the response here. Please contact us if you wish to respond.