OCZ Technology Agility 2 240GB Solid State Disk
As prices continue to drop on SandForce drives, more enthusiasts are starting to look at higher capacity models. Today Chris takes a look at a large OCZ Agility 2.
Published Thu, Jul 8 2010 10:56 AM CDT
|
Updated Tue, Nov 3 2020 7:02 PM CST
Introduction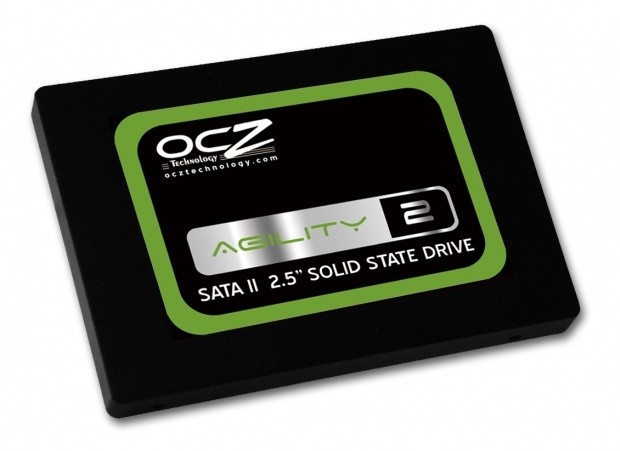 Prices are dropping on the consumer SandForce solid state drives and the rate is much faster than even we could have predicted. Back in January we heard about 100GB drives costing upwards of 600 USD, but now the new extended capacity drives are getting close to the 300 USD mark and the extremely limited supply 120GB OCZ Vertex LE
has broken that 300 USD barrier
. At these prices mainstream users are starting to notice these high speed SSDs in their smaller capacity.
Enthusiasts are starting to notice that the higher capacity drives are dropping in price as well. The larger 240GB extended capacity drives are now hitting the low 600 USD mark and some sellers are even pushing them at prices under that. At one point these 200GB drives were listed at nearly a thousand Dollars, so the new prices have given new hope to those looking for high speed and high capacity.
OCZ has three consumer SandForce drives on the market at this time. The
Limited Edition that we told you about recently
was an early model manufactured in limited supplies, but wasn't exactly like the other two more refined SandForce models. The Vertex 2 with its High IOPS programming is considered the flagship of the consumer line. The OCZ Agility 2 is in a sense the mainstream SandForce SSD from OCZ Technology, but we will have to take a look at the performance today to say how much performance is given up to the Vertex 2.
Today we are going to take a look at the OCZ Technology Agility 2 in 240GB capacity and compare it to the OCZ Vertex 2 and a handful of other class leading SSDs. Let's have a look at the specs of the Agility 2.
Specifications, Pricing and Availability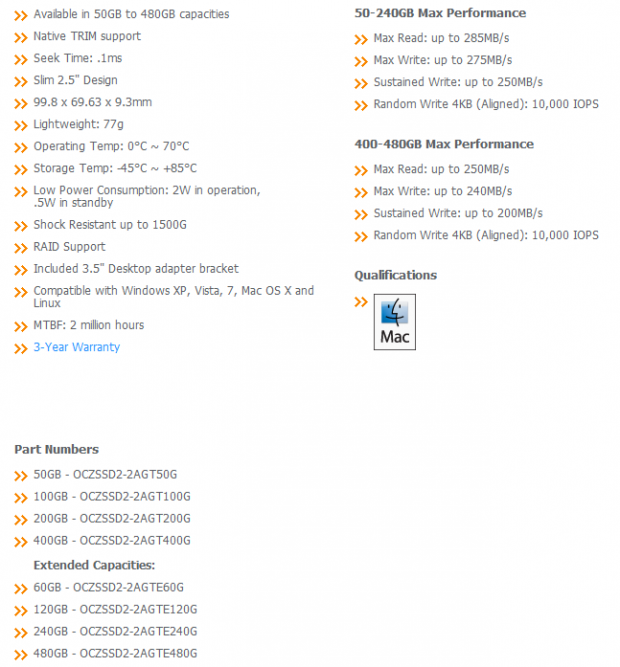 For the most part the OCZ Agility 2 matches the OCZ Vertex 2 when it comes to published specifications. There is one area that is not the same between these two hyper fast SSDs and it can be found in the programming. The Agility 2 does not have the 4K High IOPS programming that the Vertex 2 borrowed from the enterprise class SF-1500 SandForce controller. Calling the Agility 2 Low4K IOPS isn't the case since the SF-1200 controller, even in vanilla form is still very fast and is able to kick some serious 4K ass when compared to the drives we were reviewing last year. Today we will look at the performance of the Agility 2 and see how it compares directly with the Vertex 2.
For most of our SSD reviews I try not to go into too much detail about the common facts that go with many of these products. The Agility 2 is in a sense OCZ's entry level SandForce SSD and more mainstream users will be reading these pages so we should touch on these facts for a moment.
SSDs are now regarded as being superior to traditional platter drives because they have no moving parts that cause delays in the data path. The memory isn't like what you have in your system RAM but the you can understand that system memory is very quick since the data is asked for and given without the need for a platter to spin around and a head to move into position to retrieve the data. SSDs act like system memory but also retain the data that is stored even when power is removed from the drive.
The controller in an SSD is mostly responsible for the speed in which a drive can read and write data. Solid state drives are now categorized by their controller like platter drives are categorized by their platter speeds. Some companies actually try to hide what controller is in their products by not listing them, when shopping for an SSD you need to know what category your drive is, knowing your controllers helps you pick the fastest drives for the money. Prices on SSDs have changed greatly over the last three months and somehow the fastest drives available are now some of the lowest priced.
SandForce, the company that designed the controller in the OCZ Vertex 2 and Agility 2 originally designed enterprise drives that were suppose to cost considerably less than all other enterprise SSDs on the market. They did this through propriety technology that eliminated an expensive DRAM cache buffer and made it possible to use commodity NAND flash memory that wasn't as exotic as flash memory previously used in SSDs. SandForce's design was so good that a consumer version was born out of the enterprise drive. This has led to extremely low cost (for an SSD at least) consumer drives that are very fast. These SandForce consumer drives are now driving the costs down and literally making most other consumer SSDs obsolete in both price and performance.
As you already know, OCZ has many retail and e-tail partners. Newegg is one of the largest and they have the full range of Agility 2 drives from the 50GB early non-extended class to the drive we will look at today, the Agility 2 240GB. When it comes to pricing we were able to find both the 50GB and 60GB Agility 2 at Newegg for 179 USD and the 120GB for 319 USD. Our sample 240GB Agility 2 is now below the 600 USD price point and
can be found at Newegg for 629.99 USD after a $20 MIR
.
The Packaging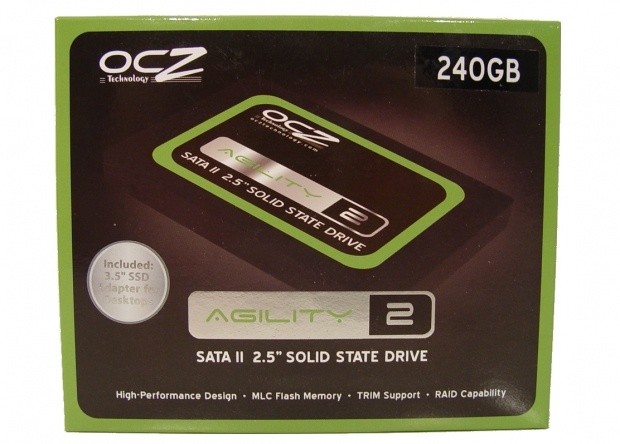 On the front of the Agility 2 package we can clearly see the capacity of the drive inside, some of the features are listed on the bottom and a note about the inclusion of a 3.5" desktop adapter being included.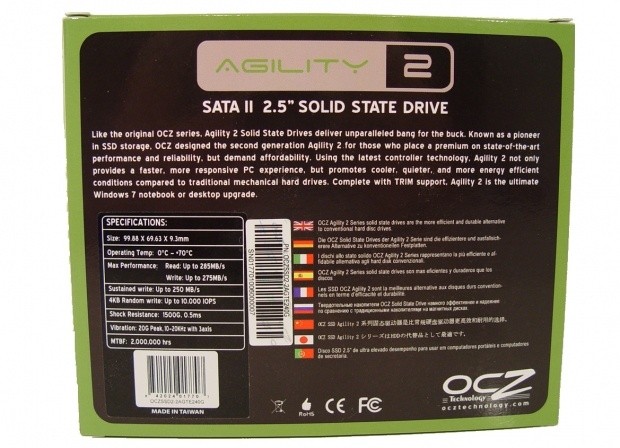 The back of the package lists some of the general features of the drive and a full specification breakdown is also given.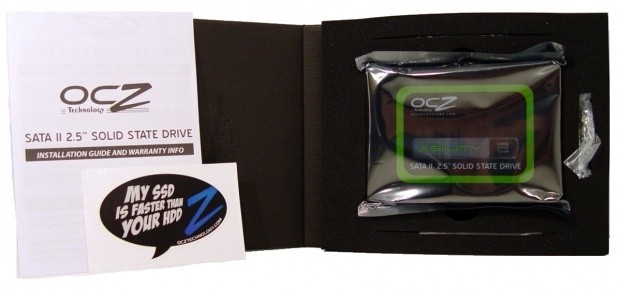 When it comes to packaging not much is needed for SSDs since the drives are not damaged from vibration. OCZ does a good job with the packaging anyhow, here we see the drive enclosed in closed cell foam. The desktop bracket is on the back side of the inner packaging and the screws are tucked inside of a special slot away from the drive.
The OCZ Agility 2 240GB SSD
Here we get our first look at the OCZ Agility 2. On the outside it is a standard SSD and the label on the front doesn't give us too much information other than it is an Agility 2.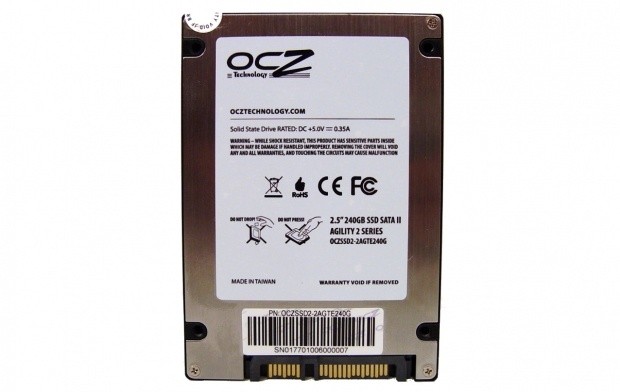 On the back label we were able to find the capacity, model and serial numbers. The four standard SATA spec mounting locations were also found on this side of the drive.

The OCZ Agility 2 is a standard 9mm height and the mounting locations were also present on the sides.

Standard SATA power and data connections are also present. When the drive is attached to the supplied desktop mounting bracket the power and data connections are kept where they are suppose to be. This makes installing the drive into a drive bay very easy.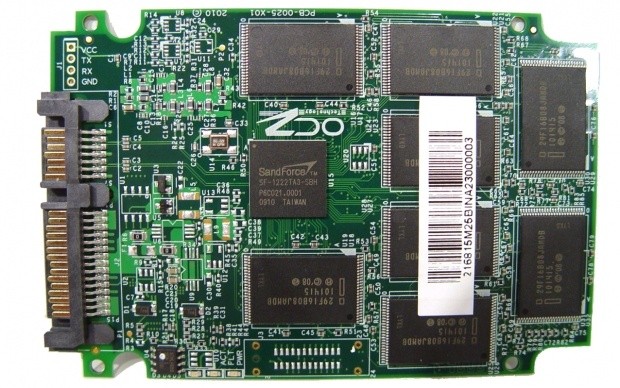 Our sample Agility 2 used Intel flash, eight chips on each side for a total of sixteen.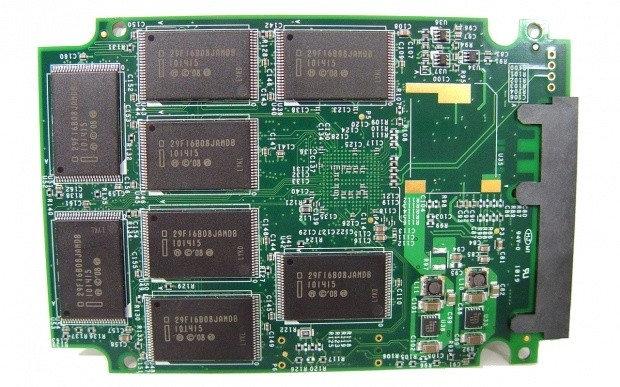 The PCB on our Agility 2 was the "super capacitor" PCB that we have found on all of OCZ's SandForce based products. This is an enterprise class PCB that will be used on OCZ's enterprise drives as well.
Test System Setup and ATTO Baseline Performance
We would like to thank the following companies for supplying and supporting us with our test system hardware and equipment:
AVADirect
,
GIGABYTE
,
Cooler Master
,
LSI
and
Noctua
.
You can read more about TweakTown's Storage Product Testing Workstation and the procedures followed to test products
in this article
.
We changed our SSD performance charts up in one of the articles last week at the request of the article sponsor and I like the changes so we are keeping them for a little while. Now, instead of just listing the last ten to twelve drives reviewed we have chosen some of the more popular drives and controllers.
Represented in the performance charts will be the sample drive we are testing, Intel X25-M (G2), Indilinx Barefoot via the Corsair Nova, Marvell SATA 6Gbps via the 128 and 256GB Crucial RealSSD C300, SandForce SF-1200 via the 120 and 240GB OCZ Vertex 2 and finally the fastest consumer platter drive Western Digital VelociRaptor.
ATTO Baseline Performance
Version and / or Patch Used:
2.34
ATTO is used by many disk manufacturers to determine the read and write speeds that will be presented to customers.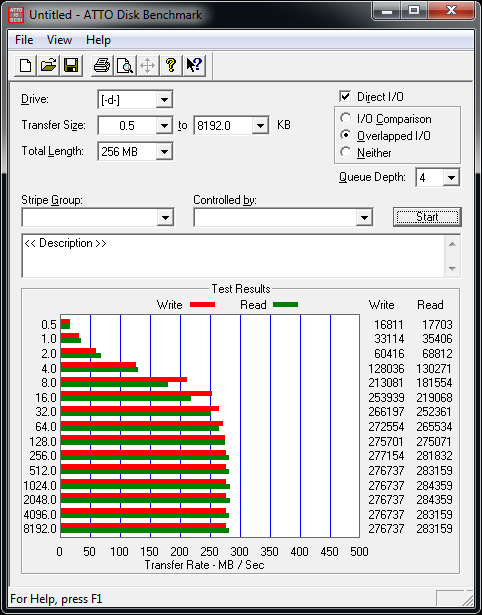 In ATTO we see that OCZ's claims of 285MB/s read and 275MB/s write speeds are accurate. The 4K write speed is right around 130MB/s, the Vertex 2 with the 4K High IOPS programming is able to achieve close to 180MB/s in that block size. It has been quite awhile since we have tested a drive without the High IOPS programming so it will be interesting to see how the Agility 2 measures up to the Vertex 2.
Benchmarks - HD Tune Pro
HD Tune ProVersion and / or Patch Used:
4.00
Developer Homepage:
http://www.efdsoftware.com
Product Homepage:
http://www.hdtune.com
HD Tune is a Hard Disk utility which has the following functions:
- Benchmark: measures the performance
- Info: shows detailed information
- Health: checks the health status by using SMART
- Error Scan: scans the surface for errors
- Temperature display
HD Tune Pro gives us accurate read, write and access time results and for the last couple of years has been gaining popularity amongst reviewers. It is now considered a must have application for storage device testing.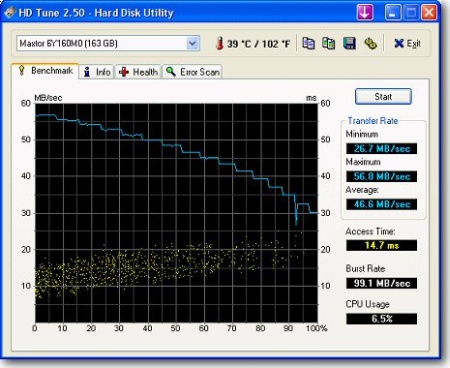 Read Tests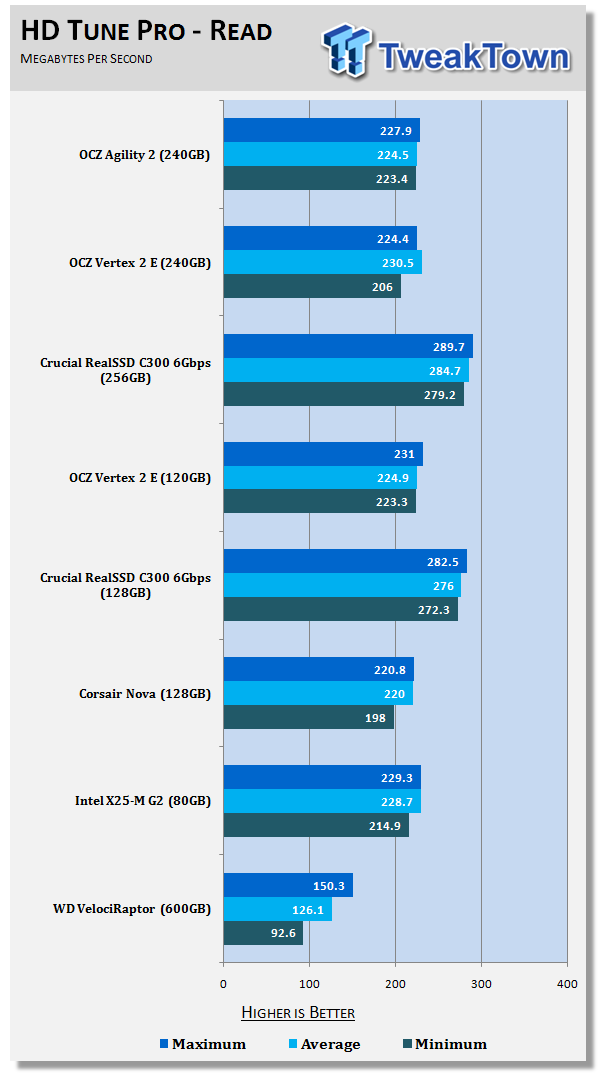 In our charts today the Agility 2 240GB and Vertex 2 240GB will be next to each other. In STR read speed we see the two drives perform nearly identical. The Agility 2 is actually a little faster than the Vertex 2 when it came to the minimum speed but we have noticed from time to time that Windows caching is able to slow a drive down for a millisecond when the test starts giving this false reading.
Write Tests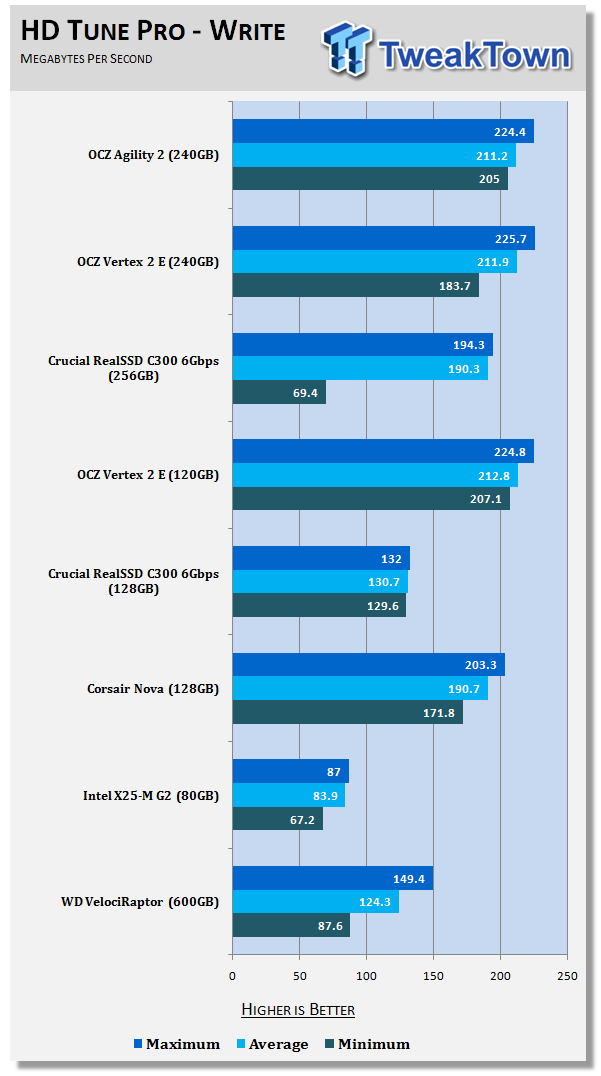 When comparing the two drives 240GB drives the same thing we observed in the read speed is also observed with the write speeds. The SandForce drives dominate the write speed tests as you can see in this chart. The Crucial RealSSD C300 did have a higher read speed since it uses SATA 6Gbps but when it came to the write speeds the SandForce drives are a bit faster.
Benchmarks - Everest Random Access Time
Everest Random Access TimeVersion and / or Patch Used:
4.60
Developer Homepage:
http://www.lavalys.com
Product Homepage:
http://www.lavalys.com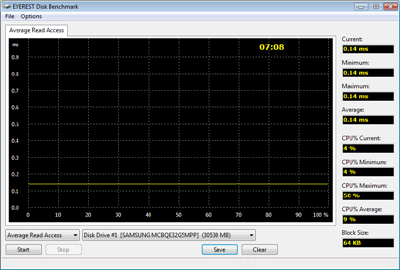 Everest Ultimate and Corporate Edition offer several different benchmarks for testing and optimizing your system or network. The Random Access test is one of very few if not only that will measure hard drives random access times in hundredths of milliseconds as oppose to tens of milliseconds.
Drives with only one or two tests displayed in write the write test mean that they have failed the test and their Maximum and possibly their Average Scores were very high after the cached fills. This usually happens only with controllers manufactured by JMicron.
Read Tests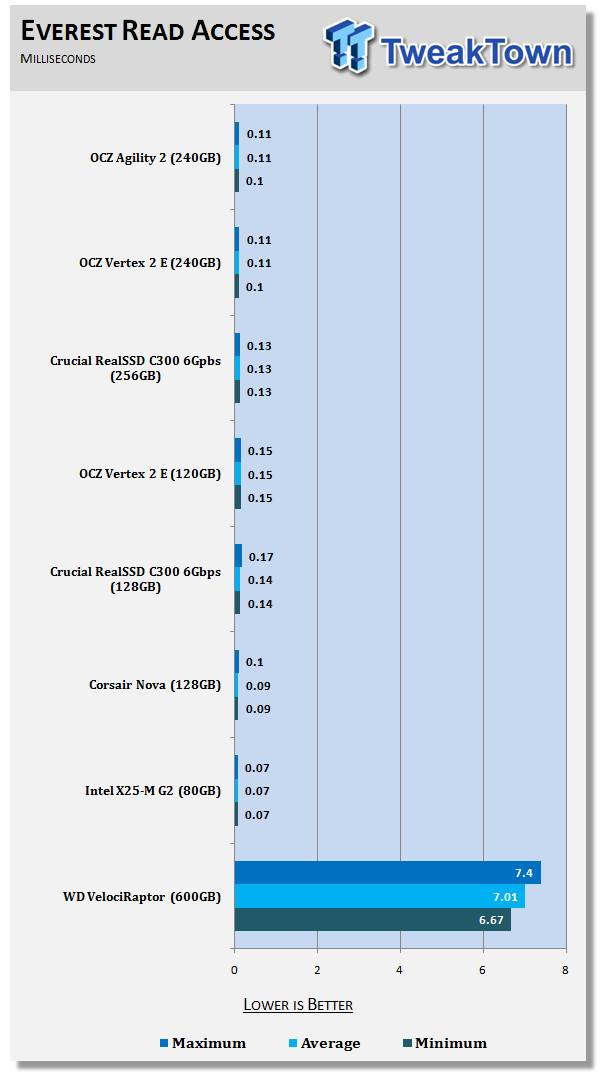 Access times play more of a role in how fast your computer responds than read and write transfer rate numbers. Here we see that the OCZ Agility 2 is on par with other SandForce drives we have tested. In comparison we have also shown the access times for the fastest consumer platter drive. The access times for SSDs are far better than this 10,000 RPM drive and that is why your computer with an SSD feels so fast.
Write Tests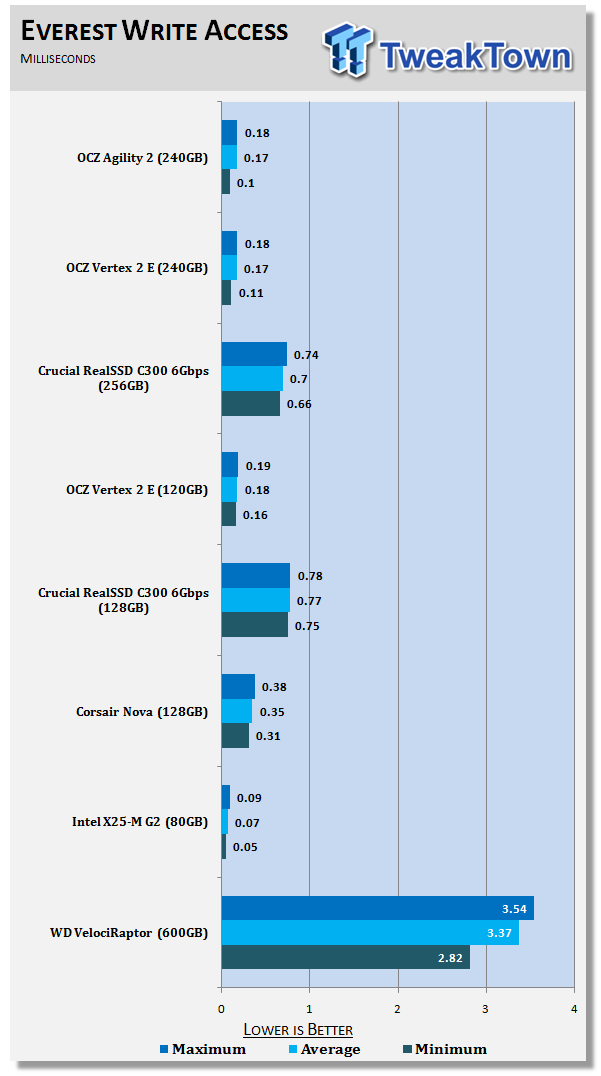 The Agility 2's write access times are also very low. Here we see once again the massive difference between the sole platter drive on our chart and the SSDs.
Benchmarks - Crystal Disk Mark
CrystalDiskMarkVersion and / or Patch Used:
3.0 Technical Preview
Developer Homepage:
http://crystalmark.info
Product Homepage:
http://crystalmark.info/software/CrystalDiskMark/index-e.html
Download here:
http://crystaldew.info/category/software/crystaldiskmark
CrystalDiskMark is a disk benchmark software.
Key Features:-
* Sequential reads/writes
* Random 4KB/512KB reads/writes
* Text copy
* Change dialog design
* internationalization (i18n)
Note:
Crystal Disk Mark 3.0 is not available to the public yet, but the Technical Preview does allow us to test 4K performance at queue depths of 4 and 32 in addition to 1. The current release Crystal Disk Mark only shows us QD 1.
Read Tests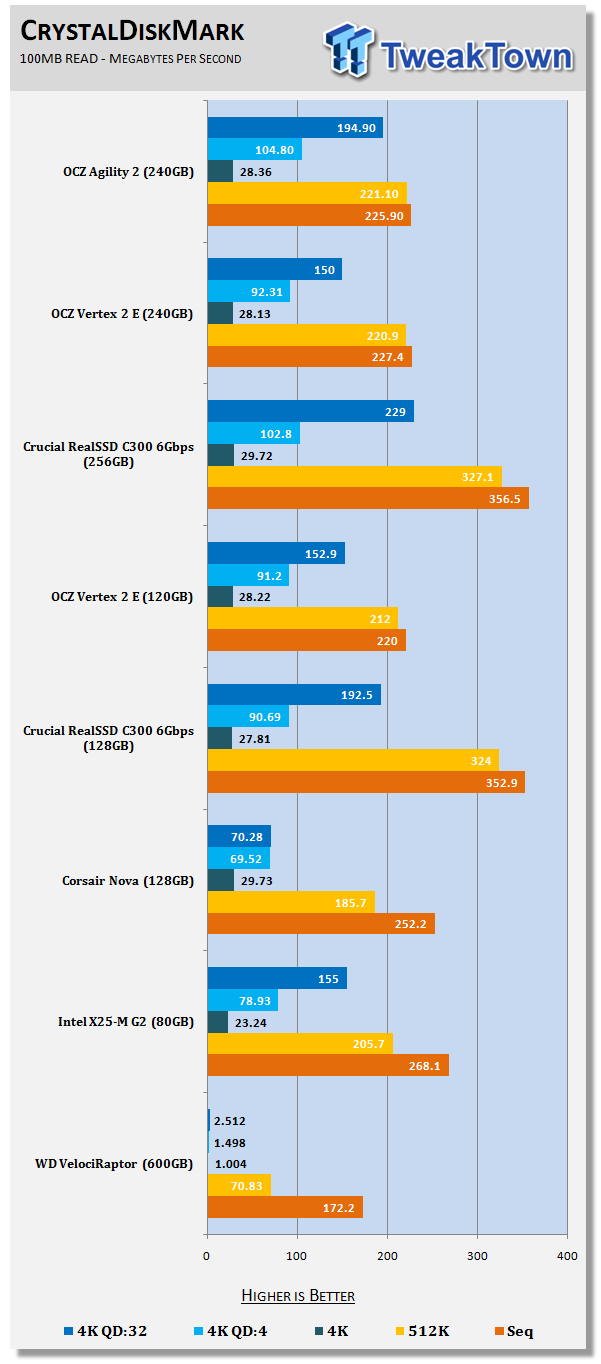 When we tested the Vertex 2 E (extended capacity) drives we noticed that the firmware on the drives was different than that on our previous tested Vertex 2 100GB. Here we see that the firmware did affect performance at the highest queue depth tested (QD: 32). The newer firmware on the Agility 2 is able to take the QD:32 4K test all the way up to 190MB/s which is very impressive.
Write Tests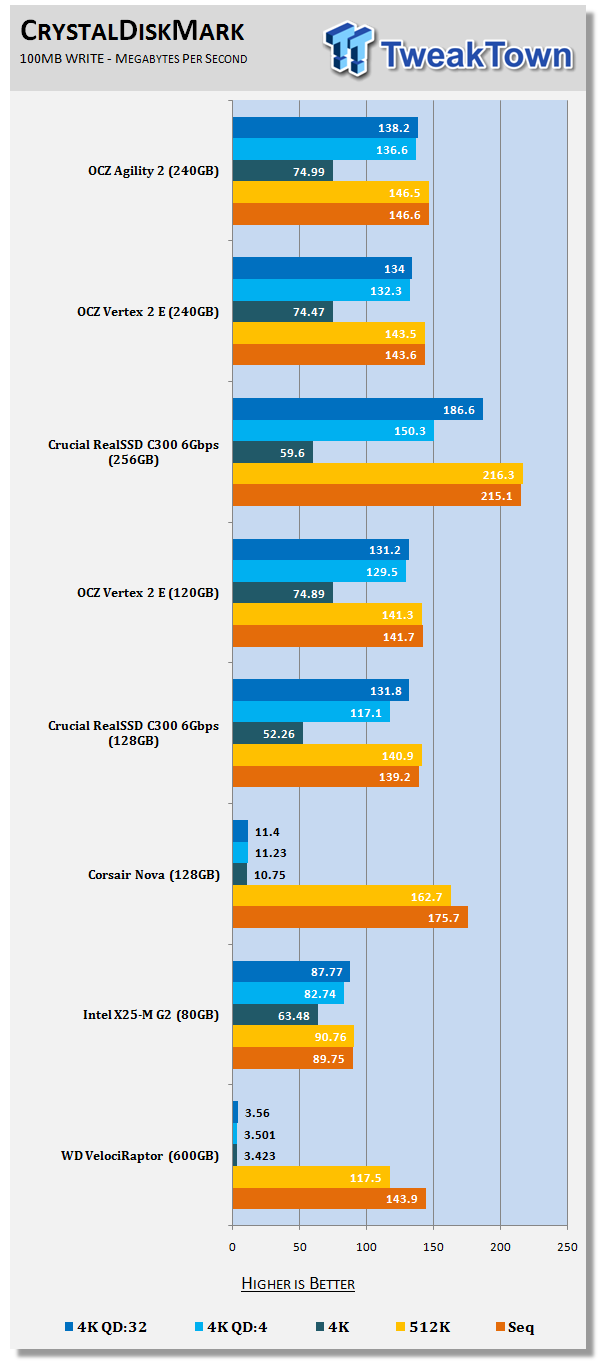 Between the Agility 2 and Vertex 2 the 4K write speeds look almost identical. The Crucial RealSSD C300 256GB drive is able to write 4K data faster at queue depths of 4 and 32 but is slower when no NCQ is active.
That concludes our synthetic benchmarks, let's take a look at the real world tests and see if what we learned from the synthetics carries over to the real world.
Benchmarks - PCMark Vantage Hard Disk Tests
PCMark Vantage - Hard Disk TestsVersion and / or Patch Used:
1.0.0
Developer Homepage:
http://www.futuremark.com
Product Homepage:
http://www.futuremark.com/benchmarks/pcmark-vantage/
Buy It Here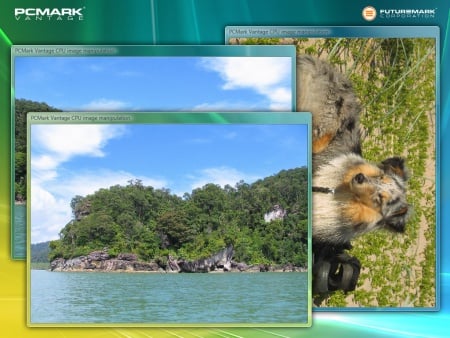 PCMark Vantage is the first objective hardware performance benchmark for PCs running 32 and 64 bit versions of Microsoft Windows Vista. PCMark Vantage is perfectly suited for benchmarking any type of Microsoft Windows Vista PC from multimedia home entertainment systems and laptops to dedicated workstations and high-end gaming rigs. Regardless of whether the benchmarker is an artist or an IT Professional, PCMark Vantage shows the user where their system soars or falls flat, and how to get the most performance possible out of their hardware. PCMark Vantage is easy enough for even the most casual enthusiast to use yet supports in-depth, professional industry grade testing.
FutureMark has developed a good set of hard disk tests for their PCMark Vantage Suite. Windows users can count on Vantage to show them how a drive will perform in normal day to day usage scenarios. For most users these are the tests that matter since many of the old hat ways to measure performance have become ineffective to measure true Windows performance.

HDD1 - Windows Defender
HDD2 - Gaming
HDD3 - Windows Photo Gallery
HDD4 - Vista Startup
HDD5 - Windows Movie Maker
HDD6 - Windows Media Center
HDD7 - Windows Media Player
HDD8 - Application Loading
Here we see some very interesting results with the two 240GB drives. Once again this may be firmware related but Movie Maker and Media Player seem to favour the Agility 2 and its newer firmware.
The big question for enthusiasts really comes down to the Agility 2 and the Crucial RealSSD C300 256GB (
lowest price online 609 USD
). Up to this point we have favoured the C300 in this capacity range since it handles compressed files better (we will get into this on the next page) but for general Windows 7 tasks the OCZ Agility 2 has the upper hand in quite a few tests. The Application Load test shows the Agility 2 outperforming the 256GB C300 by quite a large margin. This is one of the areas where most users expect to see large performance gains from their SSDs and the Agility 2 appears to be able to give the highest performance in this test.
Benchmarks - AS SSD
AS SSD BenchmarkVersion and / or Patch Used:
1.2.3577.40358
Developer Homepage:
Alex Intelligent Software
Product Homepage:
Alex Intelligent Software
Download here:
http://www.alex-is.de/PHP/fusion/downloads.php?cat_id=4&download_id=9
AS determines the performance of Solid State Drives (SSD). The tool contains four synthetic as well as three practice tests. The synthetic tests are to determine the sequential and random read and write performance of the SSD. These tests are carried out without the use of the operating system caches.
In all synthetic tests the test file size is 1GB. AS can also determine the access time of the SSD, the access of which the drive is determined to read through the entire capacity of the SSD (Full Stroke). The write access test is only to be met with a 1 GB big test file. At the end of the tests three values for the read and write as well as the overall performance will be issued. In addition to the calculated values which are shown in MB/s, they are also represented in IO per seconds (IOPS).
Note:
AS SSD is a great benchmark for many tests, but since Crystal Disk Mark covers a broader range of 4K tests and HD Tune Pro covering sequential speeds, we will only use the Copy Benchmark from AS SSD.
- Copy Benchmark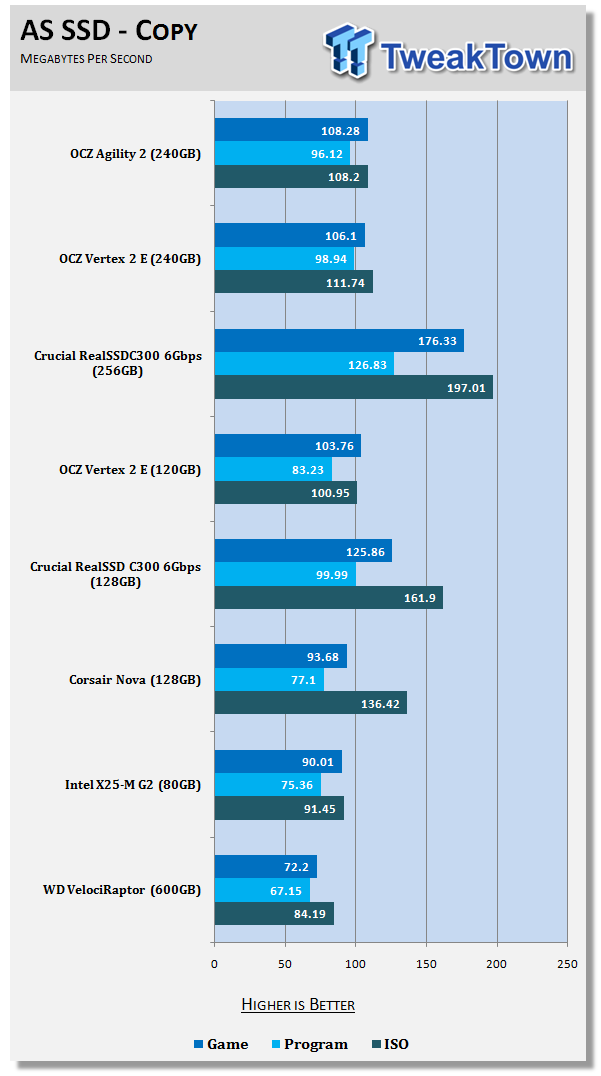 The biggest and for that matter only issue we have found with the SandForce drives is how they handle compressed data. It is actually kind of odd the way this works since the reason why they are so fast at everything else is the same reason why compressed data writes slower. SandForce's proprietary Durawrite technology is able to compress data as it is written to the drive but compressed date is not easily reduced any further so it needs to be written in full to the disk.
It is because of this that the Crucial RealSSD C300 is able to transfer these types of files faster than the SandForce drives. At the 240 to 256GB capacity range a user will have more compressed data on their hard drive than at 60 or 120GB so you really need to start looking at what you do with your compressed data more. Most of these files are just played back at set speeds, speeds that either drive can handle easily but if you are constantly moving MP3s and AVI files from one place to another at full speed then you start to get into a situation where the C300 starts to flex its ability to use SATA 6G. Most users are not going to move these files around at full speed and transfers will be limited by either their internet connection or their LAN speed.
With the SandForce drives outperforming the C300 256GB drive in a few of the Vantage tests and the logical thoughts on how compressed files are handled I am starting to lean in favor of the Agility 2 over the C300 in this capacity size.
Benchmarks - Passmark
Passmark Advanced Multi-User TestsVersion and / or Patch Used:
6.1
Developer Homepage:
http://www.passmark.com
Test Homepage:
http://www.passmark.com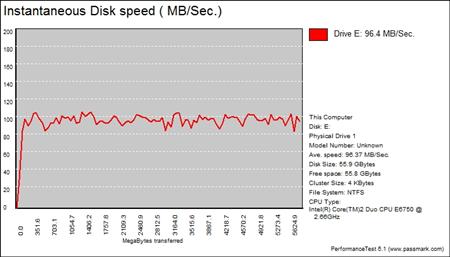 Many users complain that I/O Meter is too complicated of a benchmark to replicate results so my quest to find an alternative was started. Passmark has added several multi-user tests that measure a hard drives ability to operate in a multi-user environment.

The tests use different settings to mimic basic multi-user operations as they would play out on your server. Variances is read / write percentage as well as random / sequential reads are common in certain applications, Web Servers read nearly 100% of the time while Database Servers write a small amount of data.
The Workstation test is the only single user environment and will be similar to how you use your system at home.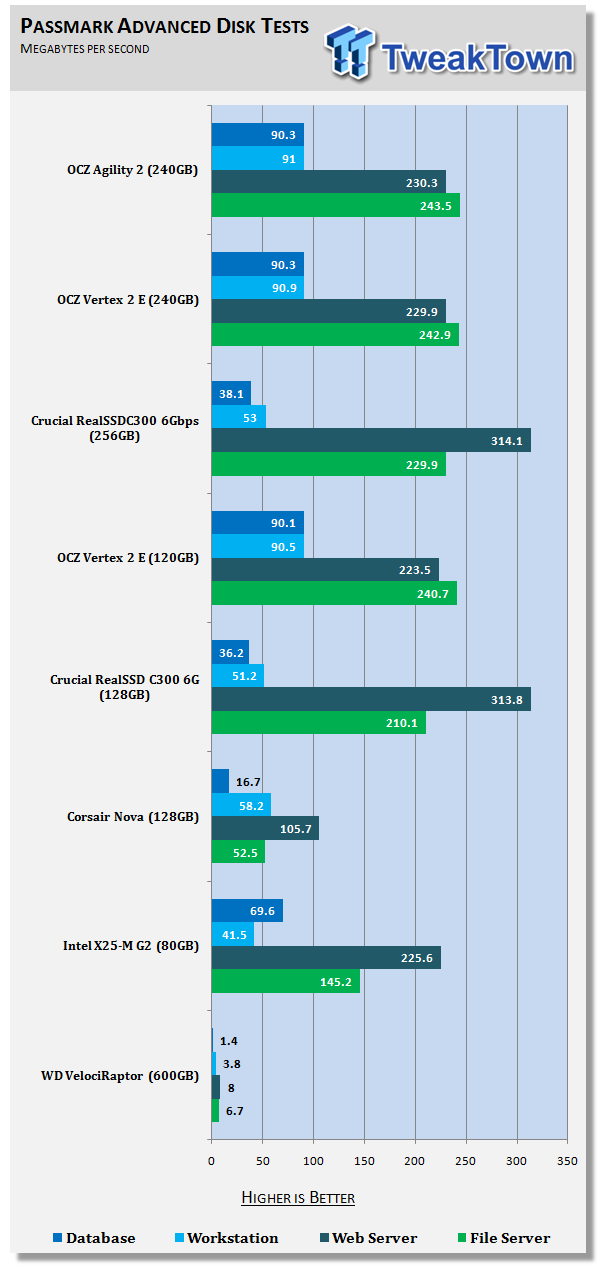 In the server tests we see that the Agility 2 is a very strong performer. Given that SandForce started out making enterprise drives this isn't a surprise to us.
Final Thoughts
Things have been very interesting for OCZ with this round of SandForce based products. Leading this off was the Limited Edition line of custom SandForce controlled drives that I believe sold slower than what OCZ planned on. The
LE drives are now on their last wave and prices are very low
but they did hang around for quite a long time. Then came the Agility 2 and Vertex 2 in a dual release format. The Vertex 2 had a special feature that should have given it a performance lead over the Agility 2 but when all of the cards were laid on the table the Agility 2 ended up performing damn near identical to the Vertex 2.
Right around the time of the
extended capacity launch
the Agility 2 started to lose its price advantage when OCZ allowed e-tailers to heavily discount Vertex 2 drives and even contributed with mail in rebate programs. Even now Newegg lists the 120GB Vertex 2 and Agility 2 at the same 319 USD price point. Things are even upside down when it comes to the 240GB model that we looked at today with Agility 2 selling at 649 USD and the Vertex 2 50 Dollar less selling for 599 USD. You can bet that this was not a planned strategy but something that come about from conditions in the market.
With other manufacturers starting to launch their own High IOPS drives things are not looking too good for the Agility 2 with its baseline configuration. Even though the performance increase for the special programming appears to be a paper only improvement most customers will opt for a faster configuration at a lower price than pay more for what was once advertised as the number two product.
To make the Agility 2 a real contender in this fast paced SSD market the pricing is going to need to get back in line with the original design. With the Vertex 2 and Agility 2 sharing the exact same build of materials other than an unspecified cost to SandForce for the special programming how much cheaper can the Agility 2 actually get? As it sits right now the Vertex 2 is one of if not the lowest priced SandForce SSD available outside of the
OCZ Limited Edition that is quickly selling out at My Digital Discount
. Even once the LE drives are out of the picture that will still leave us with Vertex 2s that are a better value.
If I were to predict how this is going to look in the next month I would say that OCZ will be following the price cuts of Vertex 2 and get the Agility 2 back in line with the pricing roadmap. As long as the price reduced Vertex 2s stay at the level they are then we might see the Agility 2 drives drop in price to the levels in which My Digital Discount is selling the Limited Edition drives at now. It would make sense for OCZ to hold off dropping the price of Agility 2 until the LEs are sold out. If that is the case and my magic 8-ball is correct then we can start to really get excited about OCZ's mainstream SandForce Agility 2 since it performs are nearly the exact same level as the Vertex 2.
When it comes to performance the OCZ Agility 2 is able to run at nearly the same levels as the Vertex 2 despite the Vertex 2's special programming that increases the 4K write performance. What it really comes down to is that the SandForce SF-1200 no matter the configuration is so fast the limit of performance seems to come from the SATA II interface rather than the controller or any limits currently imposed on it. That works out great for consumers since the vast number of SandForce products on the market turn things into a true buyers market where the lowest priced product gets the users money. We have already seen some manufacturers start to make their products more appealing by adding desktop adapters and extended warranty periods that go along with lower prices.
The time to buy a SandForce SSD has never been better but at this point I would have to recommend the Vertex 2 over the Agility 2.
PRICING: You can find products similar to this one for sale below.

United States: Find other tech and computer products like this over at Amazon.com

United Kingdom: Find other tech and computer products like this over at Amazon.co.uk

Australia: Find other tech and computer products like this over at Amazon.com.au

Canada: Find other tech and computer products like this over at Amazon.ca

Deutschland: Finde andere Technik- und Computerprodukte wie dieses auf Amazon.de
We openly invite the companies who provide us with review samples / who are mentioned or discussed to express their opinion. If any company representative wishes to respond, we will publish the response here. Please contact us if you wish to respond.