Introduction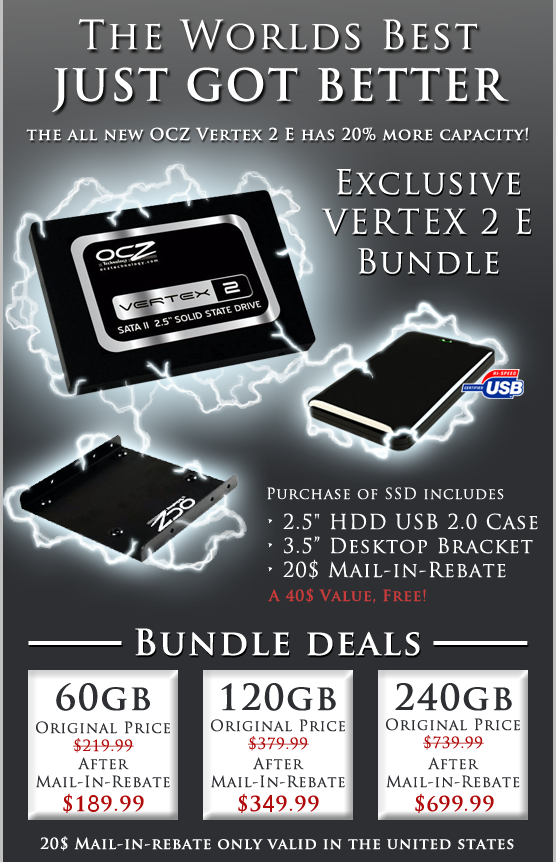 With one of the largest introduction images I have posted in an article to date comes one of the biggest pricing reductions for the SSD market ever. Just a few days ago we told you that MyDigitalDiscount.com was selling the
OCZ Vertex 2 100GB
for 379.00 USD, a full 30 Dollars less than Newegg for this class leading next generation SandForce drive. Today OCZ is releasing their new updated 120GB Vertex 2, the Vertex 2 E (for Extended). At the same time, MyDigitalDiscount.com is offering breakthrough pricing on the new extended models, pricing them even lower than the original Vertex 2 drives for a limited time.
We worked with My Digital Discount and OCZ Technology to bring you the first review of the OCZ Vertex 2 E 120GB SandForce SSD. Over the last couple of days press releases have been hitting the tech news wire detailing the new extended capacity drives that are now being offered. Physically the drives are not changing as the same amount of flash on each drive will remain the same. The only real changes between a 100 and 120GB drive is the amount of flash kept in reserve, now 13% instead of 28%. Most other controllers up till now have used between 7 and 10% spare area, so the SandForce SF-1200 in extended capacity trim is still on the high side.
Before you get too excited, all is not tulips and rose petals just yet. SandForce designed one enterprise controller and later reduced functionality to get the consumer controller. As you can imagine, a lot of testing went into the enterprise model and at some point the 28% number tipped up. It is common place to see enterprise SSDs with a very large amount of spare area; just look at the Intel X25-E if you want a solid example. The new extended capacity SandForce drives will have a reduced lifespan; that is what the spare area is for. But how long are you really going to keep a hard drive around for? Would a reduction of 15 years to 10 years service life be acceptable? We don't have the data to give you a real number or length of time except that your cushion drops 15%. Still, that 15% is coming from an enterprise part that is designed to run for a lot longer than you or I would ever run a desktop part.
The next area of concern is drive performance since the spare area is used to improve write speeds. It's not like you just have a 13 or 28% area that does nothing until something else breaks. SandForce drives are dynamic and use all free space as spare area, kind of like having a bunch of NAND cache to bounce data around to when the controller sees fit. We are working on the next State of Solid State article now and will try some new testing procedures at that time on how volume fill affects performance.
Specifications, Pricing and Availability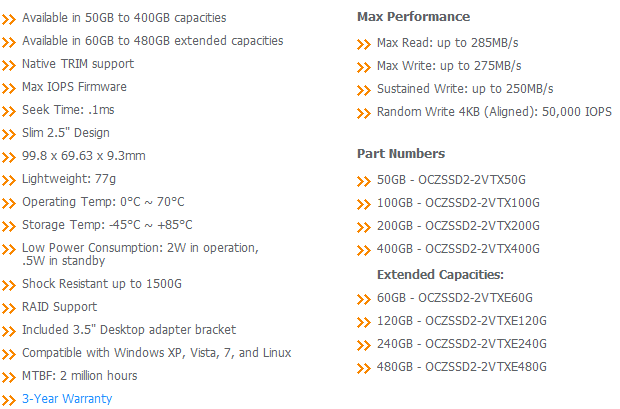 At this time OCZ is not planning on discontinuing the 50, 100, 200 or 400GB drives. If market demand for the non-E models shrinks considerably then it only makes sense for OCZ to remove them from the lineup. There are rumors about being able to change a drive back and forth between the standard and extended capacity, but this is something we will not know about for another month or more. I spoke with a few companies other than OCZ on Friday and neither was even considering making this available to end users since the update software would need to be validated on many systems. They were considering having end users mail in their standard drives and getting an extended drive back in return. OCZ is at least being open-minded about end user upgrades. It is still far too early to say one way or the other, but we can completely understand the complexity of the issue after watching Crucial's latest firmware update issues unfold.
On the surface we have an OCZ Vertex 2 that has been changed from having 100GB capacity to 120GB (before Windows formatting). Both the E and standard drives use the same product page on OCZ's website and the same spec sheet. There are different product SKUs, but we expected that. Our sample drive from OCZ arrived with 100GB capacity stickers on the package and on the drive. The odd thing was the package was shrink-wrapped, but a 120GB part was inside. All OCZ will need to do is change a couple of stickers to new stickers and be ready for the launch. Parts were shipped last week to US resellers, but the US OCZ office didn't have the new package to send over since they just left Taiwan the day before.
As if available capacity wasn't enough to get excited about, we know and worked with one e-tail shop that is going to blow the door off current SSD pricing. My Digital Discount, one of the leading suppliers of SSDs in the US and the place we turn to for the cheapest SSD prices advertised online, just took a chain saw to the floor and let prices fall an entire story. On top of deeply discounted parts OCZ is also chipping in an additional 20 Dollar mail-in rebate for the Vertex 2 E. The value doesn't stop there since MDD is also kicking in a free USB 2.0 external drive enclosure with instructions and downloadable software that will clone your current boot drive so you don't even have to reformat or install Windows.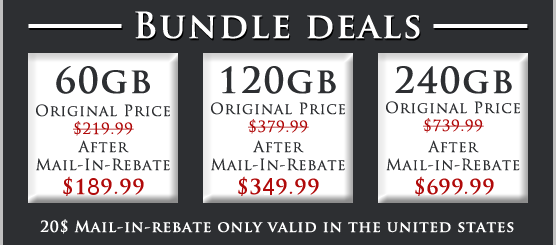 Above is a snippet from the advertisement MyDigitalDiscount.com will use for the special promotion put together by MDD and OCZ Technology. Just last month we were excited to see Indilinx Barefoot drives being offered for 350 USD in 128GB capacity. Seeing not only SF-1200's, but the cream of the crop Vertex 2 at 350 USD is unbelievable! At the time of writing the special promo page was not ready, but here are the links to each drives' page at My Digital Discount;
60GB for 189.99
,
120GB for 349.99
and the massive
240GB drive for 699.99
. For comparison, Newegg lists the standard 100GB Vertex 2 for 409.00 USD at the time of writing. It is almost like My Digital Discount is one of your high school buddies who just happens to own a computer shop and gives you that
good buddy
price. You should take them out for drinks one night with prices like these.
The Packaging
As stated previously, the new Vertex 2 E package was not in the US when our sample was shipped from OCZ Technology in California. The new E models were in route from manufacturing and given the day of the week it was not possible to send a drive with proper packaging next day air and still publish this review today. With that said, we'll still give you a bit of a picture in writing.
At the top right we see where the label will be changed on the new extended capacity drives. OCZ has put together a nice package that informs retail shoppers looking at shelved drives the capacity, a few features and the inclusion of a 2.5 to 3.5" form factor adapter bracket.
The back of the package has some general information about the Vertex 2 and there are a couple of stickers here that will also be changed on the new extended drives.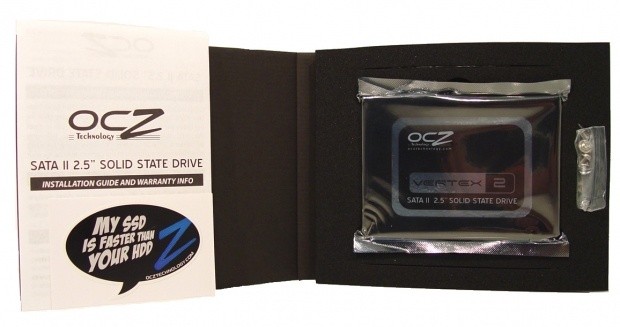 The inner packaging remains the same. The drive is kept secure in the middle of closed cell foam with the adapter screws off to the side in a secure chamber. This sample of the Vertex 2 arrived with a paper document and a sticker, something that we didn't receive with our 100GB Vertex 2. The adapter plate was secured to the back of the foam and away from all of the other components.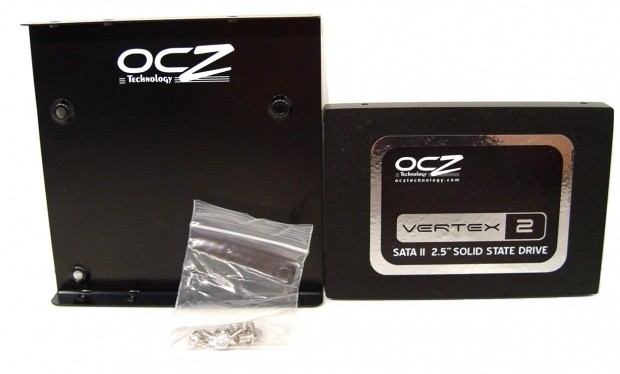 Here we see the drive, adapter plate and screws for securing the two together.
The OCZ Technology Vertex 2 E 120GB SSD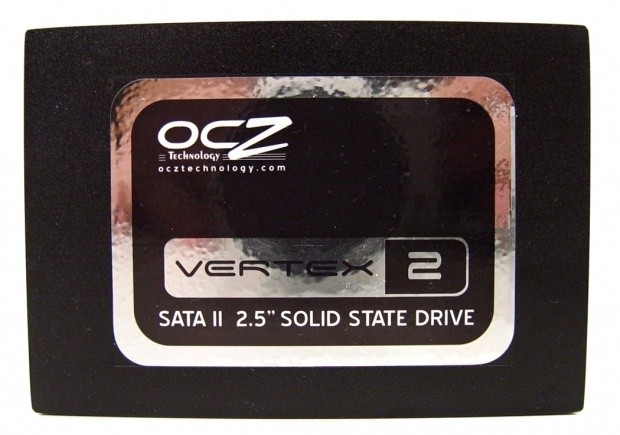 We are not expecting to see any changes on the front of the Vertex 2.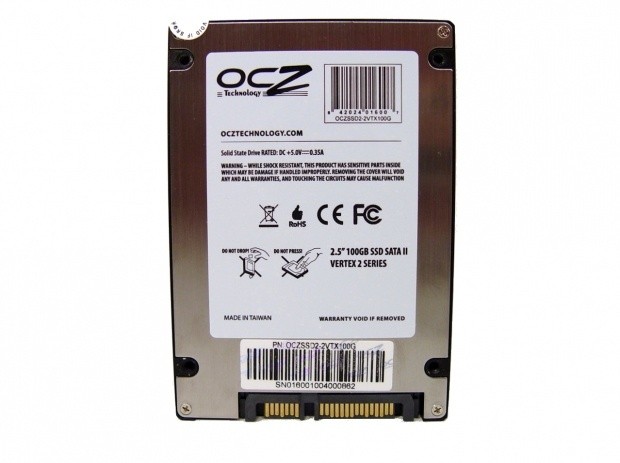 The last labels to be changed are on the back. Just add a quick firmware change and presto, 100GB turns to 120GB. That is at least what we are hoping for.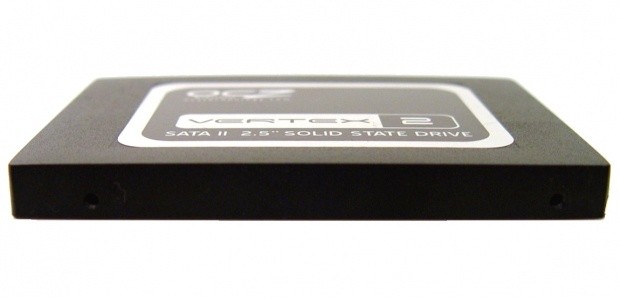 The side of the Vertex 2 E has all of the standard mounting positions for easy installation in desktop or notebook computers.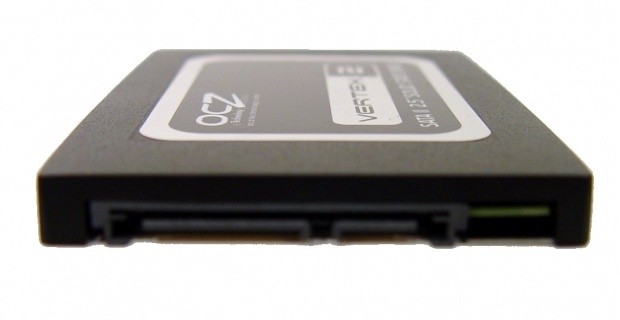 Standard SATA power and data connectors were also used, so just about any hot swap device that use 2.5" form factor drives will work.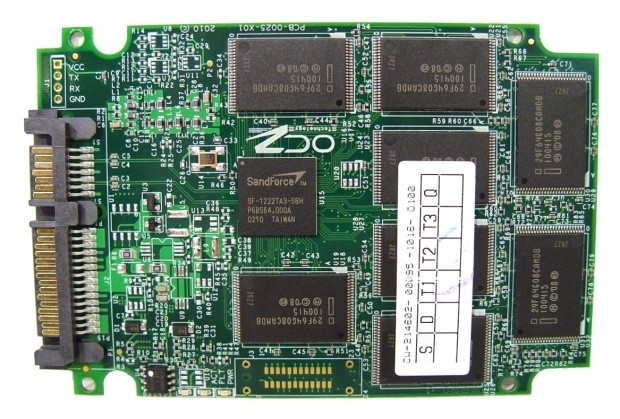 With the PCB out we see that the configuration hasn't changed and the same eight Intel flash modules are present on each side. In the middle we see the SandForce SF-1200 controller.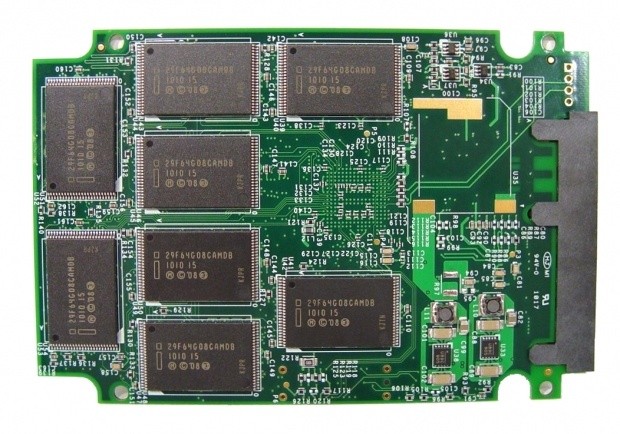 On the back side of the PCB we found another eight flash modules.
Test System Setup and ATTO Baseline Performance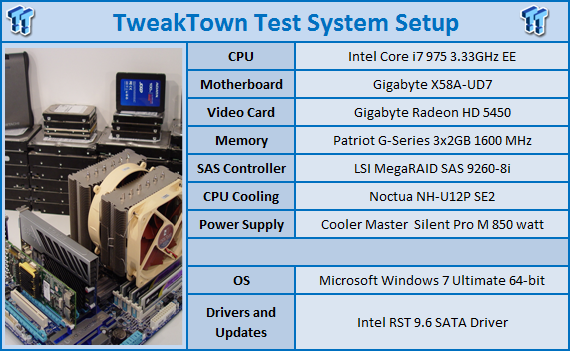 We would like to thank the following companies for supplying and supporting us with our test system hardware and equipment:
AVADirect
,
GIGABYTE
,
Patriot Memory
,
Cooler Master
,
LSI
and
Noctua
.
You can read more about TweakTown's Storage Product Testing Workstation and the procedures followed to test products
in this article
.
We have already analysed the OCZ Vertex 2 100GB capacity against several other products on the market and determined the performance to be at or near the top
in its own separate review
. It was also said that when compared to the 128GB Crucial RealSSD C300 that your better choice would be to go with the Vertex 2 since it is able to load applications faster. We will have the larger 240GB Vertex 2 soon and will be able to compare it to Crucial's 256GB C300.
For the most part today will be mainly looking for differences in performance between the OCZ Technology Vertex 2 and Vertex 2 E(xtended Capacity).
ATTO Baseline Performance
Version and / or Patch Used:
2.34
ATTO is used by many disk manufacturers to determine the read and write speeds that will be presented to customers.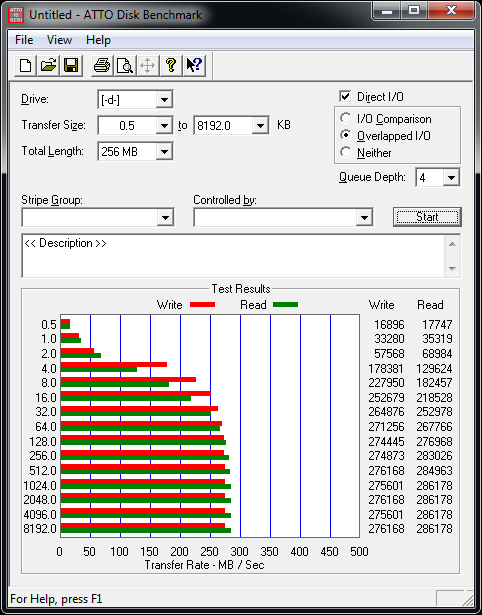 In ATTO we see that the Vertex 2 E still retains the special firmware that unlocks higher 4K IOPS performance. The maximum read and write speeds are also still 285 and 275MB/s, the upper limit of our GIGABYTE X58A-UD7 and SATA II.
Benchmarks - HD Tune Pro
HD Tune ProVersion and / or Patch Used:
4.00
Developer Homepage:
http://www.efdsoftware.com
Product Homepage:
http://www.hdtune.com
HD Tune is a Hard Disk utility which has the following functions:
- Benchmark: measures the performance
- Info: shows detailed information
- Health: checks the health status by using SMART
- Error Scan: scans the surface for errors
- Temperature display
HD Tune Pro gives us accurate read, write and access time results and for the last couple of years has been gaining popularity amongst reviewers. It is now considered a must have application for storage device testing.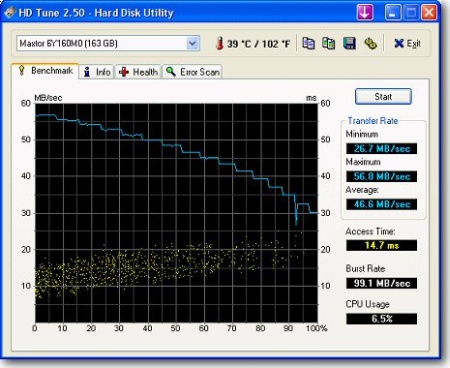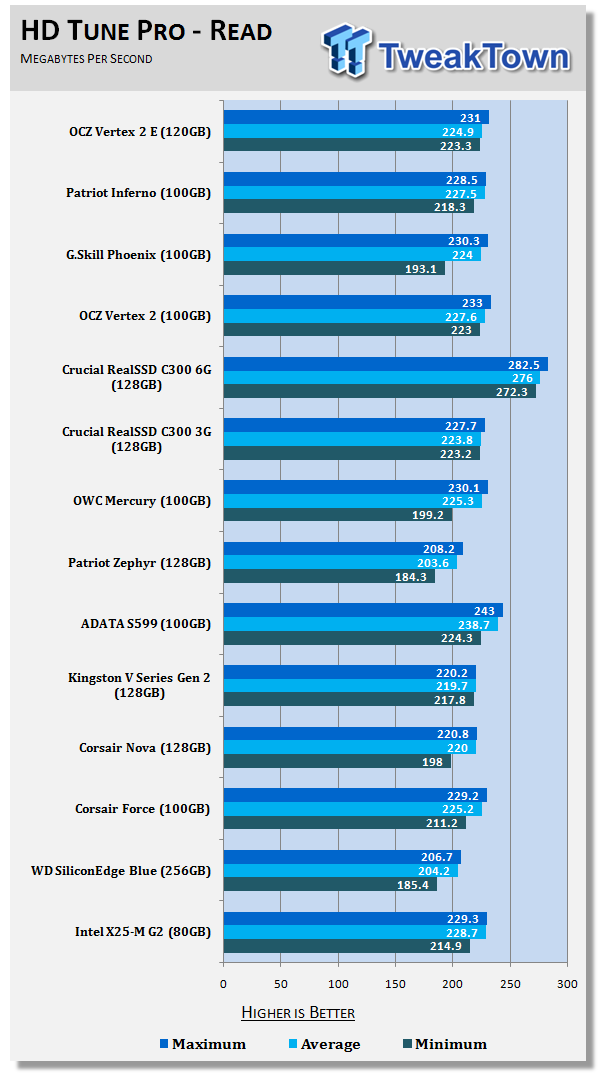 The read speeds for both of the Vertex 2 drives remain the same and both hold a very tight line across the graph.
In the write speed tests things worked out a little differently and we saw a little more fluctuation with the new Vertex 2 E. This led to a 10MB/s drop in average write speed, but the maximum remained the same for both.
Benchmarks - Everest Random Access Time
Everest Random Access TimeVersion and / or Patch Used:
4.60
Developer Homepage:
http://www.lavalys.com
Product Homepage:
http://www.lavalys.com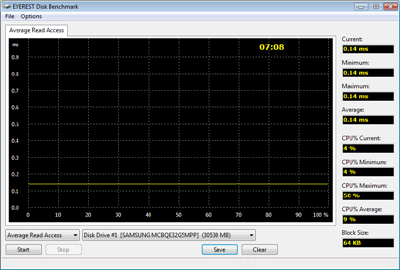 Everest Ultimate and Corporate Edition offer several different benchmarks for testing and optimizing your system or network. The Random Access test is one of very few if not only that will measure hard drives random access times in hundredths of milliseconds as oppose to tens of milliseconds.
Drives with only one or two tests displayed in write the write test mean that they have failed the test and their Maximum and possibly their Average Scores were very high after the cached fills. This usually happens only with controllers manufactured by JMicron.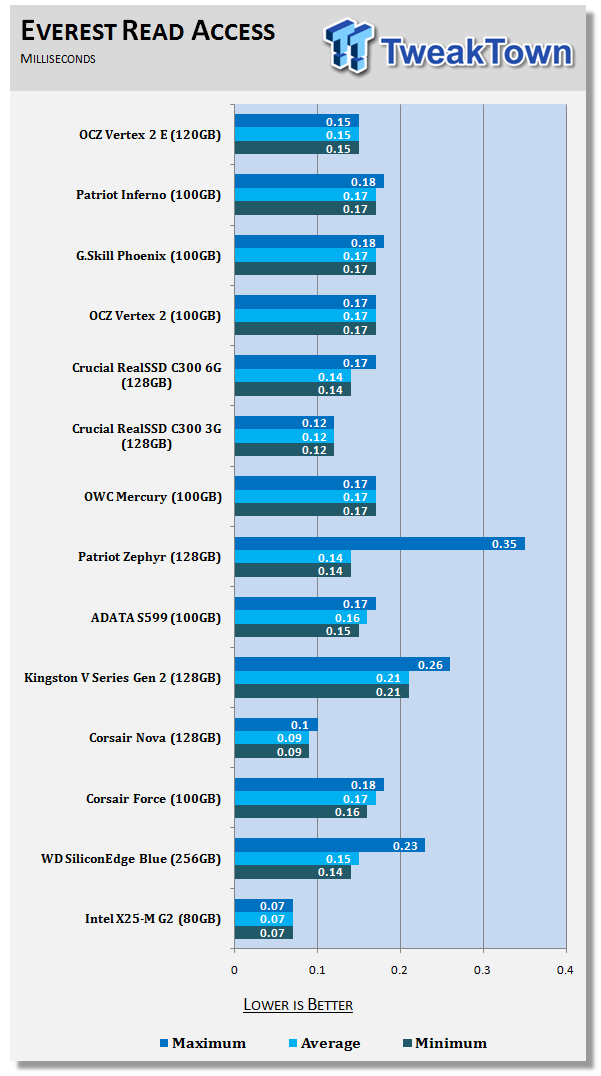 The read latency actually was reduced with the new E model, most likely due to a more refined firmware that will be found on these drives.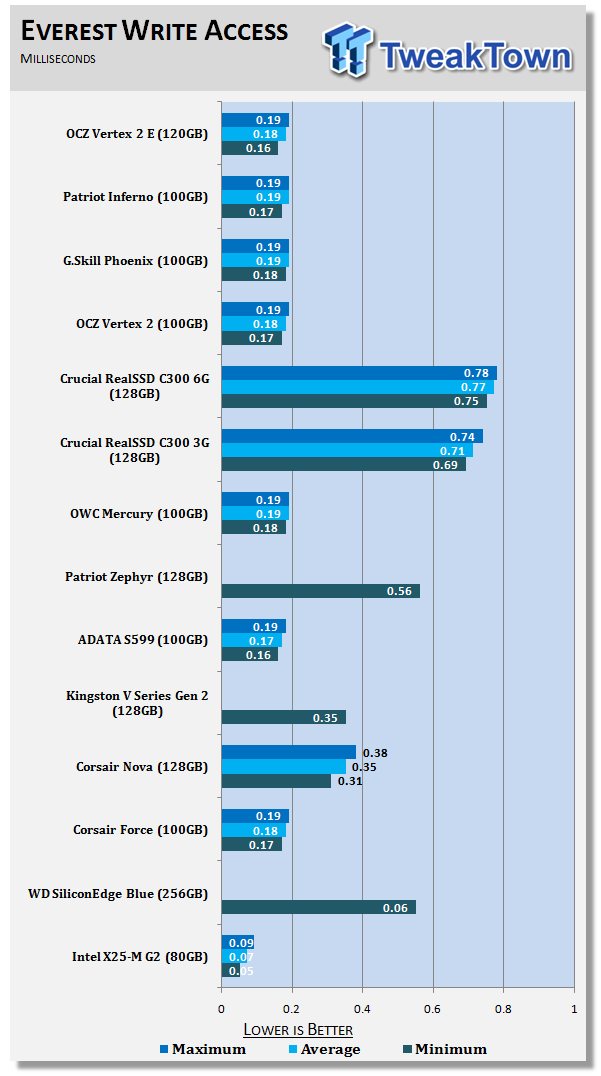 The write latency stayed almost exactly the same. This is a very good sign for the Vertex 2 E 120GB.
Benchmarks - Crystal Disk Mark
CrystalDiskMarkVersion and / or Patch Used:
3.0 Technical Preview
Developer Homepage:
http://crystalmark.info
Product Homepage:
http://crystalmark.info/software/CrystalDiskMark/index-e.html
Download here:
http://crystaldew.info/category/software/crystaldiskmark
CrystalDiskMark is a disk benchmark software.
Key Features:-
* Sequential reads/writes
* Random 4KB/512KB reads/writes
* Text copy
* Change dialog design
* internationalization (i18n)
Note:
Crystal Disk Mark 3.0 is not available to the public yet, but the Technical Preview does allow us to test 4K performance at queue depths of 4 and 32 in addition to 1. The current release Crystal Disk Mark only shows us QD 1.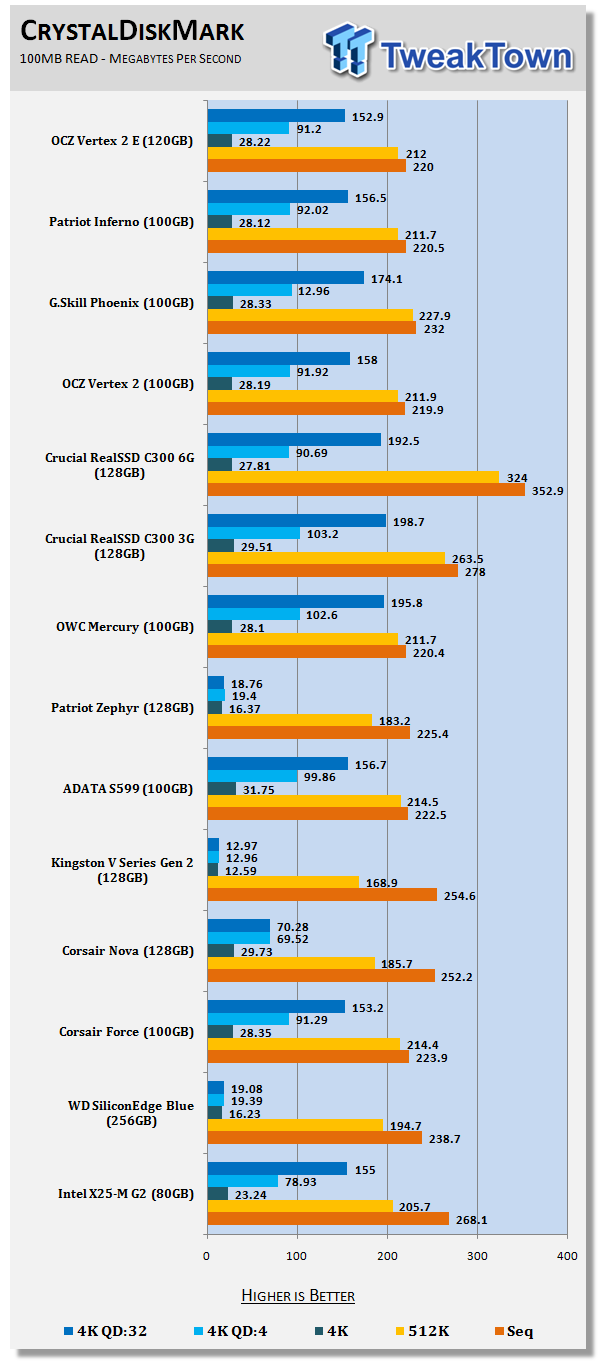 We use CDM to look at the 4K and 4K Queue Depth performance. Other than the QD:32 test the results are almost identical. Even the QD:32 stays within the benchmarks' margin of error.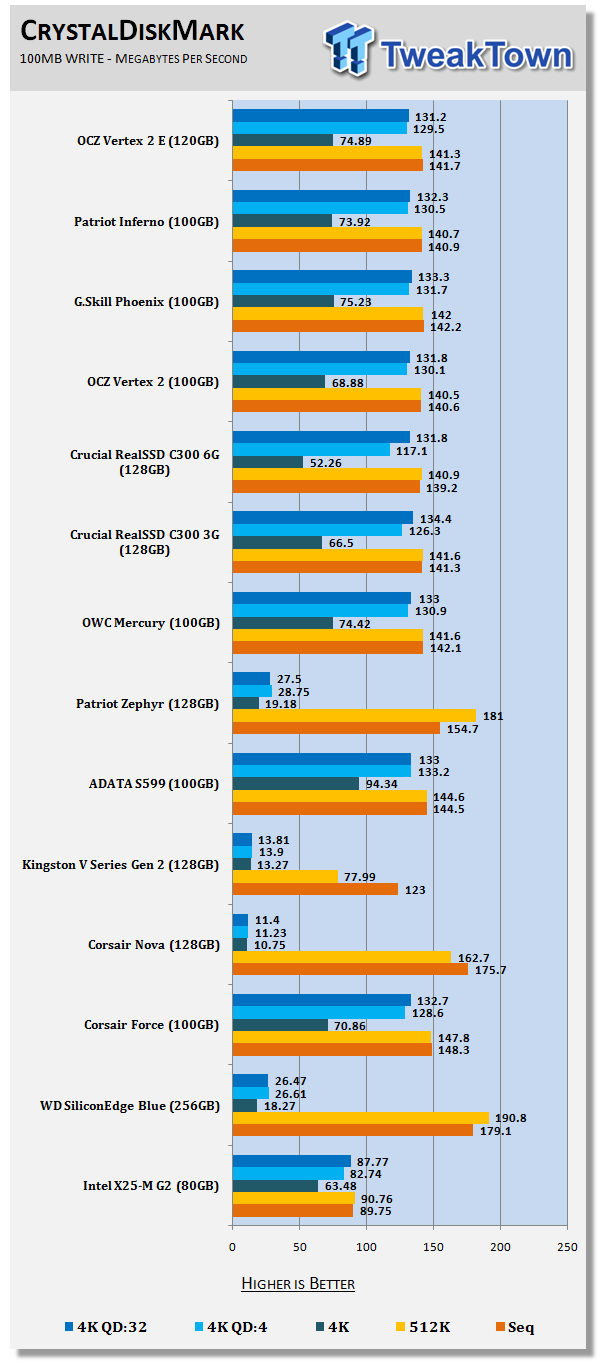 The write speeds at 4K also fall within the margin of error. Now that we are finished with the synthetics we can focus on the real world tests and verify what the early benchmarks have told us.
Benchmarks - PCMark Vantage Hard Disk Tests
PCMark Vantage - Hard Disk TestsVersion and / or Patch Used:
1.0.0
Developer Homepage:
http://www.futuremark.com
Product Homepage:
http://www.futuremark.com/benchmarks/pcmark-vantage/
Buy It Here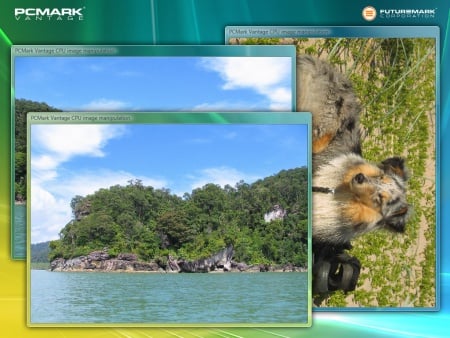 PCMark Vantage is the first objective hardware performance benchmark for PCs running 32 and 64 bit versions of Microsoft Windows Vista. PCMark Vantage is perfectly suited for benchmarking any type of Microsoft Windows Vista PC from multimedia home entertainment systems and laptops to dedicated workstations and high-end gaming rigs. Regardless of whether the benchmarker is an artist or an IT Professional, PCMark Vantage shows the user where their system soars or falls flat, and how to get the most performance possible out of their hardware. PCMark Vantage is easy enough for even the most casual enthusiast to use yet supports in-depth, professional industry grade testing.
FutureMark has developed a good set of hard disk tests for their PCMark Vantage Suite. Windows users can count on Vantage to show them how a drive will perform in normal day to day usage scenarios. For most users these are the tests that matter since many of the old hat ways to measure performance have become ineffective to measure true Windows performance.

HDD1 - Windows Defender
HDD2 - Gaming
HDD3 - Windows Photo Gallery
HDD4 - Vista Startup
HDD5 - Windows Movie Maker
HDD6 - Windows Media Center
HDD7 - Windows Media Player
HDD8 - Application Loading
For most users these tests accurately show how a drive performs in their Windows system. This is also the tests where we made the determination to
recommend the Vertex 2 over the C300
in 100 to 128GB capacities. If you were worried about losing 28GB of space by following what was previously said, then that problem has now been remedied with the new Vertex 2 E 120GB SSD. The performance between the two drives couldn't be any closer.
Benchmarks - AS SSD
AS SSD BenchmarkVersion and / or Patch Used:
1.2.3577.40358
Developer Homepage:
Alex Intelligent Software
Product Homepage:
Alex Intelligent Software
Download here:
http://www.alex-is.de/PHP/fusion/downloads.php?cat_id=4&download_id=9
AS determines the performance of Solid State Drives (SSD). The tool contains four synthetic as well as three practice tests. The synthetic tests are to determine the sequential and random read and write performance of the SSD. These tests are carried out without the use of the operating system caches.
In all synthetic tests the test file size is 1GB. AS can also determine the access time of the SSD, the access of which the drive is determined to read through the entire capacity of the SSD (Full Stroke). The write access test is only to be met with a 1 GB big test file. At the end of the tests three values for the read and write as well as the overall performance will be issued. In addition to the calculated values which are shown in MB/s, they are also represented in IO per seconds (IOPS).
Note:
AS SSD is a great benchmark for many tests, but since Crystal Disk Mark covers a broader range of 4K tests and HD Tune Pro covering sequential speeds, we will only use the Copy Benchmark from AS SSD.
- Copy Benchmark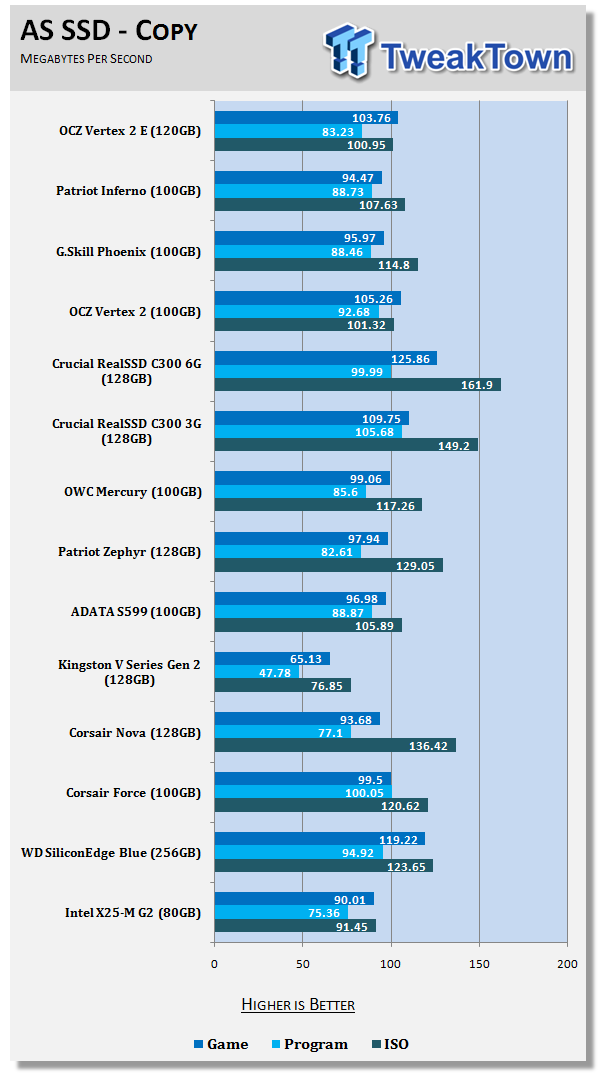 The only issue we've found to date with the SandForce drives has to do with handling compressed data. Since the controller compresses all of the data already to deliver higher performance when writing, data that is already compressed tends to write slower. The new Vertex 2 E 120GB does slow down in some of the tests, but by a very small margin.
Benchmarks - Passmark
Passmark Advanced Multi-User TestsVersion and / or Patch Used:
6.1
Developer Homepage:
http://www.passmark.com
Test Homepage:
http://www.passmark.com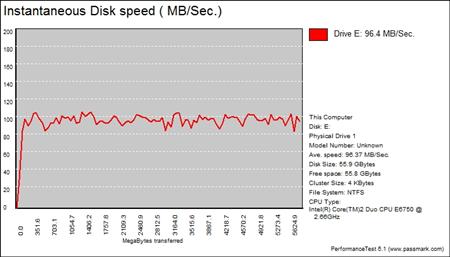 Many users complain that I/O Meter is too complicated of a benchmark to replicate results so my quest to find an alternative was started. Passmark has added several multi-user tests that measure a hard drives ability to operate in a multi-user environment.

The tests use different settings to mimic basic multi-user operations as they would play out on your server. Variances is read / write percentage as well as random / sequential reads are common in certain applications, Web Servers read nearly 100% of the time while Database Servers write a small amount of data.
The Workstation test is the only single user environment and will be similar to how you use your system at home.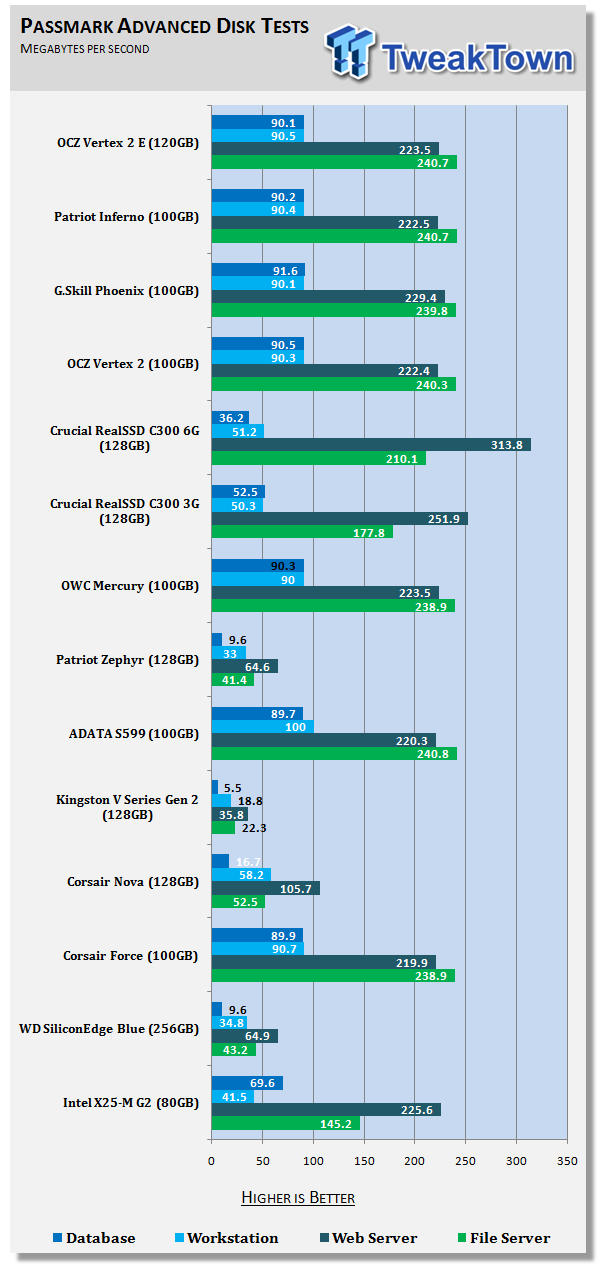 The server tests belong to the SandForce drives and they are even faster than the purpose built Intel X25-E enterprise products. Here we see no difference in performance between the standard and extended drives, but in an enterprise environment when drives are expected to run 24/7 for many years the extra spare area would be recommended for extended reliability.
Final Thoughts
With SandForce products being so new to the market we knew that additional features would emerge as the firmware is refined. What we didn't realize until recently was that extra capacity for the consumer drives was even possible. Even now we are very early in the lifespan of the SF-1200 and the second Mass Production firmware release will be coming at the beginning to middle of next month as long as no issues pop up in validation testing. I wish more details were available as to what all has been changed, but I, like you will just have to wait and see.
There are a couple of things we were looking to find and answer with today's article. The first and easiest to answer is the performance of the Vertex 2 in both 100 and 120GB capacities. In our testing we only found a couple of places where performance was reduced with the new extended drive and they were so close to the margin of error for each test that we can't even look at the extended drive and say that real performance was lost. Both versions of the drive perform at the same level, as fast as anything else with a SandForce SF-1200 controller. When compared to the other next generation SSD on the market, the Crucial RealSSD C300 128GB, we felt the Vertex 2 E is the way to go.
The next thing we wanted to ponder hard over is the idea of removing capacity from the spare area and making it available to the user. On this we feel that even though a large chunk of space has been given to the user, the new extended SandForce 1200 still keeps a large percentage of space available for internal use. We don't know how this will impact life expectancy, but at this point who has started to kill blocks in their SSD purchased even a couple of years ago? Given that at 100GB a SF-1200 is running at enterprise levels of reliability, typical home users can afford to shave a bit of time off since it is only really going to be used for a maximum of five years anyhow before being replaced with the next great technology.
When it comes to the price, I am still a bit shocked at the deal My Digital Discount has put together. I mean come on! In January we were talking about SandForce drives in the 100GB capacity costing close to 600USD. Now that they are starting to penetrate the market
we are talking about 349.99
. Maybe I had a bad crash on the race track last week and this is what heaven is like. Life just goes on and good things always happen. If that is true then why do I have a sore throat? Yeah, this is the real deal and no matter how it was achieved, we like the results.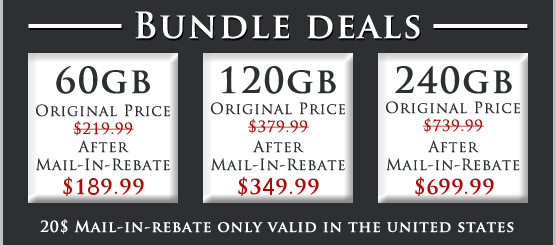 From the time you read this to until May 31st OCZ is offering a mail-in rebate of 20 USD to customers in the United States who purchase Vertex 2 E products at MyDigitalDiscount.com. My Digital Discount is also running a matching special that is instant making it easier for those in the United States to be able to afford the fastest SSD around. Above is a list of prices; I'm thinking a pair of 120GB drives in RAID 0 would make for one helluva boot drive in my new workstation.