OCZ Vertex Limited Edition (LE) 240GB Custom SandForce SSD
My Digital Discount gets SandForce 120GB under 300 USD. Today we test the 240GB drive and give you the details on how to get ridiculous deals on SandForce drives.
Published Tue, Jun 29 2010 9:47 AM CDT
|
Updated Tue, Nov 3 2020 7:02 PM CST
Introduction
The OCZ Vertex Limited Edition (LE) was the first generation SandForce SSD to hit the market. At the time of release the LE was plagued with one issue after another. Many drives were shipped to customers with the same on drive serial number which caused issues for RAID arrays. Drives were dropping dead left and right according to forum posts all over the place, too. Even calling the LE an official SandForce was a bit of a stretch since the drives shipped with a OCZ logo rather than the SF-1222 that in the last three months we have become accustomed to seeing on consumer SandForce drives. OCZ had a head start on their competition but some users walked away from the early adapter experience feeling a disappointed.
OCZ remained dedicated to the Limited Edition product line and turned things around as the firmware evolved. At this time nearly all of the known issues have been resolved and the firmware for the LE is now in line with the Agility 2 and Vertex 2; all three now share FW 1.10. One thing is clear; the latest version of the OCZ Vertex LE is not the same as the first run of drives that had a lengthy issue log. That log has now been cut down, shredded and is in little pieces. There are a couple small issues that remain, but we will tell you about those and how to avoid them later in the article.
When the LE launched we were told that this was a special run of 5000 drives. At no point were details given on whether that was a run of 5000 total or 5000 per capacity and we may never know for sure. What we do know is how many drives OCZ had remaining at their factory last week. Here is that list:
60GB - 150 Pieces
120GB - 150 Pieces
240GB - 250 Pieces
Well, that
was
at the factory, but now the last remaining stock of OCZ Vertex LE drives is sitting at the headquarters of My Digital Discount, the same e-tailer that brought us those killer deals on OCZ Vertex 2 drives a couple of weeks ago. The Vertex 2 campaign went so well that OCZ offered My Digital Discount special pricing on the last remaining stock of Limited Edition SSDs. In the negotiations for the order My Digital Discount was able to convince OCZ to reconfigure the last remaining stock to the new extended capacity software. These are going to be the only extended capacity Limited Edition drives sold, making them a My Digital Discount exclusive.
Don't let the low piece count and exclusivity involved get you thinking that My Digital Discount is going to try and rob you blind on the pricing. MDD is following their same strategy, purchase in bulk and make their money off volume sales. In order to sell in volume My Digital Discount makes less per piece than what other e-tailers normally do. That means you are getting the OCZ Vertex Limited Edition for less at My Digital Discount. They just hope you will buy two instead of one. If not, that is OK, too. Just be sure to tell a friend about the deal (and send them here to read all about it, too).
Let's take a moment to look at the specs, go into some detail on the known issues, pricing and then get down to business putting our sample 240GB Limited Edition through hell and back to see if we were able to find any issues of our own. The real story today is going to be if the Vertex LE is able to perform at the same high levels as its younger sibling, the OCZ Vertex 2. We will put those head to head and include benchmarks from other leading products as well.
Specifications, Pricing and Availability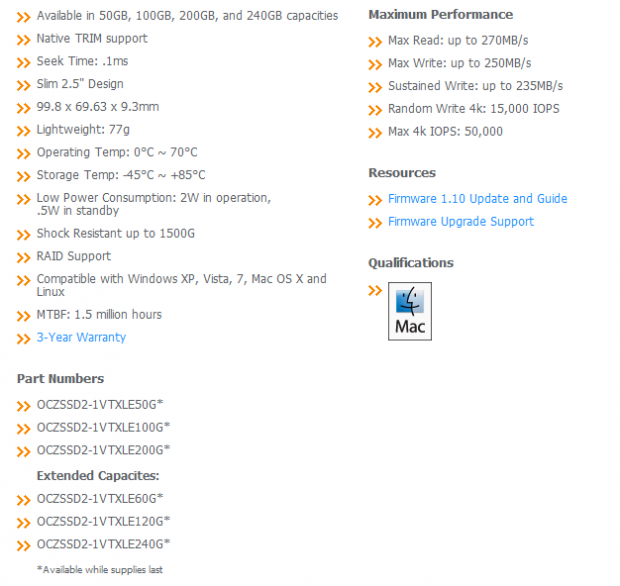 The OCZ Vertex LE is rated at 270MB/s read and 250MB/s write. This is the claim that OCZ make in their original release, but I have a feeling firmware updates may have moved that number up a bit. The claimed performance is slower than the Vertex 2's 285MB/s read, 275MB/s write speeds. Looking deeper at the spec sheet we see that the Vertex LE packs the 50K Max 4K IOPS firmware, a feature the LE shares with the Vertex 2 and an increasing number of SSDs that were launched after Computex.
We have been told that the OCZ Vertex LE blurs the lines between the SF-1200 consumer controller and the SF-1500 controller. At this point we are convinced that the physical controller is the same for the SF-1200 and SF-1500. To be technically accurate SandForce advertises two SF-1200s and four SF-1500 controllers by order number, none of which are advertised as hybrid consumer with enterprise features or enterprise hacked to consumer controllers.
SandForce is still a young company and at times I draw parallels with SandForce and a puppy. They are both cute and cuddly but as soon as you leave the room they are going to relieve themselves on the floor and chew of stuff that they shouldn't. The Vertex LE was one of the first retail drives to hit the market and either the business model wasn't completely established at the time or the controllers in them are something that SandForce wanted scrap for not living up to enterprise standards but OCZ found useful for the consumer market. Things are not as bad as they may sound when you look at the big picture. When SandForce started beating the big marketing drums a couple of years ago all of the frequencies were directed at the enterprise market and client drives were a bit of an afterthought. It is quite possible that this batch of 5000 or so controllers opened the door for client products and SandForce recognized that this could be a profitable area to get into while finalizing the enterprise products. There is a bit of speculation there but the logic could lead some to believe something like that could be semi accurate.
Many editors including myself have been using 'firmware' as a catch all for both firmware and programming and it has caused a bit of confusion. The high 4K IOPS feature is a programming feature and not something that will be turned on and off with firmware, the same is true for the standard and extended capacity. This is now apparent since the OCZ Agility 2, Vertex 2 and Vertex LE all share the same firmware updates from OCZ, each uses the same download link and installer file.
To clear up other inaccuracies the OCZ Vertex and OCZ Vertex LE are not part of the same family of controllers. The original Vertex line used controllers from Indilinx and the Vertex LE is a SandForce controller. A more accurate product name would have been Vertex 2 LE but once again the LE was an early SandForce product and our mid week quarterback skills are much better than when on the field with a linebacker blitzing on the outside. The SSD market moves fast and at times that is the kind of pressure marketing departments feel to meet deadlines and product launches.
Since we have yet to see a final official SF-1500 enterprise drive in house we are still caught up in the guessing game. We do know that many of the drives that will be advertised as SF-1500 will ship with the Super Capacitor, a feature that will most likely remain in the enterprise class drives due to cost. That stated, calling the OCZ Vertex LE an enterprise drive is not exactly spot on. Also, SandForce in their potty training stages has evoked strong NDAs with partners that make getting a check list of what is and isn't enabled impossible. One thing is clear, the SandForce controller, if a single chip for the entire range is very versatile and has many features that can be enabled and disabled in programming. A couple of years ago I was in a meeting with Transilica, the company that designed the CPU for the SandForce controller(s). Transilica's specialty is robust programmable system-on-chip design and what we are seeing with this controller is in line with some of the things I saw in our meeting where features could be programmed in rapidly if a product required changes. With that in mind, the final check list of features for this controller line many not even be complete as new features are being planned even now.
In the introduction I mentioned that the last batch of OCZ Vertex LE drives are not like the previous LE drives on the market. The My Digital Discount stock of OCZ Vertex LEs will ship to consumers with the latest 1.10 firmware that fixes nearly all issues found in the previous batches of drives. It has been stated in various forums that the first thing you need to do to ensure a smooth running Vertex LE is to flash the drive to the latest firmware and to do it prior to putting anything on the drive. I spent a few hours on the OCZ forums last night and this fact is pretty much considered gospel over there. The My Digital Discount Stock was delivered with FW 1.10 so your drive will be free and clear of a majority of issues that have been reported in many places.
At the time of writing there are two known issues that are yet to be resolved. The first is not a Vertex LE issue and is known to happen with other SandForce drives as well. When a system wakes up from hibernation a blue screen can occur. Not all users are reporting the issue and we were not able to replicate it on our sample Vertex LE 240GB drive in testing. That leads me to believe that a combination of software settings and possibly a combination of hardware is the cause. If there were a public log of issues then this one would be on it. If you are affected then take hibernation out of your power scheme. I would say this may less than 10% of users from what I read while researching the drive.
The second issue that I found in my research comes from Microsoft's AHCI drive for Intel platforms. This really shouldn't be an issue at since
Intel's Rapid Storage Technology Drivers released March 19th 2010
are faster than the Microsoft AHCI drivers and do in fact support the TRIM command (
even though some report otherwise
). This is a data corrupting issue so use the Intel RST drivers in either AHCI or RAID mode. You can use the RAID mode even if none of your drives are in RAID, this is called nonmember RAID. TRIM will be passed along as long as you are not pairing two or more SSDs together. Microsoft has been made aware of the issue and it will most likely be dealt with in a hotfix for those who do not know any better. You now have the inside scoop on that one so use the Intel RST drivers if you have an Intel chipset. AMD chipsets are not affected even when using the Microsoft AHCI driver. If you have a new AMD chipset motherboard be on the lookout for an article in the coming weeks that will show you how to get the most out of your SSD on these new chipsets.
Up until now the lowest price we have seen for a 100 or 120GB SandForce controlled drive has been the
My Digital Discount Vertex 2 sale which put the 120GB drive at 319.99
after a mail in rebate. That was a smoking hot price but one that is has now been obliterated. My Digital Discount has just announced the
120GB OCZ Vertex LE for 289.99 USD after a 30 Dollar Mail in Rebate
. The 60GB and 240GB Vertex LE drives will also get price slashes that put them at levels unseen before. My Digital Discount has
the 60GB priced at 149.99
after a 20 Dollar rebate and the
240GB LE at 549.99
after a 30 Dollar rebate. I think for most enthusiasts the 120GB capacity will be the hot item and with pricing less than 300 USD will sell out quickly.
Normally we are not worried too about availability as long as stock is available since more is usually on the way. This time things are different and availability is truly limited to a static number that will not change. My Digital Discount has 150 60GB, 150 120GB and 250 240GB drives on hand. These are the final run and stock will not be replenished. TweakTown gets around 1 million readers a month in the US and an additional 1 million worldwide non-US readers per month. My Digital Discount does ship globally so there is a chance that by the time you finish this article the most popular model may be sold out. I do hope you come back to finish looking at the benchmarks though. Here is the link to the
My Digital Discount page for the OCZ Vertex LE
with special pricing.
The Packaging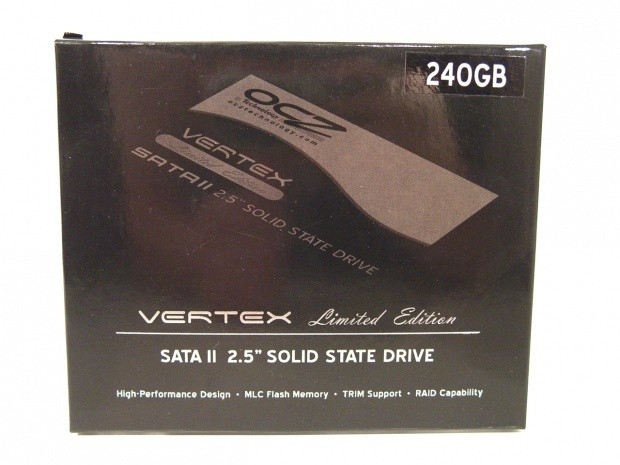 The OCZ Vertex LE package plays a bit of a trick on the mind. The Limited Edition logo somehow injects thoughts of platinum in the back of your mind when you look at it. The front of the package is pretty basic but we see some good information listed at the bottom and having a label that shows the capacity clearly at the top right is a nice touch.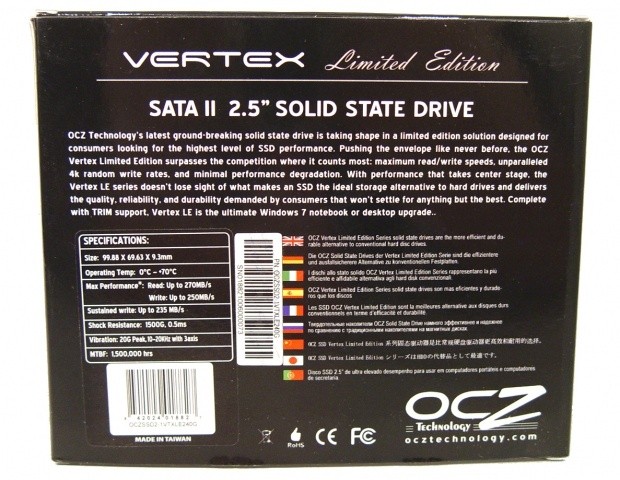 The back of the package has some general information about the LE that could be carried over to any number of SandForce based SSDs. The bottom left OCZ managed to get into the specific specifications that we like to see on packages.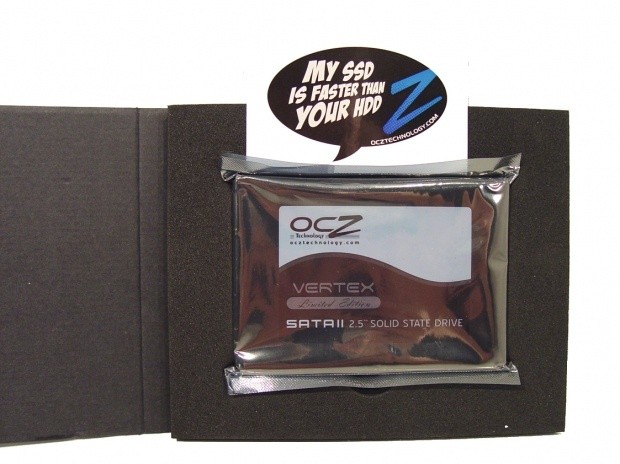 The internal packaging is standard OCZ with the LE, closed cell foam protects the drive, a dense card board cover secures the drive in the foam. One thing to make a note of, the LE does not ship with a desktop 3.5" form factor bracket like the Vertex 2 and Agility 2 do.
The OCZ Vertex LE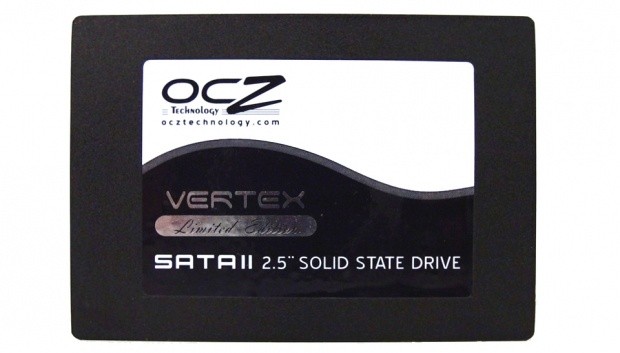 If you have seen one you have seen them all right? Well not exactly but after looking at several OCZ SandForce based SSDs we have started to get ESP when a new one comes in. As mentioned previously, the
Limited Edition
logo gets us thinking about platinum for some odd reason. The light has to be just right for the effect to really come through and capturing it in my photo booth proved to be impossible.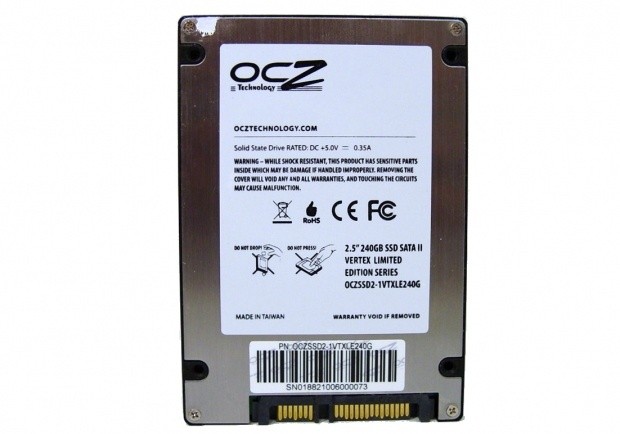 All of the drive details are located on the back of the drive. I was kind of hoping to find a build date but that is one piece of information that was not present.

OCZ did their homework and has all of the standard mounting points where they should be.

SATA data and power are also located where the specifications state so you will not have an issue installing the Vertex LE in a notebook or desktop with the use of an adapter.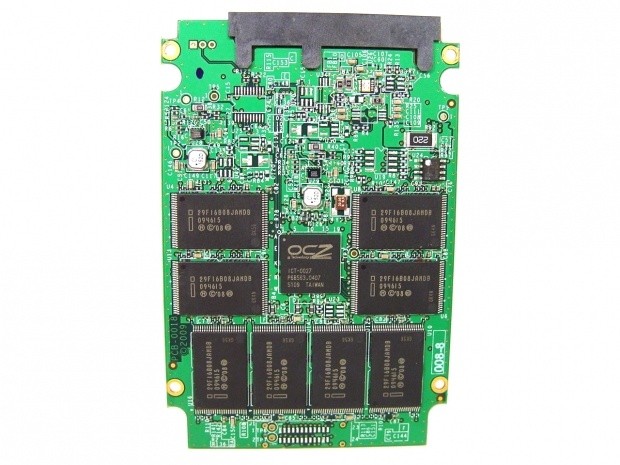 Here we see the SandForce that isn't exactly a SandForce but could be, maybe...err something to do with OCZ. No matter who has their name etched on the controller SandForce claims it as their own publicly so it's all good. Our sample arrived with Intel flash; I know at least a small amount of the first LE drives shipped with Micron flash. Most of the reviews that were published used Intel flash but I did run across one article at Hot Hardware that used Micron flash.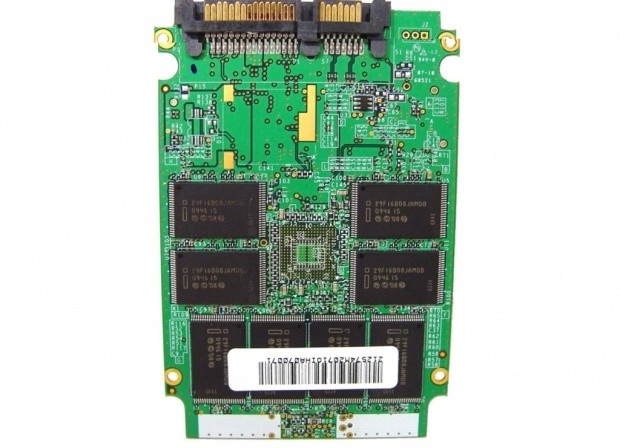 There are eight flash chips on each side making sixteen in total. At this time none of the SandForce controllers we have come across have been paired with a DRAM buffer and the controllers were designed to work without one which aids in reducing costs.
Our 240GB Vertex LE sample arrived with the "Super Capacitor" PCB that we have seen on all of the SandForce controlled SSDs from OCZ so far.
Test System Setup and ATTO Baseline Performance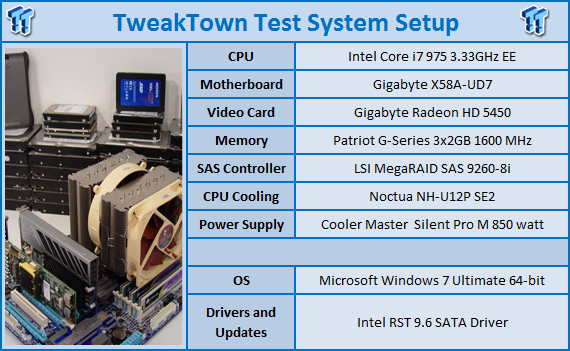 We would like to thank the following companies for supplying and supporting us with our test system hardware and equipment:
AVADirect
,
GIGABYTE
,
Cooler Master
,
LSI
and
Noctua
.
You can read more about TweakTown's Storage Product Testing Workstation and the procedures followed to test products
in this article
.
We changed our SSD performance charts up in one of the articles last week at the request of the article sponsor and I like the changes so we are keeping them for a little while. Now, instead of just listing the last ten to twelve drives reviewed we have chosen some of the more popular drives and controllers.
Represented in the performance charts will be the sample OCZ Vertex LE 240GB, Intel X25-M (G2), Indilinx Barefoot via the Corsair Nova, Marvell SATA 6Gbps via the 128 and 256GB Crucial RealSSD C300, SandForce SF-1200 via the 120 and 240GB OCZ Vertex 2 and finally the fastest consumer platter drive currently on the market, the Western Digital VelociRaptor.
ATTO Baseline Performance
Version and / or Patch Used:
2.34
ATTO is used by many disk manufacturers to determine the read and write speeds that will be presented to customers.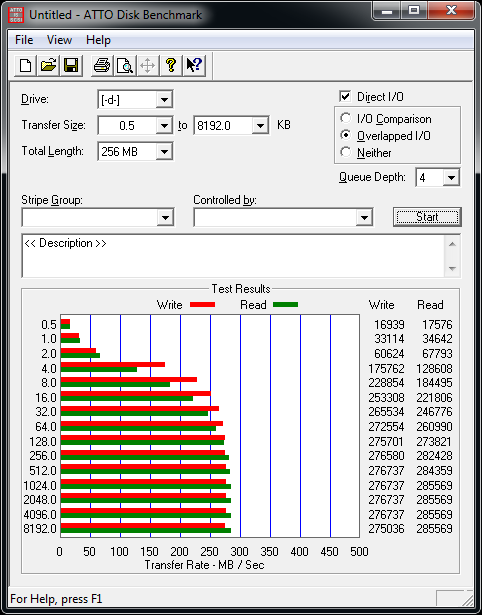 I am happy to report that OCZ's claims of 270MB/s read and 250MB/s write are bogus with the new firmware and software configuration. ATTO has been adapted by just about every company for claimed read and write speed and here we see that the Vertex LE is able to run 285MB/s read and 275MB/s write just like the Vertex 2.
The 4K write numbers also show that the Vertex LE is packing the High IOPS firmware. Standard drives without this special feature only score around 130 to 140MB/s in the 4K write test in ATTO.
It will be interesting to see if the Vertex LE 240GB is able to run identical benchmark numbers as the Vertex 2 240GB that we tested last week.
Benchmarks - HD Tune Pro
HD Tune ProVersion and / or Patch Used:
4.00
Developer Homepage:
http://www.efdsoftware.com
Product Homepage:
http://www.hdtune.com
HD Tune is a Hard Disk utility which has the following functions:
- Benchmark: measures the performance
- Info: shows detailed information
- Health: checks the health status by using SMART
- Error Scan: scans the surface for errors
- Temperature display
HD Tune Pro gives us accurate read, write and access time results and for the last couple of years has been gaining popularity amongst reviewers. It is now considered a must have application for storage device testing.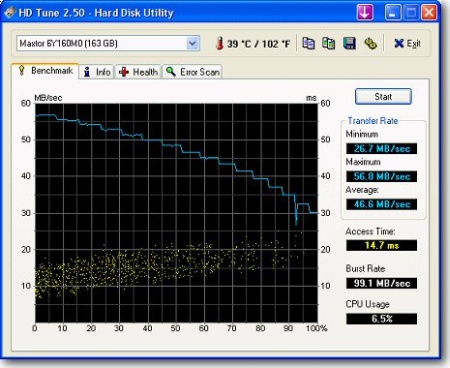 Read Tests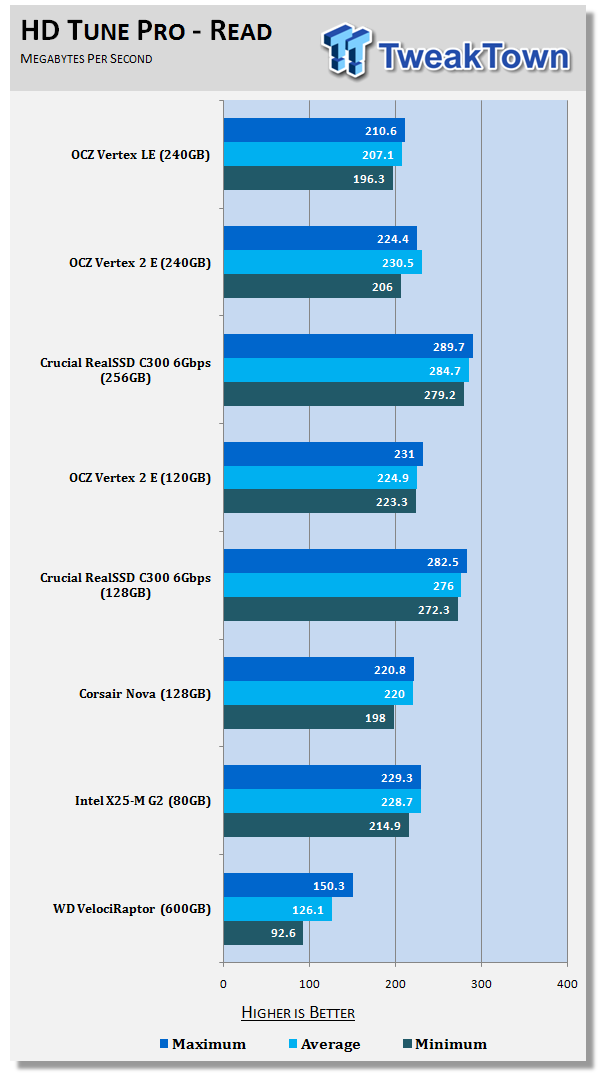 The two 240GB OCZ SandForce drives are listed together at the top of the chart. In our first synthetic test to show our sample group we see that the LE is just a little slower at reading data from across the drive.
Write Tests
The write test shows further separation from the Vertex 2 to the Vertex LE. In this test the LE is quite a bit slower, but still manages to write faster than the Intel X25-M and Crucial RealSSD C300 128GB.
Benchmarks - Everest Random Access Time
Everest Random Access TimeVersion and / or Patch Used:
4.60
Developer Homepage:
http://www.lavalys.com
Product Homepage:
http://www.lavalys.com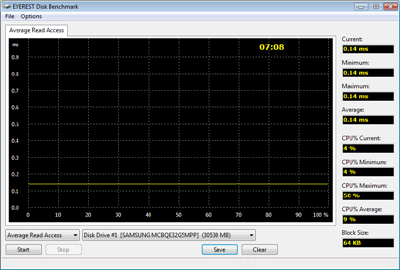 Everest Ultimate and Corporate Edition offer several different benchmarks for testing and optimizing your system or network. The Random Access test is one of very few if not only that will measure hard drives random access times in hundredths of milliseconds as oppose to tens of milliseconds.
Drives with only one or two tests displayed in write the write test mean that they have failed the test and their Maximum and possibly their Average Scores were very high after the cached fills. This usually happens only with controllers manufactured by JMicron.
Read Tests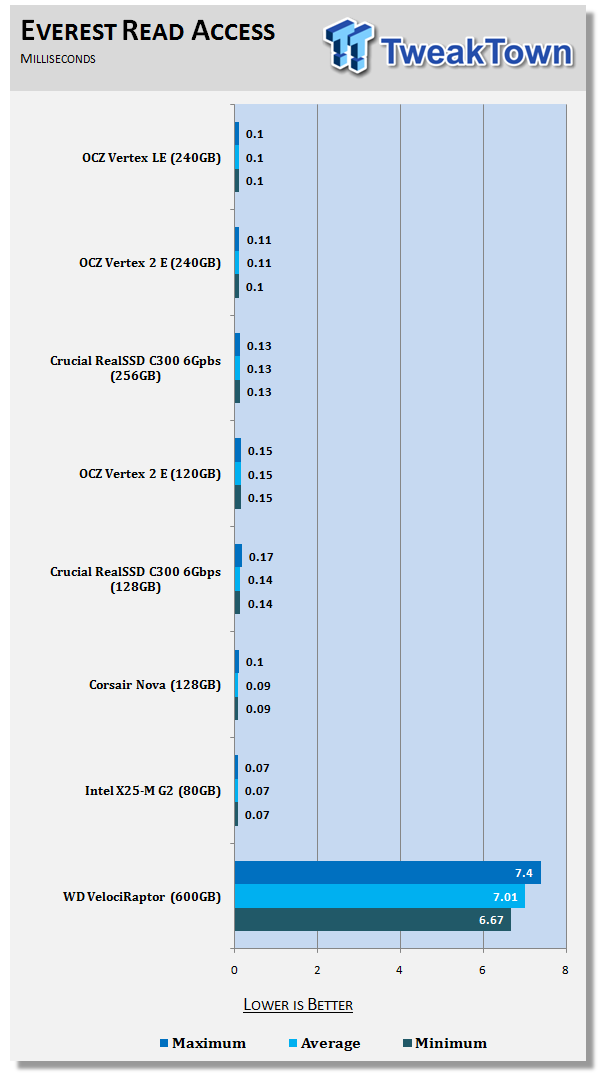 The read access time for the OCZ Vertex LE was consistent with the 240GB Vertex 2. It is the access times that make SSDs feel so fast when used as a boot drive. The lower the access time the faster the response in everything you do on Windows.
If you are still using a platter drive, chances are it is not as fast as the Western Digital VelociRaptor, the fastest consumer platter drive on the market. Here we can see that even though the VelociRaptor is fast at accessing data with its 10K RPM spinning disks, it is nowhere near the responsiveness of an SSD.
Write Tests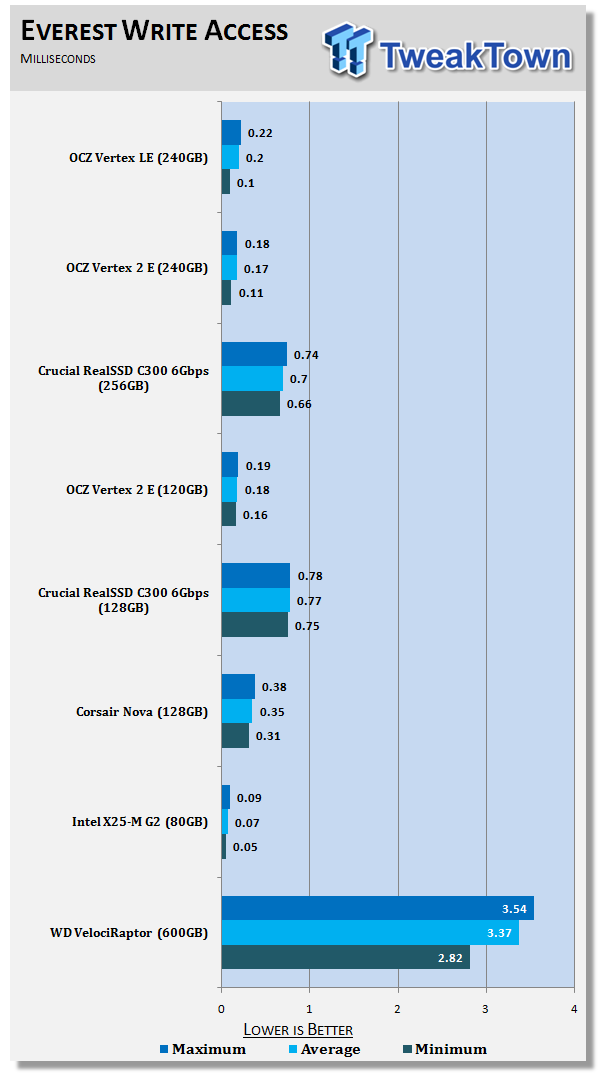 The write access time of the Limited Edition was a bit higher than the Vertex 2 240GB. I really didn't expect to see this, but the graph was smooth and steady, but access time increased as the test progressed.
Benchmarks - Crystal Disk Mark
CrystalDiskMarkVersion and / or Patch Used:
3.0 Technical Preview
Developer Homepage:
http://crystalmark.info
Product Homepage:
http://crystalmark.info/software/CrystalDiskMark/index-e.html
Download here:
http://crystaldew.info/category/software/crystaldiskmark
CrystalDiskMark is a disk benchmark software.
Key Features:-
* Sequential reads/writes
* Random 4KB/512KB reads/writes
* Text copy
* Change dialog design
* internationalization (i18n)
Note:
Crystal Disk Mark 3.0 is not available to the public yet, but the Technical Preview does allow us to test 4K performance at queue depths of 4 and 32 in addition to 1. The current release Crystal Disk Mark only shows us QD 1.
Read Tests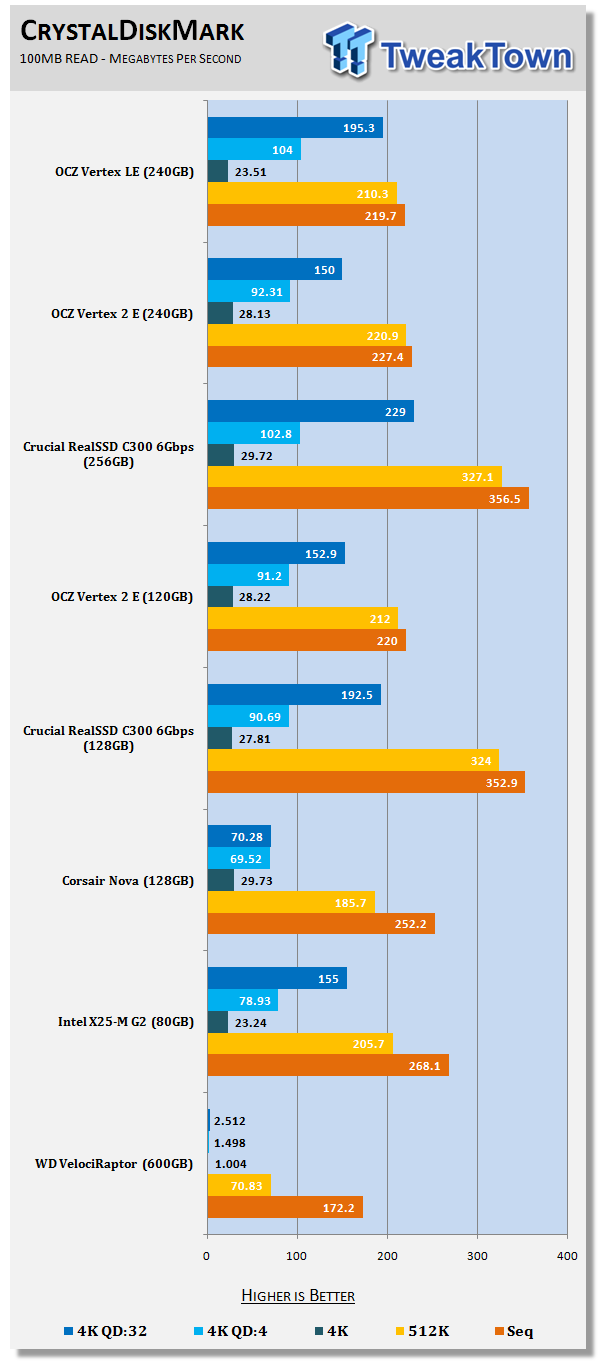 Now we are starting to see some things get interesting. The Vertex 2 has higher sequential read speed, this we proved in HD Tune a few pages back and hasn't changed. The Vertex LE appears to give up some sequential performance to gain additional performance at higher queue depths. Here we see the LE reading around 10MB/s faster than the Vertex 2 drives at a QD of 4. Once we get to a QD of 32 the LE just walks away from the Vertex 2 drives with a 45MB/s increase over the other 240GB drive.
Let's keep an eye on this when we get to the real world tests. For a desktop computer to get up to a queue depth of 32 is quite uncommon unless the user is doing some serious multitasking. In the enterprise world the above statement is false, particularly in high transaction environments.
Write Tests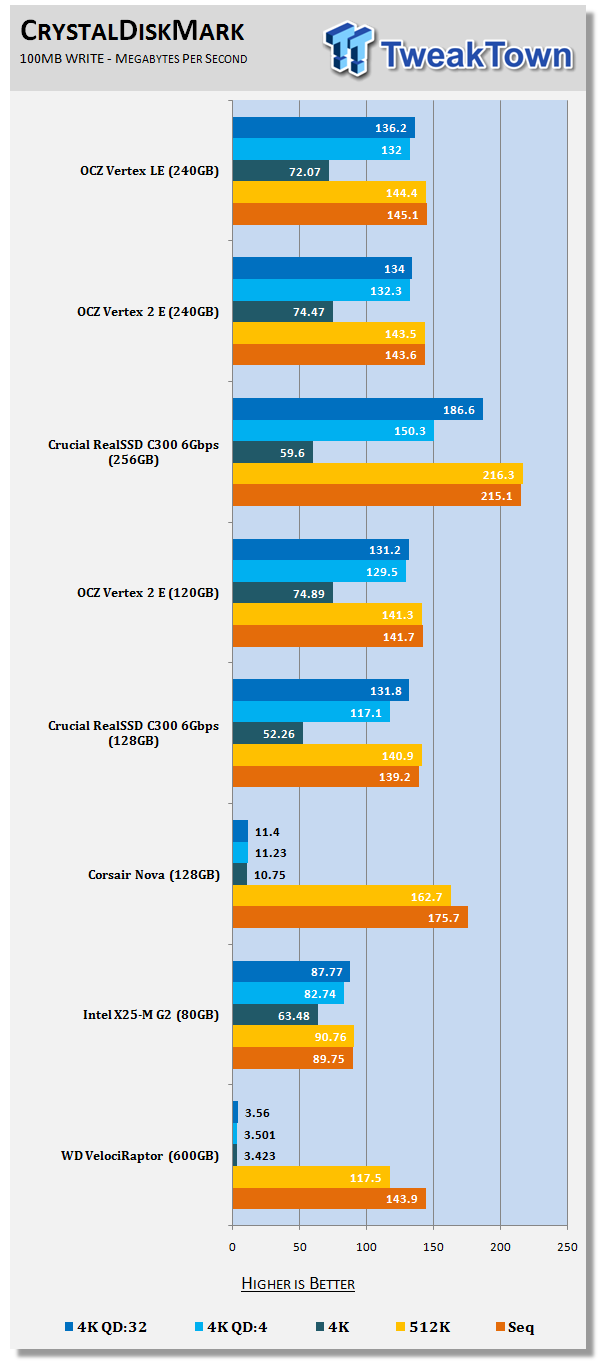 Unfortunately we didn't see the same types of gains in the 4K write tests. Both the LE and Vertex 2 use the same High 4K IOPS firmware and the performance is nearly identical here.
That concludes our synthetic benchmarks; let's take a look at the real world tests and see if what we learned from the synthetics carries over to the real world.
Benchmarks - PCMark Vantage Hard Disk Tests
PCMark Vantage - Hard Disk TestsVersion and / or Patch Used:
1.0.0
Developer Homepage:
http://www.futuremark.com
Product Homepage:
http://www.futuremark.com/benchmarks/pcmark-vantage/
Buy It Here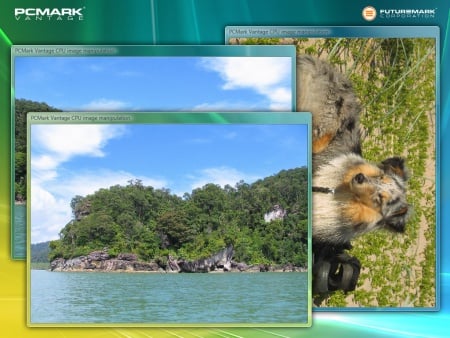 PCMark Vantage is the first objective hardware performance benchmark for PCs running 32 and 64 bit versions of Microsoft Windows Vista. PCMark Vantage is perfectly suited for benchmarking any type of Microsoft Windows Vista PC from multimedia home entertainment systems and laptops to dedicated workstations and high-end gaming rigs. Regardless of whether the benchmarker is an artist or an IT Professional, PCMark Vantage shows the user where their system soars or falls flat, and how to get the most performance possible out of their hardware. PCMark Vantage is easy enough for even the most casual enthusiast to use yet supports in-depth, professional industry grade testing.
FutureMark has developed a good set of hard disk tests for their PCMark Vantage Suite. Windows users can count on Vantage to show them how a drive will perform in normal day to day usage scenarios. For most users these are the tests that matter since many of the old hat ways to measure performance have become ineffective to measure true Windows performance.

HDD1 - Windows Defender
HDD2 - Gaming
HDD3 - Windows Photo Gallery
HDD4 - Vista Startup
HDD5 - Windows Movie Maker
HDD6 - Windows Media Center
HDD7 - Windows Media Player
HDD8 - Application Loading
Just as I was thinking, making use of very high queue depth increases in typical Windows 7 day-to-day tasks is going to be difficult unless you are seriously multitasking. Here we see that the brute force approach of higher sequential reads helps propel the 240GB Vertex 2 past the Vertex LE in all but one test. Still, the numbers are very close and I don't think the difference will be noticeable in a double blind test between two identical computers back-to-back, much less for a user who only has one Vertex or the other.
My choice in just sampling the 240GB Vertex LE is coming back to haunt me here a bit. The Vertex 2 120GB drive appears to be the king of desktop speed and seeing the Vertex LE 120GB would have been beneficial for those looking to purchase the first SandForce 100 / 120GB drive to ever break the 300 USD price barrier. I can only assume that the 120GB LE is going to run just a hair slower than the Vertex 2 120GB drive but still perform very fast. If the reduction is on par with what we saw in the 240GB drives users will not notice a significant decrease in user experience.
Benchmarks - AS SSD
AS SSD BenchmarkVersion and / or Patch Used:
1.2.3577.40358
Developer Homepage:
Alex Intelligent Software
Product Homepage:
Alex Intelligent Software
Download here:
http://www.alex-is.de/PHP/fusion/downloads.php?cat_id=4&download_id=9
AS determines the performance of Solid State Drives (SSD). The tool contains four synthetic as well as three practice tests. The synthetic tests are to determine the sequential and random read and write performance of the SSD. These tests are carried out without the use of the operating system caches.
In all synthetic tests the test file size is 1GB. AS can also determine the access time of the SSD, the access of which the drive is determined to read through the entire capacity of the SSD (Full Stroke). The write access test is only to be met with a 1 GB big test file. At the end of the tests three values for the read and write as well as the overall performance will be issued. In addition to the calculated values which are shown in MB/s, they are also represented in IO per seconds (IOPS).
Note:
AS SSD is a great benchmark for many tests, but since Crystal Disk Mark covers a broader range of 4K tests and HD Tune Pro covering sequential speeds, we will only use the Copy Benchmark from AS SSD.
- Copy Benchmark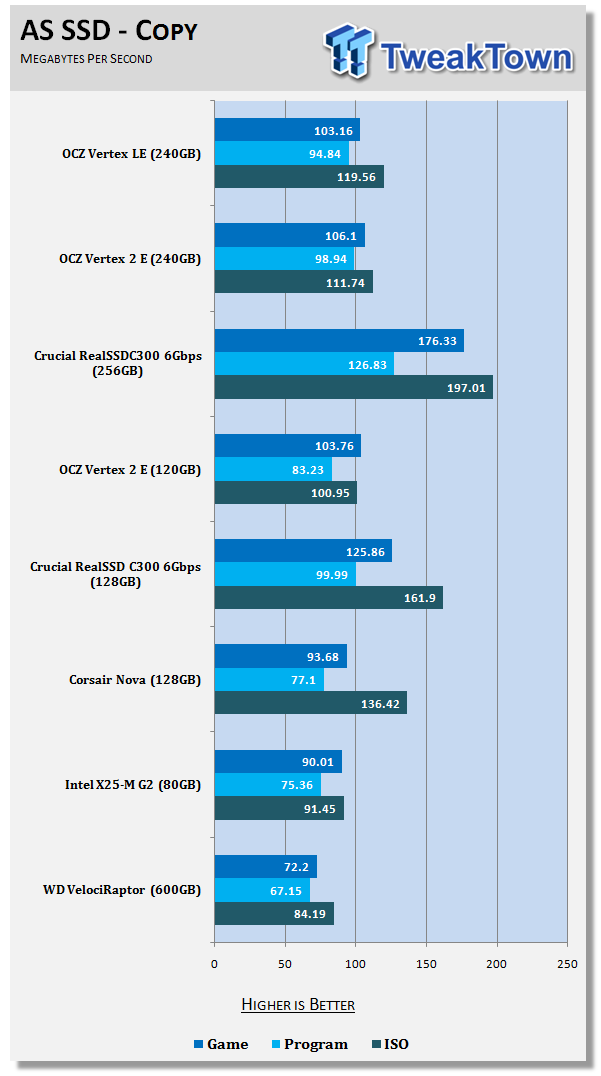 The copy benchmarks show the Vertex 2 and Vertex LE performing nearly identical in the Game and Program tests. The ISO test shows that the LE is able to pick up an additional 10MB/s, something that we can attribute to the higher queue depth speed increase.
Benchmarks - Passmark
Passmark Advanced Multi-User TestsVersion and / or Patch Used:
6.1
Developer Homepage:
http://www.passmark.com
Test Homepage:
http://www.passmark.com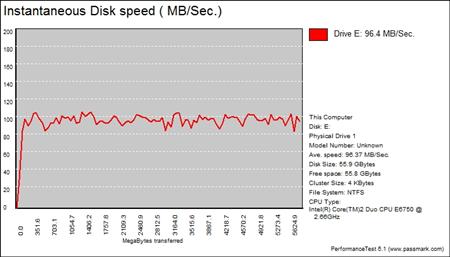 Many users complain that I/O Meter is too complicated of a benchmark to replicate results, so my quest to find an alternative was started. Passmark has added several multi-user tests that measure a hard drives ability to operate in a multi-user environment.

The tests use different settings to mimic basic multi-user operations as they would play out on your server. Variances is read / write percentage as well as random / sequential reads are common in certain applications, Web Servers read nearly 100% of the time while Database Servers write a small amount of data.
The Workstation test is the only single user environment and will be similar to how you use your system at home.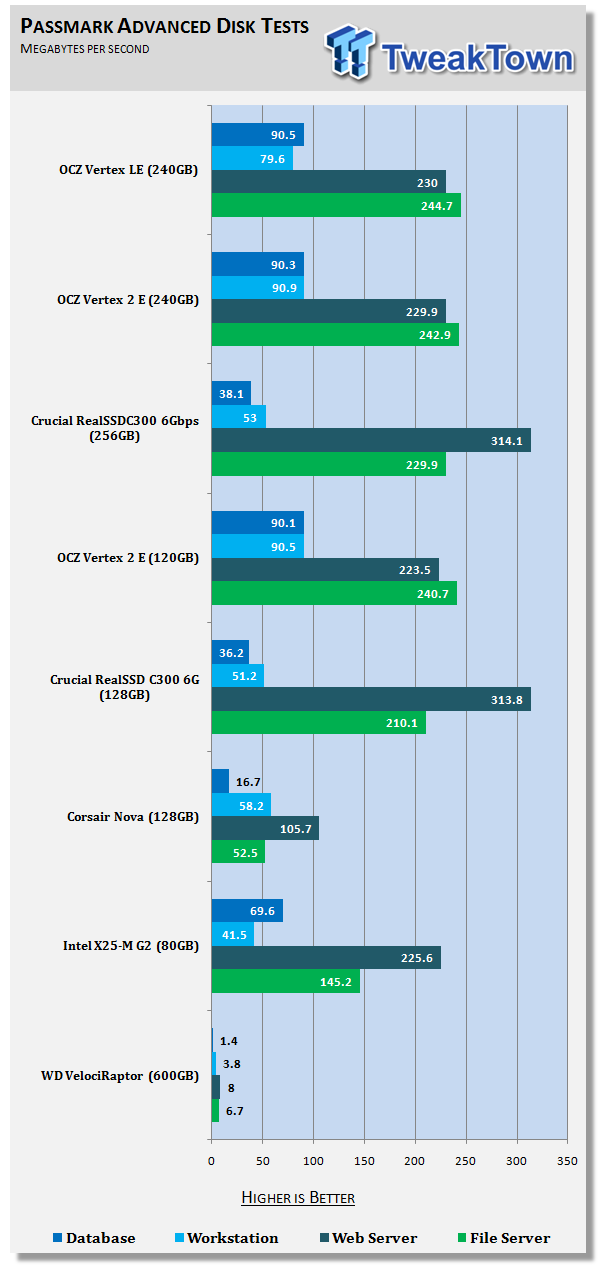 The server tests show the Vertex LE and Vertex 2 putting up nearly identical numbers. The workstation test shows the Vertex LE taking a small hit, a result of the lower sequential read speed.
Final Thoughts
Obviously the big story for the new OCZ Vertex LE is the blow out pricing OCZ gave My Digital Discount so they could offload the rest of the existing stock and take these parts off their books. Truth be told, any number of e-tailers could have snatched these up, matched prices with Newegg and sold them for more money. Fortunately for everyone looking to purchase a SandForce class SSD, My Digital Discount was the company to take advantage of the remaining stock deal, knew enough about SSDs (from reading TweakTown I hope) to have these reprogrammed to consumer friendly extended capacity units and will sell them under the high volume, low price business model.
This is the first time a 120GB SandForce class SSD has breached the 300 USD price barrier. Hell, I don't think you can find many Indilinx Barefoot drives in 128GB capacity for less than 300 USD. Users looking to spend less but still retain high speeds can opt for the 60GB Vertex LE at MDD for 149.99 and notebook users looking for more high speed storage from a single drive should take a serious look at the Vertex LE 240GB at MDD for 549.99. All deals can be found on
My Digital Discount's Vertex LE webpage here
.
The MDD Vertex LE is not the launch version with early beta and then RC like firmware. These are MP release drives; personally I would consider them to be OCZ Vertex LE 2, but no one is going to a new product line for roughly 500 pieces. The 60, 120 and 240GB extended capacity SKUs were added the night before I wrote this article, so confusion would be avoided when My Digital Discount lists their sale and this article is published.
When it comes to performance our 240GB sample proved to be a close contender to the OCZ Vertex 2 with equal capacity. Internal testing at MDD has shown the 120GB Vertex LE in similar standing with the Vertex 2 120GB drive. The Vertex 2 is a little faster across the board, but the Vertex LE can be faster when reading data in high queue depth situations. Truth be told, most users won't be able to see the performance differences we were able to see in the benchmarks, the results are just too close and anyone coming from a traditional platter drive will be amazed at the speeds.
If you need clarification to that fact, just go back and see the benchmarks of the Vertex 2 and Vertex LE while comparing them to the Western Digital VelociRaptor. If you are planning on benchmarking your drive for bragging rights, then spend the extra money on a Vertex 2. If you are looking for real world performance increases while saving money, then the Vertex LE from My Digital Discount is a helluva deal no matter what capacity you choose.
PRICING: You can find products similar to this one for sale below.

United States: Find other tech and computer products like this over at Amazon.com

United Kingdom: Find other tech and computer products like this over at Amazon.co.uk

Australia: Find other tech and computer products like this over at Amazon.com.au

Canada: Find other tech and computer products like this over at Amazon.ca

Deutschland: Finde andere Technik- und Computerprodukte wie dieses auf Amazon.de
We openly invite the companies who provide us with review samples / who are mentioned or discussed to express their opinion. If any company representative wishes to respond, we will publish the response here. Please contact us if you wish to respond.