AIC MiniBOD-T082 8-Bay 2.5-inch JBOD Enclosure
Enterprise ODM Advanced Computer International comes up with portable professional storage that has style and performance.
Published
12 minute read time
Introduction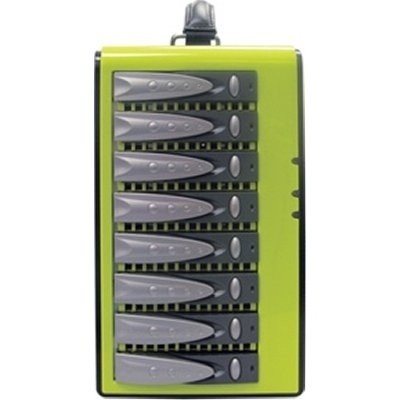 Many things come to mind when we think about portable storage; USB pen drives, USB external drives and maybe even some eSATA solid state hybrid drives if you have a taste for the exotic. None of these are going to cut it when other people's money is on the line, because they should all be considered temporary storage. Valuable data should always remain in a redundant state, be that a NAS server or multiple copies kept on different devices.
Over the years we have covered devices that were designed with a broad range of users and a few that focus on specific users. The AIC MiniBOD is of the latter category and focuses on users looking for uncompromised performance when dealing with valuable data and making that data available on the go in other locations. I could come up with several scenarios where the AIC MiniBOD would be a perfect fit for professionals, but instead of just coming up with one I will share a time in my life when the MiniBOD would have been very useful.
Many years ago I use to run sound for a couple of bands in the Indianapolis area. At the time pro audio was just starting to merge with the PC; companies like MOTU and Steinberg were still quite small and just looking to make a name with their products. Typical effects still ran on dedicated rack equipment and the cost of really good effects was still totaling that of a gently used Cadillac. PC effects were still quite new and without very fast processors, memory and the most important, fast storage, the latency would make using a PC in a live environment an option that wasn't possible.
Fortunately, having access to the latest dual socket motherboards, RAID controllers, SCSI drives and mountains of RAM opened the gates for me to use a PC in this environment. All of that equipment was very heavy and the RAID array rack case was at least seventy pounds alone. This made moving a dedicated portable rack filled with a couple of rack mounted PCs and the storage hardware difficult, my rack weighed more than the racks full of amplifiers!
The AIC MiniBOD actually holds the same amount of HDDs that we used back then and is able to fit in an included travel bag with a fully loaded weight of under 10 pounds.
Let's take a look at the specs and see how AIC was able to make this mini monster.
Specifications, Pricing and Availability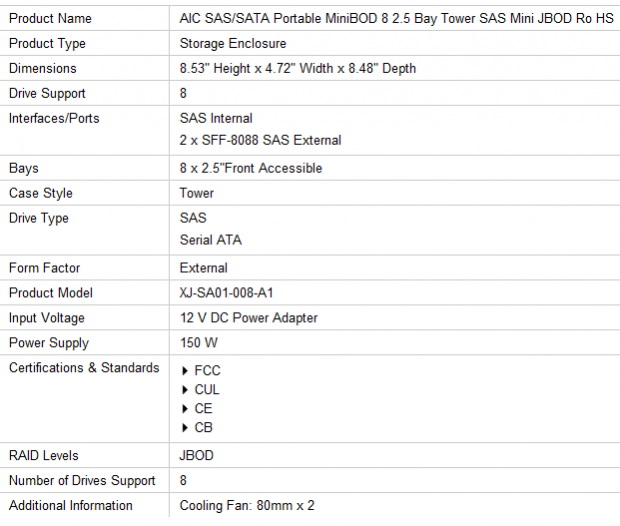 The AIC MiniBOD is less than 9 inches tall yet hold eight 2.5" form factor hard drives or solid state drives. The mini tower connects to a client PC via MiniSAS SFF-8088 connectors that are external. Each client PC needs a SAS controller with dual external SFF-8088 connectors like the LSI 9260-8E that is currently the fastest external SAS controller on the market.
If you work with audio or video data at home and at the office, keeping a card in each location will turn the MiniBOD into the ultimate portable storage with transfer rates that in our testing reached as high as 730 MB/s in ATTO. We actually achieved a sequential speed of 2700MB/s in Crystal Disk Mark in write speeds, but these were mainly cache hits from the LSI controller's adaptive memory. The MiniBOD uses two cables back to the controller. Each cable carries 4x SAS signals, so each drive actually has its own point to point connection, just as if it is used internally.
Advanced Computer International (AIC) was once an ODM only manufacturer, but have started branding and selling their own products under the AIC label. At this time they don't have many products at our typical search locations, but their products are available at many e-tail locations. I was able to find the lowest price on the AIC MiniBOD at Provantage. Provantage currently has the AIC MiniBOD
available for 463.39
, much less than I was expecting to find the MiniBOD for while testing. SAS enclosures are known to cost much more than this Dollar figure and the last external MiniSAS equipped hardware I tested held the same amount of drives, yet cost over twice that of the MIniBOD.
With the AIC MiniBOD being a JBOD enclosure, the RAID is handled by the controller, in this case the LSI 9280-8E. This is the ideal solution for SAS equipment since you can choose a high end controller like the 9280-8E or a cheaper option from any number of manufacturers; just remember that you get what you pay for in this area.
The Packaging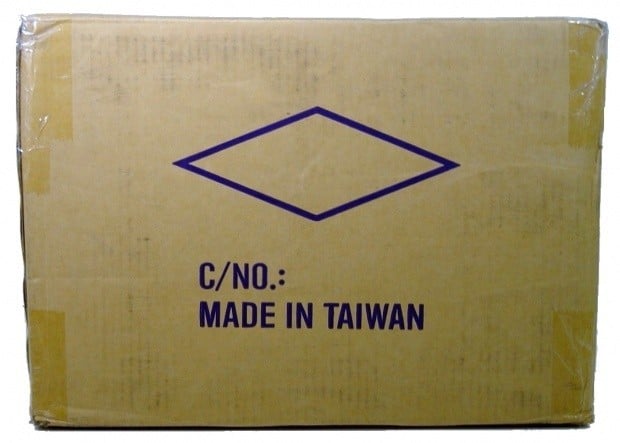 The AIC MiniBOD ships in a brown box like many enterprise and prosumer products. These are typically not found at your local Best Buy since they are used by users looking for products that are not considered general use.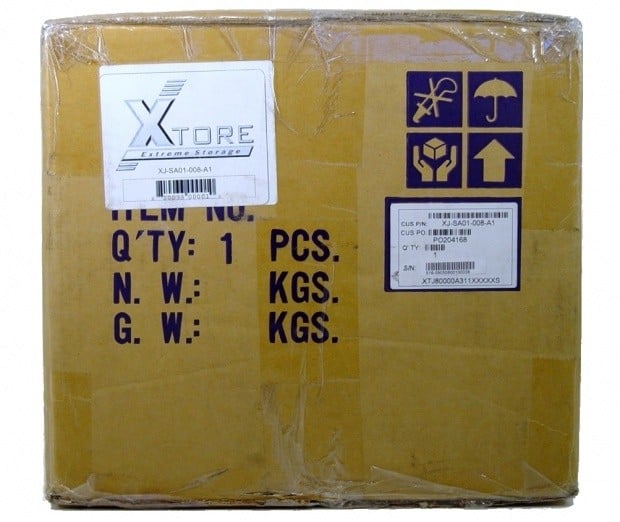 On the side we see the specific model number, XJ-SA01-008-A1. AIC MiniBOD seems to roll off the tongue and keyboard much easier.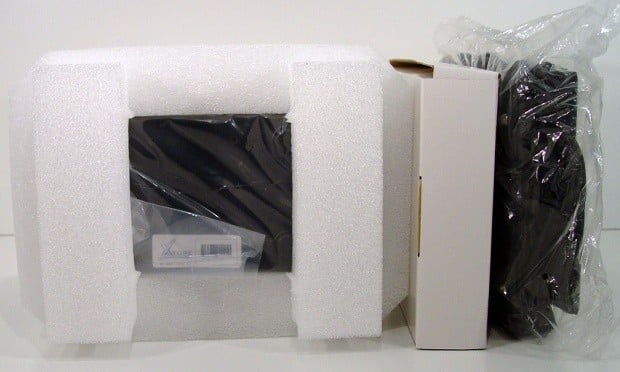 The internal packaging was well laid out with all of the pieces protected and the actual enclosure kept over 2 inches away from the external box.
The AIC MiniBOD MiniSAS Portable Enclosure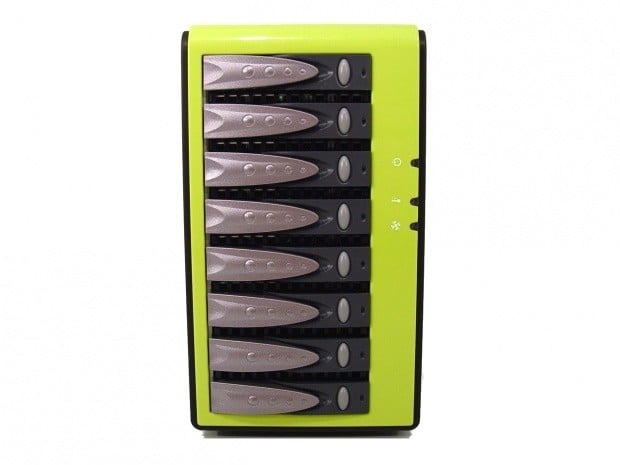 Here we get our first look at the enclosure. The height is right at 8.5 inches tall and it comes with eight drive sleds that use 2.5 inch form factor drives. Even the tallest 15mm spec drives are supported so you could use the latest 1TB 2.5 inch drives if desired. 8TB of unformatted capacity in less than 9 inches is quite impressive.
If green is not your color then there is no need to worry about that. AIC also has bezels in several different colors. I think my pick would have been the red one.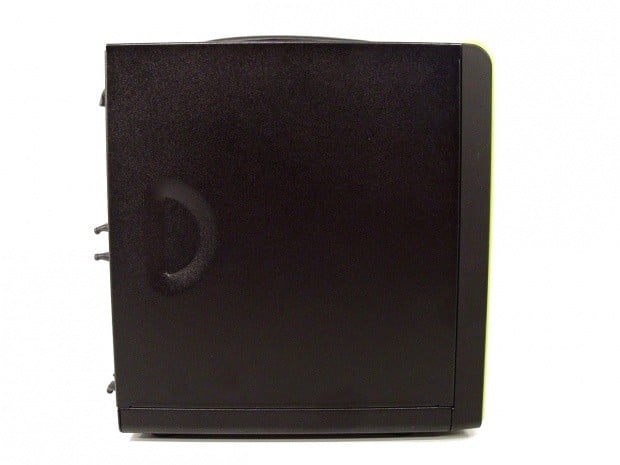 The enclosure uses a steel case and is less than 10 inches deep.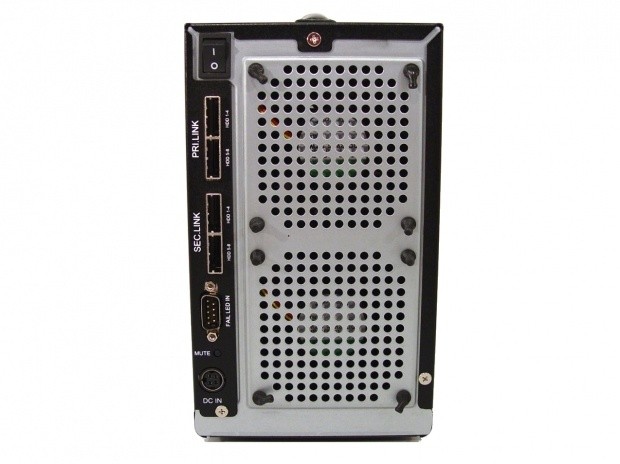 On the back we see the power switch at the top, the four MiniSAS ports that will allow you to chain several units together, the dual silent 80mm fans that are held in place with rubber sound dampening hardware and at the bottom the port for plugging in the external power source.
The sound dampening hardware is really the stand out here. In an audio environment like a studio an engineer always wants silent storage but making that hardware portable is now possible.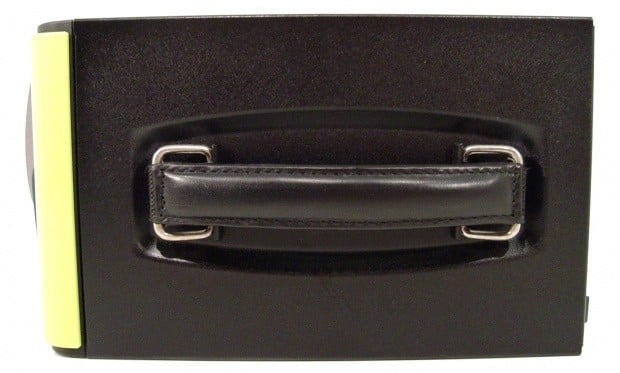 When I say the MIniBOD is portable I truly meant it. At the top of the AIC MiniBOD is a leather handle that makes transporting the unit very easy.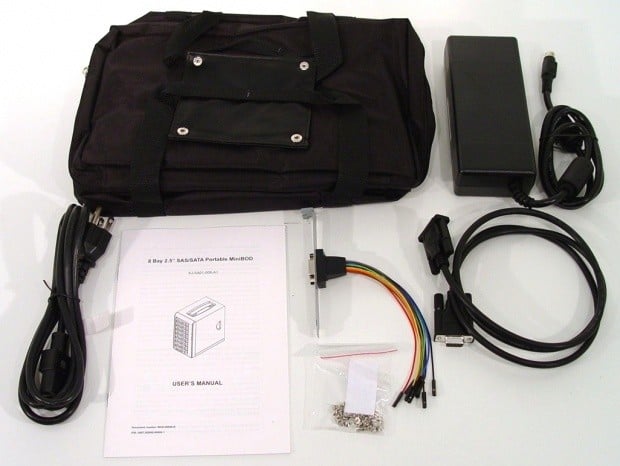 AIC also includes a travel bag that has dedicated space for the main enclosure, included external PSU and power cable. Also included with the package was a user manual, screws for mounting the hardware and a system for transferring LED activity back to the enclosure if you want to monitor the SAS drives for failure by the LEDs.
Test System Setup and ATTO Baseline Performance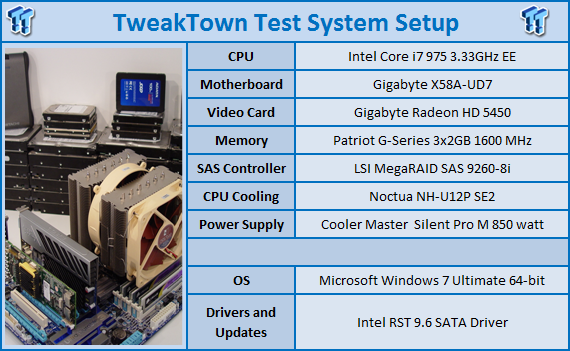 We would like to thank the following companies for supplying and supporting us with our test system hardware and equipment:
AVADirect
,
GIGABYTE
,
Cooler Master
,
LSI
and
Noctua
.
You can read more about TweakTown's Storage Product Testing Workstation and the procedures followed to test products
in this article
.
Today we get a chance to use our Seagate Constellation 2.5" 500GB drives that have been hanging around for a couple of months. For testing the AIC MiniBOD we ran a mixed set of ST9500430SS SAS drives and finished the final four slots off with ST950053NS SATA drives. Other than the interface difference, one being SAS and the other SATA, both drives are from the Constellation Series and the specs are nearly identical.
We chose to test the AIC MiniBOD in two configurations, the first in RAID 0 and the second in RAID 5. Most users of this equipment would and should use RAID 5 or RAID 6 since a drive failure in RAID 0 would cause a total loss of data.
The very powerful LSI 9280-8E was chosen for duty since it features the required external SAS connectors, PCIe 2.0 connectivity to the motherboard and is the fastest SAS 2.0 RAID controller currently available on the market. The adaptive cache does cause some issues while testing since the technology is designed for real world performance increases and is way ahead of current benchmarking software.
What it boils down to is that adaptive cache actually makes real world tasks faster than what they appear in our snapshot style benchmark software that was designed to record performance under the old way of doing things.
ATTO Baseline Performance
Version and / or Patch Used:
2.34
ATTO is used by many disk manufacturers to determine the read and write speeds that will be presented to customers.
In ATTO we see data transfer rates exceeding 730MB/s with the combination of hardware used. In the 16k test we actually saw a massive 856MB/s read.
Benchmarks - HD Tune Pro
HD Tune ProVersion and / or Patch Used:
4.00
Developer Homepage:
http://www.efdsoftware.com
Product Homepage:
http://www.hdtune.com
HD Tune is a Hard Disk utility which has the following functions:
- Benchmark: measures the performance
- Info: shows detailed information
- Health: checks the health status by using SMART
- Error Scan: scans the surface for errors
- Temperature display
HD Tune Pro gives us accurate read, write and access time results and for the last couple of years has been gaining popularity amongst reviewers. It is now considered a must have application for storage device testing.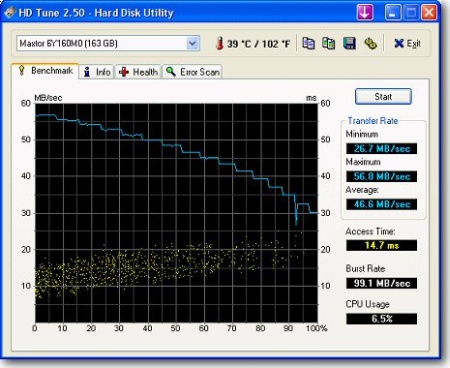 Read Tests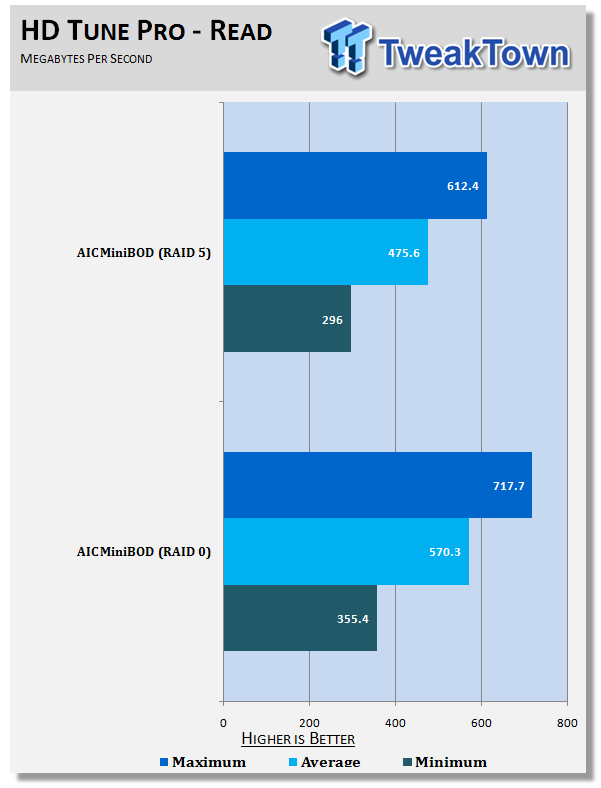 The AIC MiniBOD is more of a holder and transporter than it is a performance piece. The performance measured in the benchmarks today comes from the LSI adapter and the drives, the MiniBOD doesn't add to performance, but if the enclosure is not working correctly it could decrease performance.
Here we see that everything with the MiniBOD is working as it should be and not decreasing the expected performance of the array. The RAID 0 and RAID 5 read numbers look very good.
Write Tests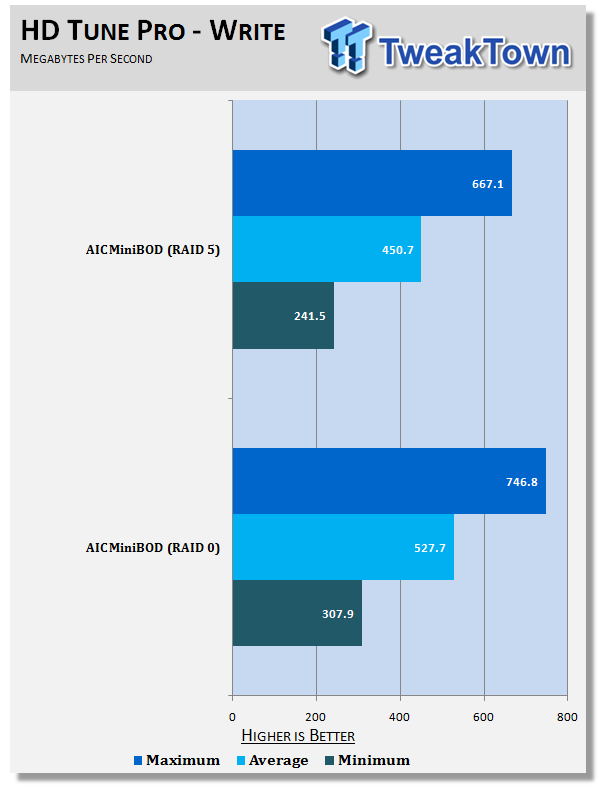 The write performance of the system is also very fast. Here we see RAID 0 hitting nearly 750MB/s.
Benchmarks - Everest Random Access Time
Everest Random Access TimeVersion and / or Patch Used:
4.60
Developer Homepage:
http://www.lavalys.com
Product Homepage:
http://www.lavalys.com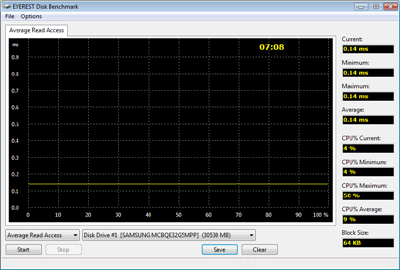 Everest Ultimate and Corporate Edition offer several different benchmarks for testing and optimizing your system or network. The Random Access test is one of very few if not only that will measure hard drives random access times in hundredths of milliseconds as oppose to tens of milliseconds.
Drives with only one or two tests displayed in write the write test mean that they have failed the test and their Maximum and possibly their Average Scores were very high after the cached fills. This usually happens only with controllers manufactured by JMicron.
Read Tests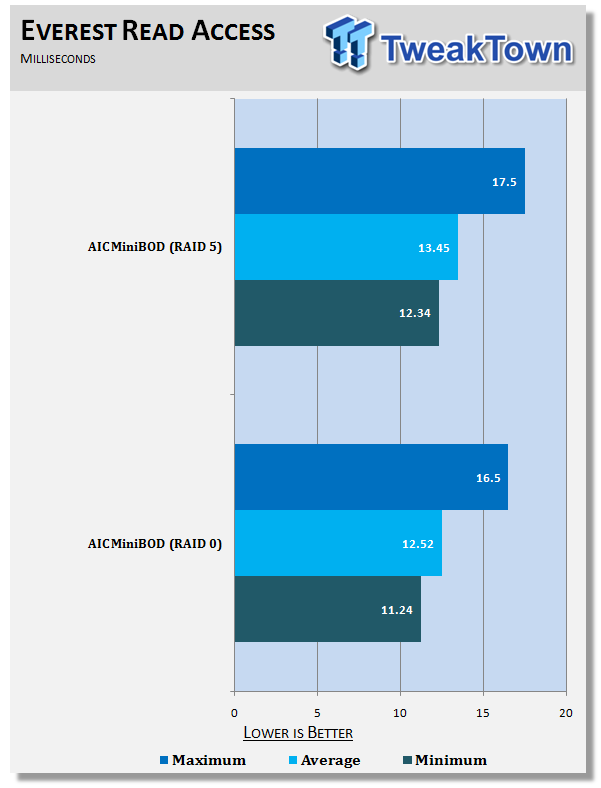 I ran the same drives on the LSI 9260-8i, the internal controller that is a relative of the 9280-8E that we used in the tests today. The AIC MiniBOD didn't inject any latency to the array and for the most part it is a passive enclosure.
Write Tests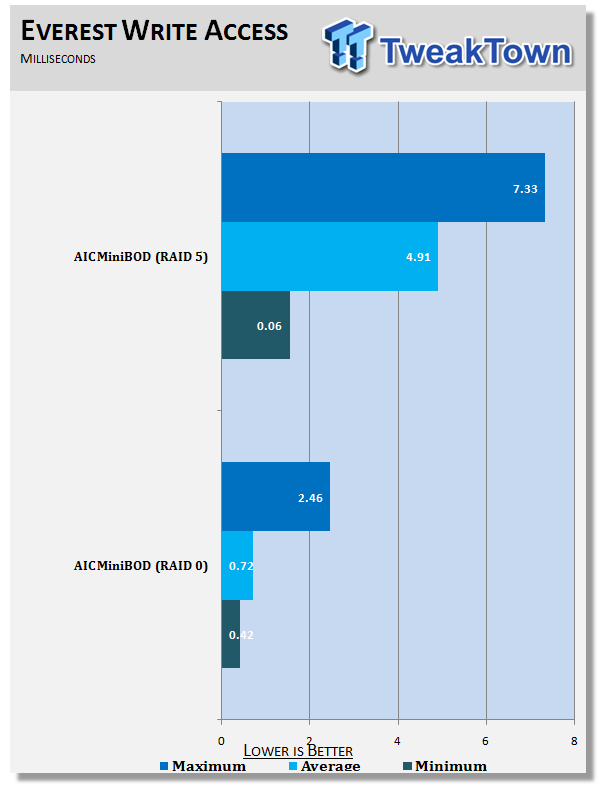 The write latency was also the same as we found with the internal LSI controller with the same array.
Benchmarks - Crystal Disk Mark
CrystalDiskMarkVersion and / or Patch Used:
3.0 Technical Preview
Developer Homepage:
http://crystalmark.info
Product Homepage:
http://crystalmark.info/software/CrystalDiskMark/index-e.html
Download here:
http://crystaldew.info/category/software/crystaldiskmark
CrystalDiskMark is a disk benchmark software.
Key Features:-
* Sequential reads/writes
* Random 4KB/512KB reads/writes
* Text copy
* Change dialog design
* internationalization (i18n)
Note:
Crystal Disk Mark 3.0 is not available to the public yet, but the Technical Preview does allow us to test 4K performance at queue depths of 4 and 32 in addition to 1. The current release Crystal Disk Mark only shows us QD 1.
Read Tests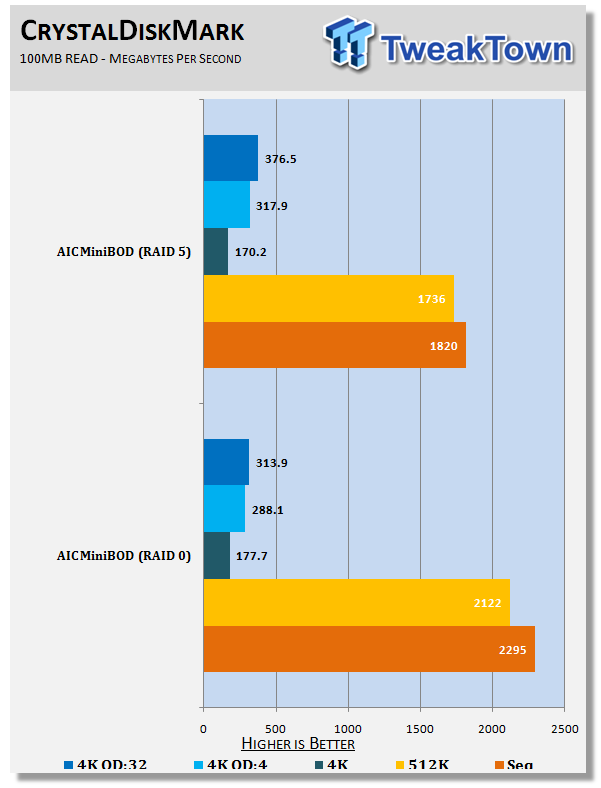 We normally use CDM to test the 4K writes on SSDs, but today we can see the massive sequential transfer rates of the AIC MiniBOD with the LSI controller and Seagate Constellation hard drives.
Write Tests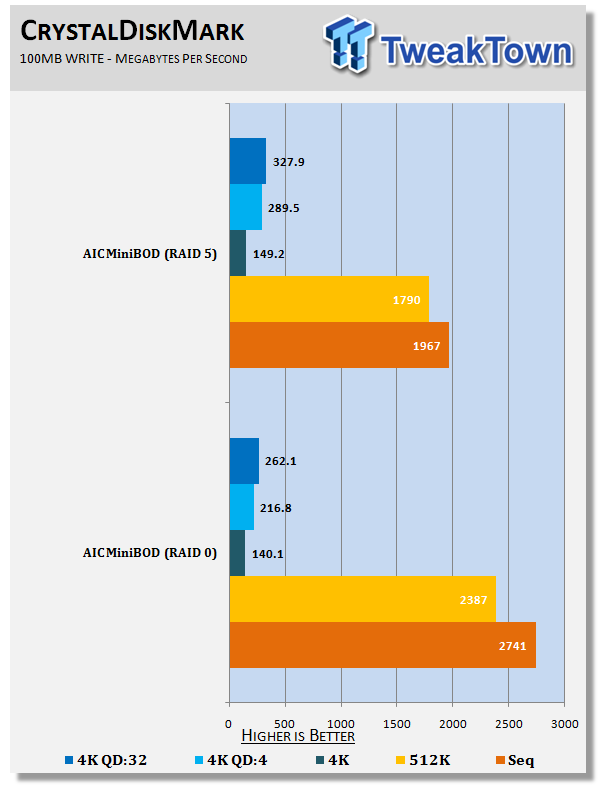 The sequential writes are equally as impressive.
Benchmarks - PCMark Vantage Hard Disk Tests
PCMark Vantage - Hard Disk TestsVersion and / or Patch Used:
1.0.0
Developer Homepage:
http://www.futuremark.com
Product Homepage:
http://www.futuremark.com/benchmarks/pcmark-vantage/
Buy It Here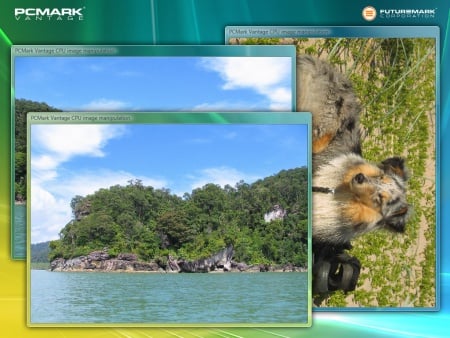 PCMark Vantage is the first objective hardware performance benchmark for PCs running 32 and 64 bit versions of Microsoft Windows Vista. PCMark Vantage is perfectly suited for benchmarking any type of Microsoft Windows Vista PC from multimedia home entertainment systems and laptops to dedicated workstations and high-end gaming rigs. Regardless of whether the benchmarker is an artist or an IT Professional, PCMark Vantage shows the user where their system soars or falls flat, and how to get the most performance possible out of their hardware. PCMark Vantage is easy enough for even the most casual enthusiast to use yet supports in-depth, professional industry grade testing.
FutureMark has developed a good set of hard disk tests for their PCMark Vantage Suite. Windows users can count on Vantage to show them how a drive will perform in normal day to day usage scenarios. For most users these are the tests that matter since many of the old hat ways to measure performance have become ineffective to measure true Windows performance.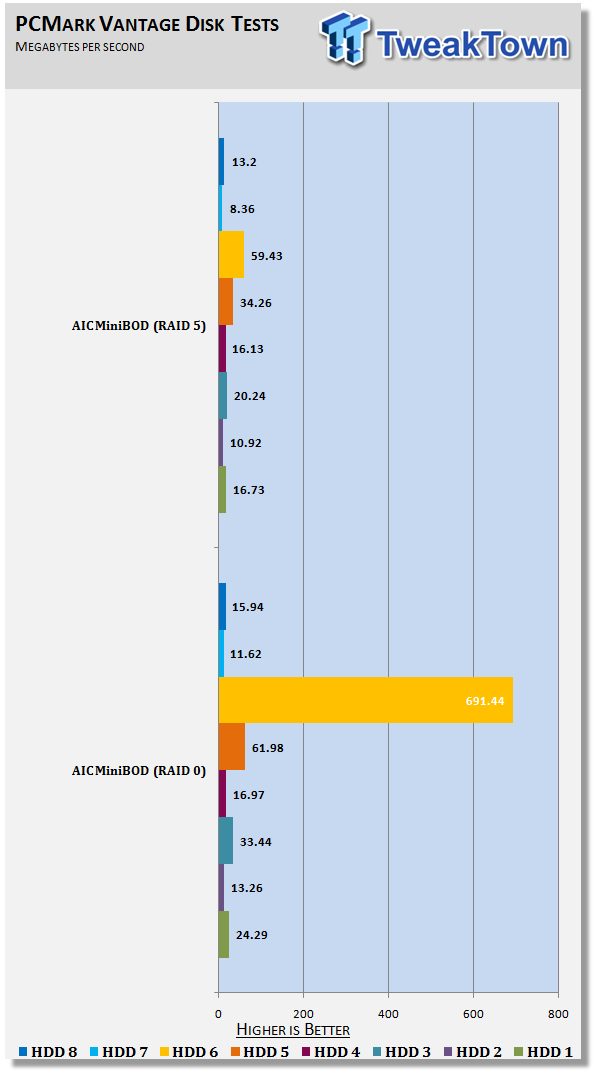 HDD1 - Windows Defender
HDD2 - Gaming
HDD3 - Windows Photo Gallery
HDD4 - Vista Startup
HDD5 - Windows Movie Maker
HDD6 - Windows Media Center
HDD7 - Windows Media Player
HDD8 - Application Loading
This type of system wouldn't be used for your operating system in most cases, but here we can see what would happen if used for the OS.
Benchmarks - AS SSD
AS SSD BenchmarkVersion and / or Patch Used:
1.2.3577.40358
Developer Homepage:
Alex Intelligent Software
Product Homepage:
Alex Intelligent Software
Download here:
http://www.alex-is.de/PHP/fusion/downloads.php?cat_id=4&download_id=9
AS determines the performance of Solid State Drives (SSD). The tool contains four synthetic as well as three practice tests. The synthetic tests are to determine the sequential and random read and write performance of the SSD. These tests are carried out without the use of the operating system caches.
In all synthetic tests the test file size is 1GB. AS can also determine the access time of the SSD, the access of which the drive is determined to read through the entire capacity of the SSD (Full Stroke). The write access test is only to be met with a 1 GB big test file. At the end of the tests three values for the read and write as well as the overall performance will be issued. In addition to the calculated values which are shown in MB/s, they are also represented in IO per seconds (IOPS).
Note:
AS SSD is a great benchmark for many tests, but since Crystal Disk Mark covers a broader range of 4K tests and HD Tune Pro covering sequential speeds, we will only use the Copy Benchmark from AS SSD.
- Copy Benchmark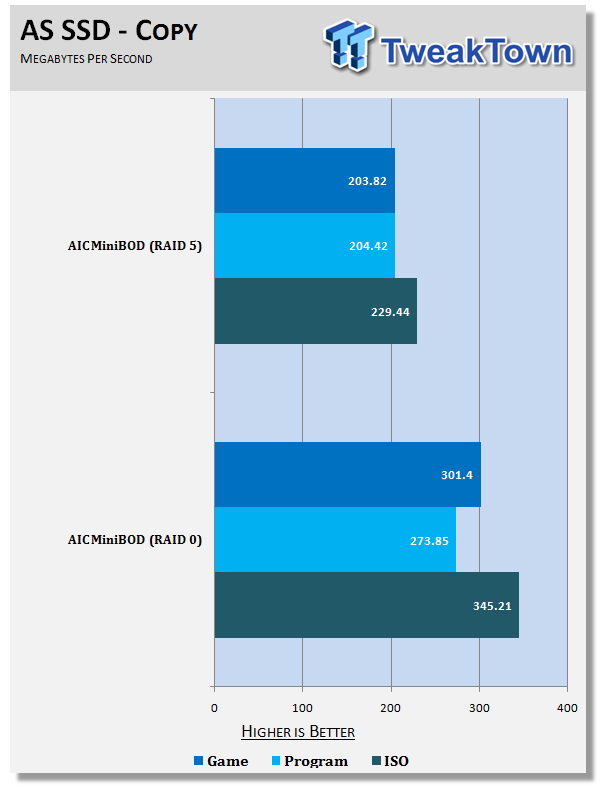 The real world transfer rate from one partition of the array to another is quite high. Here we see that the MiniBOD is capable of moving data faster than most SSDs are even capable of.
Benchmarks - Passmark
Passmark Advanced Multi-User TestsVersion and / or Patch Used:
6.1
Developer Homepage:
http://www.passmark.com
Test Homepage:
http://www.passmark.com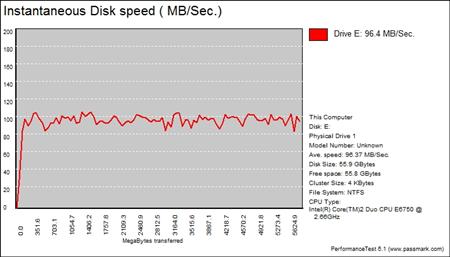 Many users complain that I/O Meter is too complicated of a benchmark to replicate results so my quest to find an alternative was started. Passmark has added several multi-user tests that measure a hard drives ability to operate in a multi-user environment.

The tests use different settings to mimic basic multi-user operations as they would play out on your server. Variances is read / write percentage as well as random / sequential reads are common in certain applications, Web Servers read nearly 100% of the time while Database Servers write a small amount of data.
The Workstation test is the only single user environment and will be similar to how you use your system at home.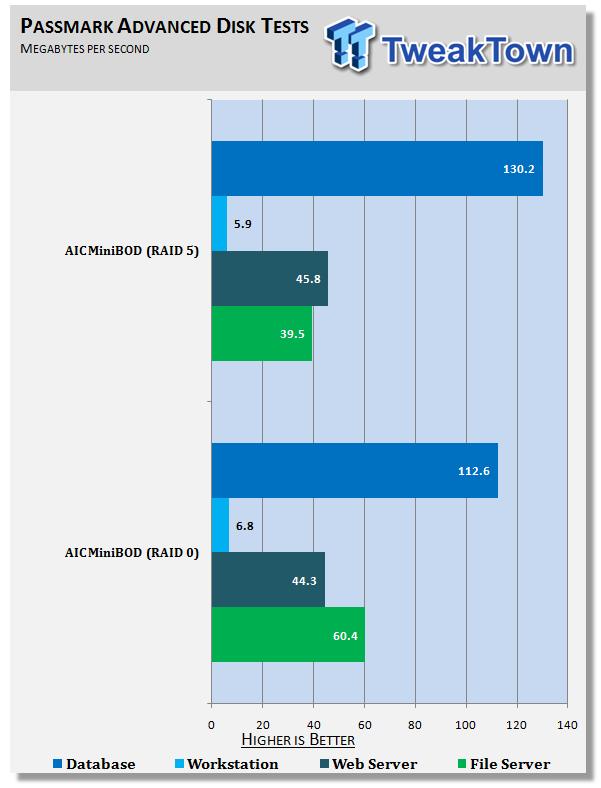 Most users are not looking to run a system like this for enterprise level tasks, but we like to run this test to see the performance. Surprisingly the Database test ran very high numbers even though it is made up of many small read and write files. This shows that the AIC MiniBOD is capable of running high IOPS numbers even though it is an external device.
Final Thoughts
The AIC MiniBOD isn't going to be for everyone, but its feature set and performance would be coveted by all power users and enthusiasts. For less than half of the cost of the MiniBOD you could add two internal 5.25", four 2.5" form factor drive bays to your computer, one option that has been used many times with SAS drives in workstations. Moving that workstation then becomes the issue and since most of these powerful systems weigh fifty pounds or more, it is not a very attractive option. The AIC MiniBOD solves the problem of moving your data in a convent way, but you will need a controller card at each of your locations. Adding to that, you need matching controller cards that are setup identically. The good thing about the LSI card we used for testing is that it can import the settings from the array leaving little chance of making a mistake while getting setup at a second location.
In the past we have looked at other MiniSAS connected products and some of them even used 2.5" form factor drives, but none were designed for portability. The good thing about the AIC MiniBOD is that portability wasn't just an afterthought; it was designed from the ground up to be a portable solution. To my knowledge and after looking extensively online the AIC MiniBOD is the only product available in this portable, high performance category. There might not be too many people looking for such a solution, but if the need to move your array between a pair of locations is a problem AIC does have the MiniBOD to solve the issue.
The build quality of the AIC MiniBOD is very good and you can see in it that AIC has taken knowledge from their enterprise products and used it when designing the MiniBOD. AIC is part of T Win, a company that has been making high quality enterprise storage components for many years. Most of those products were sold under other brand names, but the company is now looking to bring many of their own designs to market under the AIC label.
The AIC MiniBOD has an MSRP of 640.00 USD, but we were able to find it online
through Provantage for 462.39
. While searching I was able to find the MiniBOD at several e-tail outlets with prices ranging from the Provantage price of 462 and going all the way up to 636 USD.
For a user looking for a portable solution the price is nearly irrelevant since the MiniBOD is the only product to offer these unique features. Even though that is the case, at under 500 USD for an enclosure built to such high specifications the MiniBOD is quite a bargain.
PRICING: You can find products similar to this one for sale below.

United States: Find other tech and computer products like this over at Amazon.com

United Kingdom: Find other tech and computer products like this over at Amazon.co.uk

Australia: Find other tech and computer products like this over at Amazon.com.au

Canada: Find other tech and computer products like this over at Amazon.ca

Deutschland: Finde andere Technik- und Computerprodukte wie dieses auf Amazon.de
We openly invite the companies who provide us with review samples / who are mentioned or discussed to express their opinion. If any company representative wishes to respond, we will publish the response here. Please contact us if you wish to respond.