Introduction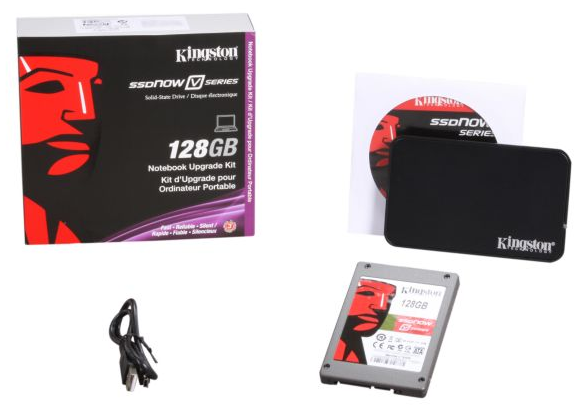 We all know the pains that come from reformatting a PC, but reformatting a notebook that is used daily and has several important functions is even more tiresome. Just a few weeks ago I needed to pull the Crucial C300 from my notebook to test a pair of the drives in RAID. Since I use my notebook almost exclusively these days, it was packed nearly full of images, email, internet short cuts, benchmark results from tested products and just about everything else you might find on your desktop.
Instead of backing up my data to another
Notebook Backup March 2010
folder on the family NAS server, I chose to mirror the drive instead with software from Acronis. I used the Kingston Notebook Bundle to handle the transfer of data, a process that took a couple of hours since it needed to move over 200GB through the USB 2.0 port on my Lenovo T61p mobile workstation. Other than the amount of time involved, everything went very smooth, without issue and the results were as advertised.
The Kingston Notebook Bundle is part of a package that includes an external 2.5 inch form factor enclosure that connects to your system via USB 2.0. The package also comes with the USB cable needed as well as software and the most important part of the pack, a Kingston SSDNow solid state drive.
Last month we received the new Kingston SSDNow V Series 128GB Notebook Bundle and have been putting the system through its paces. This is Kingston's second generation V Series line of products that uses a JMicron controller. Let's take a look at the drive specifications first.
Specifications, Pricing and Availability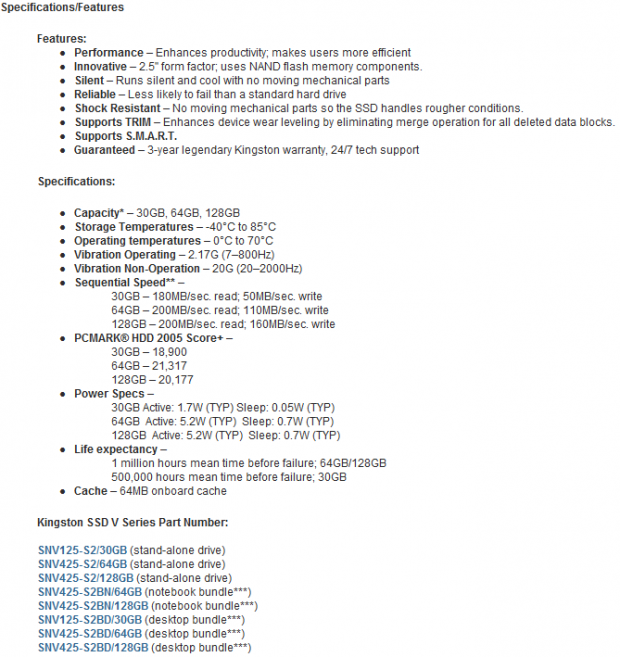 The red flags always start to go up anytime we start talking about SSDs and JMicron. The history with the two combined is long and not easily forgotten. JMicron has come a long way since their studdering days, but the name still raises the blood pressure a bit. The days of studdering have passed, but that doesn't mean their controllers are able to compete with the likes of Intel, SandForce, Marvell or in some cases, Indilinx. Because of this most JMicron drives are designated as budget or entry level SSDs and their price often reflects that.
Kingston's new SSDNow V Series is available in several different ways and in capacity sizes. Today we are going to cover the 128GB notebook bundle, but there is also a desktop bundle for users looking to mount their 2.5 inch form factor drive in a desktop 3.5" drive bay. The new V Series is available in 32, 64 and 128GB capacities.
When it comes to the cost, our 128GB Notebook Bundle sample can be found
at Newegg for 274.99
today. Newegg also offers the Desktop Bundle for 279.00 and even a bare 128GB SSDNow V Series drive for 259.99.
Let's take a look at the packaging and see what you get with the V Series SNV425 Notebook Bundle.
The Packaging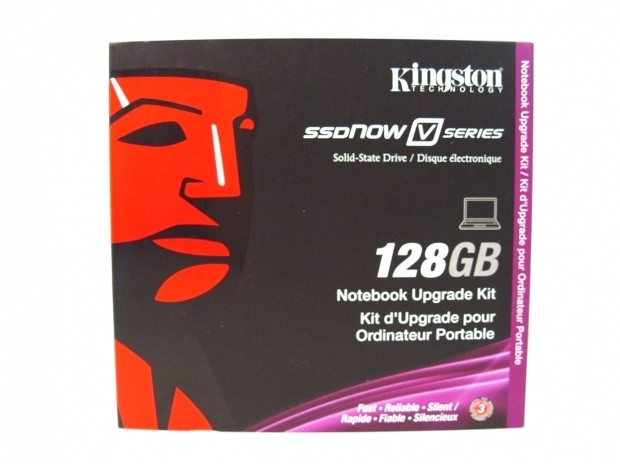 Kingston has always had a nice package for their solid state drive products and the V Series follows the same pattern. On the front of the package we see that this is the Notebook Bundle and that the drive has 128GB capacity.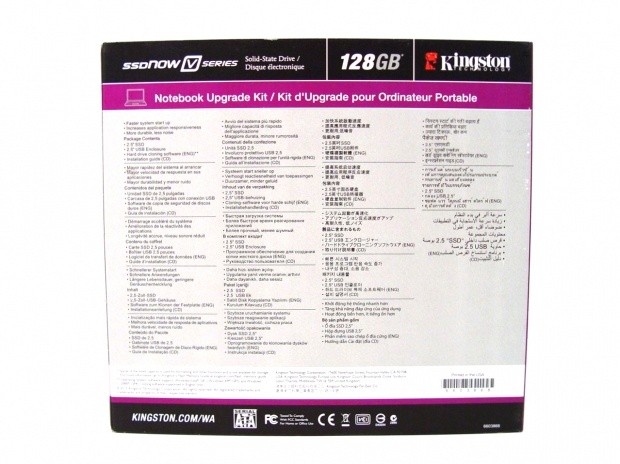 On the back we see some general information on SSDs and the bundle.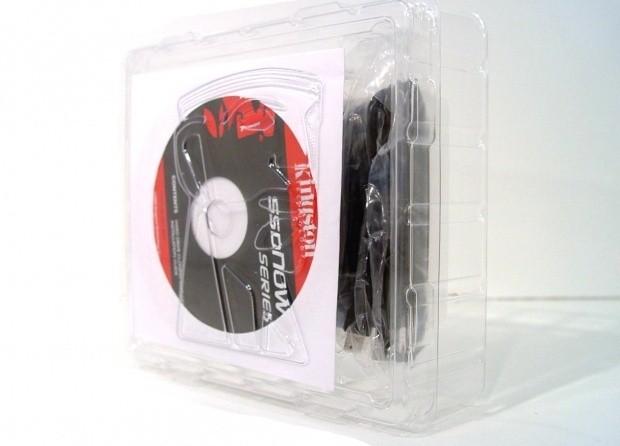 The inner package is bundled up quite nicely with everything compact yet separated from one another.
The Kingston SSDNow NSV425 Notebook Bundle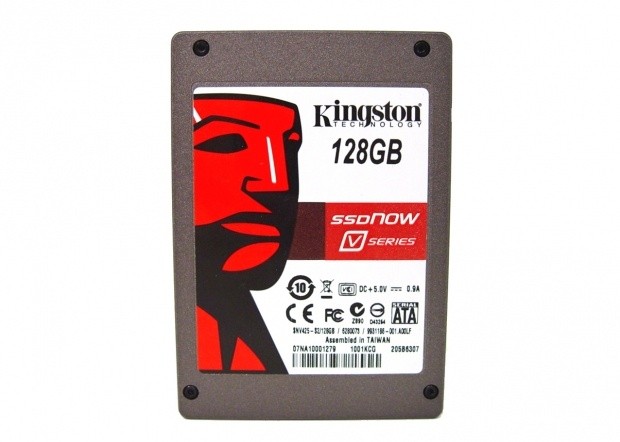 All of the information for the drive is located on the front cover of the drive. Here we see capacity, model number and serial number.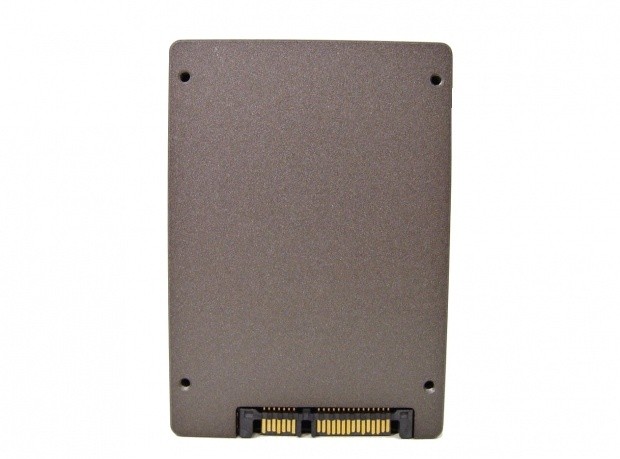 The back of the drive is unlabeled. We did find the four mounting points on the drive that are used in some notebooks and desktop adapters.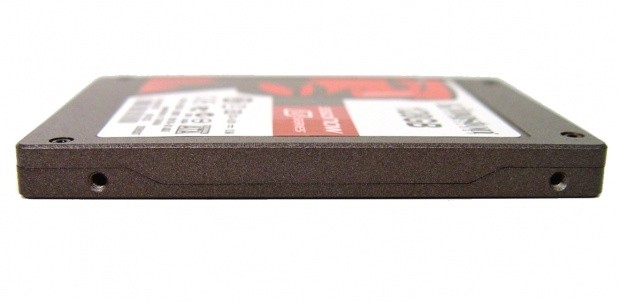 The sides of the drive also have the standard mounting locations used in a majority of installations.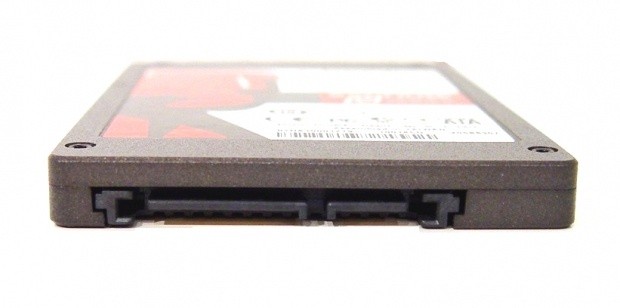 On the back we see standard SATA data and power connectors. The V Series does not have a USB port found on some older SSDs.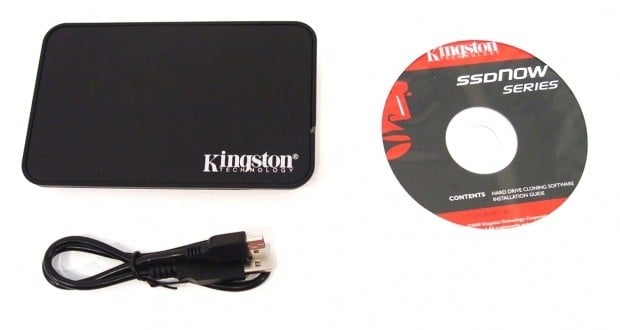 As mentioned previously, the Notebook Bundle comes with a USB 2.0 external drive cage, USB cable and software for cloning your current drive to the new SSDNow V Series.
Test System Setup and ATTO Baseline Performance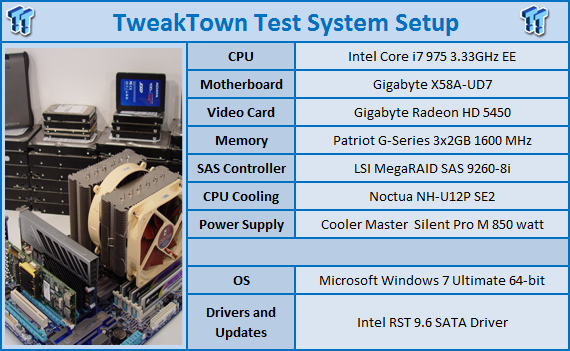 We would like to thank the following companies for supplying and supporting us with our test system hardware and equipment:
AVADirect
,
ASUS
,
Leadtek
and
Corsair
,
LSI
and
Noctua
.
You can read more about TweakTown's Storage Product Testing Workstation and the procedures followed to test products
in this article
.
ATTO Baseline Performance
Version and / or Patch Used:
2.34
ATTO is used by many disk manufacturers to determine the read and write speeds that will be presented to customers.
In ATTO we see a nice progression of performance as the file sizes go up. Under these ideal conditions we see the V Series 128GB drive performing at close to 250MB/s read and close to 150MB/s write speeds.
Benchmarks - HD Tune Pro
HD Tune ProVersion and / or Patch Used:
4.00
Developer Homepage:
http://www.efdsoftware.com
Product Homepage:
http://www.hdtune.com
HD Tune is a Hard Disk utility which has the following functions:
- Benchmark: measures the performance
- Info: shows detailed information
- Health: checks the health status by using SMART
- Error Scan: scans the surface for errors
- Temperature display
HD Tune Pro gives us accurate read, write and access time results and for the last couple of years has been gaining popularity amongst reviewers. It is now considered a must have application for storage device testing.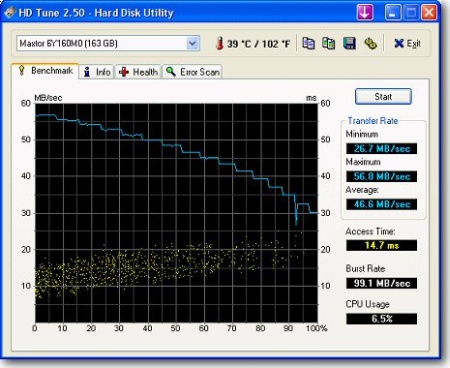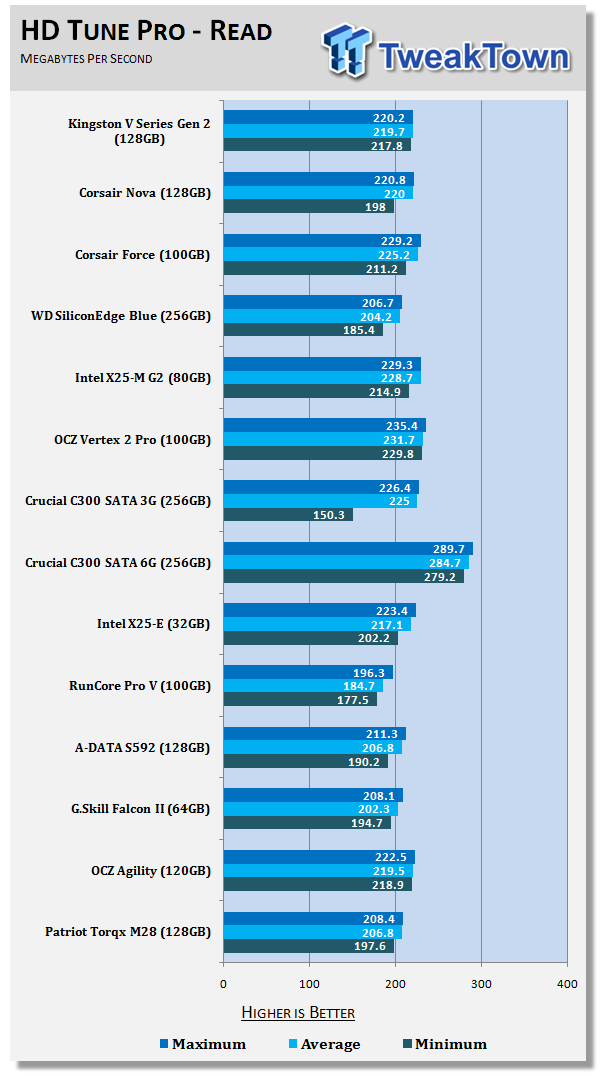 When it comes to read speeds across the drive we see the Kingston SSDNow V Series 128GB drive performing on par with other products on the market. As we have shown many times, this only reflects a small portion of tasks that are done on a PC.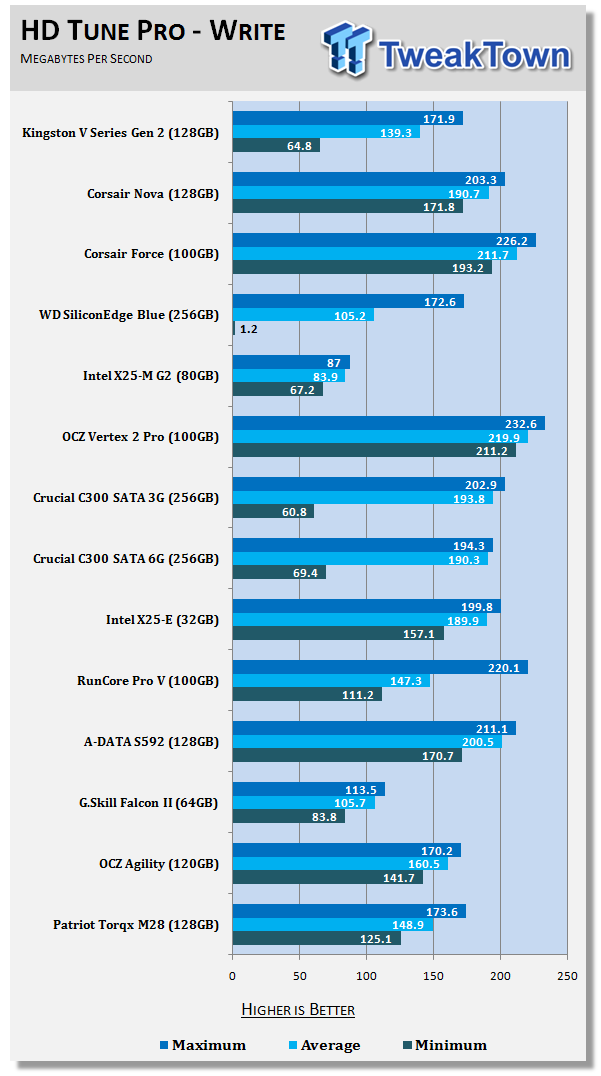 When it comes to write speeds we see that the Kingston SSDNow V Series drive has a wide range of performance and the differences come from the cache and JMicron controller. The JMicron controller is known for this type of abnormality.
Benchmarks - Everest Random Access Time
Everest Random Access TimeVersion and / or Patch Used:
4.60
Developer Homepage:
http://www.lavalys.com
Product Homepage:
http://www.lavalys.com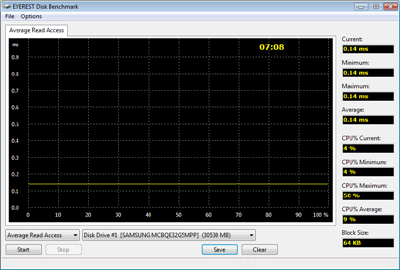 Everest Ultimate and Corporate Edition offer several different benchmarks for testing and optimizing your system or network. The Random Access test is one of very few if not only that will measure hard drives random access times in hundredths of milliseconds as oppose to tens of milliseconds.
Drives with only one or two tests displayed in write the write test mean that they have failed the test and their Maximum and possibly their Average Scores were very high after the cached fills. This usually happens only with controllers manufactured by JMicron.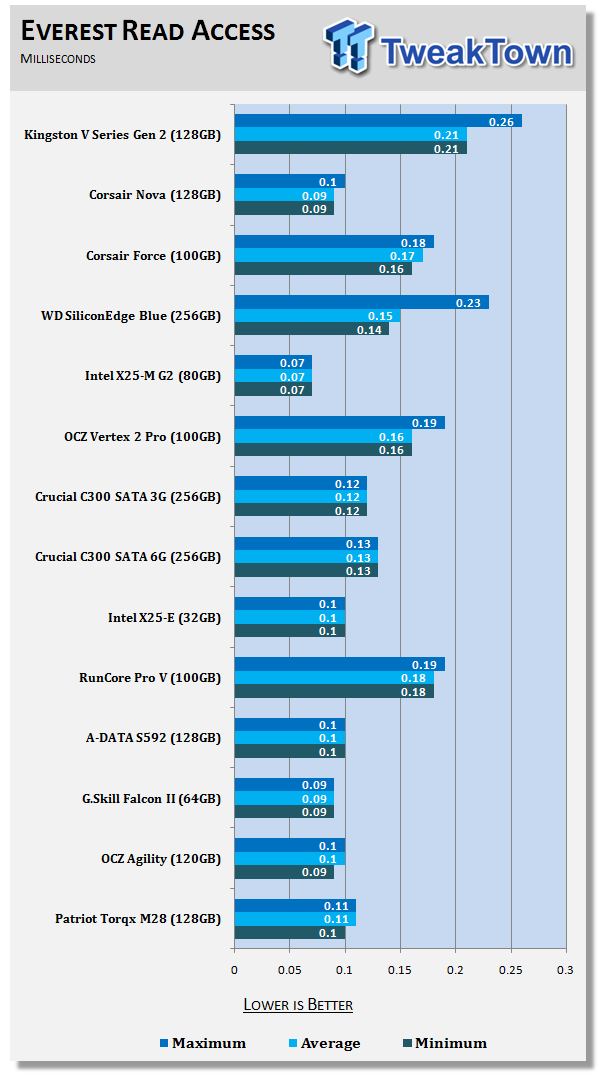 Read access time stays fairly steady but does have a few spots where we found peaks. The JMicron controller does have some of the highest latency on the market when it comes to SSDs, but is much lower than traditional platter based drives.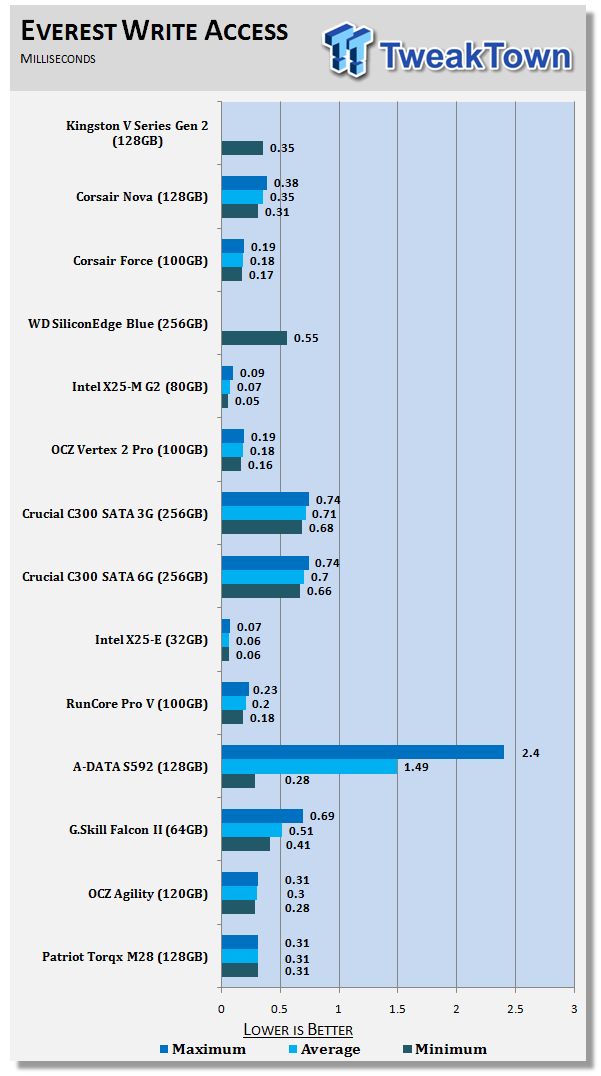 When it comes to write access times we don't even bother to list the average and maximum on the charts when a JMicron controller is used. The controller is very dependent on the cache module and once it fills up the latency goes sky high.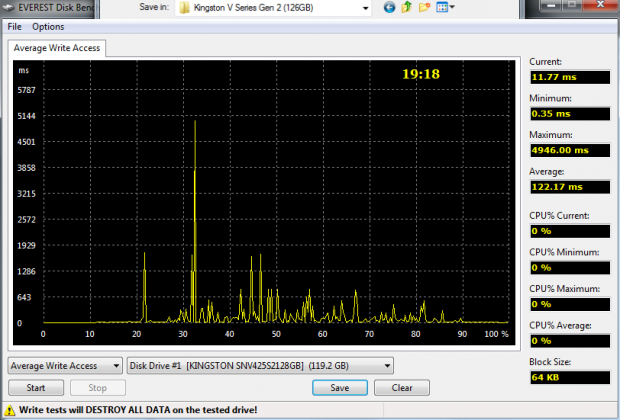 Here we see the actual benchmark graph that shows latency which on one occasion went all the way up to nearly 5 seconds. This shows that it is possible to overload the cache with large data writes and that in some rare cases you may run across studdering. Getting to that point would be difficult in real world conditions, but it is possible.
Benchmarks - Crystal Disk Mark
CrystalDiskMarkVersion and / or Patch Used:
3.0 Technical Preview
Developer Homepage:
http://crystalmark.info
Product Homepage:
http://crystalmark.info/software/CrystalDiskMark/index-e.html
Download here:
http://crystaldew.info/category/software/crystaldiskmark
CrystalDiskMark is a disk benchmark software.
Key Features:-
* Sequential reads/writes
* Random 4KB/512KB reads/writes
* Text copy
* Change dialog design
* internationalization (i18n)
Note:
Crystal Disk Mark 3.0 is not available to the public yet, but the Technical Preview does allow us to test 4K performance at queue depths of 4 and 32 in addition to 1. The current release Crystal Disk Mark only shows us QD 1.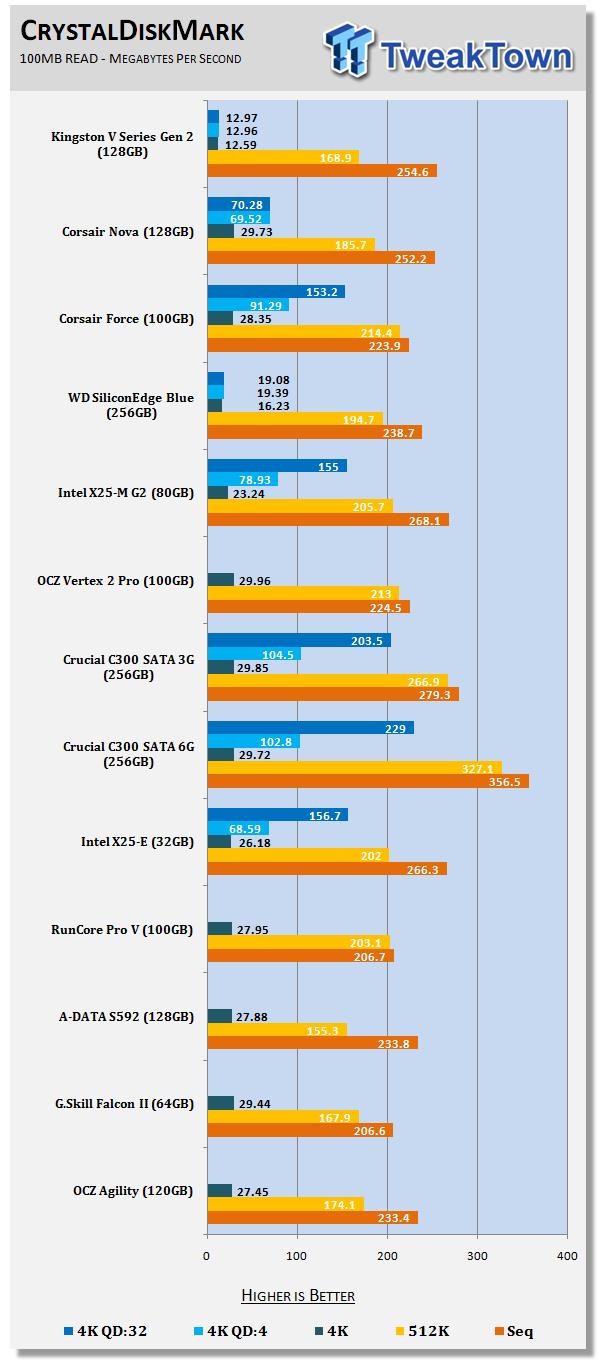 In CDM we are looking at the NCQ performance. Since the JMicron controller doesn't take advantage of NCQ we see 4K performing at a steady 12MB/s.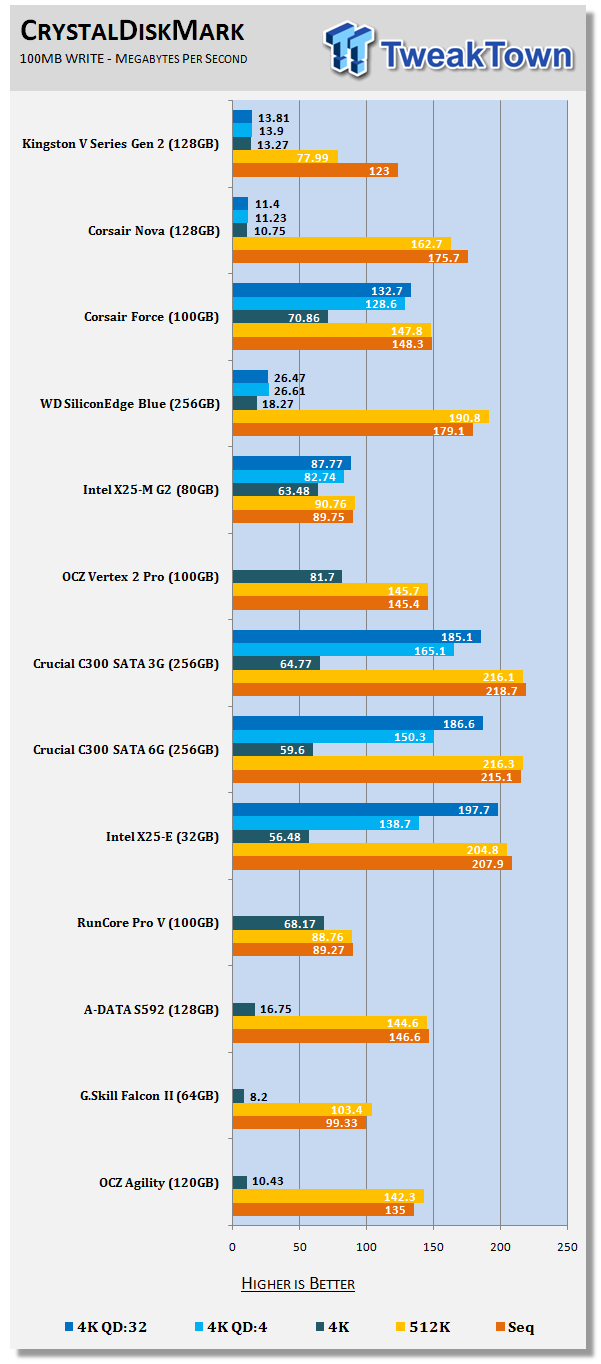 The Kingston SSDNow V Series doesn't take advantage of NCQ for write tests either. Here we see performance at 4K holding steady at 13MB/s.
Benchmarks - PCMark Vantage Hard Disk Tests
PCMark Vantage - Hard Disk TestsVersion and / or Patch Used:
1.0.0
Developer Homepage:
http://www.futuremark.com
Product Homepage:
http://www.futuremark.com/benchmarks/pcmark-vantage/
Buy It Here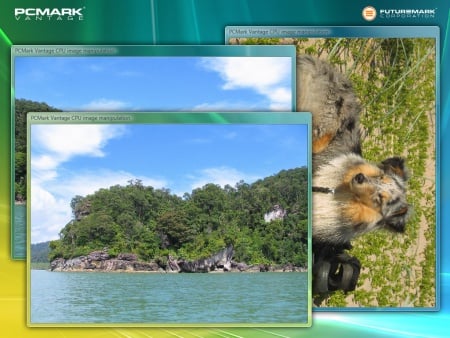 PCMark Vantage is the first objective hardware performance benchmark for PCs running 32 and 64 bit versions of Microsoft Windows Vista. PCMark Vantage is perfectly suited for benchmarking any type of Microsoft Windows Vista PC from multimedia home entertainment systems and laptops to dedicated workstations and high-end gaming rigs. Regardless of whether the benchmarker is an artist or an IT Professional, PCMark Vantage shows the user where their system soars or falls flat, and how to get the most performance possible out of their hardware. PCMark Vantage is easy enough for even the most casual enthusiast to use yet supports in-depth, professional industry grade testing.
FutureMark has developed a good set of hard disk tests for their PCMark Vantage Suite. Windows users can count on Vantage to show them how a drive will perform in normal day to day usage scenarios. For most users these are the tests that matter since many of the old hat ways to measure performance have become ineffective to measure true Windows performance.

HDD1 - Windows Defender
HDD2 - Gaming
HDD3 - Windows Photo Gallery
HDD4 - Vista Startup
HDD5 - Windows Movie Maker
HDD6 - Windows Media Center
HDD7 - Windows Media Player
HDD8 - Application Loading
Our real world Windows tests show the performance of the Kingston SSDNow V Series 128GB drive in your day to day tasks. Looking at the charts, we see the drive running considerably slower than the Corsair Nova, an Indilinx Barefoot 'ECO' controlled drive. We will go over this more in the conclusion.
Benchmarks - AS SSD
AS SSD BenchmarkVersion and / or Patch Used:
1.2.3577.40358
Developer Homepage:
Alex Intelligent Software
Product Homepage:
Alex Intelligent Software
Download here:
http://www.alex-is.de/PHP/fusion/downloads.php?cat_id=4&download_id=9
AS determines the performance of Solid State Drives (SSD). The tool contains four synthetic as well as three practice tests. The synthetic tests are to determine the sequential and random read and write performance of the SSD. These tests are carried out without the use of the operating system caches.
In all synthetic tests the test file size is 1GB. AS can also determine the access time of the SSD, the access of which the drive is determined to read through the entire capacity of the SSD (Full Stroke). The write access test is only to be met with a 1 GB big test file. At the end of the tests three values for the read and write as well as the overall performance will be issued. In addition to the calculated values which are shown in MB/s, they are also represented in IO per seconds (IOPS).
Note:
AS SSD is a great benchmark for many tests, but since Crystal Disk Mark covers a broader range of 4K tests and HD Tune Pro covering sequential speeds, we will only use the Copy Benchmark from AS SSD.
- Copy Benchmark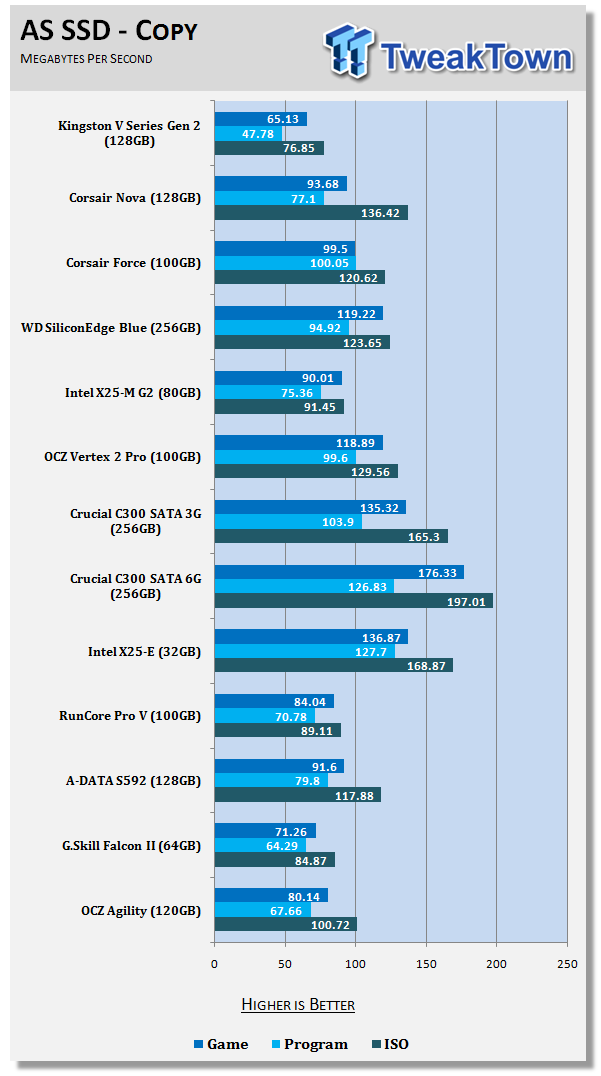 In the file transfer tests we found that the Kingston SSDNow V Series is the slowest drive on our charts, even slower than the JMicron controlled Western Digital Silicon Edge Blue. The difference rests in the WD drive using a massive 512MB cache buffer.
Benchmarks - Passmark
Passmark Advanced Multi-User TestsVersion and / or Patch Used:
6.1
Developer Homepage:
http://www.passmark.com
Test Homepage:
http://www.passmark.com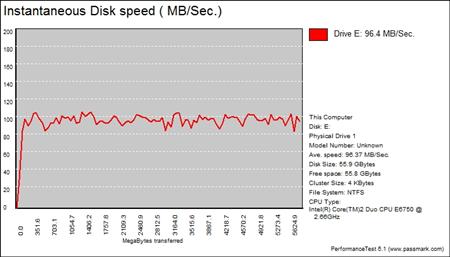 Many users complain that I/O Meter is too complicated of a benchmark to replicate results so my quest to find an alternative was started. Passmark has added several multi-user tests that measure a hard drives ability to operate in a multi-user environment.

The tests use different settings to mimic basic multi-user operations as they would play out on your server. Variances is read / write percentage as well as random / sequential reads are common in certain applications, Web Servers read nearly 100% of the time while Database Servers write a small amount of data.
The Workstation test is the only single user environment and will be similar to how you use your system at home.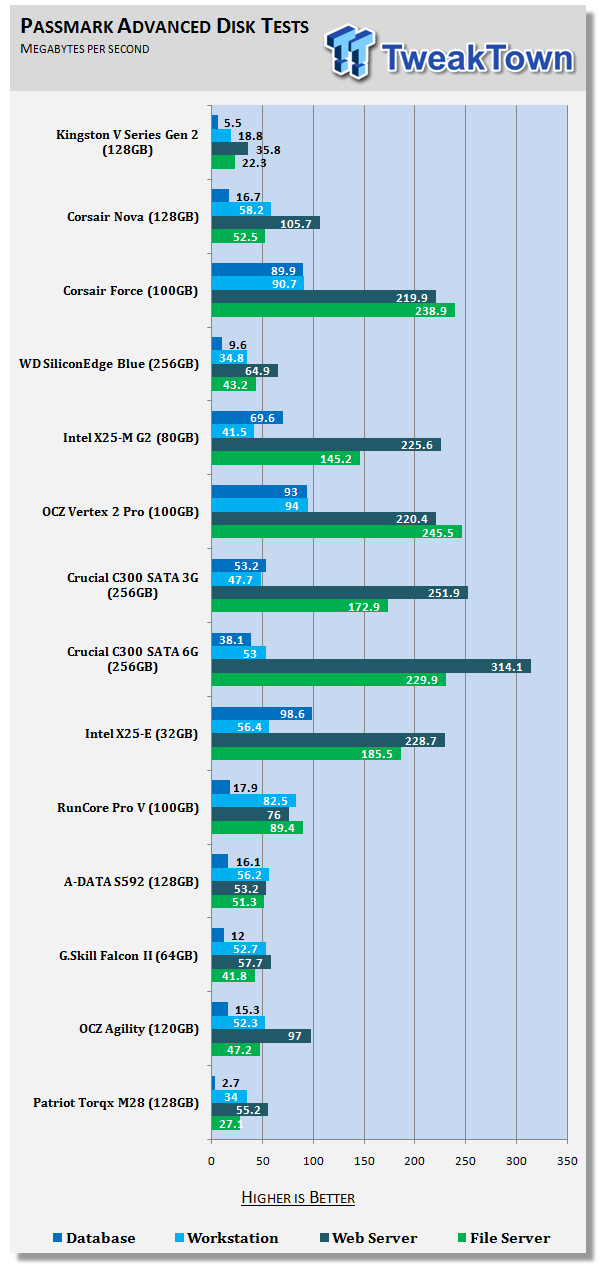 One thing is for certain, the JMicron controller is not a powerhouse when it comes to server tasks. Here we see that the low 4K performance mixed with the small cache and how it affects these types of data usage scenarios.
Final Thoughts
The Kingston SSDNow V Series is the value product form the company and sometimes it is easy to forget that when looking at the benchmark results. These drives were never meant to run in servers or for that matter enthusiasts / power users systems. The performance just isn't available from the JMicron controller to deliver that level of performance. The Kingston SSDNow V Series is designed for entry level operation, business notebook users and those not looking to spend a bunch of money on an SSD.
With that information in mind, we have to see if the V Series is able to find its spot in the market. With Indilinx Barefoot drives selling for 300 USD at Newegg for 128GB capacity the ceiling for where Kingston is able to sell their V Series is getting pretty low. Kingston has recognized this and has the bare drive version of the V Series priced at 259.00 USD, a full 41 Dollars less than the ADATA S596 Indilinx Barefoot drive.
If you move to one of the bundle packages like the Notebook Bundle that we are reviewing here today, the Dollar figures get quite a bit closer to Indilinx levels. Certainly there is value in getting an external drive enclosure and having the ability to clone your existing drive, but for 20 Dollars more you could move up to a much faster drive, but will be on your own on installing the drive into your notebook. What side of the fence you fall on is a matter of personal preference. On one hand you get a faster drive and on the other you get convenience of installation.
The Kingston SSDNow V Series is available now in three different capacity sizes, two bundle options or as a standalone SSD. When it comes to cost the Kingston SSDNow V Series is about as low as you can go, but the performance parallels the low cost.