Lord of the Rings: The Fellowship of the Ring Blu-ray Movie Review
"Even the smallest person can change the course of the future."

Published Sat, Apr 17 2010 1:18 AM CDT
|
Updated Tue, Nov 3 2020 7:02 PM CST
Before the dawn of the new millennium, the
The Lord of the Rings
book series belonged to only the most hardcore of booklovers. Peter Jackson was most well known for the little seen 1994 drama "Heavenly Creatures" and New Zealand had no film economy to speak of. Obviously this all changed with the 2001 release of the first of the
Lord of the Rings
movies,
The Fellowship of the Ring
. A massive gamble for New Line cinema, with an unheard of back-to-back production with a virtually untested director and filming for over a year half way around the world, the pressure must have been intense for Peter Jackson, but he pulled it off magnificently. And good thing he did too; he would probably never have made another film again.
Frodo Baggins, a Hobbit (a dwarf like small humanoid), comes into possession of a small unassuming gold ring, which holds immense power for the bearer. Dark forces aware of its presence dearly want the ring to advance their grasp over the world of men, and will stop at nothing to claim it. The ring itself, also wants to be found. The only hope rests on Bilbo and the fellowship of good to destroy the ring in the fires of Mount Doom, where it was originally cast.
At its core,
The Lord of the Rings
is a classic good vs. evil tale, but with an over-arching epic tone, with high stakes. The film series spans a further two adventures,
The Two Towers
and
Return of the King
, which we shall look at over the next few weeks.
Of note is that the versions initially presented on Blu-ray are the original theatrical versions and not the longer extended editions which are available on DVD. This has upset many fans, especially some who feel they are being taken for a ride by being 'forced' to purchase two versions. Some perspective is necessary. Director Peter Jackson has always said that these versions are his director's cuts, the versions he set out to make. The theatrical versions may be slightly condensed, but this was the world's introduction to the films and the winner of multiple academy awards and should be preserved on Blu-ray disc.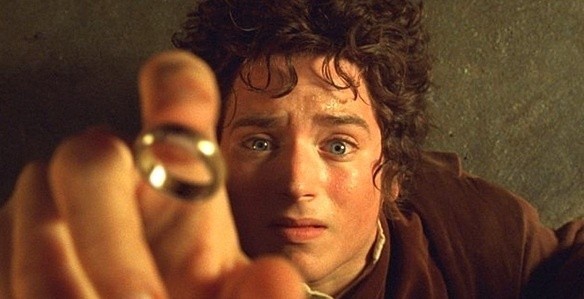 VideoThe Fellowship of the Ring
is presented in a widescreen aspect ratio of 2.40:1.
Checking around the audio visual forums reveals a fairly intense storm of controversy over the Blu-ray release of these films and in particular
Fellowship of the Ring
. With a much loved film series expectations were always going to be high and I feel that many had unrealistic expectations. This is not a Pixar movie; it was filmed on traditional 35mm film, with intentionally grainy and gritty film stock.
Yes, the transfer is not perfect. There does appear to be some digital noise reduction (DNR) applied to the film, but the jury is out on whether this exists in the original film or was added to this release. I personally suspect the former. However, this transfer mirrors my memory of what the original release looked like theatrically, and the transfer is light years ahead of my old DVD copy.
Overall, there are a few nitpicks, but true fans of the trilogy will recognise this Blu-ray release for what it is. They'll never watch the DVD again.
[img]2[/img]
Audio
The main audio track is encoded in DTS HD Master Audio 5.1, at 24 bits.
No such criticisms have been leveled at the audio quality of this Blu-ray release, a spectacular and full bodied audio track if there ever was one.
Audio is mostly fine, with only a few lines being lost to the overall chaos of the unfolding action. Surround usage is very high, often supporting the fine soundtrack provided by Howard Shore, which is massively improved from the DVD release. The music is finally allowed to breathe, rather than being constrained to a low bitrate lossy track.
Overall, a massive improvement over the DVD, and one which will certainly test your home theater.
[img]3[/img]
Extras
The U.S. release of the Blu-rays has also included a second DVD of content, the same disc of extra features from the theatrical cut DVD. Village Roadshow have not included this disc, so true
Lord of the Rings
fans will want to hold onto the DVD if only for that.
What we do have is four
Theatrical Trailers
, all presented in high definition, and a trailer for the game
Aragorn's Quest
in standard definition.
Overall, a pretty disappointing collection of extras. It would have been nice of Village Roadshow to include the DVD disc of extras like the U.S. release.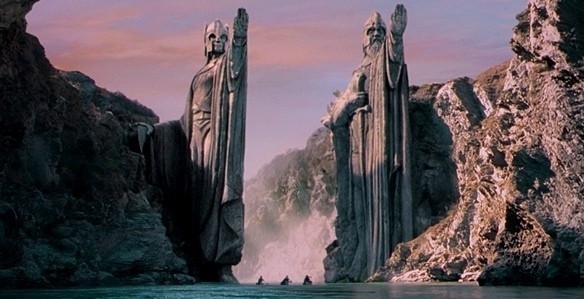 Overall
Review Equipment Used:
Display
: Sony KDL52X3100 LCD (1080p resolution/ 24p playback)
Player
: Sony BDP-S550 Blu-ray, PlayStation 3 (24p playback)
Sound
: Sony STR-DA5400ES Receiver (7.1 configuration), Sony SSX70ED front speakers (x2), Sony SSCNX70ED center speaker, Sony SSFCR7000 surround speakers (x4), Sony SAW3800 Subwoofer (Front), Sony SAWM500 Subwoofer (Rear)
PRICING: You can find products similar to this one for sale below.

United States: Find other tech and computer products like this over at Amazon.com

United Kingdom: Find other tech and computer products like this over at Amazon.co.uk

Australia: Find other tech and computer products like this over at Amazon.com.au

Canada: Find other tech and computer products like this over at Amazon.ca

Deutschland: Finde andere Technik- und Computerprodukte wie dieses auf Amazon.de
We openly invite the companies who provide us with review samples / who are mentioned or discussed to express their opinion. If any company representative wishes to respond, we will publish the response here. Please contact us if you wish to respond.
Response:

[u]Video:[/u] 1080p 2.40:1 Aspect Ratio VC-1 Compression [u]Audio:[/u] English DTS HD Master Audio 6.1 (24 bit) [u]Region:[/u] Region A, B, C (Australian version) [u]Extra Features[/u] Trailers