Sharkoon SATA QuickPort USB 3.0 Toaster 2.5 and 3.5-inch Docking Station
Sharkoon's famous QuickPort toaster hard drive enclosure now comes with USB 3.0 for SuperSpeed transfers. We investigate it in detail.

Published Tue, Dec 22 2009 6:38 AM CST
|
Updated Tue, Nov 3 2020 7:02 PM CST
Introduction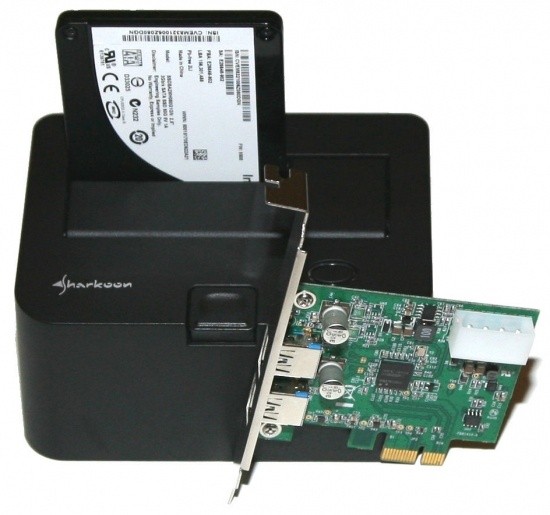 The storage side of the industry is rather interesting at the moment with plenty of things happening. It's hard not to be interested. We finally saw the introduction of SATA-III which doubles the speed over SATA-II. And around the same time we just saw USB 3.0 come in, too, which while not strictly a straight up storage standard, will get folks excited who like fast external storage transfer speeds, being able to offer up to ten times faster speeds than USB 2.0.
A company by the name of Sharkoon made the "hard drive toaster" famous several years ago when it launched its first QuickPort docking station product.
Sticking with the times, Sharkoon is back again and has just launched its SATA QuickPort USB 3.0 "Toaster" 2.5 and 3.5-inch Docking Station. It offers up to 5Gbit/s transfers, which is faster than SATA-II and only a little slower than SATA-III at 6Gbit/s.
After taking a close look at the product on video, we put it to the test with an Intel SSD drive and see what it can do and if that extra USB 3.0 bandwidth can be put to use.
Let's move on now!
Specifications, Availability and Pricing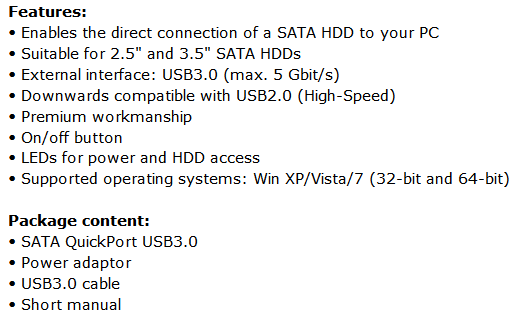 Starting off with the specifications, the latest incarnation of the Sharkoon docking station is basically exactly the same as all of the others, except of course it adds in a USB 3.0 port on the back of the device.
It is able to support both 2.5-inch and 3.-5-inch drives which means you will be able to install an SSD into the toaster and see the full performance of the drive externally to your system. While only having a USB 3.0 port for connection to your system, it is also backwards compatible with USB 2.0 if you plan on upgrading to USB 3.0 later on by means of buying a new motherboard or buying a USB 3.0 PCI-Express controller card such as the NEC-powered USB 3.0 Host Controller Card that Sharkoon also sells.
Sharkoon tested the toaster to work in 32-bit and 64-bit versions of Windows XP, Vista and 7. Having noted this, though, this product should work on any operating system as long as it has a USB 3.0 driver available for it. There is an on / off power button on the back of the unit as well as two LEDs on the top right front area of the device.
Since this is a brand new product and only just launched by Sharkoon, we couldn't see it listed anywhere for sale just yet. As such, we cannot comment on availability and pricing. However, we contacted Sharkoon and they told us that the device has an MSRP of roughly $60 USD and the NEC USB 3.0 controller card (sold separately) has an MSRP of roughly $43 USD in the USA.
Packaging and Product
As usual, I have unboxed and taken a close look at the product on video. Hit the play button below!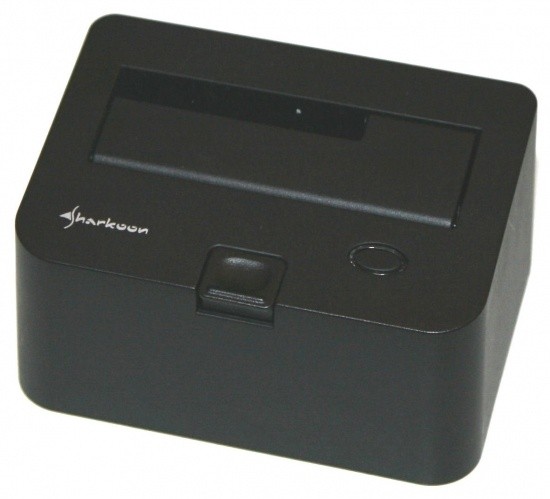 I would encourage you to watch the video above, but if you didn't, here are some details on the device. Starting from the front of the device, you can see that the design is the same as all previous Sharkoon toasters. You can see the Sharkoon logo on the left followed by the eject button and on the right is the LED status indication area. There are two lights - one for blue to indicate power and red to indicate hard drive activity.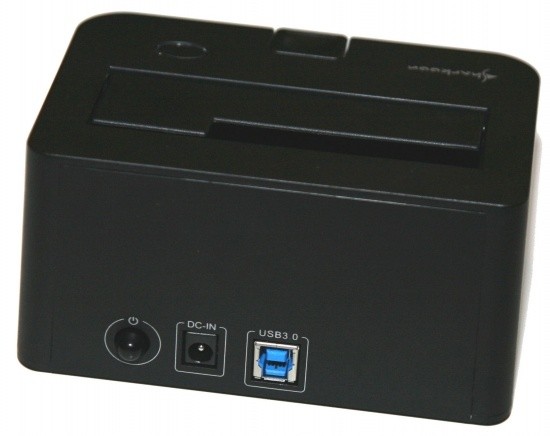 Looking at the image above, we can see the back of the unit and from the left we see the on / off power button, power input and the USB 3.0 port. It is easy to tell what is USB 2.0 and what is USB 3.0 by checking the color. USB 2.0 most of the time is just plain black, but USB 3.0 is indicated by blue ports and connectors.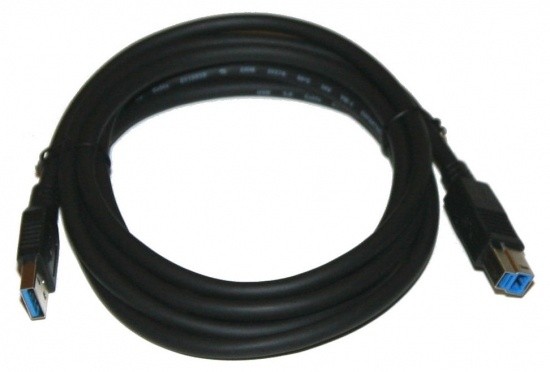 Speaking of the blue connectors, above you get a look at the USB 3.0 cable that is included with the Sharkoon toaster. It is nice to see that Sharkoon included a decent length cable; it is about 100cm long.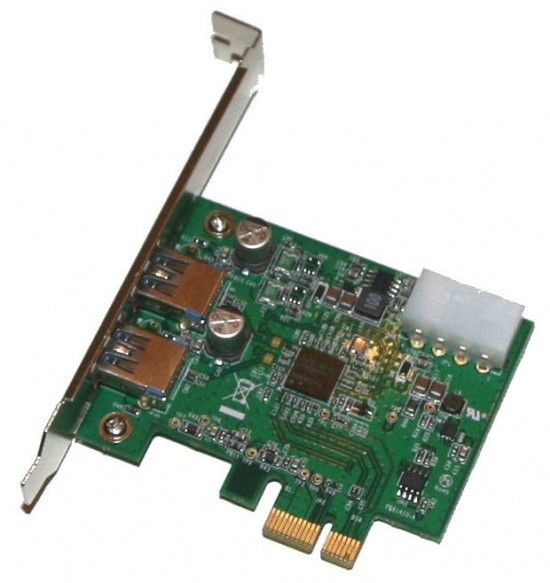 Sharkoon also sent us its USB 3.0 controller card that is sold separately. It is based on the NEC controller and plugs into a PCI Express x1 2.0 slot on any motherboard and adds two USB 3.0 ports to your system. The card will fit into any PCI Express slot, so if you don't have a spare PCI-E x1 free, don't worry.
Now let's move onto the all important benchmarks!
Test System Setup
Test System
Motherboard
: GIGABYTE X58-UD7 (Supplied by
GIGABYTE
)
Processors
: Intel Core i7 975 (Supplied by
AVADirect
)
Hard Drive
: Intel X25-M 80GB SSD (Gen1) SATA-II
Operating System
: Microsoft Windows 7 Ultimate 64-bit with latest updates
Drivers
: NEC USB 3.0 1.0170
We decided to test the Sharkoon USB 3.0 toaster with the provided Sharkoon NEC USB 3.0 controller card as well as plugged into one of the USB 3.0 ports on the new GIGABYTE X58-UD7 motherboard that uses the same NEC controller chip as the Sharkoon controller card. Results should be similar, but we wanted to find out for sure.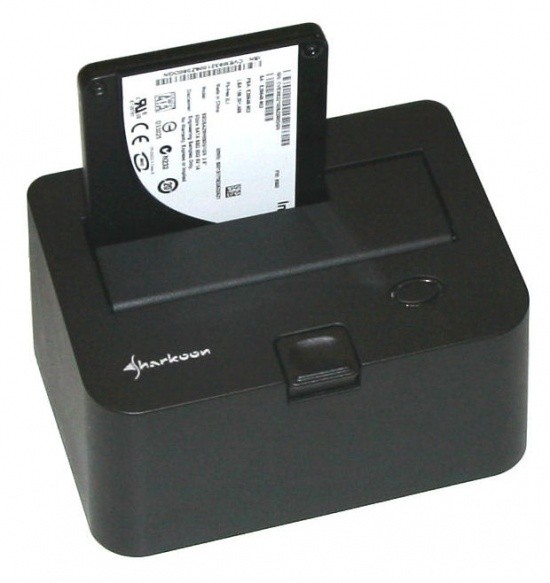 We installed an Intel X25-M 80GB SSD (Gen1) SATA-II drive into the toaster to get an idea of both USB 2.0 and USB 3.0 performance. To test USB 2.0 performance, we used the exact same setup as USB 3.0 except plugged the USB 3.0 cable in from the device to one of the USB 2.0 ports on the GIGABYTE UD7 motherboard.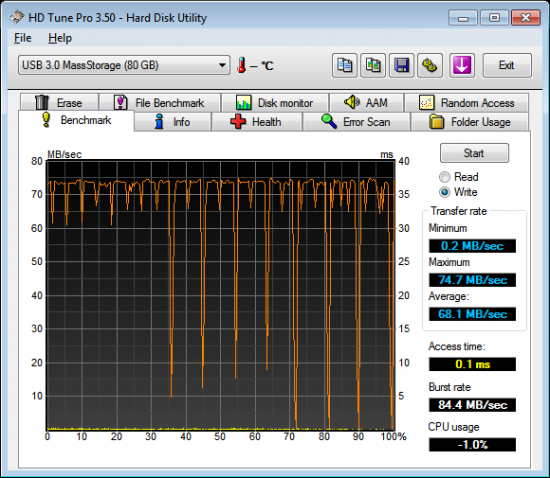 Testing was not trouble free, though. After some extensive testing, we have determined that due to the age and use of the Intel SSD that we are using here, there are some write performance issues under HD Tune Pro. It is important to note that this is not an issue with the Sharkoon toaster or controller card or the GIGABYTE motherboard. Above you can see a write test screenshot from HD Tune Pro. Normally the writes would not drop down to 0.2MB/s.
Let's begin on the next page now and find out how this thing performs!
Benchmarks - HD Tune Pro
HD Tune ProVersion and / or Patch Used:
3.00
Developer Homepage:
http://www.efdsoftware.com
Product Homepage:
http://www.hdtune.com
HD Tune is a Hard Disk utility which has the following functions:
- Benchmark: measures the performance
- Info: shows detailed information
- Health: checks the health status by using SMART
- Error Scan: scans the surface for errors
- Temperature display
HD Tune Pro gives us accurate read, write and access time results and for the last couple of years has been gaining popularity amongst reviewers. It is now considered a must have application for storage device testing.
Read Tests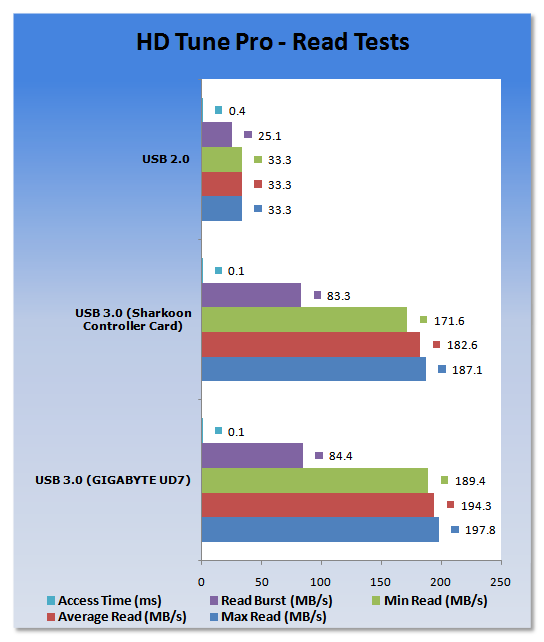 In our first test here we can see that the Sharkoon toaster is pushing USB 2.0 almost to its limit with the Intel SSD installed. However, when we plug into a USB 3.0 port on the GIGABYTE UD7 motherboard, we can see that the best performance is offered with a wicked fast maximum nearing 200MB/s.
When using the optional NEC USB 3.0 controller card from Sharkoon, the performance is not as good, but still impressive.
Write Tests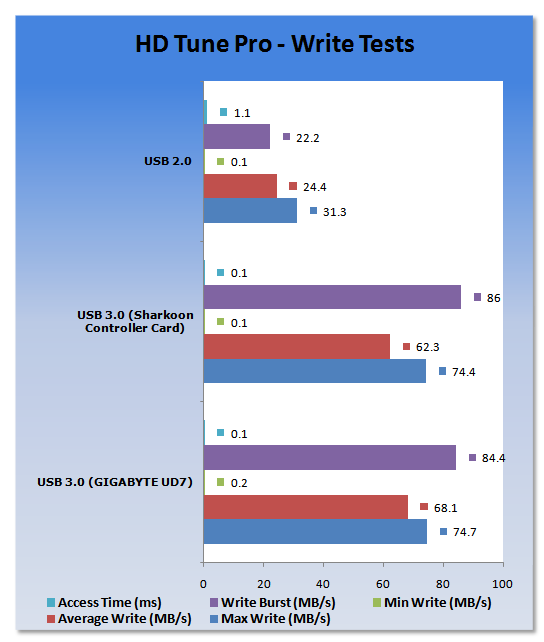 In our first write test we can see what we were talking about on the last page with the SSD going down to 0.1MB/s. This is an issue with the SSD and not the Sharkoon devices or GIGABYTE motherboard.
That said, though, it is clear to see the advantage of USB 3.0 over USB 2.0 with the newer interface maxing out the Intel SSD, which has a maximum rated write speed of 80MB/s.
Benchmarks - Everest Random Access Time
Everest Random Access TimeVersion and / or Patch Used:
4.60
Developer Homepage:
http://www.lavalys.com
Product Homepage:
http://www.lavalys.com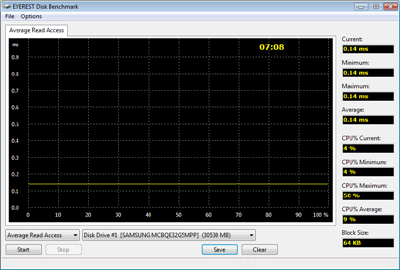 Everest Ultimate and Corporate Edition offer several different benchmarks for testing and optimizing your system or network. The Random Access test is one of very few if not only that will measure hard drives random access times in hundredths of milliseconds as oppose to tens of milliseconds.
Read Tests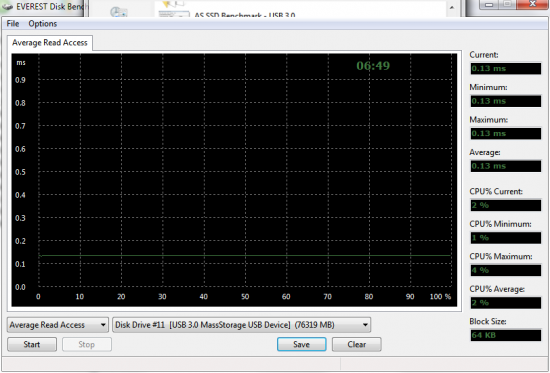 (GIGABYTE UD7)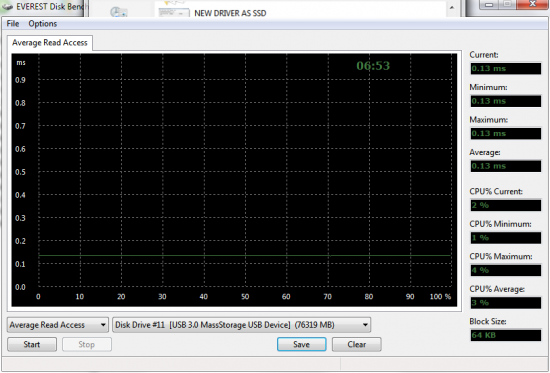 (Sharkoon NEC USB 3.0 controller card)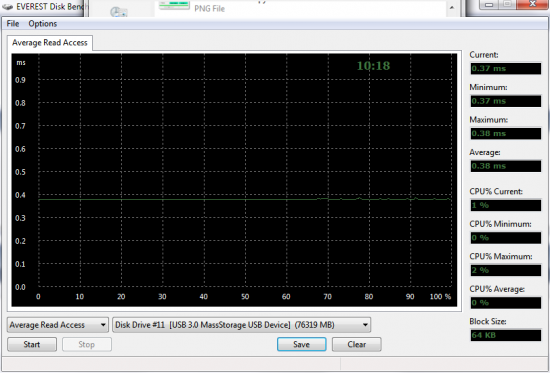 (USB 2.0)
Write Tests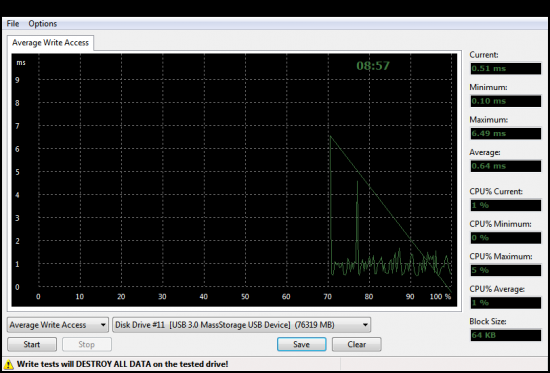 (GIGABYTE UD7)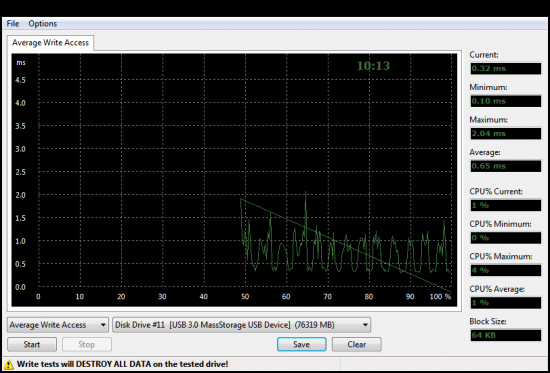 (Sharkoon NEC USB 3.0 controller card)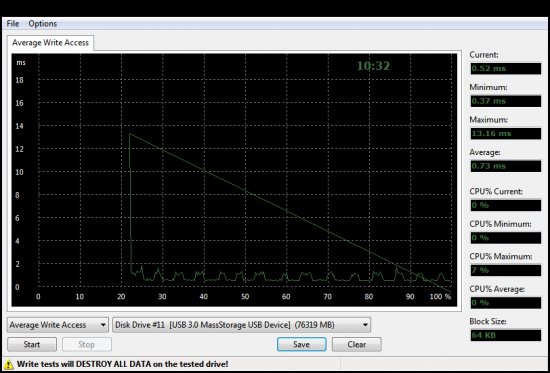 (USB 2.0)
As we can see from our Everest random access time tests, the performance between the GIGABYTE UD7 and Sharkoon controller card are about the same.
USB 2.0 shows slower access times compared to USB 3.0.
Benchmarks - AS SSD Benchmarks
AS SSD BenchmarksVersion and / or Patch Used:
1.2.3577.40358
Developer Homepage:
Alex Intelligent Software
Product Homepage:
Alex Intelligent Software
Download here:
http://www.alex-is.de/PHP/fusion/downloads.php?cat_id=4&download_id=9
AS determines the performance of Solid State Drives (SSD). The tool contains four synthetic as well as three practice tests. The synthetic tests are to determine the sequential and random read and write performance of the SSD. These tests are carried out without the use of the operating system caches.
In all synthetic tests the test file size is 1GB. AS can also determine the access time of the SSD, the access of which the drive is determined to read through the entire capacity of the SSD (Full Stroke). The write access test is only to be met with a 1 GB big test file. At the end of the tests three values for the read and write as well as the overall performance will be issued. In addition to the calculated values which are shown in MB/s, they are also represented in IO per seconds (IOPS).
Synthetic Read Tests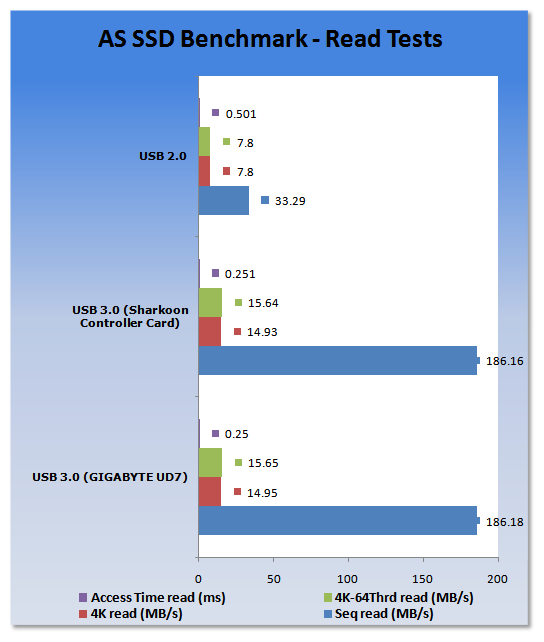 Under the AS SSD Benchmark application there is less difference in performance between the two USB 3.0 solutions as compared to HD Tune Pro. USB 2.0 is of course well behind the game.
Synthetic Write Tests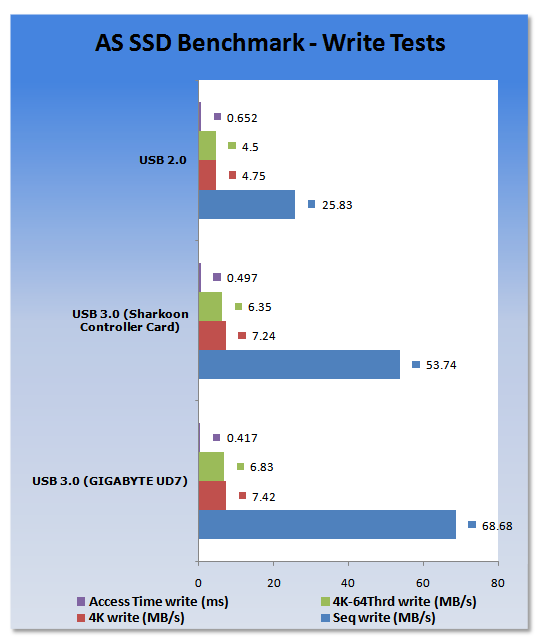 Similar sort of results here, however the GIGABYTE UD7 motherboard is able to offer better sequential write performance.
Copy Tests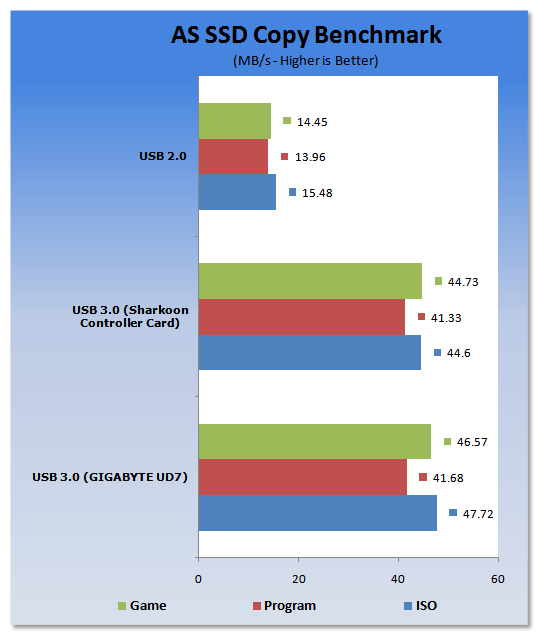 Again we see the same type of results here, but once again the GIGABYTE UD7 board comes out ahead with better implementation of the same NEC USB 3.0 controller as is used on the Sharkoon PCI-Express x1 2.0 controller card.
Final Thoughts
Being the first USB 3.0 device that I have had the pleasure of personally testing, it would have been easy to be blown away by the whole affair and rate the Sharkoon SATA QuickPort USB 3.0 docking station toaster 100% and be done with it.
However, after several hours of testing and using the device, I can report that it is indeed a good product. It is based on the same design as all previous Sharkoon hard drive toaster devices, but of course with the addition of the SuperSpeed USB 3.0 interface. Why change something, when it's not broken? The toaster is a simple product, but it is completely easy to use when installing and removing drives with the handy eject button. It accepts not only standard desktop sized hard drives, but also laptop size 2.5-inch drives.
Plug in a new SSD and watch this thing fly - we saw up to almost 200MB/s read speeds. Yep, it blazes along! And with up to 5Gbit/s support thanks to the USB 3.0 standard, as faster drives come onto the market, this device should be able to see even faster transfer speeds up to a theoretical maximum of 625MB/s.
Sharkoon is one of the first companies to bring a USB 3.0 hard drive enclosure onto the market and has embraced the new SuperSpeed USB standard rather well. We contacted Sharkoon for a price on the device and they claim that it should sell for around $60 USD in the USA. Considering the speed, quality and ease of use of this product, it would be hard to go past this one. It of course comes highly recommended.
Bring on the faster SSDs now so we can really see what this can do. For now, though, we are suitably impressed with the 200MB/s that we saw during our tests! Native USB 3.0 on the GIGABYTE UD7 motherboard performed a little better than the Sharkoon NEC USB 3.0 controller card that is sold separately, but at least you can buy this card if you are not ready to buy a new motherboard that natively supports the new interface. It will set you back around $40 USD in the USA, which is fair considering we are dealing with new technology.
PRICING: You can find products similar to this one for sale below.

United States: Find other tech and computer products like this over at Amazon.com

United Kingdom: Find other tech and computer products like this over at Amazon.co.uk

Australia: Find other tech and computer products like this over at Amazon.com.au

Canada: Find other tech and computer products like this over at Amazon.ca

Deutschland: Finde andere Technik- und Computerprodukte wie dieses auf Amazon.de
We openly invite the companies who provide us with review samples / who are mentioned or discussed to express their opinion. If any company representative wishes to respond, we will publish the response here. Please contact us if you wish to respond.