Patriot Warp V3 256GB 2.5-inch Solid State Disk
Patriot evolves the Warp Series into its third generation. Let's see how fast it can go this time around.
Published Thu, Mar 19 2009 11:00 PM CDT
|
Updated Tue, Nov 3 2020 7:04 PM CST
Introduction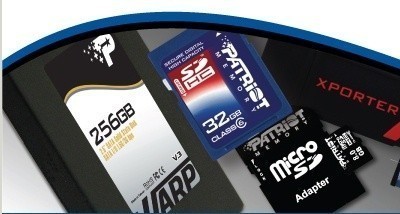 The Patriot Extreme Performance Warp Series has become very popular with enthusiasts looking to get the latest SSD technology in their system. Last October
we reviewed
the Warp V2 128GB drive and were very pleased with the speed and price of the drive. Later Cameron took a set of 4 Warp V2 drives
to the next level
by placing them in a RAID array and the results were stunning. At CeBIT Patriot had a new Warp product on display; the Warp Version 3. We got goose bumps after hearing the specs list.
The third generation Warp drive is currently only available in 256GB capacity and uses a simulated RAID 0 technology internally to increase write speeds. The claimed read speed on the Warp V3 was quoted to us as 240 MB/s, so we are expecting to see some great numbers out of this drive. Hopefully these high synthetic numbers relate to a dose of intense real world performance.
Before you get wrapped up in performance, you have to prepare yourself for the cost to play at this level. As of today the Patriot Warp V3 is only a 256GB part and as such comes at a high cost. Newegg has the new V3 in stock for 595.00 USD. The G.Skill TITAN
we reviewed
a few weeks ago is now down to 525 USD. Let's see how the Warp V3 compares to the TITAN and all of our other selected 2.5 inch drives!
Specifications, Availability and Pricing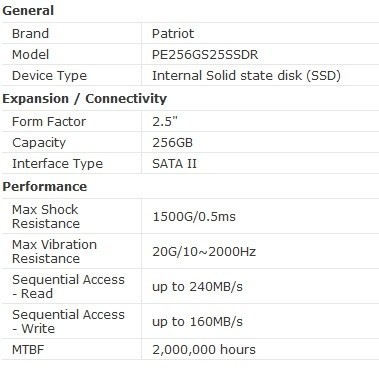 The Warp V3 carries over all of the benefits of the V2 model like high shock tolerance and cool operating temperatures. Building on the V2, the new V3 comes in higher capacity and faster read / write numbers.
As stated previously, the numbers are impressive with 256GB of data capacity, 240MB/s read speeds and up to 160 MB/s write speed. When it comes to today's modern SSDs, it is really a numbers game since all of the drives can take a beating and still continue to operate normally due to the lack of moving parts inside the drives.
The other number in the numbers game that is just as important to users is the cost. The Patriot Warp V3 has a fairly high number in this category as well. Granted, the drive is just now reaching store shelves so we should see a reduction in the cost of ownership in the coming weeks, but for now you will have to fork out nearly 600 USD to use the latest Patriot technology that is found in the Warp V3. To make matters worse, some of the other shops are really using the series popularity to stretch their margins; one etailer is charging 729.99 USD and another 731.00 for the Warp V3, ouch! - Your best price today is still Newegg's and it is currently 595.00.
The Packaging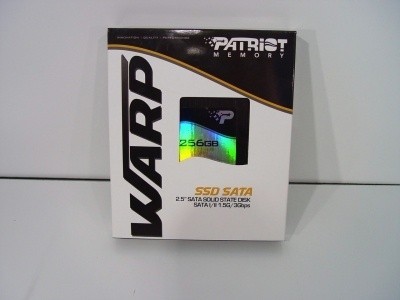 The packaging for the V3 is identical to the V2 other than the color changes. The V2 was black and grey and as you can see here the new V3 is white and black. Patriot still has not made a reference on the outside of the package to show that the Warp drive inside is a V3 model. In a retail environment it could be an issue when trying to choose the correct drive.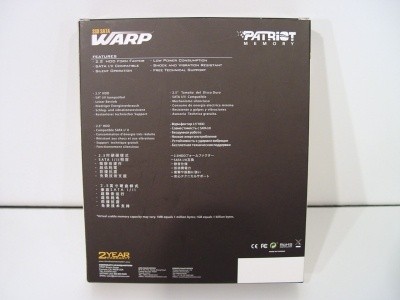 On the back side we see a new design for the Warp Series. Patriot lists a few specifications but it doesn't list any read or write speeds.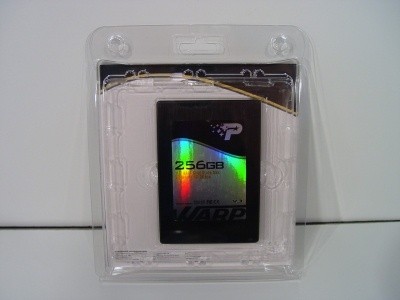 With the outer box removed, we see that the drive is held securely in place so you shouldn't have any issues with shipping companies playing football with your package.
The Patriot Warp V3 256GB SSD
The Patriot Warp V3 256GB SSD]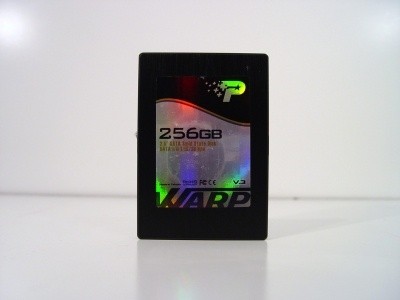 Clearly marked at the bottom right side, we can see the V3 that indicates that we are playing with the correct drive.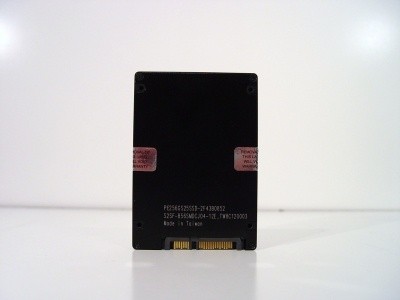 On the back we see the part and serial numbers.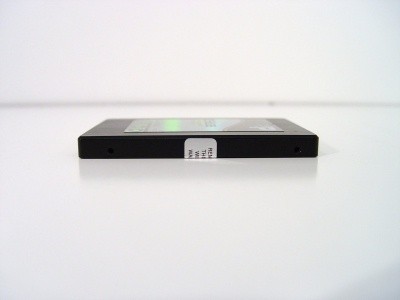 Along the side the Warp V3 has all of the proper mounting fittings, so you will not have a problem installing the drive in your notebook or using an adapter to install the drive in a desktop.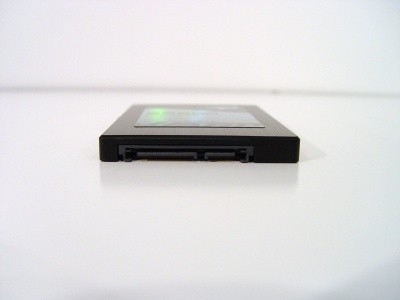 Along the back the drive has SATA and power connectors.
Test System Setup
Test System
Processors
: AMD Opteron 2356 (2.3GHz Quad-Core) x2
Motherboard
: Tyan S2915-E (Supplied by
Tyan
)
Memory
: Kingston KVR667D2S4P5/2G x4 (Supplied by
Kingston
)
Graphics Card
: XFX 8800 GTX (Supplied by
XFX USA
)
Enclosure
: Lian Li V2000
Cooling
: Noctua NH-U12DO (Supplied by
Noctua
)
SATA Controller
: Areca ARC-1231ML (Supplied by
Areca
)
SAS Controller
: Areca ARC-1680i (Supplied by
Areca
)
Operating System
: Microsoft Windows Vista Ultimate X64
Today we are comparing the Patriot Warp V3 256GB SSD with other 2.5 inch drives that we reviewed in the past.
All of the drives tested were performed on the listed system under identical conditions to ensure true apples to apples performance results for comparison. The most obvious competitor to the Patriot Warp V3 is the V2 model and the G.Skill TITAN, another 256GB capacity sized drive.
Benchmarks - HD Tune Pro
HD Tune ProVersion and / or Patch Used:
3.00
Developer Homepage:
http://www.efdsoftware.com/
Product Homepage:
http://www.hdtune.com/>
HD Tune is a Hard Disk utility which has the following functions:
- Benchmark: measures the performance
- Info: shows detailed information
- Health: checks the health status by using SMART
- Error Scan: scans the surface for errors
- Temperature display
HD Tune Pro gives us accurate read, write and access time results and for the last couple of years has been gaining popularity amongst reviewers. It is now considered a must have application for storage device testing.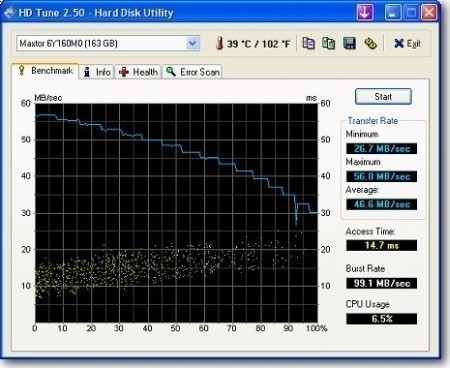 Read Tests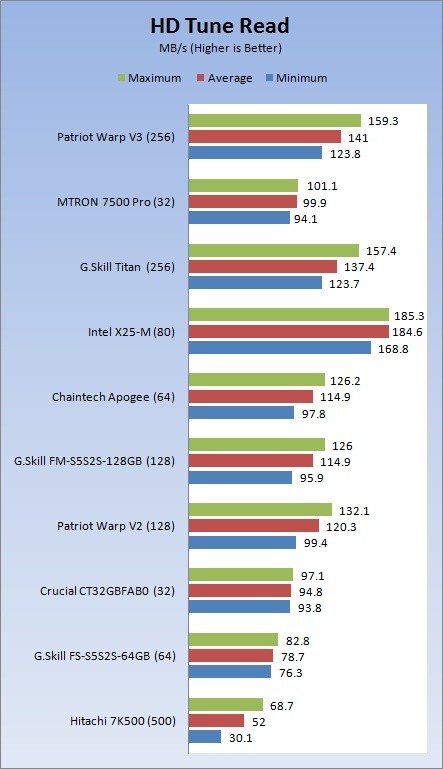 The Patriot Warp V3 has a slight edge over the G.Skill TITAN when it comes to read performance and a solid 20+ MB/s over the Warp V2 in average read speeds.
Write Tests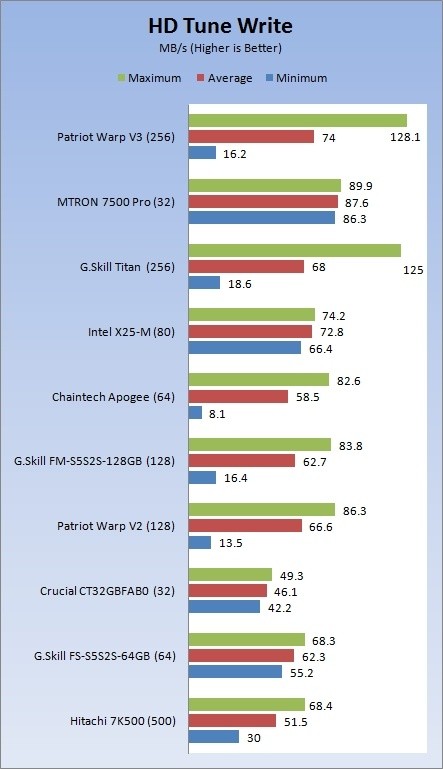 Write speeds are where MLC drives take the biggest hit and although the drive only made it down to 16 MB/s for a brief moment, the speed hurt the V3's average score.
Benchmarks - Everest Random Access Time
EVEREST Random Access TimeVersion and / or Patch Used:
4.60
Developer Homepage:
http://www.lavalys.com/
Product Homepage:
http://www.lavalys.com/ >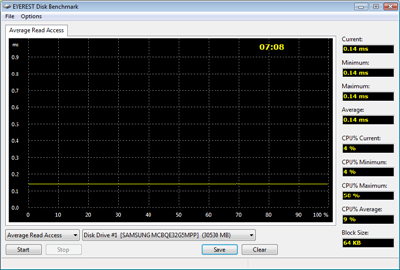 EVEREST Ultimate and Corporate Edition offer several different benchmarks for testing and optimizing your system or network. The Random Access test is one of very few if not only that will measure hard drives random access times in hundredths of milliseconds as oppose to tens of milliseconds.
Read Tests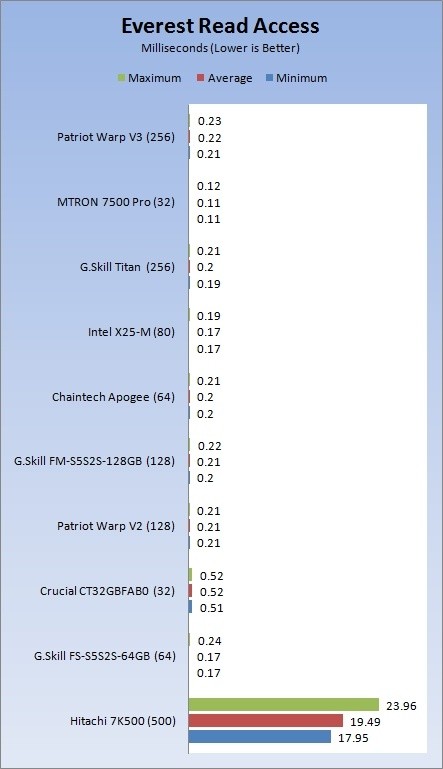 In the Access Read Speed Test the V3 performed in line with the other MLC drives.
Write Tests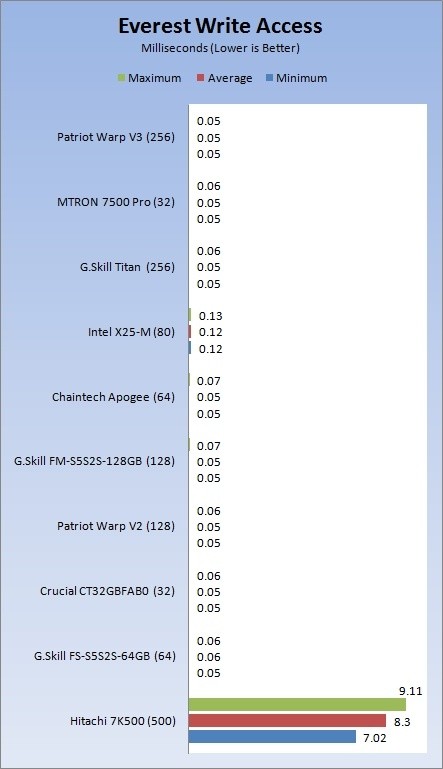 The Write Access Times are also amazing for the Patriot Warp V3 256GB SSD. With read and write access times this fast it would be possible to use the drive as a primary boot drive and still have very snappy performance.
Let's see how all of these synthetic benchmarks relate to real world applications.
Benchmarks - PCMark Vantage Hard Disk Tests
PCMark Vantage - Hard Disk TestsVersion and / or Patch Used:
1.0.0
Developer Homepage:
http://www.futuremark.com
Product Homepage:
http://www.futuremark.com/benchmarks/pcmark-vantage//
Buy It Here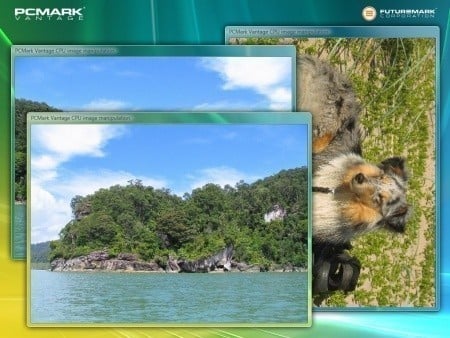 PCMark Vantage is the first objective hardware performance benchmark for PCs running 32 and 64 bit versions of Microsoft Windows Vista. PCMark Vantage is perfectly suited for benchmarking any type of Microsoft Windows Vista PC from multimedia home entertainment systems and laptops to dedicated workstations and high-end gaming rigs. Regardless of whether the benchmarker is an artist or an IT Professional, PCMark Vantage shows the user where their system soars or falls flat, and how to get the most performance possible out of their hardware. PCMark Vantage is easy enough for even the most casual enthusiast to use yet supports in-depth, professional industry grade testing.
FutureMark has developed a good set of hard disk tests for their PCMark Vantage Suite. These tests are based on real world applications that many of us use daily.

HDD1 - Windows Defender
HDD2 - Gaming
HDD3 - Windows Photo Gallery
HDD4 - Vista Startup
HDD5 - Windows Movie Maker
HDD6 - Windows Media Center
HDD7 - Windows Media Player
HDD8 - Application Loading
In our first real world test with the Patriot Warp V3, we see that the drive is very capable of satisfying the needs of power users. The TITAN has a leg up on the Warp V3 in many of the tests, but the results are comparable.
Benchmarks - Passmark
Passmark Advanced Multi-User TestsVersion and / or Patch Used:
6.1
Developer Homepage:
http://www.passmark.com/
Test Homepage:
http://www.passmark.com/ >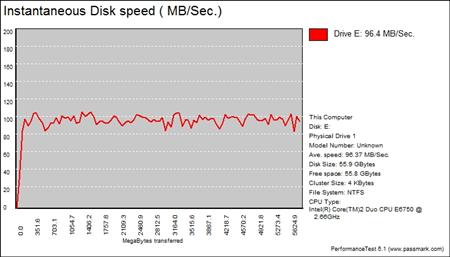 Many users complain that I/O Meter is too complicated of a benchmark to replicate results so my quest to find an alternative was started. Passmark has added several multi-user tests that measure a hard drives ability to operate in a multi-user environment.

The tests use different settings to mimic basic multi-user operations as they would play out on your server. Variances is read / write percentage as well as random / sequential reads are common in certain applications, Web Servers read nearly 100% of the time while Database Servers write a small amount of data.
The Workstation test is the only single user environment and will be similar to how you use your system at home.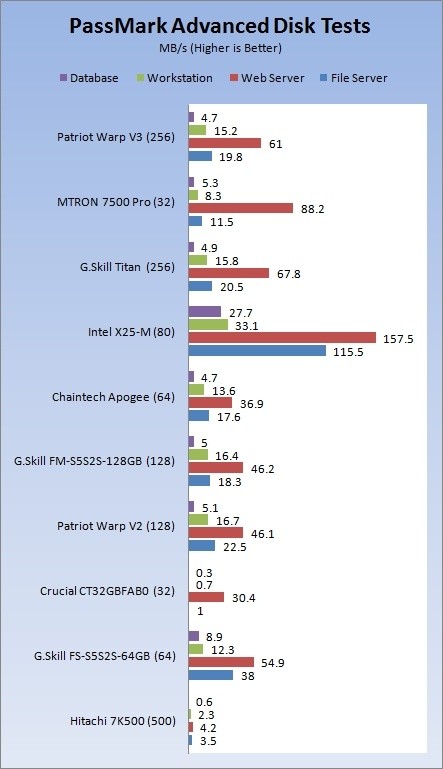 The Warp V3 runs with the TITAN again in the enterprise tests. The V3 splits the benchmark results with the Warp V2 and this surprised us in the lab.
Final Thoughts
Patriot had a great run with the first two Warp drives and we had high hopes for the V3. Performance wise, the V3 is not that much of an improvement over the V2, but it does bring a capacity that was unobtainable with the previous series. Since the V3 is only available in 256GB capacity, we can live with that; but think of this version as the Warp 2.5 when it comes to performance.
The Warp V3 is starting to show up at all of the major etailers, so you will be able to find the drives. The cost is still riding a wave and it is still on the upside with Newegg listing it at 595.00 USD and that is the lowest cost I was able to find; much lower than the others. Still, 595 is a tough pill to swallow with the TITAN sitting in the back ground at 70 Dollars less for nearly identical performance. Once the prices stabilize, you can pretty much flip a coin.
We were not disappointed with the performance of the V3, but it didn't deliver like the V2 did when it was first launched. The V2 outperformed everything when it first arrived and it would be a tough act to follow.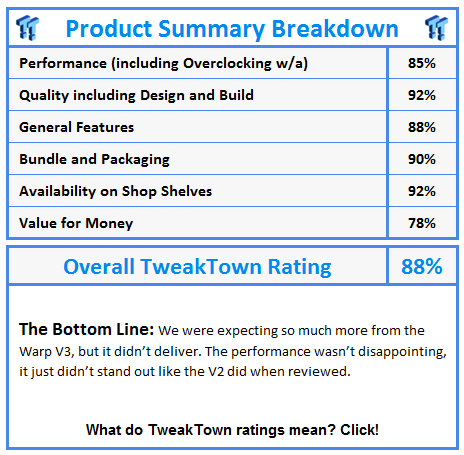 PRICING: You can find products similar to this one for sale below.

United States: Find other tech and computer products like this over at Amazon.com

United Kingdom: Find other tech and computer products like this over at Amazon.co.uk

Australia: Find other tech and computer products like this over at Amazon.com.au

Canada: Find other tech and computer products like this over at Amazon.ca

Deutschland: Finde andere Technik- und Computerprodukte wie dieses auf Amazon.de
We openly invite the companies who provide us with review samples / who are mentioned or discussed to express their opinion. If any company representative wishes to respond, we will publish the response here. Please contact us if you wish to respond.