RAID Performance w/ four Patriot Warp 2 SSDs - Up to 660MB/s
We have the ultimate in speedy storage set up and share out some of the immensely gratifying performance figures it's capable of.

Published Sun, Jan 18 2009 11:00 PM CST
|
Updated Tue, Nov 3 2020 7:04 PM CST
Introduction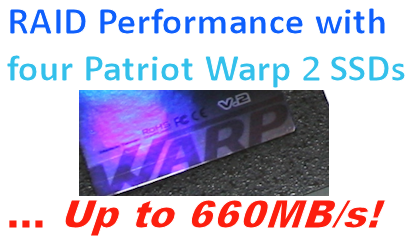 We are back on the subject of Solid State Disk drives again and this time you're in for a real treat! This will be an adventure into extreme high-end storage with massive amounts of performance on tap.
We managed to convince our contacts over at Patriot Memory to send us on over a grand total of four of their impressive Warp 2 SSDs - if you want to read more on the drives, you can head
over here
and read Chris' review from last year.
Areca Technology sent us one of their ultra fast
ARC-1231 SATA RAID controllers
so we could get the most out of our Patriot drives. Modern day solid-state drives are so fast that they saturate the Southbridge of a motherboard with as little as two drives. Because of this we needed the bandwidth that only an 8x PCIe controller could provide.
We have seen plenty of single SSD performance numbers published here at TweakTown, but when it comes to SSD RAID performance, not a lot has been covered. In this article we are going to put the four Patriot Warp V2 drives through a series of tests, not only in RAID 0 but also all the other popular RAID levels under the sun.
What we are aiming to achieve in this article, besides showing off incredibly powerful RAID 0 performance, is to give consumers an idea of the level of read and write performance they can expect when running SSDs in various RAID levels. We covered them all - count them... 0, 1, 5, 6, 10 and single drive for good measure. We even tested with write caching enabled in RAID 0.
How about we get this show on the road now and head on over to the next page to firstly read about the hardware we used!
Hardware Used for the Job
First of all, before we jump into the test result numbers, we will run over the hardware we used.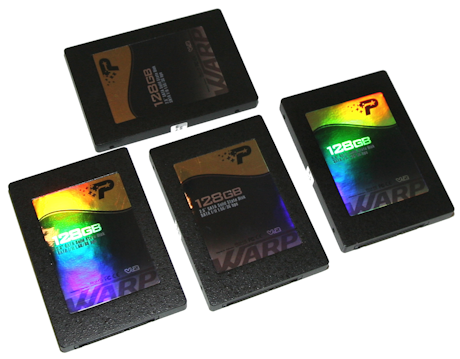 As we mentioned in the introduction, Patriot Memory were kind enough to send over
four of their 128GB Warp 2 SSDs
for the article.
These drives currently retail for $339 USD (about $513 AUD) each on Newegg, but they are also available in smaller sizes of 32GB and 64GB if you don't need the full 128GB capacity.
Individually, each drive weighs just 91 grams, measures 99.88 x 69.63x 9.3 mm and offer sequential read rates up to 175MB/s and sequential write rates up to 100MB/s, according to Patriot. They come with a two year warranty in case something goes wrong.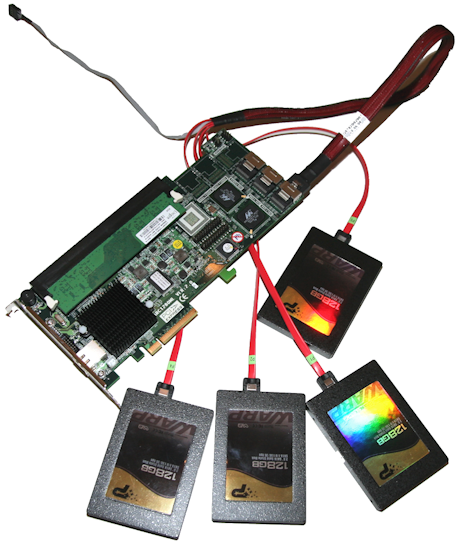 Next on the hardware list is the
Areca ARC-1231ML RAID controller
- this is a PCI Express x8 device that actually supports up to 12 SATAII devices using three Mini SAS 4i connectors that support four devices per connector. In this article of course, we'll only need a single connector for our four SSD drives. It is powered by the Intel 800MHz IOP341 I/O processor and comes with all the bells and whistles you could ever hope for. Personally, it is the best RAID controller I have ever used. You will find out why soon! ;)
Currently the ARC-1231ML RAID controller is retailing for $759.99 USD on Newegg for the 1GB cache memory version, while the 2GB cache memory version costs a little extra at $799.99 USD. That just means the amount of DDR2 ECC memory installed in the controllers memory slot is different - you can always change it later yourself.
So, this isn't working out to be a cheap system so far, and you're correct - just the SSD drives and controller alone, you'll be looking at a total of $2156 USD or $3260 AUD for these parts and you still need to build the rest of your PC. We aren't focusing on budget today, though; this is about extreme storage performance and with that obviously comes high cost.
If we want to compare the price of this setup to something like the Fusion-io ioDrive which
Chris looked at exclusively recently
, this price all of a sudden becomes acceptable.
Now, let's move onto those important performance numbers - over to the next page!
Test System Setup
Processor(s):
Intel Q9450 quad-core @ 3.2GHz
Motherboard(s):
MSI X48 Platinum (Supplied by
MSI
)
Memory:
2 x 2GB Patriot DDR3 1600MHz
Hard Disk(s):
2 x Western Digital 300GB VelociRaptor in RAID 0 (Supplied by
Western Digital
)
Operating System:
Windows Vista SP1 64-bit
Drivers:
Latest Windows Updates and Intel INF 1.1.15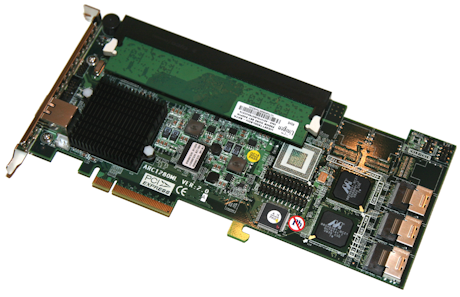 Alright, it is almost time to get into the results, but let's run over our test system and RAID settings first, so everything is clear.
As we mentioned in the introduction, we have included every RAID level array that the Areca ARC-1231ML RAID controller is capable of, including RAID 0, 1, 5, 6, 10 and JBOD.
Our review sample from Areca came with 256MB of DDR2 ECC memory, but it is upgradeable to 2GB - we left it at the default option of 256MB. Our controller was plugged into the second PCI Express graphics (PEG) port on our MSI X48 test system motherboard that provides 16 PCI-E lanes electronically, which is enough to keep this x8 device more than happy. Disk write cache mode was disabled except for when noted. SATA mode was set to SATA300+NCQ, for best performance. The latest firmware V1.46 2008-08-06 was used.
A quick note on access time and CPU usage
- access time stayed steady at 0.2ms in every RAID mode and test in HD Tune Pro, besides one test where it hit 1.6ms under RAID 10 writing. As far as CPU usage goes, it was very acceptable with RAID 5 read testing being the maximum at 5.2% and the other tests hovering around the 2% mark.
For every RAID array tested, an allocation size of 64k was set, to create an even and fair playing field. Now, let's move onto the test results!
HD Tune Pro - Read Performance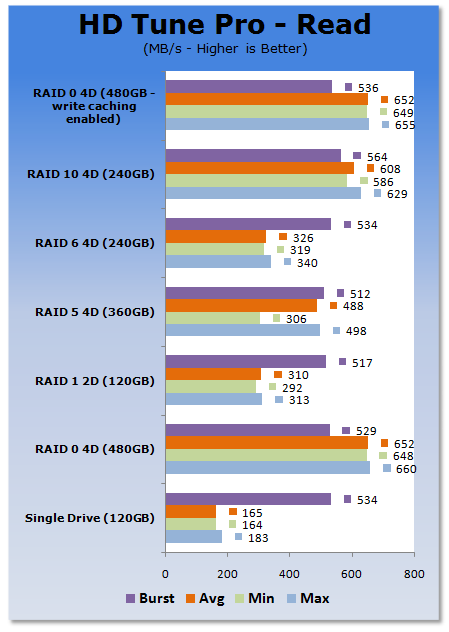 WOW!!!
- we weren't kidding when we were talking about extreme storage performance!
These RAID 0 numbers are on level and in fact well past the performance of the 80GB Fusion-io ioDrive in pure transfer rate speed - yet it costs more than this SSD + controller setup. As you can see, under RAID 0 we attained a maximum read speed of a truly incredible 660MB/s and the average is still extremely healthy at a massive 652MB/s.
The slowest RAID array level on average speed is the two disk drive RAID 1 array, as can be expected. This is then followed by RAID 6 and considering its impressive redundancy in this level, the performance is still very good.
As we can see with this SSD setup, enabling write caching in the controller BIOS and in Windows Vista did not result in a huge performance increase in our read tests.
HD Tune Pro - Write Performance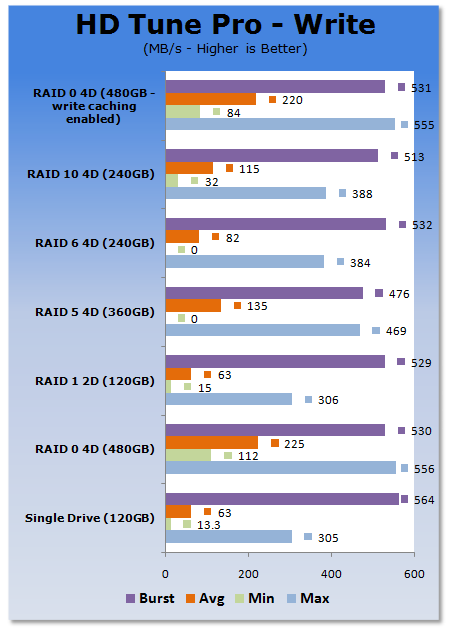 Now we move onto the HD Tune Pro write tests and again we see that by enabling write caching, it does not render us a better result in performance.
Naturally, here again RAID 0 is king and managed to produce average write speeds of 225MB/s, while the minimum dropped down to a still very impressive 112MB/s when compared to hard disk drives. Again, the slowest RAID level is RAID 1, as expected.
RAID 5 managed to provide rather good performance, besides hitting rock bottom a few times (along with RAID 6).
Final Thoughts
After a bunch of exhaustive testing, we were left extremely impressed with the results from this SSD setup.
Under a RAID 0 level array, we managed to hit a maximum read speed of 660MB/s and even still, the average was only a little behind at a staggeringly awesome 652MB/s. There were a few issues with the minimum write speed in both RAID 5 and RAID 6 arrays and we're not entirely sure if that is normal or not, but the results were consistent.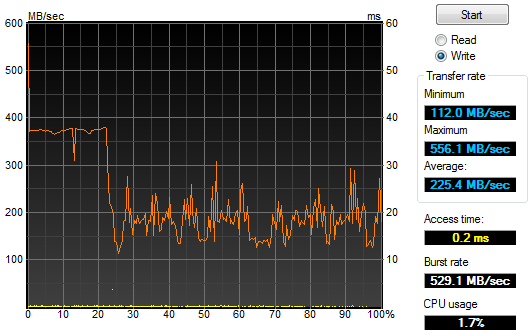 One thing we did want to make note of is the fact that in our write tests, just about every RAID array configuration had a sudden drop in write speed at about the 22% mark. You'll see what we mean by looking above at one of the screenshots we took of a RAID 0 array. Now, it doesn't matter if we enable write caching or not, the same anomaly occurs. (If anybody has any ideas - please do let us know!)
Besides that, though, the results speak for themselves. And things will only get better as the development of Windows 7 improves. If you have some cash to spare and want an ultra high-end storage setup, you now know what to buy.
PRICING: You can find products similar to this one for sale below.

United States: Find other tech and computer products like this over at Amazon.com

United Kingdom: Find other tech and computer products like this over at Amazon.co.uk

Australia: Find other tech and computer products like this over at Amazon.com.au

Canada: Find other tech and computer products like this over at Amazon.ca

Deutschland: Finde andere Technik- und Computerprodukte wie dieses auf Amazon.de
We openly invite the companies who provide us with review samples / who are mentioned or discussed to express their opinion. If any company representative wishes to respond, we will publish the response here. Please contact us if you wish to respond.
Related Tags