Speed Racer HD Movie Review
"Go Speed, Go!"

Published
Producer / Publisher:

none
3 minutes & 24 seconds read time
Speed Racer
is the big screen adaptation of the classic anime series of the same name from the 1960's, which signaled western audiences first taste of eastern animation. The film would live or die by the translation of the style of the series and for the most part writer/director duo the Wachowski Brothers (of Matrix fame) have done a fairly successful job of bringing it to not only live action, but in updating the source material after nearly half a century.
Speed Racer (Emile Hirsch) is a young racing obsessed driver, who hails from a racing obsessed family. Driving the family designed vehicle, the Mach 5, Speed whips the racing world into a frenzy, until he catches the eye of racing mogul Mr. Royalton (Roger Allam). Royalton desperately wants Racer to join his company, Royalton Industries, but his motives may be in question.
The story, however, takes a backseat to the astounding visual style that the Wachowskis have kicked up. There is so much going on in every single frame of animation, too much really and despite the amazing element to it all, it really is quite overwhelming and fatiguing. In fact, by the end of it all I was quite exasperated. In small doses, however, it really is a sight to behold.
After numerous attempts over the last decade to get a live action
Speed Racer
film to cinemas, the Wachowski Brothers (of Matrix fame) pitched a version to Warner Bros that by all accounts blew them away. The finished film failed to achieve its budget back, and what started out as a promising franchise is doubtful to make a return.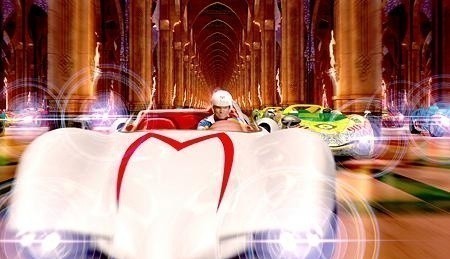 VideoSpeed Racer
is presented in the widescreen scope aspect ratio of 2.35:1, encoded in VC-1 compression.
Speed Racer was always going to be a hard film to master to video, but the encoding team have done a surprisingly good job at making it look so good. I say surprisingly, because although the disc is released in Australia by Village Roadshow, the disc itself was produced for the American market by Warner Brothers, whom for some time have favoured the VC-1 codec. And while this is not bad in itself, they frequently starve the bitrate on their encodes. Speed Racer really needed to be on a dual layer BD-50 disc with a high bitrate - neither of which this disc features.

I suspect very strongly that the master was spat out directly from the original computer files, as it is basically in perfect condition with nary a film artifact or complaint to be seen. Very occasionally, the low bitrate origins would reveal themselves with marco-blocking on textures and backgrounds. This could easily have been rectified by upping the bitrate. This is all that holds the transfer back from demo status.

Whilst many, including myself have complaints with the visual style of the film (more specifically, the 'kitchen sink' style of filmmaking), there is no doubt that it transfers well to Blu-ray, just a shame more care was not taken with the encoding.





Audio

The main audio track here is an English Dolby Digital 5.1 at 640 k/bps.

Warner Brothers quite disappointingly failed to include any lossless audio option. This is both highly irregular with Blu-ray releases amongst all distributors, is massively disappointing and all I can guess is it is being held back for future re-release.

Despite this massive oversight, the soundtrack is surprisingly good, despite being not too technically superior to the regular DVD version.

There is nary a problem to be found with audio sync, but ever so occasionally I could not make out dialogue due to general overload of the soundtrack. Surround channel usage remains high throughout, with very strong bass usage, but it generally lacks definition. This can be well and truly blamed on the lossy soundtrack.

Overall, I was fairly satisfied with the track, but still bitterly disappointed by the oversight of lossless audio, which is well and truly unforgivable in this high definition age.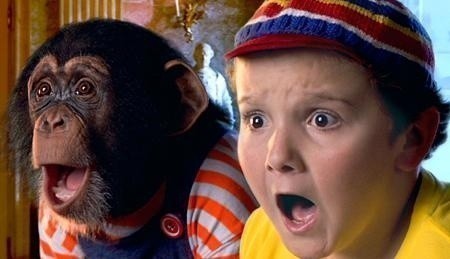 Extras

Giving another general indicator to the probable 'Special Edition' re-release of the film, Warner has failed to include any extras of substance, despite the massive amounts of behind the scenes material that was shot. Here's what we do have, though.

First up is the nearly half an hour long 'Car Fu Cinema' featurette, which acts as a general 'making of' for the film, but unsurprisingly focuses on the visual effects elements of the film. It's pretty general, glossing over most every subject and lacked the meat that I was hoping for. Fans of the film will probably appreciate it, but be expecting a bit more.

Next up is two fairly childish segments, Supercharged and 'Spritle in the Big League' featurettes, which take a quick look at the production and the racing circuits throughout the film, in terms that kids can deal with. Adults really need not apply.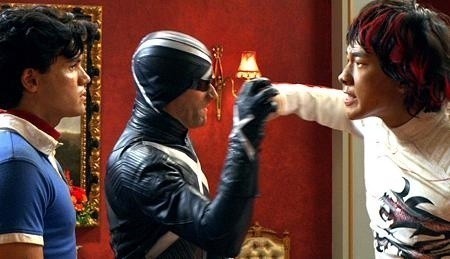 Overall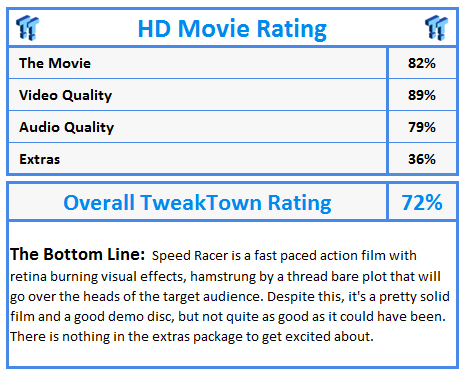 Review Equipment Used:

Display: Sony KDL52X3100 LCD (1080p resolution/ 24p playback)
Player: Sony BDP-S500 Blu-ray, PlayStation 3 (24p playback)
Sound: Sony STR-DA5300 Receiver (7.1 configuration), Sony SSX70ED front speakers (x2), Sony SSCNX70ED center speaker, Sony SSFCR7000 surround speakers (x4), Sony SAW3800 Subwoofer, (Front) Sony SAWM500 Subwoofer (Rear)
PRICING: You can find products similar to this one for sale below.

United States: Find other tech and computer products like this over at Amazon.com

United Kingdom: Find other tech and computer products like this over at Amazon.co.uk

Australia: Find other tech and computer products like this over at Amazon.com.au

Canada: Find other tech and computer products like this over at Amazon.ca

Deutschland: Finde andere Technik- und Computerprodukte wie dieses auf Amazon.de
We openly invite the companies who provide us with review samples / who are mentioned or discussed to express their opinion. If any company representative wishes to respond, we will publish the response here. Please contact us if you wish to respond.