TweakTown's Rating: 88%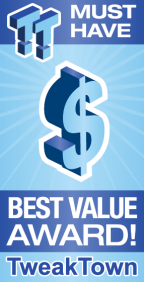 The Bottom Line
A mechanical gaming keyboard that won't break the bank, the new MSI VIGOR GK50 Elite TKL with Kailh Red switches is smooth, responsive, and great for both gaming and productivity.
Pros
+

Great value for money

+

Fast and responsive Kailh Red switches

+

On-board controls for media and lighting

+

Portable and lightweight
Cons
-

Mostly plastic build

-

Software support outside of Mystic Light is so-so

-

The default RGB lighting is overly bright

-

Keycap size and spacing could be too cramped for some
Should you buy it?
Avoid
Consider
Shortlist
Buy
Introduction & Specification Details and Close-up
The sheer number and variety of mechanical keyboard options are enough to make anyone panic when trying to choose the right one. Like any other bit of hardware, picking up a keyboard is also picking up an input device that will potentially drive your gaming for a few years at a minimum.
There are several different brands to choose a keyboard from, but there are also things like the switch type, build quality, software support, and more to consider. Will it mostly be used for gaming, or does that come second to day-to-day productivity and work? This is a good way to narrow the list; size is another. Are you after a full-sized keyboard or a TKL design used by countless PC gamers in 2023?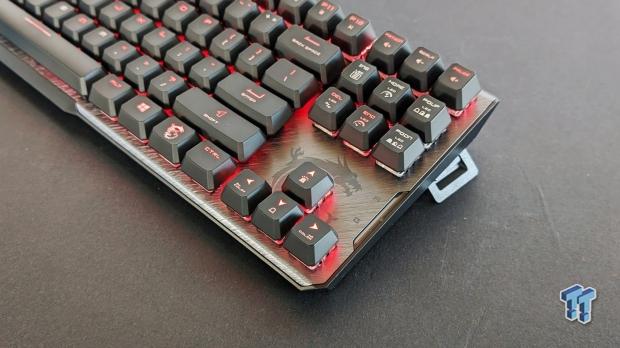 Although the MSI VIGOR GK50 Elite TKL Mechanical Keyboard is a keyboard for gaming in the smaller TKL footprint, the big drawcard here is its price. When you add up its performance, features, and excellent feel, the price point of USD 64.99 makes it one of the most affordable mechanical keyboards currently available. There are concessions made by MSI to bring the overall costs down (and we'll dig into those in the physical design section of this review) - but these are easy to justify in the context of value for money.
The MSI VIGOR GK50 Elite TKL Mechanical Keyboard is a worthwhile option for those looking to pick up a mechanical keyboard without breaking the bank or for someone just getting into PC gaming. Mechanical keyboards like this, with responsive linear switches, are wonderful for gaining enough of a competitive edge when playing games like Counter-Strike 2 and Call of Duty.
Specifications & Close Up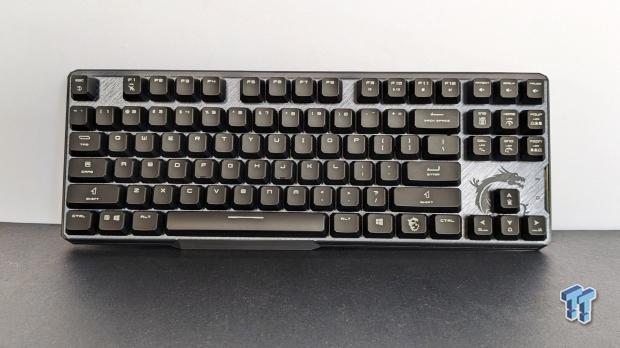 Product Name: MSI VIGOR GK50 Elite TKL Mechanical Keyboard
Product Type: Wired Gaming Keyboard
Size (Full/TKL): TKL
Switch: Kailh Red
Actuation Point/Force: 1.9mm/50g
Interface: USB
Lighting: Per-key RGB Mystic Light
Dimensions: 354 x 140 x 33 mm
Weight: 560 grams (keyboard)
What's in the Box: MSI VIGOR GK50 Elite TKL Mechanical Keyboard, 1x Key Puller, 2 x Convex Keycaps (CTRL & ALT), 1 x Travel Drawstring Bag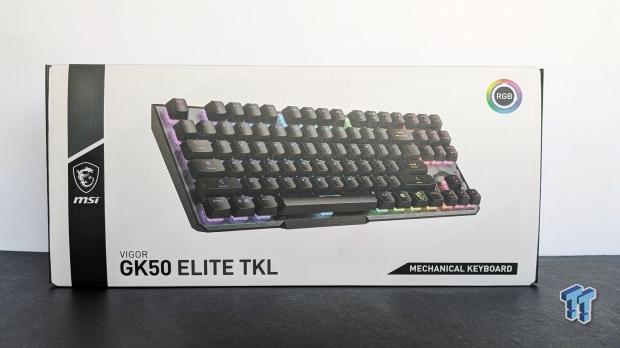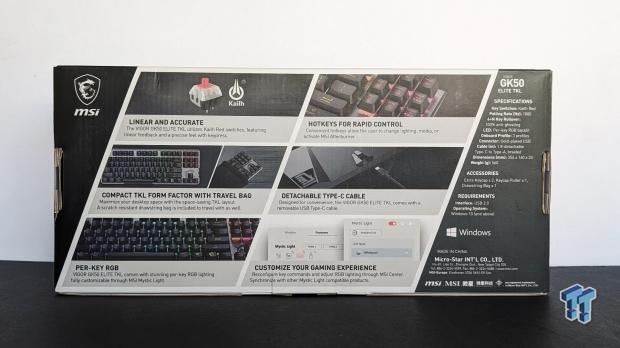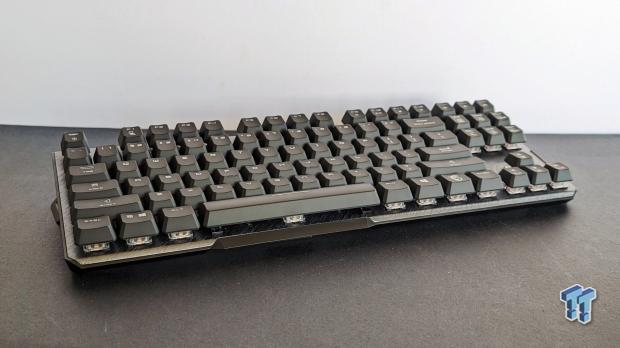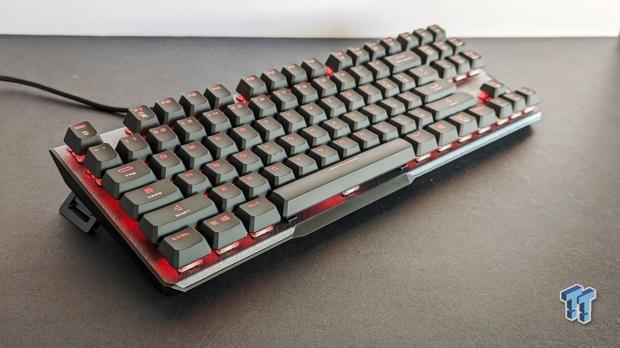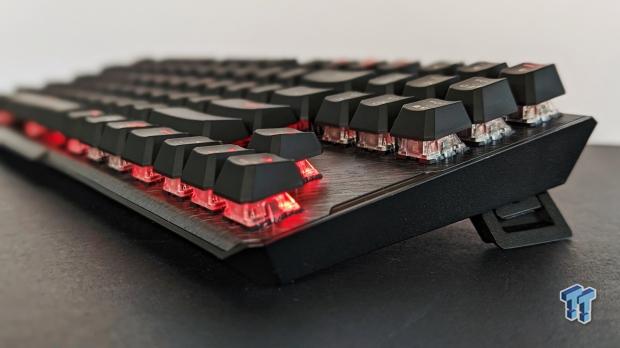 Kosta's Test System Specifications
Motherboard: MSI MPG X670E Carbon Wi-Fi
CPU: AMD Ryzen 9 7900X
GPU: NVIDIA GeForce RTX 4090 Founders Edition
Cooler: Corsair iCUE H100i RGB PRO XT Liquid CPU Cooler
RAM: 64GB (2x32GB) Corsair DOMINATOR PLATINUM RGB DDR5 DRAM 5200MHz
SSD: Sabrent Rocket 4 Plus-G M.2 PCIe Gen 4 SSD 4TB, Sabrent Rocket 4 Plus Plus M.2 PCIe Gen 4 SSD 8TB
Power Supply: Thermaltake Toughpower GF1 850W
Case: Thermaltake Core P3 Tempered Glass Snow
OS: Microsoft Windows 11 Pro 64-bit
Design & Software
Design
The MSI VIGOR GK50 Elite TKL Mechanical Keyboard is a TKL version of the full-sized MSI VIGOR GK50 Elite, and from a physical design perspective, retains a similar look and feel, with a brushed grey top, black keys, some angular flourishes, and the MSI logo surrounding the arrow keys. The floating keycap design looks great with this design, which is complimented by the vibrant (and potentially too bright) per-key RGB lighting.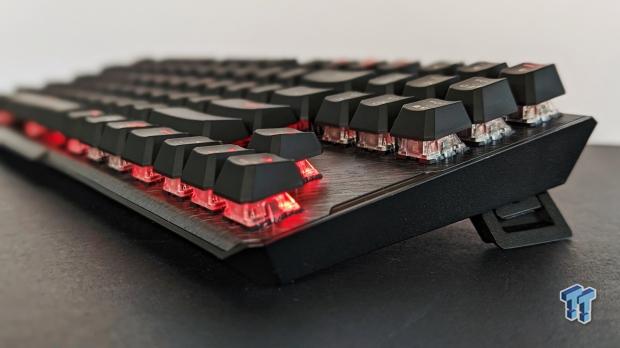 As a budget and affordable mechanical keyboard, one of the first impressions you get when connecting the MSI VIGOR GK50 Elite TKL Mechanical Keyboard is that it's very light, potentially too light. Mechanical keyboards being weighty is a good thing because the result is it won't move or budge when in use; the good news here is that even though the MSI VIGOR GK50 Elite TKL weighs in at only 560 grams, the even weight distribution and dampening results in a smooth and movement-free type.
Switch-wise, the model reviewed here uses Kailh Red linear switches designed for fast and responsive action due to the 1.9mm actuation point and 50g force. Even though most of the MSI VIGOR GK50 Elite TKL's build is plastic, the overall sound of the switches is satisfying and gives off that premium mechanical sound those looking for this type of keyboard crave. There's a great consistency to the switches MSI uses here, from the spacebar to the function keys to the individual letters. A great spacebar feel goes a long way, and the MSI VIGOR GK50 Elite TKL delivers.
MSI also offers two additional models, one with clicky Kaihl Blue switches and a slightly more expensive version with dust-resistant Kaihl Box White switches.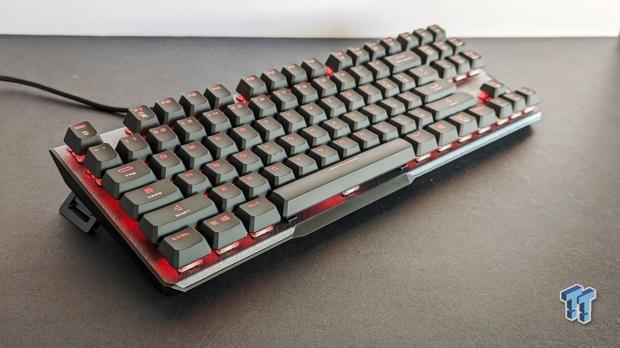 The keycap feel is decent, with a matte finish that is pretty decent when it comes to keeping off fingerprints or grease (for ABS and printed keycaps); after a few weeks of usage, the MSI VIGOR GK50 Elite TKL still looked brand new. Although it doesn't ship with a wrist rest, the MSI VIGOR GK50 Elite TKL's extended features are impressive. From the hardware that includes on-board profile support to the detachable braided cable, carry bag, keycap puller, and even a pair of replacement keys.
Software
Like all MSI branded peripherals, the MSI VIGOR GK50 Elite TKL uses the company's MSI Center software for customization - and here, that includes adjusting the per-key lighting or synchronizing it with your setup via MSI Mystic Light as well as the ability to record and store various Macros on one of the three different on-board Profile settings. The modular Windows Store app isn't the fastest or the most detailed, so when it comes to customizing a peripheral like this, the result is well and truly behind most of the competition.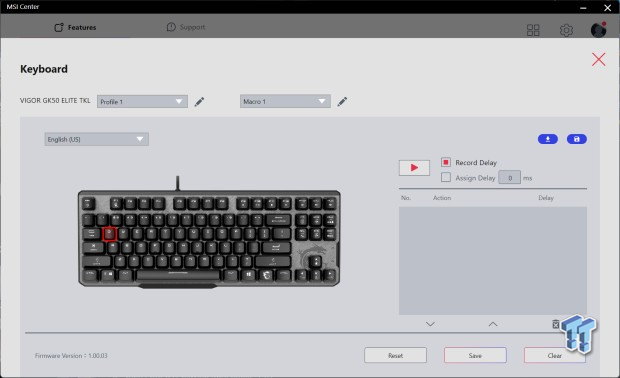 There also doesn't seem to be any option for making changes to key or function assignments, so for the most part, you're left with the out-of-the-box options, which are well thought out. As a TKL keyboard, you do lose out on some functionality. Still, the MSI VIGOR GK50 Elite TKL features secondary functions, including onboard LED and lighting adjustments to audio controls.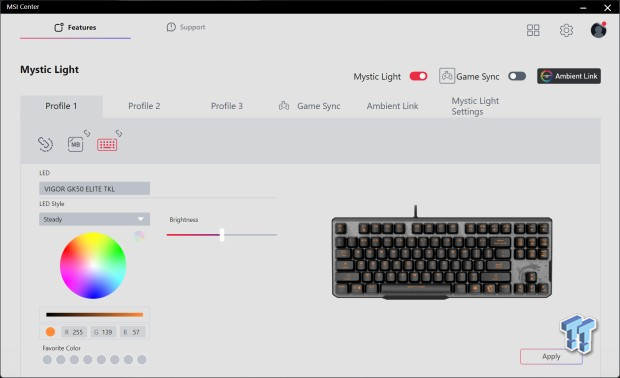 If you plan on picking up the MSI VIGOR GK50 Elite TKL, you're better off not bothering with MSI Center outside of Mystic Light or simply using the onboard LED controls to lower the default lighting brightness.
Gaming Performance and Productivity
Gaming Performance
Is there a difference between using a budget mechanical keyboard like this and something that sits well within the premium realm? Of course, from the cheaper feeling keycaps to the lighter build and the underlying hardware, premium features like multiple dampening layers and the ability to hot-swap switches make a difference. The MSI VIGOR GK50 Elite TKL is roughly half the price of most decent mechanical keyboards. After spending a few weeks playing titles like Counter-Strike 2, Cyberpunk 2077, and Diablo IV, I walked away impressed with what MSI has cooked up here.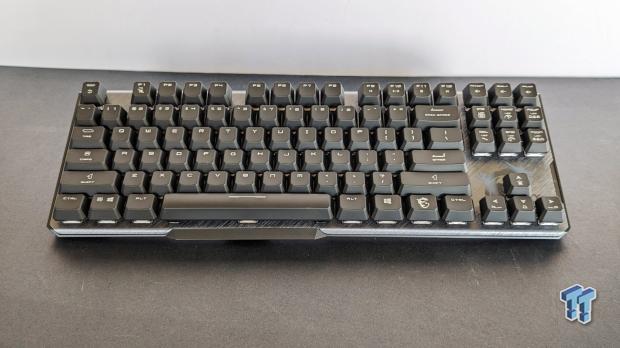 In terms of feel, the Kaihl Red mechanical switches are as smooth and responsive as CherryMX's Red linear switches - and this makes them great for gaming, where a fast, linear, and bouncy response is what you want. Outside of the fact that it's a TKL keyboard, I noticed after a few hours that the overall keycap size and spacing took some getting used to. Things can feel cramped before you get used to the specific placement.
Productivity
A fast and responsive mechanical keyboard that's good for gaming is usually pretty decent for productivity, too. MSI offers a more tactile and clicky Blue version of the Kaihl switches for those who prefer that style (which used to be me before I became a Red and linear convert), which is great. When reviewing a keyboard and putting its productivity chops to the test, I like to use it for at least three days while writing up news, reviews, and other coverage for TweakTown. The good news is that the MSI VIGOR GK50 Elite TKL has several features that make it double as a solid productivity keyboard.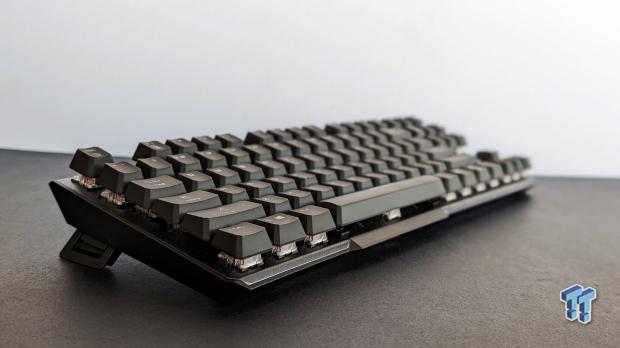 From an ergonomic perspective, the three adjustable angles offer some nice variety in how the MSI VIGOR GK50 Elite TKL sits. Throw in the braided detachable cable and carry case, and it also doubles as a lightweight and portable mechanical keyboard that you can easily take with you on the go. For me, having audio controls on a keyboard is a productivity must, and with clear labels for all secondary functions, using the MSI VIGOR GK50 Elite TKL for work-related activities didn't raise any issues or glaring omissions. That is, outside of the ability to customize and modify secondary functions - a feature I expected to be included in MSI Center.
Keyboard Click Sound Level
To test a keyboard's overall sound level, we use the Ozito Digital Sound Level Meter, capturing the sentence "the quick brown fox jumps over the lazy dog" multiple times and recording the maximum dB level. This indicates how "loud" the switches used are for everyday usage. The following chart showcases where the MSI VIGOR GK50 Elite TKL Mechanical Keyboard sits.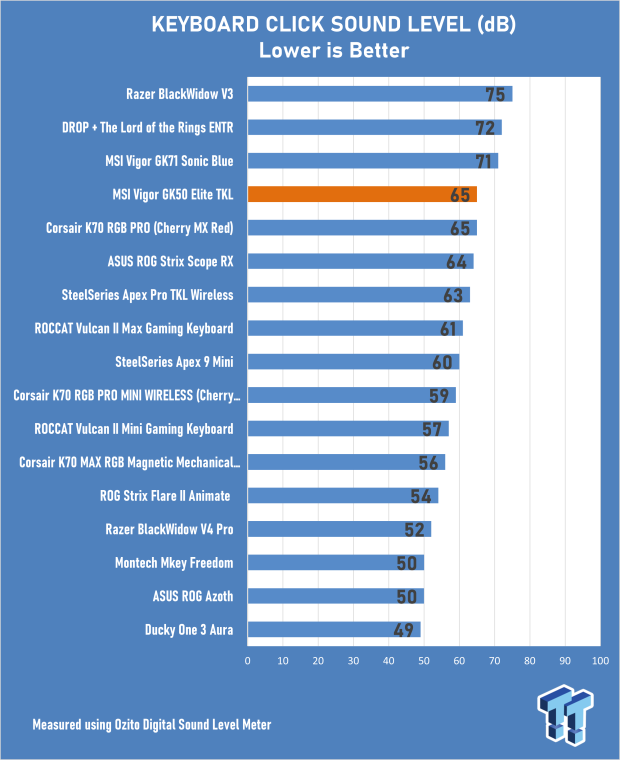 Final Thoughts
As a budget mechanical keyboard that is lightweight, portable, and well-built, with switches and performance that never skipped a beat during our tests, the MSI VIGOR GK50 Elite TKL is an easy recommendation. Mechanical keyboards for gaming and day-to-day productivity are superior to cheaper membrane offerings, so it's great to see MSI's latest take aim at the budget and money-conscious crowd.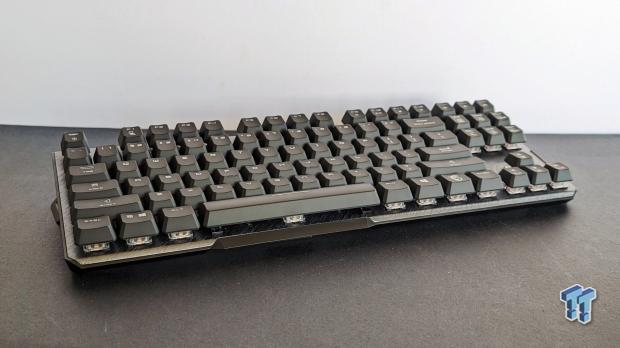 Bang for your buck is the order of the day, and with the model tested here featuring linear Kaihl Red switches, the result was smooth, fast, and responsive PC gaming. The full package has a lot to like, from the carry case to the keycap puller and the pair of replacement caps thrown in. Sure, it's light for a keyboard, and the construction is mostly plastic, but even the keycaps have a nice matte feel compared to keyboards, which cost quite a bit more. It's a shame that MSI Center is a little clunky and slow for a peripheral like this.