TweakTown's Rating: 68%
The Bottom Line
SilverStone's MILO 12 mITX case is a good offering for a specific crowd, but it lacks better CPU cooling support and is overpriced for what it is.
Pros
+

Tons of 2.5-inch SSD or HDD support

+

Support for triple-slotted GPUs that are up to 345mm in length

+

Support for full-size ATX or SFX-L PSUs

+

GPU temperatures were great for an SFF case

+

Support for 9.5mm slim ODD
Cons
-

Limited to 77mm CPU cooler height making CPU cooling challenging

-

Price
Should you buy it?
Avoid
Consider
Shortlist
Buy
Introduction, Specifications, and Pricing
SilverStone, a staple on the mITX side of the case market, has sent over their MILO 12 for us to review. The MILO 12 is a slim and compact enclosure with enough room for a three-slot GPU, coming in at 105x393x378mm or 15.6 liters. Priced at $179.99, the MILO 12 will put a sizable dent in your wallet. Let's see if it's worth it.
Packaging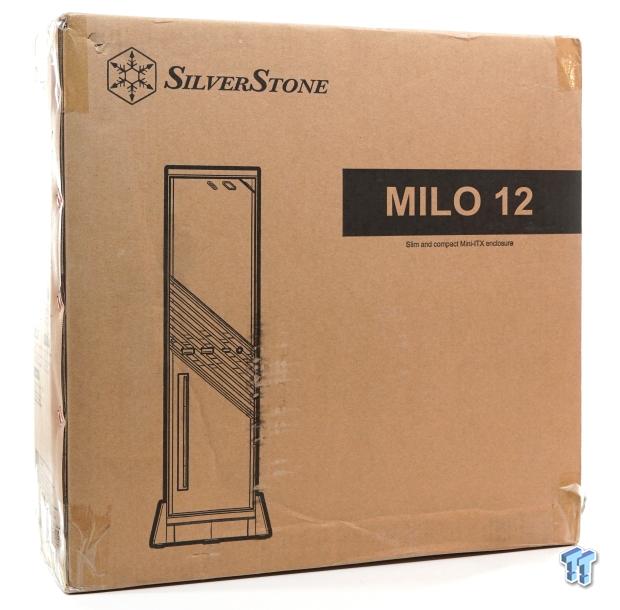 SilverStone has packaged the MILO 12 in a plain enough brown cardboard box with the SilverStone name, logo, and MILO 12 naming on the side.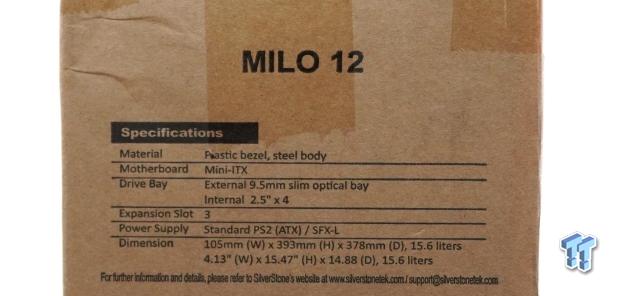 Also printed on the narrow side of the box are the specifications.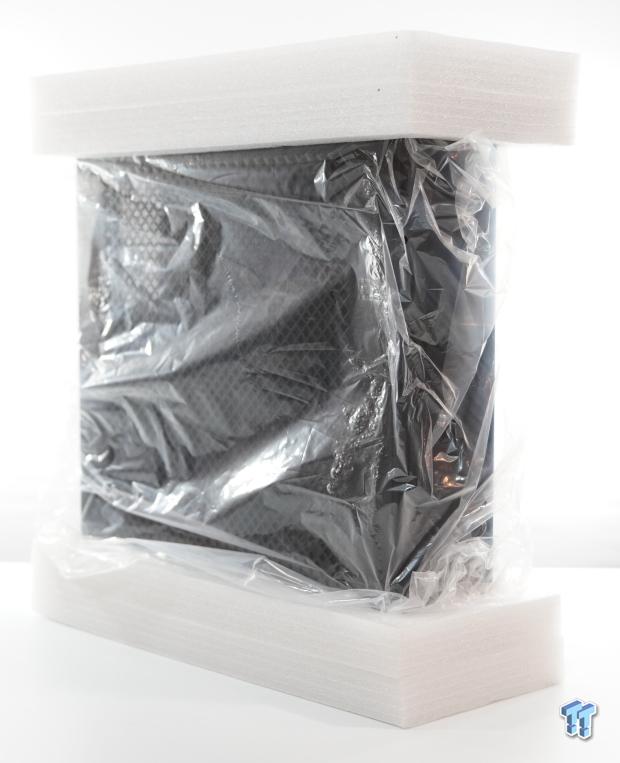 The MILO 12 came packaged in two dense pieces of foam with a nice soft cushion. Covering the MILO 12 is a clear plastic bag.
Outside the SilverStone MILO 12 mITX Case
Both side panels have a lot of ventilation, with diamond-shaped holes with finer mesh behind and being interchangeable.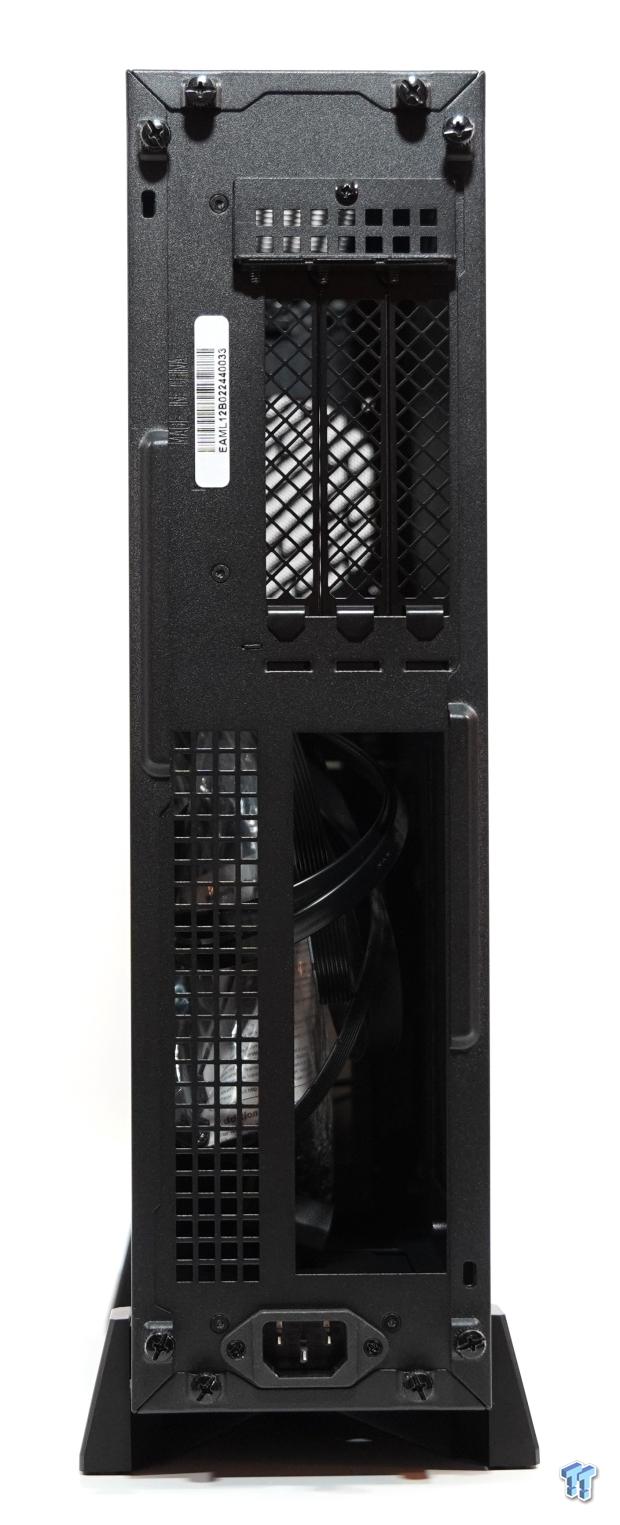 The rear of the MILO 12 showcases the thin and compact design. Captive thumb screws hold the top, bottom, and side panels all in place. Support for up to three slot GPU and SFX PSUs with a relocated power cable input located on the bottom.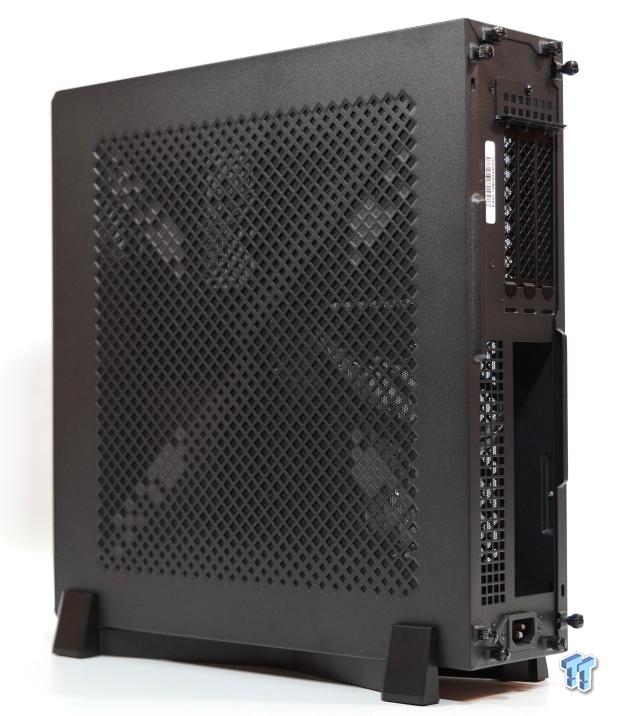 Shown here is the included stand that snaps together in the middle.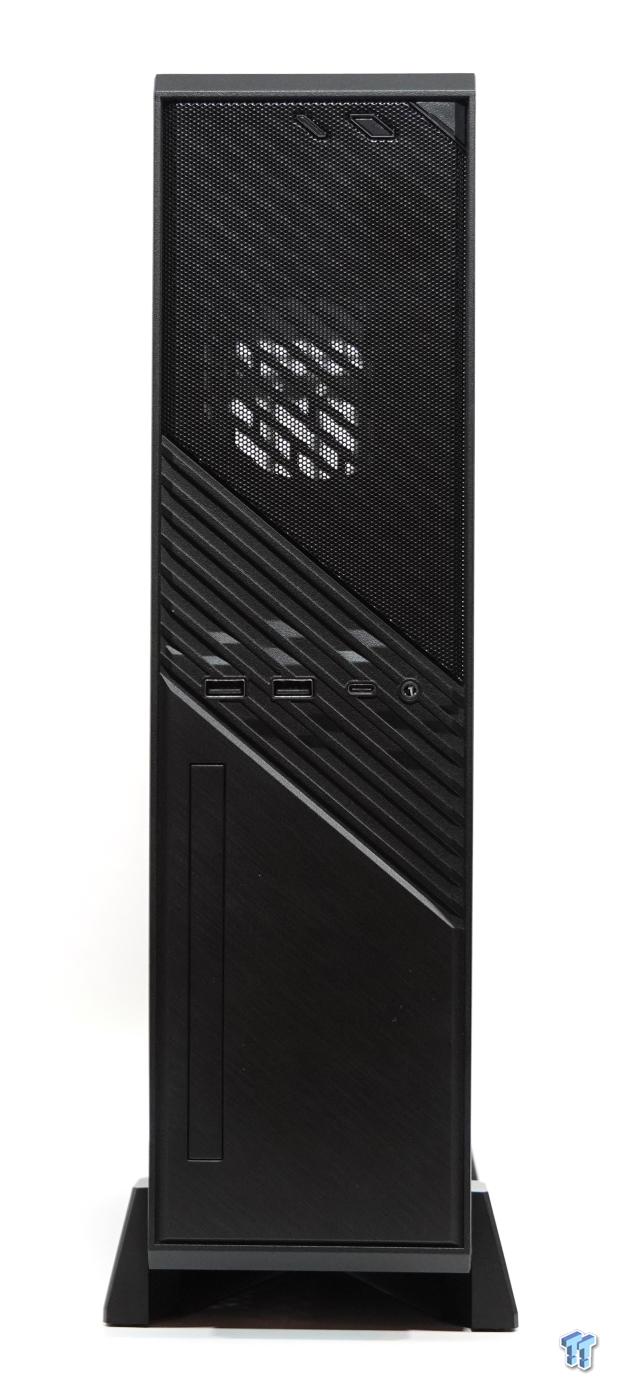 The front of the MILO 12, starting with the top, shows some mesh ventilation, with the HDD activity light, button, and a hidden triangular power button. Moving down to the center is the front I/O, consisting of two USB 3.0 Type-A ports, a single USB Type-C (Key A)port, and a combination headphone/microphone 3.5mm jack. Also, for the astute among you, a 9,5mm ODD can be supported here as well, pop out the bit of plastic, and you are in business, just as long as an SFX-L PSU is used.
Inside the SilverStone MILO 12 mITX Case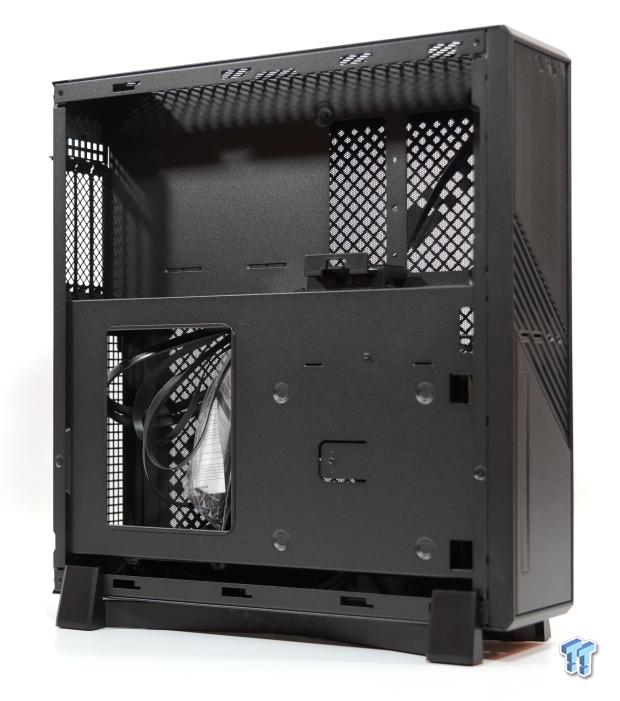 Taking the left side panel off shows the GPU chamber, which supports up to a triple-slot GPU. GPUs up to 345mm in total length can be installed. On the right-hand side, a GPU support bracket can hold the GPU in more securely. The backside wall of the GPU chamber also has a large cutout to allow GPUs with an air flowthrough design to breathe more easily.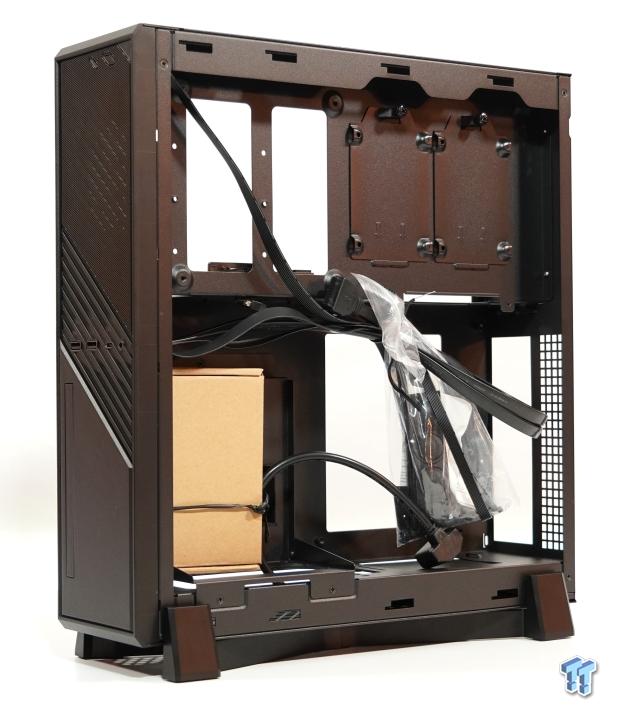 On the CPU and PSU chamber side of the MILO 12 is support for two SSD or HDD on the other side of the GPU chamber, while to the right of the SSD, mounts show support for a 140mm fan mounting to aid with air crossflow. Moving down into the PSU and CPU chamber is the bracket for mounting an SFX PSU. To the right of the PSU bracket is where an mITX motherboard is mounted, complete with a rectangular cutout for easier access for maintenance.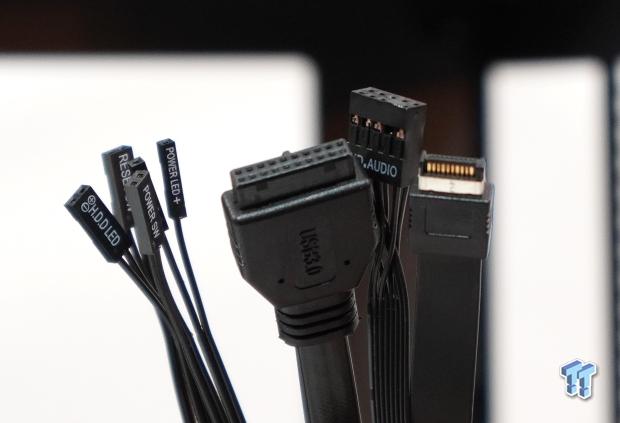 The all-blacked-out cabling is much appreciated, starting with the front panel pin connections, USB 3.0 header, HD Audio, and the USB Type-C connector.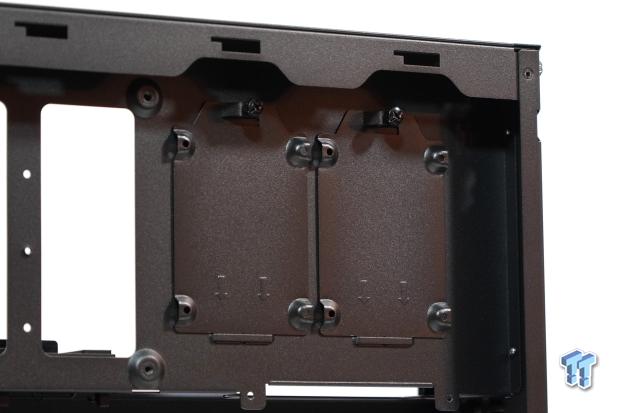 Another shot of the two SSD or HDD brackets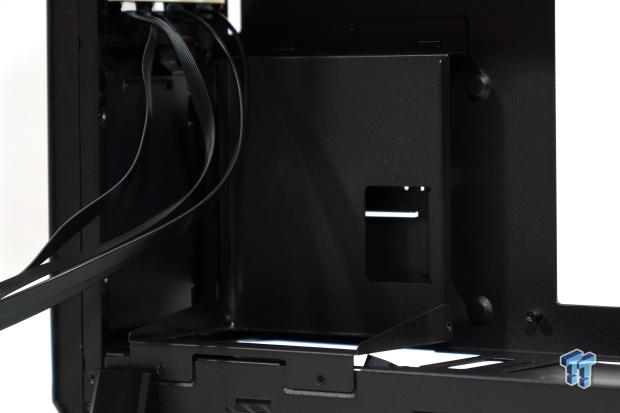 The PSU bracket can support a full-size ATX or SFX-L PSU.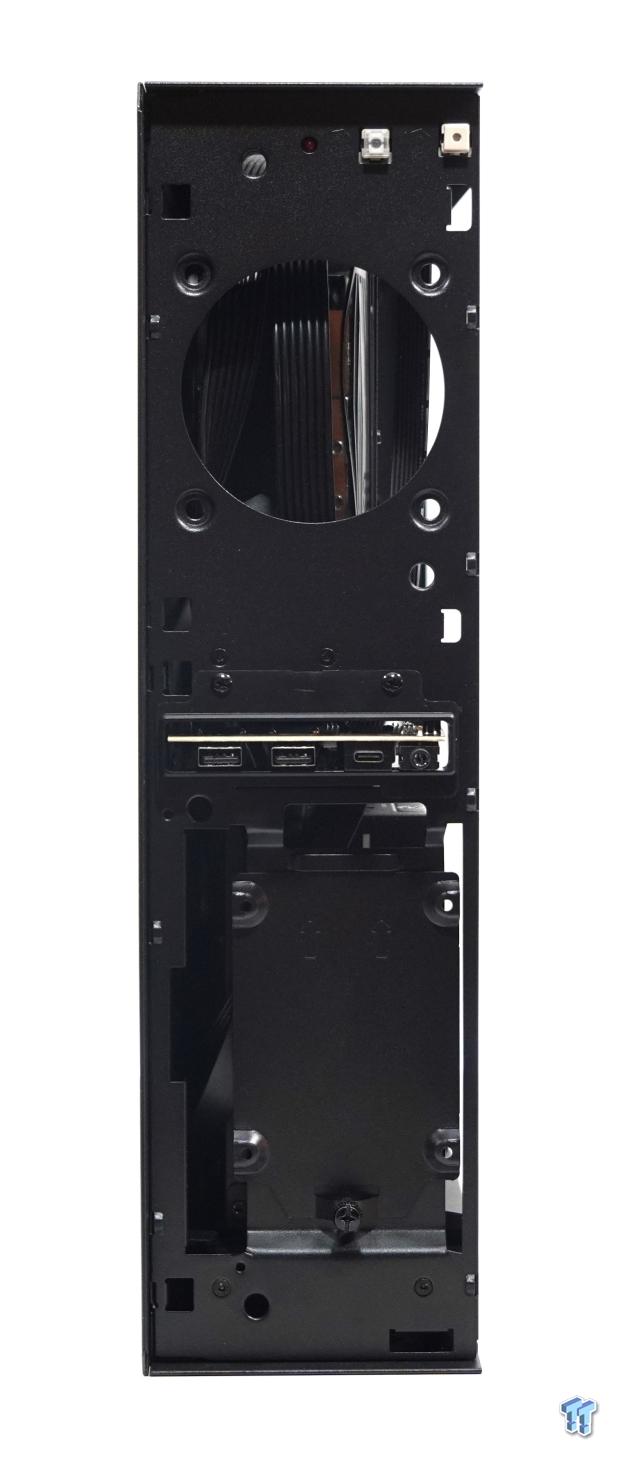 Removing the front cover reveals a few more secrets the MILO 12 was hiding. An 80mm fan can be installed in the GPU chamber to aid airflow. A third mounting location for a 2.5" SSD or HDD is in front.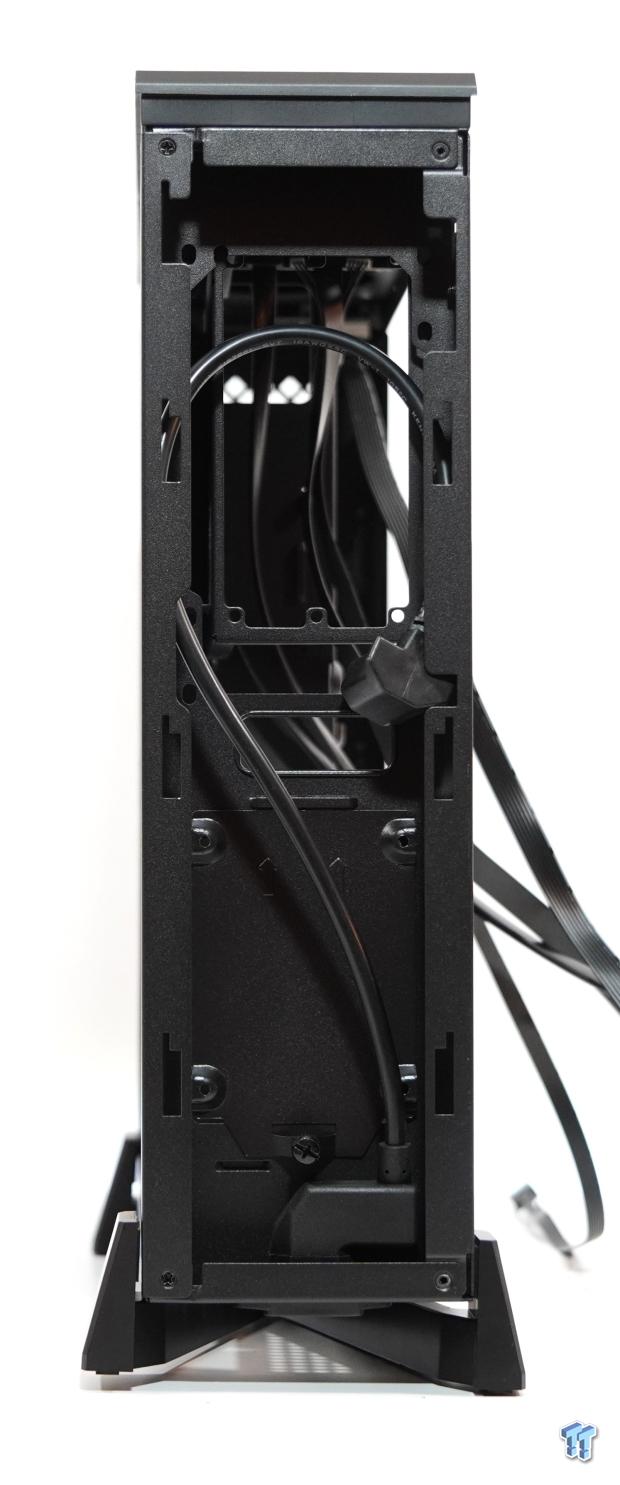 Removing the bottom panel reveals where the SFX PSU would be plugged in with the included extension, and we find a fourth location for 2.5" SSD or HDD support.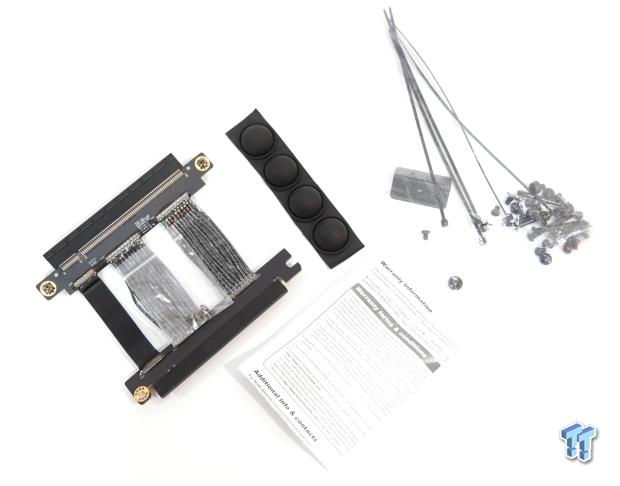 SilverStone includes a PCIe 4.0 riser cable, rubber self-adhesive feet, zip ties, screws, ODD mount, and warranty information.
Test System, Installation, and Finished Product
Motherboard: B650I AORUS Ultra(AMD B650) - Buy from Amazon
CPU: AMD Ryzen 9 7900 - Buy from Amazon
Cooler: SilverStone Technology Hydrogon H90 ARGB - Buy from Amazon
[
Memory: Patriot Viper Venom RGB DDR5-5600 32GB - Buy from Amazon
Storage: Kingston Fury Renegade 1TB Gen4 PCIe x4 NVMe M.2 SSD - Buy from Amazon
Case: SilverStone Milo 12 mITX - Buy from Amazon
Software: AIDA64 Engineer 6.32.5600, and CPU-z 1.94.0 x64
Power Supply: Corsair SF850L 850w ATX 3.0 PSU - Buy from Amazon
OS: Microsoft Windows 11 Pro 64-bit Build 22621 - Buy from Amazon
Software: AIDA64 Engineer 6.8.6300, and CPU-z 2.03.0 x64
Final Thoughts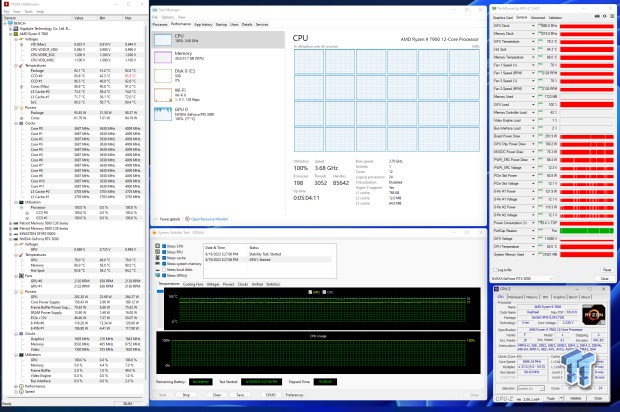 Testing for around five hours, the MILO 12 did not take even that long to heat up. The test system has an AMD Ryzen 9 7900 on a B650i AORUS Ultra motherboard and an NVIDIA RTX 3090 from Zotac. The Ryzen 9 7900 12 core 24 thread CPU has a TDP of 65 watts, which in all actuality ran much higher than that, to the degree I had to BIOS limit the VCORE to 1V to keep temperatures under the Ryzen 9 7900s Tjmax temperature of 95C. That said, even limiting the VCORE to 1V, the package temperature still shot up to 92C while using a SilverStone Hydrogon H90 SFF CPU cooler. The upside is the Ryzen 9 7900 is never downclocked to keep temperatures down.
On the other hand, the GPU, the NVIDIA RTX 3090 by Zotac, ran quite well at a max temperature of 78C. Now looking at why the GPU cooling was so good compared to why CPU cooling was so poor, it was because of how close the GPU was to the side panel. The GPU was able to pull in fresh cool air much more effectively than the CPU was, especially since the Hydrogon H90 SFF CPU cooler only is 48mm in total height, not even reaching close to the maximum height of 77mm to reach the cooler air through the mesh side panel. Another factor is the design of the 7000 series of CPUs from AMD, which are meant to run hot by design. AMD had designed these CPUs to run almost to the Tjmax threshold of 95C to maintain a higher clock speed.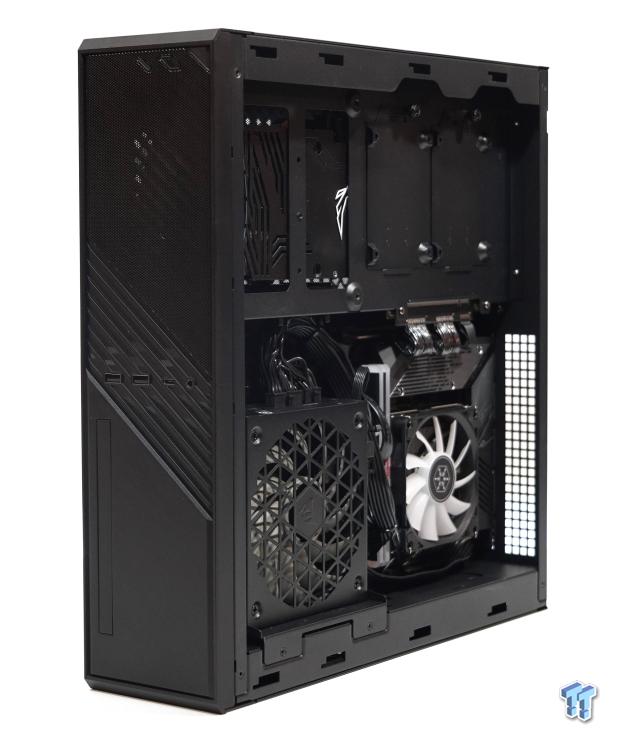 Conclusion time, is the MILO 12 from SilverStone a good mITX case? Building it was great, and everything seemed to have a place. Would I recommend it to a gamer? No, not really. I actually would recommend it for HTPC use. Possibly. Where the MILO 12 truly would shine is for the professional that didn't want a lot of bling with a slim, compact design. Also, high-end hardware should apply elsewhere since CPU cooling can be an issue, so anything over a 65-watt CPU should be avoided entirely.
Priced at a staggering $179.99, it makes for a hard pill to swallow for a mITX case. For example, Fractal's Ridge keeps the same form factor and design as the MILO 12, but it costs around $50 less.