TweakTown's Rating: 88%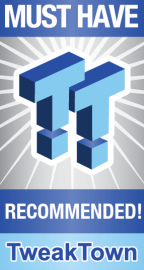 The Bottom Line
The HyperX Cloud III is here and it retains the supreme comfort and great balanced sound of its predecessor. It's a shame then that there hasn't been much progress on the software and microphone front.
Pros
+

Premium build quality and comfort

+

Subtle improvements over previous models

+

Balanced sound that is crisp, detailed, and well-tuned for gaming

+

3.5mm and USB for versatility

+

Value for money
Cons
-

Microphone and voice quality is lacking

-

HyperX NGENUITY software is bad to mediocre
Should you buy it?
Avoid
Consider
Shortlist
Buy
Introduction & Specification Details and Close-up
In the sea of the many different gaming headsets we've seen over the years, the HyperX Cloud series has made some serious waves as an affordable solution delivering great sound quality at an affordable price. Like any other peripheral, when you nail the right blend of affordability and quality, a product begins to resonate - and this is one of the reasons the HyperX Cloud II has been a gamer staple for years.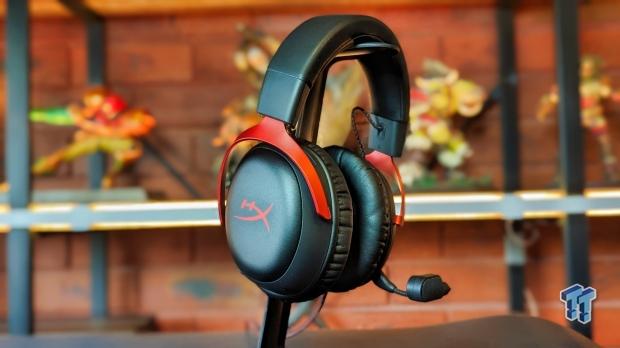 This makes the arrival of the new HyperX Cloud III Gaming Headset (debuting in a wired hybrid 3.5mm and USB form) something to get excited about. Does it retain the same quality found in the previous generation? What does the jump from Cloud II to Cloud III bring to the table to justify the sequel-sized naming? As a review, we'll dive into all of this and more - but the main takeaway after spending considerable time with the new HyperX Cloud III across PC and Xbox Series X (mostly playing Diablo IV) is that you're looking at a case of 'if it ain't broke, don't fix it.'
Most of the differences are subtle; at a glance, the HyperX Cloud III looks almost identical to the HyperX Cloud II. But, several little changes make the overall fit more comfortable and even more friendly to glasses wearers. On the sound quality front, the fact that it's mostly the same is good news - the wide, balanced, and crisp sound with clear frequency separation that made the Cloud II great for gaming is still here. And you've got what HyperX is calling an improved ultra-clear microphone. Let's dig in.
Specifications & Close Up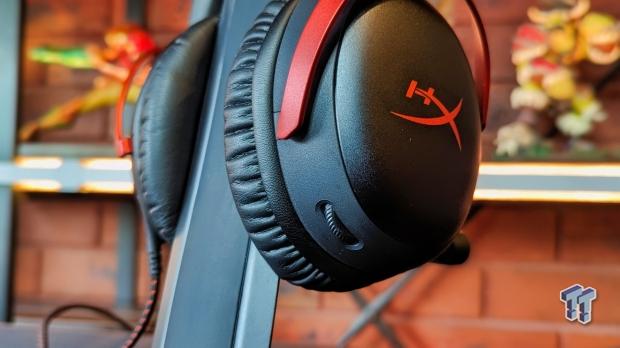 Product Type: Wired Gaming Headset
Interface: 3.5mm/USB
Form Factor: Over Ear Closed
Drivers: 53mm with Neodymium magnets
Headphones Frequency Response: 10 - 21,000 Hz
Microphone Pick-up Pattern: Uni-directional, Noise-cancelling
Surround: Windows Sonic (Xbox, PC)
Cable: 3.5mm
Weight: ~ 300 grams
In the Box: HyperX Cloud III Gaming Headset, Detachable Microphone, USB Dongle, USB-C to USB-A Adapter, Quick Start Guide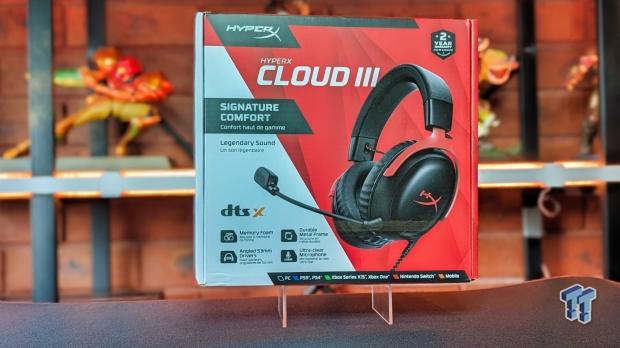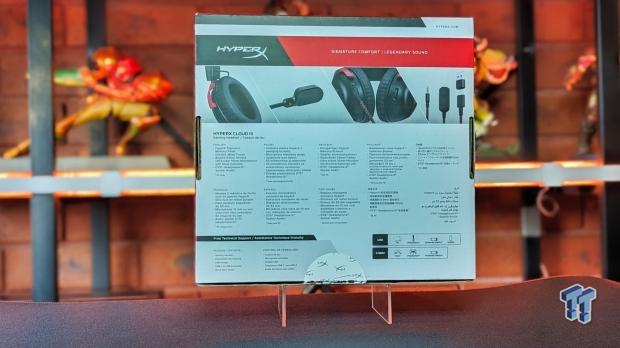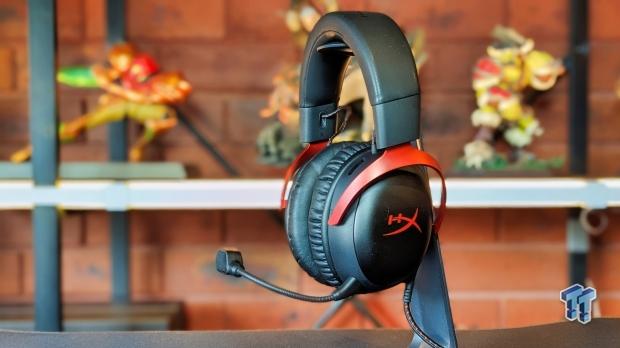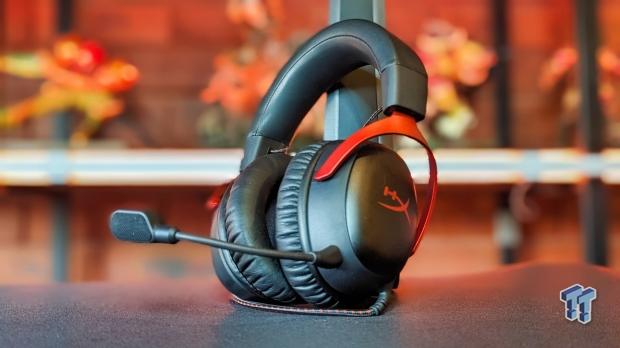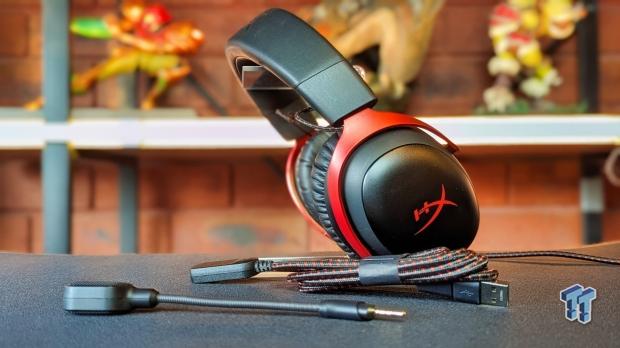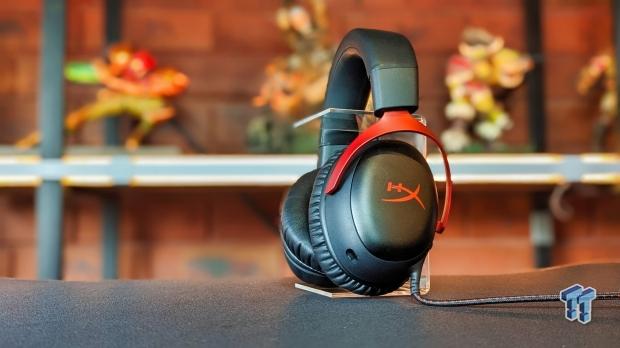 Kosta's Test System Specifications
Motherboard: MSI MPG X670E Carbon Wi-Fi
CPU: AMD Ryzen 9 7900X
GPU: NVIDIA GeForce RTX 4090 Founders Edition
Cooler: Corsair iCUE H100i RGB PRO XT Liquid CPU Cooler
RAM: 64GB (2x32GB) Corsair DOMINATOR PLATINUM RGB DDR5 DRAM 5200MHz
SSD: Sabrent Rocket 4 Plus-G M.2 PCIe Gen 4 SSD 4TB, Sabrent Rocket 4 Plus Plus M.2 PCIe Gen 4 SSD 8TB
Power Supply: Thermaltake Toughpower GF1 850W
Case: Thermaltake Core P3 Tempered Glass Snow
OS: Microsoft Windows 11 Pro 64-bit
Design & Software and Support
Design
Although this a brand-new headset in the form of the HyperX Cloud III, it still retains the black and red aesthetic of the HyperX Cloud series and the red-colored metal hinges above the earcups. This is a good thing, iconic almost, as it makes the HyperX Cloud III something you'll immediately recognize if you've ever seen or used a Cloud product in the past. The big difference, at least in terms of the physical look, is the removal of the red stitching on the headband for a more minimal and modern look.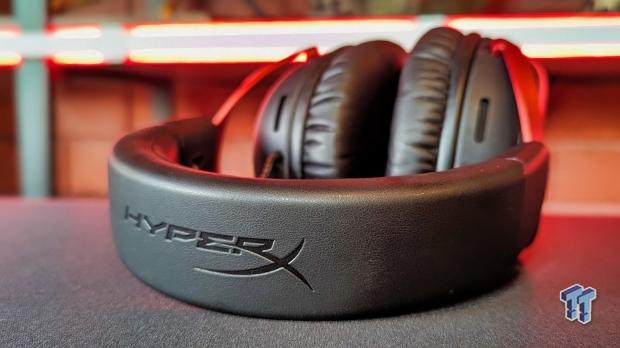 Unsurprisingly, the new HyperX Cloud III is a comfortable gaming headset you can wear for extended sessions (the norm when playing Diablo IV), with similar leatherette cushions with memory foam that are great for glasses wearers. Overall, head pressure is minimal, and there's very little in the way of sound bleed.
The only notable change regarding the fit is the retuned 53mm drivers, now slightly angled to deliver a more nuanced and pronounced soundstage. The slight angle is minimal and doesn't affect the comfort, but it translates to the cups. The HyperX Cloud III is durable to a fault, with a metal frame, hinges, and a premium feel to the construction that's great to see in the USD 100 price range.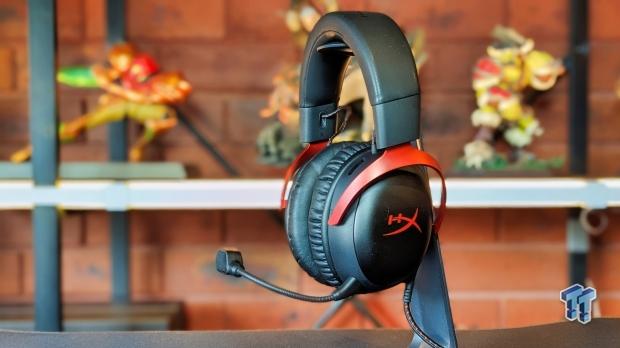 The HyperX Cloud is comfortable, but its 300-gram weight makes it heavier than some wired and wireless headsets. A lot of the comfort with a headset comes from the cushions, headband, and weight distribution - and HyperX's game is on point across all three here.
With support for PC, PS5, PS4, Xbox Series X|S, Xbox One, Switch, and Mobile devices, the HyperX Cloud III is versatile with a single 3.5mm connection for consoles (a nice and short thick braided cable you connect to a controller or smartphone) with a USB extender and adaptor for the PC side of things.
Software and Support
With a wired analog connection for console use, connecting the HyperX Cloud III to a gaming PC requires a pack-in USB dongle and extender. It's a surprisingly smart way to approach compatibility with multiple devices and something we'd be happy to see widely adopted - as long as the DAC is of a decent quality like it is here. The only real downside is that HyperX NGENUITY is the official software for the HyperX Cloud III, and it's one of the worst out there regarding features and customization options.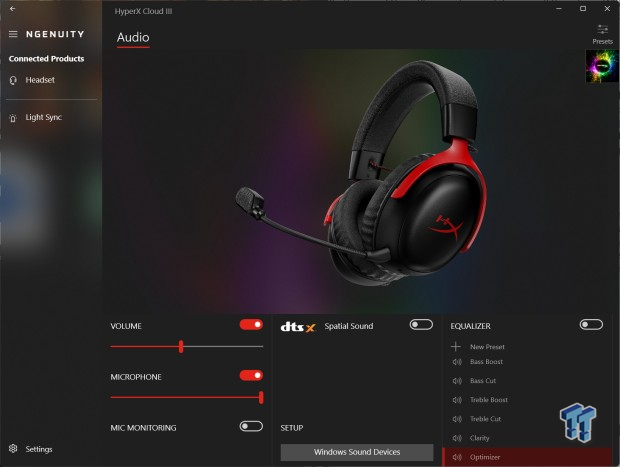 Its limitations are not a deal breaker, nor is the fact that it's a native Microsoft Store app, but it is disappointing nonetheless. HyperX has been using this barebones NGENUITY app for so long that we're surprised the arrival of the HyperX Cloud III didn't also feature an overhaul to the app. Outside of basic volume controls, you've got a clunky 10-band equalizer with some presets, the ability to create custom ones, and the option to enable DTS X Spatial Sound. It's the bare minimum, so it's a good thing that the default sound profile is tuned for gaming.
Performance & Microphone
Performance
Balanced and crisp without being harsh or overly bass-heavy, that's probably the best way to describe the HyperX Cloud III's sound for gaming across PC and consoles. This translates to a decent sound profile for music, as there's a clear separation between the low-end and high-end, though it's not at the sort of level you'd consider audiophile. Delivering decent sound quality across movies, music, and games is good for gaming headsets. It means you're getting enough nuance and detail to suit everything from a competitive shooter to a cinematic blockbuster.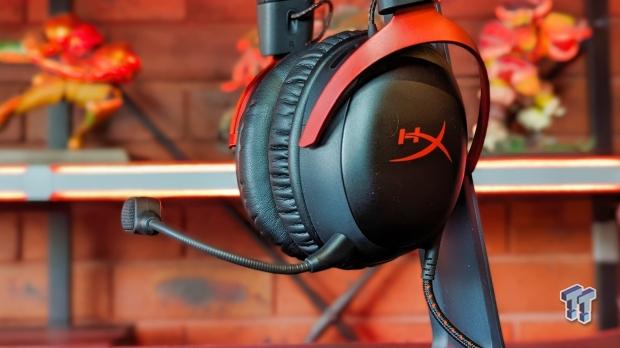 Testing the HyperX Cloud III with Diablo IV, a lot of the world and environment detail shines through - from each demon slaying hit registering to the somber music playing in the background and the many NPCs out in Sanctuary dispensing side quest after side quest. A bigger emphasis is placed on high-end frequencies and where vocals sit, which is not uncommon for a gaming headset. Still, the overall effect isn't jarring to the point where it's not versatile enough to handle more music-driven games like Tetris Effect.
It makes the HyperX Cloud III well-suited for shooters like Call of Duty, Apex Legends, and others, where all weapons and chatter come through clear - with the bonus of low-end rumbles and explosions still hitting those immersive 'bone-rattling' levels. The bass can be tweaked if you can access an equalizer, though it isn't required as HyperX has delivered a great out-of-the-box sound with plenty of low-end.
Microphone
The HyperX Cloud III features a detachable microphone, which HyperX claims provides better clarity and overall performance than the Cloud II's microphone. The microphone is larger, that's for sure, 10mm versus 6mm, and comes with in-built noise cancellation, is unidirectional, and even includes a little pop filter.
The mute button is behind the left earcup, with the only lighting on the entire Cloud III being the red indicator on the microphone, indicating that you're currently muted. As for voice quality? It's fine, decent for in-game chatter, but nowhere near broadcast quality, as it lacks depth - which is a shame. We were expecting a massive improvement in this area but got a modest one instead.
Final Thoughts
The HyperX Cloud III doesn't redesign or radically transform one of the most popular and well-received gaming headsets in recent years. Instead, you've got some subtle improvements with that same focus on quality, comfort, and affordability.
There are so many gaming headset options when looking at the popular (and crowded) USD 100 price range, and the HyperX Cloud III - in wired form - remains a great choice for those looking for a versatile headset that can go from PS5 to PC and over to the Switch without skipping a beat. It'll work great with beats, too, providing a more balanced sound than what you'd find in most bass-heavy gaming headsets.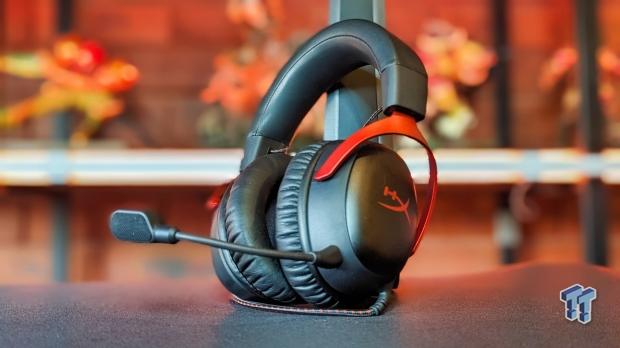 Even with so much time between the release of Cloud II and the arrival of Cloud III, there are still a few areas HyperX can improve upon. The software support on the PC side is, as best, serviceable - mostly though it's several steps behind the competition, and that's a problem.
Also, the microphone only sees a marginal improvement over the Cloud II - and it would have been wonderful to see a bigger improvement in this area. Ultimately, you've still got the same great HyperX Cloud sound and comfort, which makes it a winner.