TweakTown's Rating: 87%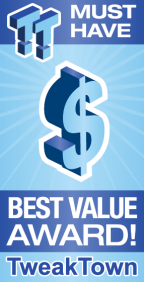 The Bottom Line
GIGABYTE cut a ton of corners on the A620M Gaming X, but still offers a rather decent AM5 motherboard for those on a budget.
Pros
Cons
-

Gigabit Ethernet

-

No Wi-Fi

-

Limited M.2 slots
Should you buy it?
Avoid
Consider
Shortlist
Buy
Introduction, Specifications, and Pricing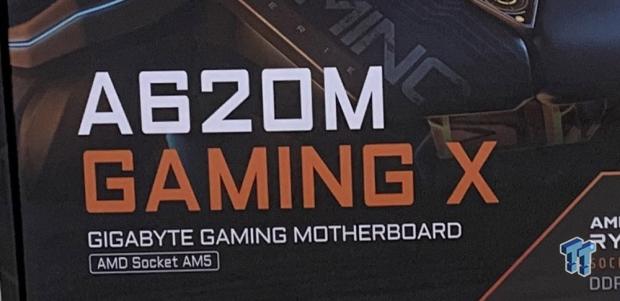 While ASRock supplied us with our first look at AMD's A620 chipset, GIGABYTE wasn't far behind with a board of their own. The A620M Gaming X is their flagship motherboard for this series and sports a slightly better VRM than the Pro RS from ASRock, allowing a bit better support for the top-end Ryzen 7000 processors.
The A620M Gaming X is a socket AM5 motherboard. Alongside support for all current Ryzen 7000 CPUs, the Gaming X supports DDR5 memory up to 6400MHz via OC and 192GB peak capacity with the new 48GB modules and EXPO technology.
Expansion is handled with two PCIe slots, one x16 supporting PCIe 4.0 and one x1 slot that picks up Gen3 from the chipset. The storage interface includes a single M.2 slot supporting Gen4 and four SATA pulled from the A620 chipset.
Connectivity includes one USB 3.2 Gen 2 port on the rear panel and three additional USB 3.2 Gen 1 ports. You will find Gigabit ethernet and Realtek audio here as well.
Pricing
As for pricing, the GIGABYTE A620M Gaming X comes in at a very decent $109.99 with a one-year warranty.
Packaging, Accessories, and Overview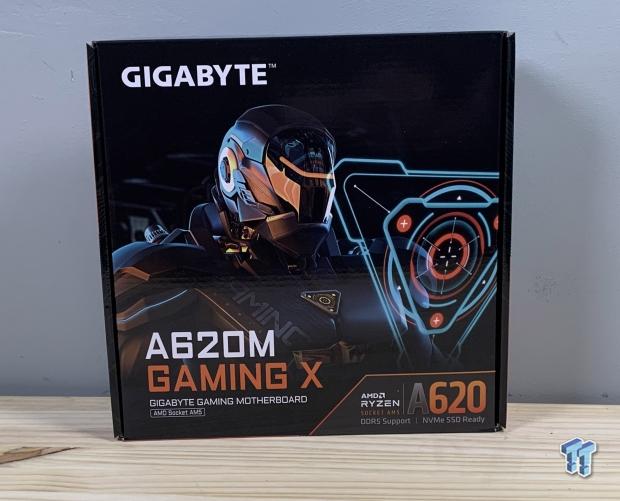 GIGABYTE sent us the A620M in its retail packing. This includes the traditional black and orange colorway and hardware support along the bottom.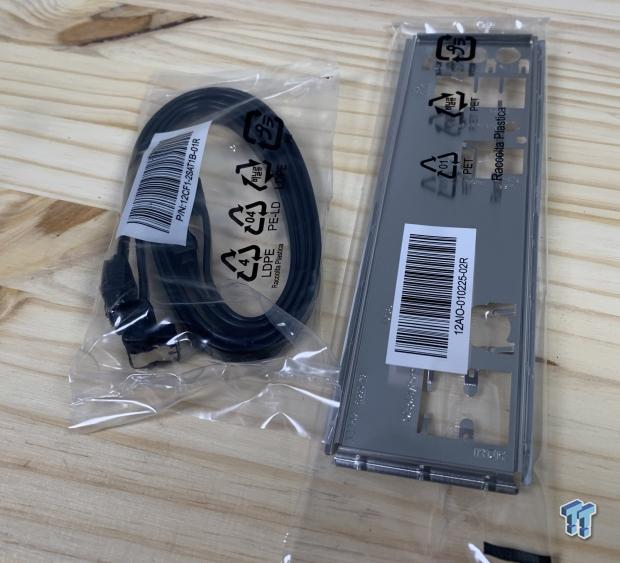 The scope of delivery includes SATA cables and the rear I/O plate.
GIGABYTE A620M Gaming X Overview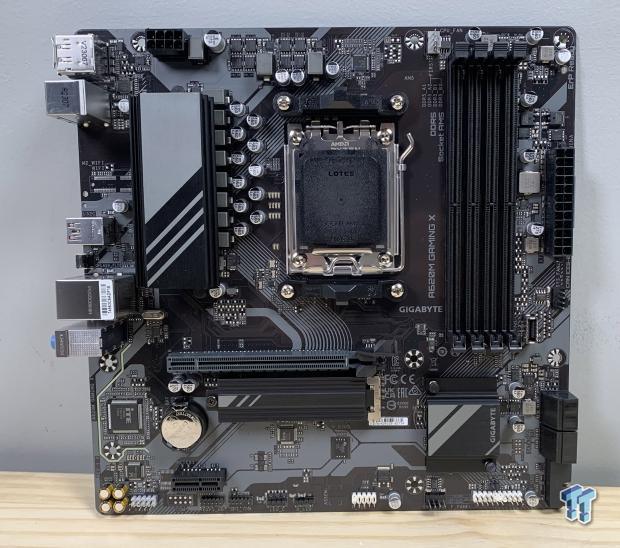 Like many A620M motherboards, the Gaming X is a Micro-ATX solution. This board sports four DIMM slots top right, with the AM5 socket centered. The VRM is heatsinked on the left, as is the chipset and single m.2 slot.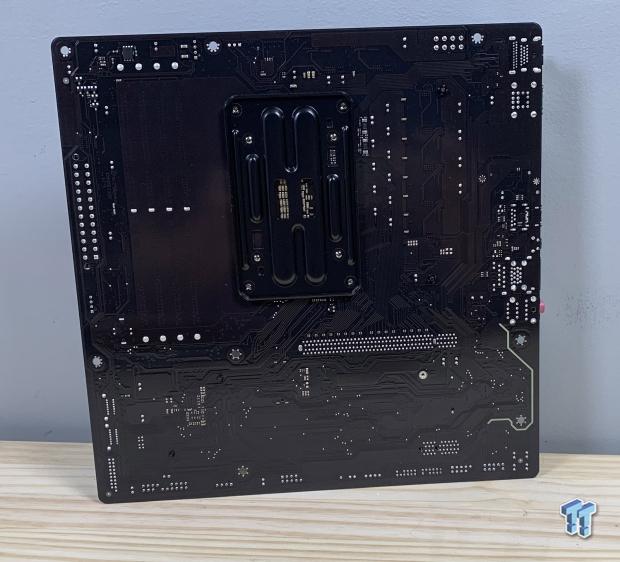 The back of the board includes the socket backplate.

The rear I/O includes HDMI and DP to the left, followed by USB 2.0 and 3.2 ports, gigabit ethernet, and three 3.5mm audio jacks.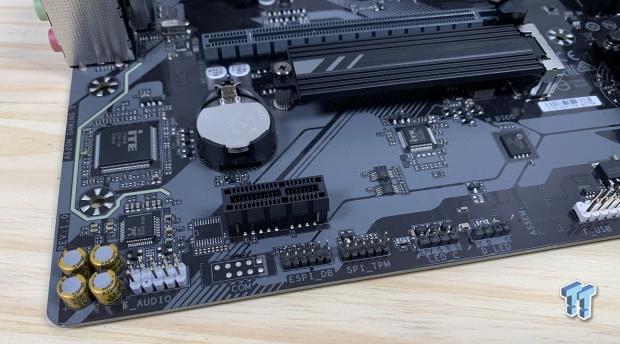 The board layout includes a front panel audio header and two RGB connections.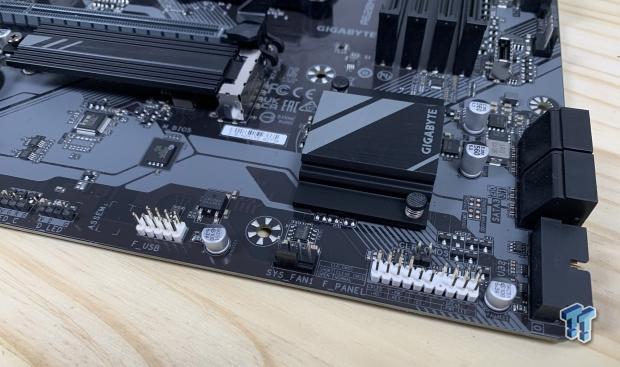 Further down, we have our first fan header and front panel chassis connections.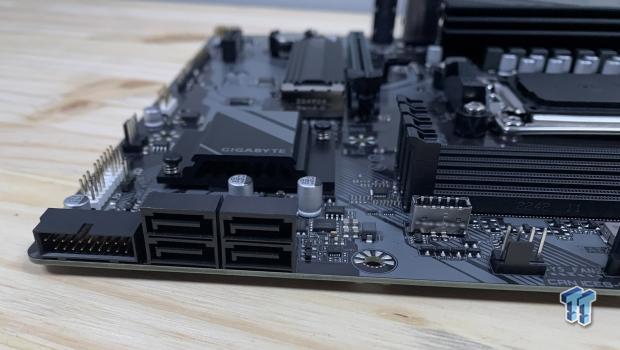 Around the corner, we run into a USB 3.2 internal header and four SATA ports, while further right, we have the Gen 2 internal header and additional fan connections.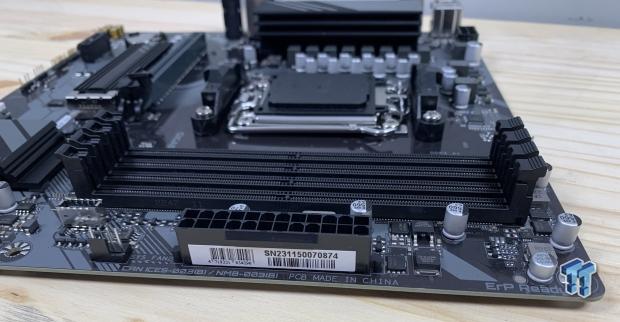 Continuing up the side, we ran into the 24-pin power connection.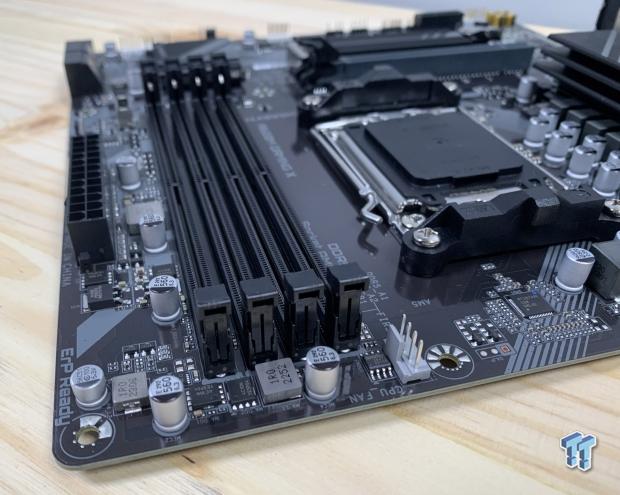 Rounding the last corner, we find more fan headers.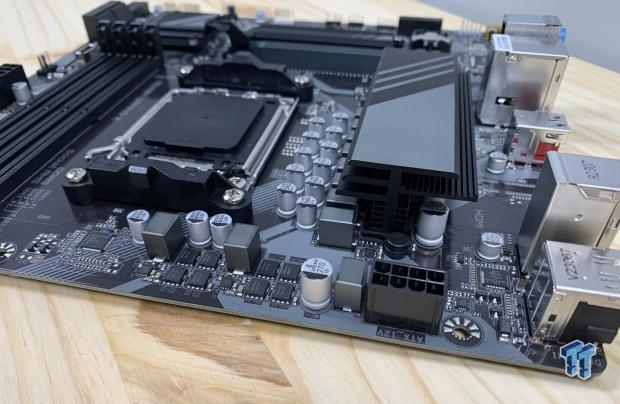 Up top, a single 8-pin connection.
UEFI, Software and Test System
UEFI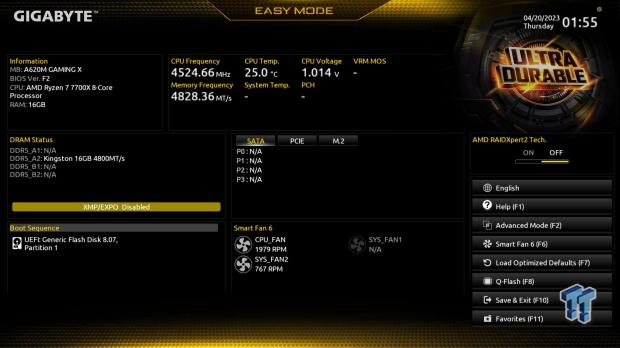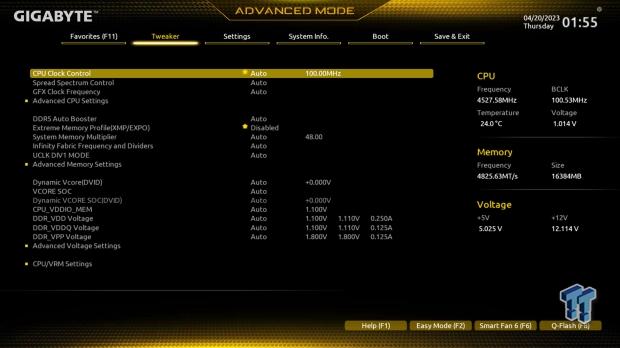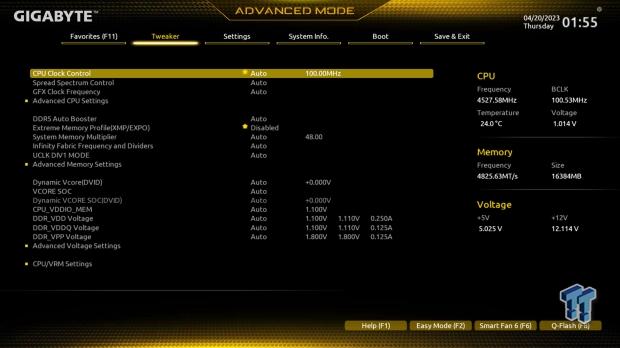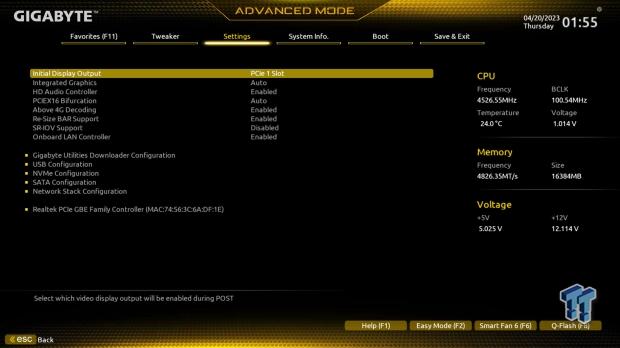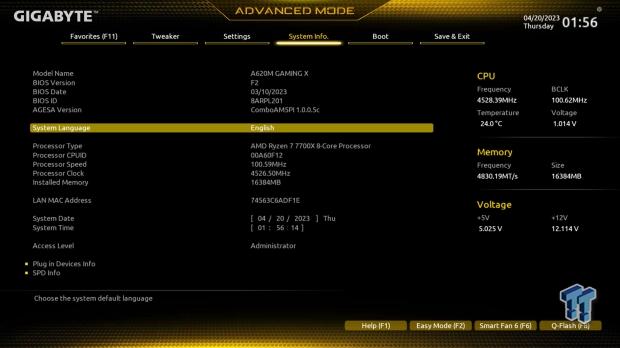 It has been several years since we got into an Ultra Durable BIOS. That said, the layout is quite similar to the AORUS motherboards. Easy Mode gives us general hardware information, including installed DIMMS and CPU. Boot sequence and smart fan support can be found at the bottom.
Going to advanced mode, we find Tweaker with controls for overclocking the memory and control of the voltages. This is followed by the settings menu that includes options for controlling the output device, audio, and storage on the motherboard.
Motherboard Testing Supporters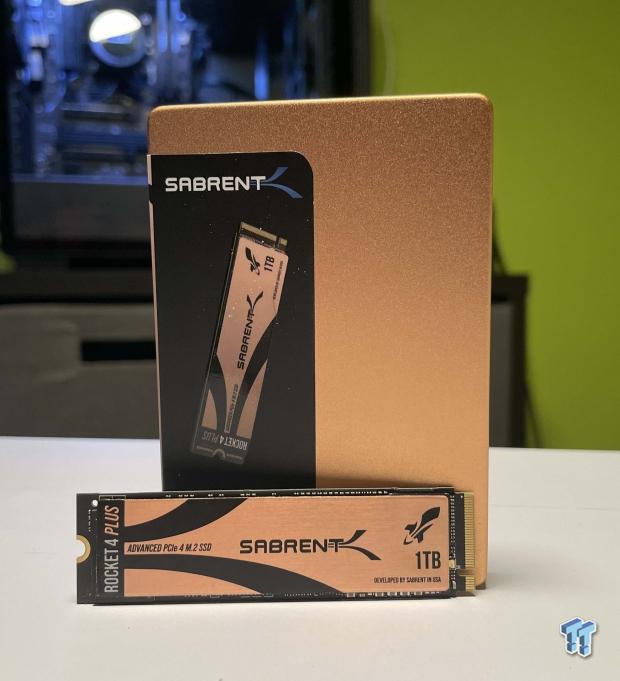 Sabrent supports our storage testing with the Rocket 4 Plus.
AMD Motherboard Test System
Cinebench R23 and AIDA64
Cinebench R23
Cinebench is a long-standing render benchmark that has been heavily relied upon by both Intel and AMD to highlight their newest platforms during unveils. The benchmark has two tests, a single-core workload that will utilize one thread or 1T. There is also a multi-threaded test that uses all threads or nT of a tested CPU.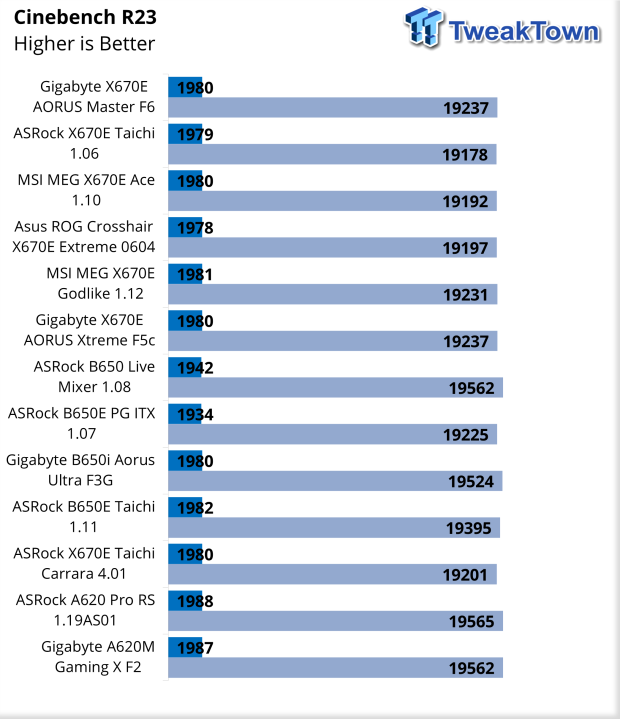 Cinebench R23 was our first test, as it usually is. With this, we found Gaming X giving us 1987 single thread and 19562 nT.
AIDA64 Engineer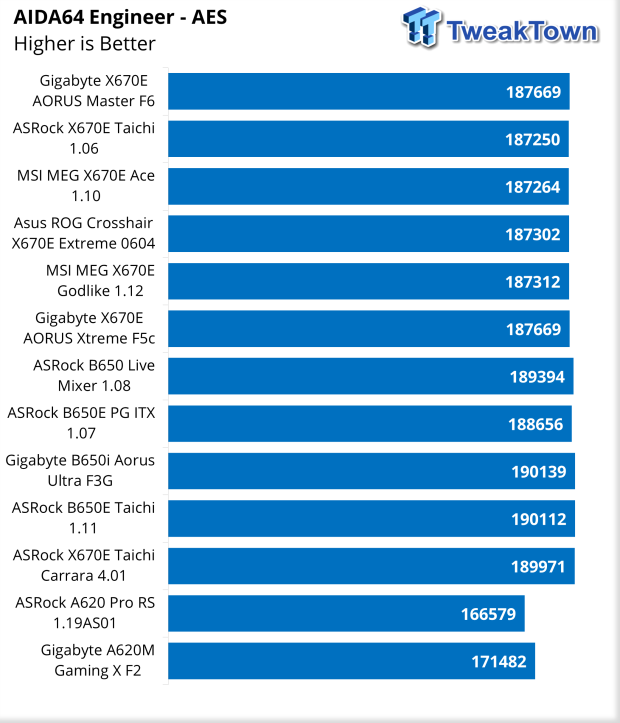 AES was similar to the ASRock solution, though the Gaming X scored a bit better at 171482.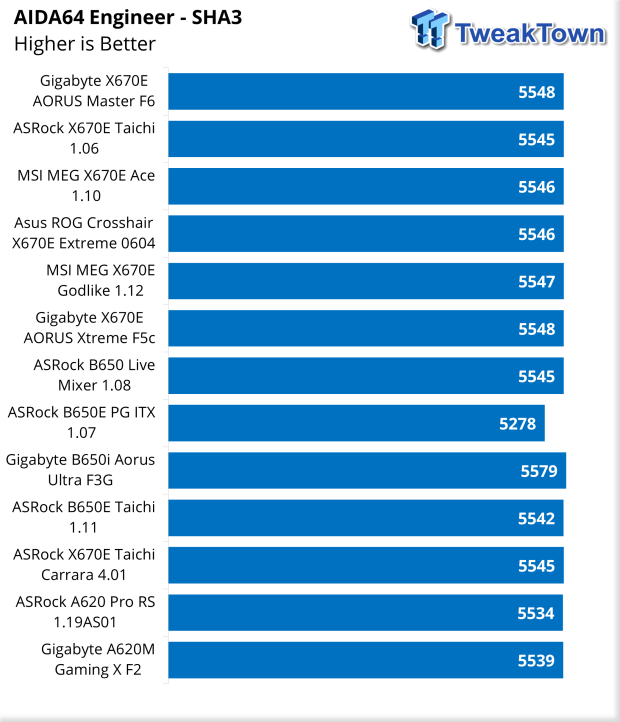 SHA3 picked up 5539.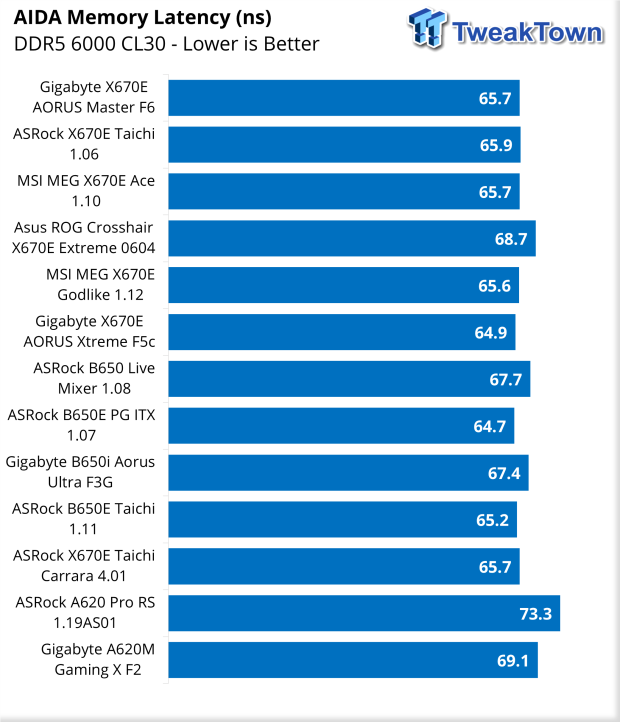 Memory latency for this board landed at 69.1.
PCMark, 3DMark and CrossMark Benchmarks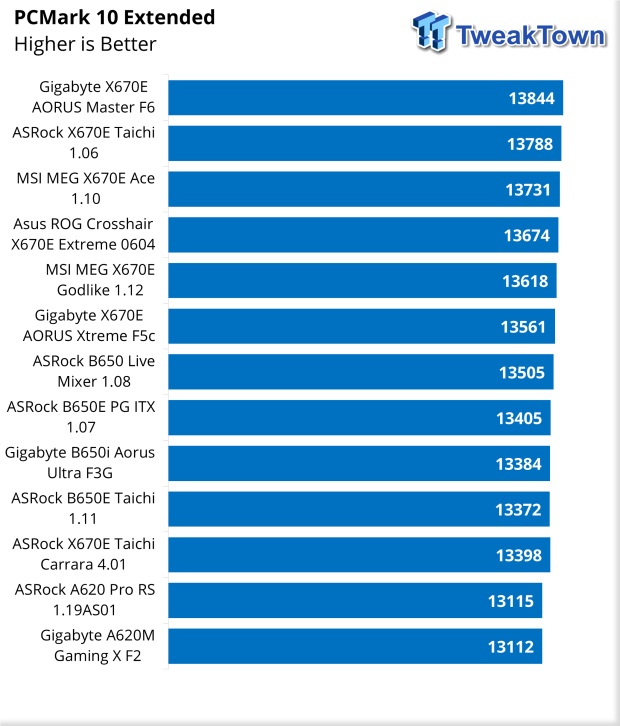 Dialing up PCMark 10 extended, the Gaming X pulled in 13112
CrossMark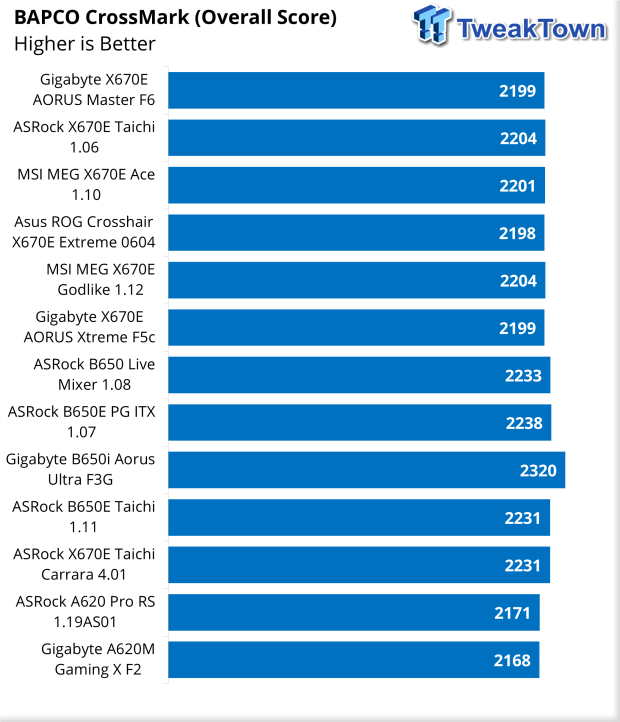 Crossmark offered us a score of 2168 for Gaming X.
3DMark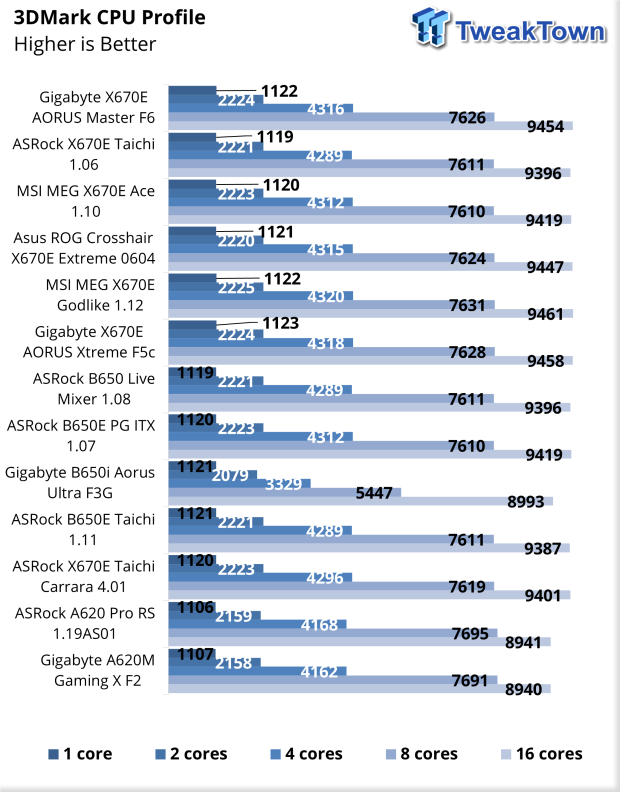 Moving our testing over to 3DMark, CPU profile ran quite similar to the ASRock solution. We noted a similar score with single thread at 1107 and the same at sixteen threads, the Gaming X grabbing 8940.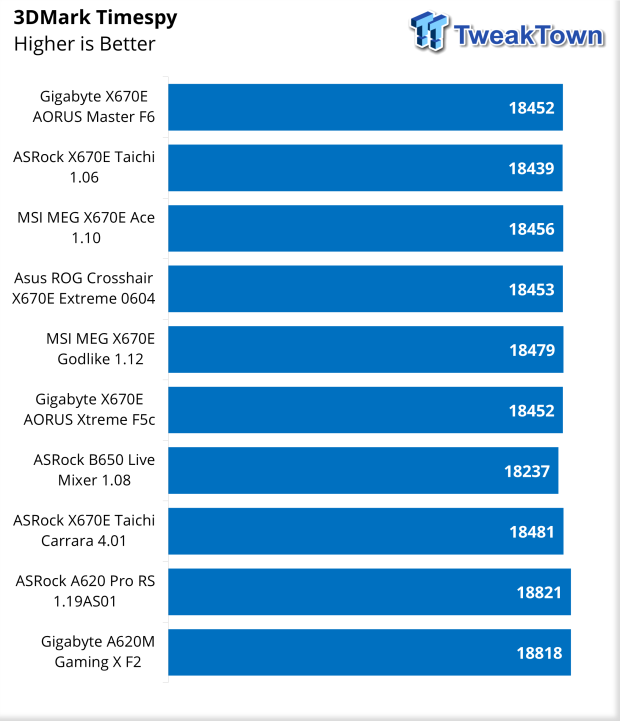 With our 3090 Ti, the Gaming X pulled off a 18818 score which ended up better than some X670 and B650 motherboards.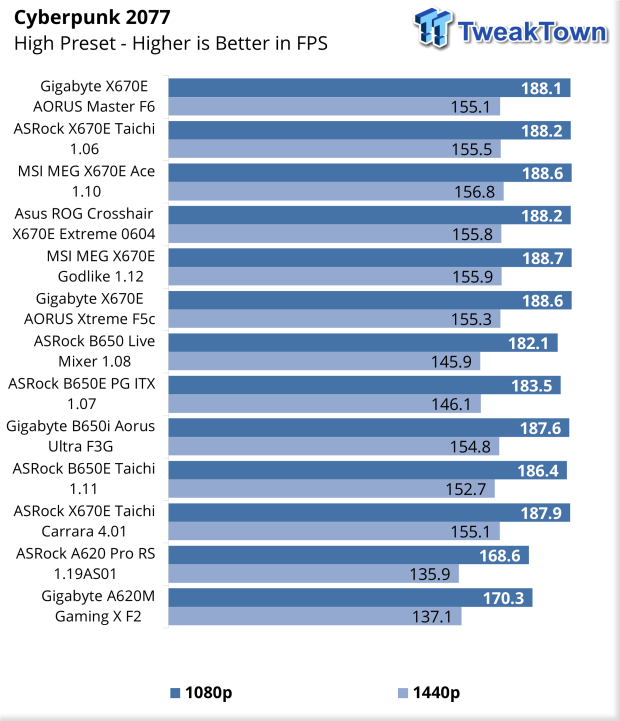 Running this board through Cyberpunk 2077, the Gaming X grabbed 170 FPS at 1080p, followed by 137 FPS at 1440p.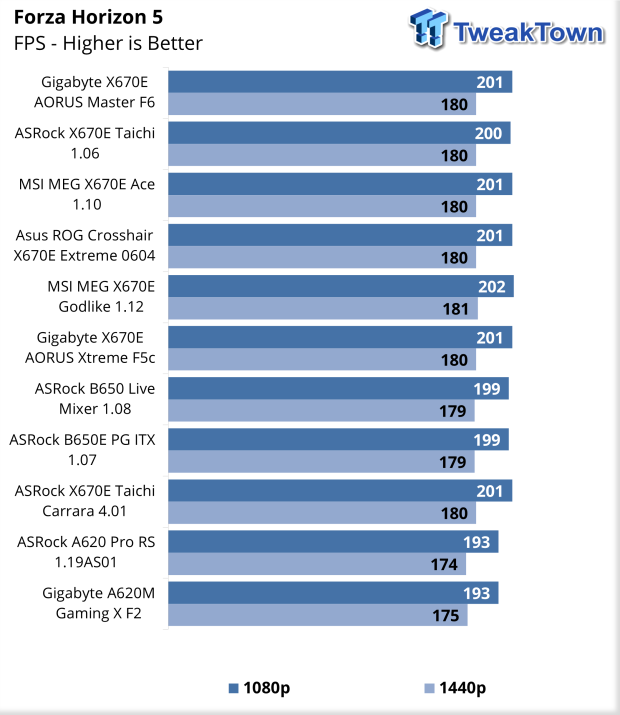 Forza Horizon landed us with nearly identical results to the ASRock board.
Storage Benchmarks and Final Thoughts
3DMark Storage Benchmarks
UL's newest 3DMark SSD Gaming Test is the most comprehensive SSD gaming test ever devised. We consider it to be superior to testing against games themselves because, as a trace, it is much more consistent than variations that will occur between runs on the actual game itself. This test is, in fact, the same as running the actual game, just without the inconsistencies inherent to application testing.
In short, we believe that this is the world's best way to test an SSDs gaming prowess and accurately compare it against competing SSDs. The 3DMark SSD Gaming Test measures and scores the following:
Loading Battlefield V from launch to the main menu.

Loading Call of Duty Black Ops 4 from launch to the main menu.

Loading Overwatch from launch to the main menu.

Recording a 1080p gameplay video at 60 FPS with OBS (Open Broadcaster Software) while playing Overwatch.

Installing The Outer Worlds from the Epic Games Launcher.

Saving game progress in The Outer Worlds.

Copying the Steam folder for Counter-Strike Global Offensive from an external SSD to the system drive.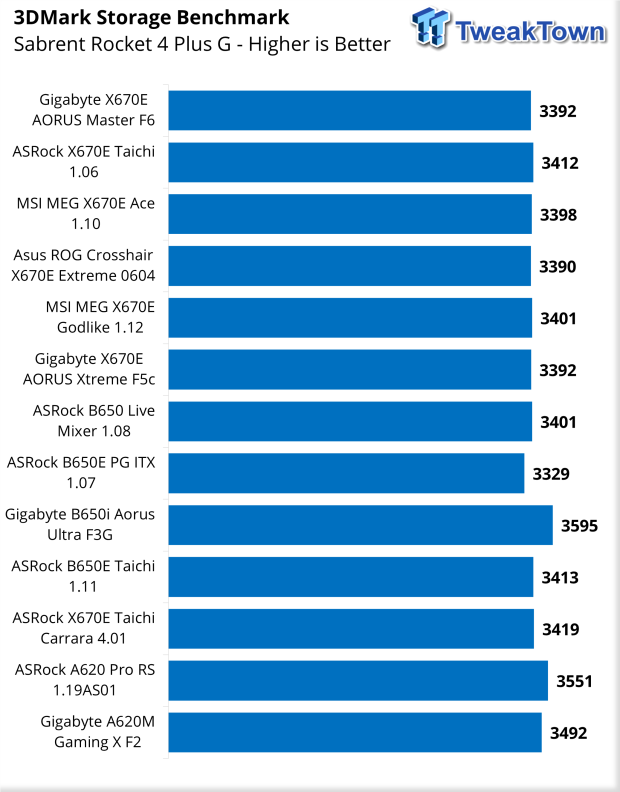 Storage for the Gaming X was in-line with what we have seen in the past. The board picked up a score of 3492.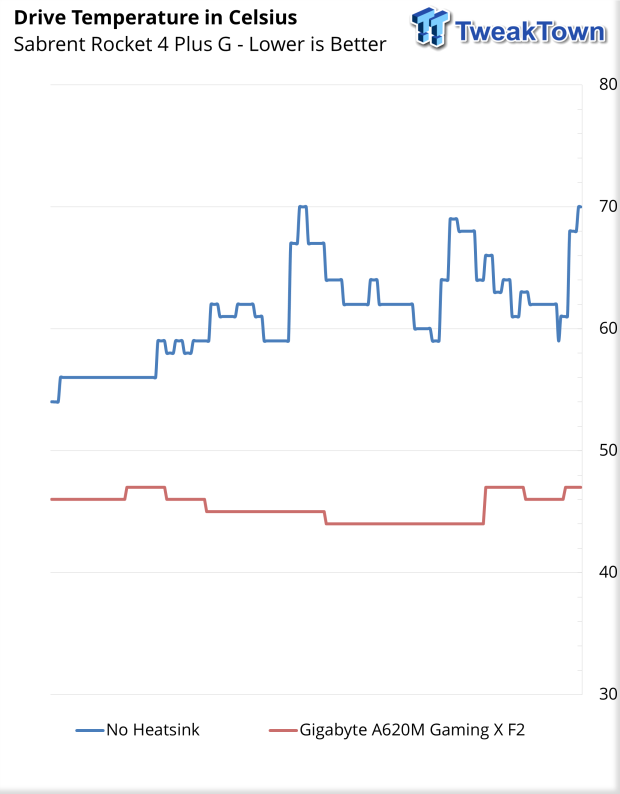 Drive temperature was a bit better on the Gaming X. Seen above, we hovered around 46c for most of the test, cooling off towards the end.
Final Thoughts
I was able to directly test this board after the Pro RS from ASRock, and coming off that board, I did note a bit better performance in several scenarios, including AIDA64 AES, where it's entirely possible that the slightly improved VRM solution allowed our 7700X a bit more room to stretch its legs. That being said, for the most part, the Gaming X ran neck and neck with the Pro RS, which is only fitting as they are the same chipset.
Connectivity on this board is excellent when it comes to USB, giving us a single 3.2 Gen 2 port and several Gen 1. But, on the flip side, GIGABYTE cut corners by removing Wi-Fi completely. Wi-Fi can be installed via the single PCIe x1, and we do have an x16 slot available for graphics, so not all is lost. This, too, has its caveats, as adding in the x1 slot and including 20Gbps USB 3.2 has limited this board to a single m.2 slot for your PCIe 4.0 NVMe solutions.
Pricing, on the other hand, is ridiculously low for this board. At $109.99, this board is likely the most inexpensive board we have reviewed, and if you don't want Wi-Fi and don't mind the limited m.2 slots, it could be an excellent entry for those building a budget AM5 rig.