TweakTown's Rating: 92%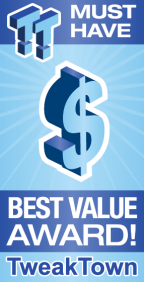 The Bottom Line
ASRock's B650 Live Mixer is stacked with connectivity and with the ability to add a second chipset with the X670 Expansion, one of the most innovative we have seen in years, especially considering the price.
Pros
+

AM5 socket

+

DDR5 support

+

PCIe Gen 5

+

Expandable to X670 with proprietary card

+

Price
Cons
Should you buy it?
Avoid
Consider
Shortlist
Buy
Introduction, Specifications, and Pricing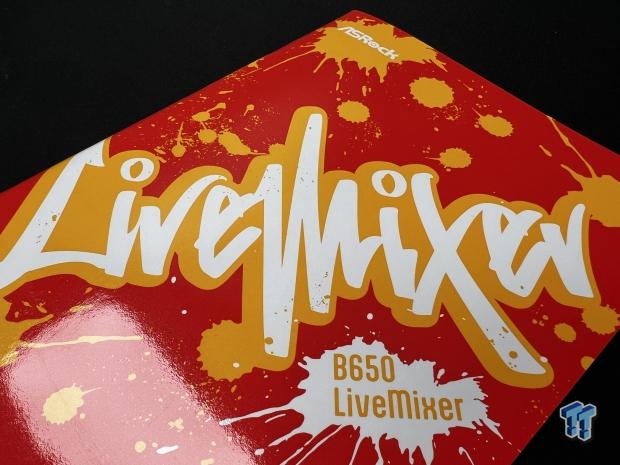 With an excellent start to our AMD X670 motherboard reviews, including nearly all flagships, we switch gears to a few entry-level solutions; the first being a unique motherboard from ASRock in the B650 Live Mixer.
First, we must admit from our talks with ASRock, the setup we were sent for review isn't retail, and ASRock has no concrete plans to bring it to market. With that, we can say our sample of the B650 Live Mixer, a retail motherboard that is available, has been altered by ASRock to include an extra header (the "X670 Expansion") that can expand this board to X670 levels with added 10Gbe Ethernet, additional NVMe slots, and more USB 3.2 and SATA III.
As for the board itself, the B650 Live Mixer is an entry-level AM5 solution, supporting DDR5 memory with peak capacity at 128GB across four slots. With overclocking, maximum speeds can be pushed up to 6400MHz, and it supports both XMP and EXPO profiles.
Moving on, we have three PCIe expansion slots. The top two connect via the CPU lanes at Gen4, the first slot at x6 and the second at x4. The third slot pulls from the chipset at Gen4x4, as does the single m.2 Key E Wi-Fi slot. Storage on this motherboard includes a single NVMe slot operating at Gen5 with two additional off the chipset at Gen4 and two SATA III connections for legacy storage.
Connectivity on the board includes a ton of legacy USB 2.0 ports, eight ports found on the rear I/O, and four USB 3.2 Gen 1, two of which are Lightning Gaming ports and another two USB 3.2 Gen 2. We then move on to 2.5Gbe LAN and its video outputs which include HDMI and DisplayPort, and audio that consists of a single optical audio output and two 3.5mm.
Pricing
As for pricing, the ASRock B650 Live Mixer will set you back $229.99 and includes a three-year warranty.
Packaging, Accessories, and Overview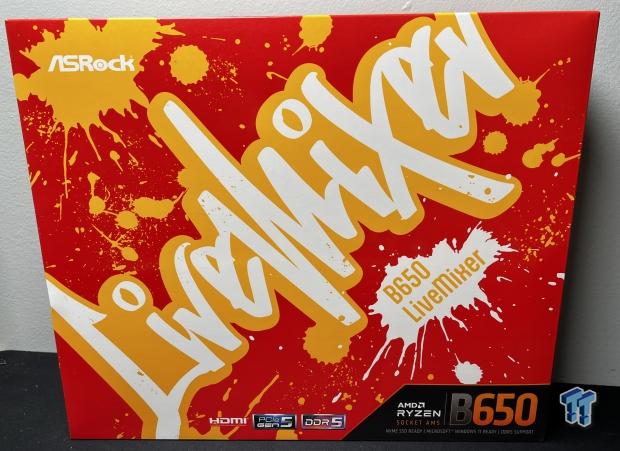 The Live Mixer on the AMD side offers us an orange/red colorway, which is reflected in the box art. Along the bottom, we have a note of chipset and CPU support.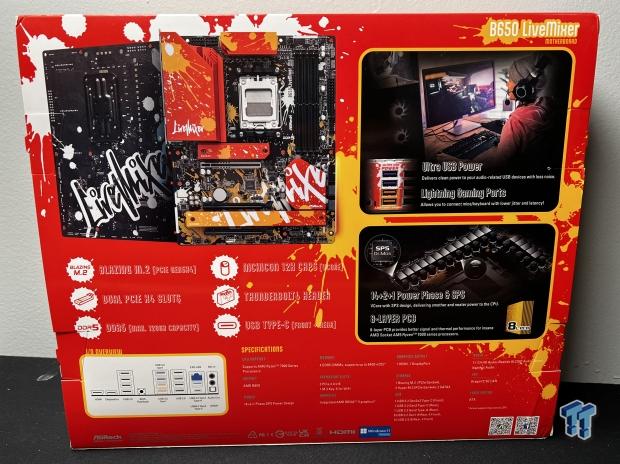 On the back, we have the board pictured front and back with specifications listed along the bottom.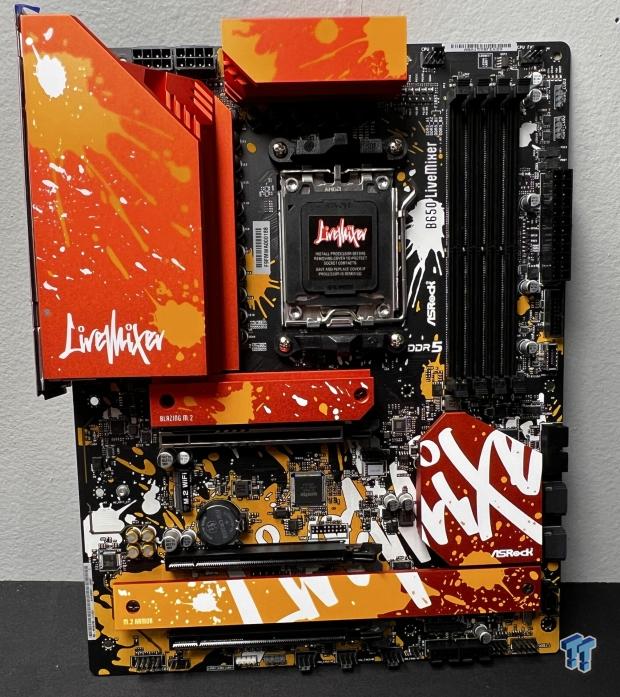 Pulling the board from its packaging, we have a similar heat sink placement to the Steel Legend series, of course, all done up with this new graffiti pattern that always reminds me of Splatoon.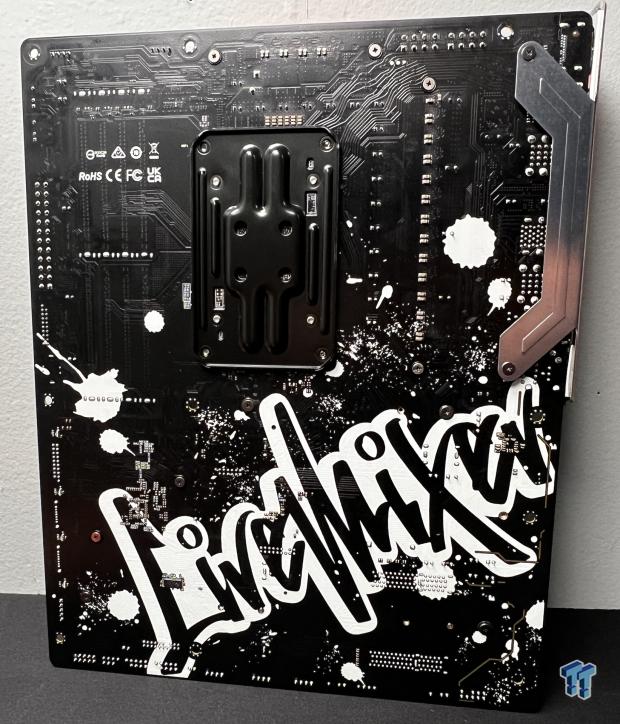 The backside is all but empty. A few power management ICs can be found here.

The rear I/O on this board includes both HDMI and DP at the top, followed by a hefty amount of USB 2.0 ports and a few USB 3.2 further to the right. This board wraps up connectivity with 2.5Gbe and audio.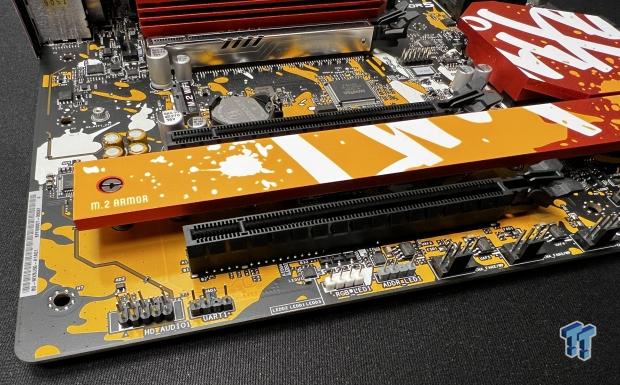 The board layout has just a few connections, including chassis audio connections and fan headers.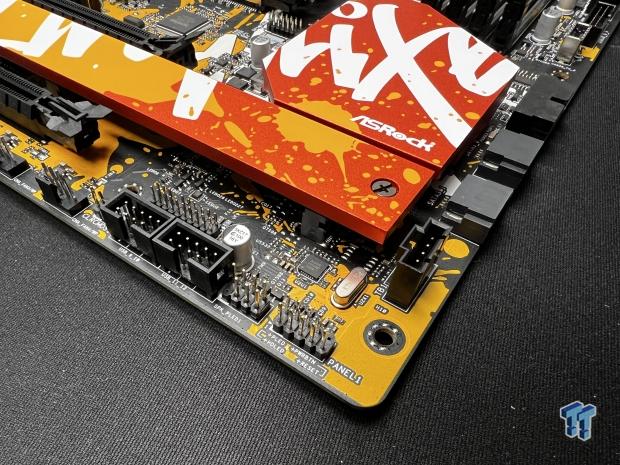 Further towards the board edge, we run into additional USB 2.0 headers and chassis front panel. In addition, this image shows the pins, sitting just above the USB 2.0 headers, for the X670 expansion. These pins are not on the retail version of this board.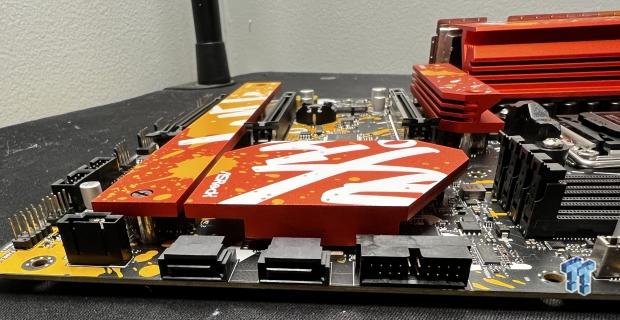 Around the corner, we have just two SATA connections followed by chassis USB 3.2 Gen1 and 2.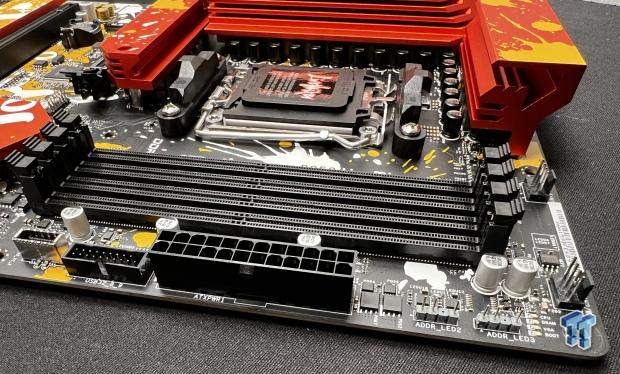 Moving towards the top, we have the 24-pin power connection and RGB headers.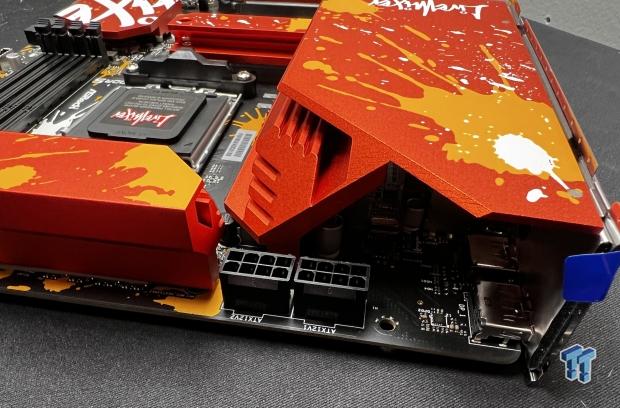 Across the top of the board, we have dual 8-pin CPU power connections.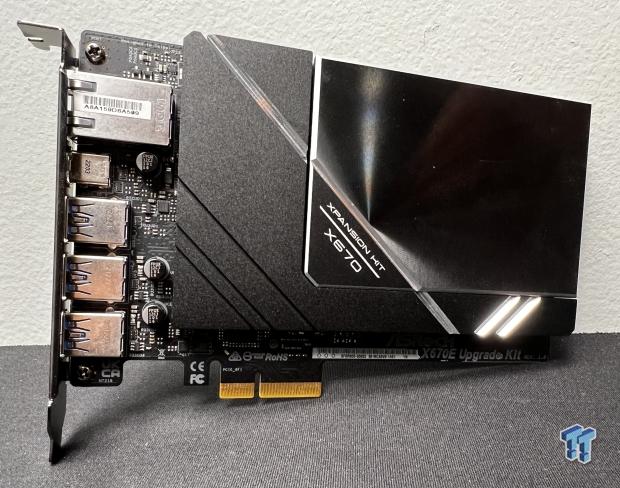 At last, we arrive at the X670 expansion kit, an experimental solution built by ASRock allowing boards like the B650 Live Mixer the ability to expand connectivity by adding a second chipset to the board.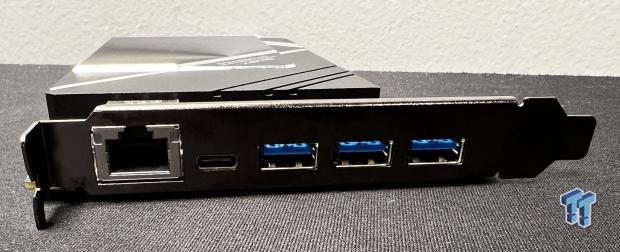 Looking at the I/O on the expansion card, you can see we have additional LAN, 10Gbe, in this case, and added USB 3.2 ports using both Type-C and Type-A.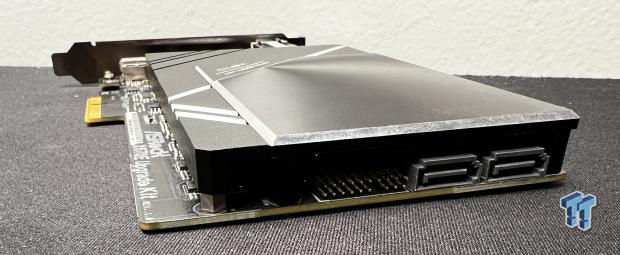 The back edge of the card includes additional SATA connections.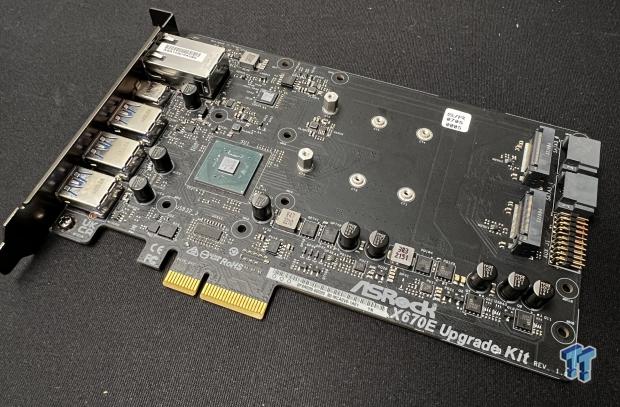 Internally, we have two Gen4 M.2 slots. Far left, you can see the added chipset below and the 10Gbe NIC controller above.
UEFI, Software and Test System
UEFI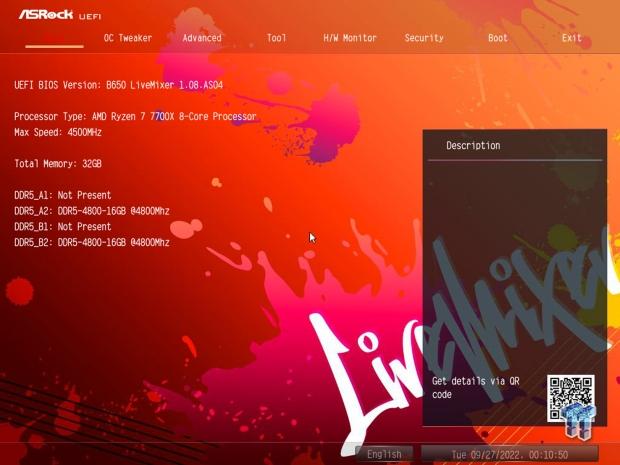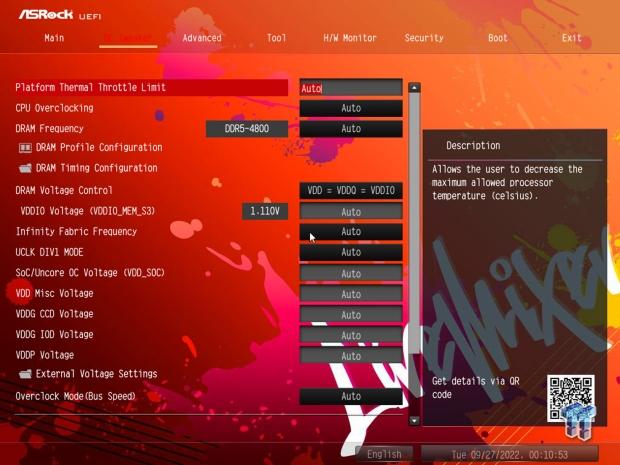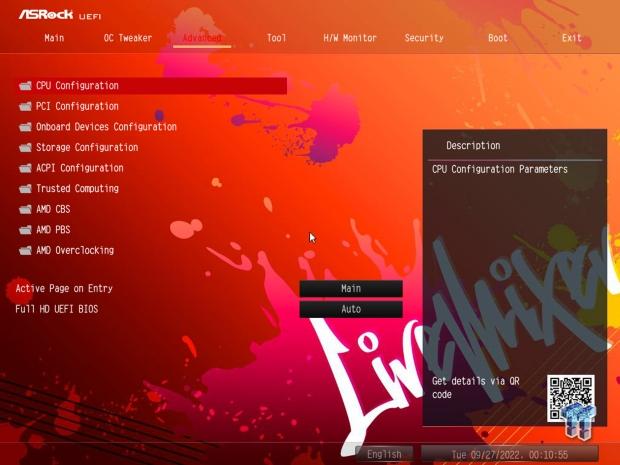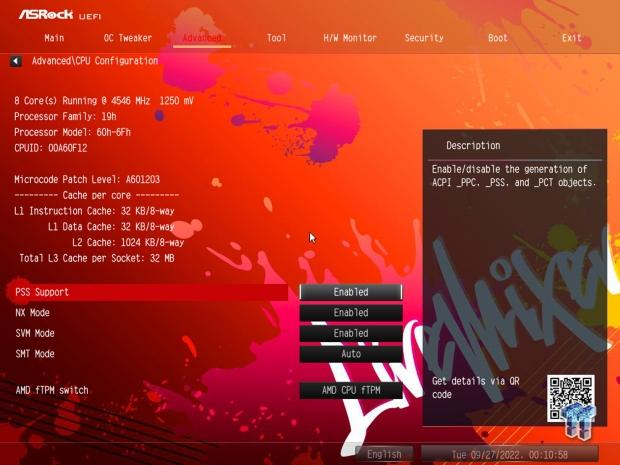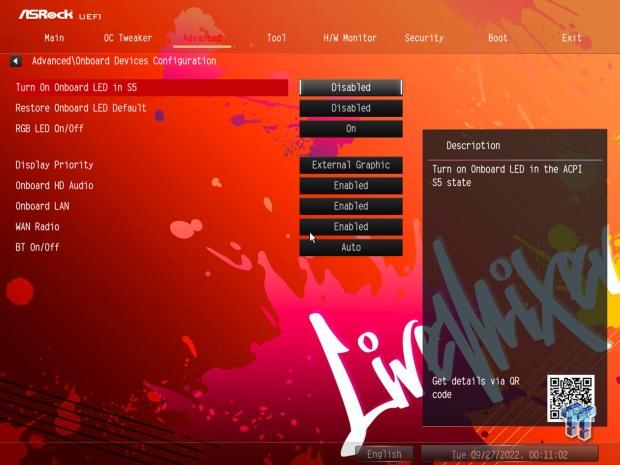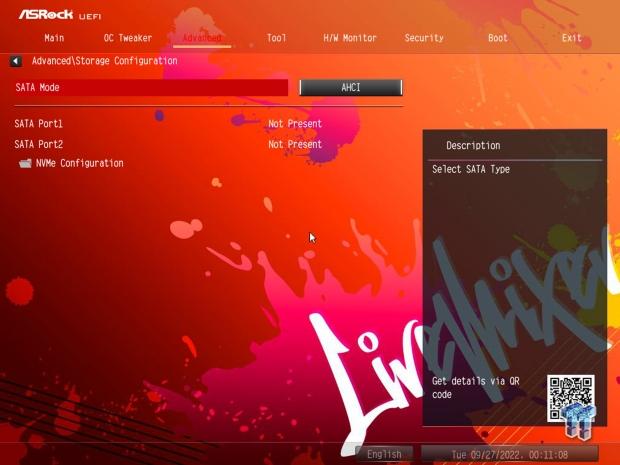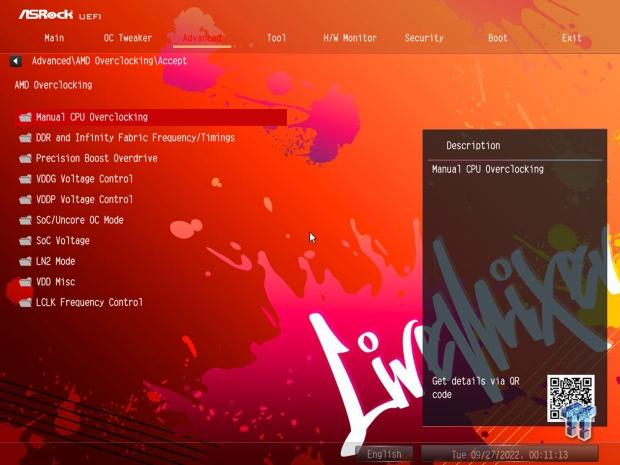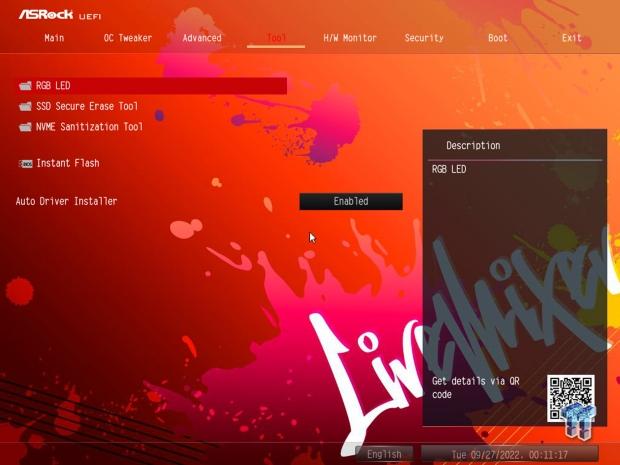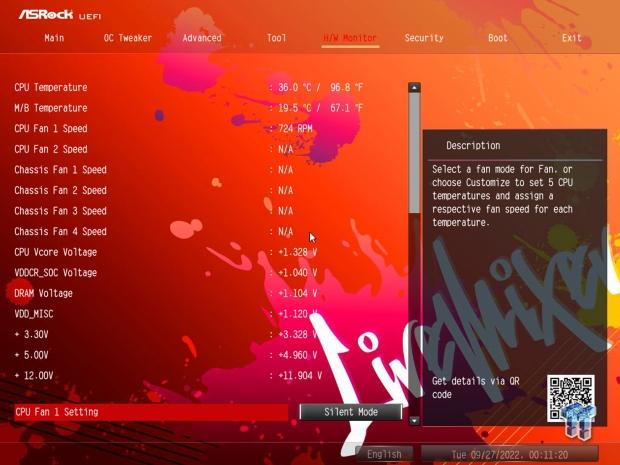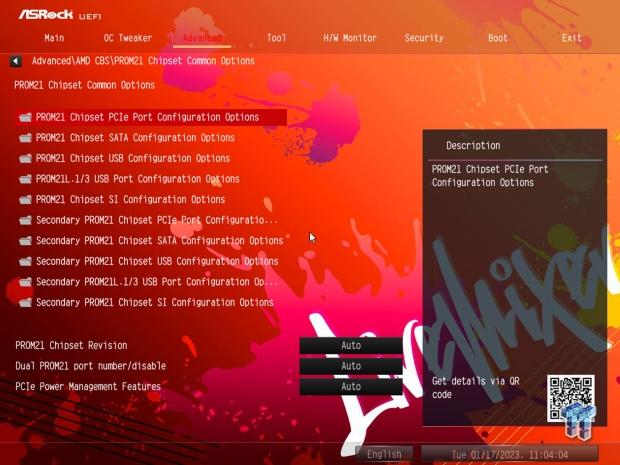 The BIOS on the Live Mixer follows the design we have seen from ASRock in the past. We have a special theme for this board that follows the colorway of the board. As for options, we start with the main menu, offering CPU build info along with installed memory.
Next up, we move into Tweaker, where you will find all overclocking controls for the board. This includes basic controls for both CPU and memory. Slipping to the advanced menu, you can configure CPU options in the top menu, and further down, we can set up onboard devices and storage. Further down in the advanced menu, you will find AMD Overclocking controls, where you will find PBO.
The advanced menu also offers controls for the X670 expansion card. When installed, the Prom21 option becomes available, and you can configure the chipset on the card; this is seen in our last image above.
Motherboard Testing Supporters

We deploy a set of Sabrent DDR5 that we have tuned to run 6000MHz at CL30.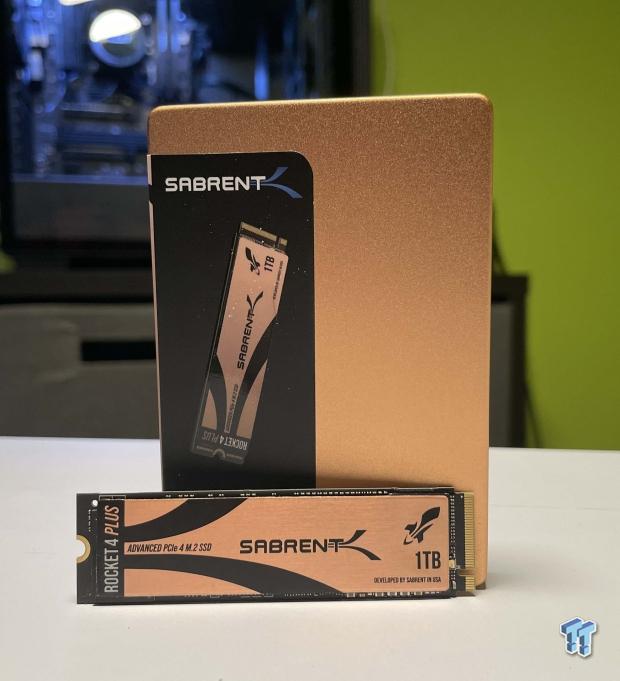 Sabrent supports our storage testing with the Rocket 4 Plus.
AMD Motherboard Test System
Cinebench R23 and AIDA64
Cinebench R23
Cinebench is a long-standing render benchmark that has been heavily relied upon by both Intel and AMD to highlight their newest platforms during unveils. The benchmark has two tests, a single-core workload that will utilize one thread or 1T. There is also a multi-threaded test that uses all threads or nT of a tested CPU.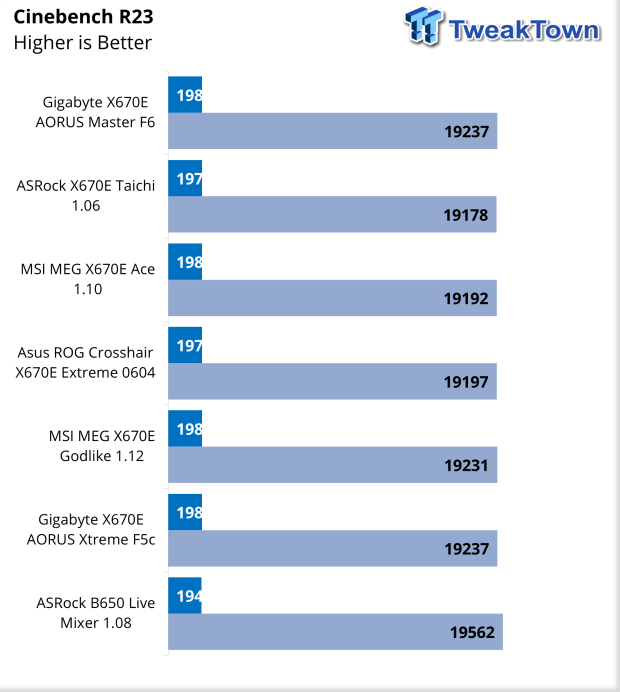 Starting our testing, the Live Mixer ends up being our first B650 to hit the charts. Single thread was the slowest it has been so far, with a score of 1940 here. nT, on the other hand, was the quickest we have seen, with a score of 19562.
CrossMark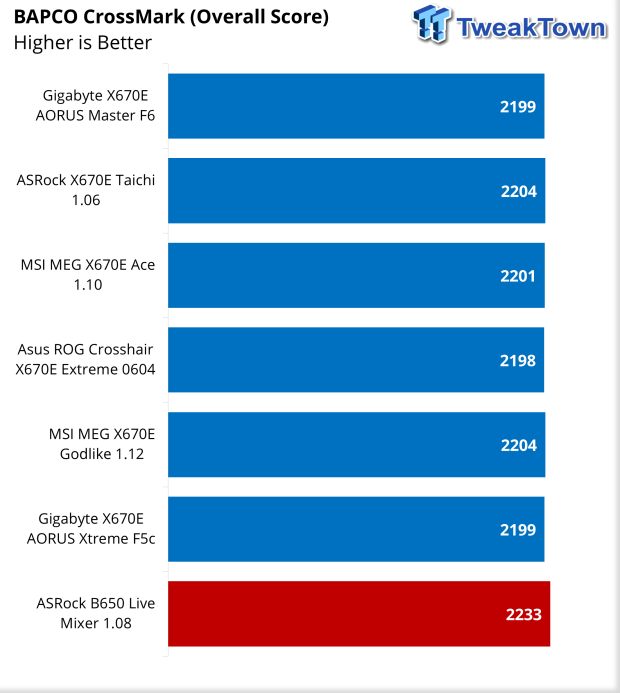 Crossmark turned in a score of 2233, our lowest yet.
AIDA64 Memory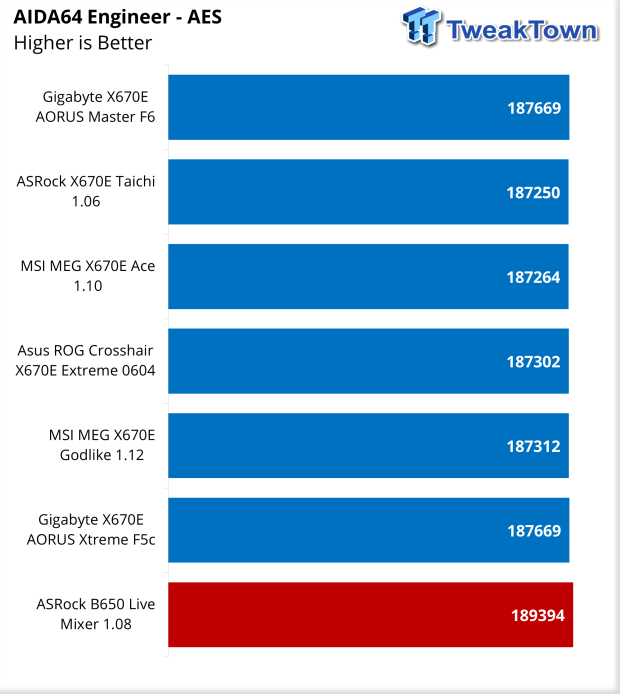 In AES, we picked up 189394.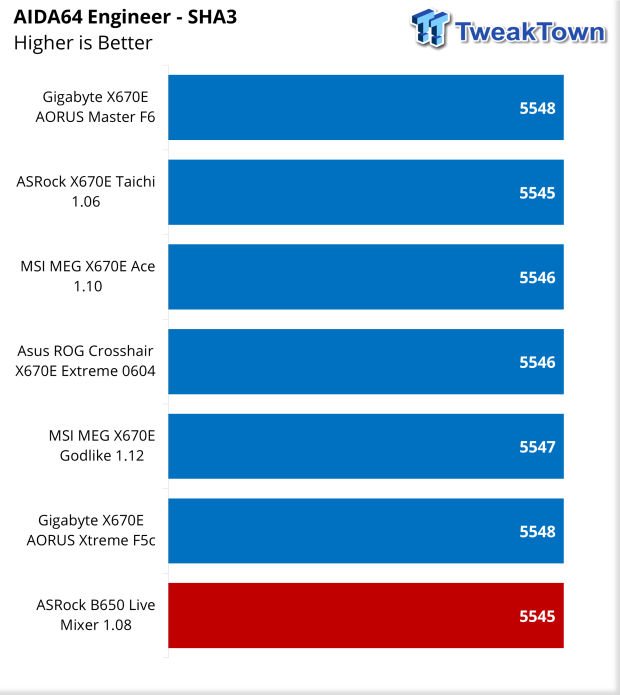 SHA3 tapped in at 5545, which was on par with the X670E solutions.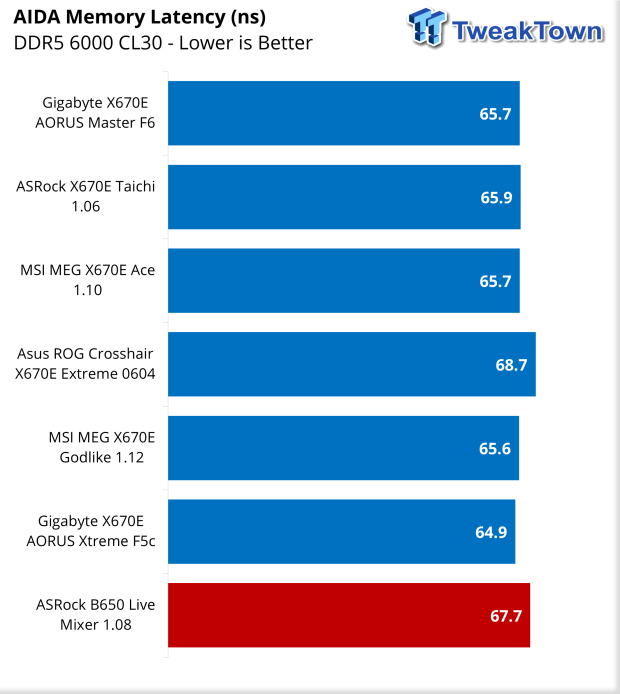 Memory latency landed at 67.7 for the Live Mixer, a bit off the best we have seen but not terrible for our memory kit.
UL Procyon, 3DMark, and CrossMark Benchmarks
UL Procyon Suite
The UL Procyon Office Productivity Benchmark uses Microsoft Office apps to measure PC performance for office productivity work.
The Photo Editing benchmark uses Adobe® Lightroom® to import, process, and modify a selection of images. In the second part of the test, multiple edits and layer effects are applied to a photograph in Adobe® Photoshop®.
The Video editing benchmark uses Adobe® Premiere® Pro to export video project files to common formats. Each video project includes various edits, adjustments, and effects. The benchmark score is based on the time taken to export the videos.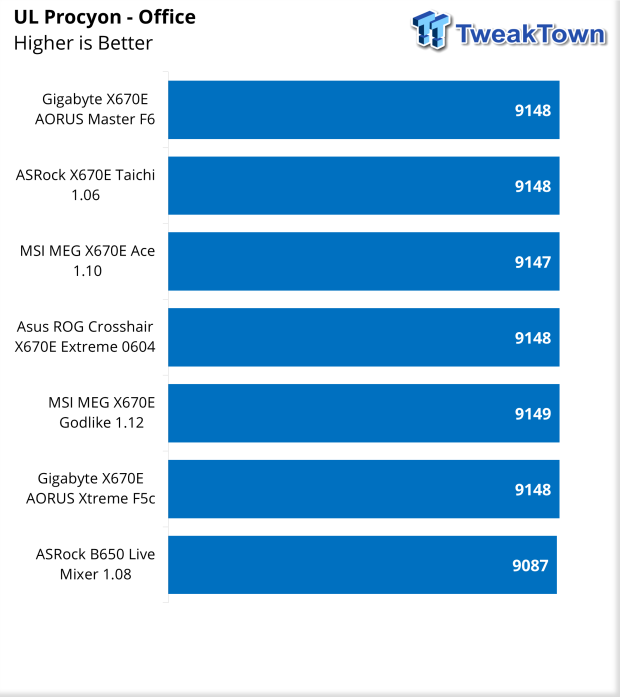 In our first workload, the Live Mixer scored 9087 in Procyon Office.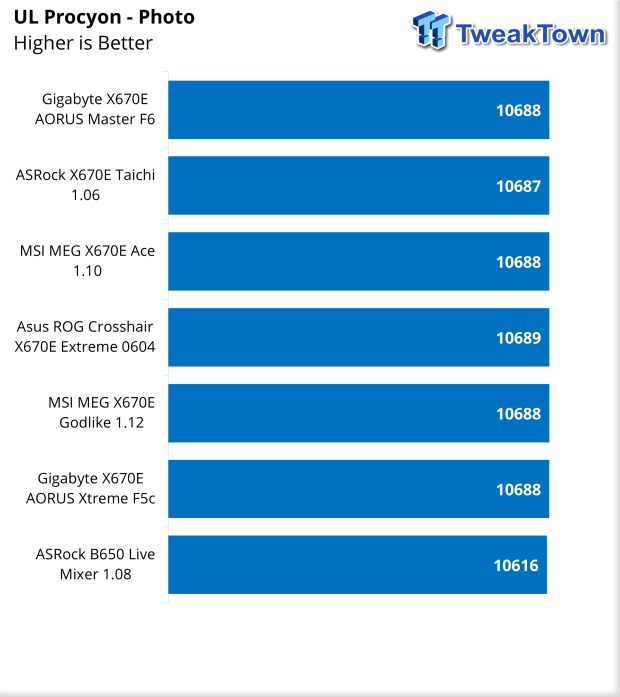 We picked up 10616 in Photo.
3DMark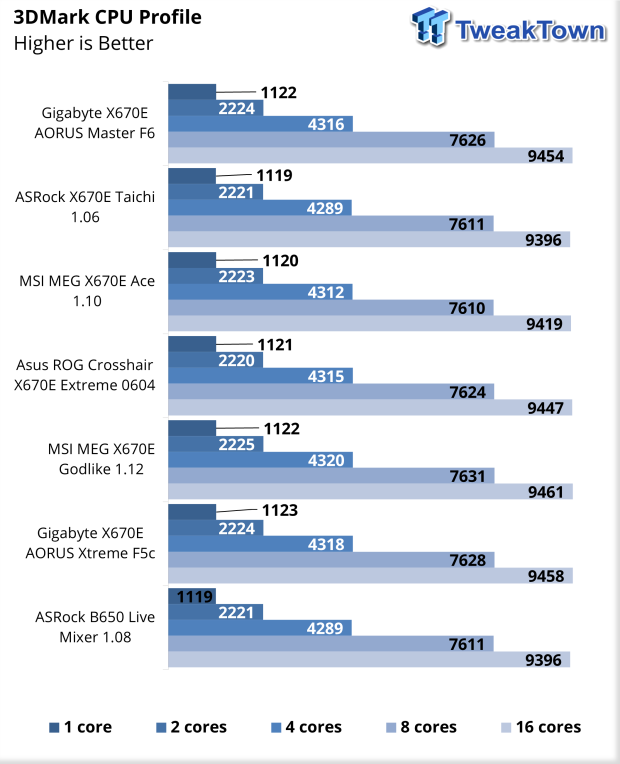 CPU Profile gave us an 1119 single thread score and 9396 at sixteen threads; this is on par with all past X670 motherboards.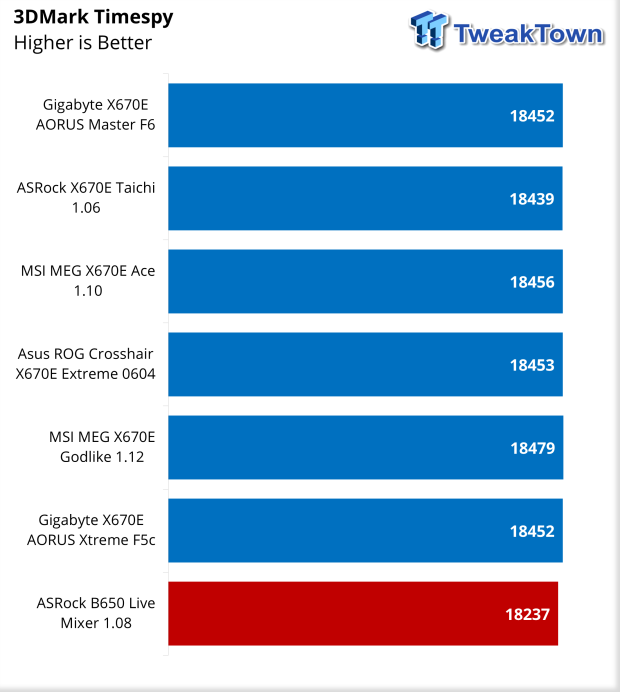 Timespy showed the Live Mixer doing quite well with our 3090 Ti - the score was 18237.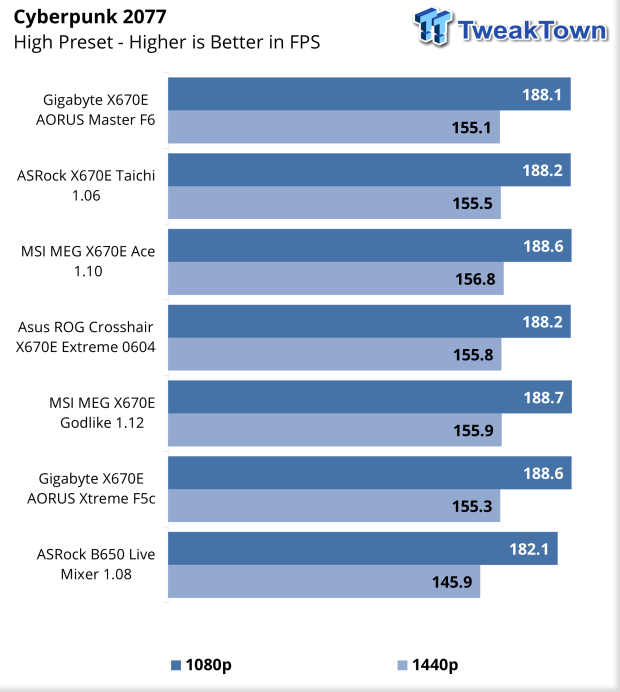 Looking at our gaming workload, the Live Mixer pulled 182 FPS at 1080p and 145 FPS at 1440p, both within a few FPS of the very best boards we have reviewed.
Storage Benchmarks and Final Thoughts
3DMark Storage Benchmarks
UL's newest 3DMark SSD Gaming Test is the most comprehensive SSD gaming test ever devised. We consider it superior to testing against games themselves because, as a trace, it is much more consistent than variations that will occur between runs on the actual game itself. This test is in fact the same as running the actual game, just without the inconsistencies inherent to application testing.
In short, we believe that this is the world's best way to test an SSDs gaming prowess and accurately compare it against competing SSDs. The 3DMark SSD Gaming Test measures and scores the following:
Loading Battlefield V from launch to the main menu.

Loading Call of Duty Black Ops 4 from launch to the main menu.

Loading Overwatch from launch to the main menu.

Recording a 1080p gameplay video at 60 FPS with OBS (Open Broadcaster Software) while playing Overwatch.

Installing The Outer Worlds from the Epic Games Launcher.

Saving game progress in The Outer Worlds.

Copying the Steam folder for Counter-Strike Global Offensive from an external SSD to the system drive.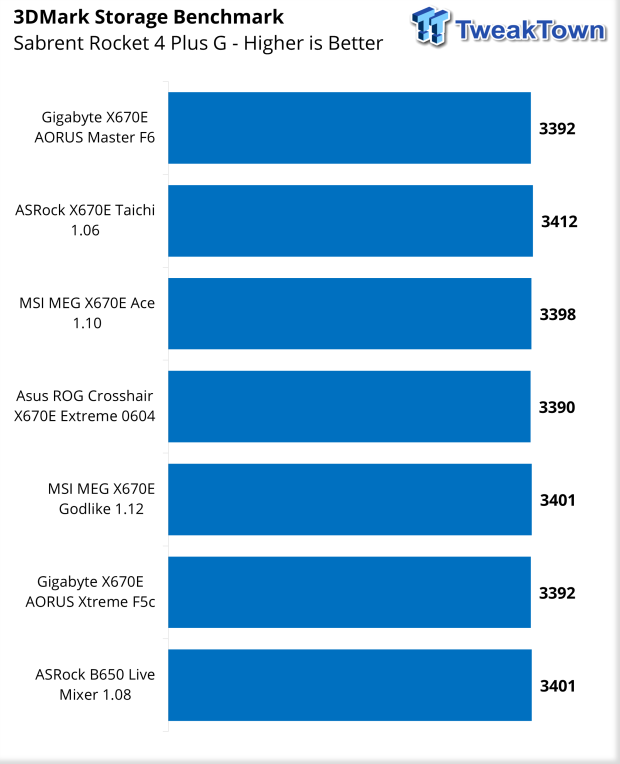 The storage score on the Live Mixer was 3401, a few points under some of the best boards but, on average, quite good.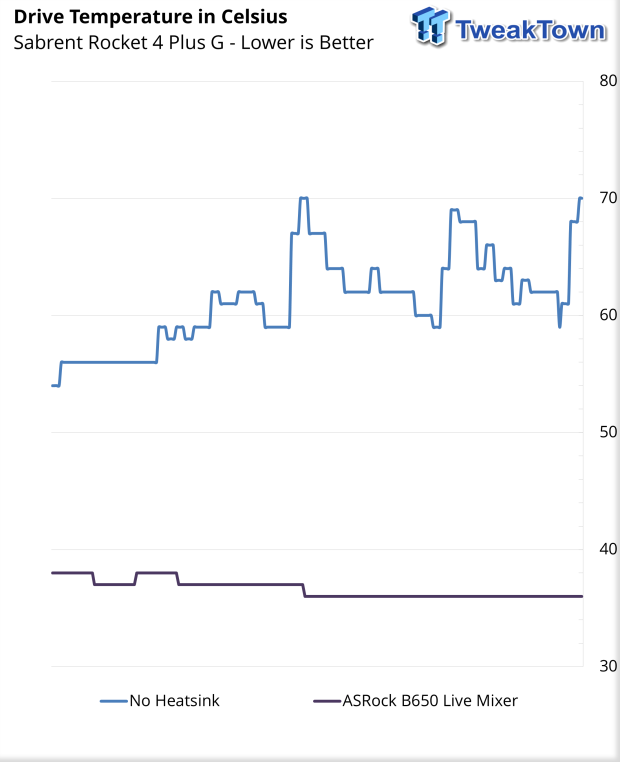 During our storage test, we logged the temps of our SSD to see how well the board thermal solution handles the heat load. We noted less heat from the board overall for the Live Mixer, which helped in this test. Our drive never hit 40c in testing.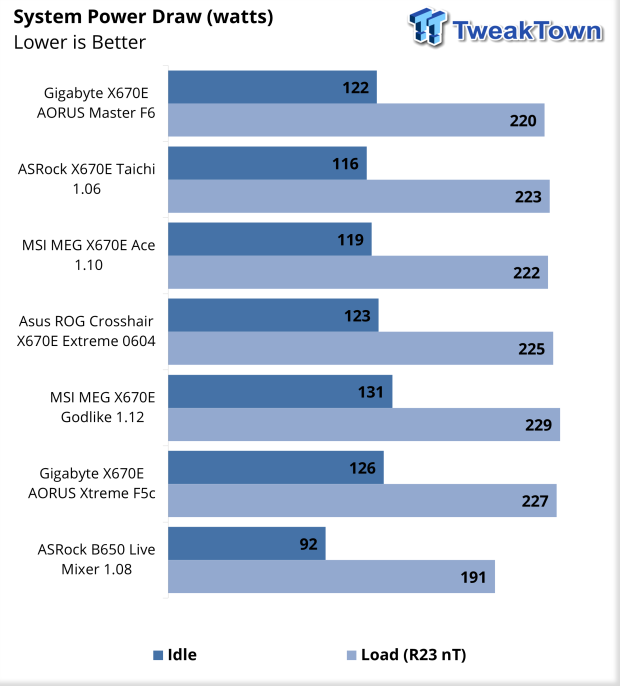 The power draw from this board was quite a bit lower than our X670E solutions, with idle at 92W and peaking at 191W.
Final Thoughts
Wrapping up this review, the B650 Live Mixer is a solid option for gamers building on a budget, as it features all of the basics needed for a proper rig, including Gen5 PCIe support. Overclocking, too, is supported, though there are few options outside of PBO. I've had the most luck pushing Zen 4 with PBO, followed by curve optimizer.
Connectivity is quite good on this board, and it easily has the most legacy ports I've seen on any board in quite some time. While this board doesn't have USB4, it does offer several USB 3.2 Gen 2 ports along with two designated Lightning Gaming ports, offering lower latency for your HID devices.
As for the X670 Expansion, this card essentially adds a second chipset to the board that is controllable in BIOS and adds additional NVMe connectivity, USB 3.2, and SATA, not to mention boosting your LAN with 10Gbe. This allows gamers to go into a new build with an entry-level B650 platform, saving costs while still maintaining an upgrade path when the extra features of the X670 Expansion card are needed, or funds become available.
In testing, the Live Mixer started a bit rough, showing lower-than-normal numbers in R23 than we typically see with the 7700X. That ironed out in later benchmarks like Crossmark, 3DMark, and Procyon, which all showed the board on par with many of the X670 boards we have tested.