TweakTown's Rating: 90%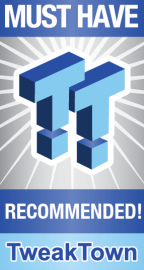 The Bottom Line
The B650I AORUS Ultra offers great connectivity including room for three m.2 alongside a plethora of USB. Even better, GIGABYTE has dialed in the price making this a great bang for your buck!
Pros
+

AM5 socket

+

DDR5 support

+

3 x M.2 slots

+

Price

+

Mini-ITX
Cons
-

No USB4

-

No PCIe Gen5 for GPU
Should you buy it?
Avoid
Consider
Shortlist
Buy
Introduction, Specifications, and Pricing
As we mentioned in our review of the ASRock B650E PG-ITX, these small form factor solutions are getting increasingly rare as it becomes harder to offer appropriate power delivery for modern processors. Our second ITX solution to come through is the GIGABYTE B650I AORUS Ultra.
This board starts with the AMD B650I chipset and AM5 socket. DDR5 memory support includes two slots with a maximum capacity of 64GB and speeds up to 6400MHz. PCIe expansion consists of a single x16 slot supporting Gen4 and three m.2 slots, the first supporting PCIe Gen5, the other two on Gen4. Additionally, four SATA 6GB/s ports are available.
Connectivity starts with Intel 2.5Gbe LAN, a MediaTek WiFi6e chipset and the Realtek ALC4080 powers audio. Moving over to USB support, the AORUS Ultra offers four USB 3.2 ports, two being Gen 1 and two for Gen2. GIGABYTE also includes two USB 2.0 ports and a USB-C, both Gen2, and supports alt mode for DisplayPort.
Pricing
The GIGABYTE B650I AORUS ULTRA carries an MSRP of $239.99 with a three-year warranty.
Packaging, Accessories, and Overview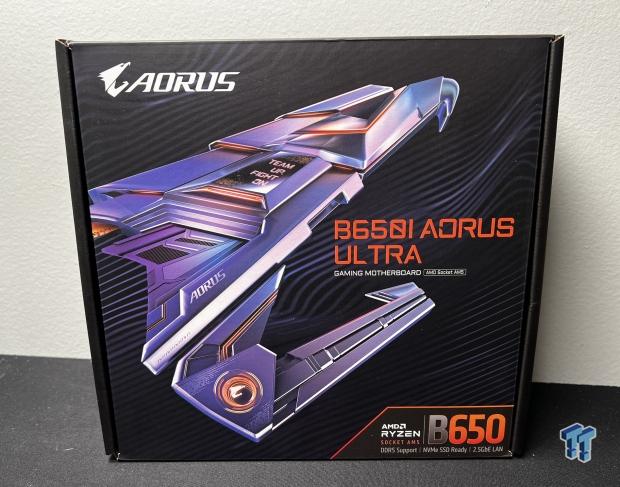 The AORUS ULTRA arrived in retail packaging with a large AORUS logo centered. Chipset support is listed bottom right.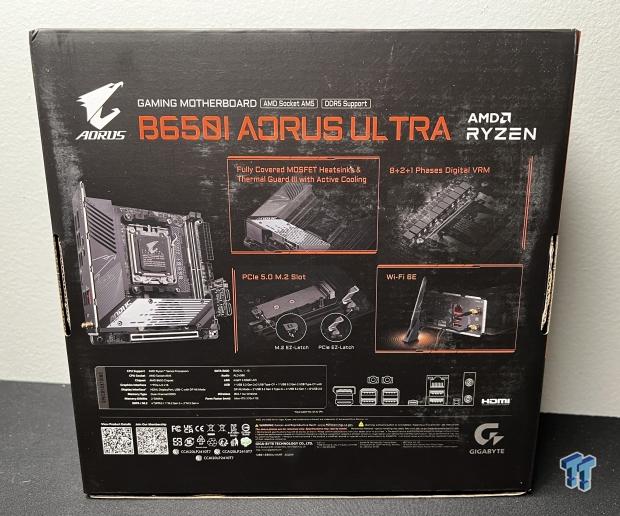 On the rear, we have specifications bottom left and features top right.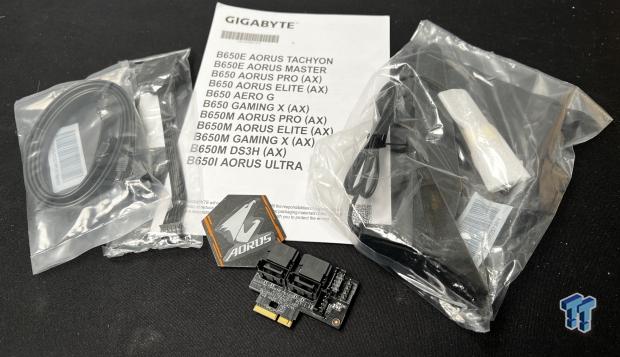 The AORUS ULTRA includes a Wi-Fi antenna, SATA cables, and a daughterboard for SATA and front panel connections.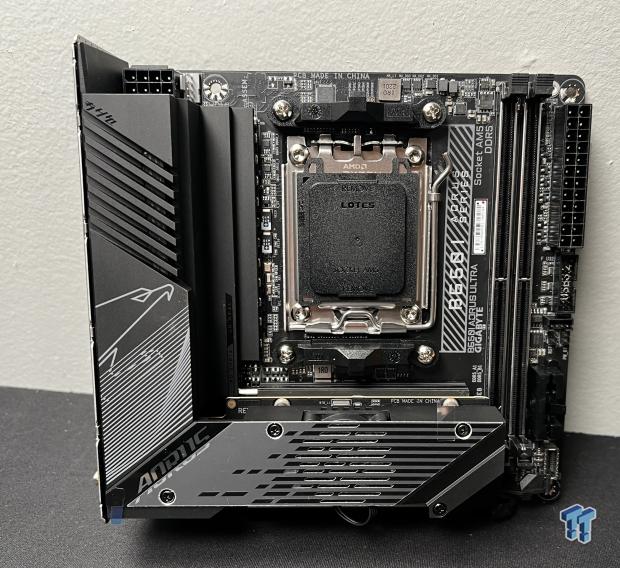 Getting to the board, the AORUS ULTRA has a fanned heatsink for the Gen5 m.2 slots. We have two memory slots up the right side along with 24-pin power and 8-pin power up top.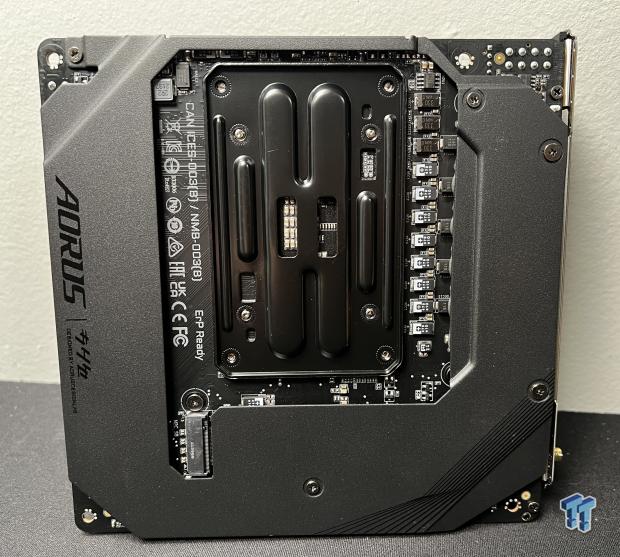 The back side includes an m.2 slot at the bottom and thermal armor.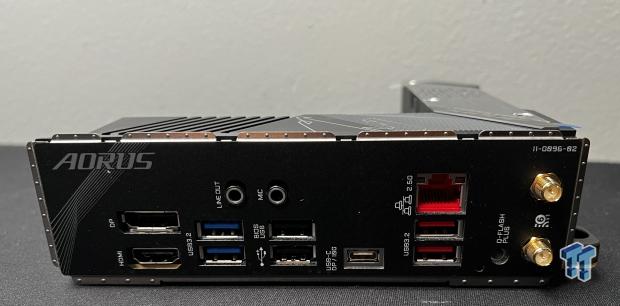 The rear I/O begins with HDMI and DisplayPort, followed by two USB 3.2 Gen 1 in blue and two USB 2.0 in black. The USB-C ports support USB 3.2 Gen 2 and Alt Mode, while the two red ports are USB 3.2 Gen 2. Last, we have the 2.5Gbe LAN and Wi-Fi connections at the bottom.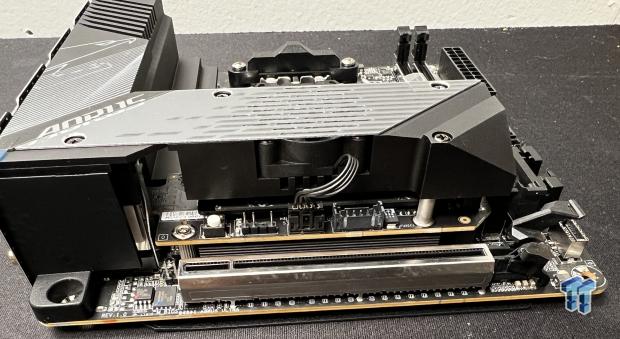 Running around the board, we have the PCIe slot along the bottom and M.2 daughter board above.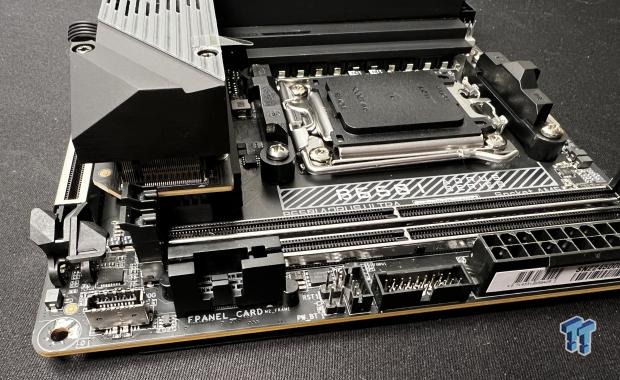 Around the corner, we have the slot for the SATA daughterboard alongside both USB 3.2 internal headers.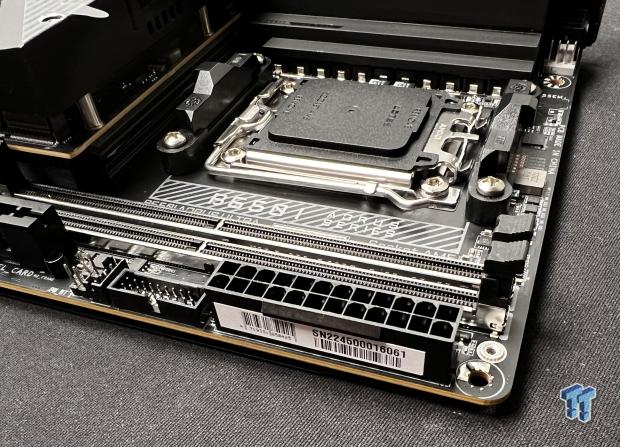 Moving towards the top, we have the 24-pin power connection.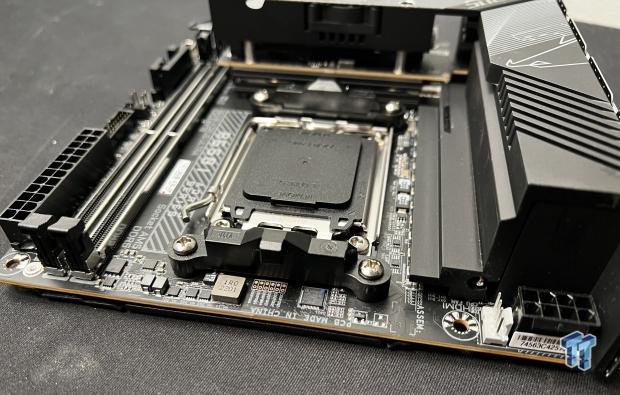 Across the top of the board, we have a single fan header and the 8-pin power.
UEFI, Software and Test System
UEFI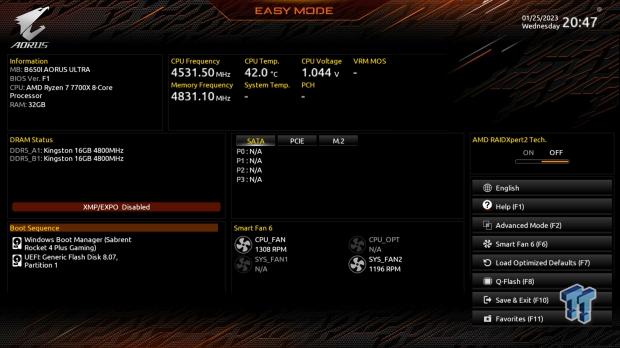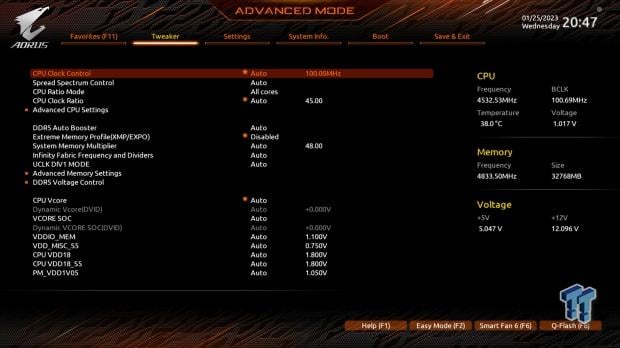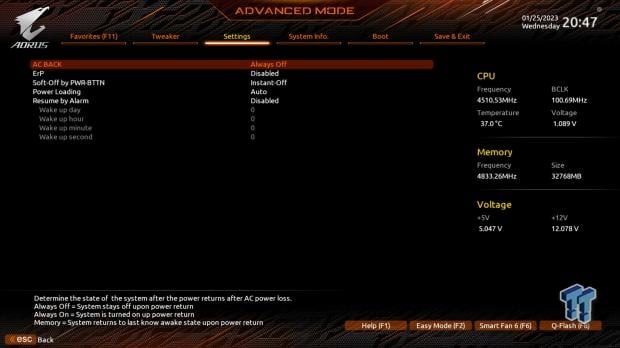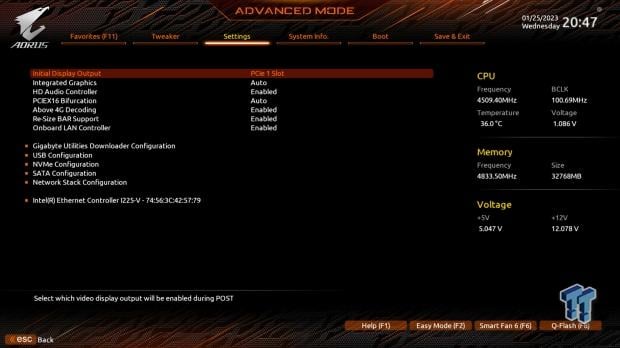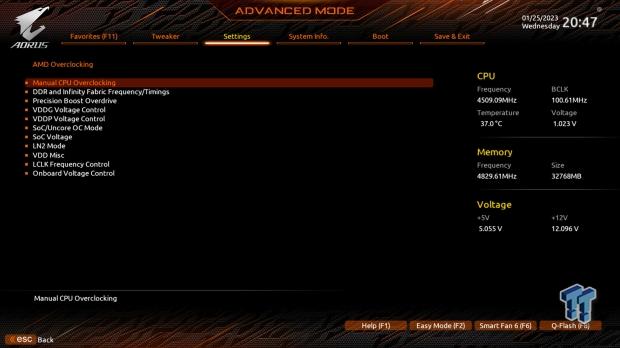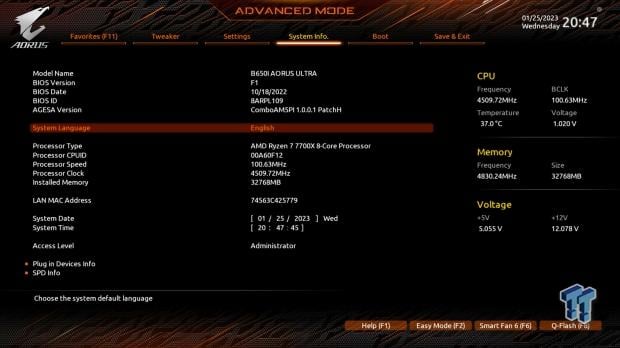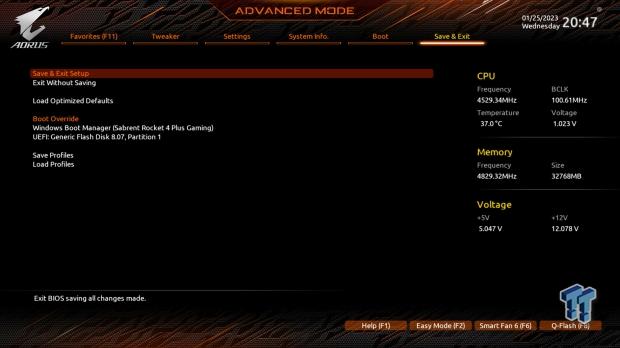 This BIOS should look familiar to anyone that has used an AORUS platform in the last few generations. At the top is an EZMode for those who do not want to dig in too much. For our review, we focus on the features behind Advanced Mode.
Tweaker is where you will find all the manual voltage and clock ratios; most multipliers will also be found here. If we move over to Settings, we will dive into platform power and find the I/O port setup. This includes changing the IDO and configuring items like Bifurcation and Re-Size Bar.
Motherboard Software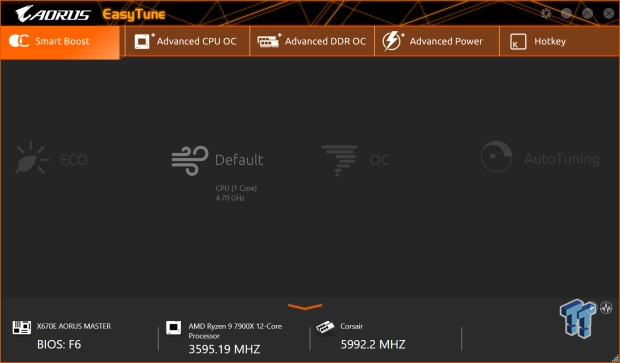 Tuning on GIGABYTE platforms uses EasyTune within Windows. The initial menu offers several profile options.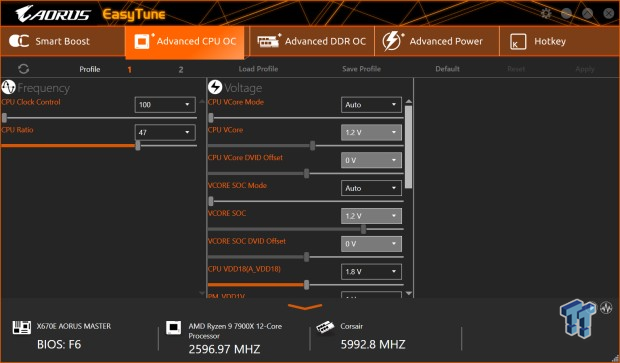 Users also can manually tune within the software Advanced CPU OC Menu.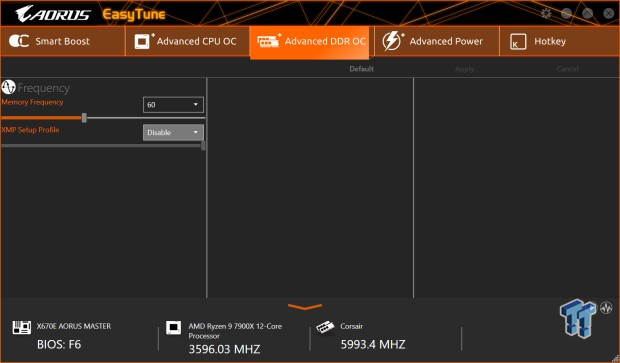 The DDR OC menu item does allow for a frequency chance but no options for timings.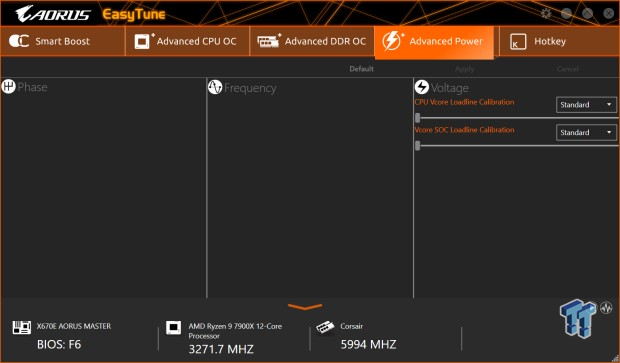 Additionally, you can control the power output of the VRM with load-line calibration.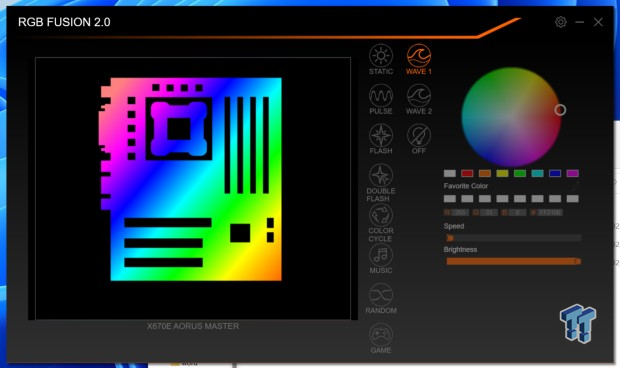 Last, we have RGB configurations for the motherboard.
Motherboard Testing Supporters

We deploy a set of Sabrent DDR5 that we have tuned to run 6000MHz at CL30.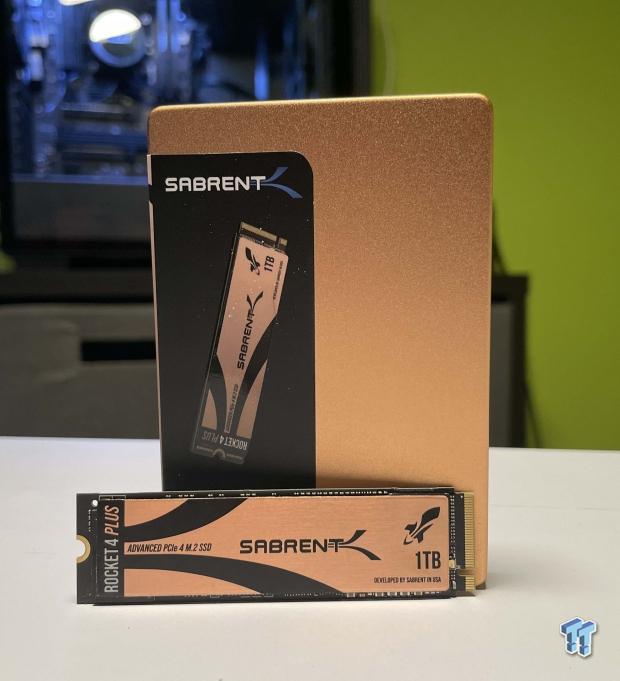 Sabrent supports our storage testing with the Rocket 4 Plus.
AMD Motherboard Test System
Cinebench R23 and AIDA64
Cinebench R23
Cinebench is a long-standing render benchmark that has been heavily relied upon by both Intel and AMD to highlight their newest platforms during unveils. The benchmark has two tests, a single-core workload that will utilize one thread or 1T and a multi-threaded test that uses all threads or nT of a tested CPU.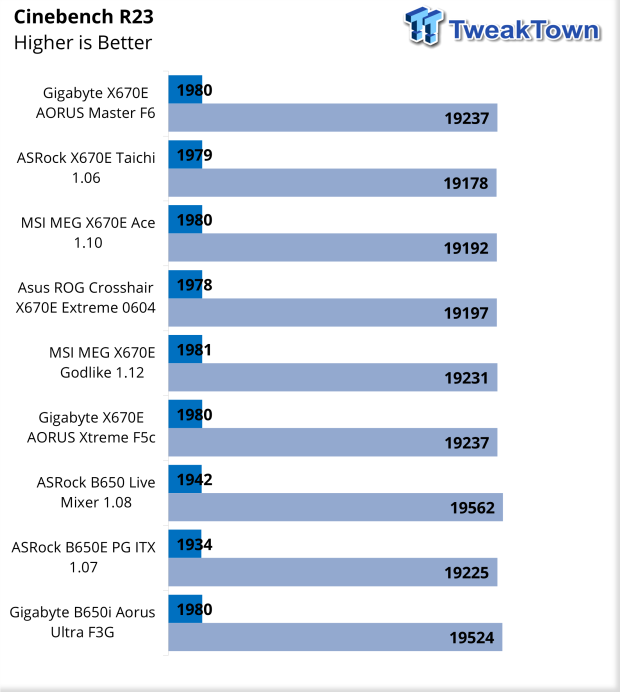 In Cinebench R23, we picked up a single thread score of 1980 with the AORUS. Multi-thread landed at 19524.
CrossMark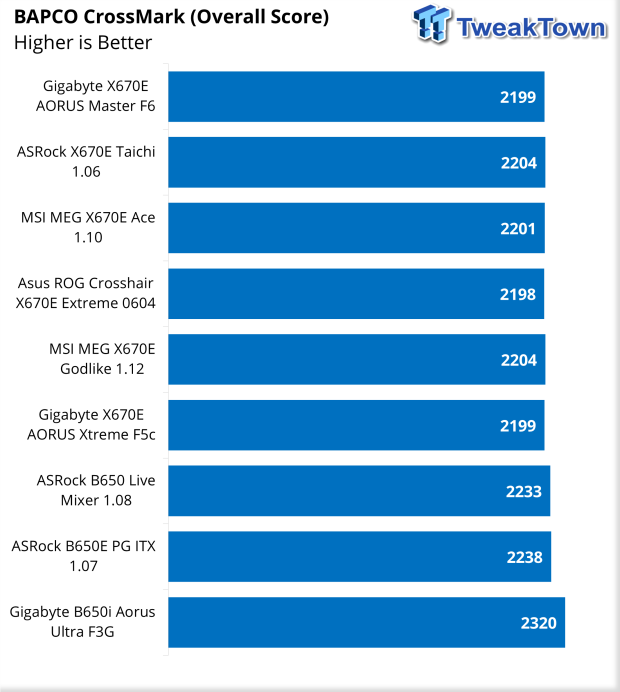 Crossmark picked up a few points thanks to the new AGESA update, pushing our board to 2320.
AIDA64 Memory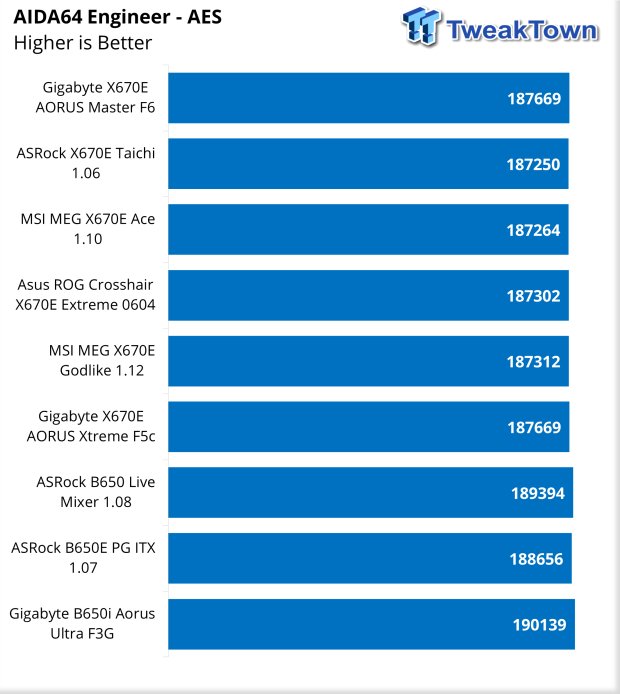 In AES, we picked up our best score yet at 190139.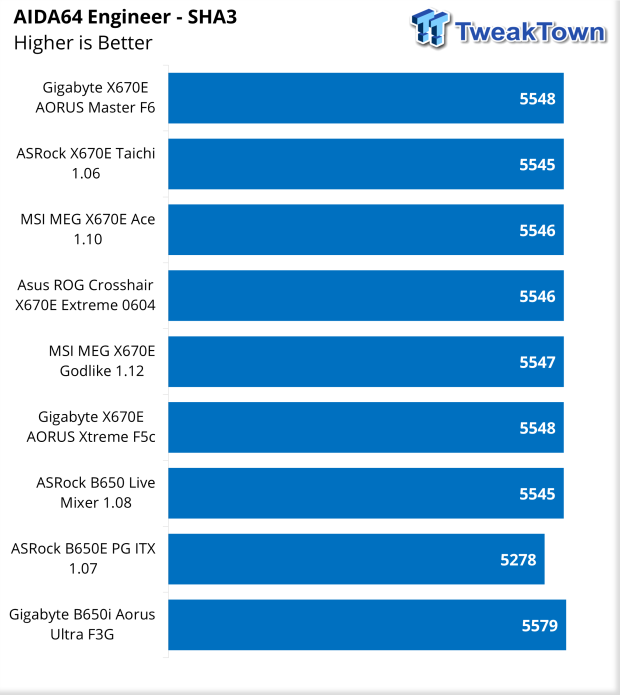 SHA3 tapped in at 5579, once again our best yet.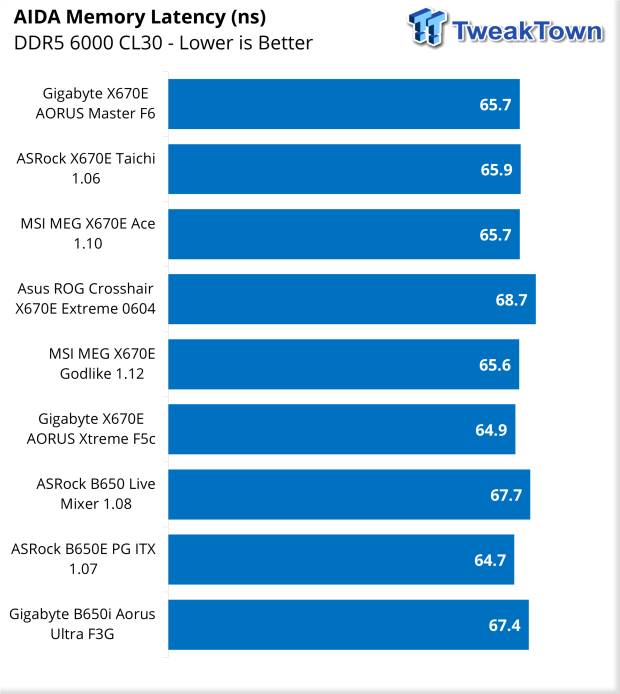 Memory latency landed at 67.4 for the AORUS ULTRA.
UL Procyon, 3DMark, and CrossMark Benchmarks
UL Procyon Suite
The UL Procyon Office Productivity Benchmark uses Microsoft Office apps to measure PC performance for office productivity work.
The Photo Editing benchmark uses Adobe® Lightroom® to import, process, and modify a selection of images. In the second part of the test, multiple edits and layer effects are applied to a photograph in Adobe® Photoshop®.
The Video editing benchmark uses Adobe® Premiere® Pro to export video project files to standard formats. Each video project includes various edits, adjustments, and effects. The benchmark score is based on the time taken to export the videos.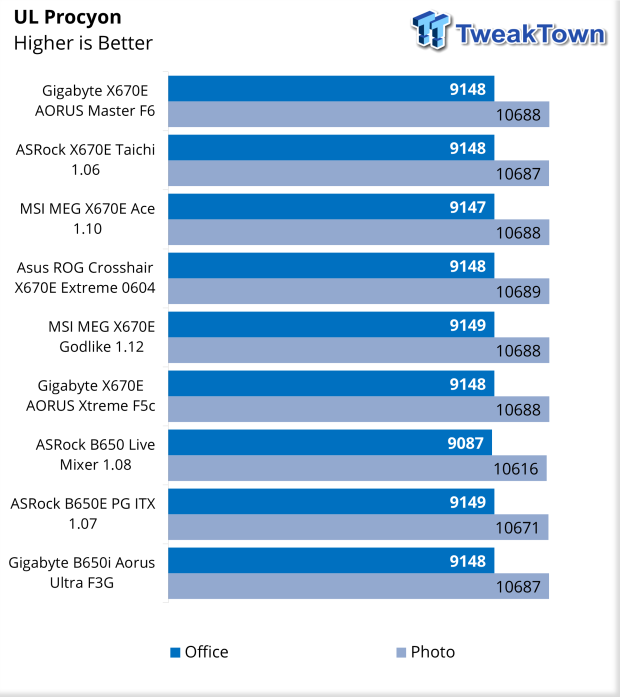 Procyon gave us 9148 for Office and 10687 in Photo, both on par with the average to date.
3DMark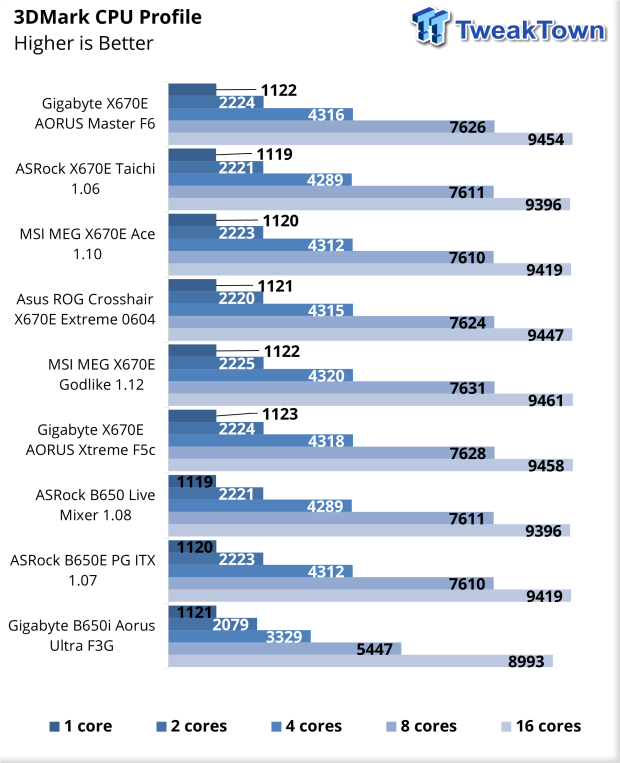 CPU Profile began with 1121 in a single thread with a score of 8993 at sixteen threads.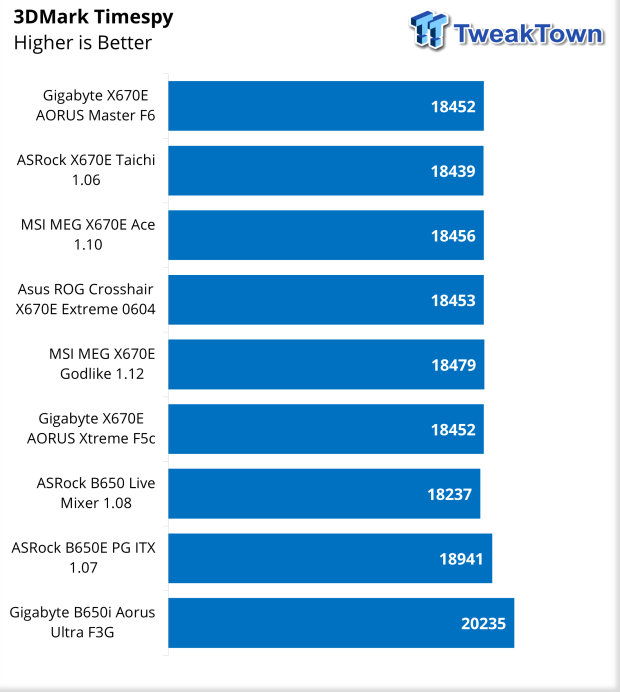 Timespy picked up our best score yet on AM5 with 20235.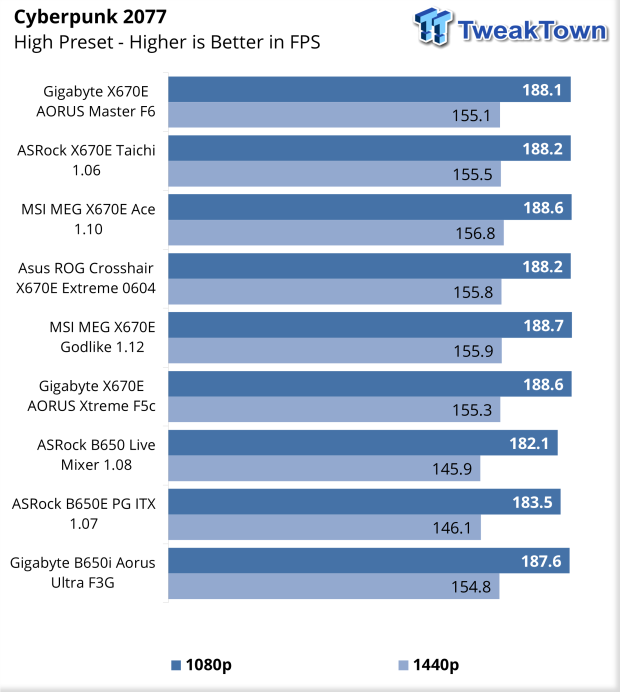 Cyberpunk 2077 shows 187 FPS at 1080p and 154 FPS at 1440p, both using the high preset.
Storage Benchmarks and Final Thoughts
3DMark Storage Benchmarks
UL's newest 3DMark SSD Gaming Test is the most comprehensive SSD gaming test ever devised. We consider it to be superior to testing against games themselves because, as a trace, it is much more consistent than variations that will occur between runs on the actual game itself. This test is, in fact, the same as running the real game, just without the inconsistencies inherent in application testing.
In short, we believe this is the world's best way to test an SSDs gaming prowess and compare it against competing SSDs. The 3DMark SSD Gaming Test measures and scores the following:
Loading Battlefield V from launch to the main menu.

Loading Call of Duty Black Ops 4 from launch to the main menu.

Loading Overwatch from launch to the main menu.

Recording a 1080p gameplay video at 60 FPS with OBS (Open Broadcaster Software) while playing Overwatch.

Installing The Outer Worlds from the Epic Games Launcher.

Saving game progress in The Outer Worlds.

Copying the Steam folder for Counter-Strike Global Offensive from an external SSD to the system drive.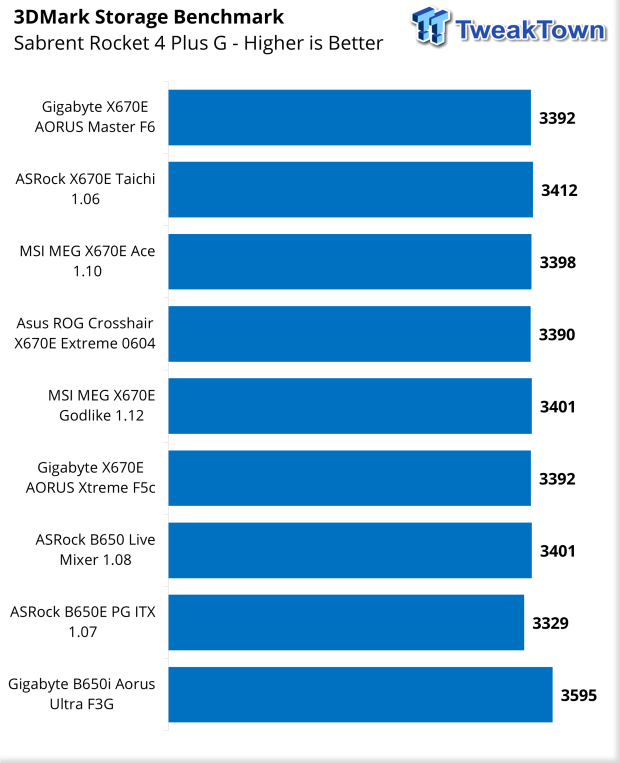 Storage landed at 3595, another best for AMD motherboards.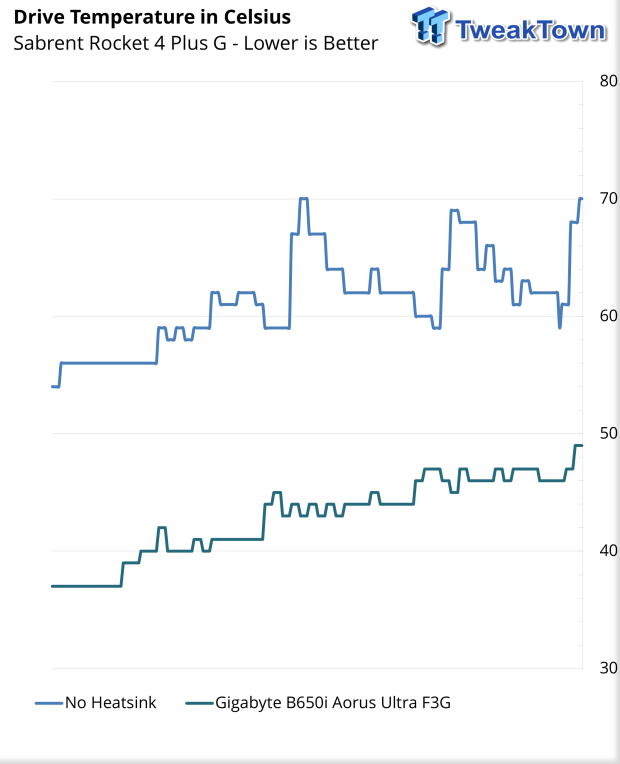 During our storage test, we logged the temps of our SSD to see how well the board thermal solution handles the heat load. The AORUS Ultra did well, but even with the included fan, our Rocket 4 Plus moved close to 50c.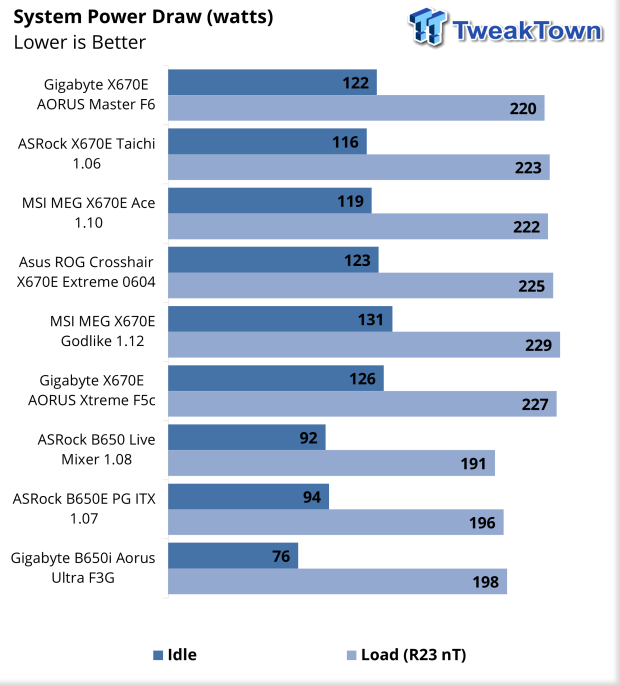 Power draw from this board was higher than other B650 boards, 76 watts at idle but 198 watts at full load.
Final Thoughts
The B650I AORUS Ultra offers a fantastic ITX platform for those looking to build an SFF system, though there are a few drawbacks that we will get out of the way now. First is the MediaTek Wi-Fi chipset, performance on this seemed good in daily use though I was having intermittent issues with my connection dropping that I've not had on the AX211 or AX1675. Second is the lack of Gen5 support on the PCIe slot; while not a huge issue, there is potential for bottlenecks with future GPUs.
The AORUS Ultra is one of the only ITX boards to support three m.2 slots for those wanting massive storage; it also offers support for four SATA ports for those needing legacy storage connectivity. USB ports are plenty on this board as well, with four USB 3.2 on the rear I/O, including USB-C supporting Alt Mode. Display connectivity includes DP and HDMI for those wanting to use the new integrated graphics found on Zen 4.
In testing, we were thrown off a bit by the AORUS Ultra's latest BIOS update giving us a new version of AGESA. This included some significant performance increases, as we found in many of our benchmarks, including Crossmark and 3DMark Storage, where we ended up with chart-topping results.
Ending this with pricing, the B650I AORUS Ultra gives us an MSRP of $239.99, which makes it one of the cheaper ITX solutions on AM5 - $30 more affordable than the ASRock B650 PG-ITX we just reviewed and nearly $100 cheaper than the ROG B650 Strix solution.