TweakTown's Rating: 90%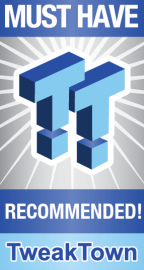 The Bottom Line
The Taichi offers one of the most complete AMD B650E AM5 motherboards available on the market.
Pros
+

Stacked with USB 3.2

+

Supports USB4

+

PCIe Gen5

+

Killer Suite
Cons
Should you buy it?
Avoid
Consider
Shortlist
Buy
Introduction, Specifications, and Pricing
As we near the end of our AM5 motherboard stack, the AMD B650E chipset has become our focus with several solutions from ASRock, among other vendors. The B650E Taichi is the pinnacle of the ASRock mid-range motherboard lineup, offering many features we found on the X670E Taichi earlier in the year while being nearly $100 cheaper.
With that, we move to the board specification, which starts with the B650E chipset and AM5 socket. This gives us support for all Zen 4 processors, including the upcoming Zen 4 3D. DDR5 memory is supported on this motherboard across four slots with speeds up to 6000+, a maximum capacity of 128GB.
The expansion includes two PCIe slots, the top slot offering Gen5 support and the second, off the chipset, supporting Gen4. Storage gives us one PCIe Gen5 m.2 slots and two from the chipset supporting PCIe Gen4. Four SATA ports are too made available for legacy storage.
Connectivity starts with the Killer Suite; this includes the E3100G 2.5Gbe controller and AX1690 WiFi6e chipset. USB support includes three USB 3.2 Gen 2 on the rear I/O and a single USB4. Further expansion is available via internal headers with four USB 2.0 and one USB 3.2 Gen2x2.
Pricing
As for pricing, the ASRock B650E Taichi will set you back $369.99 and includes a three-year warranty.
Packaging, Accessories, and Overview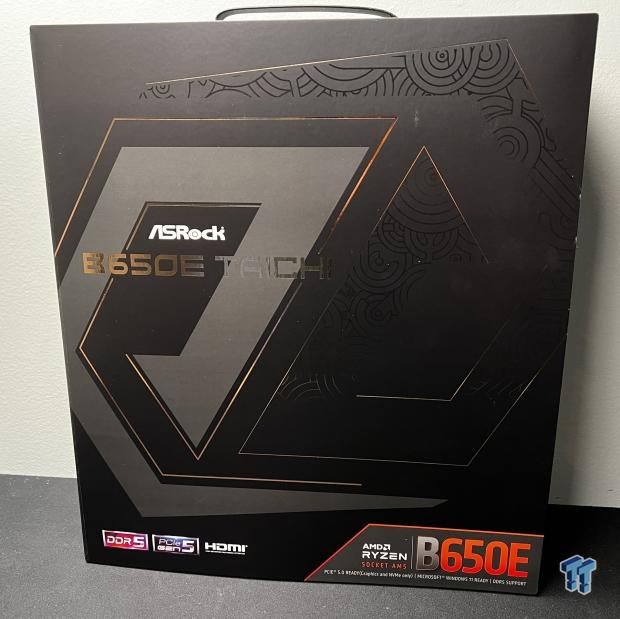 Packaging includes the Taichi logo and chipset support bottom right.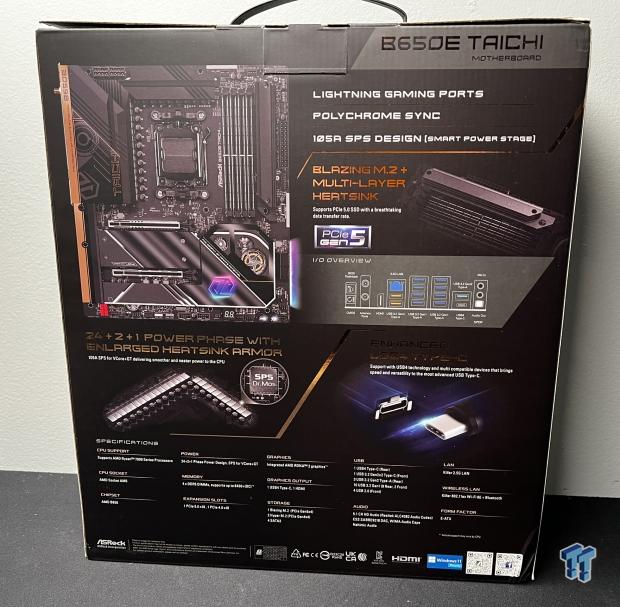 On the back, we have the board pictured at the top with specifications along the bottom.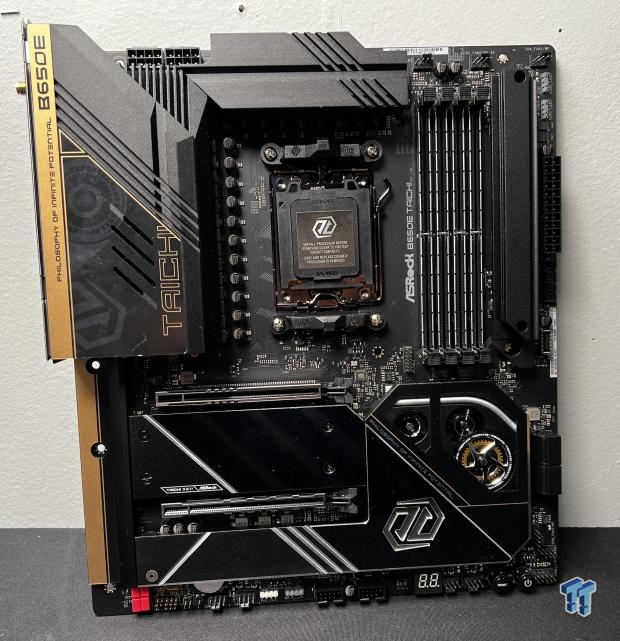 Pulling the board from its packaging, build quality is very similar to the X670E model. We have full VRM cooling, the main m.2 slots sitting alongside the memory slots. Down below, we have two PCIe slots and the chipset heatsink complete with the gear design that has become part of Taichi as of late.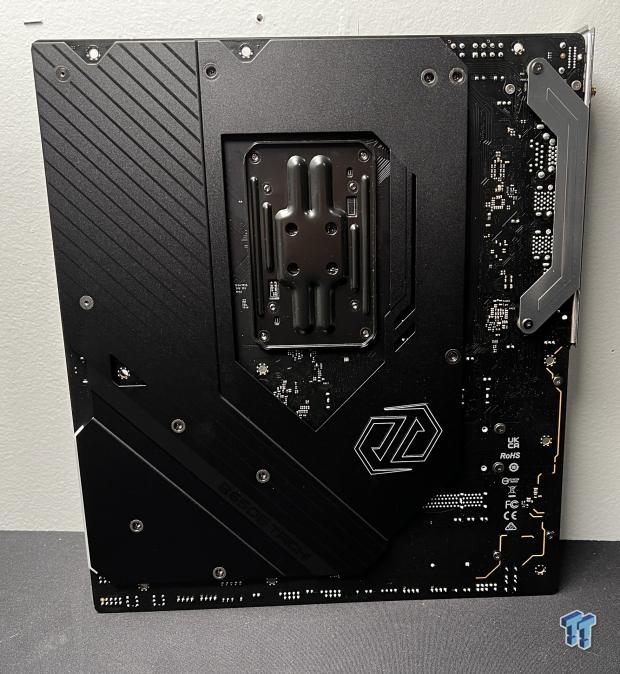 The back side includes armor to stiffen up the board.

The rear I/O gives us CLR CMOS and BIOS Flashback at the top, followed by the WIFI antennas. Further down, we run into the HDMI and Lightning Gaming ports. 2.5Gbe LAN sits just above, while further down, we find an absolute stack of USB 3.2 ports, eight Gen 1 in total. USB4 can be found to the right using USB-C, audio wrapping up the I/O.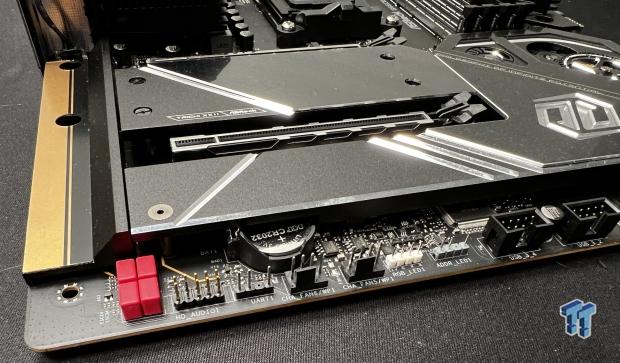 Around the board, we have WIMA audio caps next to the front panel audio; we then run into fan headers, RGB, and USB 2.0 headers.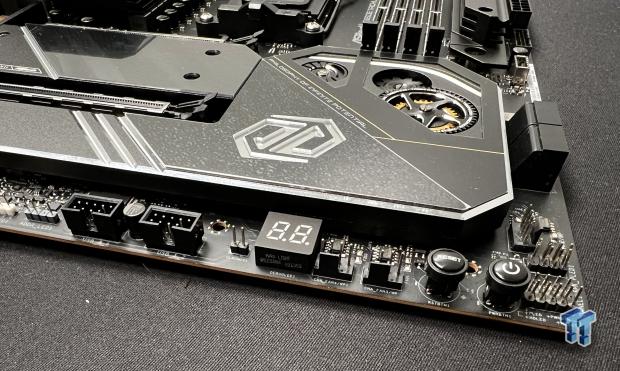 The debug LED is next to more fan headers and the power button.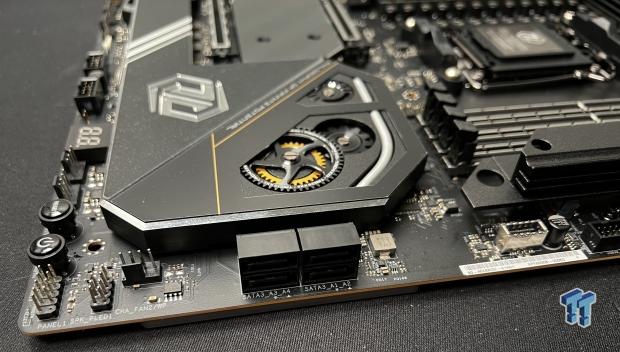 Around the corner, we have two SATA connections followed by chassis USB 3.2 Gen1 and 2.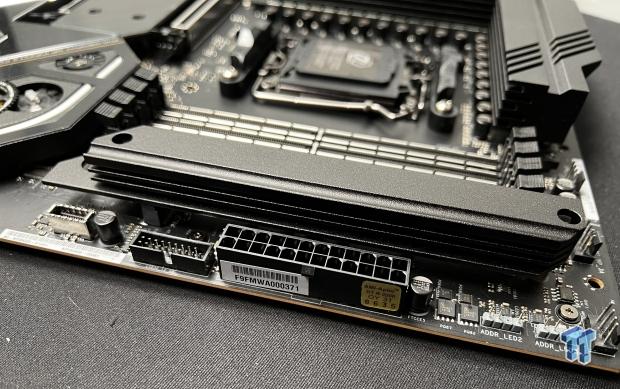 Moving towards the top, we have the 24-pin power connection and RGB headers.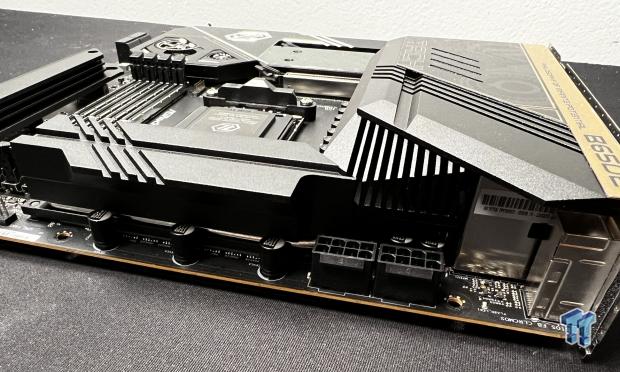 Across the top of the board, we have dual 8-pin CPU power connections.
UEFI, Software and Test System
UEFI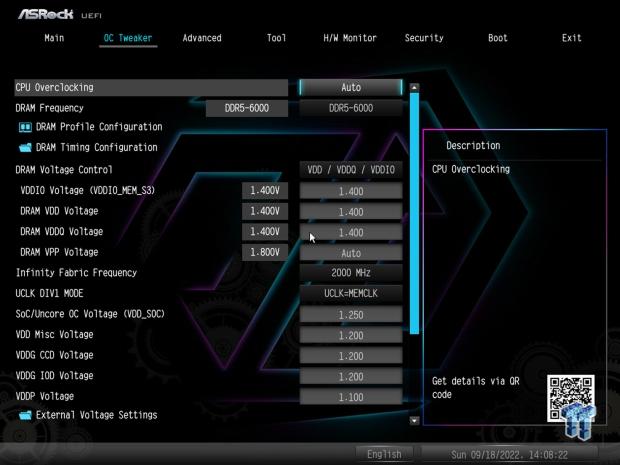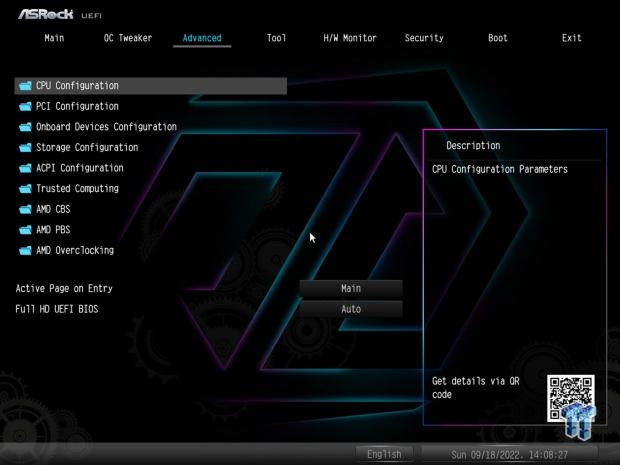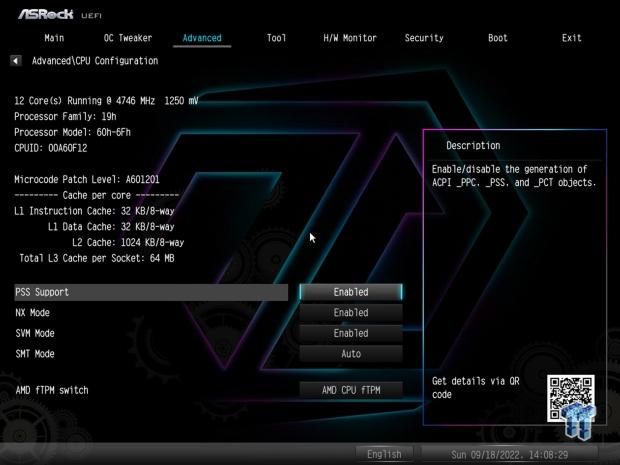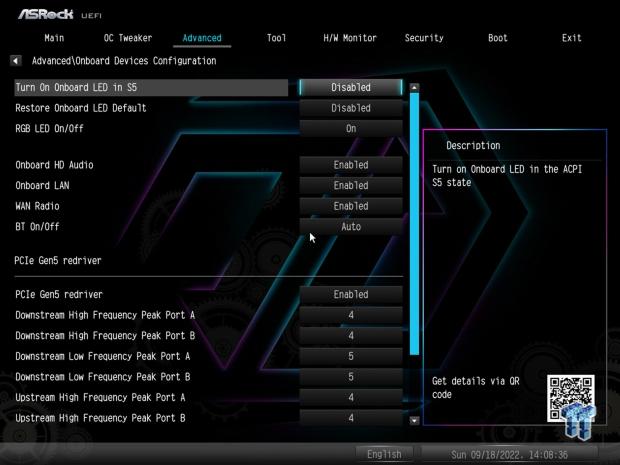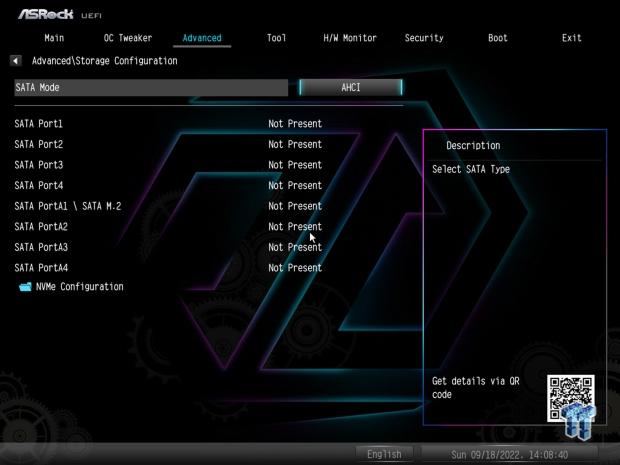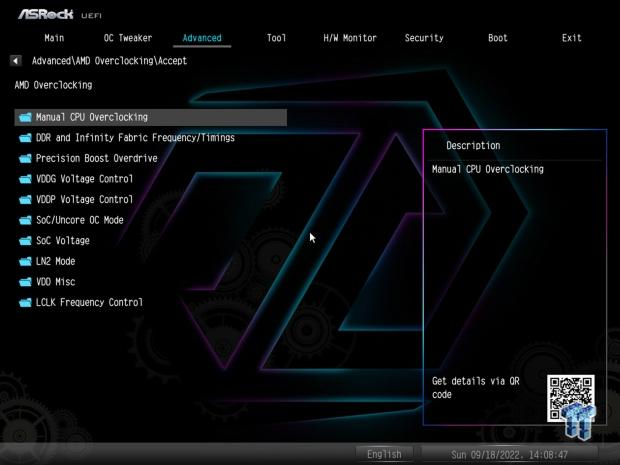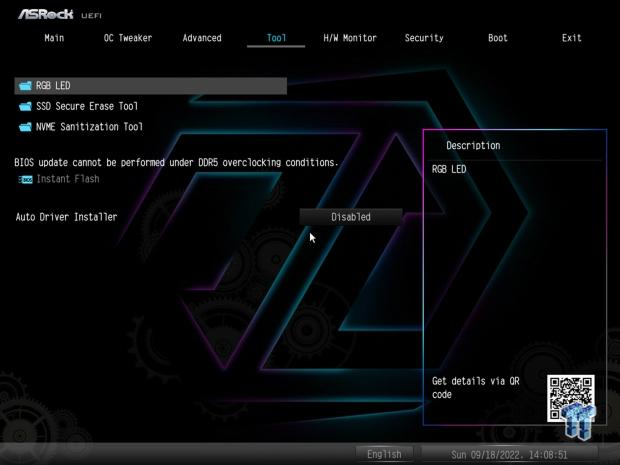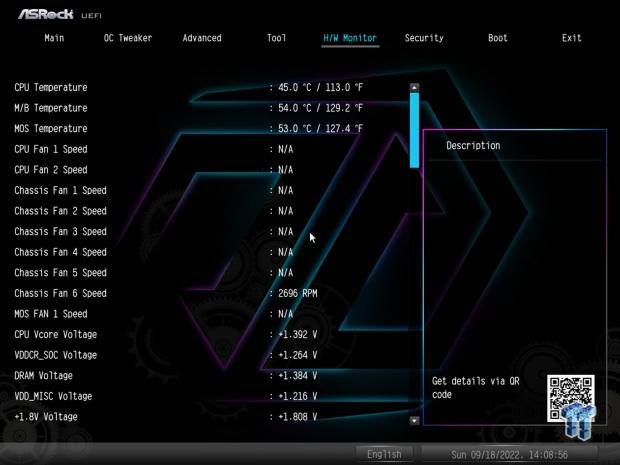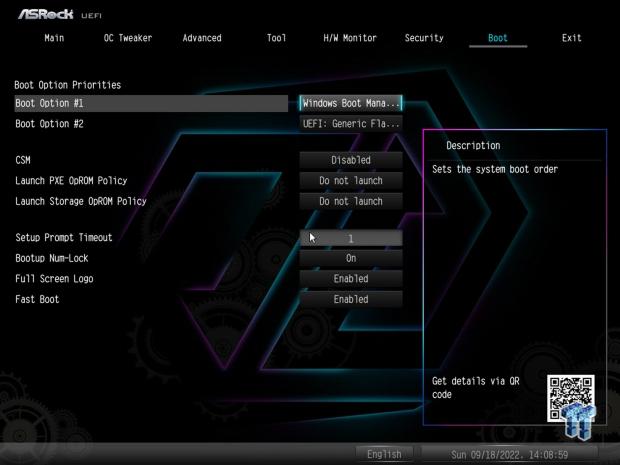 The BIOS on the Taichi follows the design we have seen from ASRock in the past. We have a special theme for this board that follows the colorway of the board. As for options, we start with the main menu, offering CPU build info along with installed memory.
Next up, we move into Tweaker, where you will find all overclocking controls for the board, including basic controls for CPU and memory. Slipping to the advanced menu, you can configure CPU options in the top menu, and further down, we can set up onboard devices and storage. Further down the Advanced menu, you will find AMD Overclocking controls, where you will find PBO.
Motherboard Testing Supporters

We deploy a set of Sabrent DDR5 that we have tuned to run 6000MHz at CL30.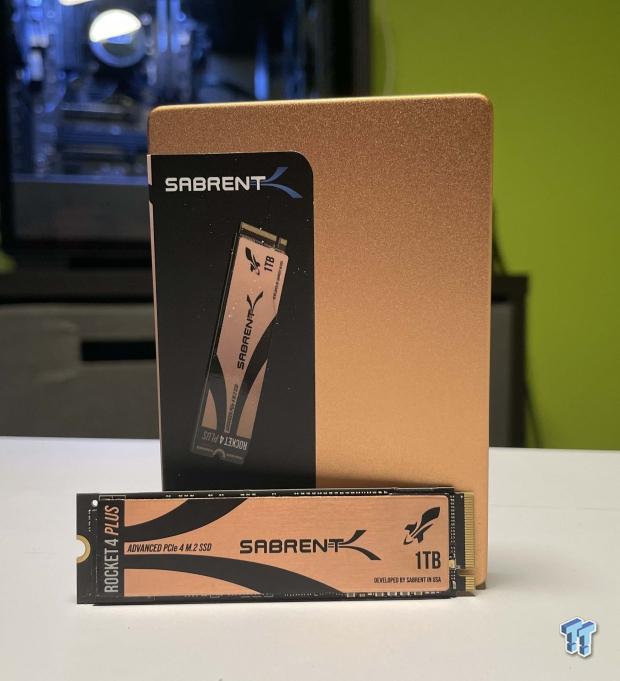 Sabrent supports our storage testing with the Rocket 4 Plus.
AMD Motherboard Test System
Cinebench R23 and AIDA64
Cinebench R23
Cinebench is a long-standing render benchmark that has been heavily relied upon by both Intel and AMD to highlight their newest platforms during unveils. The benchmark has two tests, a single-core workload that will utilize one thread or 1T, and a multi-threaded test that uses all threads or nT of a tested CPU.
Starting our testing, the Taichi ends up being our 4th B650E to hit the charts. Single thread offered up a score of 1982 followed by 19395 multi-thread.
CrossMark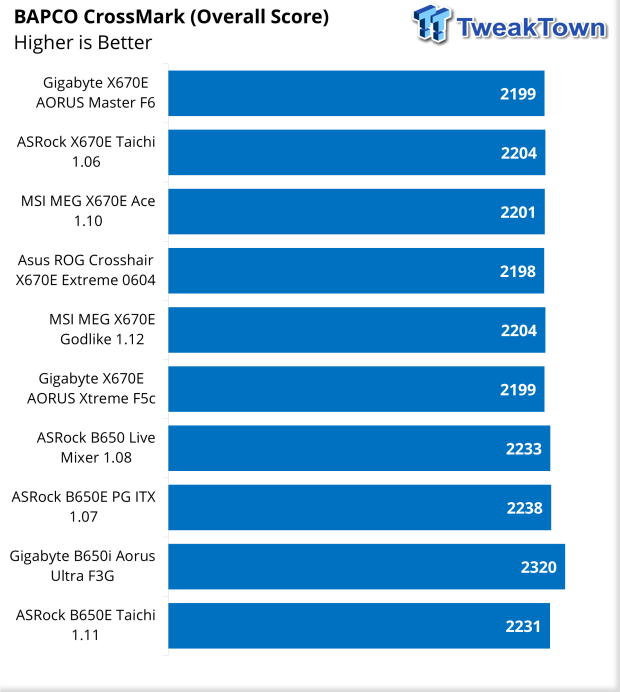 Crossmark gave us 2231, a bit higher than past boards.
AIDA64 Memory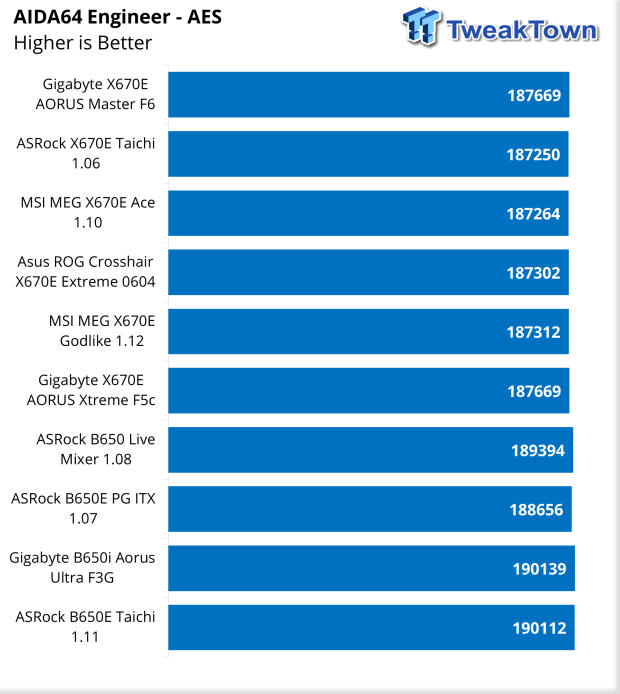 In AES, we picked up 190112.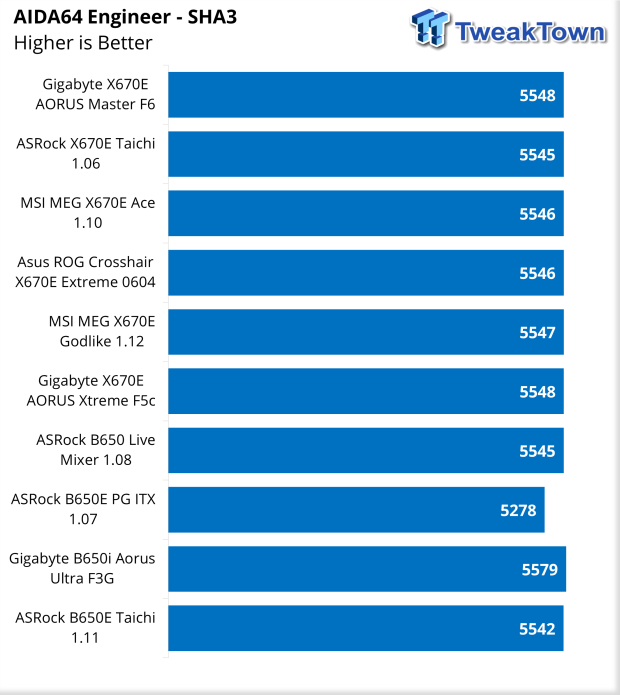 SHA3 tapped in at 5542.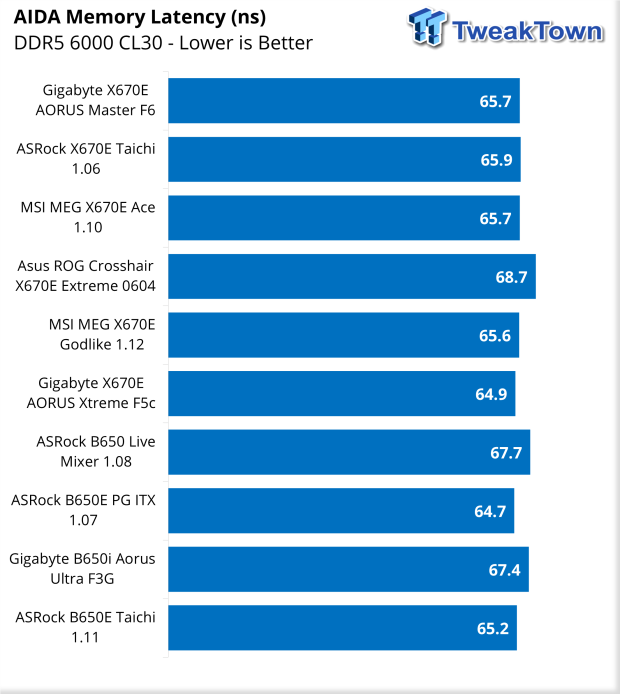 Memory latency landed at 65.2 for the Taichi, slightly better than our current average.
UL Procyon, 3DMark, and CrossMark Benchmarks
UL Procyon Suite
The UL Procyon Office Productivity Benchmark uses Microsoft Office apps to measure PC performance for office productivity work.
The Photo Editing benchmark uses Adobe® Lightroom® to import, process, and modify a selection of images. In the second part of the test, multiple edits and layer effects are applied to a photograph in Adobe® Photoshop®.
The Video editing benchmark uses Adobe® Premiere® Pro to export video project files to common formats. Each video project includes various edits, adjustments, and effects. The benchmark score is based on the time taken to export the videos.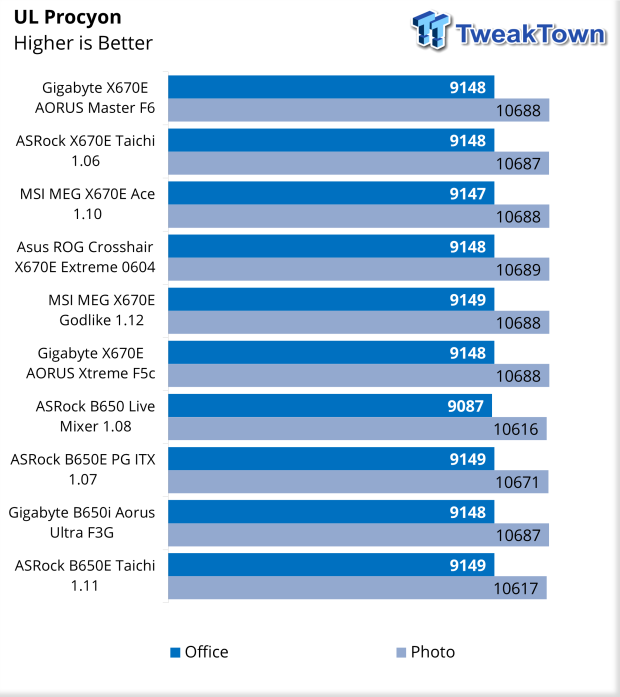 Procyon gave us a 9149 score for Office workloads and 10617 for Photo workloads.
3DMark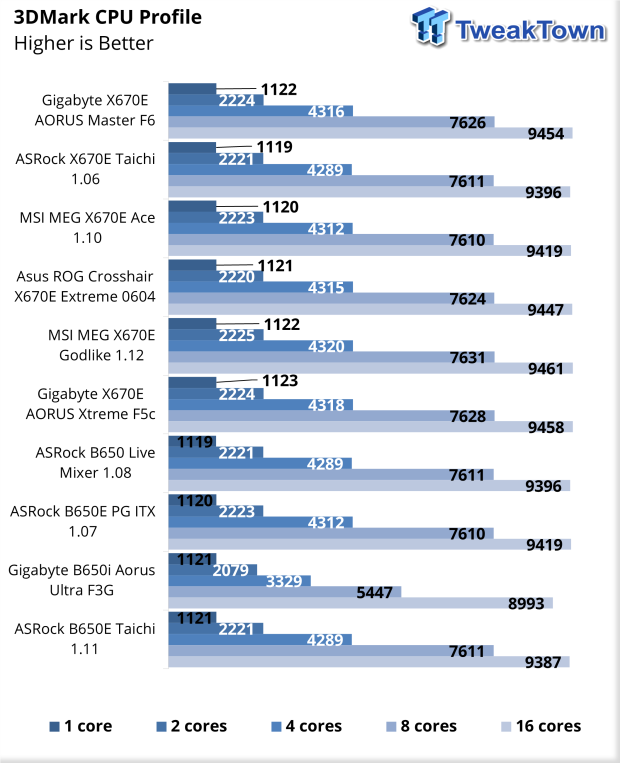 CPU Profile started with a score of 1121; we finished this bench with a sixteen-thread score of 9387.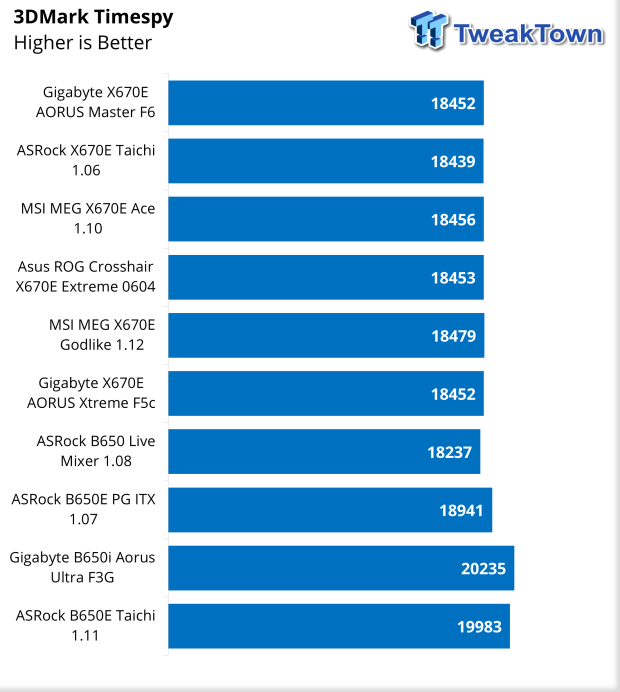 Timespy showed the Taichi doing quite well with our 3090 Ti, scoring 19983.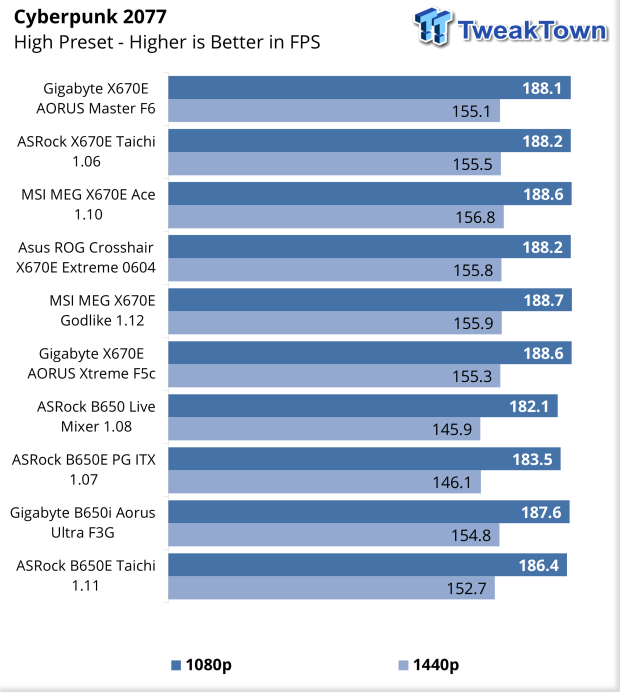 Looking at our gamin workload, the Taichi gave us 186 FPS at 1080p, followed by 152 FPS at 1440p.
Storage Benchmarks and Final Thoughts
3DMark Storage Benchmarks
UL's newest 3DMark SSD Gaming Test is the most comprehensive SSD gaming test ever devised. We consider it to be superior to testing against games themselves because, as a trace, it is much more consistent than variations that will occur between runs on the actual game itself. This test is, in fact, the same as running the actual game, just without the inconsistencies inherent in application testing.
In short, we believe this is the world's best way to test an SSDs gaming prowess and compare it against competing SSDs. The 3DMark SSD Gaming Test measures and scores the following:
Loading Battlefield V from launch to the main menu.

Loading Call of Duty Black Ops 4 from launch to the main menu.

Loading Overwatch from launch to the main menu.

Recording a 1080p gameplay video at 60 FPS with OBS (Open Broadcaster Software) while playing Overwatch.

Installing The Outer Worlds from the Epic Games Launcher.

Saving game progress in The Outer Worlds.

Copying the Steam folder for Counter-Strike Global Offensive from an external SSD to the system drive.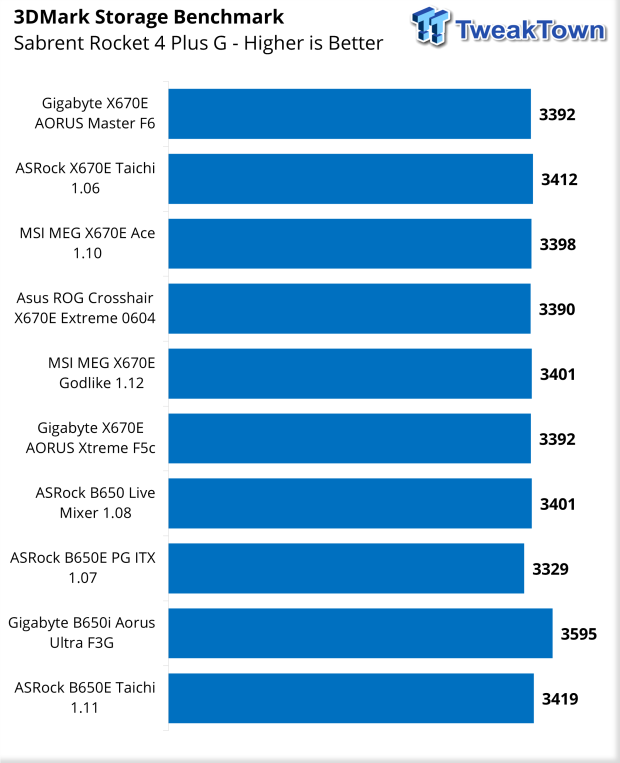 Storage Benchmark gave us a score of 3419.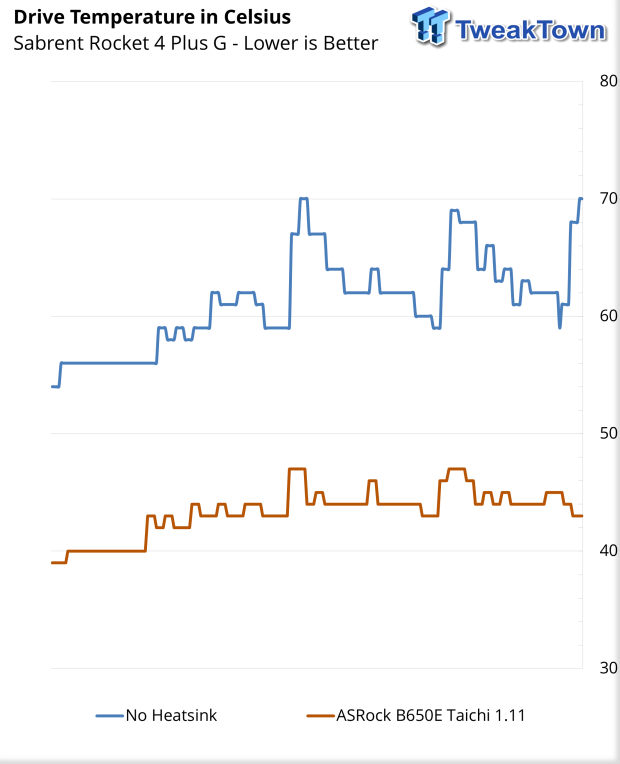 During our storage test, we logged the temps of our SSD to see how well the board thermal solution handles the heat load. The Taichi, in its stock form, peaked near 46c. It is worth noting that ASRock offers a larger fanned heatsink for its boards.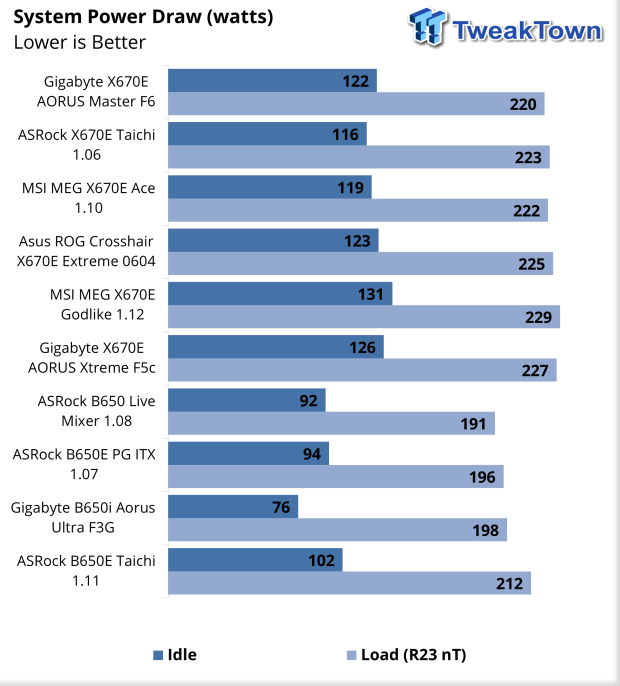 The power draw from this board was closer to what we saw on the X670E motherboards. The Taichi was idling at 102w, and going full load, we saw 212 peaks.
Final Thoughts
For those that use a lot of USB ports to connect all of their peripherals, the B650E Taichi could be just what you are looking for, as it might have the most USB 3.2 ports I've ever seen on an ATX platform. Further, we have a beefy 24+2+1 power design that includes 105 SPS phases, plenty for CPUs like the 7950X or upcoming 795X3D.
Adding to this, ASRock has included top-of-the-line components similar to what we saw on the X670E Taichi. One of these is Intel's Killer Networking Suite offering consumers more control of their networking and the ability with Xtend to make your PC an access point for other devices within range. We also noted a fantastic audio setup that includes the ALC4082 chipset and ESS Sabre 9218 DAC.
In testing, we found the performance very similar to our first run of X670E motherboards. A few benchmarks noted the boost in performance from the latest AGESA update, including AIDA64 and 3DMark Timespy. Our Cyberpunk benchmark showed solid performance from the Taichi when paired with our 3090 Ti, hitting 186 FPS at 1080p high settings. Storage on this board was quite good, scoring 3419 in 3DMark. We did note the heatsink would likely need to be changed out if using this board with a Gen5 NVMe solution, as our Gen4 drive did get close to 50c.
Looking at pricing, the Taichi is the most expensive B650E platform currently available, though ASRock has offset this cost by offering a stacked motherboard with no corners being cut. That said, at $369, you are close to the X670E Taichi, so that could be an option worth looking at.