TweakTown's Rating: 93%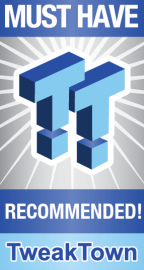 The Bottom Line
Colorful may have shown up out of the blue, but they have delivered something worth some attention. The CVN Icicle RGB are affordable, they mostly perform well, and for those tinkerers out there, there is tons of fun to be had.
Pros
+

Affordable

+

Overclocking headroom and flexibility

+

Unlocked PMIC

+

iGAME software

+

Top-tier components
Cons
-

No PMIC thermal pad

-

Visible RGB hotspots

-

iGAME software

-

Low performance in transcoding

-

Availability
Should you buy it?
Avoid
Consider
Shortlist
Buy
Introduction, Specifications, and Pricing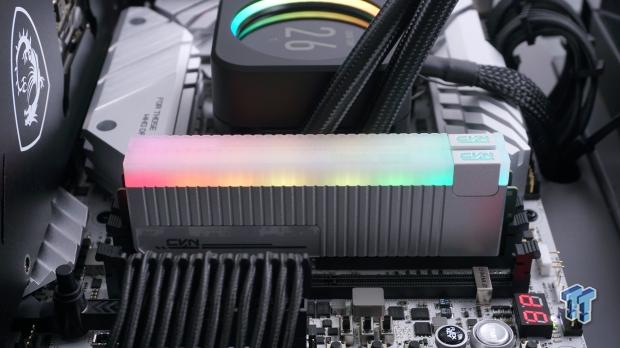 Almost out of nowhere, we saw a news blast for something brand new as we awoke one day on social media. After a bit, we eventually made it to our emails, where we saw Colorful requesting us to look at something. In this email, we were asked to look at some RAM. We know, right? Colorful makes DDR5? If, like us, you were or are new to this as well, while odd at first, we took the opportunity to see what is happening at Colorful and give them a shot to compete on our charts.
Since we had no concept that they were even part of the RAM game, when looking at their site, we were set back a bit seeing they have various models of DDR4 listed there as well. However, we are not here for their DDR4. We are instead looking at something so new that we are well ahead of their release to the masses. What you are about to see from a virtual upstart in this segment was said to release in Q2 of 2023, so any time now, but as far as we can tell, there is nothing on them beyond the news, and minimal information can be found on their product pages.
While we typically do not do pre-release reviews, we have all of the information we need to continue in an informed manner. We know the price, we know they will hit the market soon, possibly only on the other side of the big blue ball, and since we are writing this up, we know what their customers are in for. With all of the proper checks and balances at play, why don't we get on with it and show you what the Colorful CVN Icicle RGB has in store for its future customers.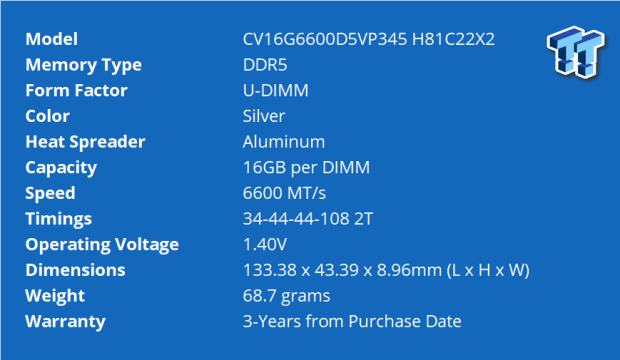 With possibly the longest part number in the game, Colorful will be listing this kit with the CV16G6600D5VP345 H81C22X2, along with it being called the CVN Icicle RGB, so you know you are looking at what we reviewed. The CVN Icicle RGB is a set of DDR5 that is shipped with a thick diffuser on top of textured silver aluminum heat spreaders. The X2 at the end of the part number means that the 16G portion gets doubled, making this another 32GB submission. However, this is our first go with a kit rated at 6600 MHz.
Beyond the speed, the kit has a lower CAS latency, with the complete set being 34-44-44-108 2T. Due to the tighter CAS timing and mixing in the added speed, Colorful uses 1.40VDIMM for the XMP 3.0 profile. Size-wise, they are not that big. Standing 43.39mm tall, they are 133.38mm long but are the thickest to date at 8.96mm wide. On top of the added thickness, this is also the weightiest kit in memory, where each stick weighs 68.7 grams. That is a lot of aluminum. Lastly, unlike the traditional limited lifetime or lifetime warranties we see elsewhere, Colorful opts to warranty these kits for three years.
While we cannot link you directly to where to buy this set of DDR5, already mentioning that they could hit stores any day now, we are also well aware of the MSRP. To set the stage a bit, we looked at other kits of this speed, 32GB kits, all at CAS 34, and we immediately noticed that whether you were looking to G.Skill or TEAM for their offerings, you would need to hand over $139.99 to get a similar set with RGB.
However, Colorful decided to come out looking like the hero, as they have set the MSRP of our CVN Icicle RGB to a paltry $105. If they look half decent and can keep up with the crowd, Colorful has certainly lowered the bar they need to vault to get us on their side. We will say this, we have mostly good things to say, so you may want to read it through.
Packaging and Colorful CVN Icicle RGB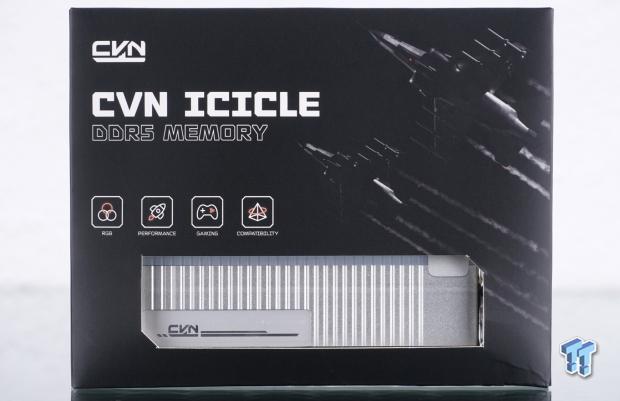 Packaging is kept simple, with matte black as the backdrop and a pair of well-armed jets viewed from below at the right. On the left, we see the CVN name and logo, the CVN Icicle name, and mentions of RGB, performance, use with gaming, and compatibility. The last thing we see is the window at the bottom, where we can see the vast majority of one of the modules.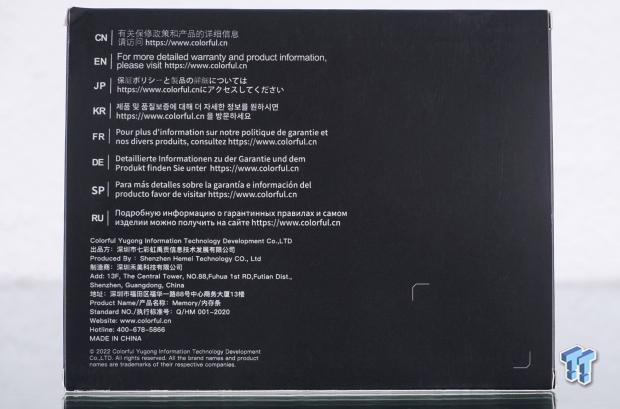 The back of the box tells us that we can visit their site for detailed warranty and product information, and the bottom delivers the physical address and other information. The one thing missing here is the product sticker, but again, this is a pre-release sample, and we are sure production versions will have appropriate stickers applied.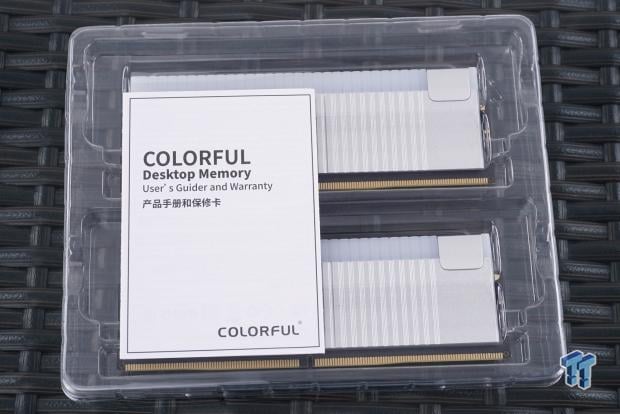 As manufacturers tend to opt for, Colorful ships their memory inside layers of plastic, ensuring the product is in undamaged and working order. We also get a multi-language pamphlet on use and warranty coverage along with the modules.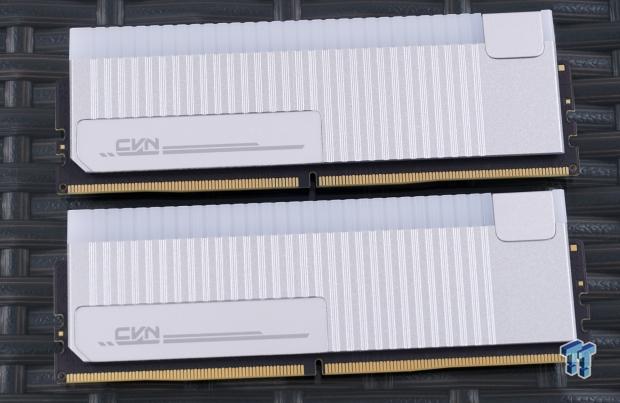 While we are unsure what fighter jets have to do with the aesthetic, we will say that we like the look they went for here. We like the taller diffuser at the top and how the grooves match those on the heat spreaders. As we can see, the spreaders are silver, and the CVN name and logo are on a sticker. We should also mention that the portion at the top right is a clip that goes from here, over the top, and down the other side.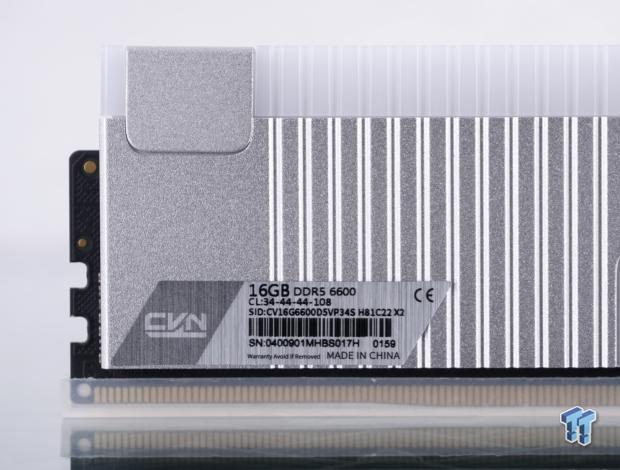 The other side looks the same except for the product sticker, which is placed in the lower left-hand corner, while the CVN sticker is to the right. We are given its density, speed, timings, part number, and serial number on this sticker.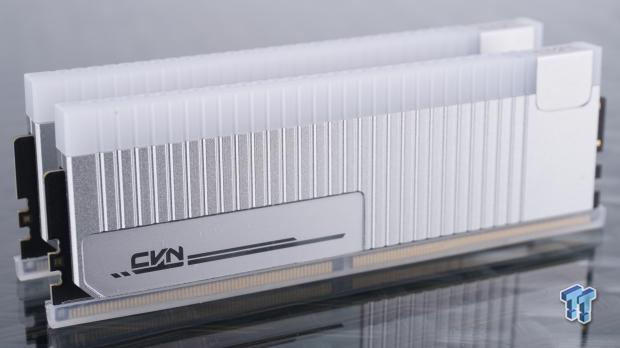 Looking at the CVN Icicle RGB like it is now, we can see the grooves much better in both the diffusers and the heat spreaders. The texture is much more apparent, but so are those bubbles in the CVN sticker. We hope this is not something that shows up in the retail version.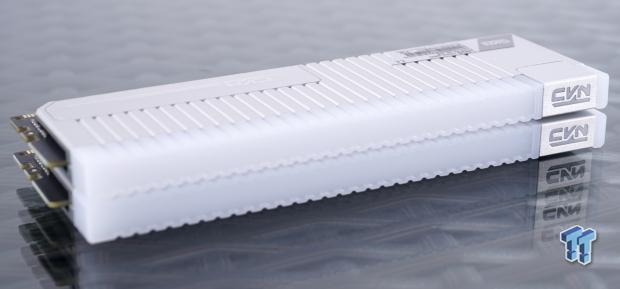 The diffusers are slightly taller at the edges, whereas the surface in the center is somewhat lower and flat. Rather than paint their name on the diffusers, they used the clip we spoke of to present the CVN name, which the RGB backlights.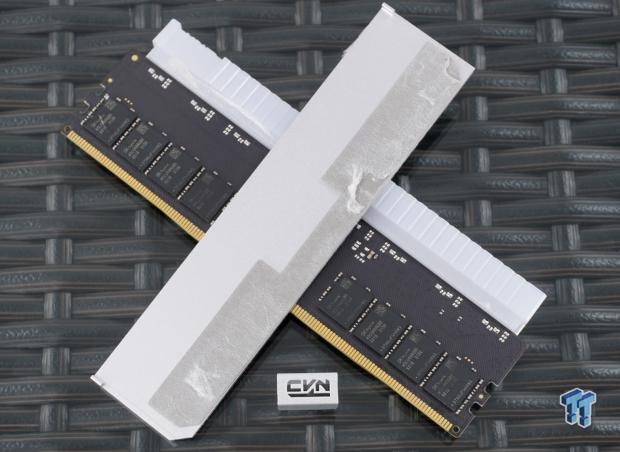 Peeling off one of the heat spreaders, we immediately could tell they use high adhesion thermal tape on the ICs; however, there is no thermal pad for the PMIC. There is also a thin line of double-sided tape along the side of the diffuser, and some hold that CVN clip in place. Under the spreader is a set of eight SK Hynix H5CG48AGB0, A-die chips.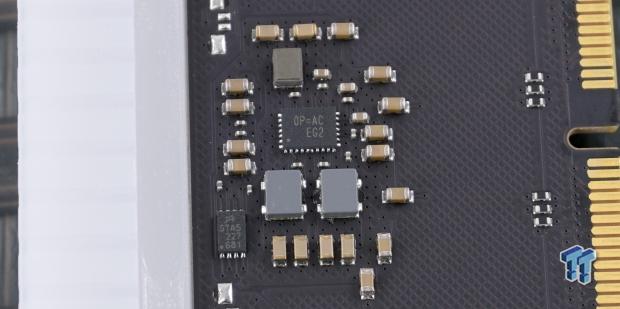 Steeping down the 5V rail to usable RAM voltages is this 0P=AC PMIC from Richtek. It is the same chip we found in the Trident Z5 RGB, and if what we saw there is any indication of the power of these newer chips, we are in for a bit of a ride.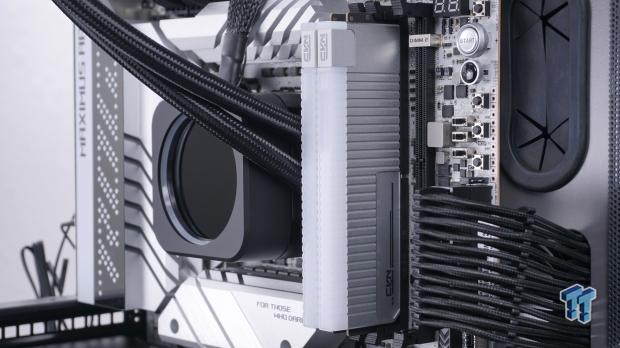 While we have said about a select few kits that it is almost like they are built for the APEX, this is certainly one to add. The white and silver is a near-perfect match to the theme and happens to be the same board that Takukou got a Colorful kit like ours running at 10,707.8 MHz.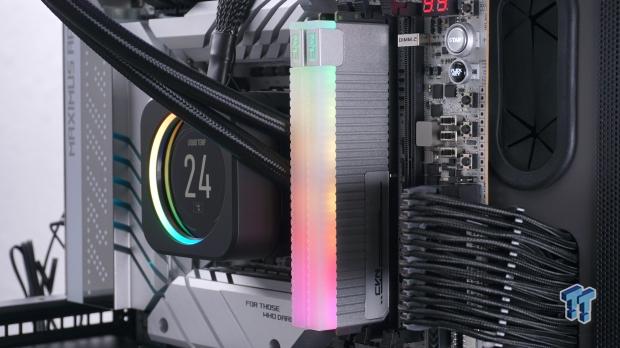 By default, you are given a rainbow of colors smoothly transitioning from the top to the bottom. Once we got into Windows, we allowed Armoury Crate to sync with them, and the colors matched the rest of the build as you would expect. The only downside we see here is that the RGB LEDs are visible through the diffuser and cause prominent hotspots on the sides of the sticks.
Test System Details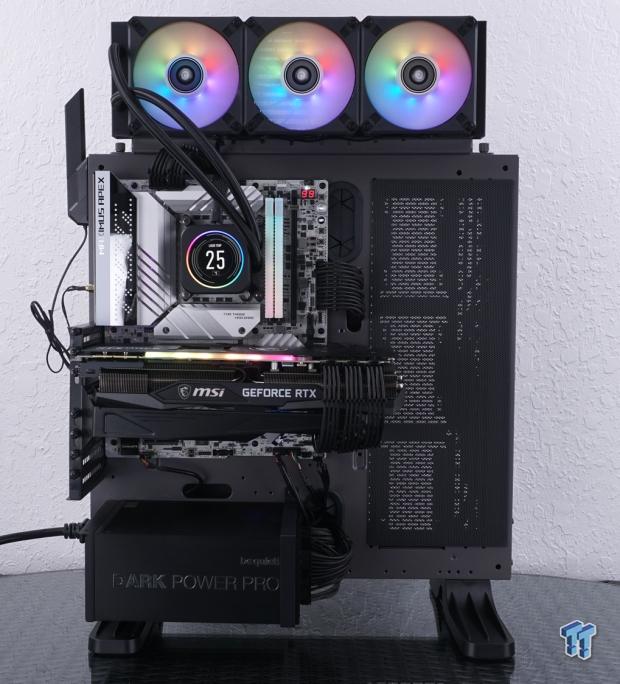 To obtain the Intel CPU-Z screenshots, you will see directly following this image; this is the system we used to do it, as well as in getting the results seen in the following pages. Thanks to Intel, be quiet!, ASUS, MSI, Corsair, and Sabrent for supporting us with this venture. Detailed specifications of the system can be found below.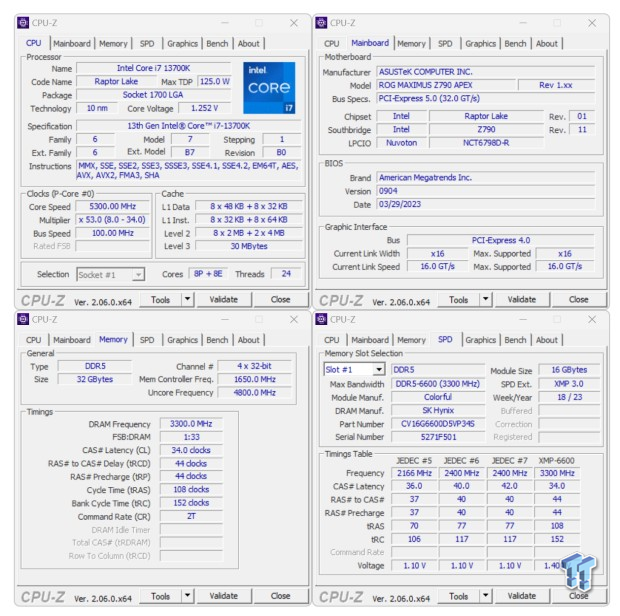 Once we clear the CMOS, go into BIOS to enable the XMP 3.0 option, and then get into Windows, the first thing we always do is make sure it jives with the specs. Colorful hits the nail on the head, as this set of CVN Icicle RGB is running at 6600 MHz with 34-44-44-108 2T timings. The voltages were 1.40 VDIMM, 0.897V for the system agent and the memory controller used 1.190V.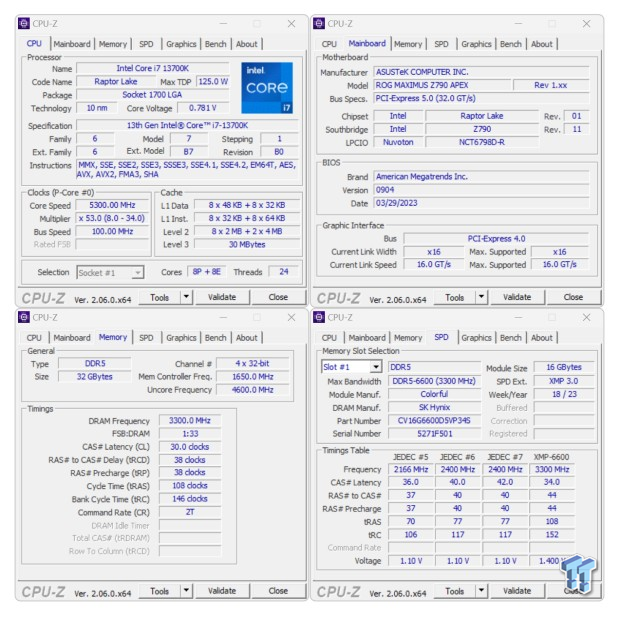 While still at 6600 MHz, we try to lower the timings while keeping the kit stable. We raised the VDIMM/VDDq/Tx to 1.50V, the SA to 0.977V, and the MC gets 1.296V to get us underway. We found that 30-38-38-108 2T was the lowest we could go. CAS 30 would cause an instant BSOD, and we ran into Q-codes while booting with 30-36-36.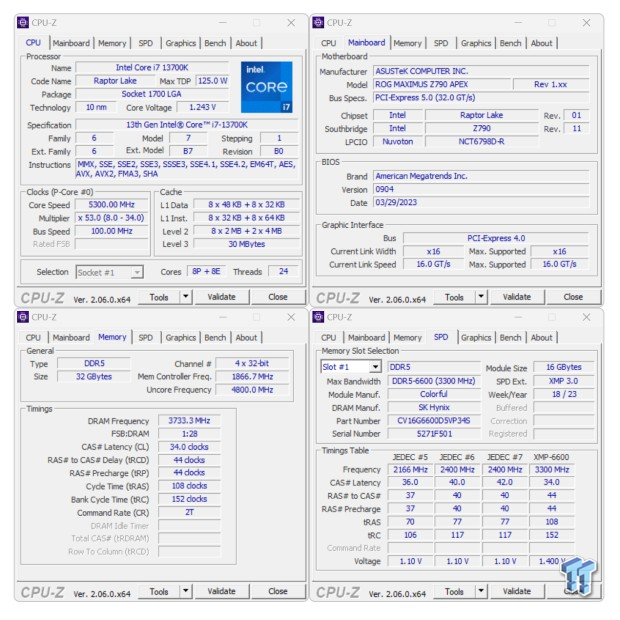 Resetting the timings to what the XMP profile sets them to, we raised the speed of the RAM until we reached 7467 MHz. Yes, that is 867 MHz of OC headroom. 7600 MHz was nearly stable in Windows, but under heavier stress loads, it would fail.
Chad's Intel DDR5 Dual-Channel Test System Specifications
Intel Performance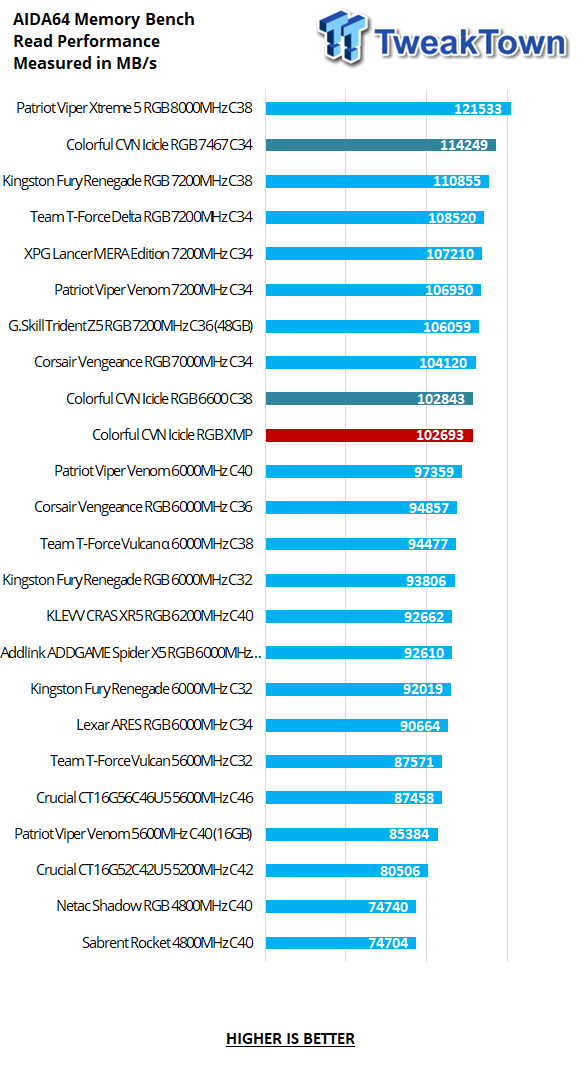 AIDA64 read performance kicks things off in the right direction. The CVN Icicle RGB right out of the box falls into the chart at 102,693 MB/s, between the 6000 MHz kits and not that far behind some of the 7000 MHz examples. Timing tinkering did not gain us much headway at all, but with that extra 867 MHz of speed, the results rocket into second place with a boost of 11,556 MB/s versus the XMP results.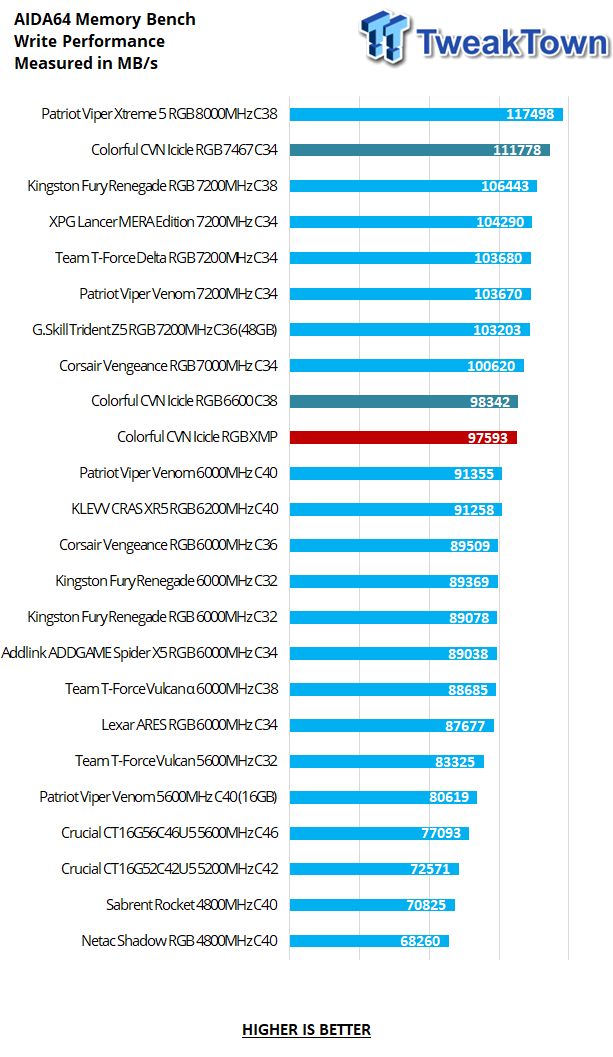 Write performance shows us a similar result from XMP, above the 6000 MHz throughput and not far behind a few faster ones at 97,593 MB/s. Reducing the timings gets us 749 MB/s over XMP, while at 7467 MHz, the jump is much more impressive, some 14,185 MB/s better than they are out of the box.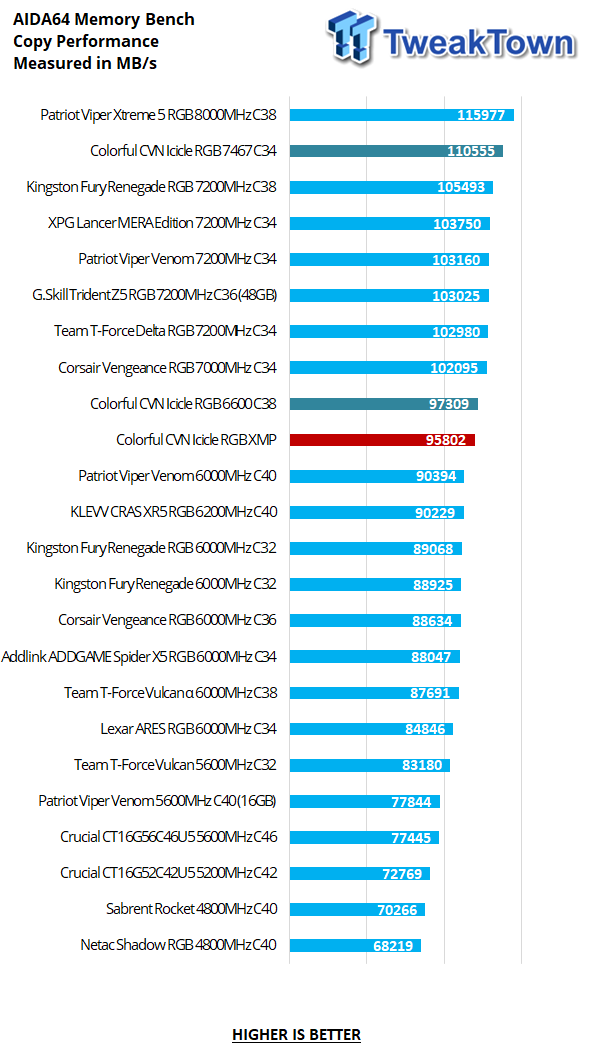 And more of the same when it came to the copy results. Again, placing where they should go by speed, we cannot complain about the 95,802 MB/s we get from XMP. Messing with timings got us 1507 MB/s more, but more speed wins again, where the bonus here is 14,753 MB/s.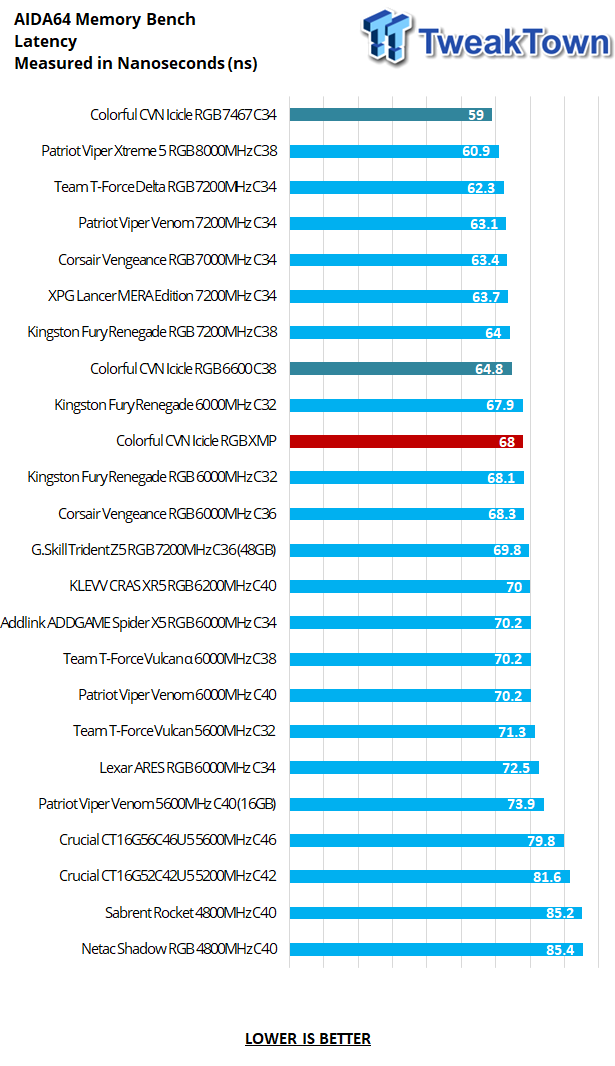 Fresh out of the box with XMP applied, we like the latency test results; while the Renegade still lists strong, Colorful is right behind them at 68ns. We lost a little more than 3ns with lower timings, and at 7467 MHz, they top the chart at 59ns.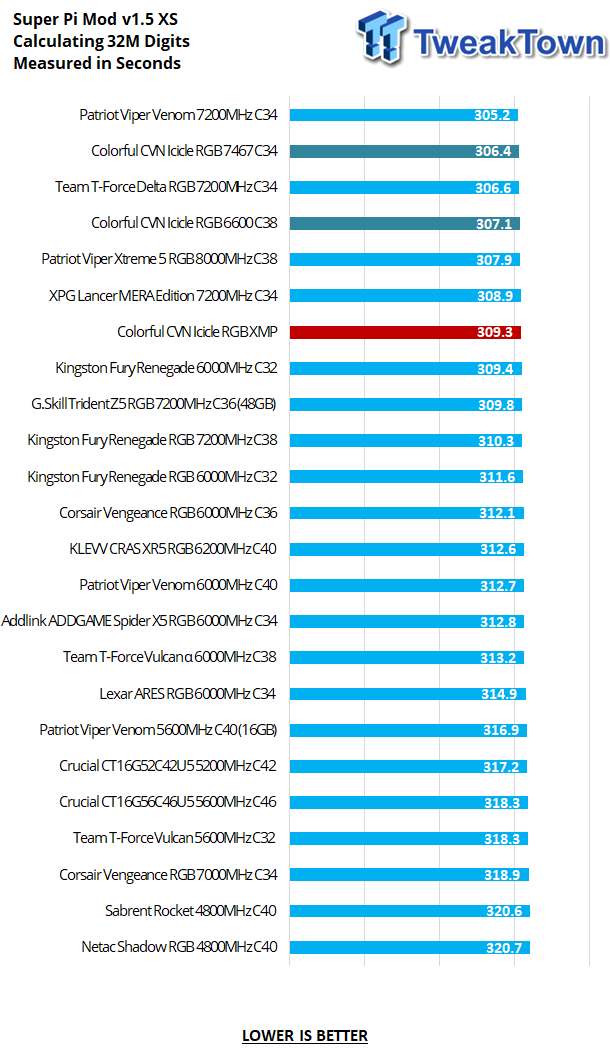 With something like SuperPi, it is hard to find fault with the times the CVN Icicler RGB produces. With only four other kits having better results, we feel this kit is doing better than expected. We made that 2.2 seconds faster with tighter timings and 2.9 seconds faster by increasing the overall speed.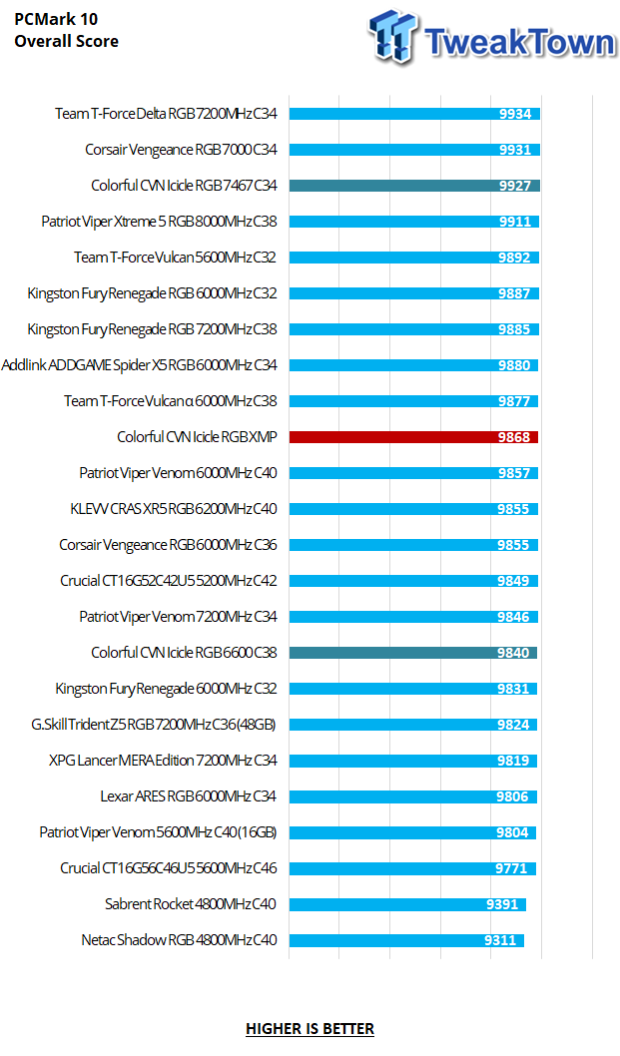 PCMark 10 is always willing to toss a spanner in the works, but Colorful can be proud of the XMP results that are well above average. Lowering the timings has us pay a penalty of 28 points, but we gained third place at 7467, behind a 7000 MHz and a 7200 MHz kit.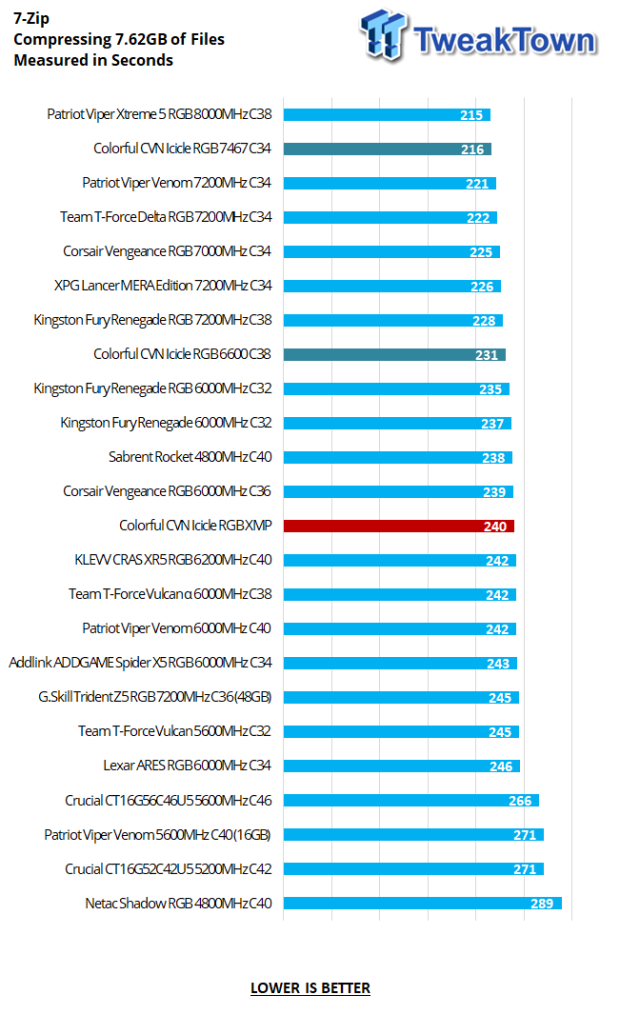 We expected better from the CVN Icicle RGB in 7-Zip testing, and there are quite a few examples of 6000 MHz options that do better out of the box. Where the tighter-timed run landed is about what we expected from XMP, but to help turn things around, we got results in second place with little effort.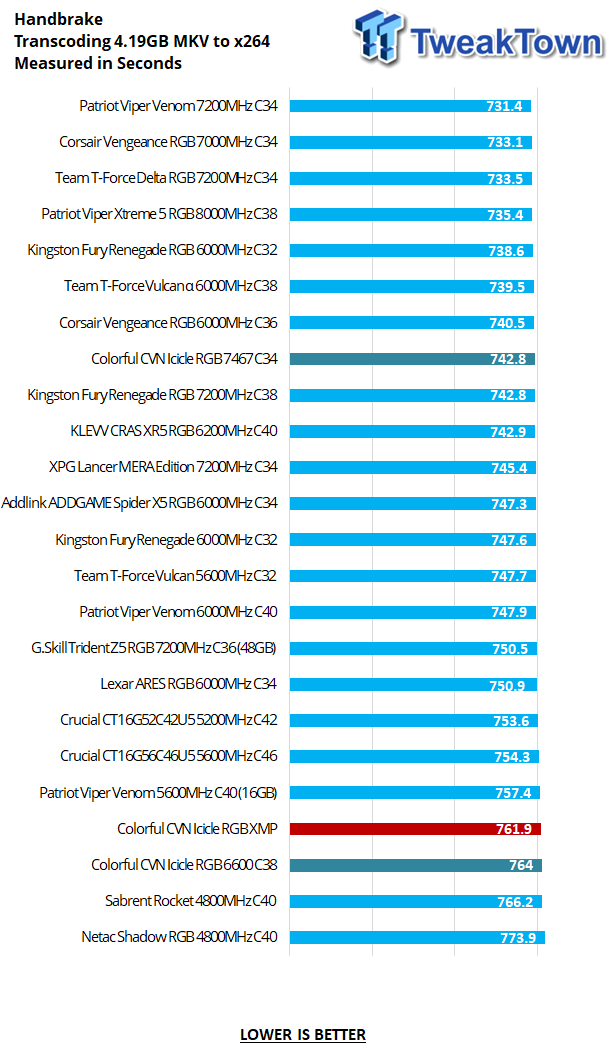 These results are why we mentioned this being a con for the Colorful CVN Icicle RGB. If you are doing transcoding as you see done here, you will not be pleased with the extra time needed to complete the tasks. One saving grace is the 7467 MHz results, but honestly, those doing productivity do not tend to push their hardware as we do.
Final Thoughts
While this new RAM from Colorful does remind us of a kit or two from the past, we can say they have a unique look in the current market. We have seen that it is not the silver, but the textured tight lines and grooves, with the matching marks in the diffuser, give them a cleaner appearance than some of the more drastic designs we have seen previously. Beyond the appeal, we look at things like the latest in PMIC technology, with a chip we have seen twice now, and both times it seems we can do more with less.
By this, we mean we have had A-die ICs on a few kits, but only those with this 0P=AC PMIC. Clocks have gotten higher when overclocking, and timings also seem to get slightly tighter. These points may never come into play for the average user, but for those who like to push RAM as far as it can go, these aren't bad sticks to do that with.
It wasn't until near the end of the testing phase that we saw reasons to mention performance other than what we expected from it, or even more in some cases. AIDA64 showed us good things from the CVN Icicle RGB, they did rather well in SuperPi, and even PCMark did not show us anything to worry about. The compression result was not exceptional, but it is still much closer to the top of that chart than the bottom. However, these Colorful sticks fell flat on their face when it came to transcoding.
However, this kit is intended for gamers and guys like us who push boundaries. Lackluster results in productivity testing are a bummer, but one can say it is not designed for that arena. Either way, you want to look at it; we feel they could have done better and likely should have done better, and we want to ensure we cover all of our findings.
There is one other "issue" that needs mentioning. As advanced as RGB and ARGB lighting has gotten, it seems there is a small point that a few manufacturers seem to overlook. In some instances, the diffusers are too thin, and in others, the lighting is too bright, but we know there is a happy medium. Nowadays, we feel that RGB hotspots should be a thing of the past and not something we continue to see.
With performance high enough to please many out there, toss in a reasonable amount of overclocking headroom, and cover it is sleek and non-aggressive styling, you already have a good mix of reasons to look to your company for our next set of DDR5. However, there is still one thing to add to that mix.
If Colorful sticks to its MSRP when released, the $105 they ask for the CVN Icicle RGB is quite the deal. We wish they were already available so we could compare our overclocking results against other kits, but with what we were sent, we can recommend them to you as long as you have no qualms with their productivity results.