TweakTown's Rating: 86%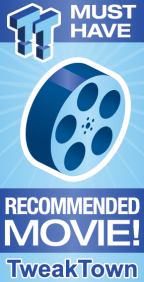 The Bottom Line
The wait was worth it - the best Star Trek: Next Generation feature makes a stunning debut on the 4K format.
Pros
+

Stunning 4K remaster from the original camera negative

+

Striking HDR highlights which resolve great detail

+

An impressive audio mix with a lot of low-end information
Cons
Should you buy it?
Avoid
Consider
Shortlist
Buy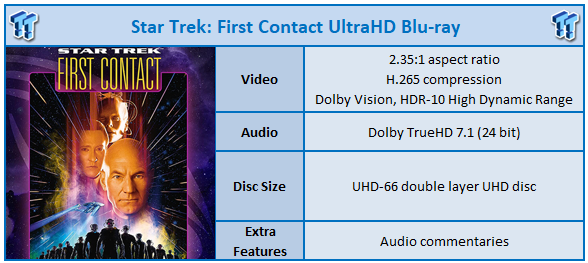 Star Trek: First Contact 4K Blu-ray Review
If Star Trek IV: The Voyage Home is "the one with the whales," then First Contact is certainly "the one with the Borg" - eschewing the sci-fi gobbledygook of its predecessor Generations and the ponderous thoughtfulness of the long-running series in favor of a self-contained, straight-laced action adventure that engages casual and core audiences.
When the cybernetic villains known as the Borg appear above 24th century Earth, U.S.S. Enterprise Captain Picard (Patrick Stewart) promptly takes control of the defensive situation and exploits a vulnerability to defeat their vessel. However, the crew must take chase when the Borg can deploy a contingent force through a time vortex, time-traveling to 21st century Earth to invade a war-torn and defenseless Earth before it can demonstrate warp speed flight and mankind's subsequent 'First Contact' with an alien race.
Undoubtedly the most satisfying and cinematic of the four Next Generation feature films, First Contact remains a fast-paced and fun adventure romp with an engaging and high-stakes story that hits all the right notes and resonated with audiences and critics alike.
While the film only managed to generate $146 million worldwide (compared to the $820m box office haul of the other 1996 sci-fi hit, Independence Day), which perhaps served as a warning to the inherent limits of the series, it was successful enough to ensure two future sequels, as well as the continuation of the two concurrently running T.V. series, Deep Space Nine and Voyager.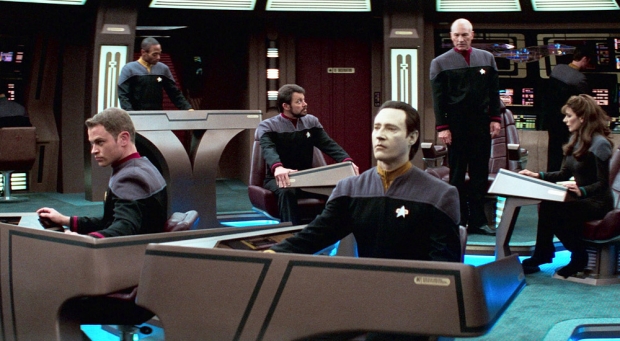 Video transfer
Star Trek: First Contact is presented in its original aspect ratio of 2.35:1, encoded with H.265 compression, and finished with a Dolby Vision pass, in addition to a base HDR-10 layer.
As with the entire run of Star Trek films that have now been upgraded to 4K over the last year, Paramount has dusted off the conformed camera negative to produce a stunning new 4K transfer, which replaces the previous 20-year-old H.D. master in an overwhelmingly comprehensive way.
Once again, we have a beautifully defined and stable image, bursting with ultra-fine detail and wonderfully cinematic imagery. The color balance is excellent, with rich and saturated tones where appropriate. Like its newer 4K predecessors, the noise, film artifacts, and egregious digital noise reduction and edge enhancement that marred the previous Blu-ray release are totally absent.
First Contact represents the height of combined practical and C.G. effects working in tandem (its successor, Insurrection, would later utilize C.G. for spaceships and vehicles), and this scrubs up really quite pleasingly in 4K. Take, for example, the opening Borg battle, which features superb detail in the crisscrossing jumble of detail on the Borg cube, and the beautiful full-scale Enterprise E.
Occasionally, the uptick in resolution does reveal flaws and technological limitations to some effects (Take note of the wonky pan up to the sky on the final shot). Still, overall, this is an impressive remaster. Paramount should be applauded for the care and attention given to their crown jewel franchise in 4K.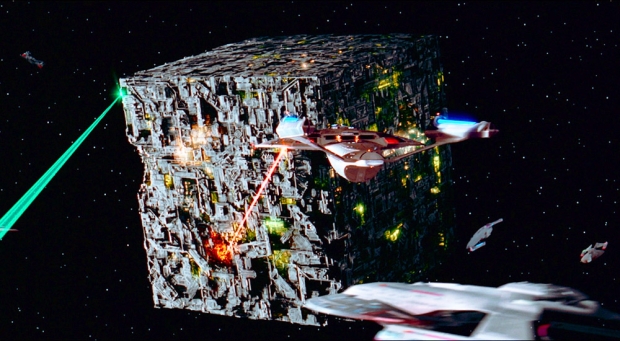 Audio transfer
Star Trek: First Contact is presented in a Dolby TrueHD 7.1 remix at 24 bits.
Like its predecessor, Paramount appears to have upgraded First Contact with a new 7.1 mix. However, an analysis of the audio spectrums reveals that the rear surrounds are identical and duplicated. So, essentially what we have is a 5.1 mix, inside a 7.1 wrapper, as opposed to a discreet (i.e., true) 7.1 mix.
Marketing duplicity aside, there's really not a whole lot else to complain about here - from the Laserdisc release on, the film has always had a pretty aggressive audio mix, and there are certainly no issues with audio sync or dialogue intelligibility. Bass is responsive when requested and effectively underscores some of the more intensive sequences.
Composer Jerry Goldsmith returns to the franchise for the first time since the 1979 Star Trek: The Motion Picture, proving he was still the master. It's a glorious score, swelling to underscore moments of tension and emotion and making its presence immediately known through a surprisingly moving main theme.
While it would have been something to behold to have a Dolby Atmos mix (imagine The Borg's hail emanating commandingly from every channel, including the heights), overall, this is a solid track and one which still has the power to impress.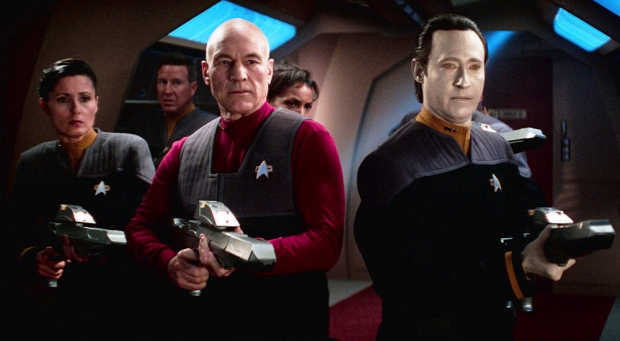 Bonus materials
Unfortunately, unlike other international releases, Paramount has again not included a copy of the standard Blu-ray in the Australian release, which means all the video-based features are absent from this edition. Trekkers would be advised to hang on to the previous Blu-ray release or import the U.S. or U.K. editions to retain everything.
However, the 4K disc does include three previously released Audio Commentary tracks, the first provided by actor/Director Jonathan Frakes, the second with writers Brannon Braga and Ronald D. Moore, and the third with Star Trek: Into Darkness writer Damon Lindelof and TrekMovie.com editor Anthony Pascale.
Finally, we also have a Text Commentary track written by Star Trek experts Michael and Denise Okuda. We don't see these on the format very often these days, but they're always fun. This one was first released on the 2-disc DVD edition back in 2005, but the subsequent Blu-ray removed it, so it's nice to see it return.