TweakTown's Rating: 91%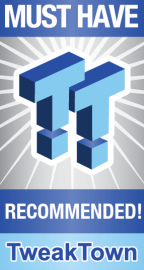 The Bottom Line
Go custom! If you are in the market for a prebuilt gaming machine, Velocity Micro will build a machine to your specifications and we had very little to complain about when it comes to the Raptor Z55 in 2023.
Pros
+

Water cooled CPU and tidy cable management

+

Upgradable components

+

Standard form factor

+

Custom chassis with loads of connectivity

+

No bloatware
Cons
-

PCIe power uses an adapter for GPU

-

Price
Should you buy it?
Avoid
Consider
Shortlist
Buy
Introduction and Pricing
Prebuilt gaming machines have become increasingly popular over the last few years, eliminating the risks that are at times associated when building your own machine. That said, there is a premium depending on where and how you buy your prebuilt machine. For those unaware, there are two distinct categories of prebuilt machines, those you find on the shelf in preset configurations and those like today's Velocity Micro Raptor Z55, that are built to order completely custom.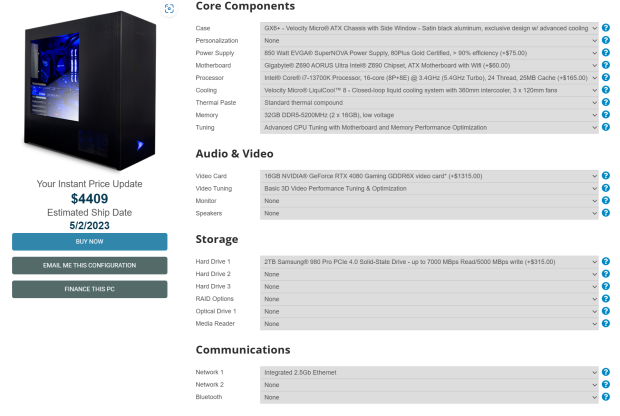 The build for our Velocity Micro machine is outlined above, including an AORUS Z790 motherboard at the heart. Ours was paired with the Intel Core i7-13700K CPU with 8P and 8E cores for a total of sixteen cores and twenty-four threads.
This was then equipped with 32GB of DDR5 from Kingston's Fury series. The GPU for our test machine was the NVIDIA GeForce RTX 4080; a PNY solution was used in our system. Lastly, we have storage, which was spec'd with a 2TB Samsung 980 Pro SSD. To power this entire system, an EVGA SuperNOVA 850W unit was deployed.
At the time of writing, Velocity Micro has the Raptor Z55 GX6 listed at $4409. It includes a one-year warranty and lifetime support.
The Raptor Z55, BIOS and Software
Packaging and BIOS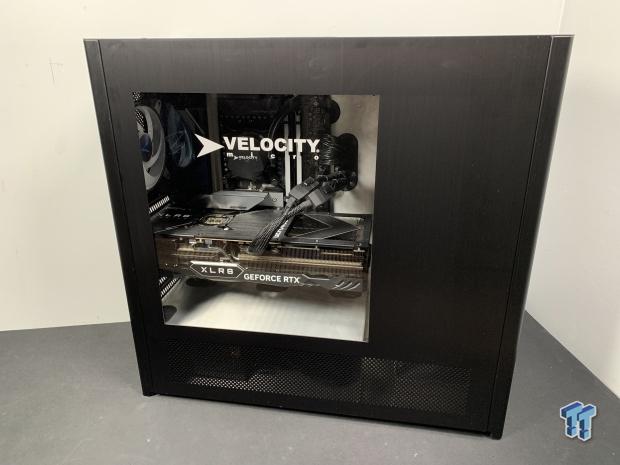 The Raptor Z55 uses an overall straightforward design. The tower is completely custom, with a windowed side panel and ventilation below.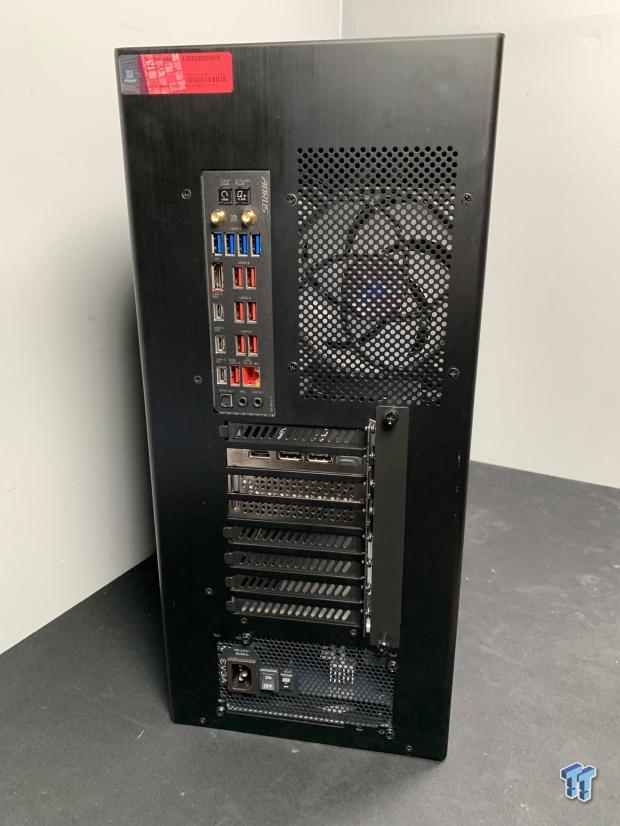 The backside offers eight-slot expansion for large EATX motherboards, the power supply at the bottom, and available chassis fan. The rear I/O on our AORUS Z790 board offers Wi-Fi and 10Gbe, along with plenty of USB 3.2.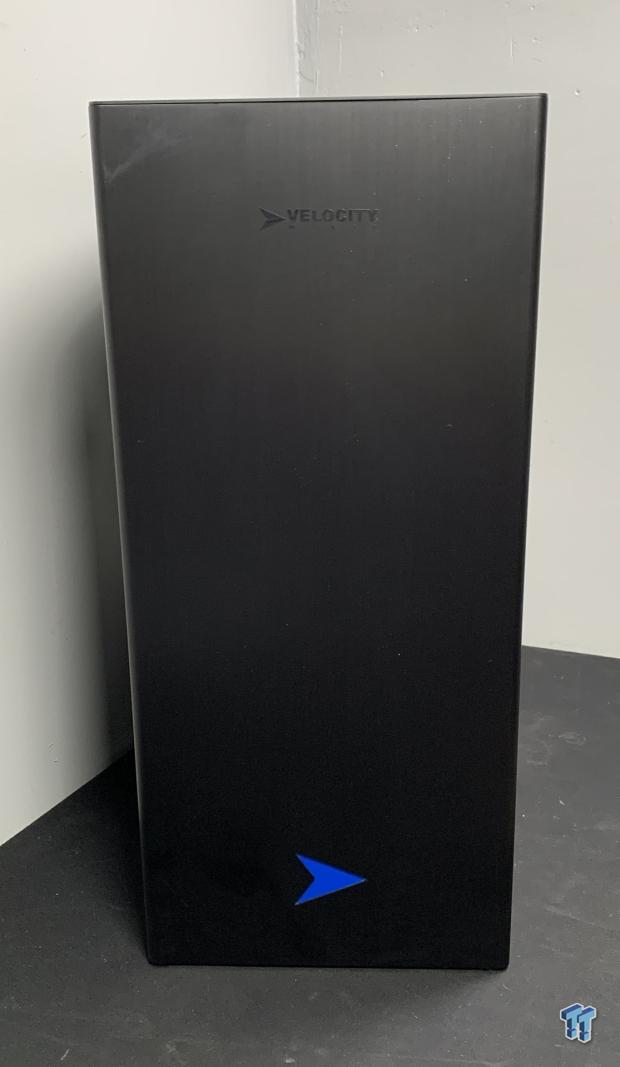 The front of the chassis is solid, with a VM logo at the bottom and branding at the top.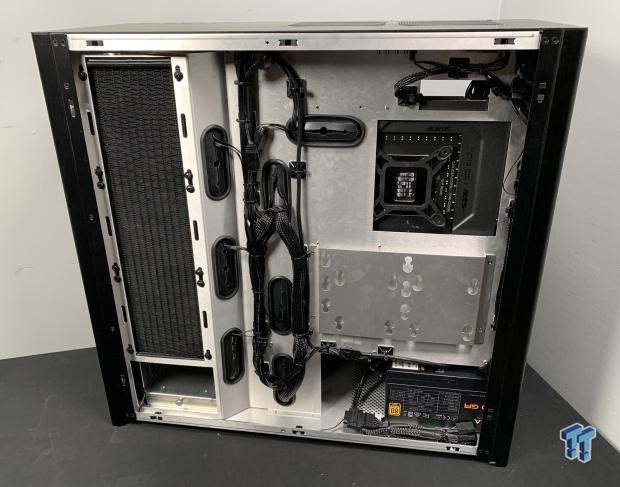 Cable management is fantastic, with all the power supply wiring neatly tied in the rear of the chassis.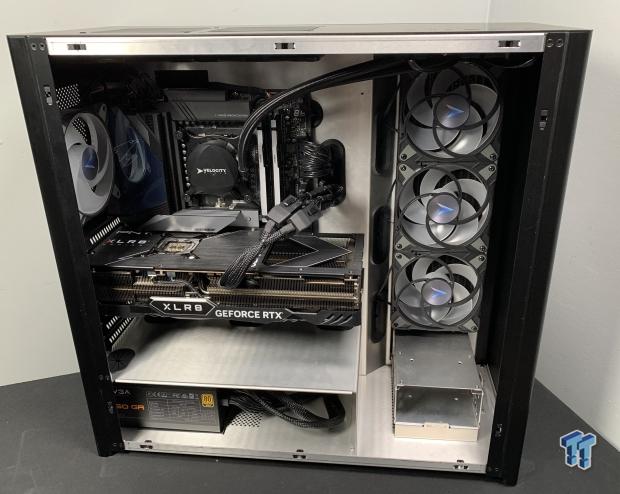 Removing the side panel, we can get to the hardware. At first glance, we have a very well laid-out machine. The wiring is clean apart from the 12VHPR adapter being used on the GPU. CPU cooling is off to the right, with a drive cage below for legacy drives.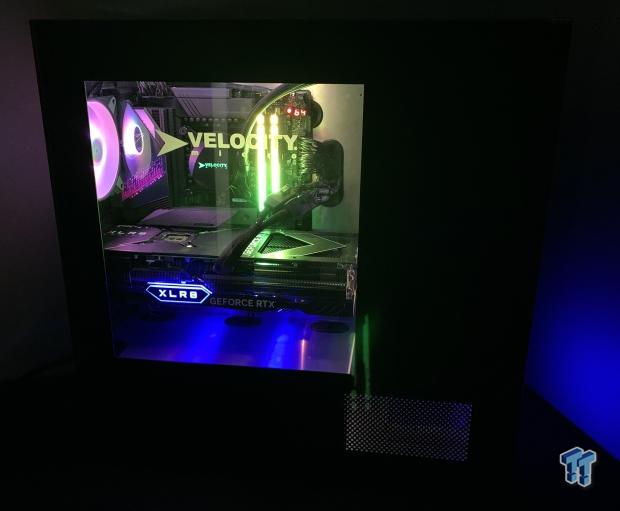 RGB lights up the Raptor well and is customizable through the motherboard's software.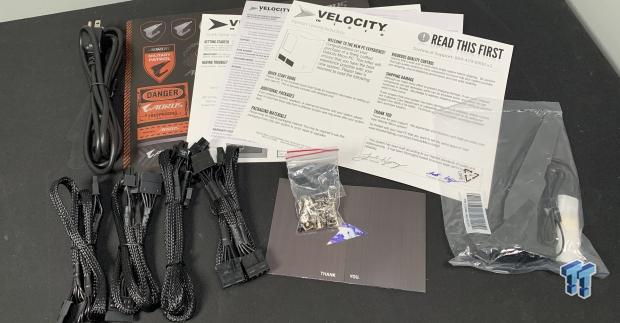 Included we received the motherboard accessories along with all the extra power supply cables that were not used. We also received a hardware kit for mounting 3.5 and 2.5" drives in the trays and cages.
BIOS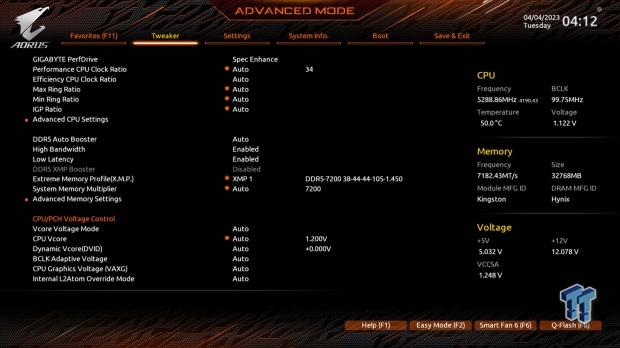 The BIOS will be different based on what motherboard you choose for your build. Our system has an AORUS Z790 motherboard, so our board reflects that in BIOS. The advanced menu gives you options for tuning your CPU, memory, and voltages.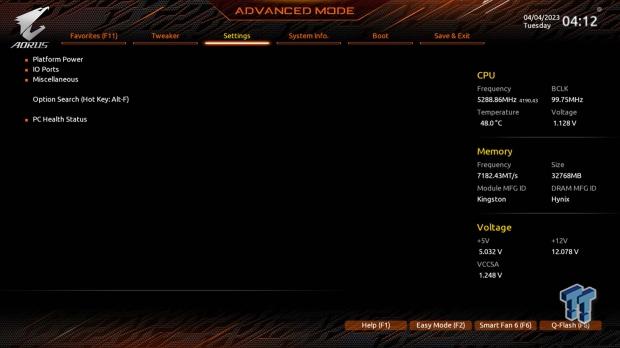 In the settings, you will find platform options, including configuration for any I/O ports.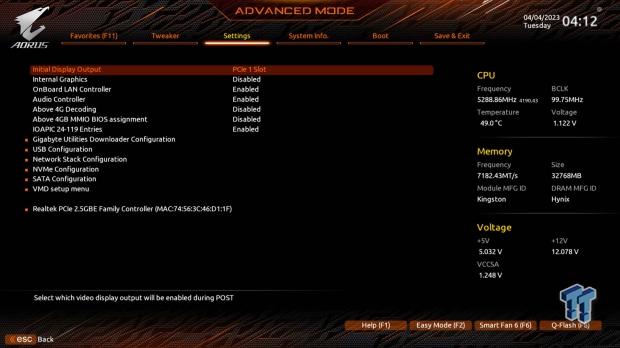 A few of these options include an initial display and the ability to disable onboard graphics. Further down, you have USB, NVMe, and VMD RAID operation options.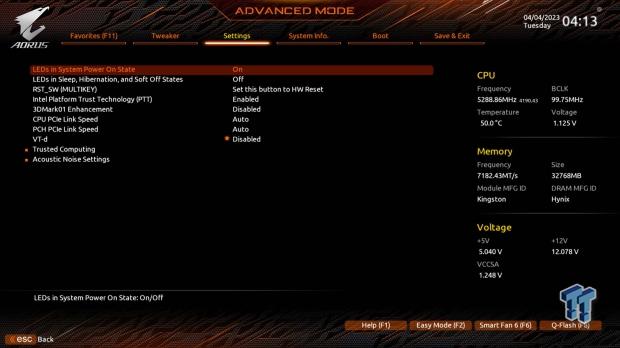 Further options include the configuration of the LEDs and other link speeds.
Software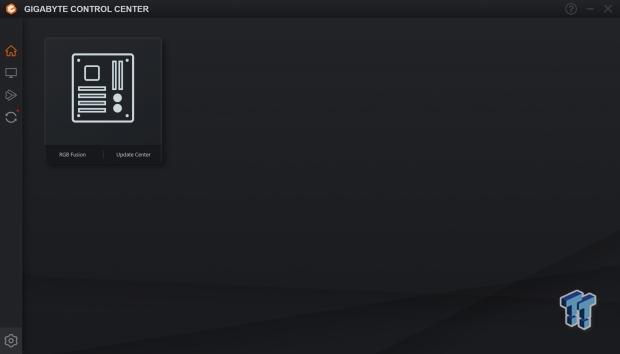 As we have a retail AORUS motherboard, the software will follow what GIGABYTE offers, which includes the Control Center seen above.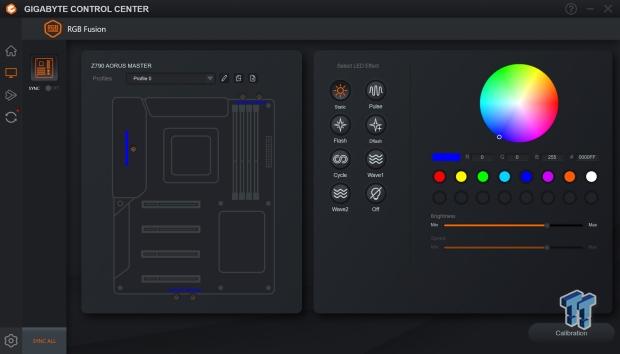 You can control all four RGB headers and the I/O from this software.
Cinebench, PCMark and AIDA64
Cinebench R23
Cinebench is a long-standing render benchmark that has been heavily relied upon by both Intel and AMD to highlight their newest platforms during unveils. The benchmark has two tests, a single-core workload that will utilize one thread or 1T and a multi-threaded test that uses all threads or nT of a tested CPU.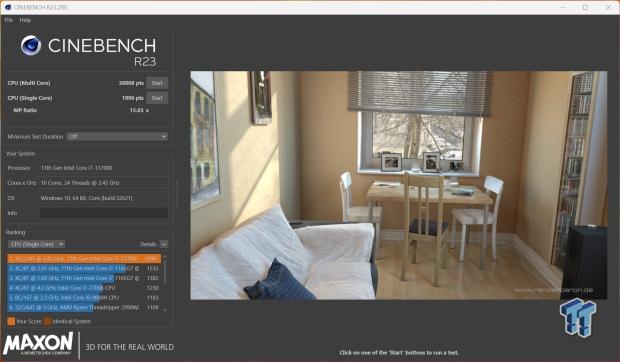 Getting into assessing the Raptor, we pick up with R23 and a 1T score of 1996 and nT coming in at 30008.
Crossmark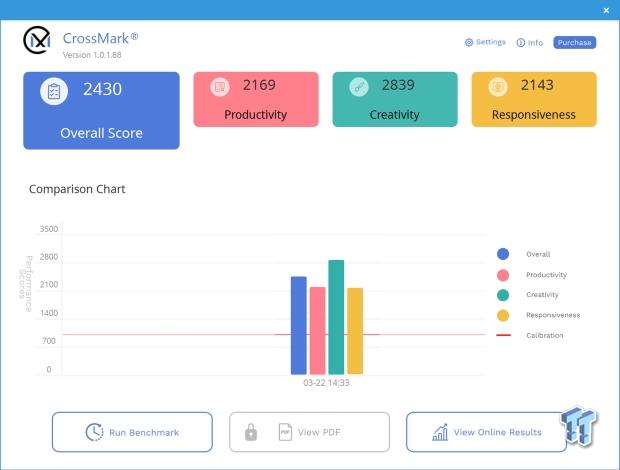 Crossmark showed an overall of 2430.
AIDA64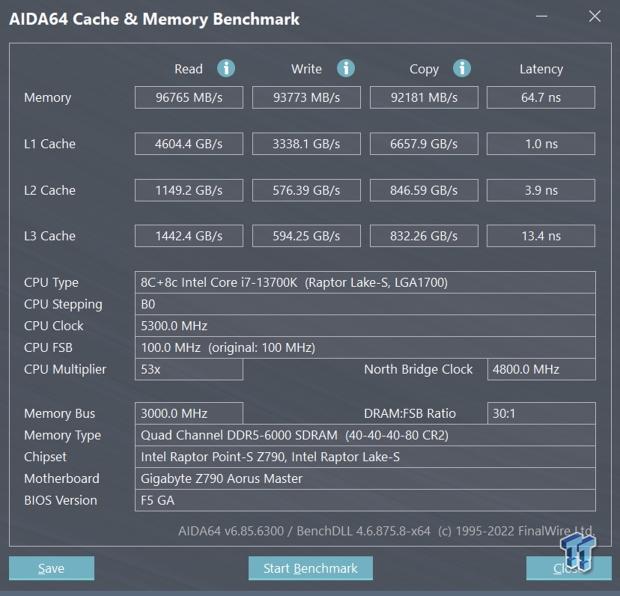 AIDA64 memory offered solid throughput across the board; 96K for reading, 93K for writing, and 92K for copy. Latency landed at 64.7ns.
PCMark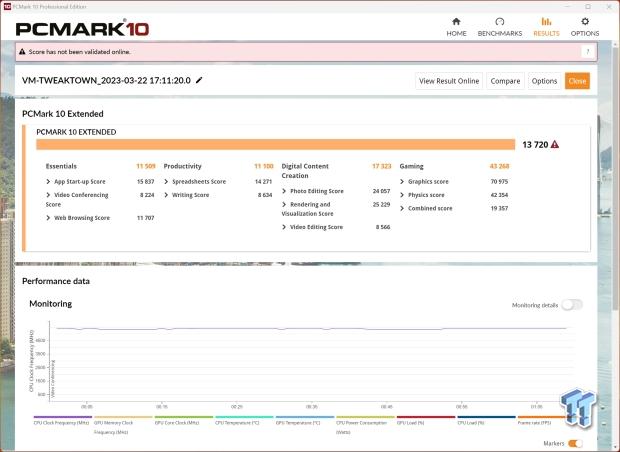 PCMark gave us an overall score of 13720.
UL Benchmarks and Gaming
3DMark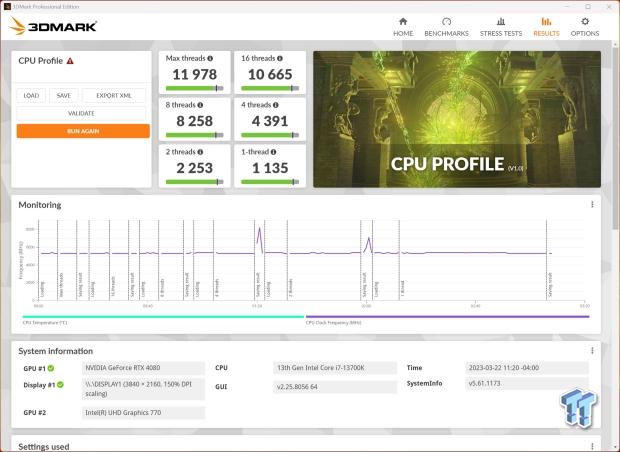 CPU Profile started with 1135 single thread and ended at 10665 at sixteen threads.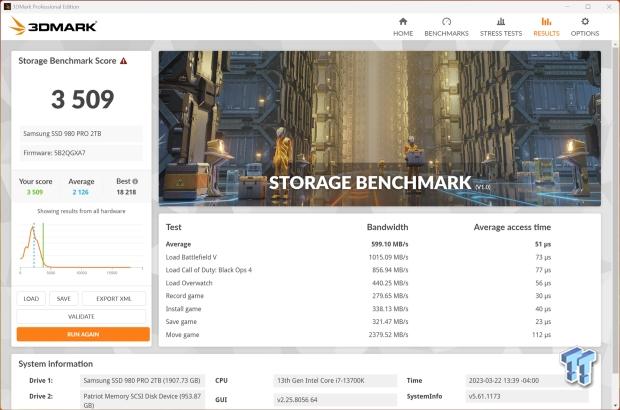 Storage scored 3509 at 599 MB/s bandwidth.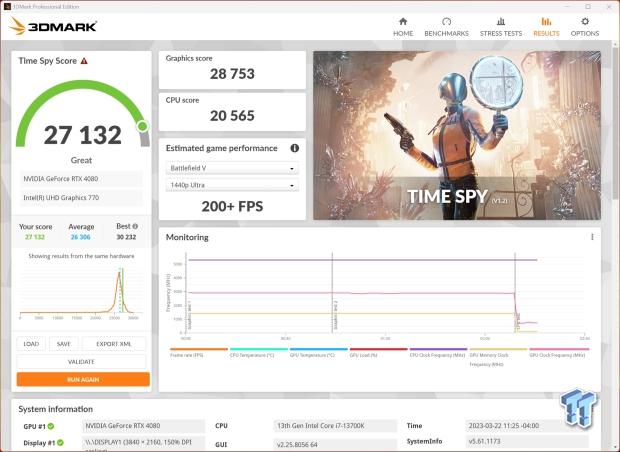 Time Spy landed at 27132, slightly above average for this configuration.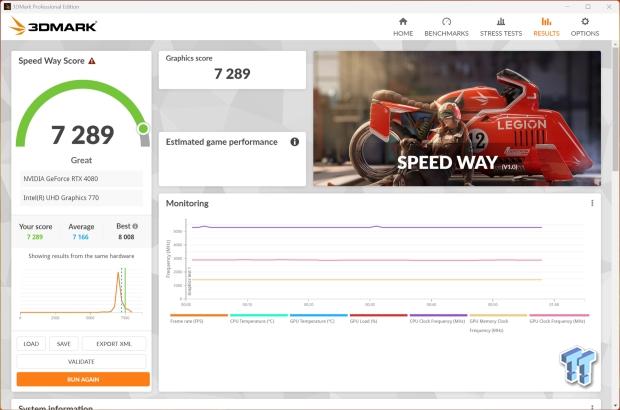 Speed Way gave us 7289, once again slightly above average.
Gaming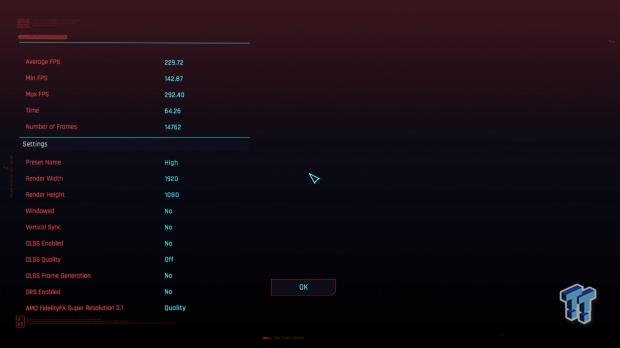 We started our gaming benchmarks with Cyberpunk 2077. At 1080p, as seen above, we pulled in 229 FPS on average.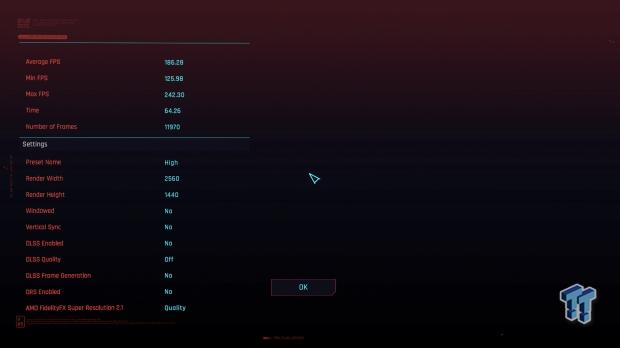 Moving to 1440p, we picked up 186 FPS on average.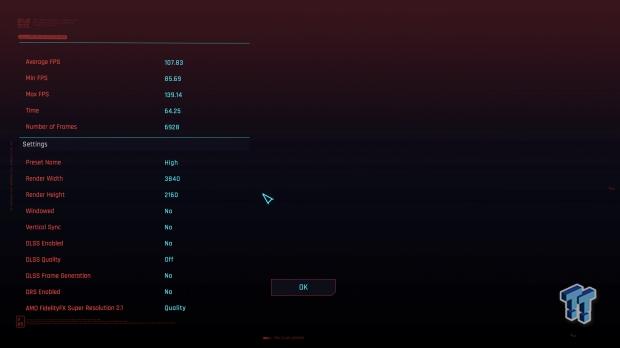 4K finished at 107 FPS.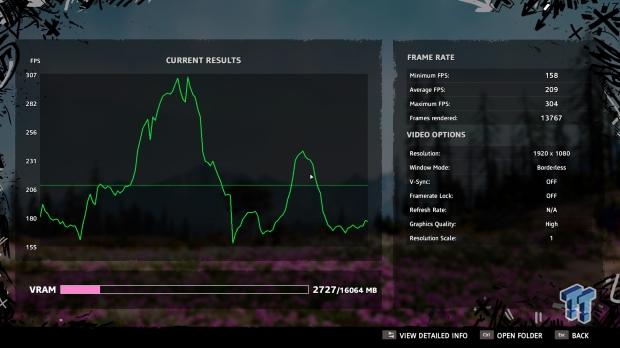 Switching our workload to Far Cry 5, we picked up 209 FPS on average with 1080p high settings.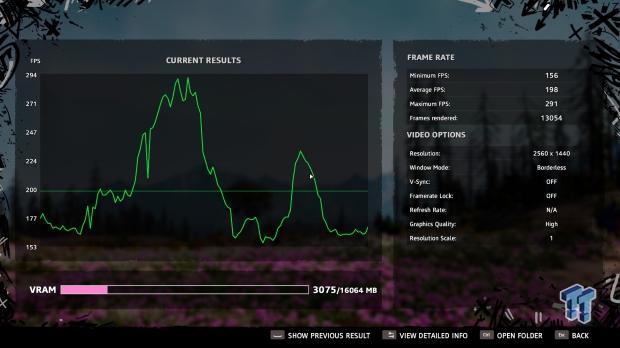 1440p Far Cry 5 landed us at 198 FPS.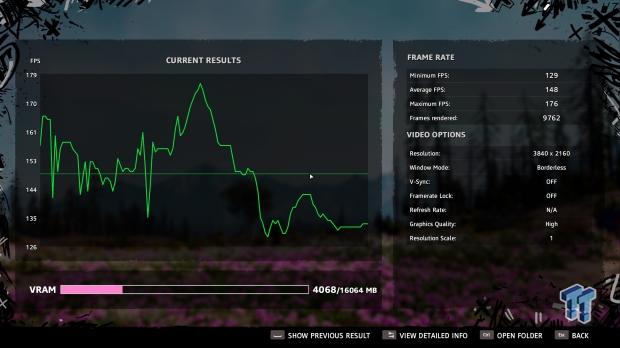 Last, we have 4K within Far Cry 5, which gave us 148 FPS.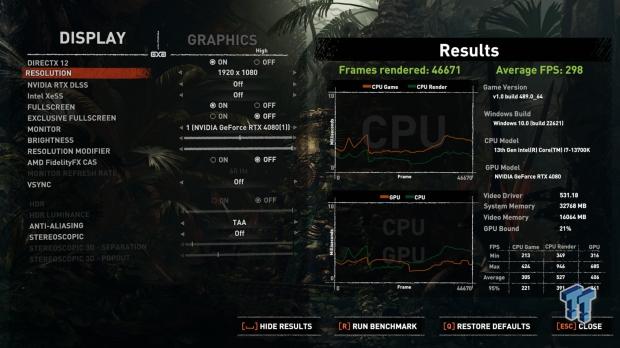 Of course, we must include Tomb Raider, as it is a staple at this point. 1080p giving us 298 FPS.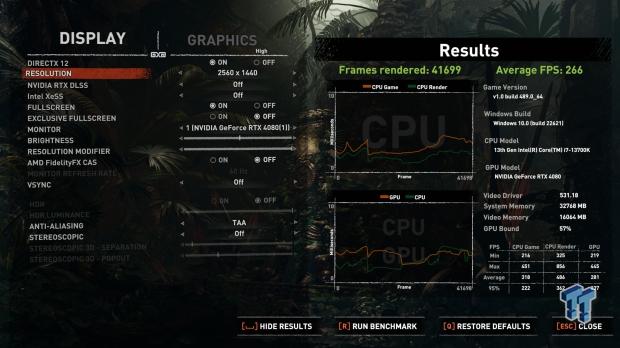 266 FPS for 1440p.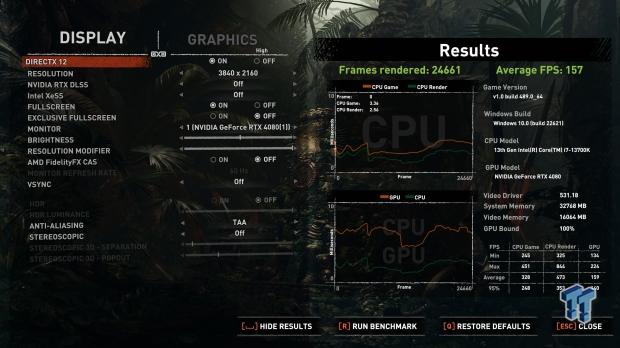 4K offers us 157 FPS.
Comparisons
Our Charts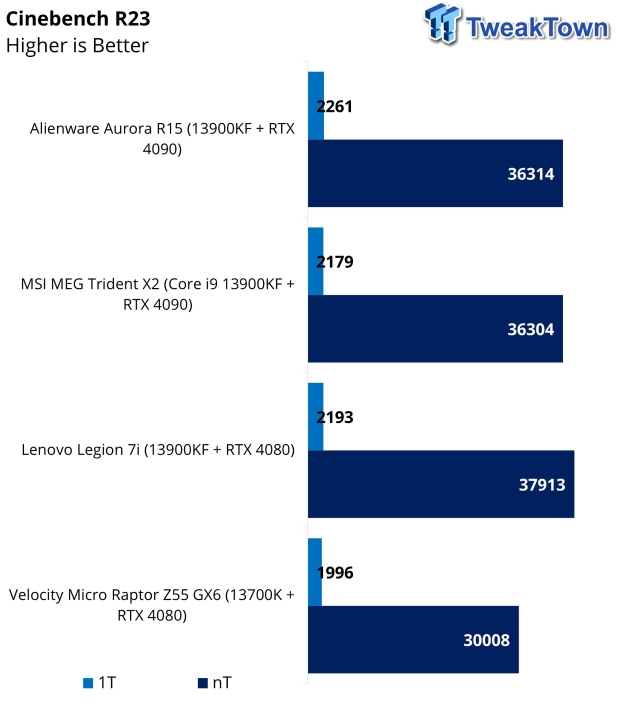 Getting into our comparisons, the Raptor Z55 is up against several systems with a tier higher in specifications. All three of our comparison platforms use the 13900KF, two being paired with the RTX 4090. For our Raptor, we showed solid 1T performance near two thousand points while nT landed at 30K.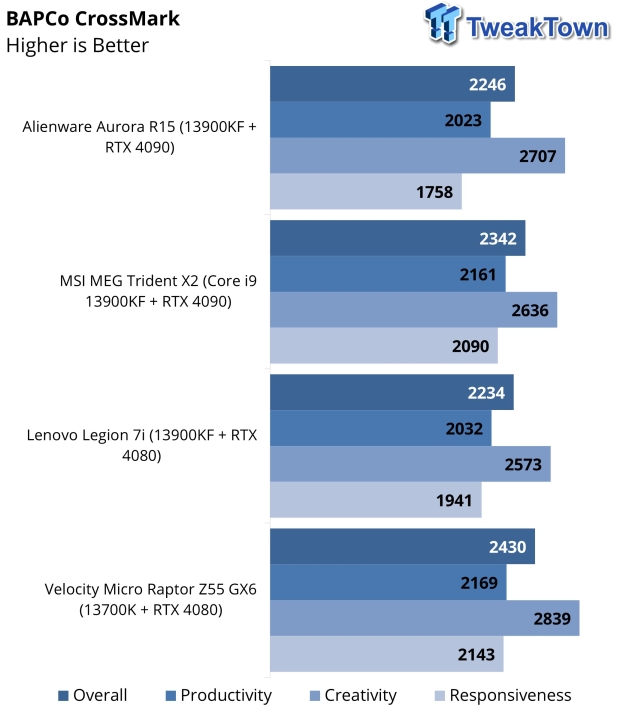 Crossmark showed the Raptor Z55 with a better overall score than the comparable systems. Really pushing ahead was the creativity score.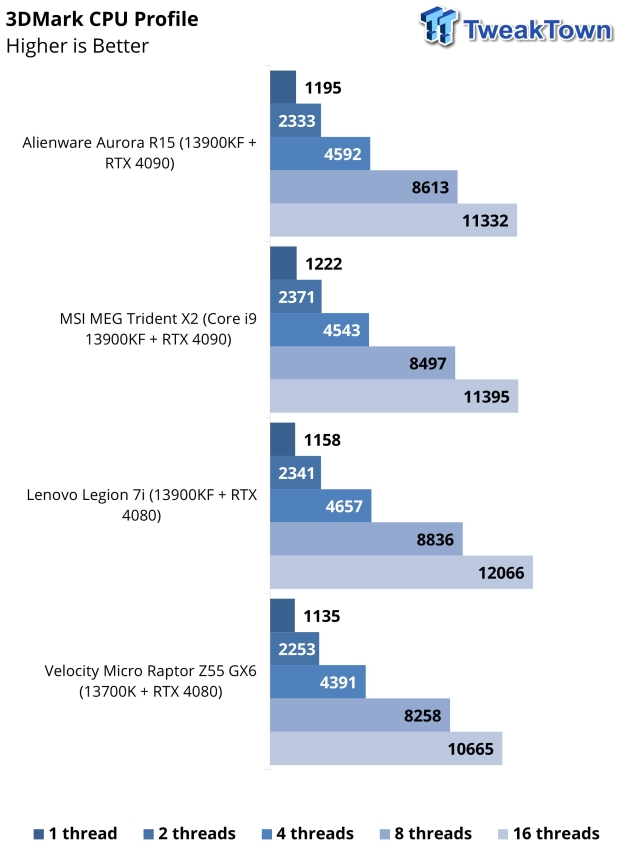 CPU profile offered a solid set of scores single thread through sixteen threads.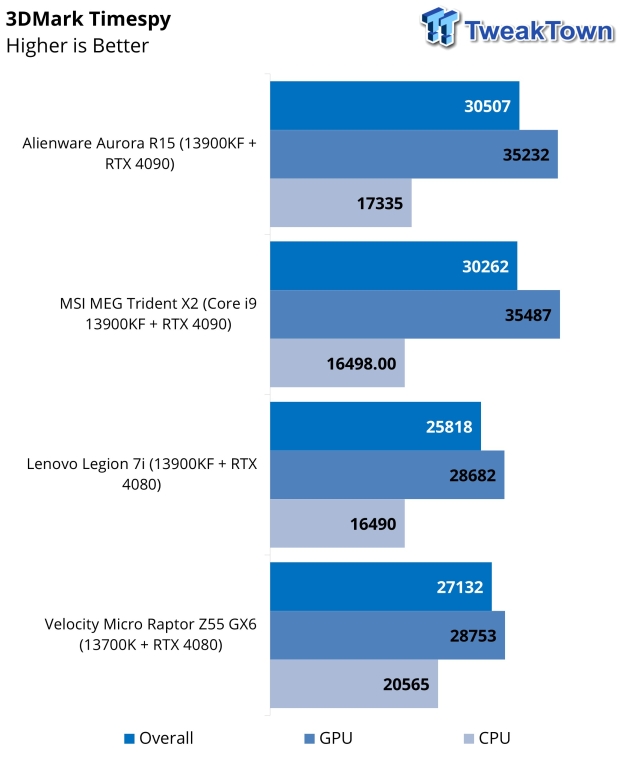 Timespy came in at 27132 for the Raptor, overall better than the Legion 7i.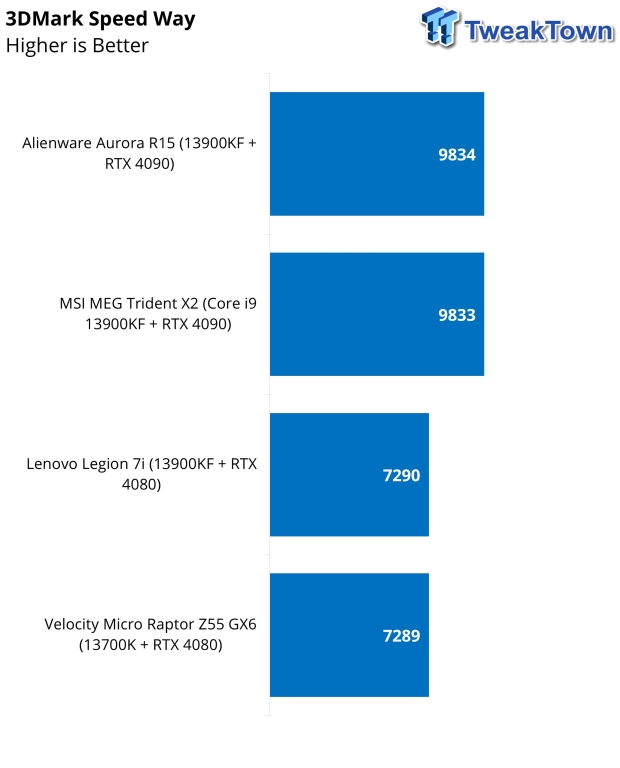 Speed Way was good, with the Raptor scoring one less point than the Legion 7i.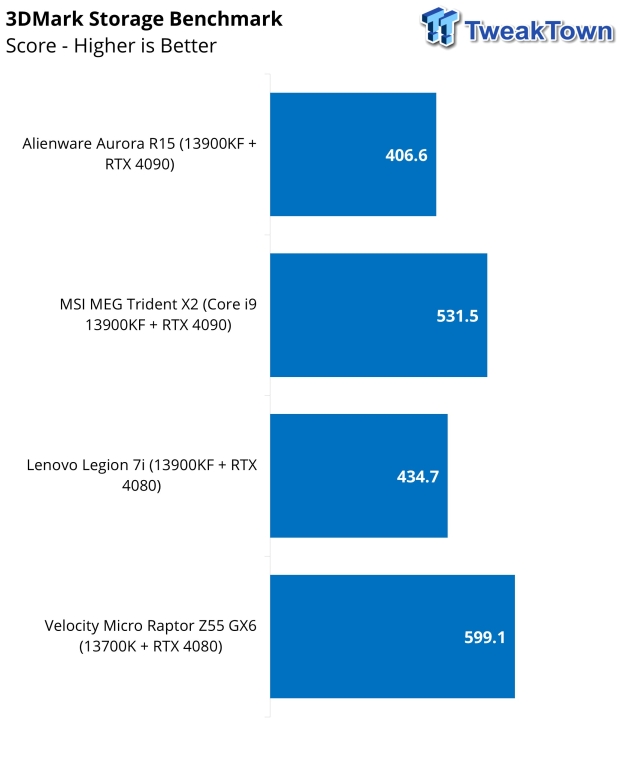 Storage was the best we have seen out of a prebuilt machine yet, at 599.1 MB/s bandwidth.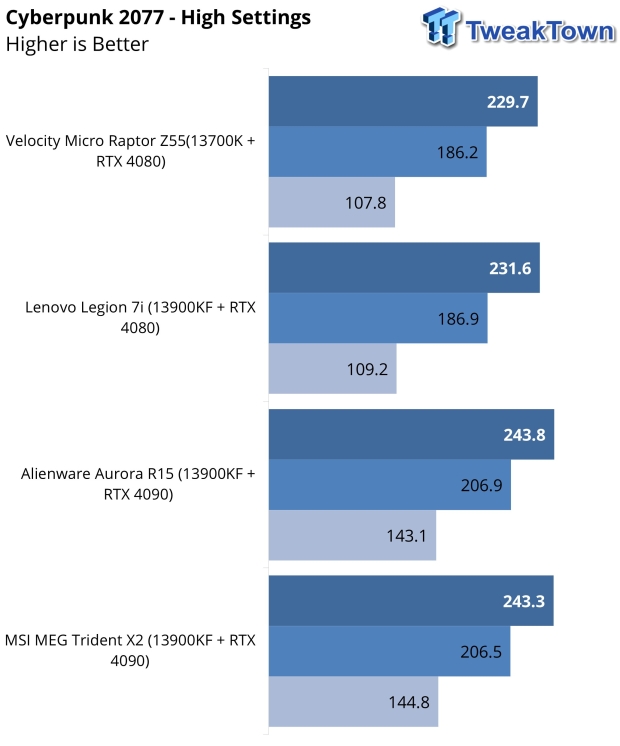 Last, we look at a gaming workload in Cyberpunk, with the Raptor doing quite well matching the Legion 7i through the resolutions, despite the Lenovo system having a better CPU.
Value and Final Thoughts
Value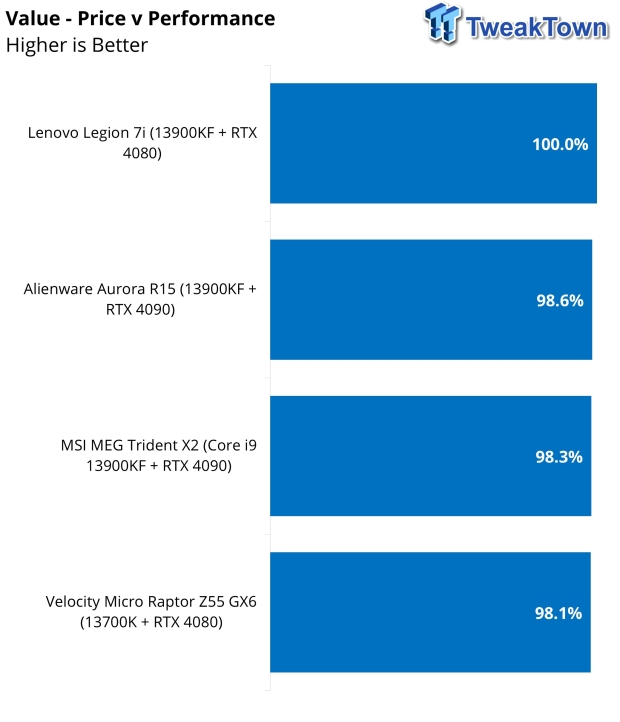 The value between machines put the Raptor Z55 at the bottom, with all systems within 2% of each other.
Final Thoughts
The Raptor Z55 is one of my favorite prebuilt systems in the first quarter of the year for its customizable nature, including off-the-shelf parts that make it easier to manage for the end-user and the level of detail Velocity Micro put into building this machine - from the custom chassis, which reminds me of early Lian Li solutions, to the fantastic layout and legit cable management.
One gripe would be using the 12VHPWR adapter, but the end-user can remedy this if you choose a power supply with an available upgrade cable kit; most EVGA units do.
Assessing the Raptor Z55, the 13700K did quite well in many of our workloads and surprised me in Crossmark, where it took the top spot in our chart thanks to a solid score in creativity. PCMark also showed superior performance from this system, and 3DMark Storage again showed top-end performance from the included 980 Pro.
Gaming workloads, including Time Spy and Speed Way, showed fantastic performance from the RTX 4080, even beating the Legion 7i in the former. Cyberpunk 2077 showed solid FPS from this system, peaking at 229 FPS at 1080p high and pushing over 107 FPS at 4K.
Connectivity is solid for this machine, ours having the AORUS Master. There's a plethora of USB 3.2, 10Gbe ethernet, and Wi-Fi 6e support. Internally, this board is one of the better available with Gen5 NVMe and PCIe and another two PCIe slots from the chipset, along with additional NVMe storage available.
The pricing is interesting. With the MSRP at $4409, it is one of the most expensive systems we have assessed to date; this was noted in our value chart above. That said, my experience using this system does validate the added cost, as out of the box this system needed nothing, all Windows updates were done, and there was zero bloatware installed, leaving me with nothing to do but install my games and software and enjoy the experience.