TweakTown's Rating: 96%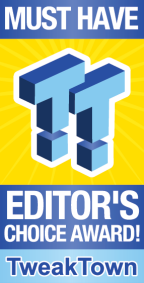 The Bottom Line
The ASUS ROG Azoth is a stylish compact wireless mechanical keyboard all about customization. But even if you set that aside, its out-of-the-box performance is excellent, with some of the best feeling and sounding switches and keys of any keyboard.
Pros
+

Excellent build quality that improves the feel of the switches

+

Stylish two-tone grey and black keys look brilliant

+

75% compact build but still retains most functionality and keys

+

Customizable OLED display and dial

+

Great for gaming and productivity
Cons
-

It is pricey for a compact keyboard

-

No dedicated media or macro keys
Should you buy it?
Avoid
Consider
Shortlist
Buy
Introduction & Specification Details and Close-up
In recent years, we've seen mechanical keyboards from several brands embrace the concept of physical customization to match all of the per-key RGB lighting and other software settings. And with that, the key puller as an accessory to allow people to swap out keys with custom designs is pretty standard for premium offerings.
The new ASUS ROG Azoth keyboard arrives in a compact 75% form factor, but it's been designed for customization to the point where it can stand toe to toe against the most feature-packed full-sized keyboard designs. One look at the accessories ASUS has packed into the box clue you into what it offers. In addition to a keycap puller, you've got a switch puller, a switch opener, lube, a lube brush, stabilizer mats, and a trio of replacement ROG NX Switches.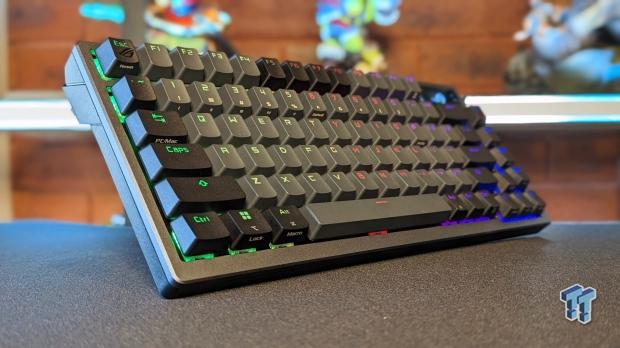 You won't be alone if you've never seen a DIY mechanical switch lube kit. Still, it allows for precise friction-free customization for keyboard modding that can offer a snappier response. The switches in the ROG Azoth are all pre-lubed - it's a complete keyboard. With hot-swappable switches and a physical design with multiple layers of silicone foam (including one on top of the PCB to absorb sound), the ASUS ROG Azoth is one of the most impressive keyboards from the hardware makers - full-sized or compact.
The out-of-the-box experience here is exceptional, with the linear ROG NX Switches tested for this review delivering an excellent feel for typing and playing games. The 75% form factor utilized feels less cramped and compromised than the 60% form factor keyboards we've tested. To the point where all you lose out on is the Numpad.
Specifications & Close Up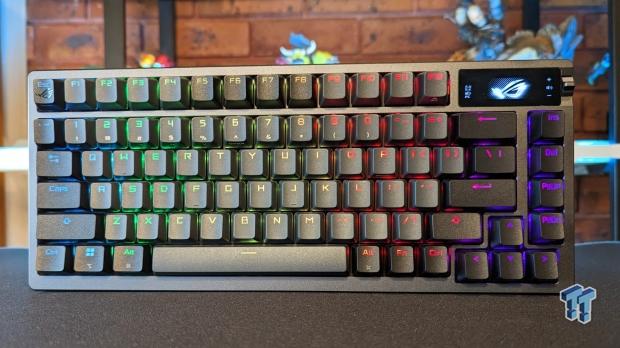 Product Name: ASUS ROG Azoth Mechanical Keyboard
Product Type: Wireless Gaming Keyboard
Size (Full/TKL): TKL 75%
Switch: ROG NX mechanical switches (Linear)
Actuation Points/Force: 1.8mm/55g
Interface: Detachable USB Type-C Cable, Bluetooth 5.1, RF 2.4GHz
Platforms: Windows (PC)
Lighting: Per-Key RGB, Aura Sync
Dimensions: 326 x 136 x 40 mm
Weight: 1186 grams (keyboard)
What's in the Box: ROG Azoth keyboard, 1 x ROG switch opener, 1 x ROG keycap puller, 1 x ROG switch puller, 1 x lube station, 1 x lube brush, 1 x lube, 3 x ROG NX Switch, 8 x Stabilizer mat, 1 x USB dongle, 1 x USB extender, 1 x USB cable, 1 x ROG sticker, 1 x quick start guide, 1 x warranty booklet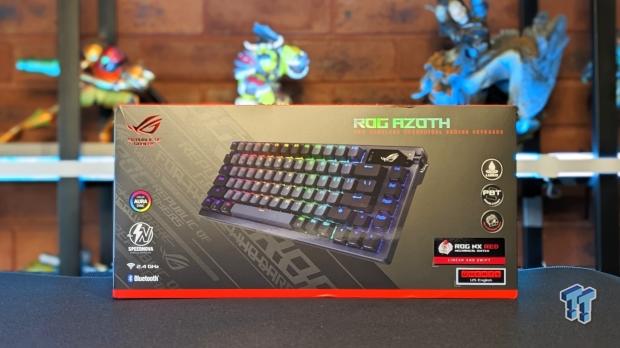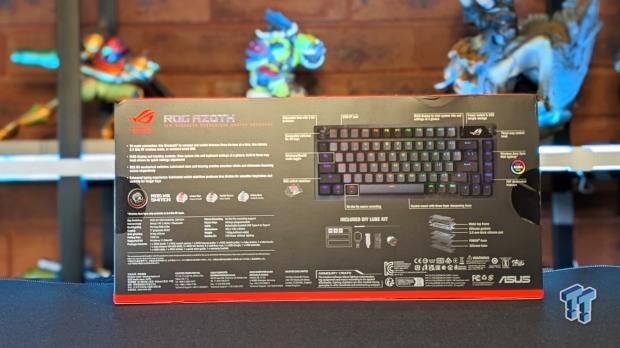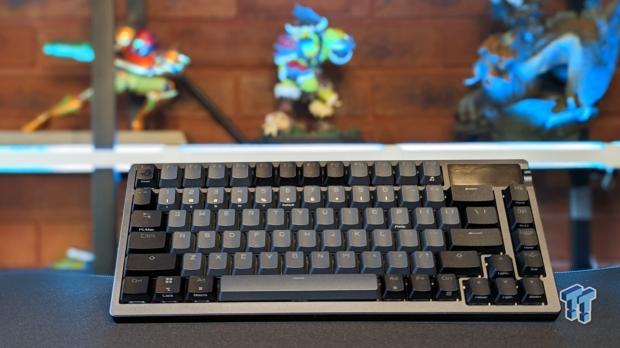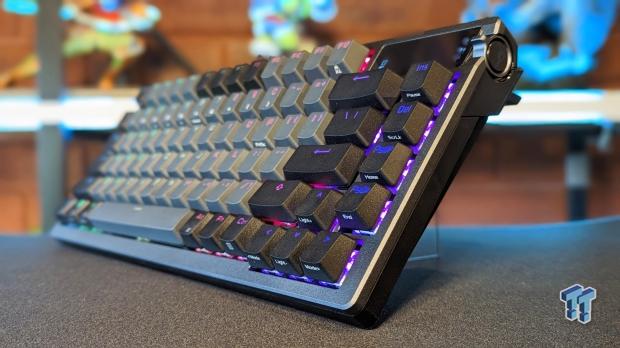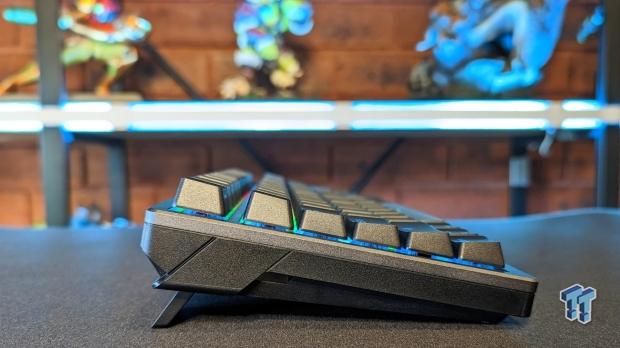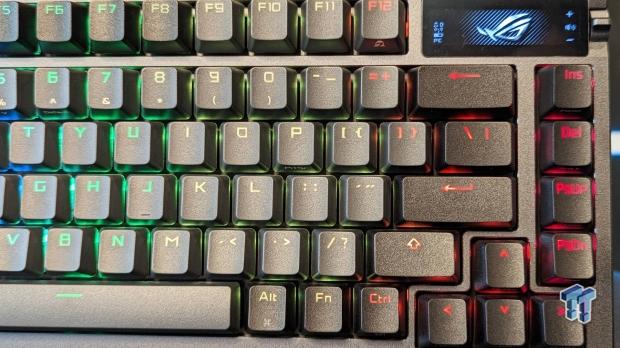 Kosta's Test System Specifications
Motherboard: MSI MPG X670E Carbon Wi-Fi
CPU: AMD Ryzen 9 7900X
GPU: NVIDIA GeForce RTX 4090 Founders Edition
Cooler: Corsair iCUE H100i RGB PRO XT Liquid CPU Cooler
RAM: 64GB (2x32GB) Corsair DOMINATOR PLATINUM RGB DDR5 DRAM 5200MHz
SSD: Sabrent Rocket 4 Plus-G M.2 PCIe Gen 4 SSD 4TB, Sabrent Rocket 4 Plus Plus M.2 PCIe Gen 4 SSD 8TB
Power Supply: Thermaltake Toughpower GF1 850W
Case: Thermaltake Core P3 Tempered Glass Snow
OS: Microsoft Windows 11 Pro 64-bit
Design & Software
Design
Although a compact 75% form factor keyboard, the ASUS ROG Azoth is sturdy and then some, with its 1186-gram weight indicative of the impressive things happening under the aluminum top case. As mentioned in the introduction, three layers of silicone foam add a more consistent and comfortable feel to the switches that also dampen the sound associated with mechanical keyboards. It's the quietest mechanical keyboard we've tested since capturing keyboard click sound levels.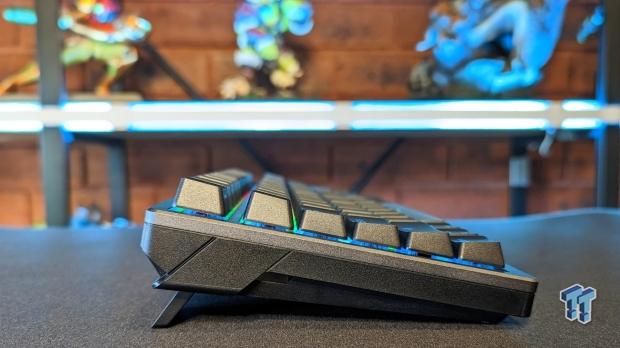 The ASUS ROG Azoth we tested featured ASUS's ROG NX Red switches, a linear-style mechanical switch designed for speed and accuracy. With an actuation point of 1.8mm (the travel distance before a keystroke is registered) and an actuation force of 45g, the result is a smooth and responsive feel ideal for fast-paced games and even productivity tasks like, say, writing a mechanical keyboard review.
We first experienced these switches when we gave the ASUS ROG Strix Flare II Animate and ASUS ROG Strix Scope RX keyboards a spin late last year, and they're even more impressive here thanks to the robust and compact build of the ROG Azoth. The outer shell might be all plastic, but it's high-quality and a part of the design, and we wouldn't be surprised if it has something to do with all the silicone.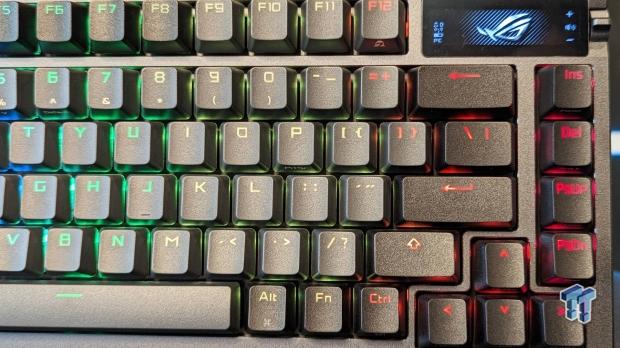 Physically and feature-wise, the ROG Azoth impresses too. The PBT doubleshot keycaps have a smooth, almost slick feel that might only be for some, but they felt great for us. The mix of gunmetal grey and black keys is stylish, too, adding to the premium feel. The 75% form factor adds a minimalist quality to the overall look, but some notable design choices are worth highlighting and celebrating.
First, the fact that the arrow keys are here is excellent (something that gets cut with 60% form factor keyboards), as is retaining all of the function (F1 - F9) keys. ASUS even managed to slot in the dedicated Insert, Delete, Page Up, and Page Down keys on the right-hand side.
And with all of that, it doesn't feel cramped. Add in the little OLED display and Control Knob that can control volume or just about anything else, and the ROG Azoth is feature packed and then some. Of course, there's also per-key RGB lighting with full Aura Sync compatibility, and the overall effect is vibrant and some of the best RGB on a keyboard to date.
The OLED display, by default, showcases an animated ROG logo. Still, when paired with ASUS's Armoury Crate software, you can set it to display an audio waveform or system information like current CPU and GPU temperatures or the keyboard's battery life. Handy.
What's more impressive is that the ROG Azoth is versatile and wireless, with support for wired, low-latency 2.4 GHz wireless via ROG SpeedNova, and Bluetooth that can connect and switch between three devices. ASUS notes that with RGB and the OLED display turned off; the ROG Azoth offers up to 2,000 hours of battery life - so it's no wonder we didn't have to plug it in during our time with it.
Software
As with all ASUS ROG devices and peripherals, customization, firmware updates, and software support are handled via Armoury Crate. An all-in-one app that can be temperamental, not to mention a little bloated, because it handles so much. For the most part, our Armoury Crate experience with the ROG Azoth was issue-free outside of a few momentary stutters.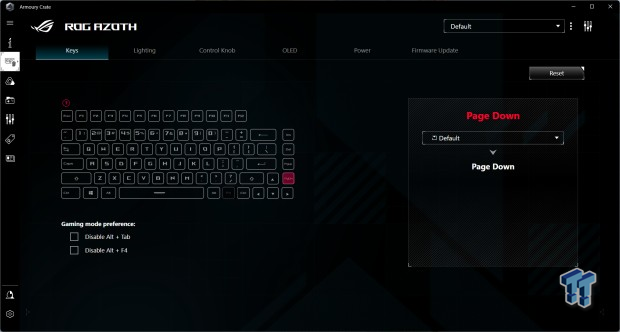 Although very gamer-looking in its default black theme, using ASUS's Armoury Crate software to customize the ROG Azoth and its many components is intuitive. Changing the function of a key is as simple as selecting it on the visual layout of the keyboard and then making any adjustments on the right-hand side.
Armoury Crate and the ROG Azoth also support Macro recording and assignment, which a separate section within the app handles. It's intuitive to use and edit, with the ability to make manual adjustments and drag-and-drop steps.
Lighting is similarly straightforward, with a list of effects to choose from and the option to create your own lighting profile via the Aura Creator, which has the added benefit of being able to sync whatever you come up with to any Aura Sync-capable device.
The Control Knob next to the OLED display gets its customization tab, and here you can select from the media, volume, and lighting presets or create a custom function. Naturally, the OLED display can display an image or animation from ASUS's library or your own. Still, the addition of system information relating to CPU and GPU monitoring makes it more than a slick visual addition to the keyboard.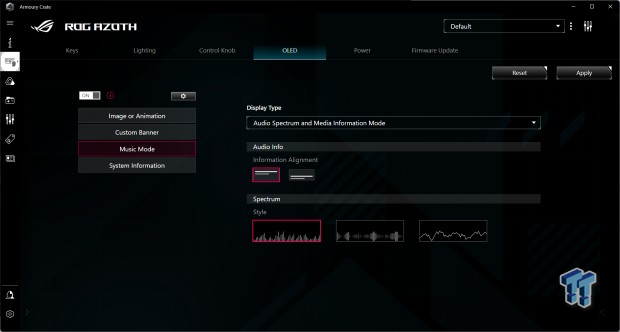 Finally, as a wireless keyboard with Bluetooth and 2.4 GHz low latency, there's also power monitoring and settings for sleep and power saving modes that disable the OLED display and keyboard lighting.
Gaming Performance and Productivity
Gaming Performance
Compared to some premium ASUS keyboards that offer an 8000 Hz polling rate, the standard 1000 Hz 1ms latency here is still good enough for playing competitive titles like Call of Duty: Modern Warfare II and Overwatch 2. The linear ROG NX switches are excellent in responsiveness and feel, with the smooth ROG Alloy keycaps and the sound-dampening adding a superb feel to the performance you get.
Regarding a mechanical switch's housing, you can usually distinguish between a good keyboard and a great one from the spacebar's feel. This is a roundabout way of saying that the spacebar feel of the ROG Azoth is an all-timer - bouncy and smooth.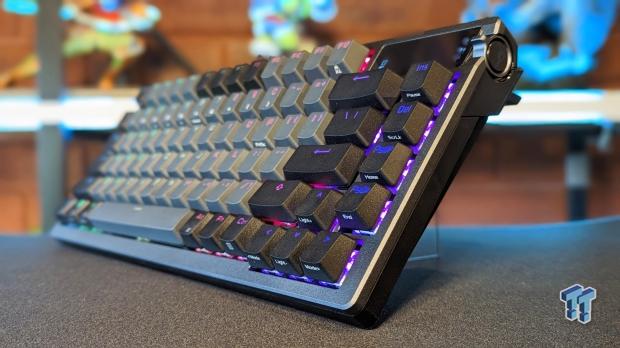 And as a 75% form-factor keyboard, the ROG Azoth doesn't feel cramped or cut down in terms of what it offers outside of the no numpad situation. And switching between wired and wireless modes (2.4 GHz) proved seamless because it was virtually impossible to tell the difference when playing games.
The only real issue when gaming with the ROG Azoth is that Armoury Crate is clunky when creating and setting game-specific profiles - where you might want a different setup for a strategy game like the excellent Age of Darkness or a competitive shooter like Apex Legends. It's not terrible, but it wasn't a feature we took advantage of because it isn't as intuitive as others.
Productivity
The ASUS ROG Azoth is not only the quietest mechanical keyboard we've got in our sound-level line-up, but it's probably the best "sounding" keyboard. This is hard to quantify, but do you know the clicky sound of a specific type of mechanical keyboard switch? Or the not-quite clicky but still prominent key sound of a linear switch? None of that is here; the sound is quite subtle and pleasing to the ears. A weird thing to say, but the ASUS ROG Azoth is a pleasure to type on.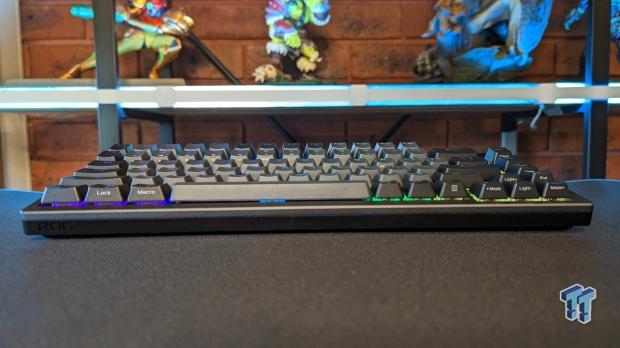 Outside of ASUS not having enough space to fit dedicated media controls or the numpad on the ROG Azoth, it's probably as good or better as a productivity keyboard than it is for gaming. The linear ROG NX switches deliver impressive performance for a compact keyboard, and it's quality that you can feel. You've got the versatility of being wireless, too, with support for multiple Bluetooth devices, so even though it's a weighty keyboard, it can quickly move around if need be.
Keyboard Click Sound Level
To test a keyboard's overall sound level, we use the Ozito Digital Sound Level Meter capturing the sentence "the quick brown fox jumps over the lazy dog" multiple times and recording the maximum dB level. This indicates how "loud" the switches used are for everyday usage. The following chart showcases where the ASUS ROG Azoth sits.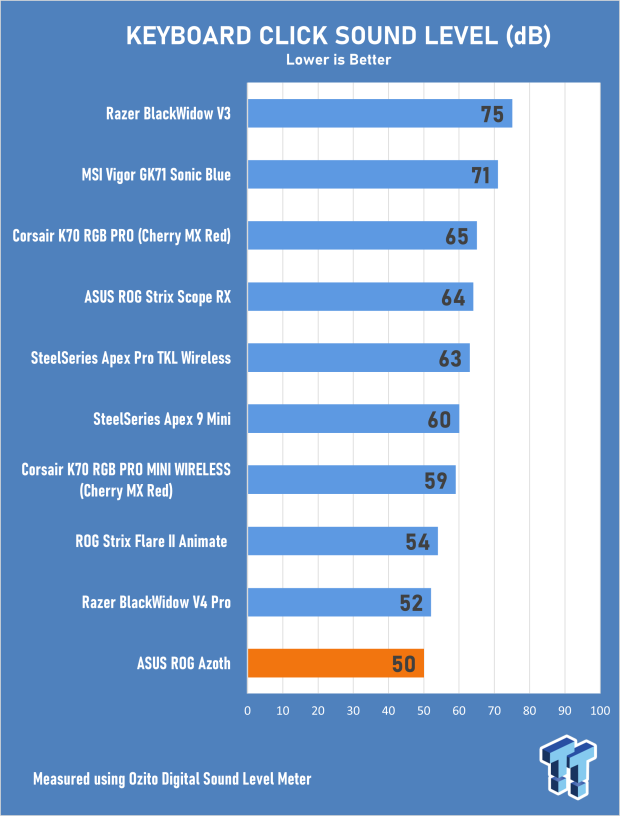 Final Thoughts
The ASUS ROG Azoth is feature packed compact wireless mechanical keyboard with customization options that firmly enter the DIY category. But even if you set aside the switch lube kit, the out-of-the-box performance is exceptional. From the feel of the keycaps to the switches to the stylish two-tone grey and black design, this is one of the best-looking ASUS products available today.
There is a catch, which comes with the cost - with the ASUS ROG Azoth carrying a premium price tag to match its build quality and features. USD 250 and AUD 399 put it up there, but it's easily one of the best wireless keyboards we're likely to see in 2023.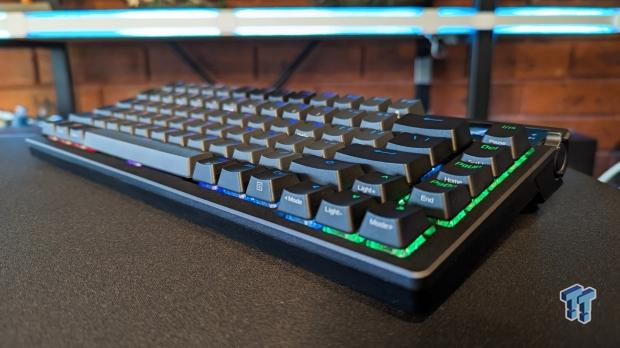 The 75% form factor might throw you off guard - as it did us - but underneath the layers of aluminum and silicone sits some of the best-feeling switches, bar none.
The fact that ASUS lets you swap them out for something else is impressive in its own right, and when you put it all back together, you've got something as great for productivity and gaming. And hey, it's got a tiny OLED that can give you the current temp of your GPU or double as a home for your favorite gifs.