TweakTown's Rating: 99%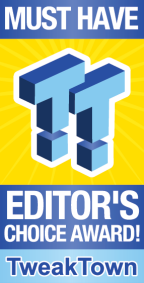 The Bottom Line
SSTC's 2TB Tiger Shark Gen5 SSD is simultaneously the fastest and best-performing M.2 SSD we've tested to date.
Pros
+

Throughput

+

Gaming

+

Consumer workloads

+

Value
Cons
Should you buy it?
Avoid
Consider
Shortlist
Buy
Introduction & Drive Details
Today is the day that the rest of the world outside of Japan gets its first taste of retail PCIe Gen5 NVMe storage bliss. It's somewhat unexpected that our first taste of retail PCIe Gen5 NVMe goodness would be via the Vietnamese-based hardware retailer SSTC. On second thought, maybe not so unexpected as SSTC is looking to become a well-known brand for SSDs, and they are off to a great start as evidenced by its HammerHead E18 we reviewed a few days ago. SSTC states that its products are value-focused first and foremost. This statement certainly rang true as its HammerHead E18 2TB offers what is easily the best price point we've seen to date for a 2TB Phison E18 controlled SSD.
SSTC, like many others across the globe, partners with Phison Electronics to bring forth its SSDs. Phison's business model is, as we see it, the most conducive of its kind for enabling third-party hardware companies to bring forth cutting-edge SSDs like the one we've got strapped to our bench today.
SSTC's newly minted Tiger Shark M.2 SSD is essentially a retail version of the Phison E26ES SSD we reviewed back in January of this year. As the first and only consumer PCIe Gen5 SSD we'd tested at the time, Phison's 10,000 MB/s speedster lit up our charts, impressively grabbing the overall flash-based performance crown from Samsung's 990 Pro.
SSTC's Tiger Shark PCIe Gen5 series achieves its unparalleled throughput via Phison's first-of-its-kind PCIe Gen5 SSD controller, the PS5026-E26.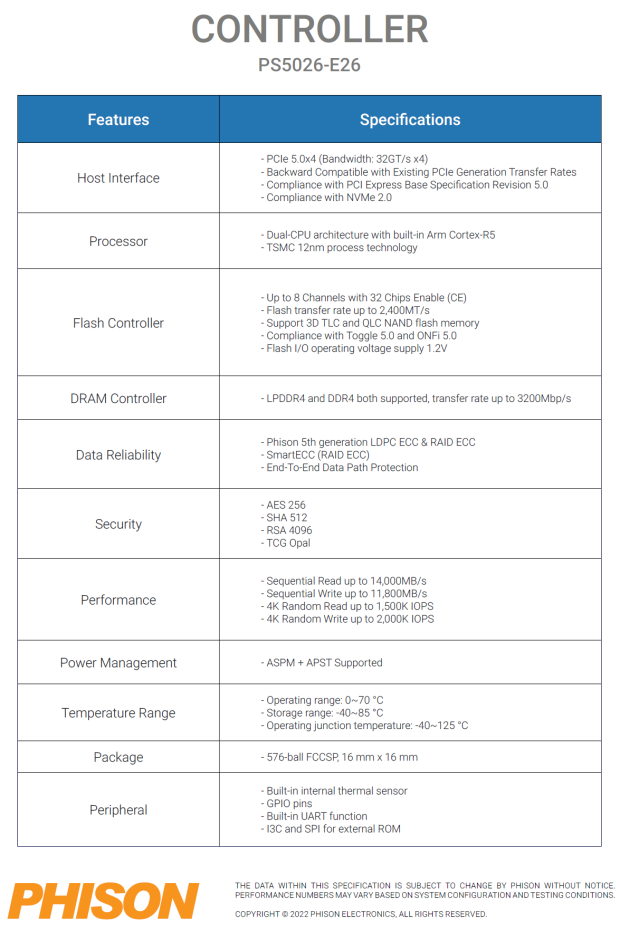 As we can see from the above data sheet obtained from Phison's website, its PS5026-E26, or "E26" controller, as its commonly referred to, is offering up double the throughput available via PCIe Gen4 at up to 14,000 MB/s. Impressive.
As with any controller, actual throughput is wholly dependent upon the flash it controls to achieve its full potential. This is why Phison is again partnering with Micron, whose newly minted 232-Layer flash is the most advanced of its kind in the world.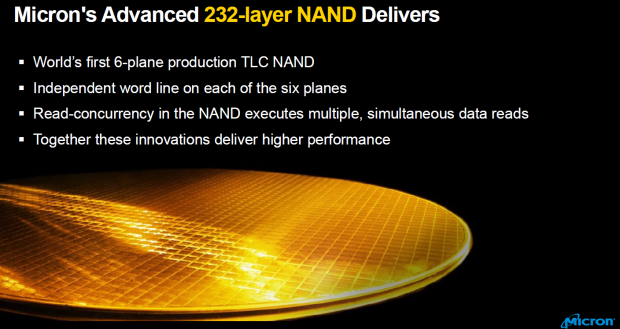 Micron's newest is the world's highest layer count at 232-Layers. World's first 6-plane production TLC with an independent word line on each of the six planes and read-concurrency executing multiple simultaneous data reads. These are unprecedented capabilities for the mass production of NAND. Micron B58R is architecturally capable of up to 2,400MT throughput, which is what it will take to achieve the E26's full throughput capability of 14,000 MB/s.
As expected, our Phison E26 controlled test subject comes arrayed with 1,600MT B58R flash, which means throughput is limited to about 10,000 MB/s. This is the first iteration of Micron's 232-Layer flash, and it is what arrays the first round of retail E26-controlled SSDs, such as the Tiger Shark we are testing today.
As a final note before getting fully immersed in the numbers, the Tiger Shark, as it is with all Phison E26-controlled SSDs, features Phison's exclusive Gaming I/O+ DirectStorage optimized firmware. Futureproofing, we like that.
Okay, now let's see what SSTC's Tiger Shark 2TB can deliver in capable hands and why the brand SSTC is one that the world of solid state storage is about to become intimately familiar with.
Drive Details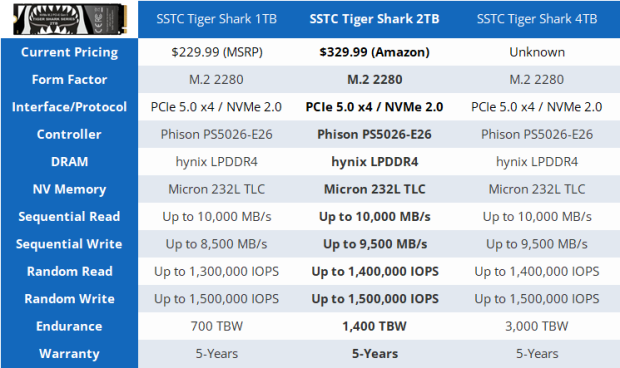 SSTC states that they are a value-first company, and the price point of its 2TB Tiger Shark clearly demonstrates its commitment to this credo. At $329.99, the 2TB Tiger Shark is the lowest price point we've seen for a 2TB E26-controlled SSD.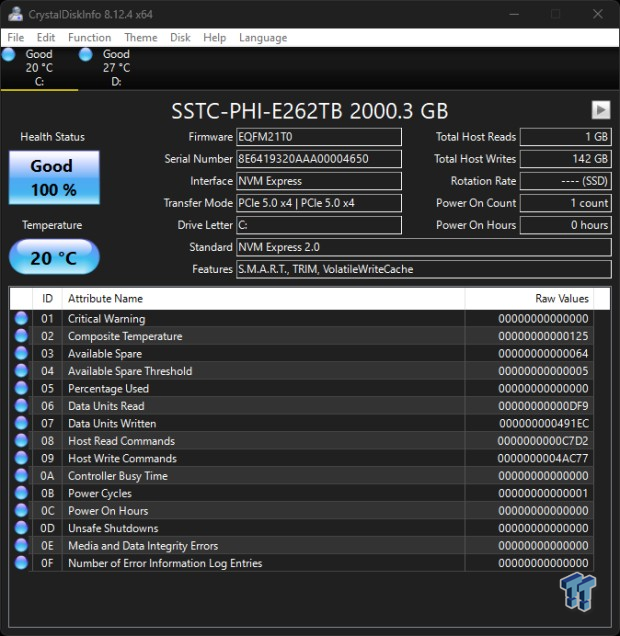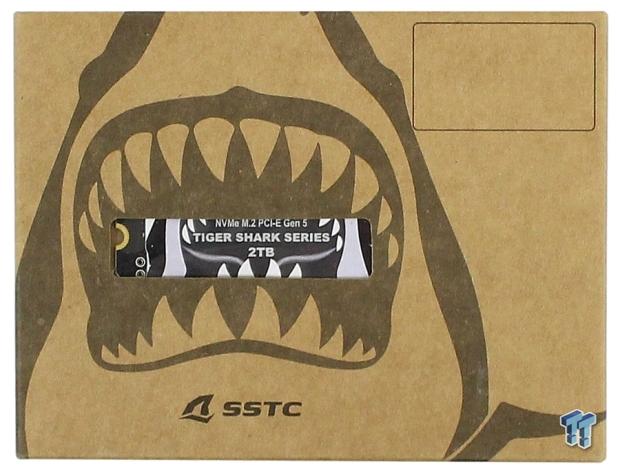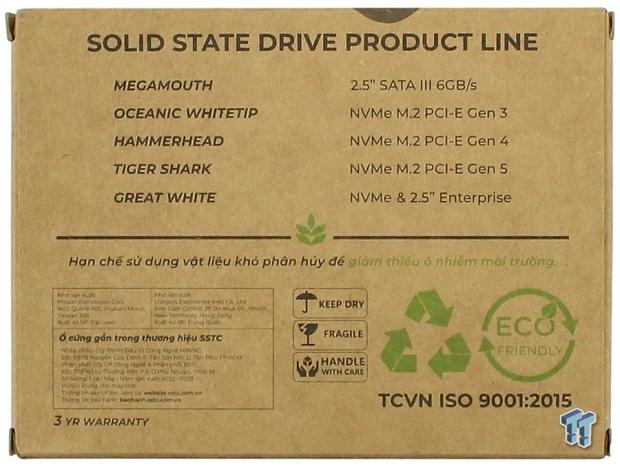 Packaging, as pictured above, differs from what the drive is currently shipping with, as we received ours just before being finalized. Final retail packaging looks something like this: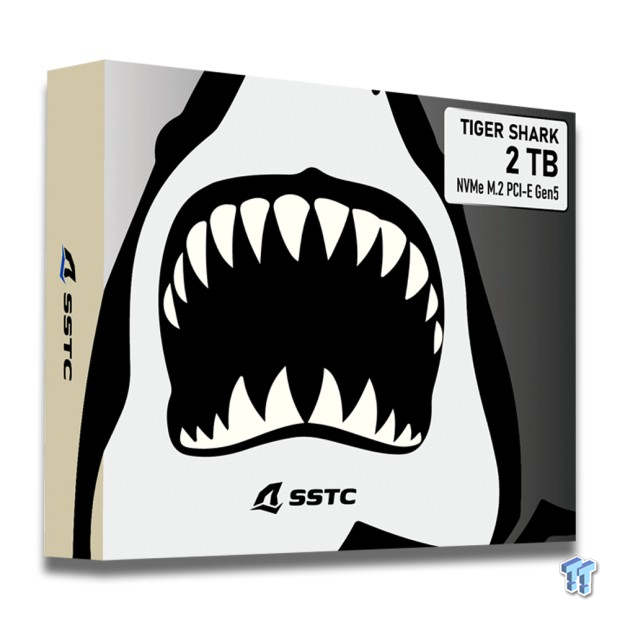 As a nice touch and nod to performance-minded hardware enthusiasts, SSTC allows users to remove the Tiger Shark's label to optimize heat dissipation without voiding the warranty. For peace of mind, SSTC makes RMA's easy. The user can scan the QR code to access the RMA site and arrange for an onsite warranty, including free two-way pickup and return.
PCIe Gen5 moves data at double the rate of Gen4, resulting in, among other things, more heat to tame.

SSTC does offer a cool looking RGB enabled heatsink that comes with high-quality 15.3W-mK thermal interface material that can do the job effectively enough, but our preference is, as always, using the motherboards integrated heatsink provided it's a substantial chunk of aluminum intended for Gen5 M.2 SSDs.
We did test thermals utilizing the M.2 heatsink integrated onto our X670E AORUS Master motherboard and found that passive cooling, if substantial enough, can do the job effectively enough to keep thermal throttling at bay.
Jon's Test System Specifications
Intel Test System
AMD Test System
Because we at TweakTown like to be first at everything whenever we can, we will present our storage performance results for the test subject on both 13th Gen Intel and 7000 Series AMD platforms going forward for the foreseeable future. Because Intel still delivers the best real-world storage performance, (Look Here), our running chart will continue to be Intel-based until AMD can deliver better real-world storage performance than its rival.
Synthetic Benchmarks: CDM, Anvil, ATTO
CrystalDiskMark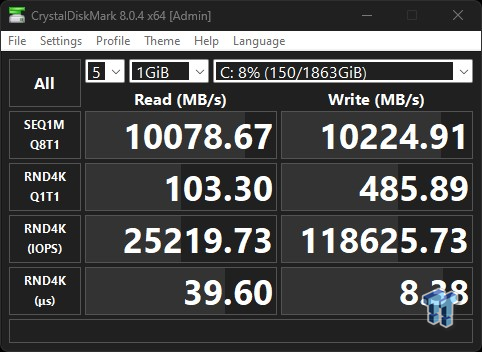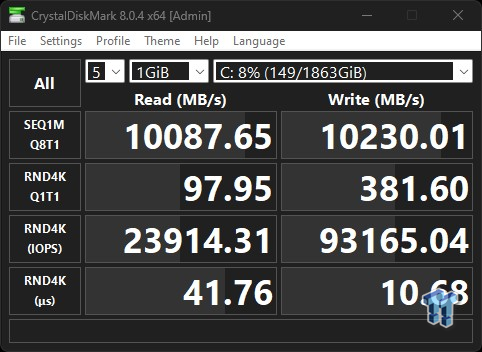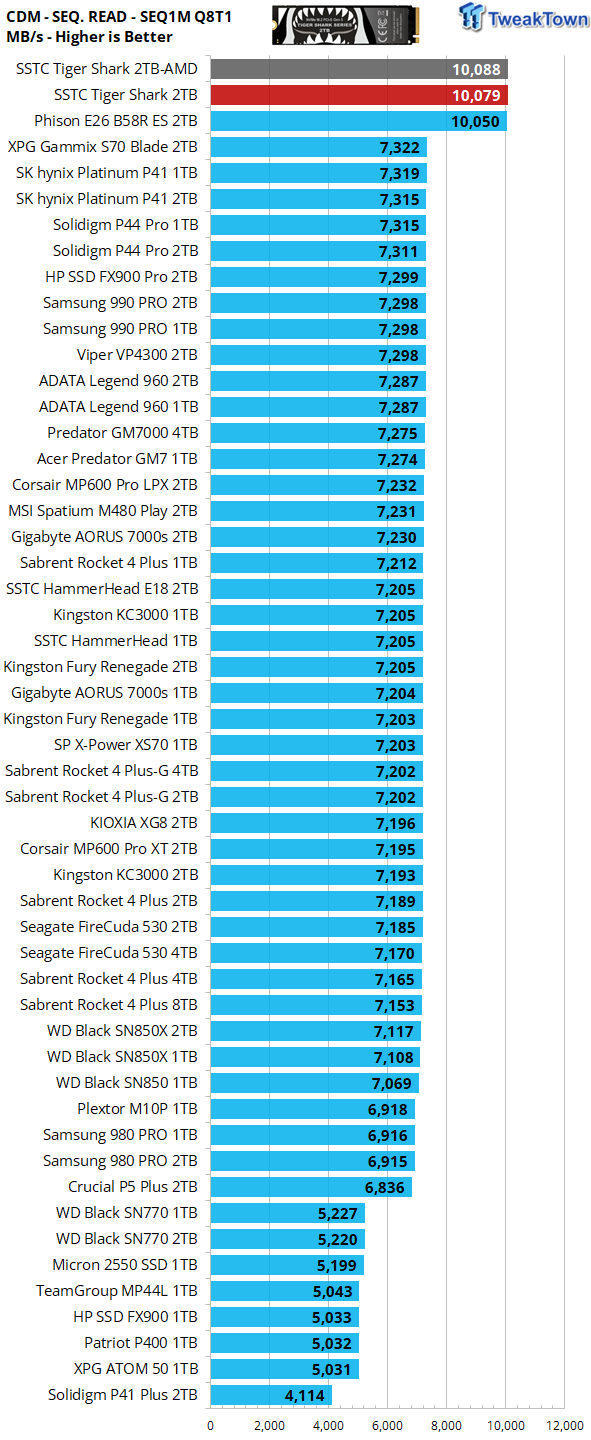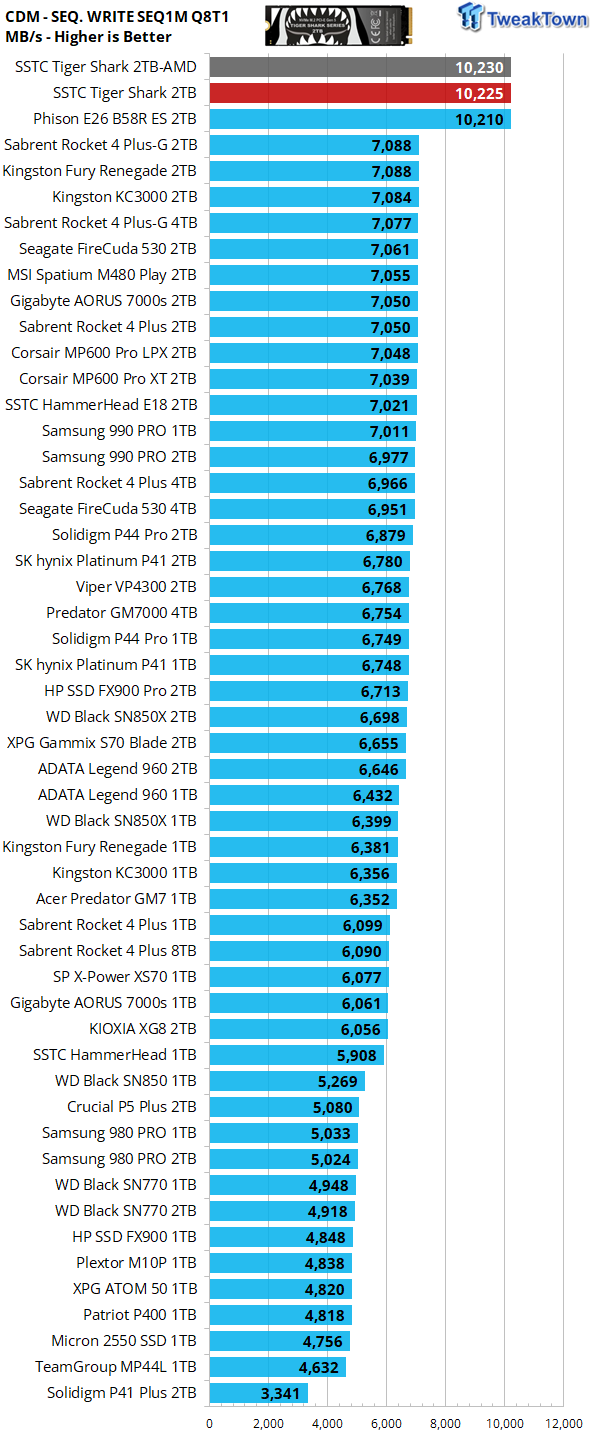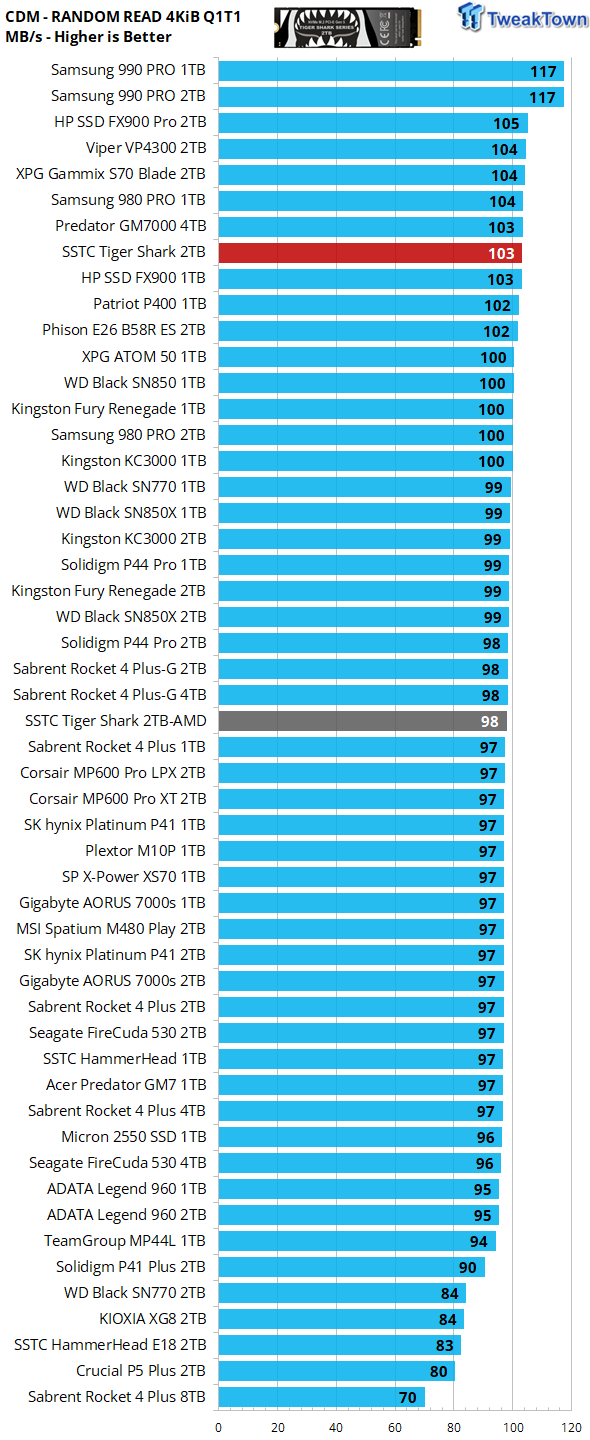 We employ CDM as our standard measurement for sequential throughput and Q1T1 random read. Sequential throughput comes in right at 10,000 MB/s read/write for both platforms. Impressive.
When evaluating synthetic performance, we are most interested in Q1T1 random read. 103 MB/s is top of the food chain for a flash-based contender arrayed with 1024 Gbit flash.
Anvil's Storage Utilities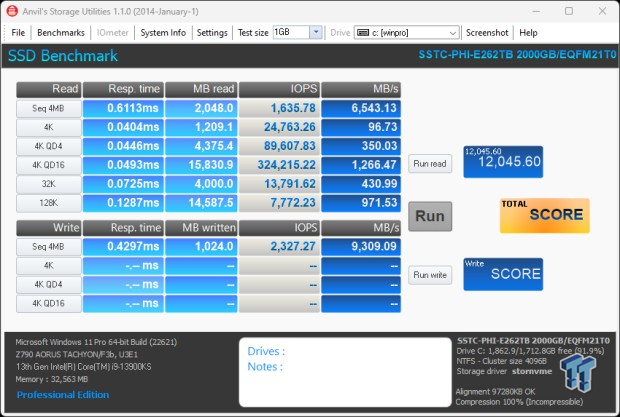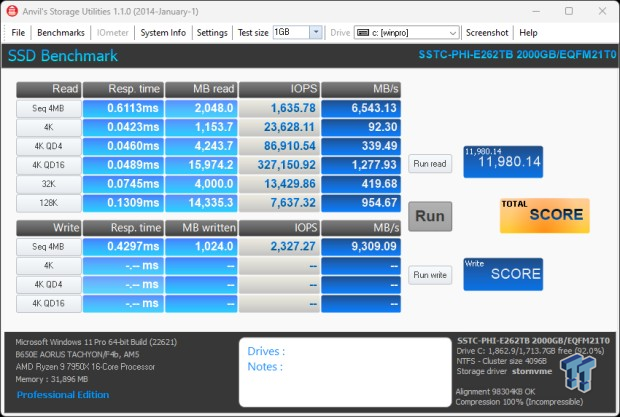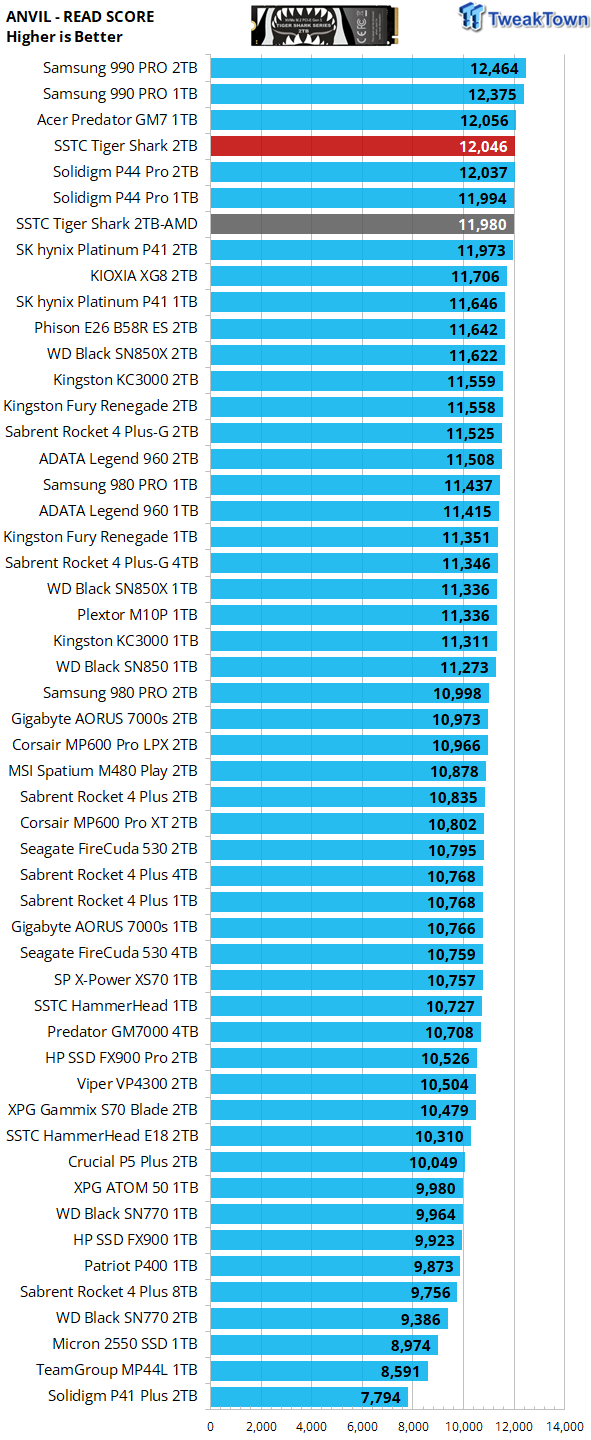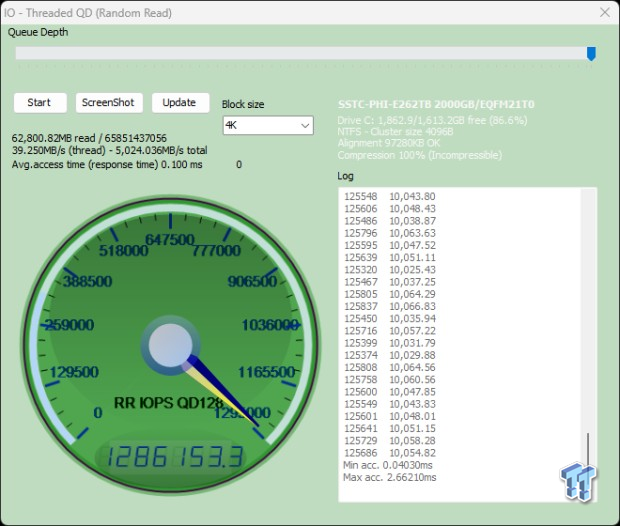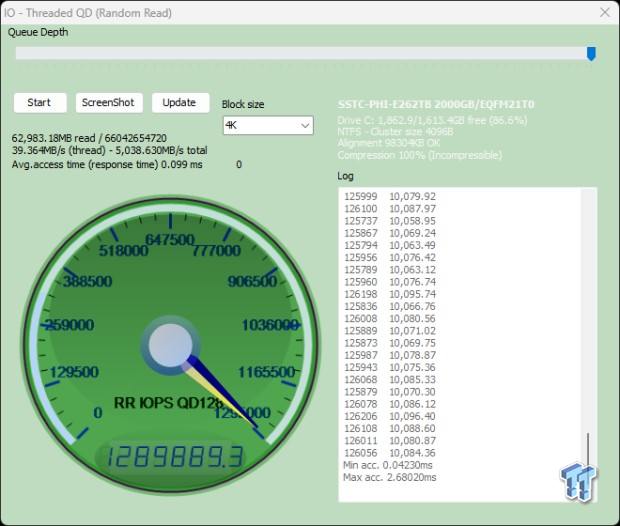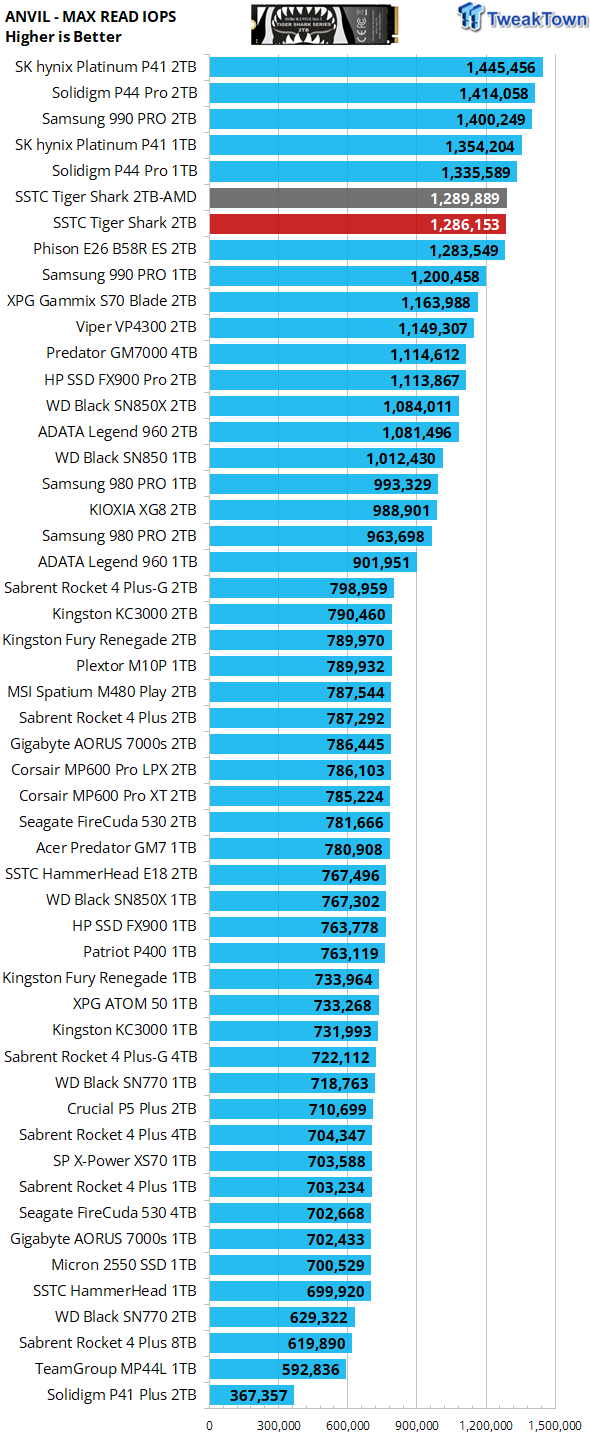 We consider 12K here a milestone of sorts for a flash-based SSD. We didn't get it from our E26ES preview drive, but we are getting it out of both our Intel and AMD platforms with the Tiger Shark. Very nice.
We employ Anvil's random read test as our standard for measuring max random read IOPS. This test is very accurate as it at its core is Iometer skinned over. We test at QD128. Although not chart-topping, this is an impressive result, to be sure.
ATTO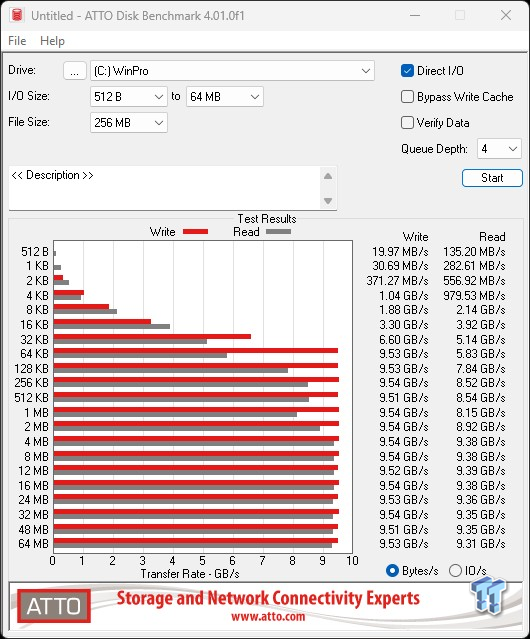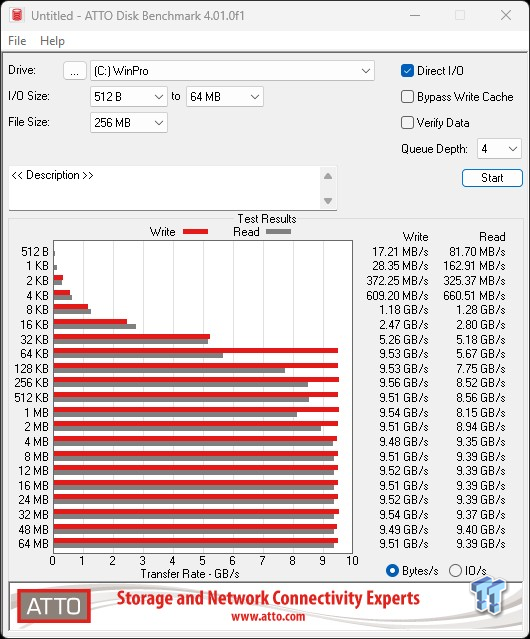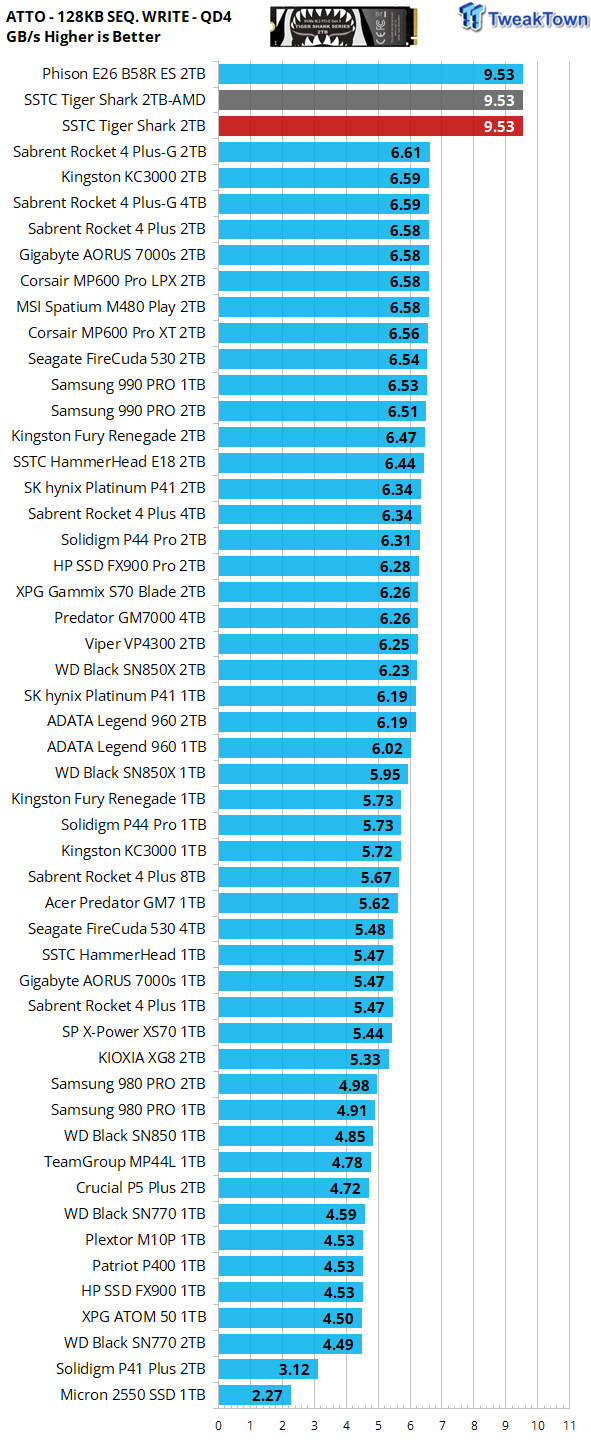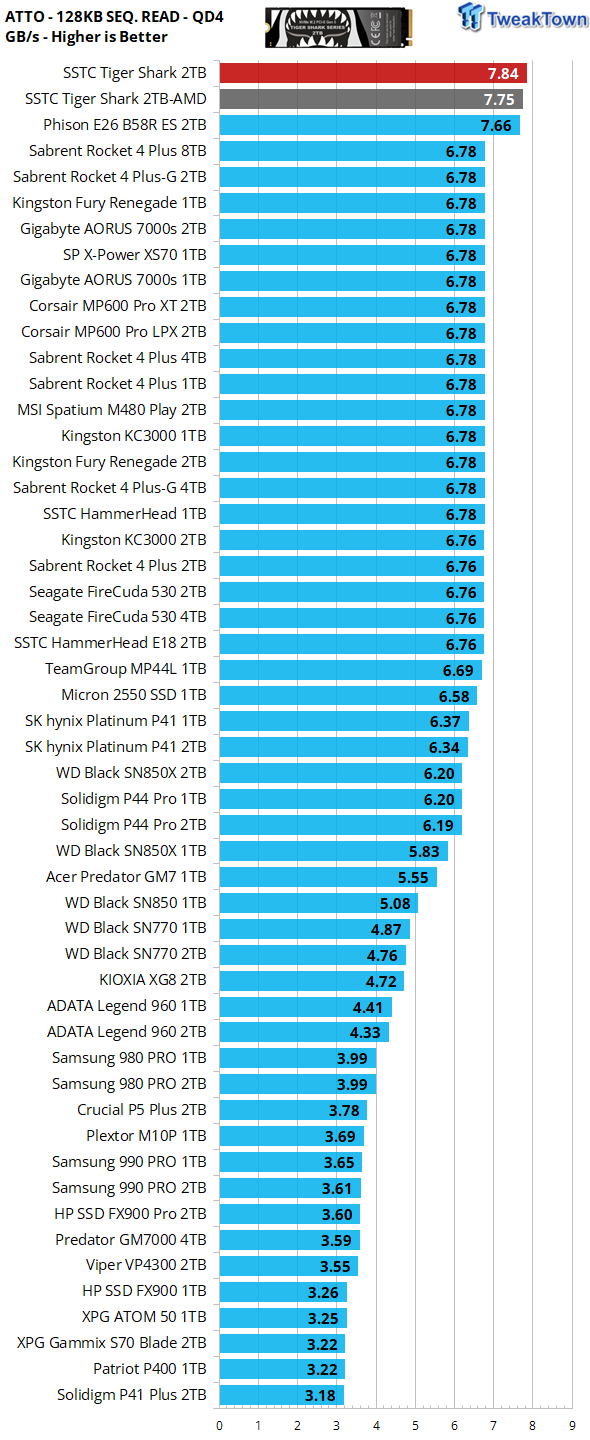 As expected for a Gen5 SSD swimming among Gen4 brethren, our test subject sets the bar for sequential 128K at QD4.
Real-World Testing: Transfers, 3DMark SSD Gaming Test, PCM10 Storage
Transfer Rates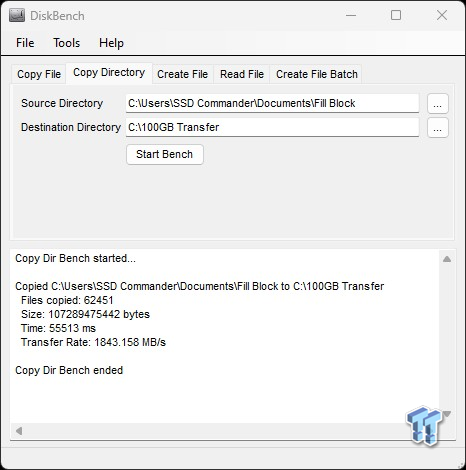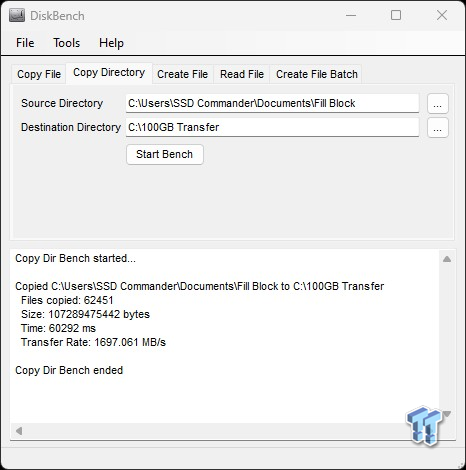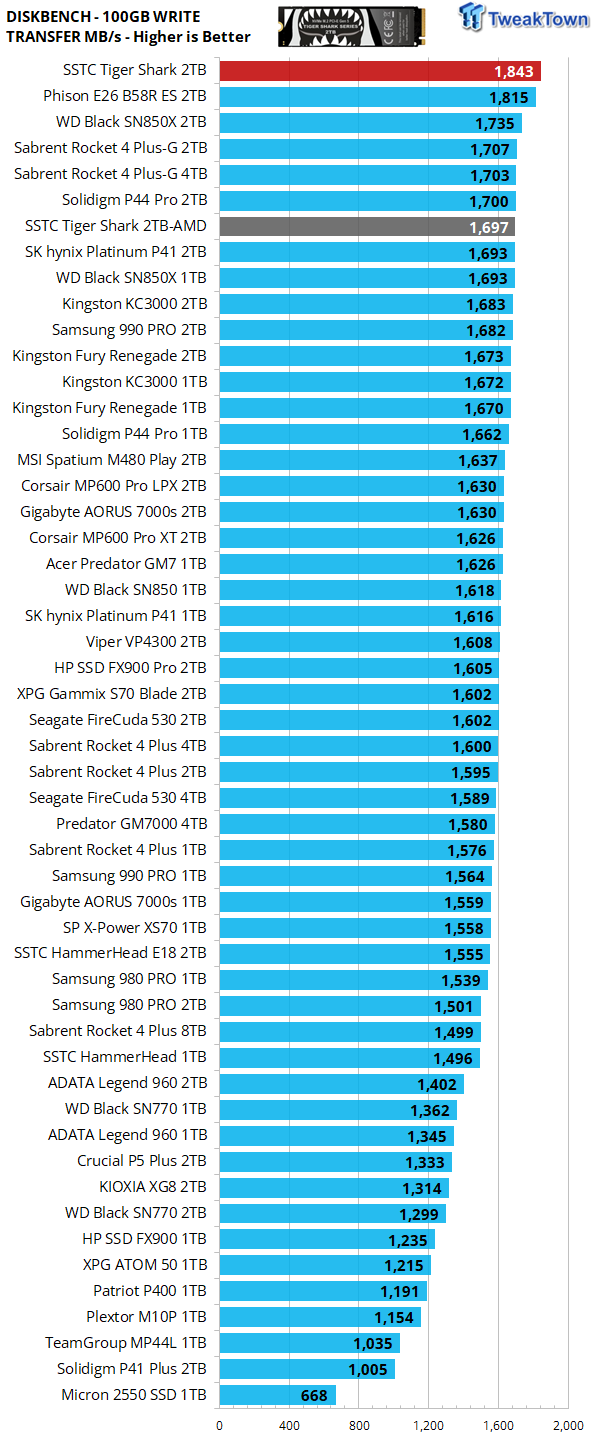 Our 100GB data transfer test is not your ordinary 100GB of data. Ours is a crushing mix composed of more than 62K files. Write performance random or sequential, is an infrequent operation, and as such, we do not consider it to be an important performance metric in the consumer space. An example being how many times is a game installed vs. how many times it's played.
Results here are actually better than expected for 1024Gbit flash.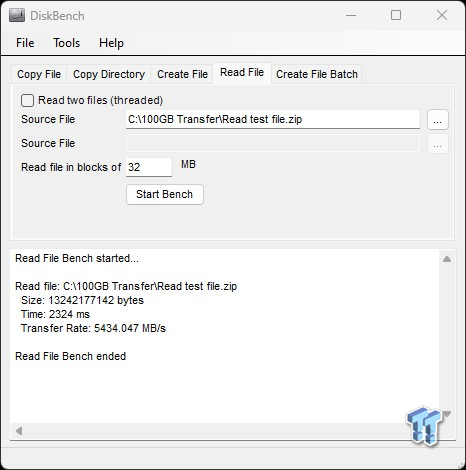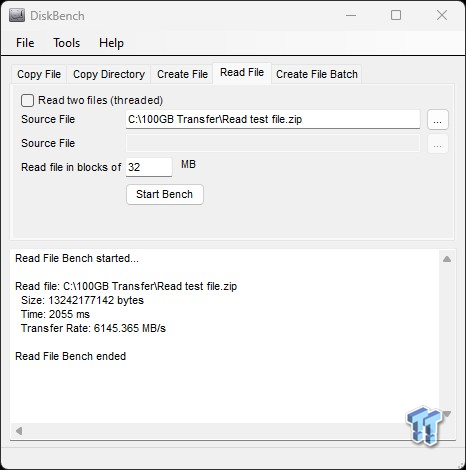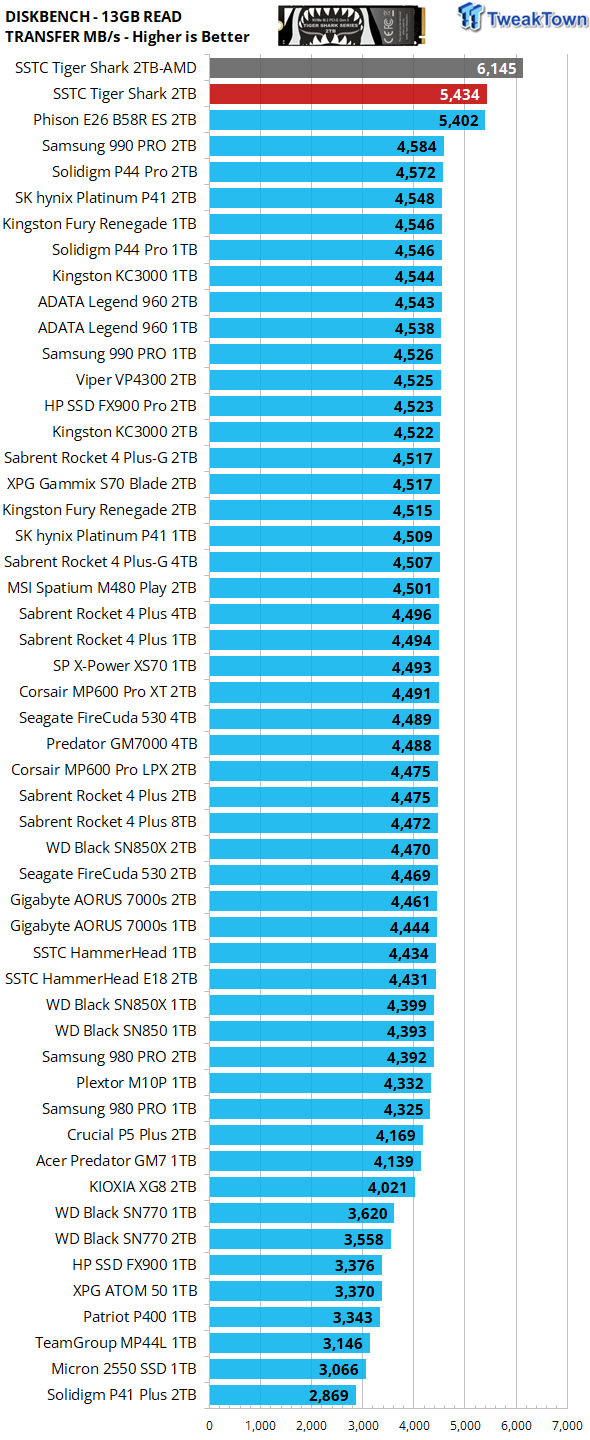 Unlike programming (writing) data, serving data to the host (reading) data is always an important performance metric, and here again, our test subject does it at unprecedented levels.
3DMark SSD Gaming Test
UL's newest 3DMark SSD Gaming Test is the most comprehensive SSD gaming test ever devised. We consider it superior to testing against games themselves because, as a trace, it is much more consistent than variations that will occur between runs on the actual game itself. This test is in fact the same as running the actual game, just without the inconsistencies inherent to application testing.
In short, we believe that this is the world's best way to test an SSDs gaming prowess and accurately compare it against competing SSDs. The 3DMark SSD Gaming Test measures and scores the following:
Loading Battlefield V from launch to the main menu.

Loading Call of Duty Black Ops 4 from launch to the main menu.

Loading Overwatch from launch to the main menu.

Recording a 1080p gameplay video at 60 FPS with OBS (Open Broadcaster Software) while playing Overwatch.

Installing The Outer Worlds from the Epic Games Launcher.

Saving game progress in The Outer Worlds.

Copying the Steam folder for Counter-Strike Global Offensive from an external SSD to the system drive.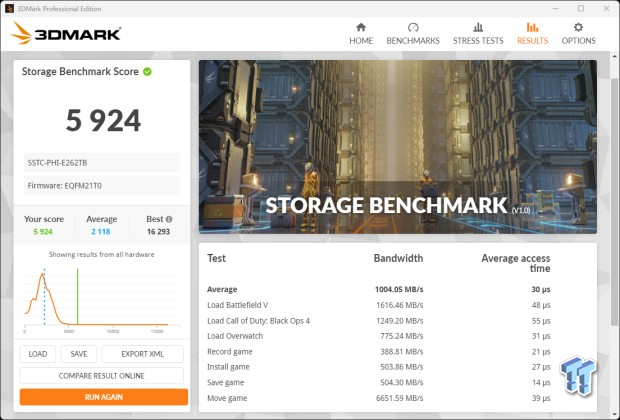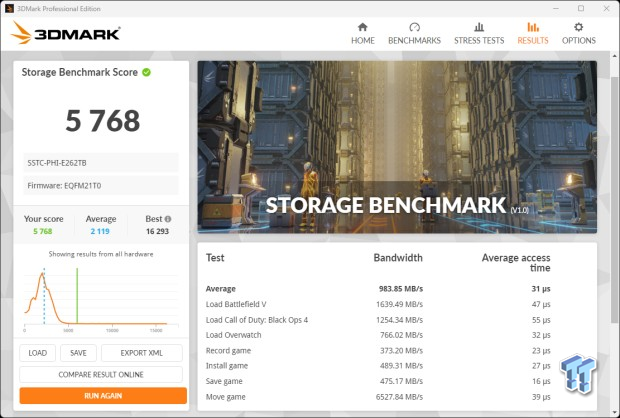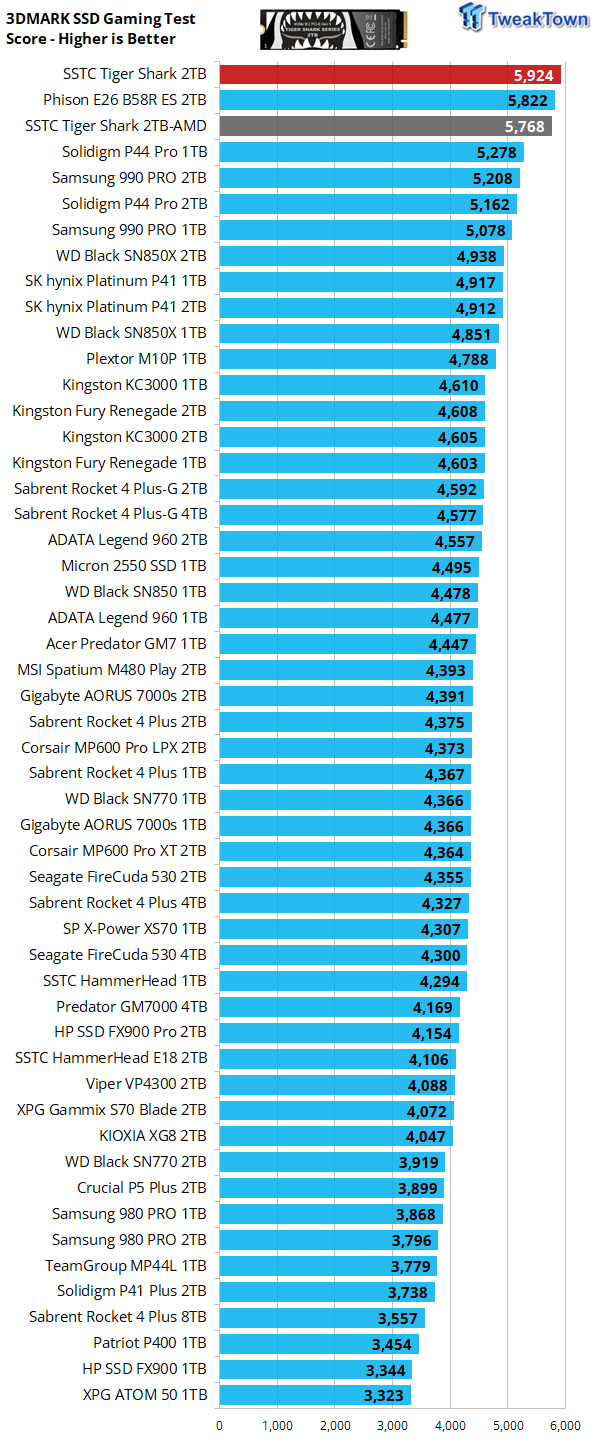 Gaming is a performance metric that matters to the majority of DIY consumers, especially to the enthusiast crowd that TweakTown caters to.
This is performance that matters, not some meaningless synthetic metric like 10,000 MB/s. New Lab record for a flash-based SSD. Do you want the best performing, most futureproof gaming SSD on the planet? SSTC has got you covered.
PCM10 Storage Tests
PCMark 10 Storage Test is the most advanced and most accurate real-world consumer storage test ever made. There are four different tests you can choose from; we run two of them.
The Full System Drive Benchmark and the Quick System Drive Benchmark. The Full System Drive Benchmark writes 204 GB of data over the duration of the test. The Quick System Drive Benchmark writes 23 GB of data over the duration of the test. These tests directly correlate with mainstream user experience.
PCMark 10 Full System Drive Benchmark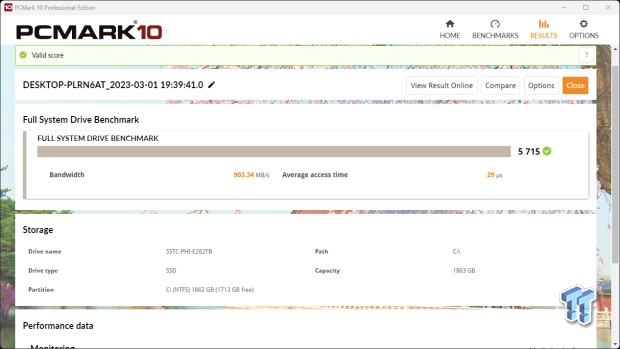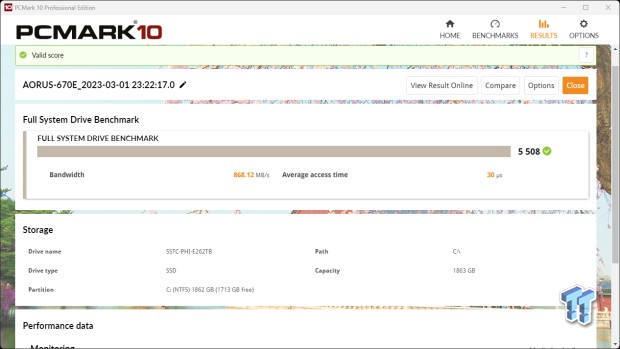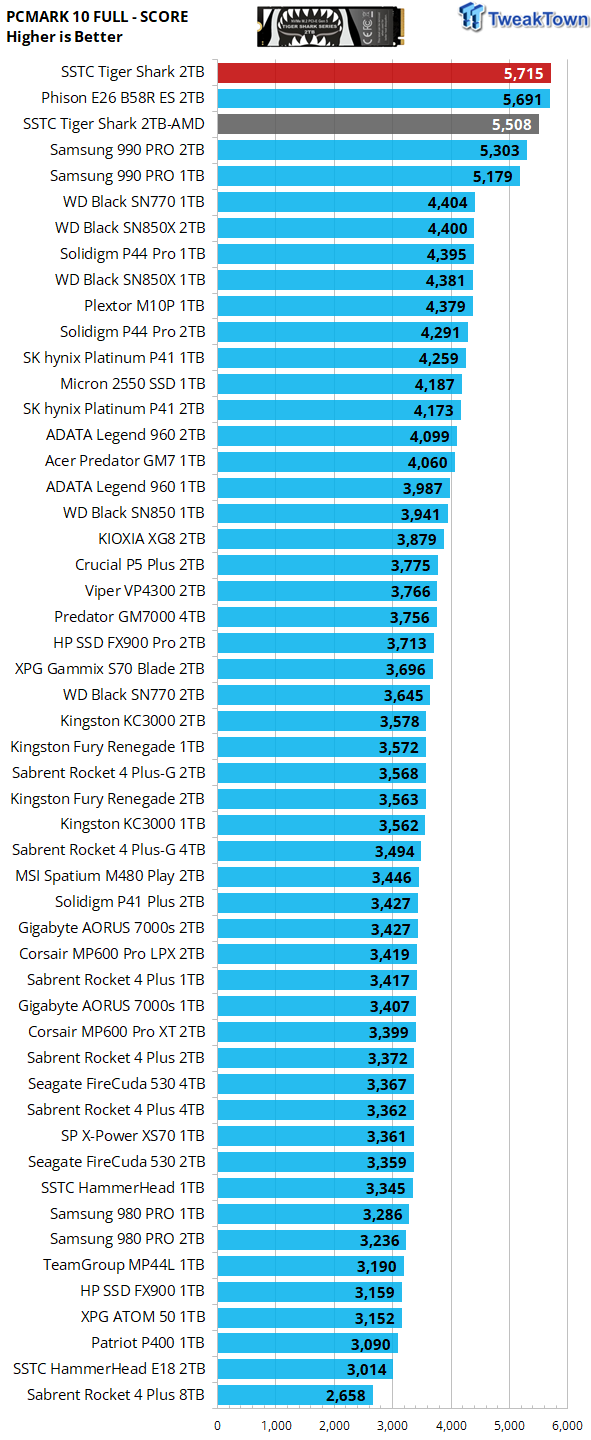 This particular test writes 204GB data and covers a broad range of common consumer tasks, including booting Windows 10, file transfers, Adobe and Office applications, and startup times for games, including Battlefield V, COD Black Ops 4, and Overwatch. Unlike synthetic numbers, this is comprehensive real-world data which is why we use it to rank SSDs in terms of user experience.
The most performance where it matters most. Impressive.
PCMark 10 Quick System Drive Benchmark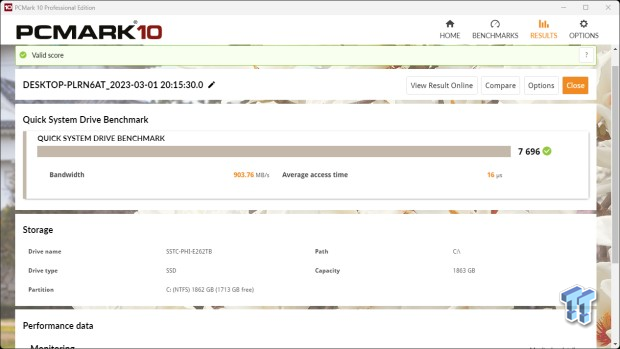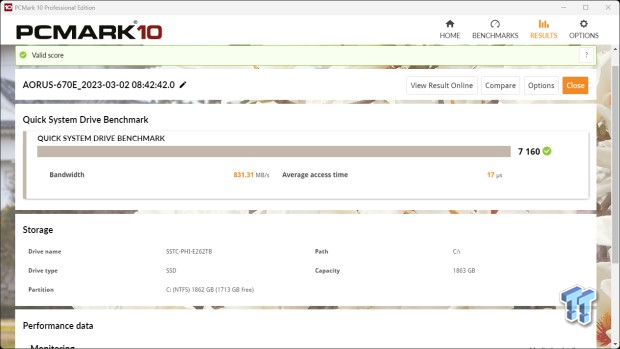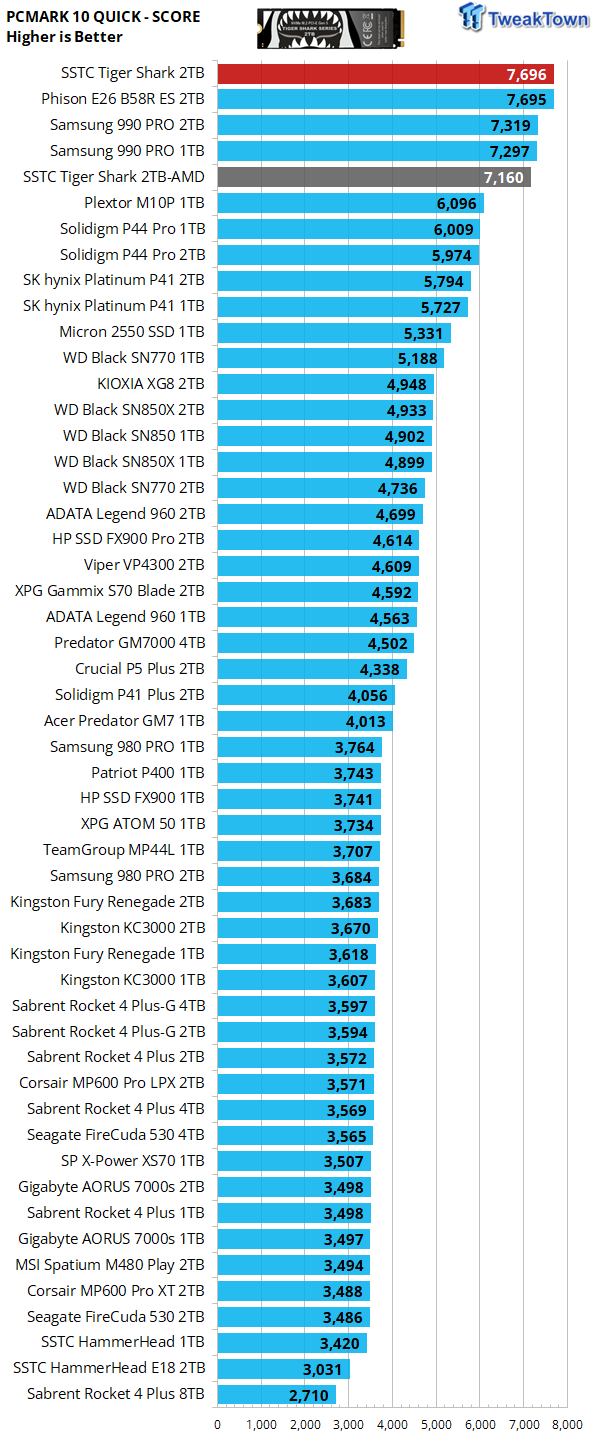 Again, the best we've ever extracted from a flash-based SSD running as our system disk.
Final Thoughts
Having already gotten a foretaste of Phison's E26 SSD we can't say we are surprised that our first retail version tested would instantly become our performance champion. That was a given. However, we are a bit surprised that the first retail E26 SSD to make it to our test bench would be an SSTC offering. SSTC is on the rise and making a name for itself.
SSTC has established itself as a USA trademark under SSTC Technology and Distribution Inc., located in Sugar Land, TX. This is its commitment to the U.S. market for after-sales service and quality.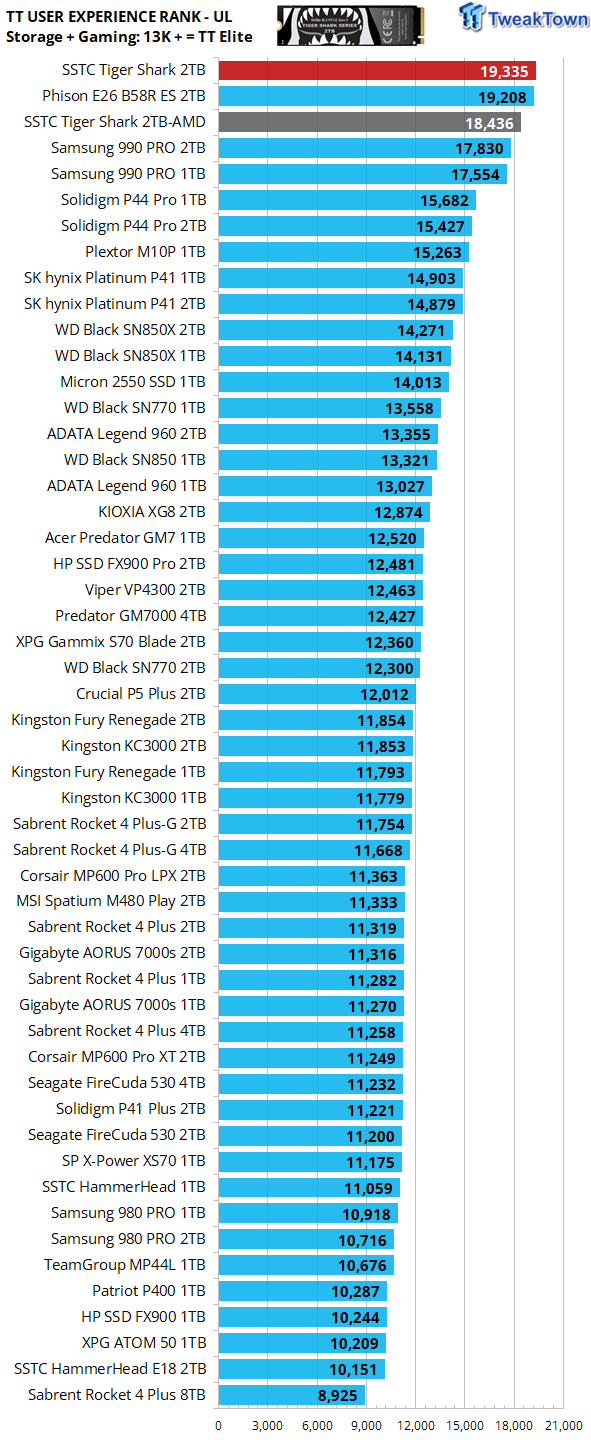 We rank SSDs in terms of overall user experience (performance where it matters most) as expressed by PCMark 10 storage and 3DMark gaming storage tests. We consider a user experience score of 13K or more to verify an SSD as a TweakTown Elite performer.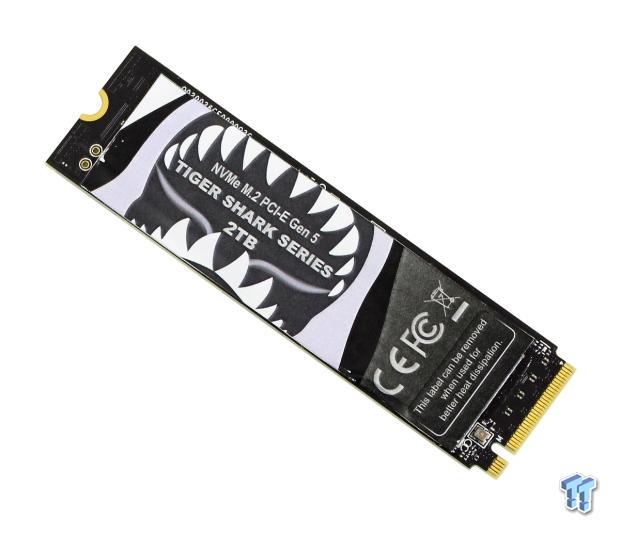 As it stands at this moment in time, the 2TB SSTC Tiger Shark is the best-performing flash-based SSD we've ever tested. But this SSD is about more than just being the fastest. At a mere $329 for 2TB of PCIe Gen5, it's also about value at the same time, which is a very rare combination indeed. Editor's Choice.