TweakTown's Rating: 91%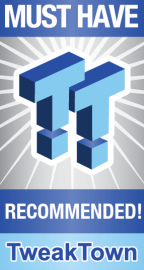 The Bottom Line
The MSI Vigor GK71 Sonic Blue features switches that combine a clicky tactile response with a fast, linear-style lightweight feel. The results are impressive, as is the keyboard itself.
Pros
+

MSI Sonic Blue switches have a unique feel

+

Clicky and fast and great for gaming

+

Vibrant per-key RGB pairs great with the translucent keycaps

+

Dedicated media controls and wrist rest are excellent add-on features

+

Affordable price point
Cons
-

MSI Center isn't super intuitive for peripheral customization

-

Managing profiles and macros is a little clunky

-

Default RGB settings are aggressively bright
Should you buy it?
Avoid
Consider
Shortlist
Buy
Introduction & Specification Details and Close-up
There can be a big difference in how a mechanical keyboard feels and performs, even when you look at different variations of the same model. This is, of course, about the mechanical switches used, which are often more than a binary decision related to "do you want to hear the clicky sound or not."
For the MSI Vigor GK71 Sonic Mechanical Keyboard reviewed here, we're dealing with the brand-new Blue Switch version, which is different from the Red version seen last year. It still follows in that keyboard's fast response footsteps, with an added dose of click -- this is also a mechanical keyboard option for those who love that mechanical 'click' sound when typing and gaming.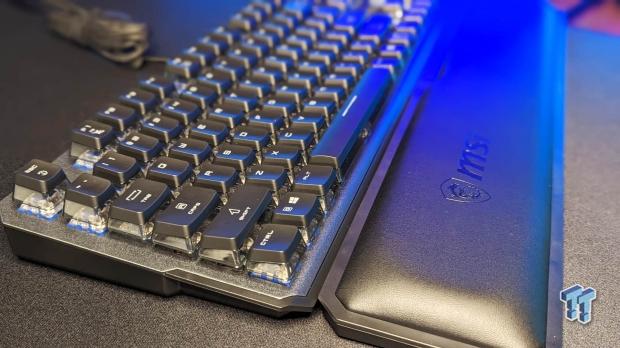 No matter the variant, the MSI Vigor GK71 Sonic Mechanical Keyboard is designed primarily for gaming as you have a lightweight actuation force and a shorter travel distance than most standard switches. That said, as a fan of the light linear switch style seen in several gaming keyboards in the past couple of years and someone that does a lot of typing in addition to circle-strafing in games like Apex Legends, I don't believe that a fast switch isn't great for day-to-day productivity and typing up a few emails.
Like anything, you can get used to it, and there's no denying that something designed for "minimizing finger fatigue" is an all-around great thing. There's a lot more to the MSI Vigor GK71 Sonic Blue than its choice of switch, as MSI has given this full-sized keyboard the feature-packed treatment with a few notable and commendable design touches. Let's dig in.
Specifications & Close Up
Product Type: Wired Gaming Keyboard
Size (Full/TKL): Full
Switch: MSI Sonic Blue (Clicky)
Actuation Points / Force: 1.5mm / 45g
Interface: USB (1.8m Type-A)
Platforms: PC (Windows 10 or above)
Lighting: Per-Key RGB LEDs (with MSI Mystic Light)
Dimensions: 442.5mm x 138mm x41mm (keyboard) 438mm x 88mm x 21mm (wrist rest)
Weight: 854 grams (keyboard 255.5 grams (wrist rest)
What's in the Box: MSI Vigor GK71 Sonic Blue Keyboard, Wrist Rest, Keycap Puller, , Quick Start Guide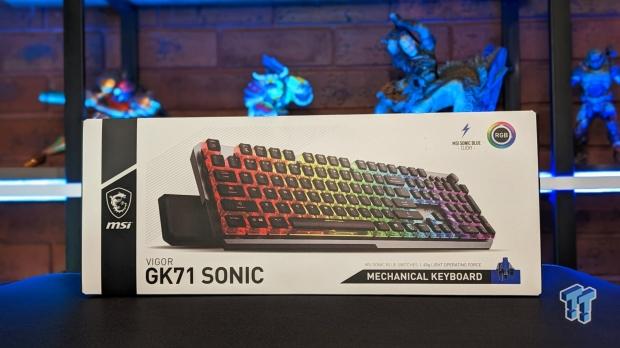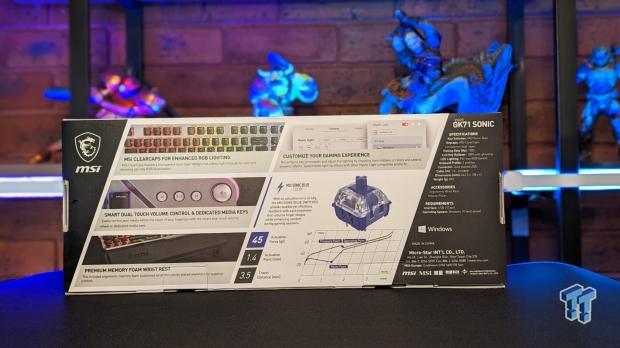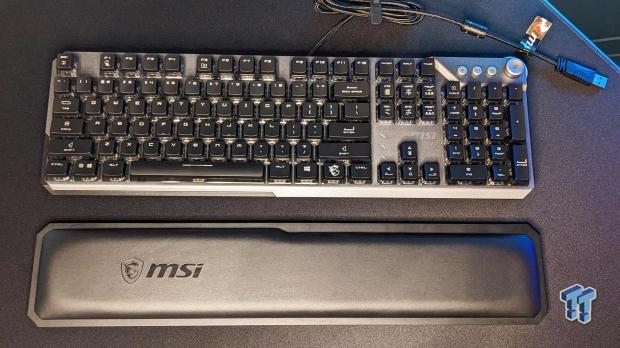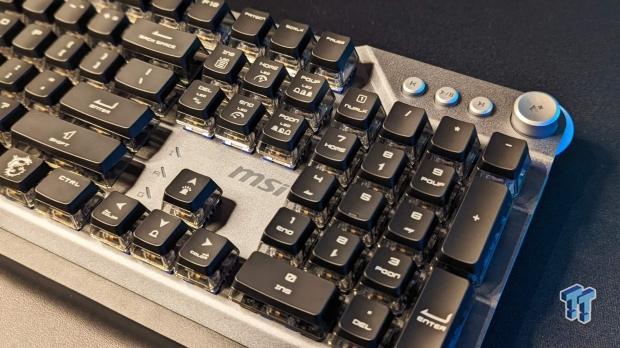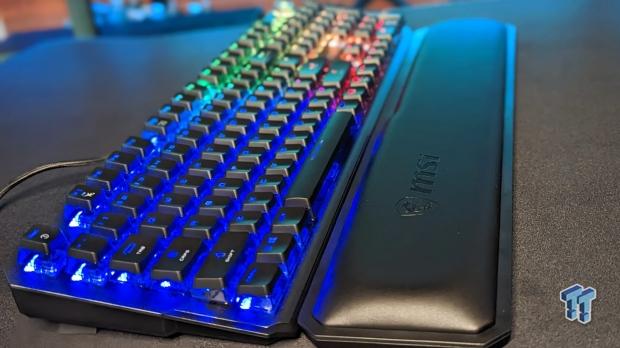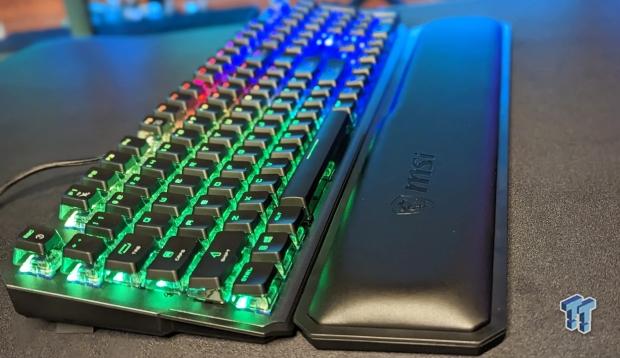 Kosta's Test System Specifications
Motherboard: MSI MPG X670E Carbon Wi-Fi
CPU: AMD Ryzen 9 7900X
GPU: NVIDIA GeForce RTX 4090 Founders Edition
Cooler: Corsair iCUE H100i RGB PRO XT Liquid CPU Cooler
RAM: 64GB (2x32GB) Corsair DOMINATOR PLATINUM RGB DDR5 DRAM 5200MHz
SSD: Kingston FURY Renegade PCIe 4.0 NVMe M.2 SSD 2TB
Power Supply: Thermaltake Toughpower GF1 850W
Case: Thermaltake Core P3 Tempered Glass Snow
OS: Microsoft Windows 11 Pro 64-bit
Design & Software
Design
Before diving into the whole MSI Sonic Blue mechanical switch, it's worth highlighting the USD 109.00 price point for the MSI Vigor GK71 Sonic Blue. And making special mention that its overall features, physical design, and even build quality compete with mechanical keyboard entries from other brands that are considerably more expensive.
There are some great quality-of-life features here, from the dedicated media controls that include a volume dial to the memory-foam wrist rest that is supremely comfortable. On top of that, you've got RGB lighting that pops, thanks to the MSI ClearCaps that have a transparent bottom half to amplify the per-key lighting.
Now that's "pops" in the genuine sense of the word. The default lighting intensity of the MSI Vigor GK71 Sonic Blue is blinding to the point where you might second-guess the purchase. Thankfully you can lower the brightness from within the MSI Center software. With a more moderate 50% setting, the light through the transparent keycaps amplifies the floating key look and feel - with eye-catching results.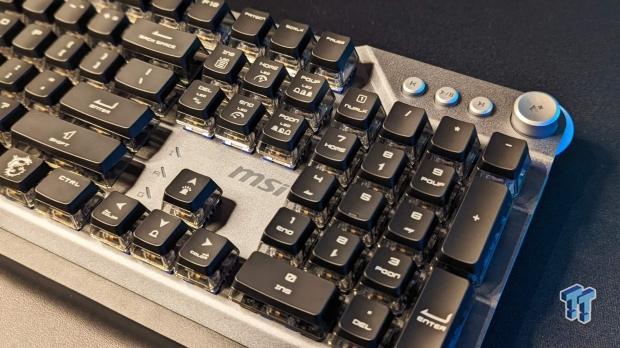 The build quality, too, is excellent, with an aircraft-grade aluminum top and a lightweight construction resulting in a weight of only 854 grams. The MSI Vigor GK71 Sonic Blue is lightweight and portable for a mechanical keyboard. However, the USB cable is non-detachable, and you've only got two options in the height adjustment department.
The only other minor quibble would be that the volume dial and mute button combo means that the mute icon rotates as you control the volume, and it could be a deal-breaker for those who might be weird about having a misaligned icon.
Okay, so let's get to the new MSI Sonic Blue switches, which are not only Clicky but fast and responsive but very similar in style to linear offerings found elsewhere - including the MSI Vigor GK71 Sonic Red. Designed and created in collaboration with Kailh, you have a pre-travel of only 1.5mm, an operating force of 45g, and a total distance of just 3.5mm. These stats are not identical to anything we've used before, and with that, the MSI Vigor GK71 Sonic Blue keyboard has its unique feel.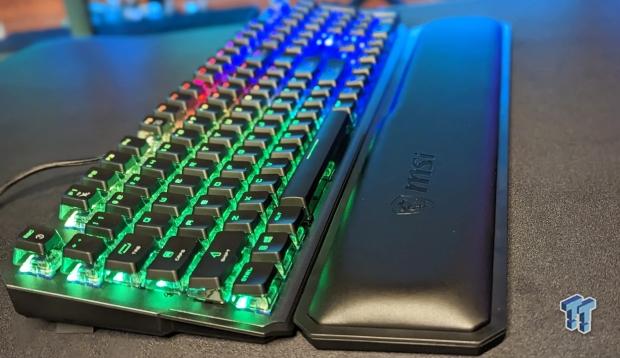 Paired with the smooth finish on the keycaps, you've got a super-fast and responsive clicky keyboard that combines the speed of a fast linear switch with the tactile and audible response you get from a clicky switch. It's a combination that works, resulting in a comfortable feel you can use for hours.
Software
MSI Center is a powerful software that covers the entire product range from MSI - from motherboards to graphics cards to peripherals like keyboards. Regarding the MSI Vigor GK71 Sonic Blue, MSI Center has a jack of all trades and master of none feel, with robust lighting controls but an actual macro and keyboard interface that is a little clunky in how it lays everything out.
You can record, edit, save, and input macro controls and store up to three profiles on the keyboard. Still, per-key customization is limited, which is a shame.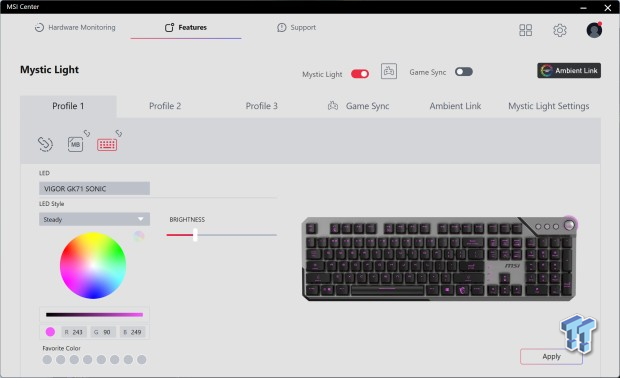 You know there's room for improvement when it takes a few minutes to get the hang of a relatively simple interface. Plus, being part of a more comprehensive MSI Center application that houses various other apps to get to the MSI Vigor GK71 Sonic Blue macro and profile customization in the first place, you need to head to the Gaming Gear section.
And if you want to mess around with the RGB lighting, you'll need to close that and open up the Mystic Light app. The good news is that MSI's Mystic Light interface is a robust option to sync up multiple bits of hardware in your rig and choose from various lighting patterns. There's also Game Sync support - with lighting profiles for select games.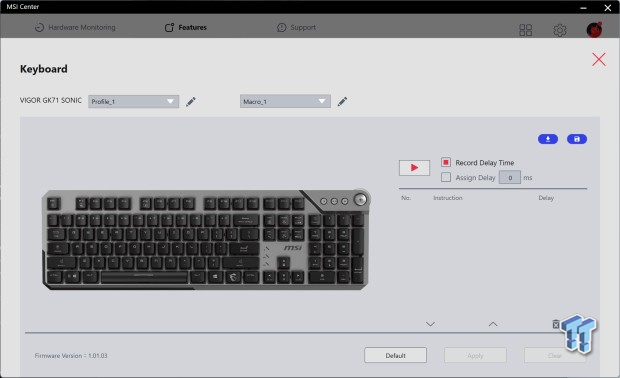 In our testing, the good news is that MSI Center is stable and relatively unintrusive regarding system resources. If you're rocking multiple bits of MSI gear, adding something like the MSI Vigor GK71 Sonic Blue makes a lot of sense.
Gaming Performance and Productivity
Gaming Performance
MSI is marketing the MSI Vigor GK71 Sonic Blue with an eye toward gamers of all styles - FPS, MOBA, RTS, and anything else, like the upcoming Open Beta for Diablo IV. In our testing, we played everything from Company of Heroes 3 to Atomic Heart and staple competitive titles like Apex Legends and Overwatch 2.
It's worth reiterating the fact that the Blue switches deployed feature stats different to pretty much any Clicky switch we've tested over the years, and with that, there's a sense of something new about the MSI Vigor GK71 Sonic Blue. So even though it feels tailor-made for playing games, there's still that feel of "oh, this is different from what I'm used to." Primarily if you've been gaming for years.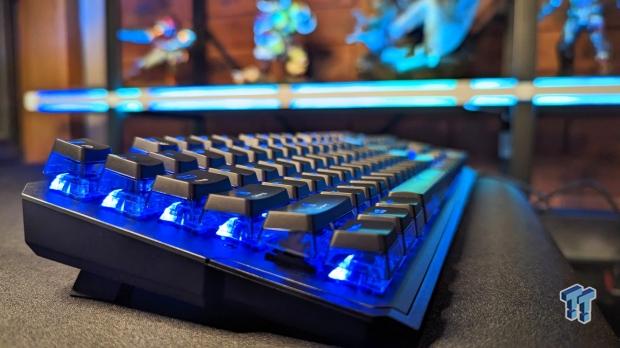 That said, the combination of fast and responsive with a low-actuation force and the tractile response you get from a clicky switch has a beautiful feel - and it's the sort of keyboard that I'd gladly use as part of my day-to-day gaming for the foreseeable future. The comfy wrist rest and lightweight key practically remove all hand and finger-based fatigue from long gaming sessions, which is excellent.
You can also quickly enable and disable the keyboard's Windows key disabling Gaming Mode, which is nice - and you can see if it's enabled or disabled via the handy lights for Capslock, Numlock, and Gaming.
Productivity
Okay, so there's no way to say if something like the MSI Vigor GK71 Sonic Blue would work for everyone in a productivity capacity because of the short travel distance, low actuation force, and clicky sound. In terms of comfort, features, and being full-size with added dedicated media controls, the MSI Vigor GK71 Sonic Blue excels in productivity.
It feels like it's only a matter of getting used to the switches before this keyboard begins to feel like second nature. But, even so, you'd want to be a fan of linear-style switches before using the MSI Vigor GK71 Sonic Blue for long-form writing, editing, and emailing.
Keyboard Click Sound Level
To test a keyboard's overall sound level, we use the Ozito Digital Sound Level Meter capturing the sentence "the quick brown fox jumps over the lazy dog" multiple times and recording the maximum dB level. This indicates how "loud" the switches used are for everyday usage. The following chart showcases where the MSI Vigor GK71 Sonic Mechanical Keyboard sits.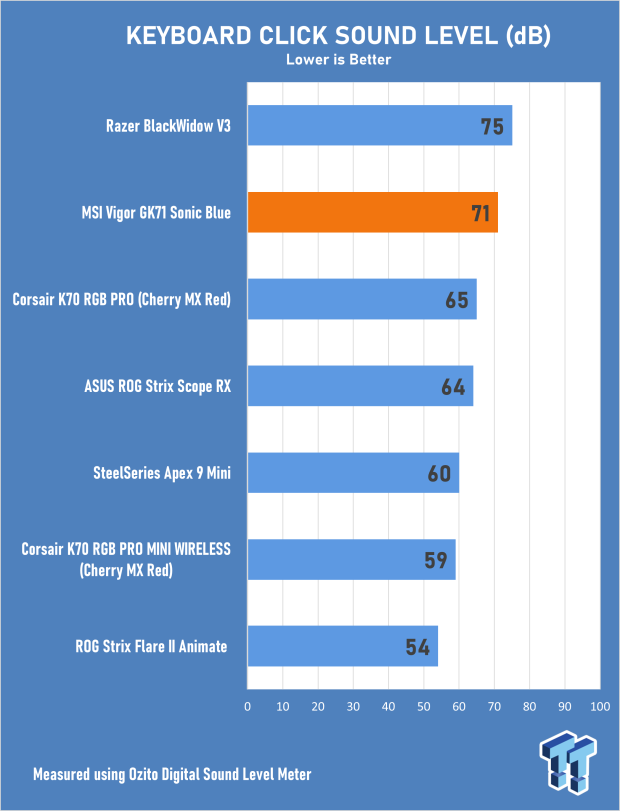 Final Thoughts
The new MSI Vigor GK71 Sonic Blue offers a different feel to the MSI Vigor GK71 Sonic Red released last year, with a clicky switch that retains that fast, linear feel and speed. Naturally, it's designed for gaming first and foremost.
Still, everything from the build quality to features like dedicated media controls and comfy wrist rest means that it also doubles as an all-rounder. The MSI Sonic Blue switches have a unique feel; they're great for gaming and productivity.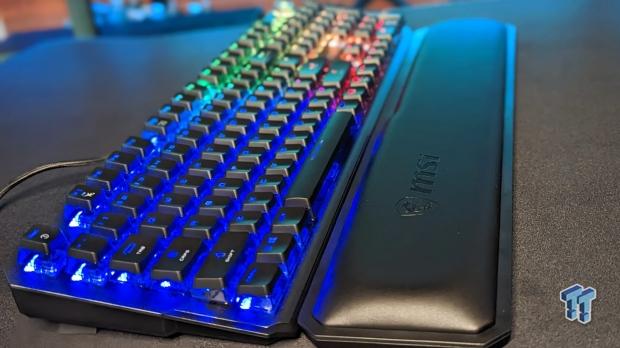 And with its wallet-friendly price point of USD 109.99, MSI presents a wired mechanical keyboard that competes and excels against products that cost considerably more.
It's not perfect by any means, and the switch style won't be for everyone, but it's always great to see companies try something new instead of releasing like-for-like products with minimal changes or differences. MSI Vigor GK71 Sonic Blue is highly recommended and might be the best Sonic keyboard to date.