TweakTown's Rating: 94%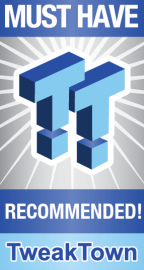 The Bottom Line
Montech's Titan Gold 1200w ATX 3.0 gaming power supply ticks many of the right boxes for us.
Pros
+

ATX 3.0 compliant

+

12+4 pin 12VHPWR connection for modern NVIDIA GPUs

+

Gold-rated certification in both 80 Plus and Cybenetics

+

100% Japanese capacitors

+

Compact design and quiet with 10-year warranty
Cons
-

Somewhat boring with no RGB
Should you buy it?
Avoid
Consider
Shortlist
Buy
Introduction, Specifications, and Pricing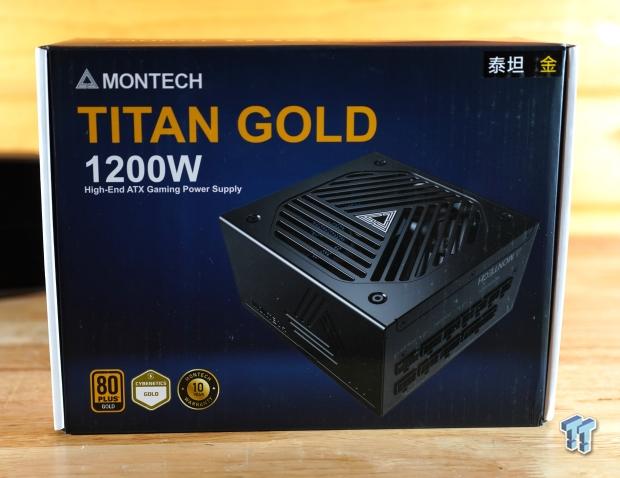 Montech, relatively new to the PC component industry, has been making strides in the right direction with its line of PC cases and PSUs. Today we are looking at the company's top-tier PSU, the Titan Gold 1200w ATX 3.0 PSU.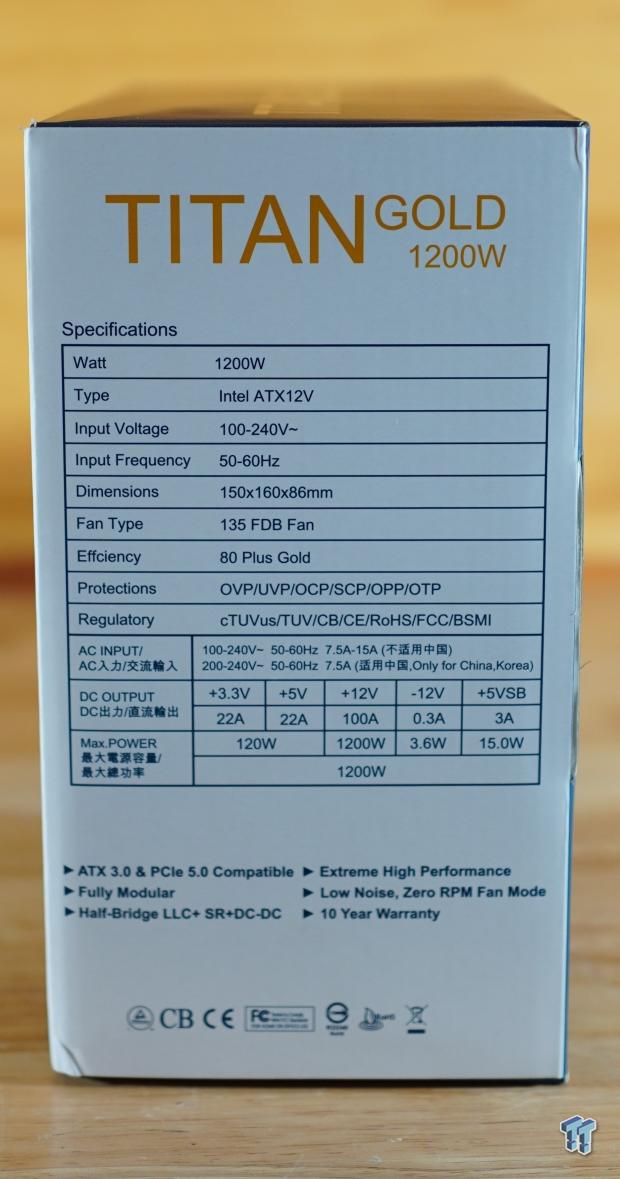 The Titan Gold 1200w is packing 1200 watts of power in the form of a gold rating from 80 Plus and Cybenetics. Having 1200 watts arms the single +12v rail with 100 amps of amperage. The Titan Gold series is also fully modular and ATX 3.0 and PCIe 5.0 compatible. It has a half-bridge LLC+ SR+DC-DC, extreme performance, a low noise zero RPM fan mode, and a 10-year warranty.
Montech has 750w, 850w, and 1000w models of the Titan Gold series also available. The 750w and 850w are currently not for sale on Amazon. However, MSRP pricing is at $139 and $149, respectively. The 1000w and 1200w units are available for purchase now, priced at $199 and $219, respectively.
Packaging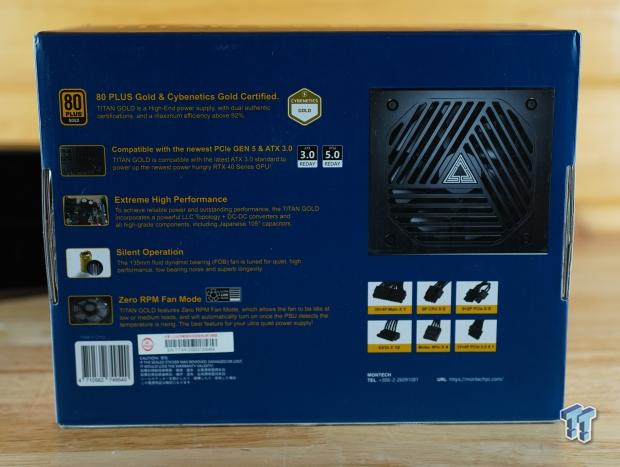 The packaging that the Montech Titan Gold 1200w PSU comes in, which is pretty standard, shows some key features, along with the connectors.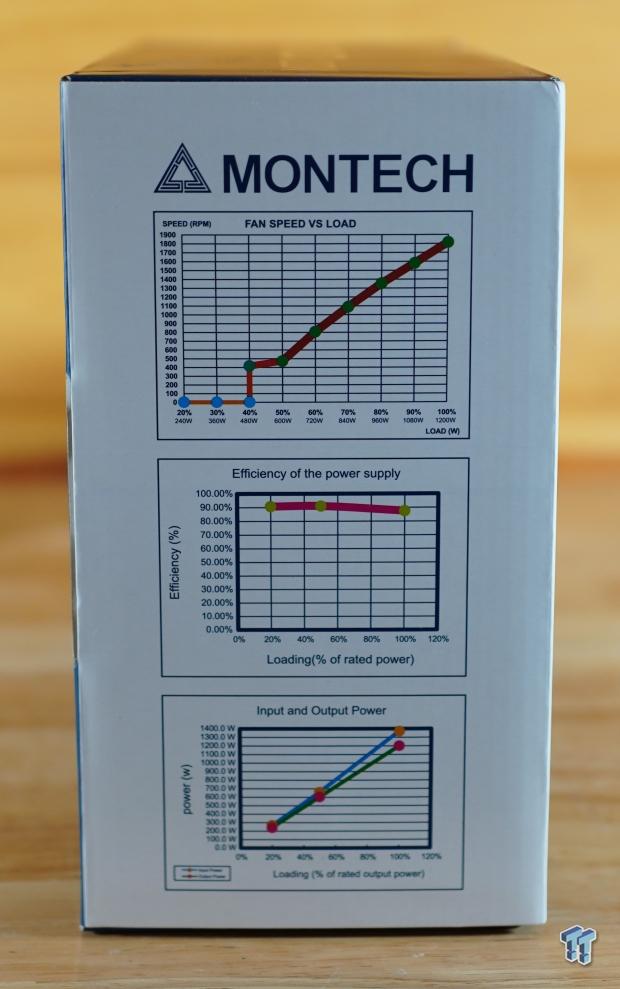 This packaging side shows the fan speed vs. load, efficiency, and input/output power charts.
Outside the Montech Titan Gold 1200w ATX 3.0 PSU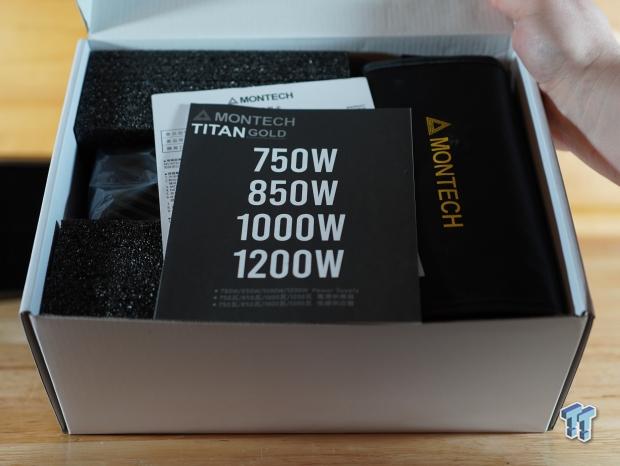 Opening the box, you are greeted with a user guide, warranty information, and the two pouches containing the cabling and the PSU.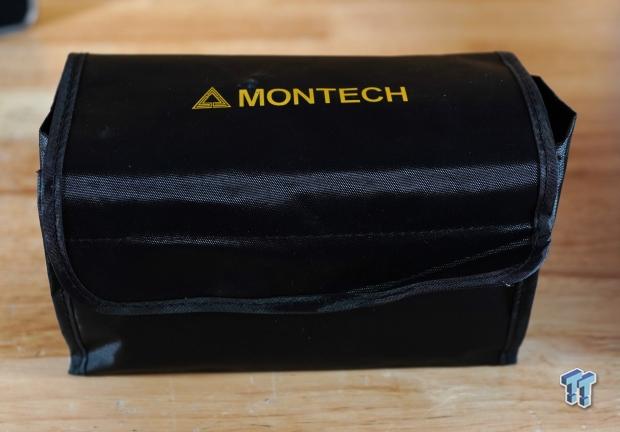 The cable pouch with the Montech logo and name is printed on the top flap.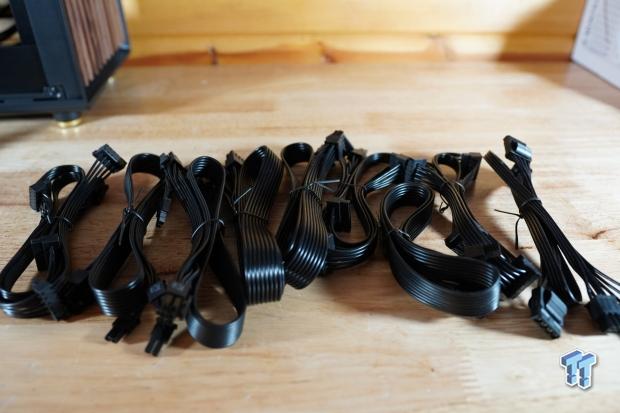 Montech has included several cables, a sleeved motherboard 20+4 pin cable, two 4+4 pin CPU EPS cables, five PCIe 6+2 pin cables, twelve SATA connections, four Molex 4 pin connections, and a single 12+4 PCIe 5.0 12VHPWR cable.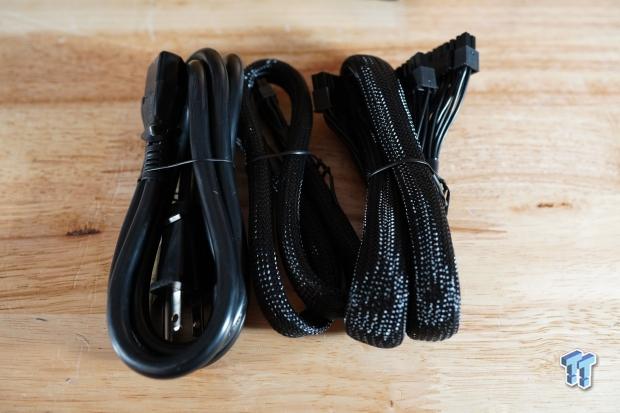 Only the 20+4 pin motherboard and 12VHPWR cables are sleeved.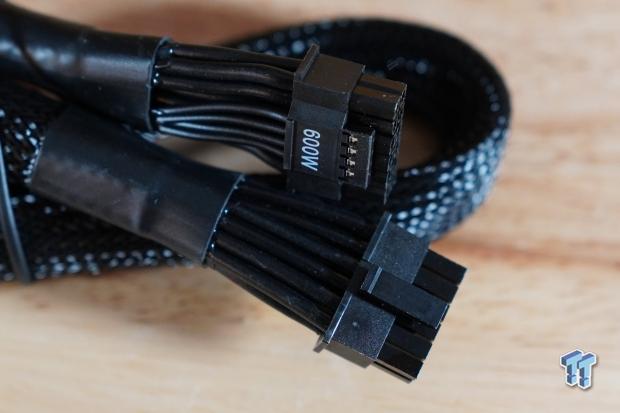 A closeup shot of the dual-sided 12+6 pinned connectors on the 12VHPWR cable.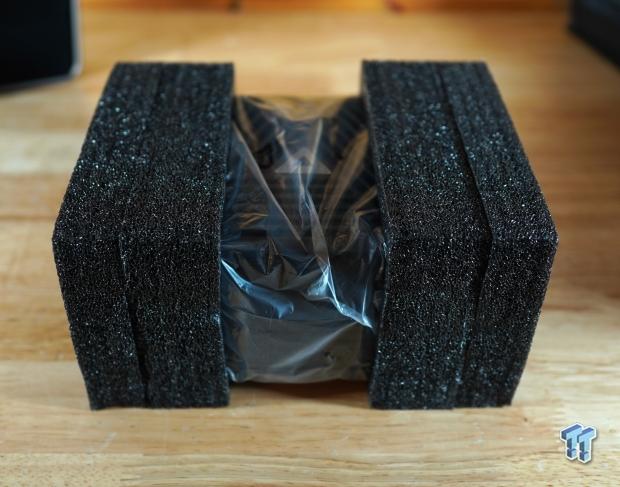 The PSU is protected with two black pieces of high-density foam, an excellent safety measure to ensure the PSU arrives to the customer without damage.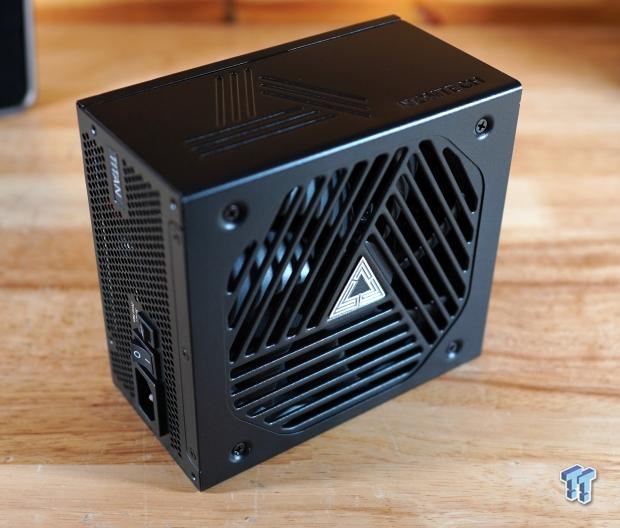 Once the PSU has the packaging removed, it shows the compactness of the blacked-out Titan Gold 1200w. Dimensions are 150x160x86mm.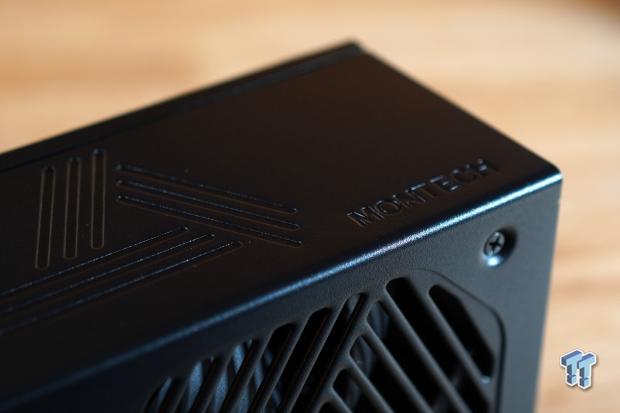 There is no fancy RGB here, which makes this PSU a bit boring, but Montech did stamp their name in the lower right corner.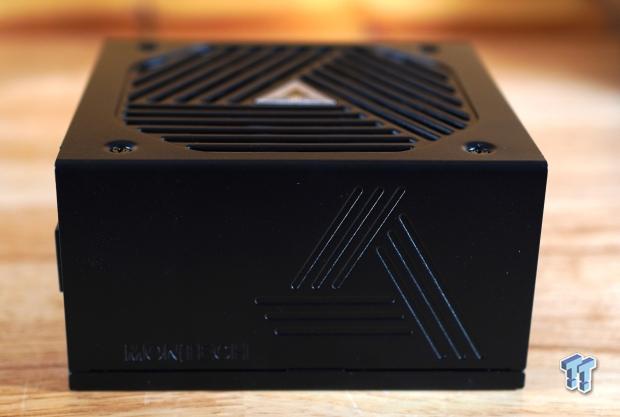 Also, a trifecta line triangle design here. Was this supposed to be the Montech logo 3x?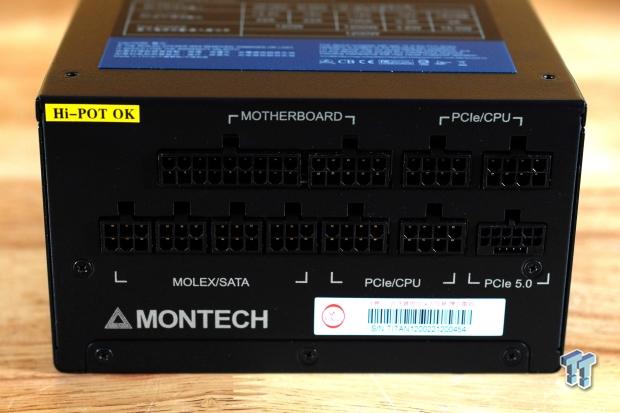 On the business end, here all the flat ribbon cables would get plugged in.
Inside the Montech Titan Gold 1200w ATX 3.0 PSU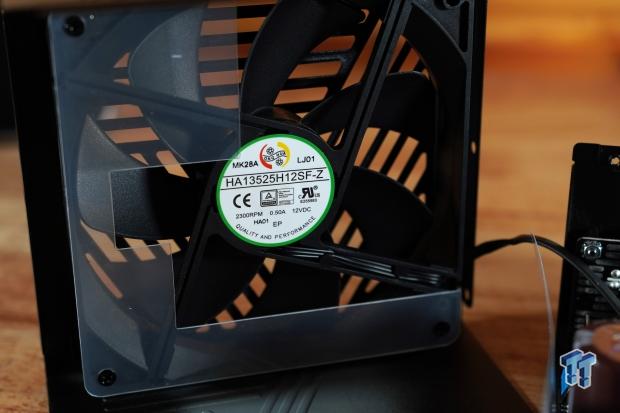 Montech's 135mm fan, from Ong Hua, has a model number labeled HA13525H12SF-Z, which is a fluid dynamic bearing fan running at 12V DC with 0.5A. Running at 1400 RPM, this 135 fan is also rated at 27 dBa.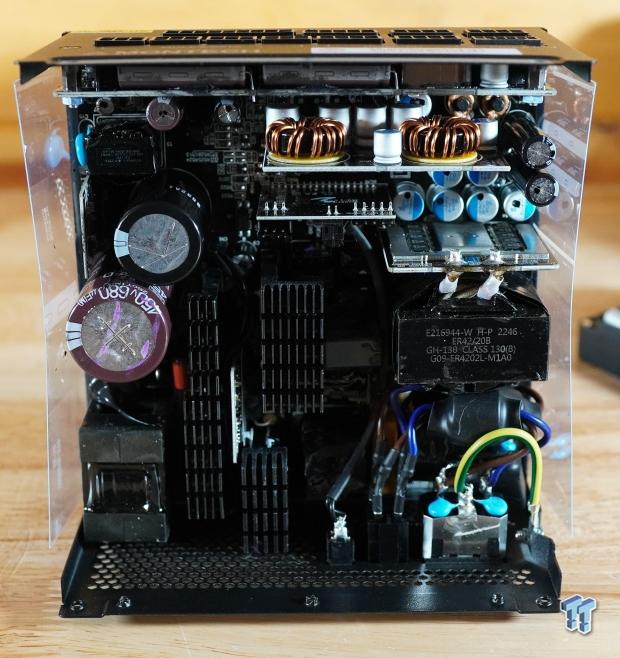 An overall view of the internal components used, which is well packed. What's interesting here is the use of a single Nippon Chemicon (KMZ) 450v650 capacitor alongside a black capacitor labeled 2532A1. The only thing that sticks out here is the really poor solder job of connecting the transformer to the bridge.
Test System
Motherboard: GIGABYTE Z690 AORUS PRO (INTEL Z690) - Buy from Amazon
CPU: Intel Core i5 12600K - Buy from Amazon
Cooler: Fractal Design Celsius+ S36 Dynamic - Buy from Amazon
Memory: Corsair Dominator Platinum RGB DDR5-7200 32GB - Buy from Corsair
Graphics Card: NVIDIA RTX 3090 Founders Edition - Buy from Amazon
Storage: Corsair MP600 PRO XT Gen4 PCIe x4 NVMe M.2 SSD - Buy from Amazon
Case: Fractal Design North - Buy from Amazon
Software: AIDA64 Engineer 6.32.5600, and CPU-z 1.94.0 x64
Power Supply: Montech Titan Gold 1200w ATX 3.0 PSU - Buy from Amazon
OS: Microsoft Windows 11 Pro 64-bit Build 22621 - Buy from Amazon
Software: AIDA64 Engineer 6.8.6300, and CPU-z 2.03.0 x64
Final Thoughts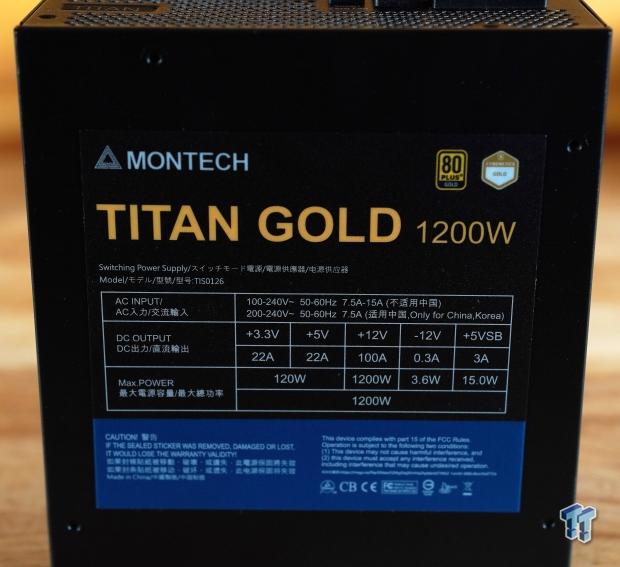 The Montech Titan Gold 1200w PSU is an average ATX 3.0 PSU. Is it boring? Yes, but it does what it says it does and does it with relative ease with minimal fan noise. Having a 600w 12VHPWR connector does help for future compatibility, but the Titan Gold PSU series have the old standby PCIe cables to support any legacy GPUs or the newer AMD RX 7000 series of GPUs.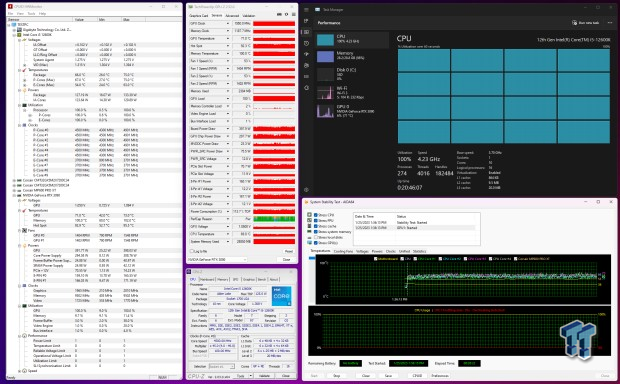 In this test, the test PC has an Intel Core i5 12600K CPU with six performance cores and four efficiency cores. Running full tilt, the Core i5 12600K can reach a max wattage of about 150w, although, in my testing, I could only pull about a hair over 130 watts with stock settings. On the GPU side, an NVIDIA RTX 3090 FE, which has a 12-pin 12VHPWR connection, pulled just under 400 watts using NVIDIA's GeForce Performance power slider set to 114%.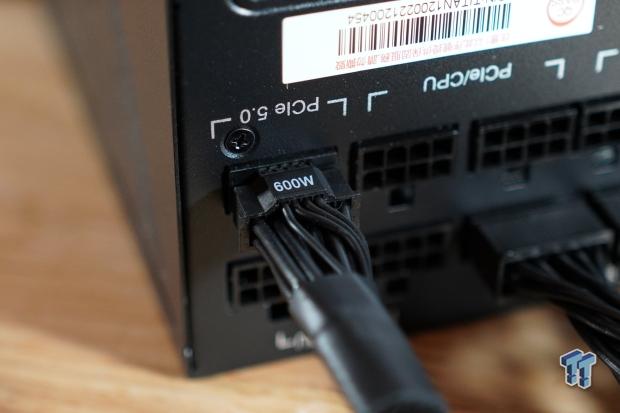 Now I want to talk about efficiency here. I wanted to see how efficient the Titan Gold 1200w PSU was, and like most PSUs, the peak efficiency is somewhere in the neighborhood of a 50% load, which would put us somewhere around 600w.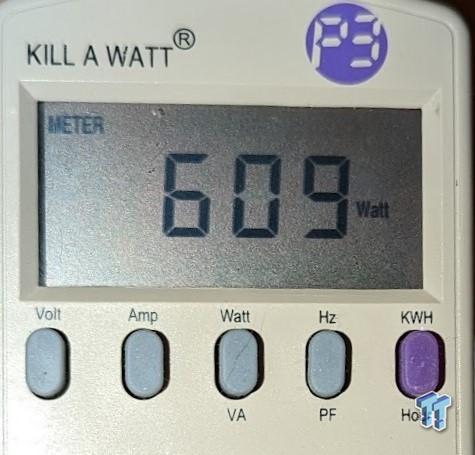 The Titan Gold 1200w PSU is rated at 92% efficiency at a 50% load. Earlier, we established that the Intel Core i5 12600K pulled about 130 watts at full load while the GPU took about 400 watts. Testing with a Kill A Watt P3 unit measured 609 watts from the wall while running the Intel Core i5 12600K at 5GHz all core, which in turn pulled 184 watts over the previous 130 watts. The RTX 3090 FE at full load, with no power or voltage limits touched, pulled about 348 watts at full load, as opposed to the 114% power draw of almost 400 watts from earlier.
The combined CPU and GPU total was 533 watts. Add about 50 watts or so for the rest of the system, and now the new wattage total is about 583 watts for the total system draw. Take 583 watts of power, divided by the 609 watts drawn from the wall, and you get 95.7% efficiency at around 50% load. Well done, Montech.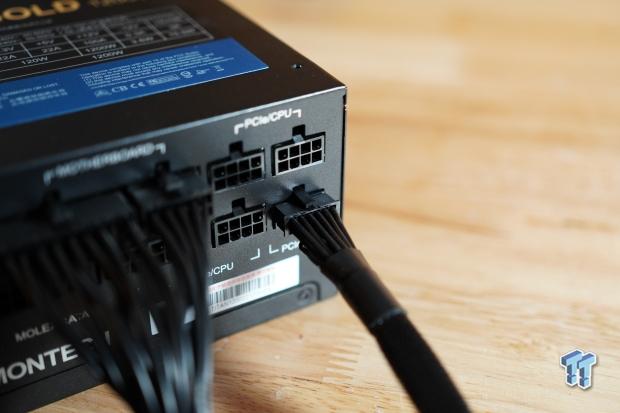 So in closing, the Montech Titan Gold 1200-watt ATX 3.0 PSU does precisely what it's supposed to: provide your PC with clean, stable, and efficient power. Pricing puts the Titan Gold 1200-watt PSU right in line with other brands with very similar specs.