CyberPowerPC's EZPC Configurator Makes it Easy to Shop for a High-Performance Gaming Rig -- Gamers to Set their Budget, Select Basic Components, and Receive Free 2-Day Delivery
May 8, 2019 11:57 PM CDT
CITY OF INDUSTRY, CA (May 9, 2019) -- CyberPower Inc., www.cyberpowerpc.com, a global manufacturer of custom gaming PCs and gaming laptops, has made buying a high-performance gaming system a simple 3-step process with its new EZPC Configurator Instant Ship ordering system.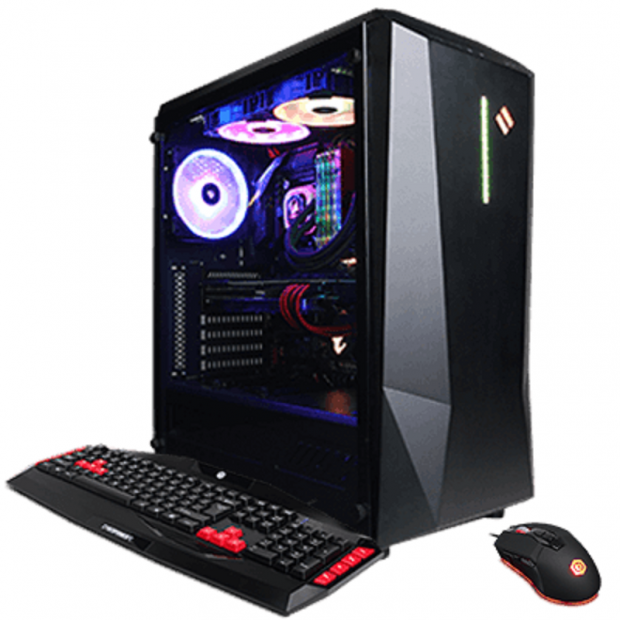 Customers log on to https://www.cyberpowerpc.com/EZPC-Instant-Ship-Systems/ to get started with their build of choice.
Setting the budget is the first step. Customers can start as low as $500 or move the slide bar on the site to more than $2500. The Configurator then calculates the monthly payment if customers chose to finance through Affirm, which is an alternative to credit cards and personal loans that allows CyperPowerPC customers to finance large purchases at the point-of-sale.
Customers then select the games they want to play and the desired resolution - currently 1080P or 1440P. The next step is selecting a CPU with a choice of Intel or AMD and a GPU NVIDIA or AMD Radeon. Click the "Show Results" link and the Configurator will display all systems currently available with the parameters the customer selected.
Customers then select their system, add it to their shopping cart and the pre-configured system will ship out the next business day with free 2-Day delivery.
For example, with a $1000 budget, Intel CPU, 1080P resolution, and NVIVIA GPU, the Configurator offered several pre-built options. The "Best" pick produced the following configuration:
CyberPowerPC Xtreme ET9974
Windows 10 Home

Intel Core Processor i5-9400F

GIGABYTE GeForce GTX 1660 Ti 6GB GDDR6

8GB Geil Super Luce RGB 3000MHz RAM

ASUS Prime B360M-A Motherboard

240GB WD GREEN M.2 SSD

2TB Seagate SATAIII HDD

$999
If a customer wants to splurge with a $2100 budget at 1440P, Intel CPU, and NVIDIA, the Configurator produced a number of pre-built options including this worthy beast:
CyberPowerPC Gamer Supreme ET9984
Windows 10 Home

Intel Coreâ"¢ Processor i9-9900K

GeForce RTX 2080 8GB GDDR6

16GB Geil Super Luce RGB 3000MHz RAM

ASRock Z390 Phantom Gaming 4 -CB Motherboard

1TB WD GREEN SSD

$1949
"We've created a simpler way for customers to shop for a PC by offering this EZPC configurator," said Eric Cheung, CEO of CyberPowerPC. "Our program is similar to Amazon Prime, but there's no monthly subscription to order anything from a value PC to a high-performance gaming rig."
CyberPowerPC is currently offering this feature on its Instant Ship systems, but will roll this program to its other configurators by end of May. Under the current program customers can't customize their systems past the initial steps, however the pre-built systems offer a number of choices to appeal to all levels of gaming.
About CyberPower Inc.
CyberPower Inc. www.cyberpowerpc.com was founded in 1998 and has emerged as a leading global provider of custom computer systems and interactive gaming products. Headquartered in City of Industry in Southern California, CyberPower manufacturers and distributes a complete line of custom built gaming desktops, gaming notebooks and high performance workstations to meet the unique needs of gamers, businesses, government agencies, educational institutions and other end-users. For more information contact: Sales (800) 707-0393; Email cyberpowerpc@cyberpowerpc.com.
All products/company names are either trademarks or trade names of their respective holders.
Last updated: Apr 7, 2020 at 12:12 pm CDT
Related Tags