Auzentech to release its HDMI 1.3 audio card in Q3
Bit streaming of DTS-HD and TrueHD audio from HTPC.

Published Mon, Jun 16 2008 4:16 AM CDT
|
Updated Tue, Nov 3 2020 12:38 PM CST
Auzentech has just announced that it will begin selling its HDMI 1.3-native PCI Express audio combo card in September of this year. Personally, I can't wait for it to come out. I use my PS3 to play Blu-ray movies and it does a reasonable job however it can only send out audio via PCM and not bit stream which is an exact non downsampled audio stream.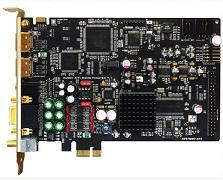 Auzentech made the headline earlier this year when it first let news out about its plans to make an HDMI 1.3 soundcard or Auzen X-Fi HomeTheater 7.1 combo card as its being called.
HTPC enthusiasts were overjoyed that they may finally be able to experience true HD audio from their computer. The audio card is said to incorporate technology by Auzentech, Creative, NVIDIA Corporation, CyberLink and Silicon Image.
We conducted an interview with CyberLink back in April and we asked them about this particular product. Presumably CyberLink will release a patch soon for the release of this product which is said to allow bit streaming of HD audio (such as DTS-HD and Dolby TrueHD with no downsampling) from Blu-ray movie discs for the best bit for bit audio quality to a HDMI 1.3 amplifier.
"Creative is excited to work with Auzentech to deliver a true high-definition HDMI solution based on our latest PCI Express-based processor," said Steve Erickson, VP and GM of audio for Creative. "We have completely re-architected our X-Fi audio processor, optimizing it for the PCI Express bus. We've also made a significant achievement in customizing our audio technology to enable the highest quality lossless digital audio for HDMI, for a stunning HD digital entertainment experience."

"CyberLink provides the best in audio and video playback quality to deliver the ultimate movie experience on the PC," said Alice H. Chang, CEO of CyberLink. "Featuring HDMI version 1.3-enabed capabilities, PowerDVD will enable users to enjoy high definition cinema on their PCs. We are excited to partner with Auzentech to offer a true, uncompressed HD audio experience by employing our breakthrough technologies."

"At Auzentech we focus on bringing innovative products to market by listening to our end-users requests," said Stephane Bae, President of Auzentech, Inc. "By teaming up with Industry leaders Creative, NVIDIA, CyberLink and Silicon Image, end users and home theater enthusiasts will now be able to enjoy Blu-Ray or HD movies in their full glory."

The Auzen X-Fi HomeTheater 7.1 is made possible through cooperation between Auzentech, NVIDIA, CyberLink PowerDVD software, Silicon Image, and the Creative X-Fi chip development team.

Release of the Auzen X-Fi HomeTheater 7.1 is planned for Sept. of 2008.