Leadtek has overclocked GeForce 9600 GSO
WinFast PX9600 GSO Extreme.

Published Fri, May 30 2008 12:37 AM CDT
|
Updated Tue, Nov 3 2020 12:38 PM CST
Leadtek has today announced the launch of its WinFast PX9600 GSO Extreme 384MB graphics card which comes factory overclocked as well as with its own exclusive S-FANPIPE cooling setup.
Its core clock speed comes set at 600MHz while and memory clock pumps away hard at 1800MHz DDR. A standard clocked and default GeForce 9600 GSO from NVIDIA gets a core clock speed of 550MHz and memory clock speed of 1600MHz DDR - so, as you can see, the folks over at Leadtek have managed to push the card quite far over stock settings.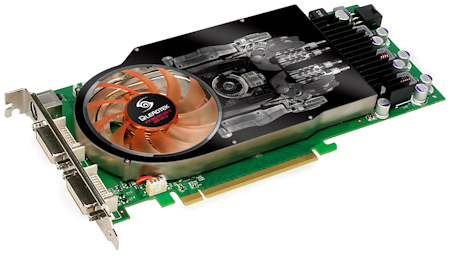 Leadtek Research Inc., known globally for extreme visual graphics technology development takes pride in announcing the the launch of a new premium Graphic card--WinFast PX9600 GSO Extreme. Based on the high quality NVIDIA GeForce 9600 GSO core chip, PX9600 GSO is equipped with 384MB and 96 Stream Processing Units, and makes over-clocking performance easy. The Leadtek exclusive S-FANPIPE fansink design is also applied to PX9600 GSO. This innovative cooling system can effectively conduct GPU heat through an S-shape copper heat pipe to the fan for a dramatic cool down effect that creates a stable temperature for the graphic card to deliver a superior visual performance.

Leadtek WinFast PX9600 GSO Extreme has adopted 65nm technology and is powered by NVIDIA's GeForce 9600 GSO graphics processing unit. With 384GMB of GDDR3 on a 192-bit memory bus design, the GPU and memory clock can run at the amazing speed of 600MHz and 1800MHz respectively. Furthermore, PX9600 GSO Extreme has 96 Stream Processing Units, which combine with the new PCI Express 2.0 bus architecture to create the fastest 3D graphic processing speed. To offer users an even better and more convenient experience using a graphic card, PX9600 GSO Extreme not only supports Microsoft Windows Vista and DirectX 10 with full Shader Model 4.0, but also fully supports the existing PCI Express 1.0 motherboards.