VIA launches Nano processor family
Power efficient processors.

Published Fri, May 30 2008 12:18 AM CDT
|
Updated Tue, Nov 3 2020 12:38 PM CST
VIA has officially launched its lineup of Nano of power efficient processors based on the "Isaiah" architecture designed for optimized performance for mainstream PC markets and new device types such as Netbooks and Mobile Internet Devices.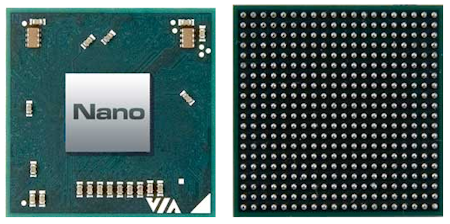 Based on 65nm process technology, the processor idle power can go as low as 100mW and up to half a watt at 1.8GHz. Each processor has an FSB of 800MHz and clock speeds range from 1GHz up to 1.8GHz using a package size
Compact VIA NanoBGA2
which measures 21mm x 21mm.
The first 64-bit, superscalar, speculative out-of-order processors in VIA's x86 platform portfolio, VIA Nano processors have been specifically designed to revitalize traditional desktop and notebook PC markets, delivering truly optimized performance for the most demanding computing, entertainment and connectivity applications.

Building on the market-leading energy efficiency of the VIA C7 processor family, the VIA Nano processor family offers as much as four times the performance within the same power range to extend VIA's performance per watt leadership, while pin compatibility with VIA C7 processors will ensure a smooth transition for OEMs and motherboard vendors, and provides them with an easy upgrade path for current system or board designs.
You can read more about the new lower power consuming processors
over here
.