Gamers shouldn't expect a new higher-powered Steam Deck any time soon--Valve's successor handheld is years away.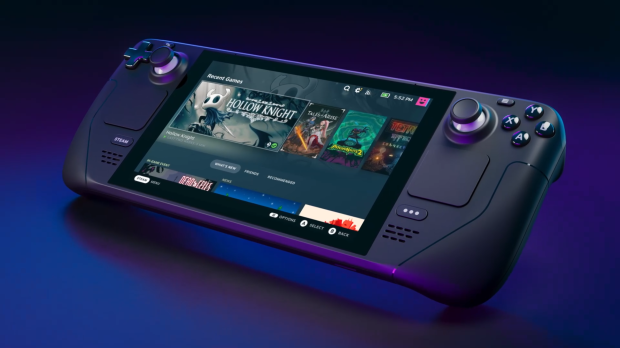 Valve just announced its new Steam Deck OLED for $549, and even though the new model features a shrunken 6nm SoC design and thermal/battery efficiencies, the device has no raw CPU or GPU performance upgrades over the OG Steam Deck.
With the new high-powered handheld PCs like the ROG Ally and the Lenovo Legion Go entering the market, not to mention Nintendo's upgraded Switch 2 which may be capable of delivering 4K gaming through DLSS tech, Valve is pressured to follow-up with their own next-gen Steam Deck. After all, Valve helped standardize this new wave of PC handhelds.
So when can we expect a Steam Deck 2? Not for at least a few years more. Valve designer Lawrence Yang tells Bloomberg that a next-gen Steam Deck won't happen for at least 2-3 years.
Valve hardware designer Jay Shaw also discussed the timing of a new Steam Deck 2 in a recent interview with IGN, saying:
"We are interested in the Steam Deck 2 once we believe that there is a generational leap available to us in terms of performance. We don't see that yet, so we are not looking at Steam Deck 2 yet."
"[...]We're thinking about Steam Deck 2 at all times."
When asked when exactly a Steam Deck 2 could happen, Shaw diverted a bit from what Yang said to Bloomberg:
"I don't know. It'll be a while. I think it'll be quite a while. We don't have any kind of set date. I think we're going to wait for the technology to present itself in a way that we find interesting and for the team to really want to make that leap."
That being said, both NVIDIA's and AMD's mobile chip technologies are expanding rapidly, alongside Qualcomm's higher-end SoC designs that have found their way into laptops.
Valve is targeting more than just raw performance gains, though; the company is mindful of all aspects of its Steam Deck handhelds, including power draw, battery life, thermals, and quality-of-life features such as the quick-start button that allows users to jump instantly back into games they had previously played.