Valve has announced a new Steam Deck OLED modelthat features a much higher-grade display and some nice improvements over the original handheld PC.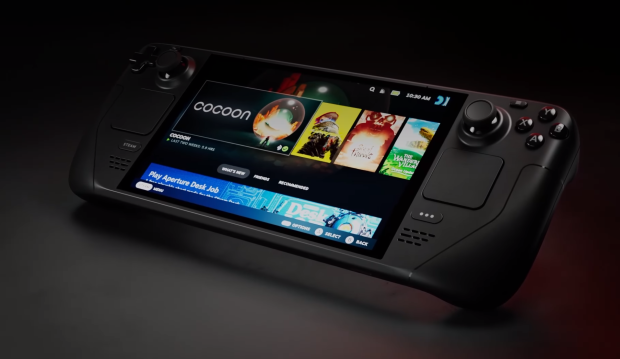 The new Steam Deck OLED starts at $549 for the 512GB NVMe SSD model and comes packed with upgrades. The biggest boost is the new 7.4-inch OLED panel with HDR capabilities, providing much more robust colors and hues while gaming. The OLED panel is still at the same 1280 x 800 resolution, but now features a refresh rate of up to 90Hz.
Under the hood, Valve has shrunken the Steam Deck's custom chip to 6nm, which falls in line with the recent die shrink that Sony has performed with its PlayStation 5 consoles (TSMC's N7 family includes both 7nm and 6nm, allowing for easy carry-over to the smaller chip design). The new 6nm SoC won't translate to any performance gains and the raw specs--CPU, GPU, and RAM--are all the same as the OG Steam Deck.
The Steam Deck OLED also features a beefier battery that offers more hours of play and Valve says the handheld also stays cooler thanks to a bigger fan.
Steam Deck OLED vs OG Steam Deck
7.4-inch OLED panel vs 7-inch LCD panel

6nm SoC vs 7nm SoC

Up to 90Hz refresh rate vs 60Hz

Tri-band Wi-Fi 6E vs Dual-band Wi-FI

50Whr battery vs 40Whr battery

640 grams vs 669 grams
Check below for pricing, and to pre-order the new Steam Deck OLED ahead of its November 16 launch, click here.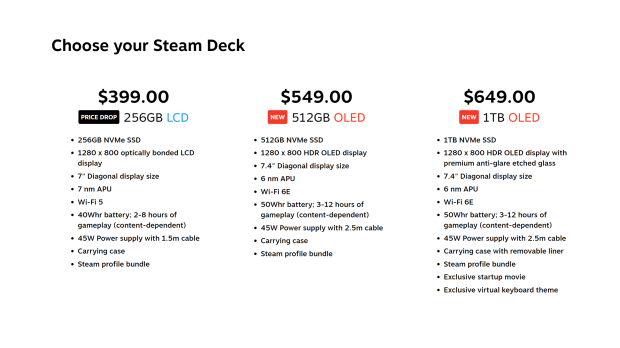 More time to play

Steam Deck OLED has 30-50% more battery life. We fit a bigger battery into the case, and the OLED display draws less power. Add in an updated, more efficient AMD APU and you have way more time to play your favorites.

Faster downloads

Steam Deck OLED comes with Wi-Fi 6E, offering increased bandwidth and lower latency. This means faster downloads (up to 3 times faster!) and stable online play.

Lighter, cooler

Thanks to a bigger fan and updated thermals, Steam Deck OLED runs cooler. It weighs 30g, or ~5% lighter than the LCD model, due to the screen.