A new report at TrendForce shares some not-so-bright news for the global SSD market, with shipments down 10.7% year-over-year. The report notes that SSD supply and demand issues have been normalized. However, with only 114 million SSDs shipped, the downward has affected the various flash memory and storage companies differently.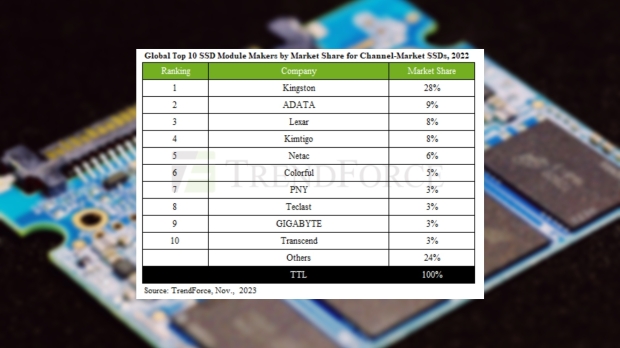 The top three SSD suppliers for 2022 were Kingston, ADATA, and Lexar, with Kingston and ADATA experiencing growth in market share compared to 2021. Kingston remains the global SSD market leader, with an impressive 28% share, followed by ADATA, with a 9% market share.
Also, the Chinese company Colorful "defied market trends" by making the top ten. The report explains the cost advantages of homegrown NAND Flash in the region have led to increased shipments.
"Chinese homegrown PCIe master control entities, such as Maxio Technology, are rapidly catching up with increasingly mature PCIe control technologies," the report writes. "They not only mass-ship mainstream PCIe 4.0 products compatible with various NAND Flash suppliers but are also aggressively advancing into PCIe 5.0 product development and verification."
The top ten SSD makers for 2022 with total global market share percentage was as follows.
Kingston (28%)

ADATA (9%)

Lexar (8%)

Kimtigo (8%)

Netac (6%)

Colorful (5%)

PNY (3%)

Teclast (3%)

GIGABYTE (3%)

Transcend (3%)
According to the data, the SSD market is essentially controlled by its leaders, with the top five SSD channels securing nearly 60% of the total market share. And the larger SSD players are expected to grow bigger over the next few years. There are some interesting trends, with the company sitting outside the top five, with GIGABYTE making the cut thanks to the gaming market, and PNY re-entering the mix thanks to expanding its reach to more international markets.
Recently, we reported that global PC shipments for Q3 2023 declined. As storage often follows the trends seen with overall PC shipments, it's unsurprising that the SSD market has also seen a downturn.