Nintendo has yet to formally announce or confirm any sort of detail when it comes to the upcoming Nintendo Switch 2. Still, based on rumors, leaks, and insider info, there's a lot of info out there on just what sort of hardware will power Nintendo's next-generation handheld console.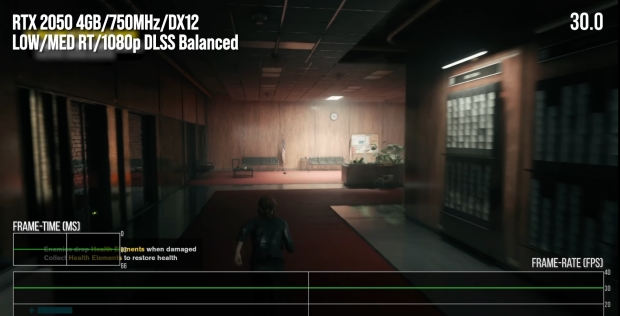 And with that, the tech gurus at Digital Foundry have put the potential Ampere-based NVIDIA hardware inside to the test.
With games like Death Stranding, Cyberpunk 2077, A Plague Tale Requiem, Control (with ray-traced reflections), and the Unreal Engine 5 version of Fortnite put to the test, it's an interesting look at what the upcoming Nintendo Switch might be capable of - and just how much of a difference DLSS will make when it comes to presentation and performance.
Of course, all of this is hypothetical, and games that will be optimized specifically for Nintendo Switch 2 hardware should deliver more than what we see here. The team at Digital Foundry uses a PC with a GeForce RTX 2050 4G GPU for its tests as it is Ampere-based and most closely resembles the projected Nintendo Switch 2 hardware specs based on NVIDIA's T239 chip.
Projected Nintendo Switch 2 Specs
CPU: 8 ARM A78C Cores

GPU: NVIDIA Ampere (1536 CUDA Cores)

Memory Interface: 128-bit

Memory Bandwidth: 102.4 GB/s
On top of this, the mobile Switch 2 chip will feature Tensor Cores for DLSS, with the potential for more expanded custom AI hardware to push performance even higher.
The individual benchmark results might be insignificant when stacked against a modern desktop GPU (a GeForce RTX 2050, after all). Still, with a 720p handheld display, the Switch 2 hardware would have no issue running the PS4 Pro and PC-optimized Death Stranding at a solid 60fps. When pushing this to 1080p, with DLSS, the performance drops - but even at 1440p, there's some decent 30 fps action.
Console-like settings for Cyberpunk 2077 (without ray-tracing) manage to maintain a solid 30 fps for the most part, but it's Remedy's Control with ray-traced reflections that impresses the most. Even though the resolution is 1080p with DLSS in Balanced mode, the visual quality is on par with the PlayStation 5 version of the game on the low-power GeForce RTX 2050 in this Switch 2 configuration.
Again, this is the PC performance for potential Switch 2 hardware, with custom AI enhancements and console-specific API for rendering. In that case, the actual results on real-world hardware should be more impressive. And with DLSS, yeah, there's a good chance the Switch 2 is set to go from an Xbox 360-like console to one that can handle real-time ray-tracing.