Capcom is hard at work on its next-generation RE Engine, which was last used in Resident Evil 8... but it's being beefed up, and the company is providing developers working on the new RE Engine with some seriously powerful HEDT systems powered by AMD Ryzen Threadripper CPUs and a GeForce RTX 4090 24GB graphics card.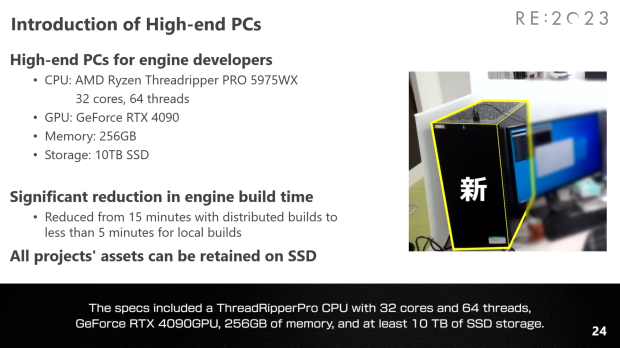 Just as Alan Wake 2 is launching using Remedy Entertainment's in-house Northlight engine, Capcom holds an overview of its RE Engine and even a tease of its next-gen RE Engine, which we'll go into more soon. This year, Capcom provided some high-end desktop PCs (HEDT) to engine developers with some seriously good specs: something that the company says will drop engine build time from 15 minutes with distributed builds to less than 5 minutes for local builds.
Inside, Capcom is using an AMD Ryzen Threadripper PRO 5975WX processor with 32 cores and 64 threads, an NVIDIA GeForce RTX 4090 with 24GB of GDDR6X memory, a huge 256GB of RAM, and a massive 10TB of SSD storage. This is some seriously nice hardware to be developing on, with many developers probably reading this and being jealous compared to their far slower PCs used for development.
Using an AMD Ryzen Threadripper PRO series CPU gives Capcom access to higher core-count CPUs, much more RAM (and with or without ECC, or Error Checking and Correction RAM), huge amounts of super-fast Gen4 NVMe M.2 SSD storage, and a beefier motherboard to take it all. Capcom uses NVIDIA's best gaming GPU -- and also the very fastest graphics card on the planet -- the GeForce RTX 4090, with its 24GB of ultra-fast GDDR6X memory at 21Gbps.
256GB of RAM is a huge amount to play with, giving Capcom developers plenty of room to do a million-and-one tasks without running out of RAM, which goes right into the heart and soul of the system: the AMD Ryzen Threadripper PRO 5975WX processor, which has 32 cores and 64 threads that boost up to 4.5GHz, with 146MB of cache. This is a mighty fine CPU and far, far better than a regular Core i9 or Ryzen 9 processor.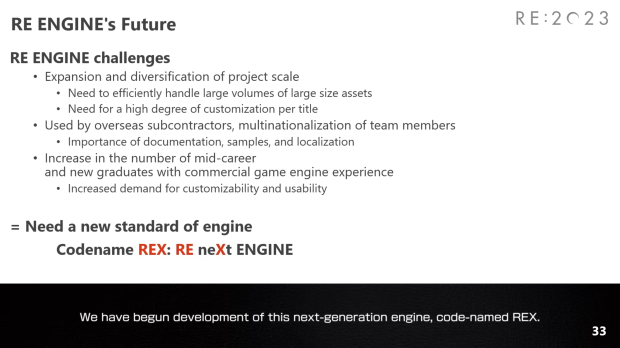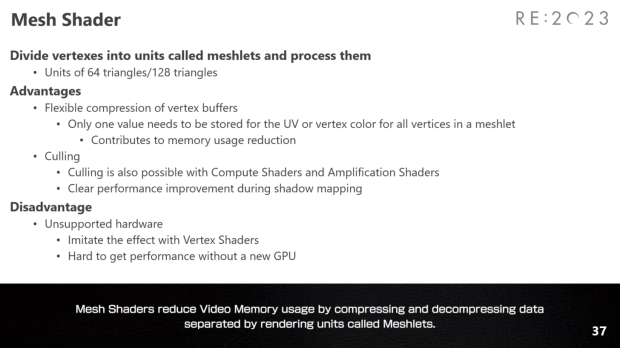 Capcom is working on Codename REX: RE neXt ENGINE is in development.
The future of REX sounds exciting, with Capcom wanting to efficiently handle large volumes of large-size assets, and a need for a high degree of customization per title. REX will be used by subcontractors residing overseas, with a multinationalization of team members, with the importance of documentation, samples, and localization.
Capcom wants more mid-career and new graduates with commercial game engine experience using RE Engine in the future, with the company wanting an increased demand for customizability and useability.