NASA's Orion spacecraft is scheduled to lift off from Earth sometime in 2024 to be launched on a long journey around the Moon, carrying four astronauts on a harrowing mission.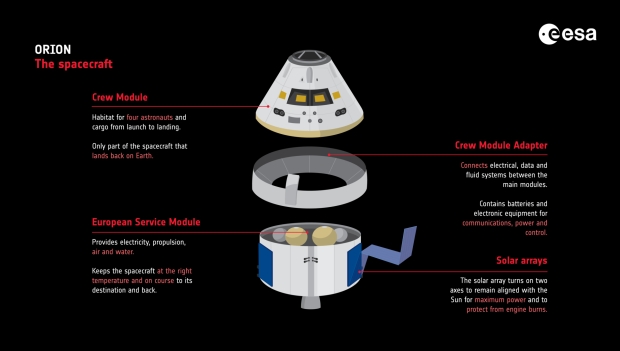 The space agency has taken to its website to issue an update on the development of the Orion spacecraft, with NASA explaining that Orion is actually modular, with each part being engineered by a different company. For example, the part of the spacecraft that provides electricity, propulsion, air, and water is constructed by Airbus Defence and Space and is provided by the European Space Agency (ESA), while Lockheed Martin develops the adapter and crew module that will house all four astronauts.
With these two modules now stacked on top of each other, the Orion spacecraft is now ready to undergo a series of tests designed to prepare it for its long journey around the Moon. NASA writes that for the first time, teams will be able to power up the service and crew module, which will be the very first test the space agency will conduct. The next test will be altitude chamber testing, which will attempt to replicate the vacuum of space.
"The team will power up the combined crew and service module for the first time. After power-on tests are complete, Orion will begin altitude chamber testing, which will put the spacecraft through conditions as close as possible to the environment it will experience in the vacuum of deep space," NASA officials stated on Oct. 23.
"Two important tests include the thermal cycle test - which assessed how well the spacecraft will withstand the extremes of temperature - and the direct field acoustic test (DFAT), which assessed how well the spacecraft will withstand the vibrations of its launch to the moon," wrote ESA officials in their own statement