With the launch of the new 14th Gen Core processors from Intel, the company introduced something called Intel Application Optimization (APO), a technology designed to optimize multithreaded performance.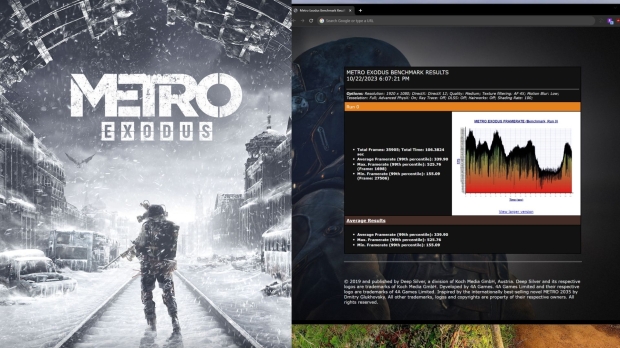 Building off of the mature Thread Director that sits within Windows, we recently sat down with Roger Chandler, Intel vice president and general manager, Enthusiast PC and Workstation​, Client Computing Group, who informed us that Intel was looking at individual games to see which could benefit from better thread management to boost in-game performance.
And the boost looks to be substantial, with new owners of the flagship Intel Core i9 14900K taking to Reddit to confirm that APO is delivering an extra 200+ FPS in some games.
Paired with a GeForce RTX 4090, Redditor LightMoisture wasn't expecting a massive difference in in-game performance when turning the new APO tech on or off. By default, it's enabled for supported games, but you can turn it on or off via Intel APO from the Microsoft Store.
In Rainbow Six Siege, a competitive game optimized to run in triple digits on most GPUs, the benchmark result jumped from an average frame rate of 659 FPS to 867 FPS - a massive 31% increase in performance. That's like going from the GeForce RTX 4070 to the flagship GeForce RTX 4090.
In Metro Exodus, the Core i9 14900K performance with Intel Application Optimization increased from 273 FPS to 339 FPS - a 24% increase in performance. These numbers outdo Intel's internal benchmarks for these games and speak to the genuine potential for this to be a game changer for many PC gamers when it comes to titles played in 1080p or otherwise "CPU limited."
Intel Application Optimization offers free performance. However, it doesn't make a difference in every game. "The user does not have to do anything; there's nothing we have to do with the driver," Roger Chandler told us. "It's all just a policy thing we manage based on how the system interacts with the application. Not every application benefits from this; we test it and find what works flawlessly with Thread Director, and there are no issues."
With results like this, here's hoping Intel releases a list of games that benefit and don't benefit from Intel Application Optimization (APO). It'll be enough for many to warrant picking up a new 14th Gen CPU.