The Meta Quest 3 has just launched, and early word on the latest generation of the popular VR headset has been positive. The Verge review is positive, with the key takeaway being that it's "better than its predecessors in almost every way." Tom's Guide shares similar sentiments in its review, praising the "improved graphics and superior performance [compared to] the Meta Quest 2."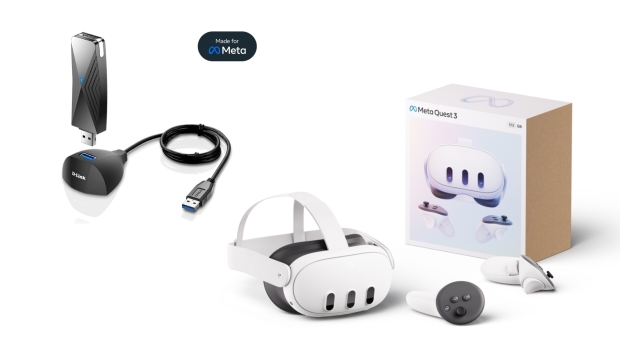 Per the specs and hardware, which adds mixed reality features via color cameras that sound very promising, the Meta Quest 3 not only improves the display and touch controllers but delivers double the performance of the Quest 2. However, like the Quest 2, the new Meta Quest 3 can be hooked to a PC to take advantage of superior discrete hardware and play VR games like Half-Life: Alyx.
Most achieve this via a single long Meta Quest Link cable that offers play-and-charge functionality over USB-C. Thanks to the Meta Quest range being an affordable VR option with simple-to-set-up inside-out tracking and motion controls, it's no wonder the headset is currently the most popular VR PC gaming solution on Steam (as seen in the latest Steam Hardware Survey results). But what about wireless VR, wire-free PC VR gaming with the Meta Quest 3? It's possible thanks to devices like D-Link's DWA-F18 VR Air Bridge.
The D-Link DWA-F18 VR Air Bridge supports the Meta Quest 2 and the Meta Quest 3, using Wi-Fi 6 to "establish a high-speed, low-latency connection between gaming PCs and Meta Quest headsets" via the Air Link feature of the Meta Quest lineup. Connecting via fast USB, the VR Air Bridge dongle creates a same-room wireless PC VR solution, which is pretty amazing considering that some alternatives require multiple cables and setting up various sensors.
The solution makes VR gaming a more attractive option, with reviews for the D-Link DWA-F18 VR Air Bridge confirming that it lives up to its promise. However, there is one caveat - there's no Wi-Fi internet passthrough (per this UploadVR review from 2022), so once you connect, you're in offline mode playing PC games.