Diablo IV had a blockbuster launch earlier this year. Still, with the arrival of its first Season of content and some players growing tired of the endgame grind and variety, the hype surrounding the latest action RPG in the long-running franchise has waned in recent months. The good news? That's all about to change.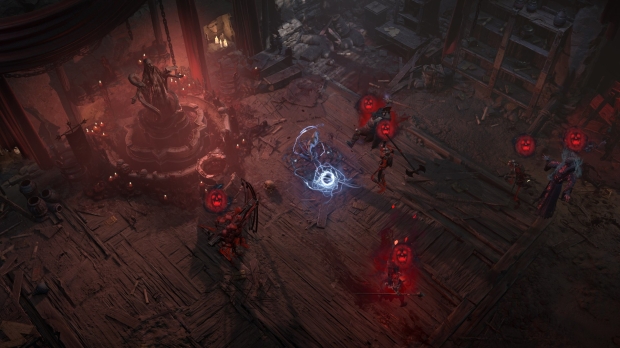 Blizzard looks to be in it for the long haul regarding Diablo IV. With the game's second season, dubbed 'Season of Blood' around the corner, the game is not only getting its first major content drop but a massive patch (bringing the game to version 1.2) that features over 40 pages of new features, items, balance changes, overhauls, and more so much so that there's no real way to cover it all in a single news post.
As a fan of the game, the new vampiric theme, bosses, events, and story-driven questlines for Season of Blood sound like a lot of fun - enough to get me to fire the game up. And with that, here are some of the main highlights from Diablo IV's massive 1.2.0 Patch Notes.
New and existing Unique Items and Legendary Aspects are more powerful
This is a good one; all existing Unique items have been overhauled to become more powerful with new stats. Season of Blood is introducing some new Uniques - here are a few standouts.
Tuskhelm of Joritz the Mighty (Barbarian Unique Helm): When you gain Berserking while already Berserk, you have a 40-60% chance to become more enraged granting 15% (multiplicative damage) [x] increased damage, 2 Fury per second, and 10% Cooldown Reduction.
Dolmen Stone (Druid Unique Amulet): Casting Boulder while Hurricane is active will cause your boulders to rotate around you.
Scoundrel's Leathers (Rogue Unique Chest): While you have unlimited Energy from Inner Sight, your Core Skills have a 60-80% chance to spawn Caltrops, Poison Trap, or Death Trap.
Plus, there are new Legendary Aspects; here are a few.
Raw Might Aspect (Druid Offensive Aspect): After you hit 15 enemies with your Werebear Skills, your next Werebear Skill will deal 30-50% (multiplicative damage) [x] more damage and Stun enemies for 2 seconds.
Aspect of Artful Initiative (Rogue Offensive Aspect): When you spend 100 Energy, you release a cluster of exploding Stun Grenades that deal 0.2-0.3 total Physical damage and Stun enemies for 0.5 seconds. Your Grenade Skills deal 15% [x] more damage.
In addition, the new season is also introducing new Paragon Glyphs, Vampiric Powers that tie into the story, a new boss, and new events, so there's more variety to build compared to Season 1.
With 40 pages of patch notes, you can be sure I've missed a few, but here are the ones that made me nod and say, "Ooh, nice."
Quality of Life updates
Items can now be marked as Favorite. Items marked this way cannot be sold or salvaged.

Items in the Stash can now be marked as Junk or Favorite.

The Stash can now be searched and filtered to more quickly find items.

Extracted Aspects with the same Legendary Power will now be grouped together when sorted in the Inventory and Stash.

Dungeons that have active Whispers associated with them will now display the Aspect Name and Description on the map Tooltip.

Enchant costs will be generally reduced across the board for Legendary items.

Gems will no longer drop from regular sources, and can instead be crafted at a Jeweler. Previous Gem sources now drop Gem Fragments, which are stored in the Materials tab. Crafted Gems can be Salvaged back into Gem Fragments at a Jeweler.

Many Dungeons have received visual updates and layout improvements.

The overall responsiveness of Mounts has been improved.

Mounts are now less likely to get stuck or slow down unexpectedly.

Mounts automatically jumping over traversals will work more consistently.

An Occultist has set up shop at The Tree of Whispers waypoint.

Additional stashes have been added to Capital cities near important Vendors.

The Experience rewards for completing individual Whispers, cashing in Grim Favors, and opening Helltide Chests have been increased.
Endgame improvements
The time between Legion Events has been reduced from 30 to 25 minutes.

Every Legion Event will now have a Whisper objective associated with it.

The time between World Boss spawns has been reduced from 6 hours to 3.5 hours.

The quality of rewards received for defeating a World Boss has been significantly increased.

Teleporting to a Nightmare Dungeon now takes the player inside the Dungeon, instead of teleporting to its entrance.

Glyph Experience has increased across the board, with a significant increase at earlier tiers. Overall glyph experience across all tiers is up 19%.
Head here to check out the extensive Patch Notes for Diablo IV's big 1.2 update, covering New Unique items, Legendary Aspects, and Paragon Glyphs, Gameplay Updates, Experience Updates, Balance Updates, Class Balance Updates, Battle Pass Updates, and Bug Fixes