Microsoft sees the path to achieve 100 million+ Xbox Game Pass subscribers by 2030.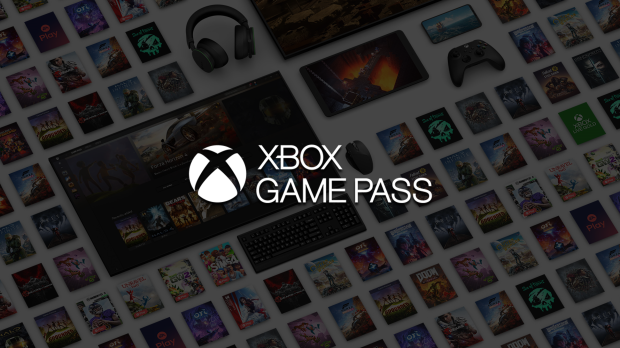 The recent FTC v Microsoft trial leaks were some of the biggest in the history of interactive entertainment. The erroneously-uploaded files offer a candid look at upcoming plans for Xbox, including new mid-gen refreshes and a potential hybrid compute console that could change the future of gaming.
The leaked documents show that Xbox Game Pass is a big part of this plan. Microsoft eventually wants to lead the Big 3 hierarchy and help usher the industry into a new age of disruption, and it wants to use Game Pass to help make it happen.
Note: The following figures are estimates that are based on a leaked Xbox slide presentation from Fiscal Year 2022, which is from July 2021 - June 2022. Microsoft is currently in its Fiscal Year 2024 timeline. The information below may be outdated and may not reflect the newer 10-year streaming deals that Microsoft has made with NVIDIA and even Ubisoft in an attempt to appease regulators in the Microsoft-Activision merger. It's also likely that the 110 million figure includes the conversion from Xbox LIVE -> Xbox Game Pass Core, which represents some ~11 million subscribers. Xbox gaming CEO Phil Spencer has commented on the leaks, saying that: "So much has changed."
In the next 7 years, Microsoft believes Xbox Game Pass may grow substantially. By 2030, Microsoft expects Xbox Game Pass to have about 110 million subscribers.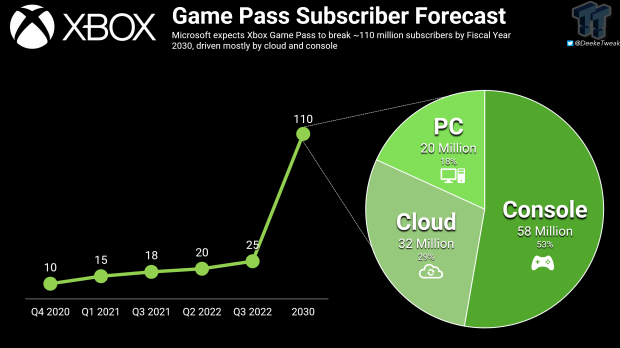 As shown in the documents, cloud should be a substantial method of access for Game Pass subscribers. Based on the slides, Xbox expects about 32 million of its Xbox Game Pass subscriber base to be "cloud-first gamers" who play games from a myriad of devices including smart TVs, streaming sticks (via apps), low-end PCs, and mobile devices.
This is an interesting development considering Microsoft has repeatedly said its Project xCloud service has A) not been profitable, and B) not been successful at penetrating the mobile market.
Based on the expected growth vectors outlined in the charts, it's possible that Microsoft could do a few dramatic things to accelerate cloud usage.
Content would make the biggest splash, but it can't just be PC/console content. It has to be cloud-native content, or games and apps that were made specifically for cloud users. Hideo Kojima's new experimental game for Xbox comes to mind, and this is likely the first in a series of new games that aim to push cloud gaming.
The second would be some sort of Xbox Game Pass subscription tier specifically for cloud gaming.
In the past, it seemed extremely unlikely that Microsoft would unbundle Project xCloud (aka Xbox Cloud Gaming) from Xbox Game Pass Ultimate.
These new figures may have changed our ideas some, and even if xCloud is not offered in its own subscription tier, Microsoft still could offer another lower-cost tier--maybe something like Xbox Game Pass Ultimate Lite--that bundles both downloadable PC/Xbox games and cloud streaming.
The third move is related to hardware. We know about Keystone, the standalone cloud console that relies on remote servers for its compute power. But the leaked slides also reveal Sebile, an ambitious cloud-based controller that's basically an all-in-one content delivery/access peripheral that connects directly to Wi-Fi.
Sebile is basically Microsoft's answer to Stadia's cloud-based controller, and it aims to reduce latency while also providing seamless play on multiple platforms.
The combination of hardware, services, and content could help supercharge cloud gaming on Xbox Game Pass.
As for the other segments, console is expected to lead with about 58 million subscribers, and PC-first gamers are expected to be in third place at 20 million. It's clear that Microsoft hopes it can capture some of the more fring gamers with its cloud ambitions.